EnergyFunders review
Oil Investing Made Simple. Invest with the most elite operator teams in the country. EnergyFunders offers diverse, highly vetted U.S. based oil and gas investments through an easy-to-use online platform.
Looking for an EnergyFunders review to help you decide whether it's the right kind of investment for you?
Oil and gas investments are a good option for portfolio diversification while helping you invest in the most traded commodity in the world. However, investing in oil and gas production and operations can be complicated, expensive, and risky.
That's how EnergyFunders differentiates itself from any other energy companies.
It provides investors with unprecedented access to three different regulation crowdfunding offerings, with different risk tolerance. Additionally, all the vetting is made by experts and the operations are overseen by an E&P company.
The platform cuts out the middleman and only makes money when investors make money.
In this detailed review, we'll cover everything you need to know about the EnergyFunders investment platform, including how it works, the fees, potential returns, pros and cons, and more.
Pros
No commissions or transaction fees

Relatively low minimum investment

Tax breaks for investors

Three different risk levels of funds

Third-party engineering and oil well evaluations

Long term cash flow
Cons
Only open to accredited investors

Illiquid investment

Wildcatting is a very high risk investment

No mobile app
Accredited investors interested in long-term investments
Investors who are looking for commodity investments
Investors interested in investments with hefty tax benefits
What is EnergyFunders?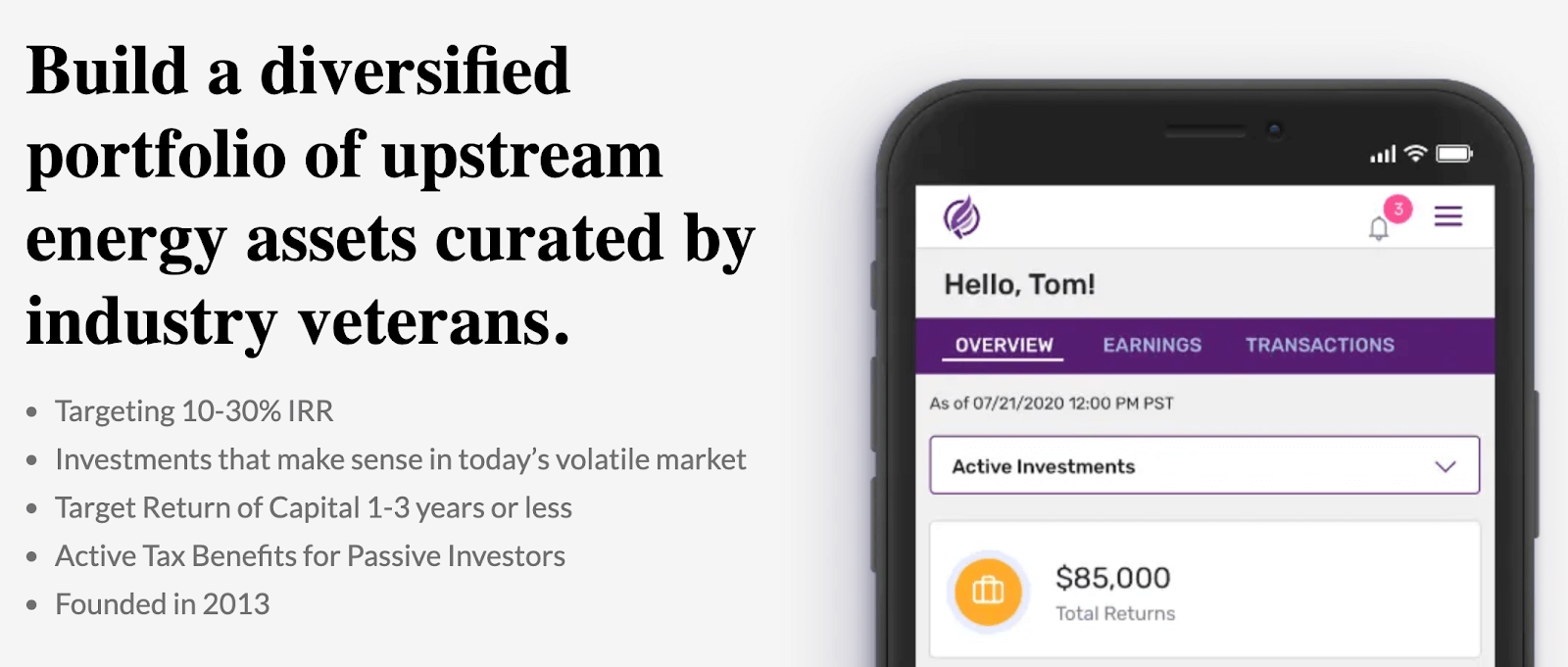 EnergyFunders was founded in 2013 and is headquartered in Houston, Texas.
Headed by CEO Casey Minshew, the EnergyFunders platform is the first fintech firm to offer direct equity crowdfunding investments in oil and gas with a focus on drilling opportunities open to accredited investors.
Through EnergyFunders' online platform, investors can invest in various life cycle stages of oil, gas and drilling opportunities. Once you've invested, you'll start receiving monthly distributions of whatever income the well earns over its lifetime in addition to attractive tax benefits.
Classified as Regulation D offering by the Securities Act, EnergyFunders can raise funds through a public offering faster and at a lower cost.
Who should use EnergyFunders?
EnergyFunders is an ideal investment platform for:
Investors interested in long term investments - Depending on the type of fund you invest in on the platform, energy investments don't typically result in an immediate income during the drilling phase but offer the potential for long-term cash flow. The Income Fund buys already producing assets and offers immediate oil and gas cash flow.
Experienced investors looking for a spectrum of risk, including high risk/high reward investment - Oil and gas investing offers unique risks but has the potential for substantial gains. EnergyFunders provide three different types of funds with different levels of risk.
Those interested in investments with substantial tax benefits - In the United States, the IRS allows investors in oil and gas drilling projects to deduct up to 85% or more of your investment in the year you invest, resulting in a sizable tax break.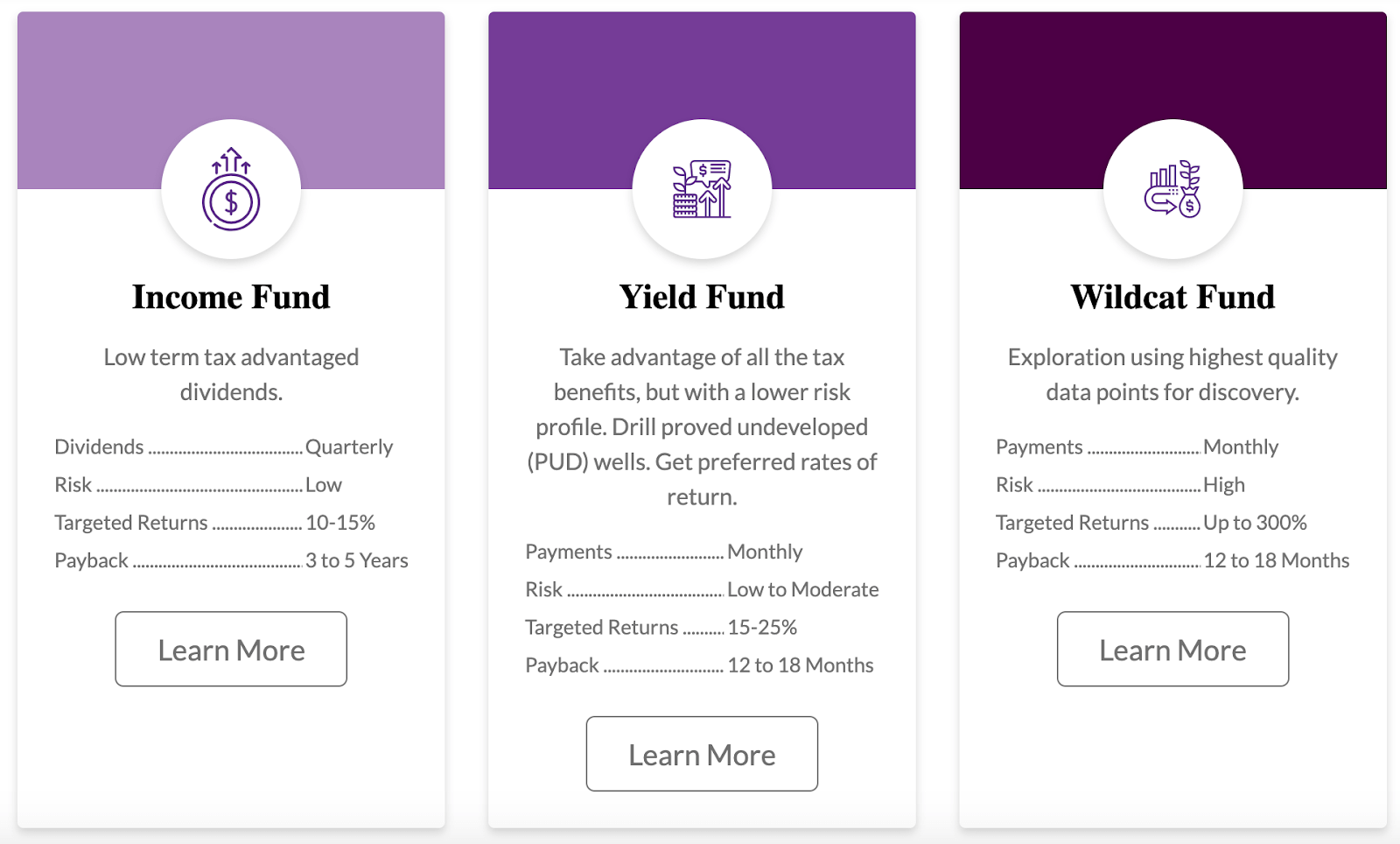 How does EnergyFunders work?
This is how EnergyFunders operates:
1. EnergyFunders work with operators to identify oil and gas investments
EnergyFunders has a team of experts to assist in evaluating suitable investments by speaking with various oil and gas operators. The focus is on proven fields and multi-well oil and gas drilling projects.
2. They then evaluate the legal and geological aspects of a project
Next, EnergyFunders will evaluate the leases and drilling rights as well as all other necessary legal documentation. The firm will also study geological data of the potential drilling fields, followed by third-party engineering reviews.
3. The deals are made
To ensure the best possible price for investors, EnergyFunders evaluates the proposal's structure to ensure the fees are fair and that operators have the financial motivation needed to see the energy projects to completion.
Once evaluated, EnergyFunders will finance the well through its portal and will take a share of the profits alongside investors.
4. Investors pick from available deals
Once the projects have been vetted and given the go-ahead, investors will see all available investment projects on the portal. From here, you're free to examine the investment documentation on each project and invest in one or multiple wells.
5. Distribution of profits
Once the wells have begun production, investors will start receiving monthly distributions of the well's income.
EnergyFunders Features
Here are some of EnergyFunders' features that separate them from competitors:
1. Low barriers to entry
Traditionally, investing in oil and gas projects has been difficult due to the complex nature of oil and gas opportunities.
With EnergyFunders, you no longer need a professional to analyze the investment for you. This, when coupled with the relatively low investment minimum ($5000), has made investing in oil and gas far more accessible for retail investors.
2. Investor portal
Investors have 24/7 access to an online portal to manage their investments. Here, you'll receive updates on your investments' progress, view additional investment projects, and select which ones will help you achieve your investment goals.
3. Monthly returns
Unlike other alternative investment opportunities, once an EnergyFunders project has begun producing, you will start receiving monthly distributions.
4. Only pre-vetted investment projects
When you want to invest in an oil business, it's usually up to the investor to conduct months of technical review and verify legal documents and study the oil operators' track record. However, EnergyFunders does this for you, so that you only need to pick between the best deals.
5. Transparency
EnergyFunders provides a data room to all investors where they can access webinars, geologist reports, engineering reports, cash flow projections, and the geological history of the project.
This way, investors are always well-informed over the opportunities they choose to invest in.
6. Invest with Bitcoin
Unlike many crowdfunding platforms, if you have some Bitcoin holdings that you're looking to move, EnergyFunders will accept payment through them.
However, any revenue earned on your investments will be paid via USD - not Bitcoin.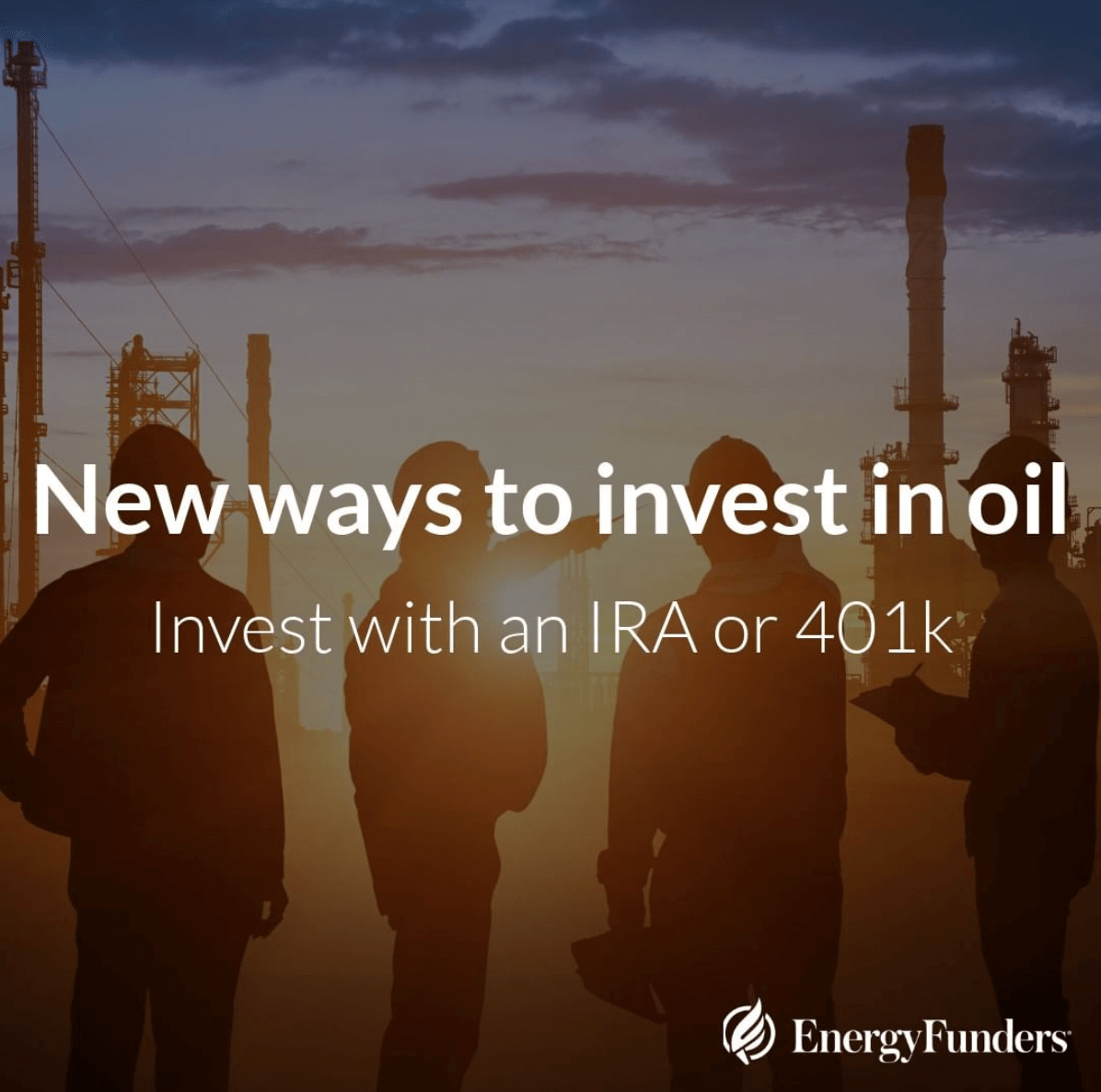 How to get started with EnergyFunders?
Creating an account with EnergyFunders is free and easy; however there is an interview period prior to being allowed to invest:
Step 1. Begin by signing up on energyfunders.com.
Step 2. Fill out all the required information, including your name, mobile number, and email address. You will also have to provide proof that you are an accredited investor.
Step 3. Once your account has been approved and you complete an interview, you're free to start funding your account and browse the available investment offerings.
Step 4. Prior to investing, you'll need to electronically sign a contract stating you're purchasing a partnership interest in the project and to set up a working interest in the wells.
You have the option of investing as a converting general partner or with a limited partnership, depending on your need for available tax deductions.
EnergyFunders Fees
EnergyFunders charges no transaction fees or annual AUM (assets under management) fees
However:
The firm will receive 2% carried interest on all investments; once the investors receive 100% return plus the stated IRR, the firm receives up to 20% backend.
EnergyFunders also reserves the right to deduct a pro-rata share of management expenses from each investor's capital account.
EnergyFunders Potential Returns
Once the wells begin production, you will receive a share of the revenue generated by the project according to your pro-rata share of the distributions in the limited partnership.
Predicting the potential returns on each oil and gas project can be tricky, given that the performance of a well can only be estimated after the drilling has begun. However, US Energy Assets have put potential returns between 47-53%.
There are also hefty tax benefits. Investors can deduct up to 80%+ of their investment within the first year, creating a sizable instant return. After five years you'll be able to write off the entire amount, in addition to a 15% depletion allowance every year.

Historical Performance
EnergyFunders has seen steady growth since officially launching the platform in 2015. In 2018, the firm raised almost $2.4 million in capital investment, growing 80% from the prior year, helping to fund additional wells. Additionally, the firm raised over $500,000 on the fundraising site Seedinvest.
As a result, production revenue distribution increased.
Initial capital raised for new projects exceeds $15 million, focused on exploration wells.
In 2020, the Yield fund was introduced, providing investors lower risk drilling opportunities.
Energy Funders currently pays out over $100,000 per month in production returns.
Pros and Cons of EnergyFunders
Pros
Investors work with highly experienced operators who understand the oil and gas market and its complexities.
Projects are evaluated by third-party engineers to ensure everything is above board.
Relatively low investment minimum of $5000.
Significant tax breaks for investors throughout the life of the well.
High potential returns - oil and gas investing can offer returns as high as 47%.
Can generate long-term cash flows for up to 10 or 20 years.
Open to non-US investors.
Cons
Fluctuating oil prices means distributions may vary from month to month.
Not a very liquid investment - so you won't be able to cash out whenever you want.
EnergyFunders is not open to non accredited investors.
Risks of Investing Through EnergyFunders
Oil and gas investments are an inherently risky investment category. A potential investor should be aware of the risks, including:
There are lots of variables in play - Oil investing is highly speculative and is based upon numerous geological, legal and operational factors that can affect productivity, such as drilling a dry hole or an oil well operator going bankrupt.
Investors have no control over the operations of the oil well operators which can impact the yield.
Delays are very common with oil and natural gas wells. It's possible to experience delays of up to six months between an investment closing and when the well actually starts producing.
Conclusion
This review of EnergyFunders should provide you with all the information you need to determine if it's a good investment for you.
Before making any decisions, it's important to remember the risks associated with energy investing. These risks, such as drops in oil prices and lack of control over the operations, can impact your potential for returns. As such, it's important to always do your due diligence.
However, the potential for long-term income, high returns, and appealing tax benefits make Energy Funders and oil and gas investing an excellent opportunity for many accredited investors.
Earn better returns
Personalized investment opportunities to help 10x your returns