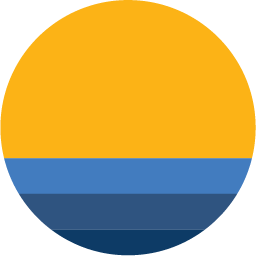 Farther review
Farther is the first digital family office. We're a team of experienced financial advisors empowered by modern tools to help you grow and protect your wealth. We're exceptional wealth management designed for your life.
Looking for a Farther Finance review to help you determine if it's the best wealth management platform for you?
Traditionally, a type of wealth management service called family offices, were reserved for the ultra wealthy - typically those with more than $100 million in investable assets.
For those that could afford it, these services were great for reducing taxes, diversifying investment portfolios and freeing up the hassle of taking care of your investments yourself.
However, for most investors, family offices and their advisory services were out of reach as many wouldn't take on a client who fell below a certain income level or net worth and didn't have a certain amount of investable capital.
Father Finance has changed that.
Founded in 2019 and headquartered in New York, United States, it's the first digital family office that aims to provide expert financial and investing advice to everyone.
In this detailed review, we'll cover everything you need to know about Farther Finance, including the economics behind it, the fees, potential returns, pros and cons, and more.
Pros
Investors with less capital get access to financial advice from trusted industry experts

Uses technology to automate several wealth management processes

Great option to build and diversify your portfolios

Transparent and low-cost fees when compared to commissions charged by other financial advisors

Dividends are automatically reinvested
Cons
Short track record

Limited to US citizens, green card holders and US Visa-holders with a social security number
Investors looking to add structure to their savings and diversify their investment portfolio.
Professionals in the asset accumulation phase of their lives who can benefit from sophisticated cash management features.
Anyone that's beginning to deal with more complex challenges that come with getting married, having children, and managing equity compensation.
What is Farther?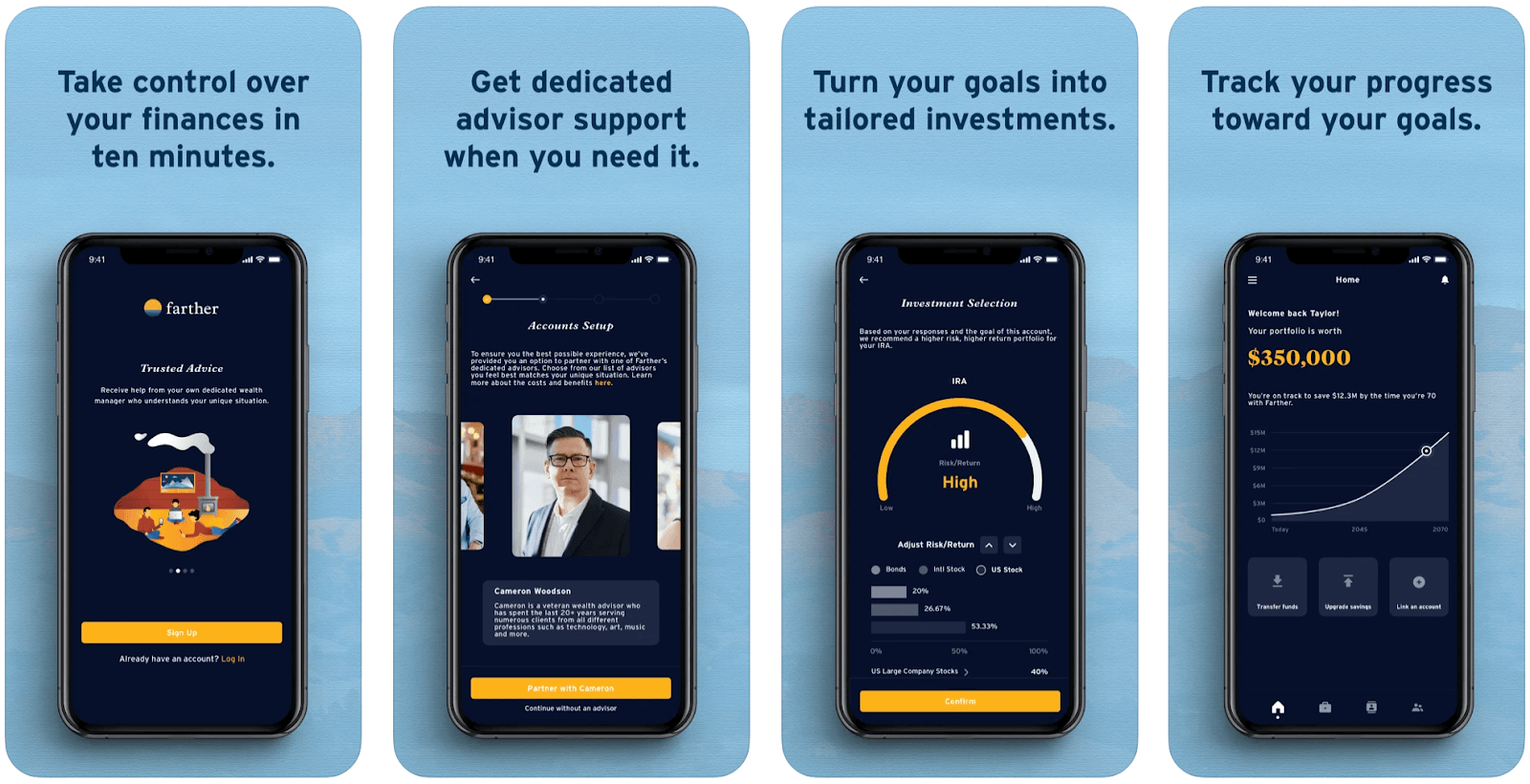 Farther Finance is a digital family office and wealth management platform that offers personalized financial services and investment advice across a range of different investments, including ETFs, mutual funds, and securities like stocks and bonds.
Essentially, Farther Finance does what traditional family offices do - they manage all the finance and investment needs of their clients.
These include investing your money to achieve your financial goals, employing proven strategies to reduce your tax liability and providing expert financial advice.
To make their services so accessible and affordable, Farther leverages technology and algorithms to execute the portfolios designed by their financial experts.
Who should use Farther?
Farther Finance is a great wealth management for:
Investors looking for dedicated expert wealth management services with no set minimums.
Investors looking to add structure to their savings and diversify their investment portfolio
Professionals in the asset accumulation phase of their lives
Anyone who is beginning to deal with more complex financial planning needs that come with additional family members such as getting married and having children. It can also help you with managing equity compensation.
Anyone looking for help managing their finances to reach their long-term and short-term financial goals
Those with many goals - with unlimited goal-based accounts, Farther's technology waterfalls money into the appropriate managed accounts automatically.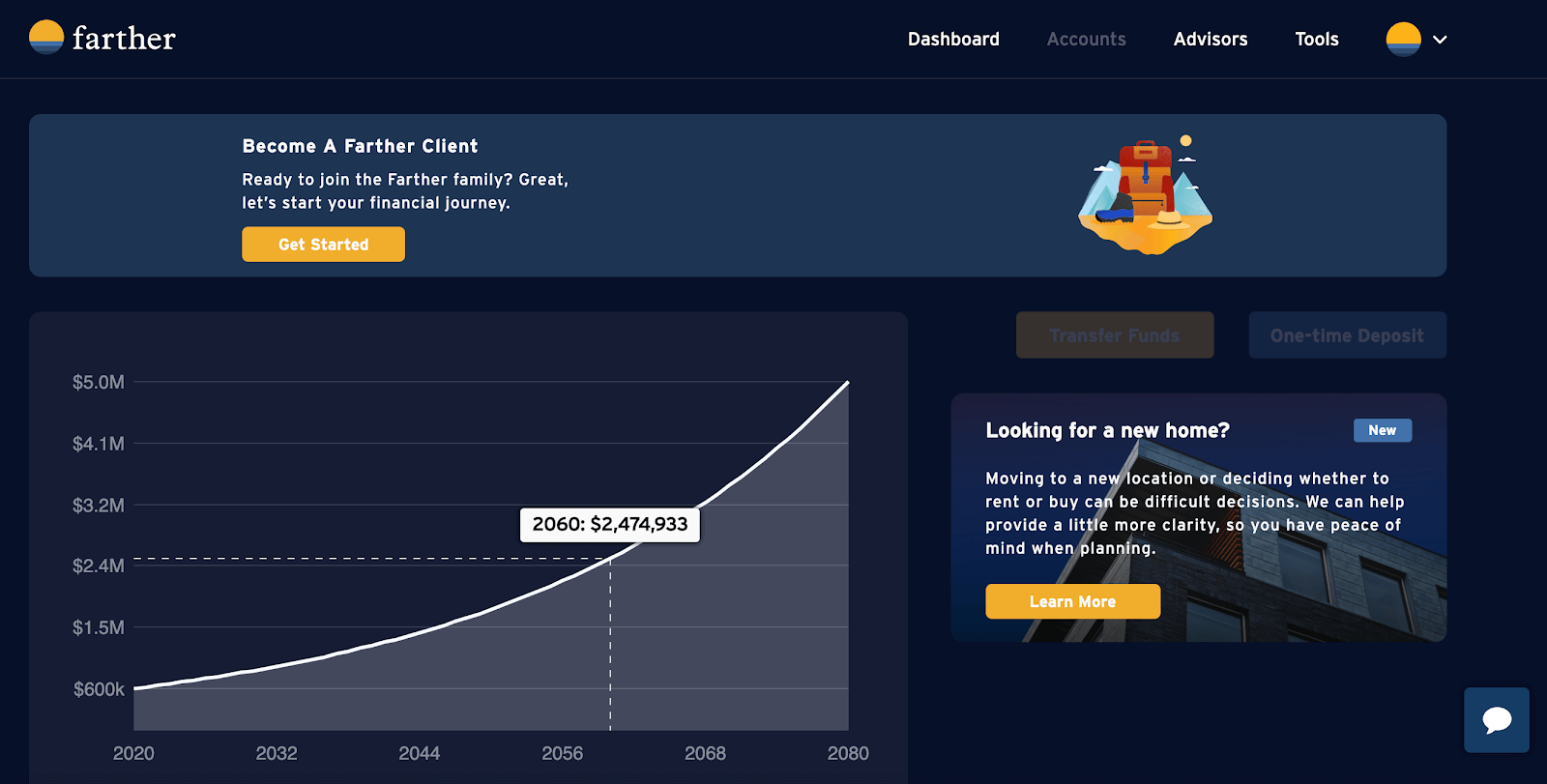 How does Farther work?
This is how Father Finance operates:
1. Farther collects details about your financial situation and goals
After creating your profile with Farther Finance and adding some basic information like your KYC (know your customer) information and account details, you'll be asked to describe your financial goals.
You'll then be matched with a dedicated financial advisor who will proactively monitor your account. Your advisor is accessible via email, chat, or video call.
Based on the personal information you submitted, Farther will help you in two ways:
Advice: Your Farther financial advisor supports structuring your savings and building your investment portfolios. Farther's advice also encompasses everything from goal planning and managing equity compensation to employing tax reducing strategies and getting the most out of all of your other financial products.
Investing: Farther Finance implements portfolios designed by investment experts with targeted allocations of equity and fixed-income ETFs. These investments are tailored to each client based on their financial situation, risk tolerance and time horizon.
2. Its powerful algorithm automates the heavy lifting
Your money will be allocated to model portfolios with different goals such as saving for retirement, large purchases, emergencies or general long-term savings.
You can set up an automated cash sweep to maintain a target minimum in your bank account while investing the rest or select a recurring or one-time savings plan.
From there, new money is cascaded across your accounts in a way that reduces your taxes and helps you with cash growth prioritization to accomplish your goals.
To maximize efficiency and cost-effectiveness, Farther Finance employs powerful advisory tools like a proprietary algorithm to carry out your investment plan.
It will automatically ensure that a client's portfolio is kept within a specified asset allocation range, even when the price of the underlying investments fluctuates.
You are free to adjust your target asset allocations and investment strategies from ones that are currently in effect. And when opting to withdraw some of your money, Farther will initiate a combination of security sales while ensuring the corresponding target asset allocation remains intact.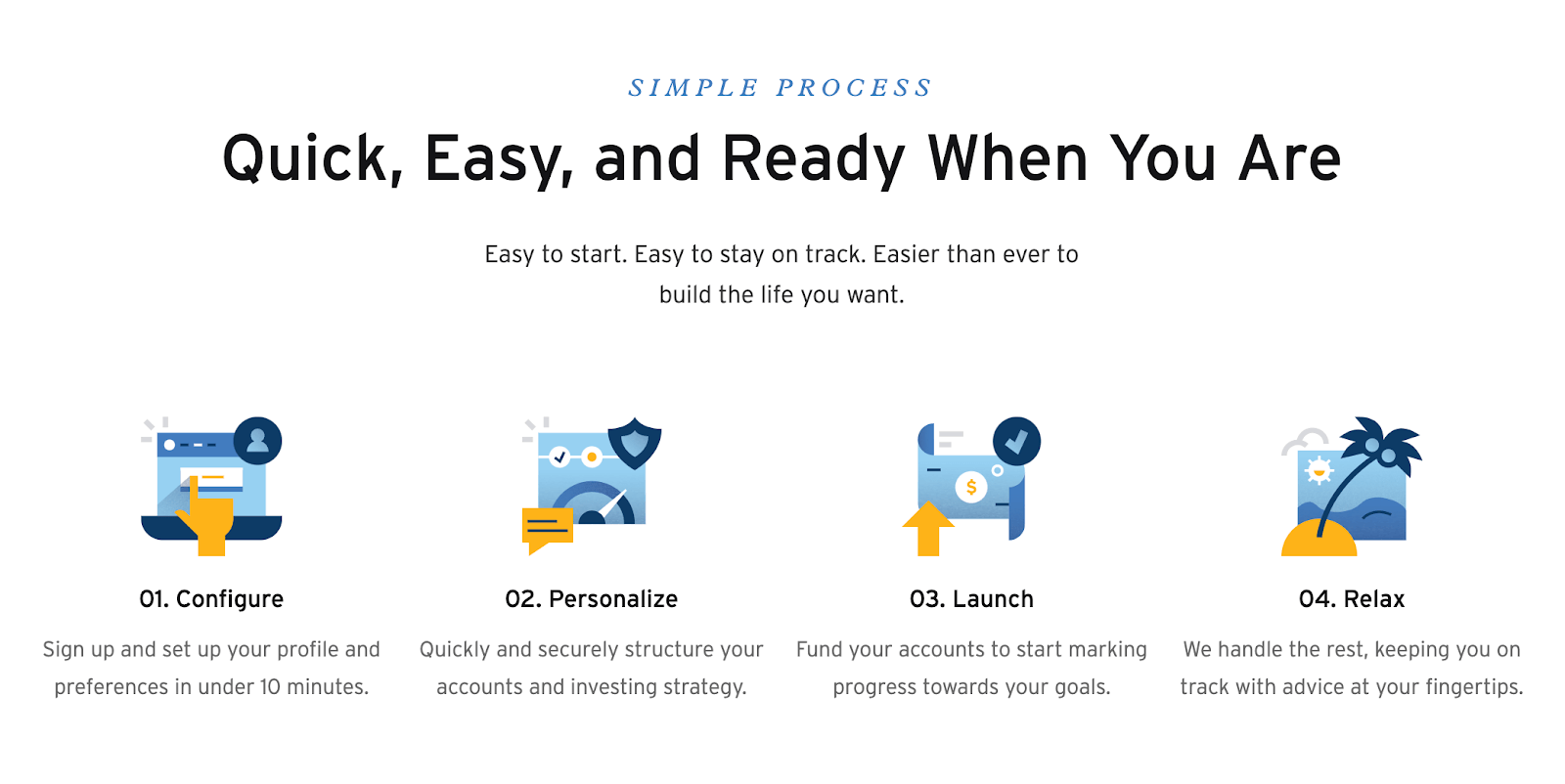 Farther Features
Farther Finance has a host of useful features that separate them from their competitors:
1. Powerful technology
Farther Finance is built on a modern finance infrastructure that allows clients to automate savings from their bank accounts, cascade new money across account types to fully utilize tax-advantaged accounts.
You can set up any number of goal-based accounts to build a tailored savings plan, and automatically adjust their investment portfolios as the time horizon of their goals changes.
2. Access to expert financial advisors
Farther Finance has a team of expert financial advisors to provide you with sound investing advice to answer any complicated questions you may have to help you avoid costly mistakes.
Under normal circumstances, most everyday investors wouldn't have access to the insights provided by a financial advisor who has a fiduciary duty to act in their best interests.
Due to a combination of Father's low investment minimums and technology automation, anyone can now benefit from working with these expert advisors.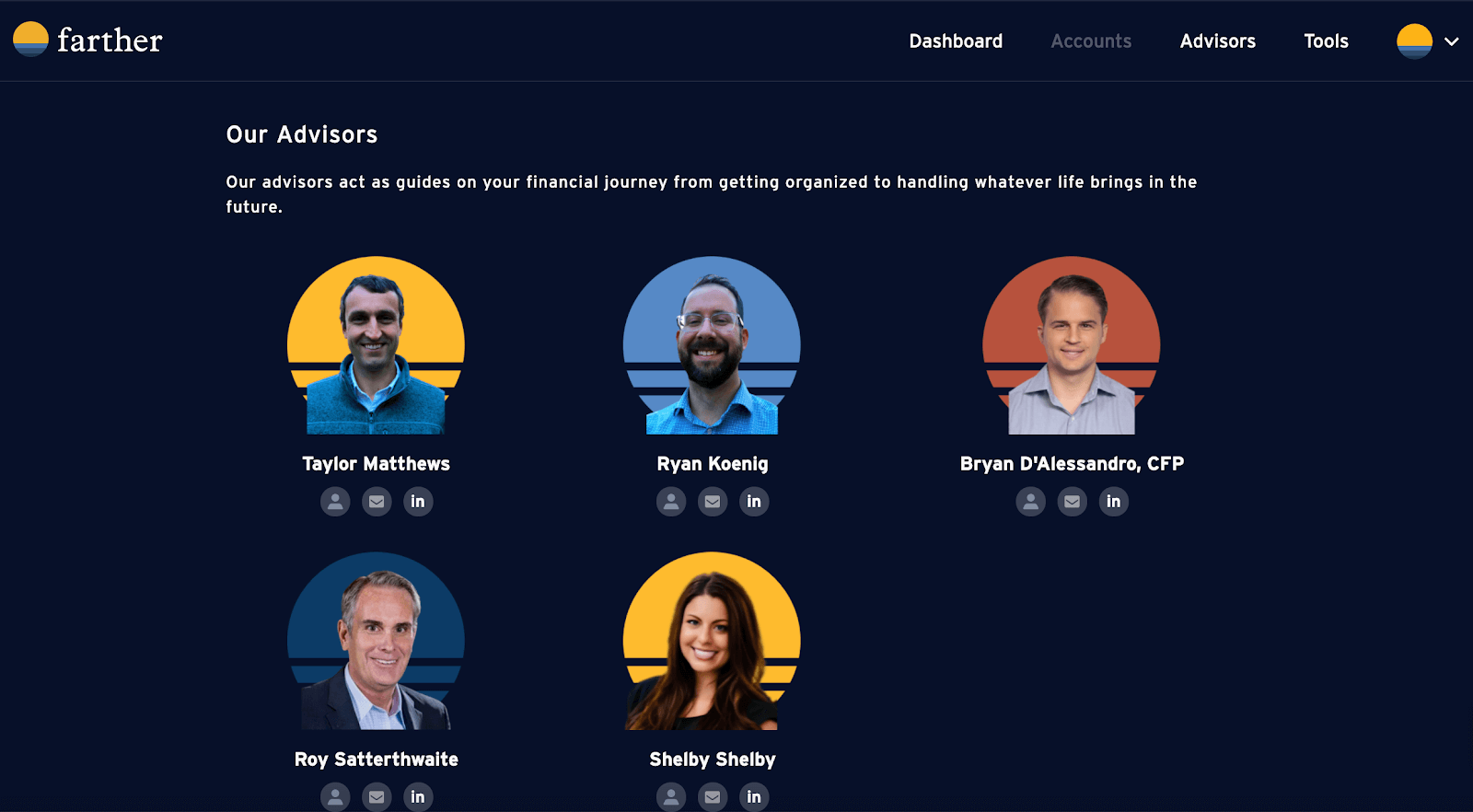 3. Online investor portal with a mobile app
Unlike many independent wealth managers, Farther allows their clients to access an online investor portal at any time - via their website or mobile app.
With its modern interface, you can access investment advice, make one-time or recurring deposits, and withdraw cash.
4. Automatic dividend reinvestment and rebalancing
Unlike many other investment platforms and independent wealth managers, Farther utilizes their proprietary algorithm to quickly and easily reinvest your earned dividends, creating compounded returns.
5. No minimum account sizes
Most dedicated investment management platforms and family offices require minimum account sizes of millions. This puts most investment advisers and family offices out of reach for most everyday retail investors.
Farther Finance has no account minimum - making it accessible to anyone.
How to get started with Farther?
How to get started with Farther Finance
Getting started with Farther Finance is easy, here's how you go about it:
Step 1. Begin by downloading the Farther Finance mobile app from the app store or by going to farther.com to sign up.
Step 2. Create your profile by providing some basic information including your name, phone number and some general KYC information.
Step 3. Select a funding source to link to Farther.
Step 4. Begin financing your core accounts. These accounts can include an emergency fund, IRA, and long-term growth fund.
Step 5. Set up your goal-based accounts. These can be things like buying a house, or starting a business.
Farther Finance will then get back to you with an investment strategy and your investment advisor will work with you to execute these wealth-building opportunities.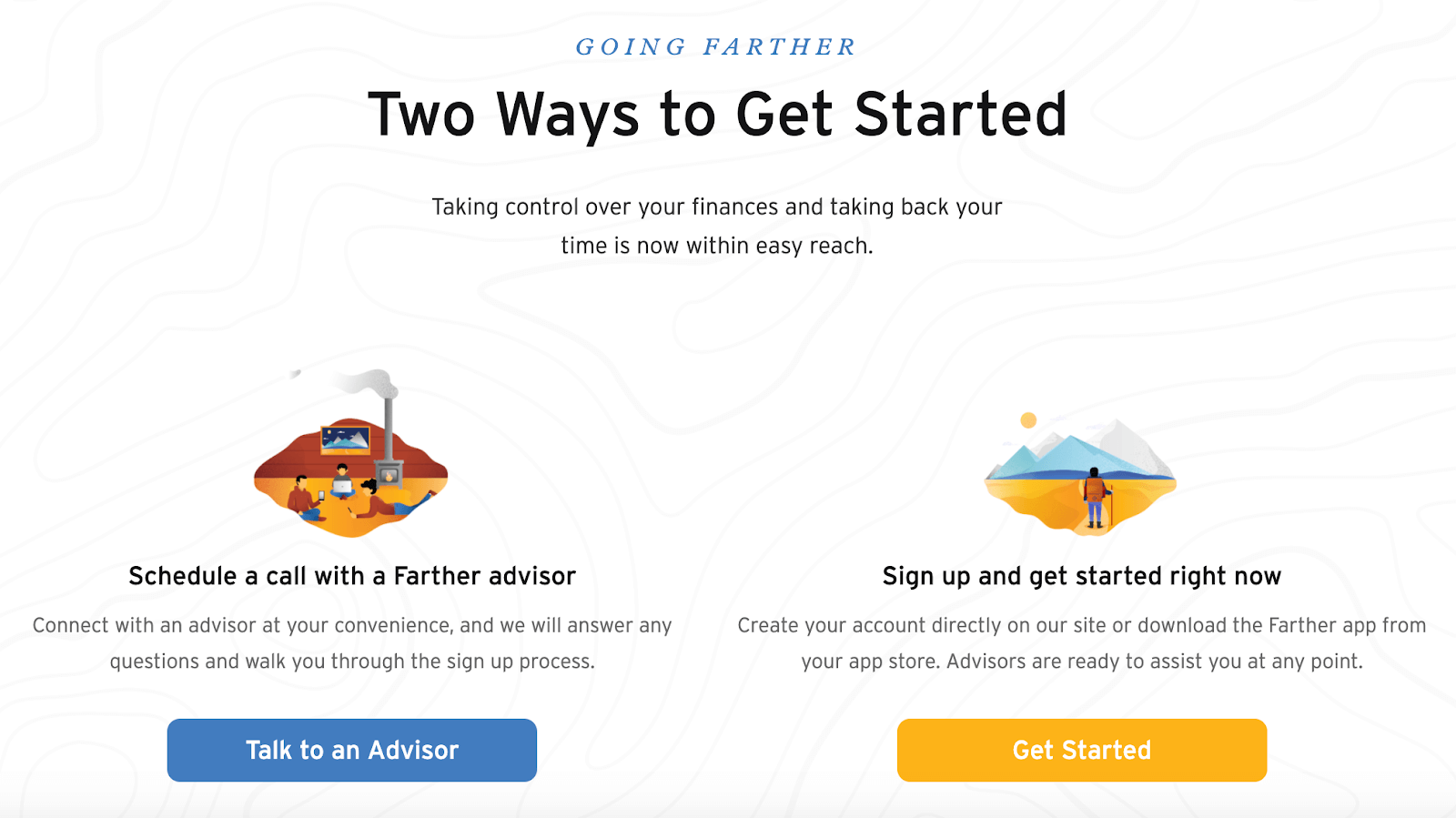 Farther Fees
Farther Finance charges a fee based on the total AUM (assets under management) that are managed at the end of each month:
Farther charges 0.8% of the total AUM.
Note: Farther Finance charges no performance-based fees.
Farther Potential Returns
As Farther chiefly focuses on investing via ETFs and individual securities, your returns will be based on the performance of these funds. As they appreciate in value, you can choose to sell them to benefit from their value appreciation. You may also earn dividends on your investments.
Returns will vary from client-to-client and account-to-account as investment preferences, risk tolerance and capacity, and time horizons for particular goals are taken into account to produce tailored portfolios.
Given that Farther Finance was founded in 2019, there is very limited historical data.

Pros and Cons of Farther
Here are the advantages and disadvantages of using Farther Finance:
Pros
You receive financial advice from trusted and experienced financial advisors.
Unlike traditional family offices and wealth advisors, Farther is a SEC registered investment adviser that does not have a set minimum.
Farther Finance helps you diversify your portfolio without requiring large amounts of time or money.
As Farther Finance allows you to fund your IRAs, you can reduce your existing tax bill by investing in such tax-deferred retirement accounts.
When compared to other dedicated financial advisors and family offices that charge large commissions and performance-based fees, Farther has a relatively affordable fee structure.
Farther has a dedicated online investment portal for portfolio management that's accessible via their website and iOS and Android apps.
Cons
Farther Finance is only open to US citizens, green card holders and US Visa-holders with a social security number. All other investors cannot use their services.
Having been founded in 2019, there is very limited data on their past performance
Risks of Investing Through Farther
Before opting to invest with Farther Finance, here are a few considerations to keep in mind:
1. While Farther Finance will strive to maximize returns with as little risk as possible, all investments are subject to the market's ups and downs and may lose value.
2. While Farther employs tax reduction strategies, they are not accountants and do not offer tax planning advice.
Conclusion
This Farther Finance review should contain all the information you need to decide whether it's the right wealth management platform for you.
It's important to keep in mind that Farther Finance is still a new financial advisory firm, and therefore has limited data on their historical performance.
However, a very low minimum investment requirement coupled with expert financial advice and affordable pricing make Farther Finance a viable option for most everyday investors. It'll help them take care of their personal finance needs by improving their financial life and maximizing their wealth management.
Earn better returns
Personalized investment opportunities to help 10x your returns