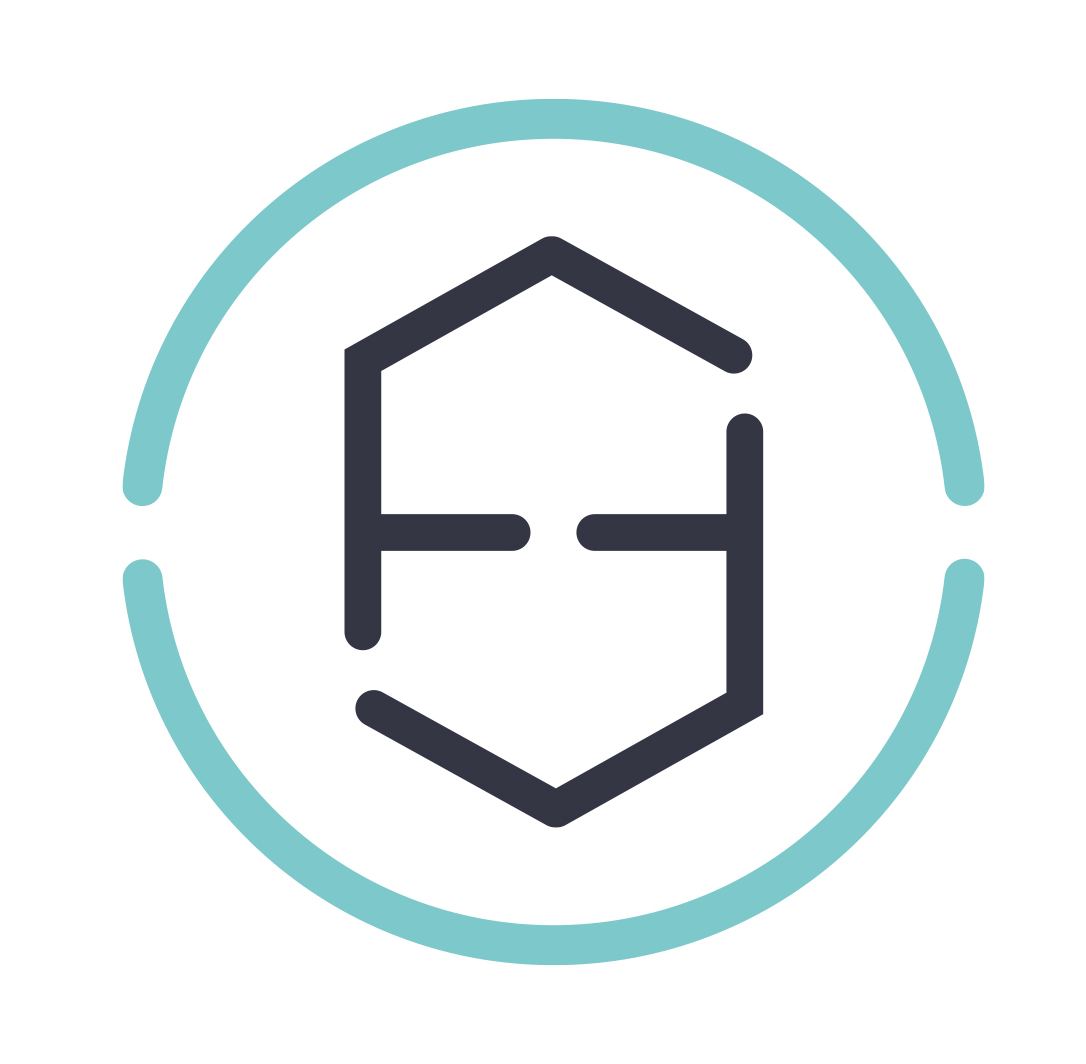 Fund That Flip review
Invest in Real Estate Online. Earn 10+% annual yield by investing in qualified real estate loans.
Looking for a Fund That Flip review to help you decide if it's the right residential real estate investing platform for you?
Every real estate investment can be broadly classified as a debt or an equity investment. While equity instruments are more popular, debt instruments come with two distinct advantages.
A debt-based real estate investment benefits from predictable yield rates (as the borrowers have to pay a predetermined rate of interest) and shorter hold terms (often for just a few months). However, the main risk involved in a debt investment is that of potential defaults.
Fund That Flip is a real estate debt investment platform that helps investors benefit from the advantages of debt instruments while limiting the risk they face through Fund That Flip's due diligence assessments.
In this review, we'll tell you all you need to know about Fund That Flip - how the crowdfunding platform works, how to get started, its fees, annual returns, pros and cons and much more.
Pros
Rigorous pre-vetting

Numerous investment opportunities

Reasonable entry cost

No intermediaries

Projects are managed by experts
Cons
Only for accredited investors

Cannot liquidate until the term of the investment is complete
Real estate investors interested in debt investments and earning a passive source of income
Real estate investors looking for shorter-term returns
What is Fund That Flip?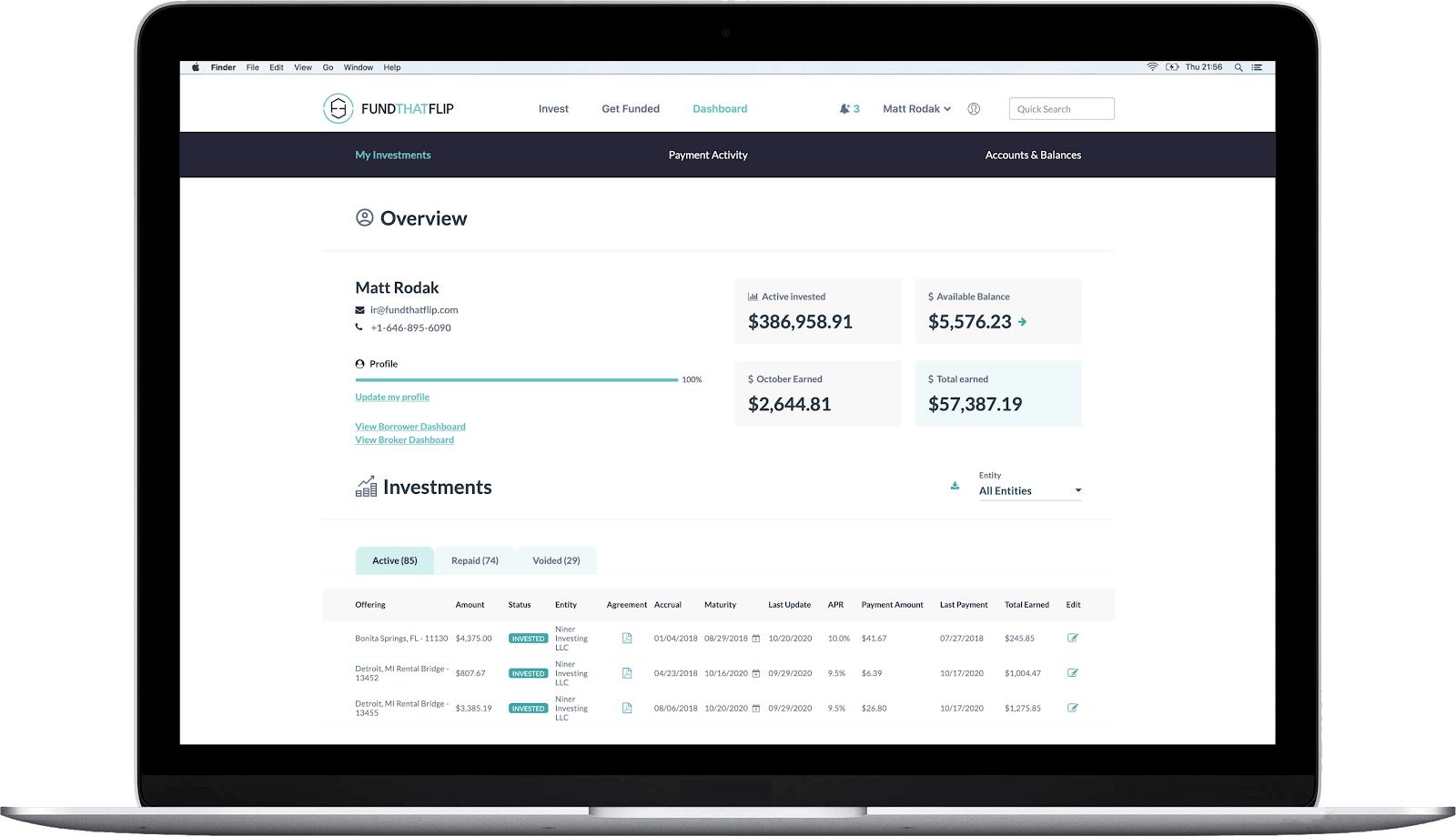 Fund That Flip is a real estate crowdfunding platform that lets a real estate investor invest in residential redevelopment project debt.
Fund That Flip focuses on short-term loans intended for fix and flip projects, which include loans for renovations and enhancements of an existing investment property. They also offer loans for new construction, fix-and-rent and cash out-refinance projects.
This means that an investor positions themselves as a private money lender, and their capital is issued as a loan to borrowers who want to redevelop a residential property.
Developers can get pre-approval for up to $5 million and deals can be closed in 5-7 days.
Loan rates start from 8.49% and the term of the deal can be extended up to 24 months.
Since its establishment, this New York based platform, founded by Matt Rodak, has received multiple awards such as:
#647 Fastest Growing Company in America - Inc 5000, Inc Magazine, 2020
#42 Fastest Growing Company in America - Inc 500, Inc Magazine, 2019
#17 Fastest Growing Company in the Americas - Financial Times, 2020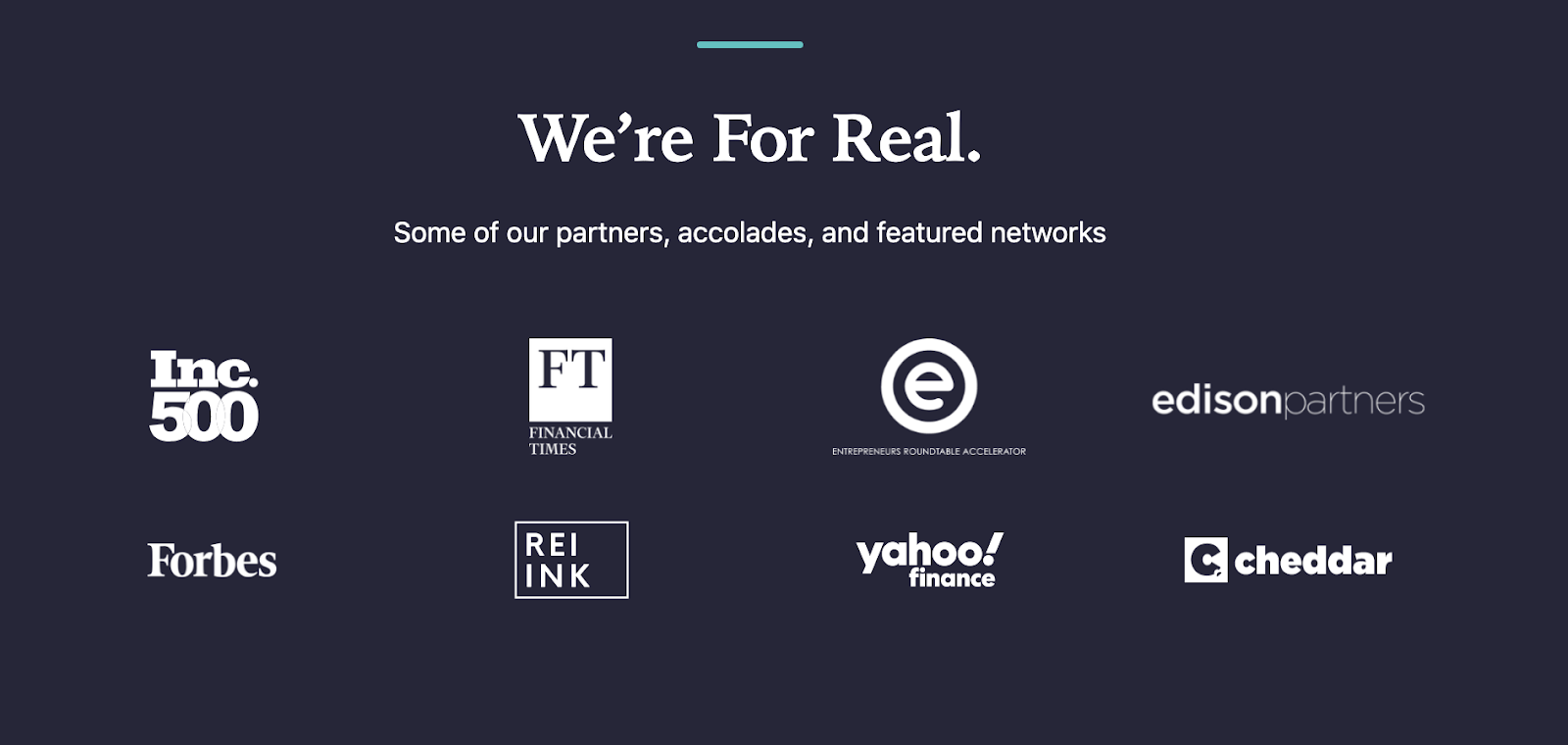 Who should use Fund That Flip?
Fund That Flip is an ideal real estate investing platform for:
Accredited Investors: An investor must have a net worth of over $1m or annual incomes over $200k over the last two years to invest with Fund That Flip.
Real estate investors interested in debt investments: Debt instruments generate regular interest payouts - which are ideal for investors looking for consistent passive income.
Real estate investors looking for quicker returns: As Fund That Flip's offerings (flip loans) are all debt-based and settled within a few months, it's ideal for an investor interested in short-term returns.
How does Fund That Flip work?
For investors, here's how Fund That Flip works:
1. Invest in BDNs
When a real estate investor invests in an offering on Fund That Flip, they are investing in a Borrower Dependent Note (BDN). The performance of the BDN depends directly on the performance of the note that Fund That Flip invests in with the redeveloper of the chosen project.
2. Two offerings
Fund That Flip has two offerings:
Series Note offerings - for investing in a portfolio of prospective projects. This can further be classified into residential bridge note funds and pre-funded note funds.
Individual Bridge note offerings - for investing in specific projects (investors can wholly or partially fund the project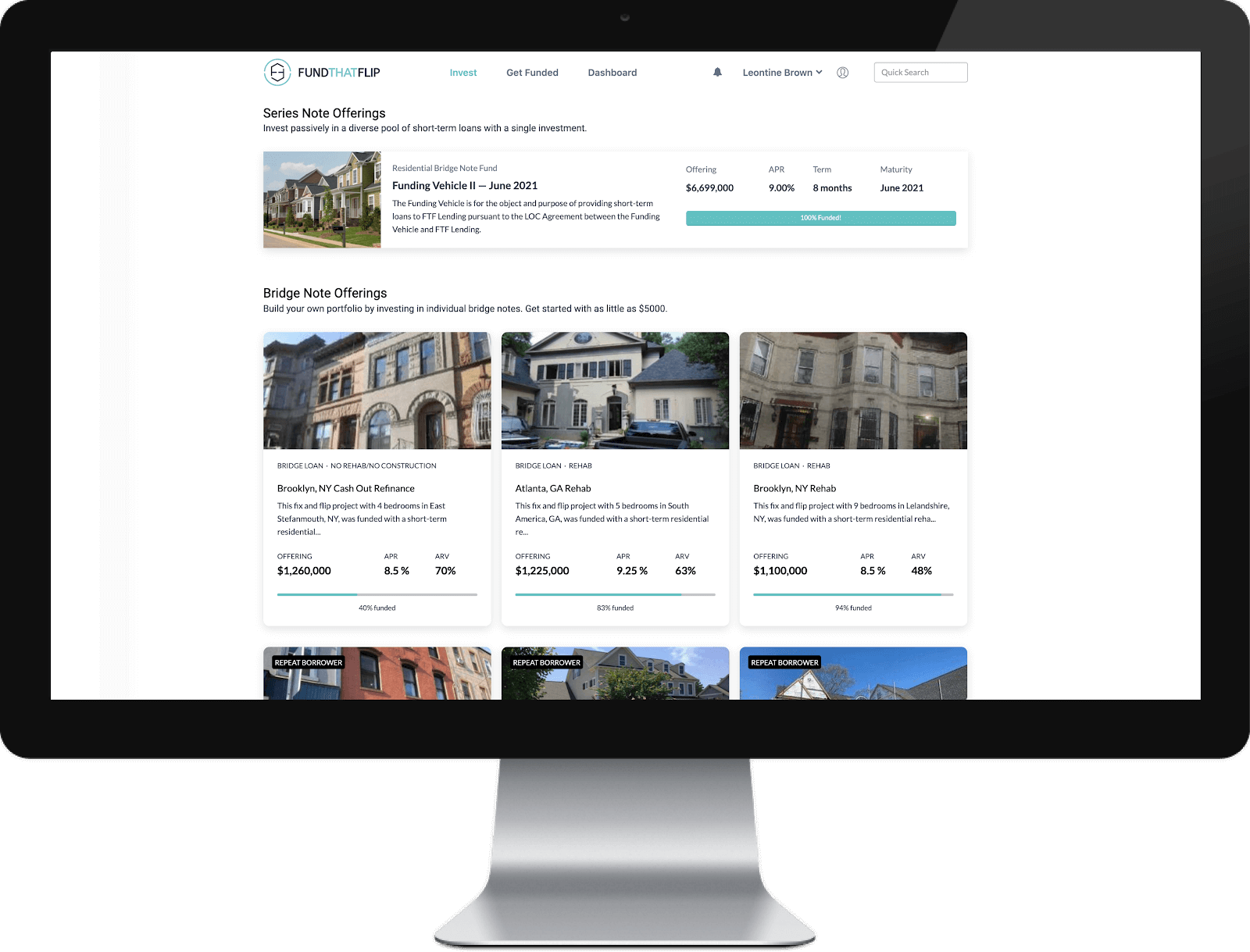 3. Short-term offerings
Fund That Flip primarily offers short-term loans (flip loans) that mature in a year or less, although terms can range from 3-18 months. Borrowers can usually extend the loan for a few months.
4. Interest payouts
During the term of the loan, investors can profit from monthly interest payments proportional to the amount of money they have contributed. The entire principal contribution is returned in a lump sum when the loan is repaid.
Fund That Flip Features
Here are some of the prominent features of Fund That Flip:
1. Performance reports
Fund That Flip shares a monthly performance report with investors to keep them updated.
2. 65% Loan to ARV
When financing a project, Fund That Flip allows a maximum loan to ARV (after repair value) of 65%. This ensures a margin of safety when it comes to equity in the project and also makes sure the developer has "skin in the game."
All projects are also evaluated for execution risk such as construction delays, unforeseen rehab costs, and more before being approved for financing.
3. Mitigated risks of insolvency
To limit the risk of insolvency, Fund That Flip has granted an Indenture Trustee a security interest in all of the underlying loans corresponding to the BDNs and related payments.
The Indenture Trustee might exercise its rights to the collateral only if a default occurred under the Indenture.
Fund That Flip's Indenture Trustee is Delaware Trust. A detailed overview of these mechanics is provided in the Private Placement Memorandum and the associated investment documents.
How to get started with Fund That Flip?
Here are four simple steps to start your investment with Fund That Flip:
Step 1. You have to create an account and complete your profile as an accredited investor. You have to add your name, contact details, and submit proof that you are an accredited investor.
Step 2. You should read the Private Placement Memorandum and associated sample investor documents
Step 3. You should also review and conduct due diligence on the current projects open for funding to start investing (like checking the credit score of the developer)
Step 4. You can start financing (investing in) a project after you have linked your bank account.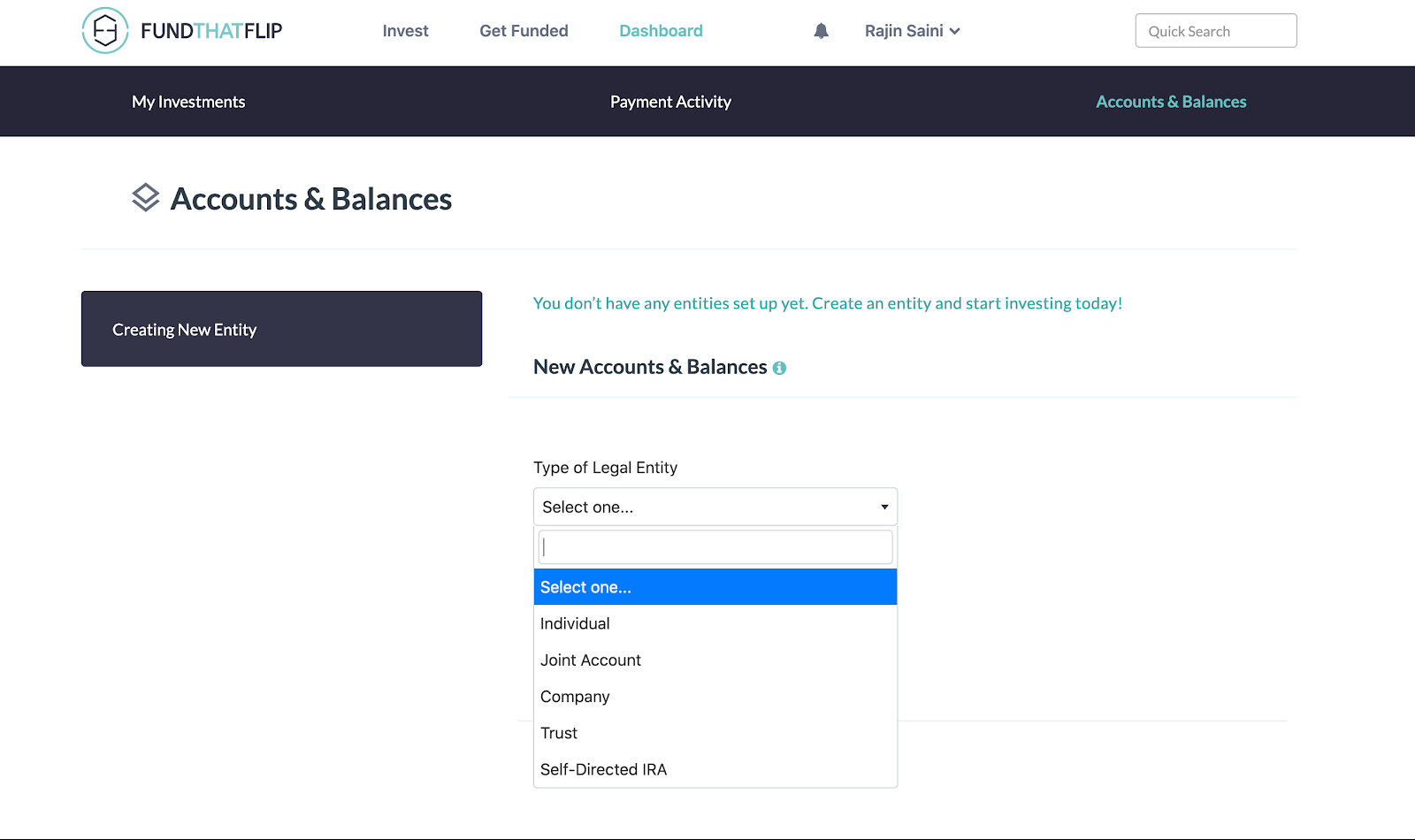 Fund That Flip Fees
Fund That Flip charges fees from the borrower like a traditional lender and doesn't charge the investors directly. Here's a breakdown:
Borrowers have to pay an origination fee (in percentage points) for each loan that is funded on their platform, collected when a loan is closed. This fee is fully disclosed on each note and is typically between 1.5 and 3.5 percentage points of the total amount borrowed.
Investors are not charged directly. Instead, Fund That Flip maintains an interest rate spread - a difference between the interest rate charged to the borrowers and the rate passed through to investors. This amount is fully disclosed in each note and is typically between 1 and 3 percentage points.
Fund That Flip Potential Returns
Fund That Flip's offerings can currently earn you an annual yield of up to 8-10%.
However, some of Fund That Flip's closed Series Note and Bridge Note offerings have shown an APR (Annual Percentage Rate) of over 10.00%.
Investors will earn monthly dividend payments that are proportional to the amount they invested. Their entire principal contribution will also be returned once the loan is repaid.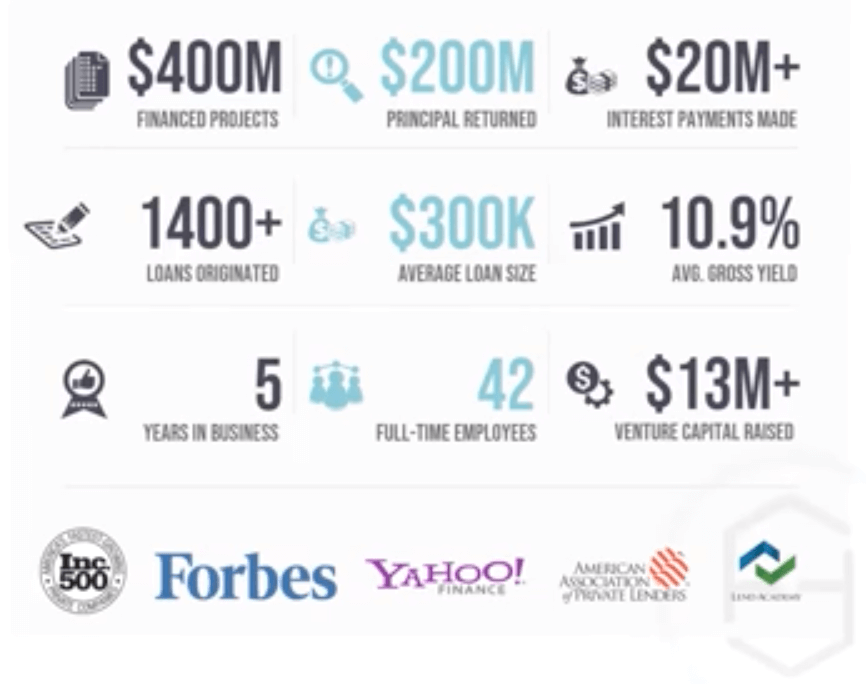 Pros and Cons of Fund That Flip
Here are the advantages and disadvantages of investing in Fund That Flip:
Pros
Of all the projects proposed before Fund That Flip, less than 8% of projects are taken up. Fund That Flip's high underwriting standards (or due diligence procedures, based on Loan-to-Value or LTV and LTC of the projects) ensure the security of their offerings.
Every project is approved and managed by a team of experts who have successfully closed at least two projects in the last 12 months.
Fund That Flip offers lots of opportunities to investors through multiple series and bridge note funding projects per year.
Unlike many other conventional lenders, Fund That Flip maintains a maximum Loan-to-cost (LTC) of 85%. This means that the borrower has significant money on the line and reduces their likelihood of defaulting.
The minimum investment is reasonable at $5000.
A Fund That Flip investment opportunity is reasonably uncorrelated with stocks and other financial instruments - making it relatively insulated from market trends.
Fund That Flip allows investors to invest from individual accounts as well as with their LLC, IRA and Trust.
Fund That Flip's offerings are hard money loans, meaning the loans are backed by an underlying asset (residential real estate properties). The assets are pledged to the Indenture Trustee, who can claim the asset to recover the capital investment if the borrower is unable to pay the loan back.
Cons
Only accredited investors can invest in Fund That Flip's offerings.
Investors cannot liquidate until the investment term is completed.
Risks of Investing Through Fund That Flip
Before you invest with Fund That Flip, you should keep these points in mind:
1. Repayment risks: if the borrower is unable to repay the loan entirely, investors may lose a portion of their capital investment.
2. Liquidity risks: BDNs are not liquid securities. There is currently no secondary market for BDNs. Investors should be prepared to hold their investments to maturity (or longer in instances where the underlying note may be extended.)
3. Project-specific risks: Each real estate project on the platform has different risk factors, which are discussed on each project page. However, due to the rigorous due diligence done by Fund That Flip prior to funding, most project-specific risks are mitigated.
Conclusion
This detailed Fund That Flip review should help you decide whether it is the ideal real estate investing platform for you.
Before investing in Fund That Flip, do consider the fact that you have to be an accredited investor to be able to invest.
However, by investing in Fund That Flip, you will benefit from consistent income from interest payouts on a hard money loan. Additionally, you can invest in an asset class relatively uncorrelated to stocks, mutual fund schemes, and other financial instruments and will likely be protected from market downswings.
Earn better returns
Personalized investment opportunities to help 10x your returns