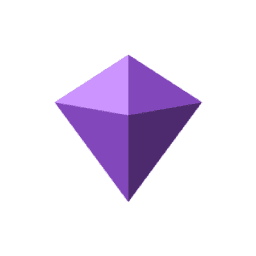 LexShares review
LexShares invests in commercial lawsuits in exchange for a portion of any potential recovery. They are one of the most active litigation finance firms in the world. Median 47% net annualized return as of December 31, 2020.
Looking for a detailed LexShares review?
LexShares is an online platform that makes it possible to invest in commercial litigation. Investors fund plaintiffs involved in business litigation in exchange for a portion of any potential monetary recovery.
But how does LexShares work?
What are the costs, pros, and cons, and the potential returns involved?
In this detailed LexShares review, we'll walk you through what it is, how to get started, what its returns look like, and more.
Pros
Open to US and Non-US investors.

Great for portfolio diversification

Very low correlation with other asset classes

Internal median resolution and pay-out time is 15 months.

Potential for high returns
Cons
Not open to non accredited investors

New investment opportunities are posted irregularly, and they sell out quickly.
Individual investors looking to diversify their portfolio
Investors interested in high-risk, high-return alternatives
What is LexShares?

LexShares (www.lexshares.com) is a private litigation finance firm founded in 2014 by co-founders Jay Greenberg, a former technology investment banker, and Max Volsky, a former litigator. They have offices in Boston, Massachusetts, and New York City.
LexShares is not a law firm but a litigation finance platform that allows accredited investors to invest in commercial legal claims. Investment opportunities posted on the LexShares site are offered by Wealthforge Securities, LLC - a registered broker/dealer and a member of the Financial Industry Regulatory Authority (FINRA).
If the lawsuit is resolved and the plaintiff wins, each investor will receive a share of the financial returns awarded to the plaintiff. However, if the plaintiff loses, investors stand to lose their entire investment.
Plaintiffs typically use LexShares investments to fund legal expenses and working capital to ensure they are on a level playing field when litigating against larger, well-capitalized defendants.
Who should use LexShares?
LexShares is an ideal investment platform for:
US and non-US based investors who are looking to diversify their portfolio.
Accredited investors (investors with high net worth) who are open to high-risk, high-return investments.
How does LexShares work?
Here's a look at how LexShares works:
1. Plaintiffs And Attorneys Can Apply For Financing
Any plaintiff or attorney who thinks their case fits LexShares' criteria can apply to receive financing - typically for no more than 10% of the expected financial recovery. For example, if the plaintiff is claiming $10 million in damages, LexShares might invest $1 million.
Here's a look at the criteria used by the firm to evaluate commercial cases:
Legal Merit: Cases must have a sound legal basis and a clear understanding of the claim's value. They should not be frivolous claims.
Legal Team: Each Plaintiff must be represented by experienced legal counsel with an excellent track record.
Credit Worthiness of Defendant: The defendant must be in a strong liquidity position with an ability to pay any damages arising from the case.
Litigation Costs: The plaintiff must submit a litigation budget (inclusive of the legal fee and other costs) to LexShares to be considered for funding.
2. The LexShares Team Analyzes and Approves Cases For Funding
The LexShares legal team thoroughly vets all the cases that are submitted to them. This helps the firm minimize the risk of a bad investment.
Less than 5% of all cases reviewed by the experienced investments team at LexShares are approved for funding.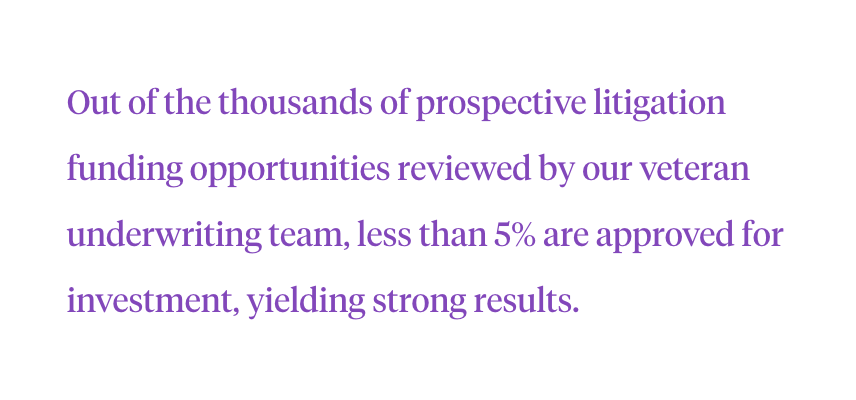 3. Investors Can Invest In Approved Cases
Once the funding agreement is approved by the firm and put up on the LexShares website, investors can participate for a minimum investment of $2,500-$10,000, depending on the case.
4. Investors Earn A Return If The Plaintiff Wins
When a LexShares backed plaintiff receives monetary compensation as a result of winning or settling the case, LexShares gets a portion of the winnings.
Money is disbursed to each investor, and LexShares earns a part of this return as carried interest (share of profits).
5. Investors Can Also Invest In Marketplace Funds
LexShares allowed investors to buy into their dedicated litigation finance fund (marketplace fund) of $25 million, which was fully subscribed in 2018.
Currently, LexShares is offering individual investors the chance to invest in their second litigation finance fund, the $100 million "LexShares Marketplace Fund II (LMFII)." The minimum buy-in is $250,000, and it has a 7-year life with two discretionary extensions of one year each.
The first 36 months of this litigation finance fund will be the investment period, where the collected capital is invested in approved lawsuits. The harvest period comes afterward, and the returns of every case resolved during this period are immediately redistributed among every litigation funder.
This fund will not reuse/recycle capital from resolved cases.
LexShares Features
Here are the key features of the LexShares platform:
1. Online, Global Investment Portal
LexShares is one of the only litigation financing platforms that grants you the ability to invest in legal claims online. Any investor from anywhere in the world can use the online platform to invest in litigation and monitor ongoing case investments.
2. Offers Two Separate Options For Investing In Litigation Finance
With the LexShares platform, a funder can either invest in individual cases for a relatively small amount or buy-in to their marketplace fund for a minimum of $250,000.
3. All Investment Opportunities Are Thoroughly Vetted
LexShares tries to minimize the risk investors face by thoroughly vetting each investment opportunity presented to them by attorneys and plaintiffs.
LexShares accepts fewer than 5% of all cases presented as a result of this screening process.
The LexShares team has underwritten a total of over $3B in potential funding opportunities. However, they've only invested around $80M.
This shows how strict their standards are - they're only focused on investing in the best opportunities.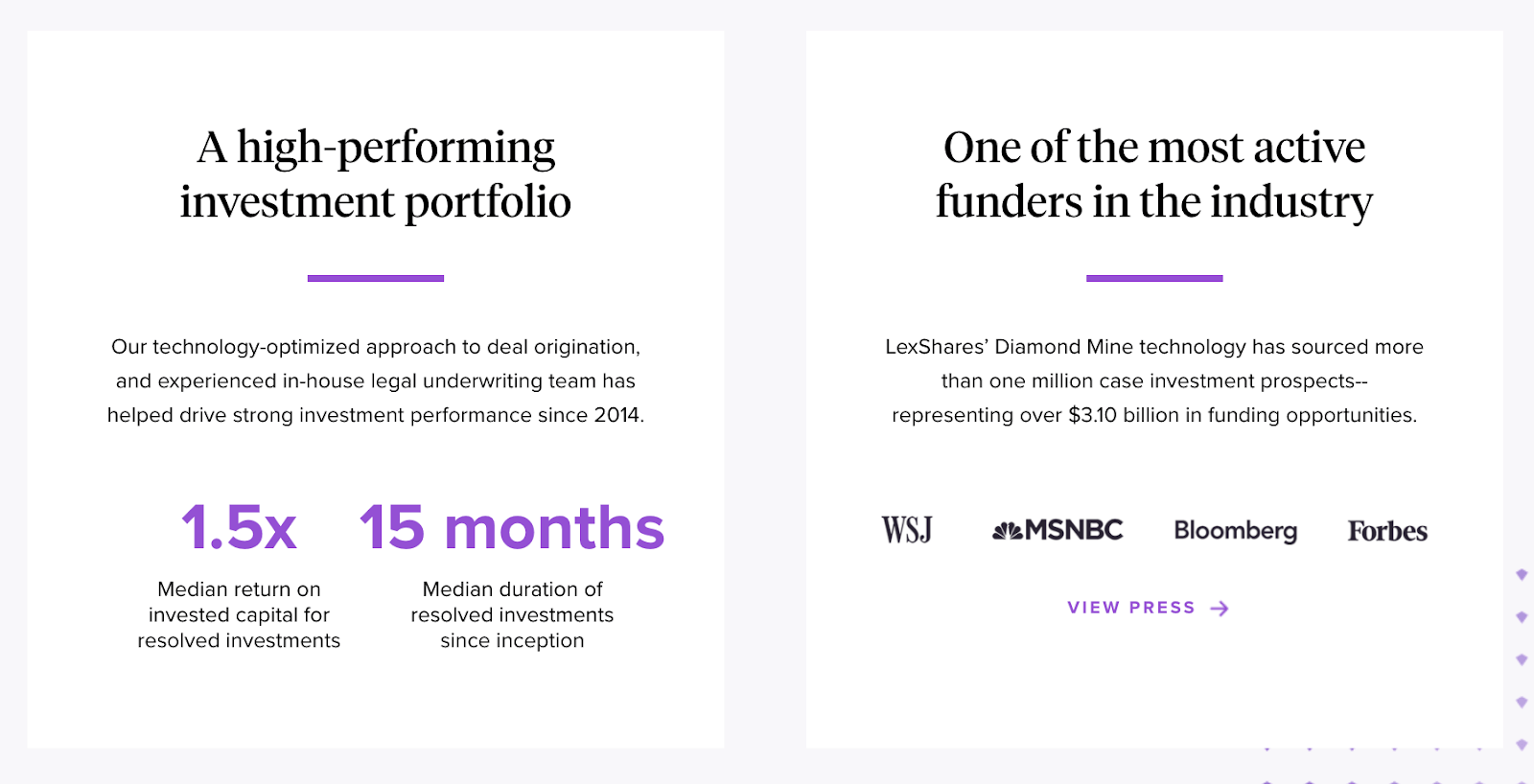 How to get started with LexShares?
Any potential investor needs to follow four simple steps to start investing through LexShares:
Step 1. Sign up using the online investor sign up form. You will have to fill in your contact information.
Step 2. When new litigation investment opportunities are available, LexShares will notify you via email, and you can start the investment process.
Step 3. The first time you invest in an offering, you will be asked to confirm if you are an accredited investor. To prove that you are an accredited investor, you will have to present one of the following
Accreditation verification letter: A letter verifying your status as an accredited investor and signed by a CPA, attorney, investment advisor or broker/dealer of your choosing.
Income proof: Your W2 tax returns for the last two years.
Asset proof: A copy of a recent brokerage or account statement showing the value of your account(s) to be over $1 million and a credit release form.
Note: If you are a Non-US based investor, additional documentation may be required for verification.
Step 4. Link up your checking or savings account to the LexShares platform and confirm your investment.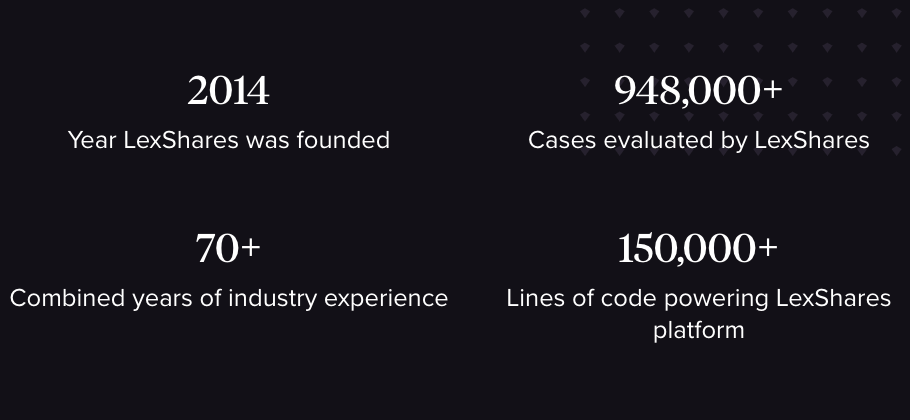 LexShares Fees
LexShares doesn't charge management or advisory fees from commercial litigation funders for individual cases. Instead, it takes a carried interest (share of profits) in successfully funded litigation.
However, LexShares affiliates are entitled to receive:
An administration fee.
A prepaid operating fee.
Interest and expenses related to bridge loan financing for pre-funded deals.
A broker-dealer affiliated with LexShares will also receive a brokerage fee.
LexShares Potential Returns
LexShares claims that investors received a median net internal rate of return (IRR) of 47% on resolved cases.
Historical Performance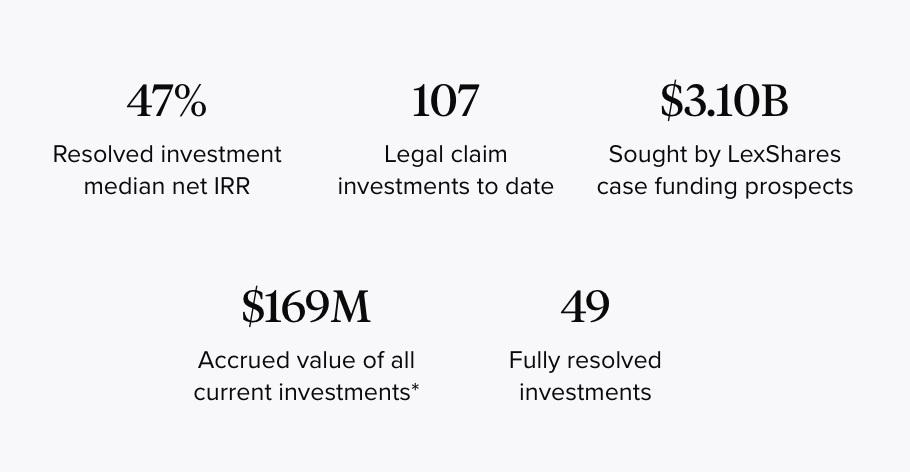 LexShares has published the following statistics related to their historical performance as of August 31, 2020:
70% win rate for resolved investments.
107 legal claim investments to date.
$3.1B sought by LexShares case funding prospects.
$169M accrued value of all current investments.
49 fully resolved investments.
The 15-month median duration of resolved investments since inception.
Pros and Cons of LexShares
Here are the advantages and disadvantages of investing in litigation through LexShares:
Pros
LexShares is open to investors based in the United States, as well as international investors.
LexShares is a great way to diversify your investment portfolio by pivoting away from the usual investments in private equity firms and hedge funds.
Since litigation finance has a very low correlation with other investable assets like real estate or other investments, you'll be insulated from most market trends.
LexShares is a medium-term asset class. The internal median duration for resolving a court case is 15 months (1 year and three months). This can be beneficial for investors interested in relatively quicker investment pay-offs.
LexShares invests a maximum of 10% of the expected recovery. With each resolved litigation case, LexShares typically stands to earn 2x - 5x of the initial investment.
Cons
Litigation investing with LexShares is currently open only to accredited investors.
Since there's no steady supply of viable litigation, new cases are posted to the website irregularly, and they sell out quickly.
Risks of Investing Through LexShares
Before you invest with LexShares, keep these points in mind:
1. Litigation financing is a highly speculative, high-risk investment. There's no guarantee that the plaintiff will win the lawsuit, and if they lose, you could lose your entire investment.
2. Investing in litigation finance is illiquid. You cannot withdraw or redeem your money once it's invested in litigation, and you can't sell off your interest in a secondary online marketplace. Once your money is invested in litigation, the only way to get it back is when the case is resolved, and there are financial gains awarded to the plaintiff.
3. Past performance is not indicative of future performance. Investments in legal claims are speculative, carry a high degree of risk, may result in a loss of entire investment, may be subject to long holding requirements, and are intended for investors who do not need a liquid investment. Returns are based on LexShares' internal reporting for offerings through the LexShares platform. Results reported reflect the simple median annualized rate of return per the xirr Excel function, net of fees and expenses. Diversification does not guarantee profits or protect against losses.
Conclusion
LexShares is a great platform that can help anyone who's willing to take a risk on litigation funding to target larger returns and for investors looking to diversify their portfolio.
However, remember that if the plaintiff loses, you risk losing out on your entire investment - and that investing in LexShares means locking in your money for a fixed period.
However, since litigation finance is rarely affected by market trends, and resolved cases have the potential for large returns in a relatively short amount of time, the risks are largely justified for most investors.
Earn better returns
Personalized investment opportunities to help 10x your returns