Masterworks review
Invest in paintings by the best selling artists of all time. Masterworks is the first company to allow investors to buy shares in great masterpieces by artists like Banksy, Warhol, and more.
Looking for a Masterworks review to help you weigh the pros and cons of art investing through the platform?
Masterworks offers a unique way to invest in art without having to spend millions of dollars on original art masterpieces.
But, how does Masterworks work?
What are the costs involved, its pros and cons, and its potential returns?
In this detailed Masterworks review, we'll walk you through what this art investing platform offers, how to get started, its features, annual returns, and much more.
Pros
Invest as little as $20 in each artwork, with a minimum investment of $1000

Far less expensive than buying fine art

Easier than traditional art investing

Secure storage
Cons
Quick phone interview required to finalize account

Not easy to find buyers for fine art shares

Relatively few investment opportunities
People interested in alternative investment
Art lovers, art investors
What is Masterworks?
Masterworks is an art investment platform that lets you buy Class A stock shares (representing partial ownership) of masterpieces by artists like Andy Warhol, Claude Monet, Banksy, and others.
Blue chip art investing has largely been accessible only to the elite through art auctions or expensive art brokers. So an original piece by Jean-Michel Basquiat or Pablo Picasso may typically be out of reach for most people.
Masterworks aims to make blue-chip art investment transparent and accessible to all.
The platform was founded in 2017 by Scott Lynn - an active collector of contemporary art himself.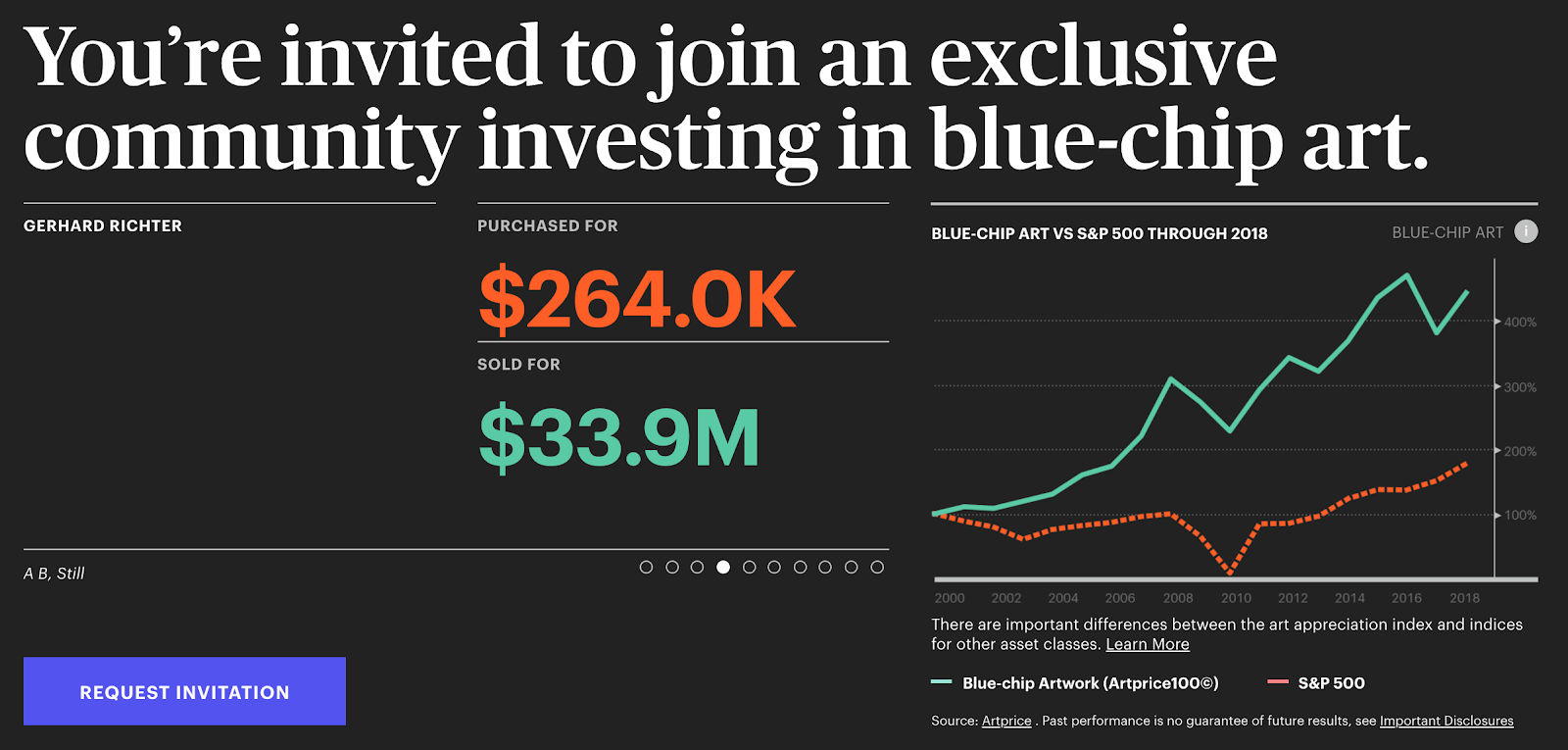 Who should use Masterworks?
Masterworks is ideal for investors who want to invest in art without having to buy expensive paintings. It's also a great option for alternative investors who wish to go the DIY route instead of getting help from investment brokers.
How does Masterworks work?
Here's how this online investment platform works:
1. Masterworks sources works of art from collectors, advisors, galleries and dealers and buys them with its own capital. Artworks are chosen based on certain investment criteria, including the artist's collector base, the average appreciation rate, and demand for the paintings.
2. The artwork is then registered with the SEC (Securities and Exchange Commission) and shares are issued at $20 per share.
3. An investor can hold up to a 10% share of any specific work.
4. Each painting is displayed in a members-only art gallery in SoHo, New York for a minimum of three years, and then assessed for its sale potential.
5. Proceeds are divided among investors when a private collector buys the artwork.
6. If there's no opportunity to sell or redeem your shares in a painting after seven years, Masterworks will attempt to sell the painting at avenues like auctions.
7. Investors can also buy and sell shares in artworks using Masterworks' Secondary Market trading platform.
Masterworks Features
Here are some important reasons to consider investing in shares of art with this platform.
1. Price database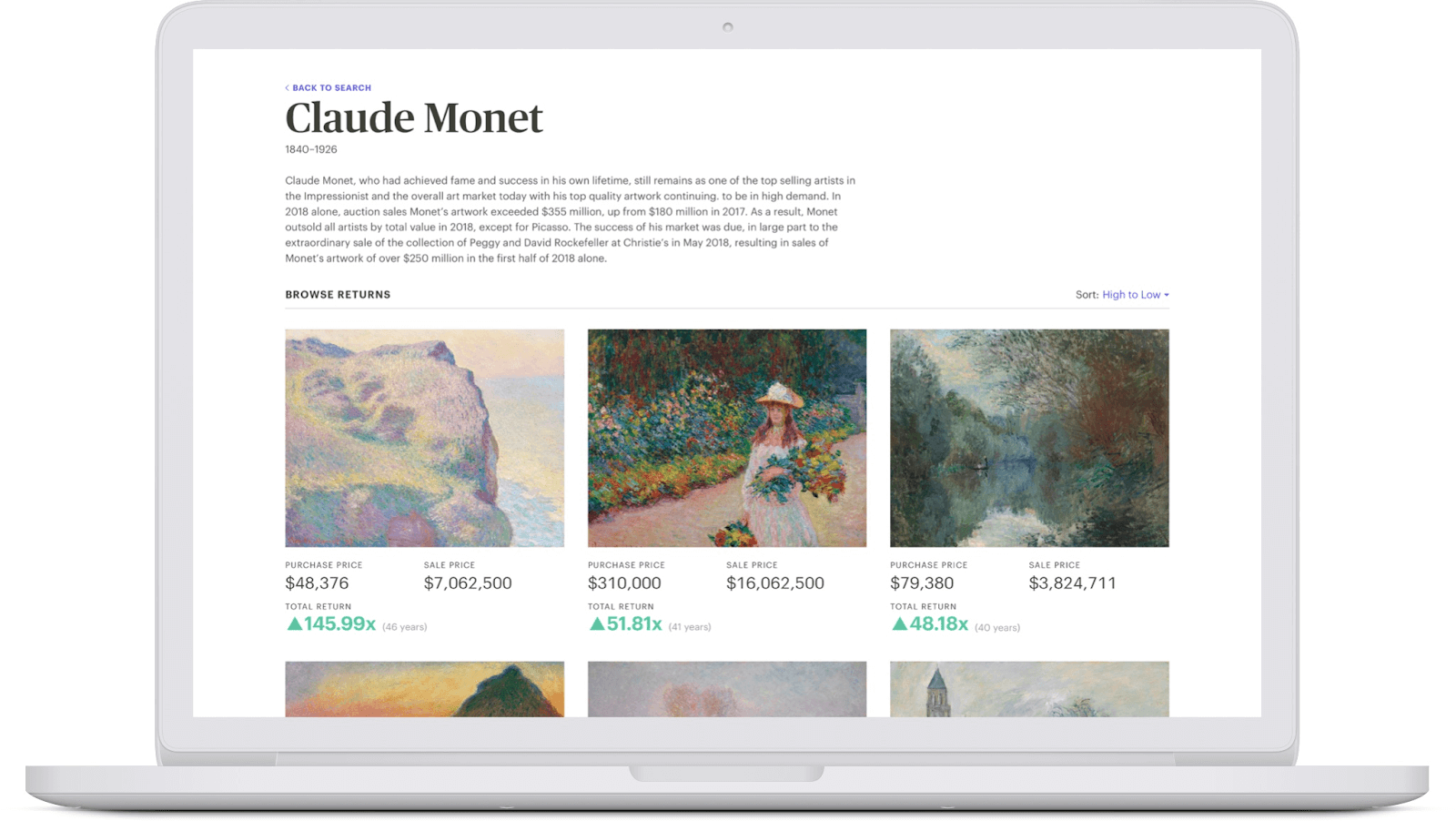 Masterworks offers a proprietary price database that claims to have 60,000+ data points and 70+ years of data, including historical market and auction house data. This is available for free for investors. You can also apply for an enterprise plan. This lets you search art market returns by artist and by artwork. You can read about the artist, and view purchase price, sale price, and total return of each painting.
2. SEC filings of each artwork
Investors can easily view the SEC filings of each painting on its page on the Masterworks website. For instance, if you're considering investing in Banksy's Mona Lisa, you can view its SEC offering circular, current reports, and Form 1-K on the Masterworks website.
3. Bank linking process
You can link your bank account to the Masterworks website soon after you create an account. The bank linking process is simple and includes all the necessary forms to start investing.
4. Members-only fine art gallery in New York
The paintings are displayed in a gallery in SoHo, New York until they're sold to a private collector. You can set up an appointment and view your investments at your convenience.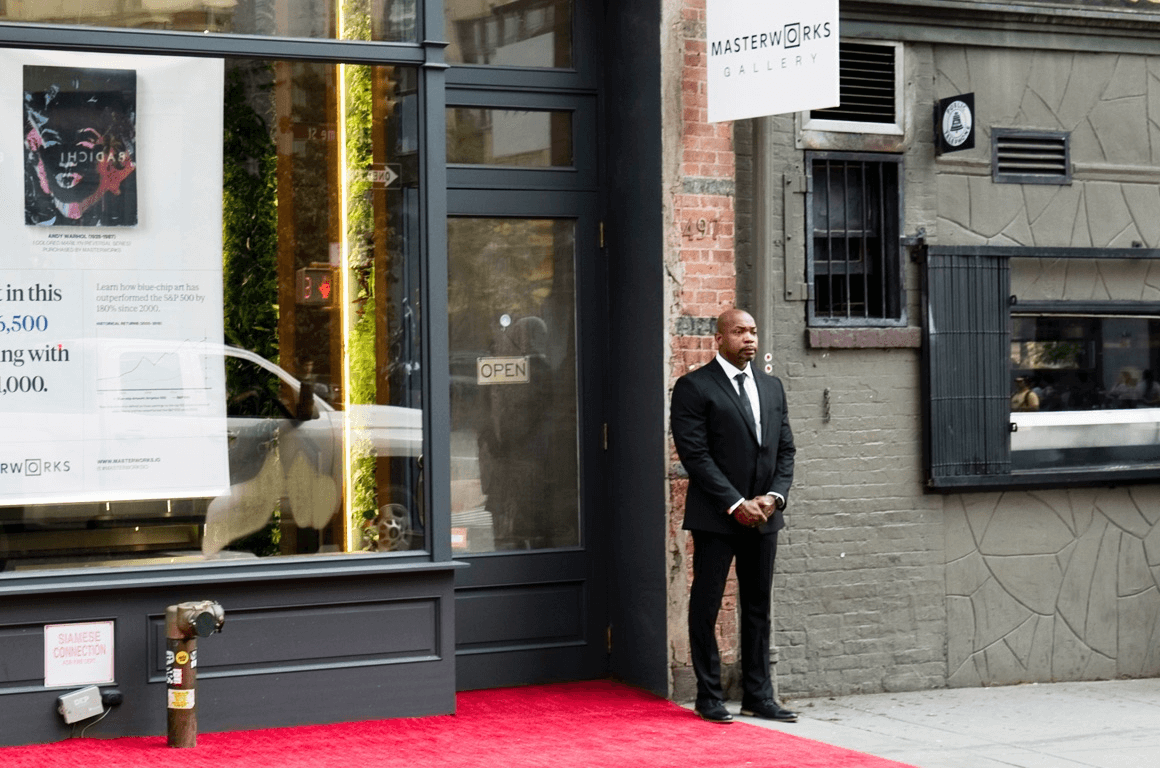 5. Professional storage of artwork
The paintings that aren't on display are stored at a climate-controlled, museum quality, secure art storage called Delaware Freeport in Delaware.
6. Secondary Market
Masterworks' secondary market is a bulletin board that lets you trade shares in paintings with other users without Masterworks' involvement. To use this feature you need to open a Synapse bank account. The secondary market is currently available only to US citizens with US bank accounts.
7. Masterworks Insights
Masterworks Insights is an educational resource page on the website with informative blog posts and art market research reports published by third parties like Citi Group and Deloitte.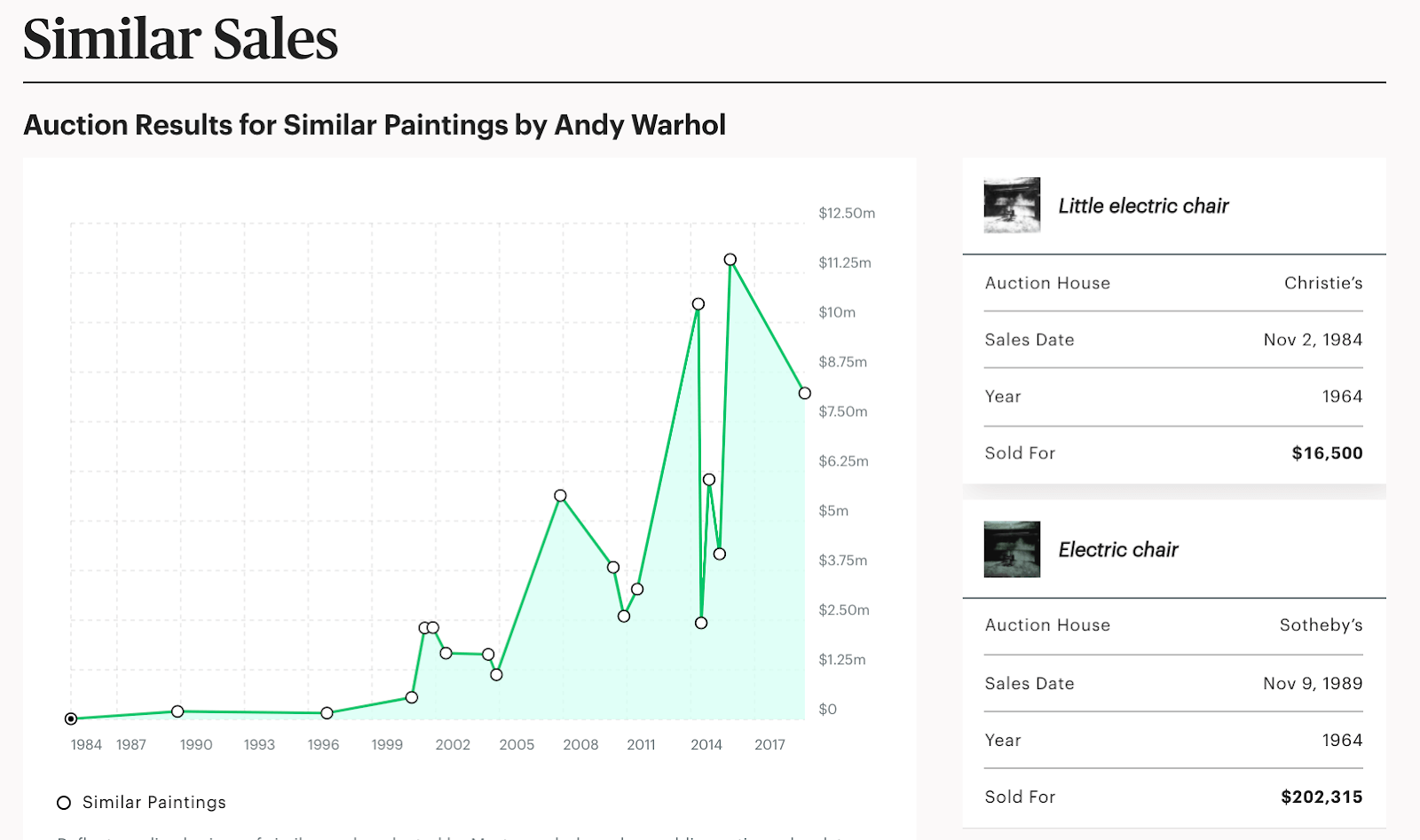 How to get started with Masterworks?
You need to follow five simple steps to start investing through Masterworks:
Step 1: Request an invitation by providing your name, email address, phone number, and a password.
Step 2: Attend a phone interview with a Masterworks specialist.
Step 3: Become a member. (You don't have to be an accredited investor.)
Step 4: Start investing in fine art shares. The minimum investment is $1000 - with which you can buy shares across various artworks, to get started.
Step 5: Track your investments on your account dashboard online.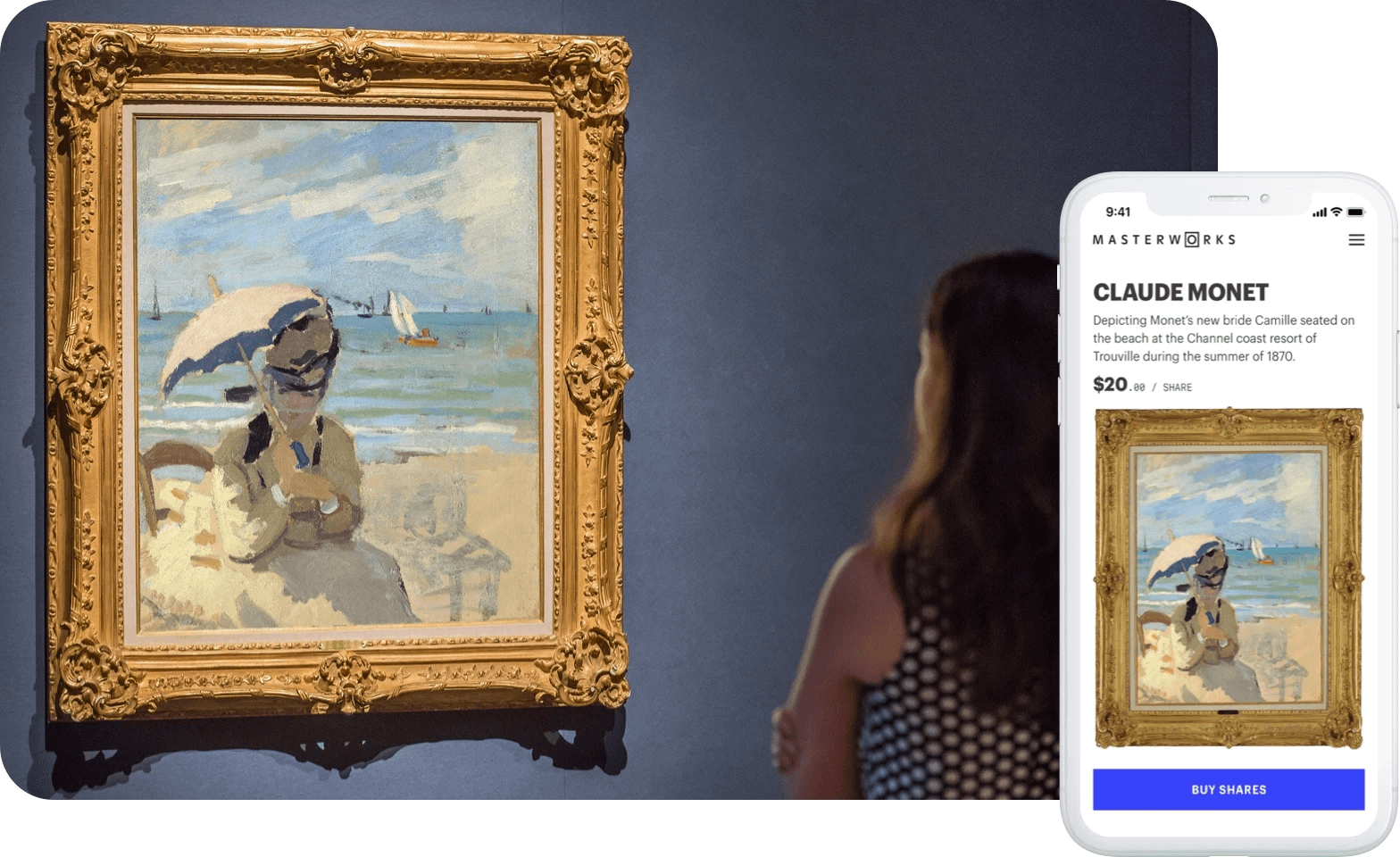 Masterworks Fees
Masterworks charges a 1.5% annual fee and a 20% commission on a profit made from an art sale. The annual fee includes the costs for SEC filing, storage, gallery space, transportation, insurance and audits. There may be additional expenses and fees for acquiring, sourcing, securitizing or selling the artwork.
Masterworks Potential Returns
Masterworks only targets artworks where the artist has achieved a 9% to 15% annual return historically.
How to Redeem your Masterworks Shares
Traditional art investments have a 3 to 10 year holding period, but with Masterworks' secondary market you can exit earlier.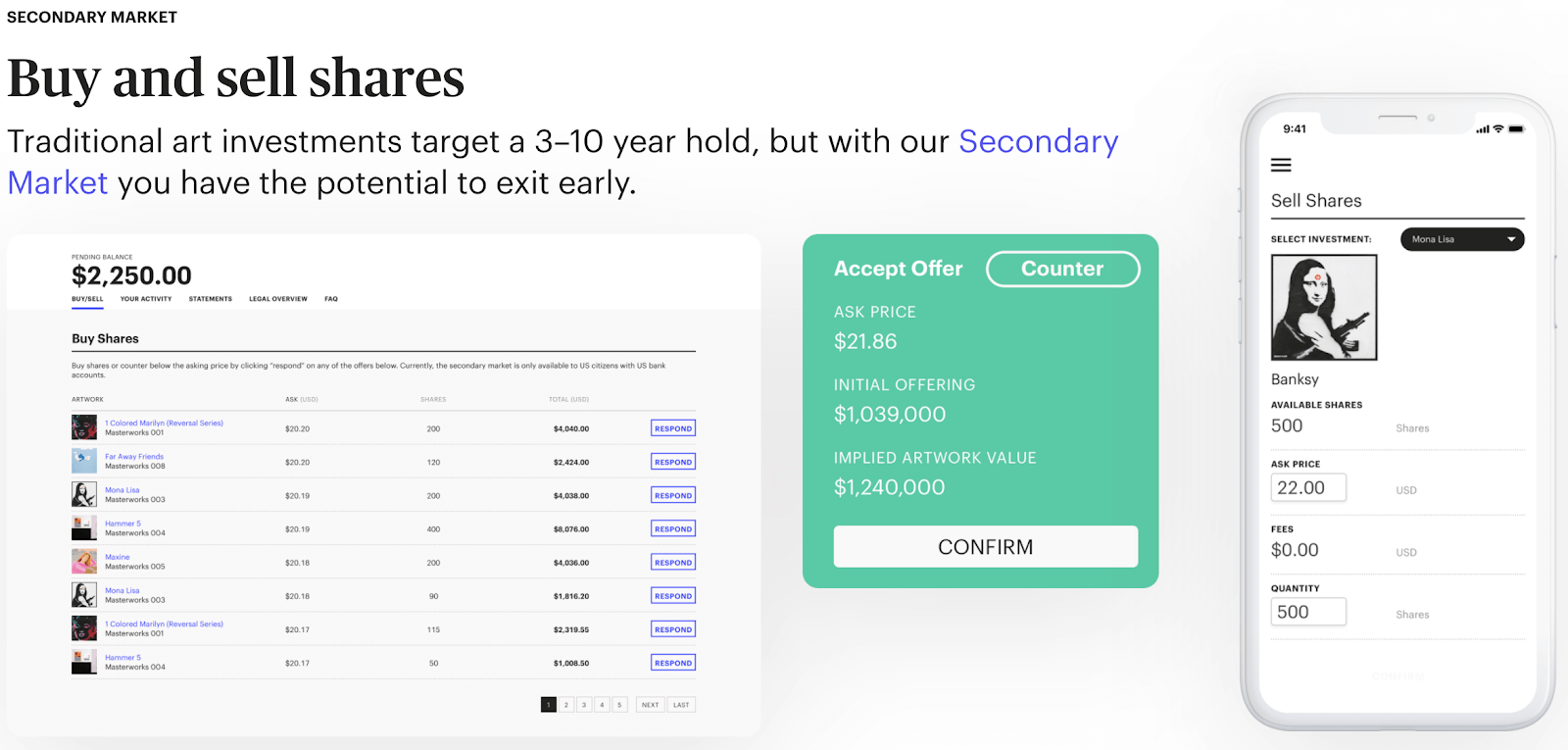 Historical Performance
Let's take a look at the historical performance of art and the Masterworks platform.
A. Asset class
Fine art outperformed the S&P 500 by 180% from 2000 - 2018.
The average annual returns of art was 8.9% between 2000 and 2019.
In 2018, art delivered a return of 10.6% as opposed to S&P's -5.1%, -4% for real estate investment trusts (REITs), and -1% for gold.
During the period between 1985 and 2018, the art market returned 5.3% annually, on average, while investment grade bonds from developed nations returned 6.5%.
B. Platform
Masterworks doesn't publish a performance report. Also, since it is a fairly new company (founded in 2017), there's insufficient historical data to evaluate its performance.
Pros and Cons of Masterworks
There are a few significant pros and cons in investing in blue-chip art through Masterworks.
Pros
Invest in art with as little as a $1000 minimum investment and $20 in each artwork.
Investing in art shares is far less expensive than buying whole artworks. It is much easier than traditional art investing.
All the works of art are pre-vetted.
All artworks are stored safely in a secure, climate-controlled facility or displayed in a members-only gallery in New York.
Art has a low correlation with the stock market - so art investments often weather market downturns well.
Cons
Your account can be created online - however you are required to take a quick phone interview to finalize your account, and there may be a waitlist.
Masterworks is a fairly new company with a short track record.
Low liquidity - there may not always be a buyer willing to purchase your shares.
At the moment, there are relatively few investment opportunities. Masterworks currently focuses on artworks in the $500,000 to $10,000,000 range only by 20 artists, including Pablo Picasso, Joan Mitchel, Ed Ruscha, and Yayoi Kusama.
Risks of Investing Through Masterworks
1. Even a painting by a top artist lose value occasionally. Some of them may lie unsold for years.
2. Offerings by living artists could quickly devalue depending on an artist's reputation, public sentiments on social media and so on.
3. Art valuation can be highly subjective.
Conclusion
Transparency in art sales has always been a hurdle for art buyers. And, Masterworks aims to make blue-chip art more accessible to anyone who wants to venture into alternative investing.
Buying shares in a Picasso or a Monet is a great way to diversify your investment portfolio, without having to spend millions of dollars buying the original artwork itself.
So, if you have a passion for art or alternative investing, Masterworks would be an interesting addition to your portfolio.
Earn better returns
Personalized investment opportunities to help 10x your returns