Public review
Public makes the stock market social. Follow other investors, discover companies you believe in, invest with any amount of money
Looking for a Public App review?
Investing in stocks is the go-to option for most investors, irrespective of their experience in trading. However, stock trading can be risky - especially for new investors who might not have extensive knowledge of the listed companies.
This is where Public comes in.
To make stock trading more accessible, it lets investors interact with each other on the platform. They can discuss different stocks and opportunities to make more informed decisions.
But how does Public work? How do you get started with the platform? What are its pros and cons?
Pros
Simple, intuitive and engaging social aspect to trading

Numerous chat groups to facilitate easier communication between investors

Safety labels make it easier to identify the safe-to-invest stocks

No fees and minimum investment requirements

Offers fractional shares with real-time execution

Over 5,000 stocks and ETFs to invest in
Cons
Only open to US residents

Limited investment types - only stocks and ETFs

Supports limited account types - retirement and joint accounts aren't supported

Day trading not allowed
Beginner investors who would benefit from discussing and engaging with other traders before making any investment decisions
Everyday investors that are looking to own stocks that would usually be out of reach for them (fractional shares).
What is Public?
Public is a free social investing app that offers fractional share investing and does not charge any commissions on standard trades. It allows investors to invest in portions of stocks and ETFs for an equivalent portion of the price and has no minimum capital requirements.
The social community of investing is what makes Public unique.
Investors can connect with fellow investors and thought leaders to learn about investment strategies and new investment avenues. To make stock trading more accessible and engaging, they can also follow different companies to ensure that they're investing in something they believe in.
Some of the most prominent investors in the company include Will Smith (Dreamers VC), Scott Galloway, NFL star J.J. Watt, bestselling author and entrepreneur Sophia Amoruso, the original investors in Venmo (Accel and Greycroft), and Shari Redstone's Advancit Capital. Creator/entrepreneur Casey Neistat is also an advisor to the company.
Public is free to download and is available both on iOS and Android devices.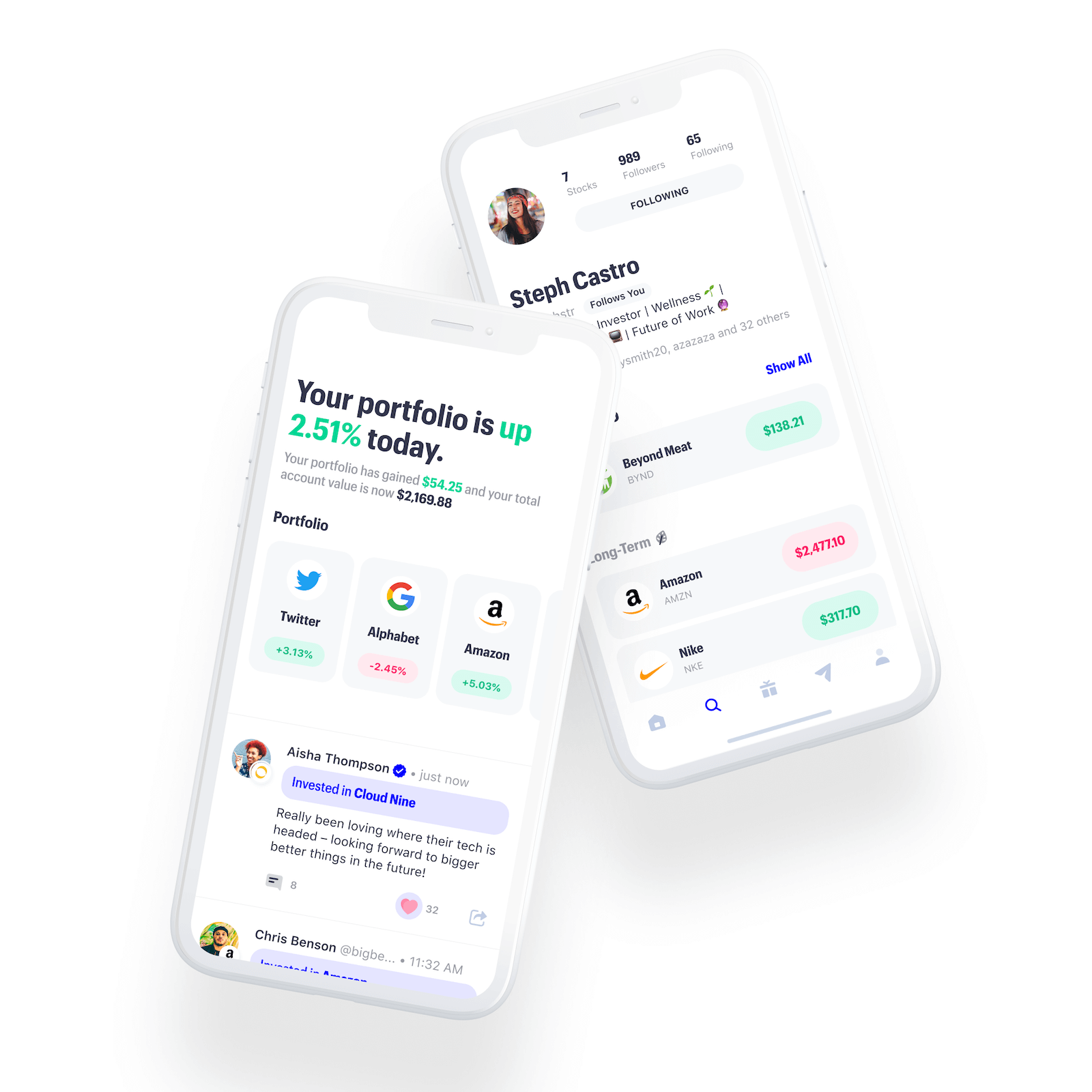 Who should use Public?
Public App offers an ideal investment platform for:
Beginner investors: by following and conversing with fellow investors and thought leaders, new investors can get the guidance they need to build their confidence in the stock market.
Everyday investors with limited capital: investors can buy smaller shares of a stock that would otherwise be out of reach for them. For example, you can own $5 worth of Amazon, which is currently trading at more than $3,000 per share.
Stock traders: who want to invest in equity securities.
ETF (Exchange-Traded Funds) traders: who trade baskets of securities, similar to stock trading.
How does Public work?
Here's how investing through Public App works:
1. Access Over 5,000 stocks
Public offers shares and ETFs from a large list of corporations with over 5,000 stocks and ETFs to invest in.
2. Interact With The Public Community
Immediately after activating your account, you can engage with fellow investors and thought leaders for investment insights. You can also join various communities and chat groups to interact with like-minded investors and identify new investment opportunities.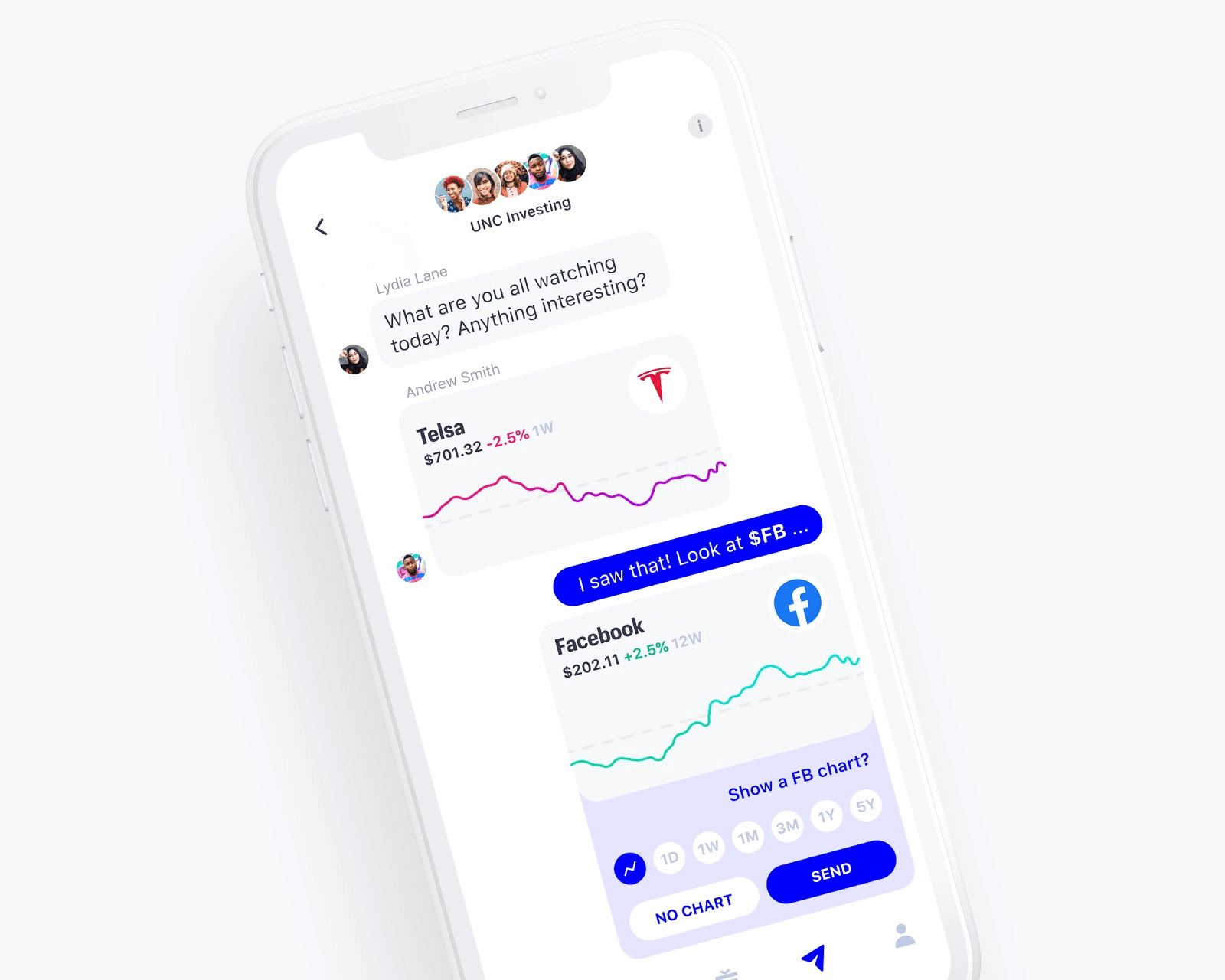 3. Invest In Fractional Shares
Investors invest in slices of shares for an equivalent portion of the share's price.
This means you can invest $50 in a share of company X that is worth $5,000 - giving you a 1% ownership of a share of X. This is perfect for beginners since you can start small, and build your portfolio as you build your confidence in investing.
Public Features
Here are some of the key features of Public:
1. Community forum
Public has a large community forum where beginner traders can seek the help of experts by asking questions about trading.
This social aspect of trading is a unique feature of Public. The community offers a built-in educational layer where people from different professional backgrounds can share ideas and discover new companies they might want to invest in.
2. Various chat groups
Public's community forum has numerous chat groups for different purposes. Investors can have personal conversations or discuss a particular topic.
Some chats in the app include:
IPO chats - for discussing companies with plans to go public
Social Stocks - for discussing social media companies
Gen-Z Trends - for discussing how incoming generations of consumers will impact the relevancy of publicly-traded companies
The app also has Earnings Chats for prominent companies, where investors can follow along during earnings calls and discuss the takeaways in real-time.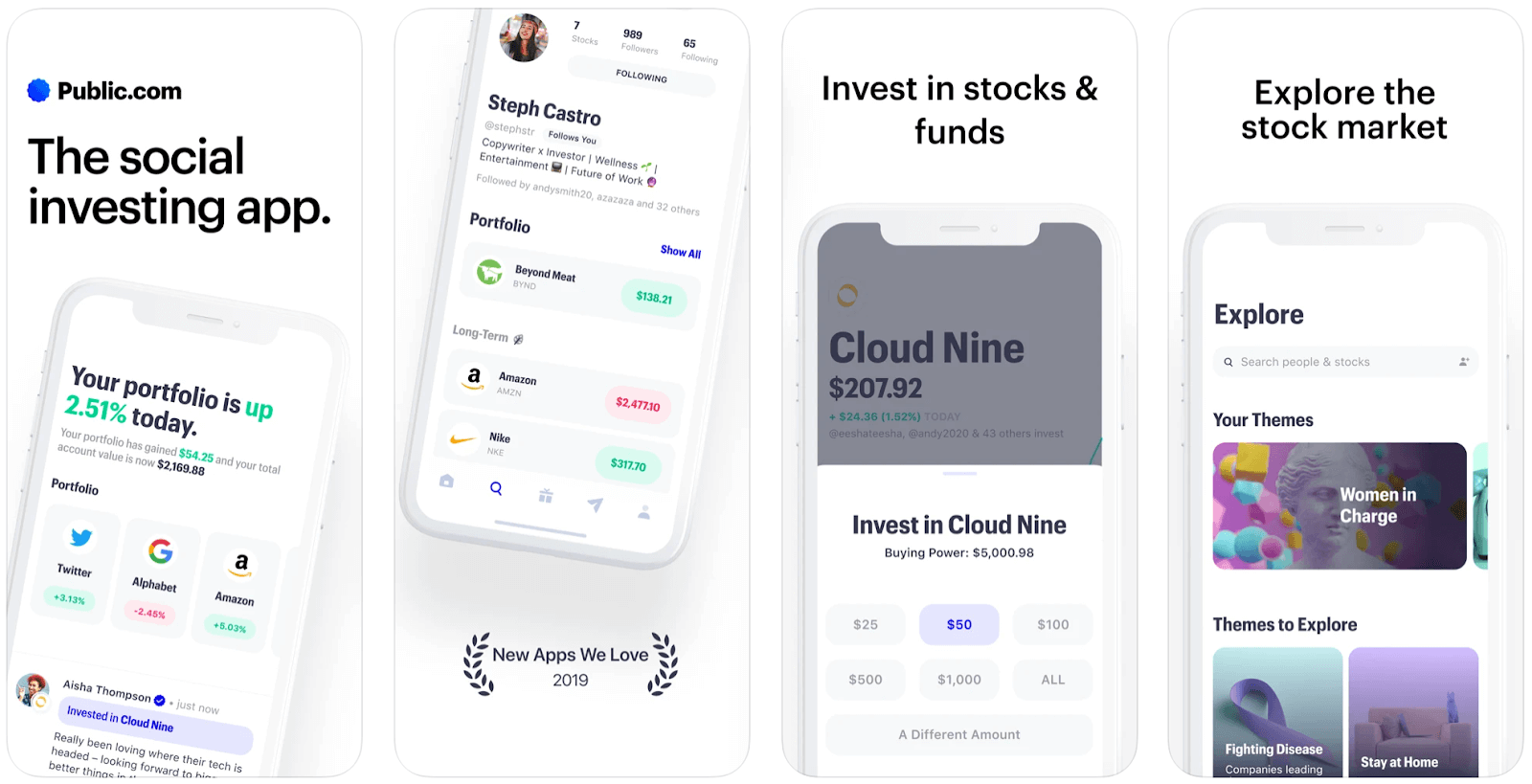 3. Intuitive categorization
Public categorizes stocks under intuitive themes to make it easy for investors to search and identify the stocks they're interested in. For example, if you're passionate about women-led companies or specific industries, you can browse these sections and invest in a company that's appealing to you.
4. Risk-based labels
Public labels stocks considered to be potentially risky by the SEC (Securities and Exchange Commission), so you can have the full context before you invest. While all stocks naturally have a certain amount of risk, some are riskier than the others (e.g. companies that have filed for bankruptcy) and Public identifies these stocks for its investors.
5. Real-time execution
Unlike many other brokerages, the orders are executed immediately at real-time prices in Public.
6. Dividend deposit/reinvestment
Public automatically deposits the dividends in your account. However, if you want, Public can automatically reinvest the dividends back into the investment they came from.
7. Free slice of stock
Public believes that investing is better together and so they offer a generous referral program. Each time you invite a friend to the app and their account is approved, you'll both get a free slice of stock valued at up to $50. Your friend will also get a free slice of stock. You can choose to apply the free slice to popular companies like Tesla, Peloton, Zoom, Amazon, and more.
8. SIPC insured
Public is insured by SIPC up to $500K. Cash amounts up to $250,000 are also covered. They also use AES 128-bit encryption and TLS 1.2 secure data in transit. This ensures the security of the investor's funds.
How to get started with Public?
Before you can start investing through Public, you should be of 18 years of age and have:
A valid Social Security number
A U.S. residential address
A U.S. citizenship or a valid visa
To start investing with Public, you have to follow these steps:
Step 1: Download the app from the App Store, Google Play Store, or via Public.com.
Step 2: Register yourself as an investor by answering some questions and filling in a few details about yourself, such as your age, social security number and bank account details.
Step 3: Once you are done with the registration, you can deposit funds and start investing.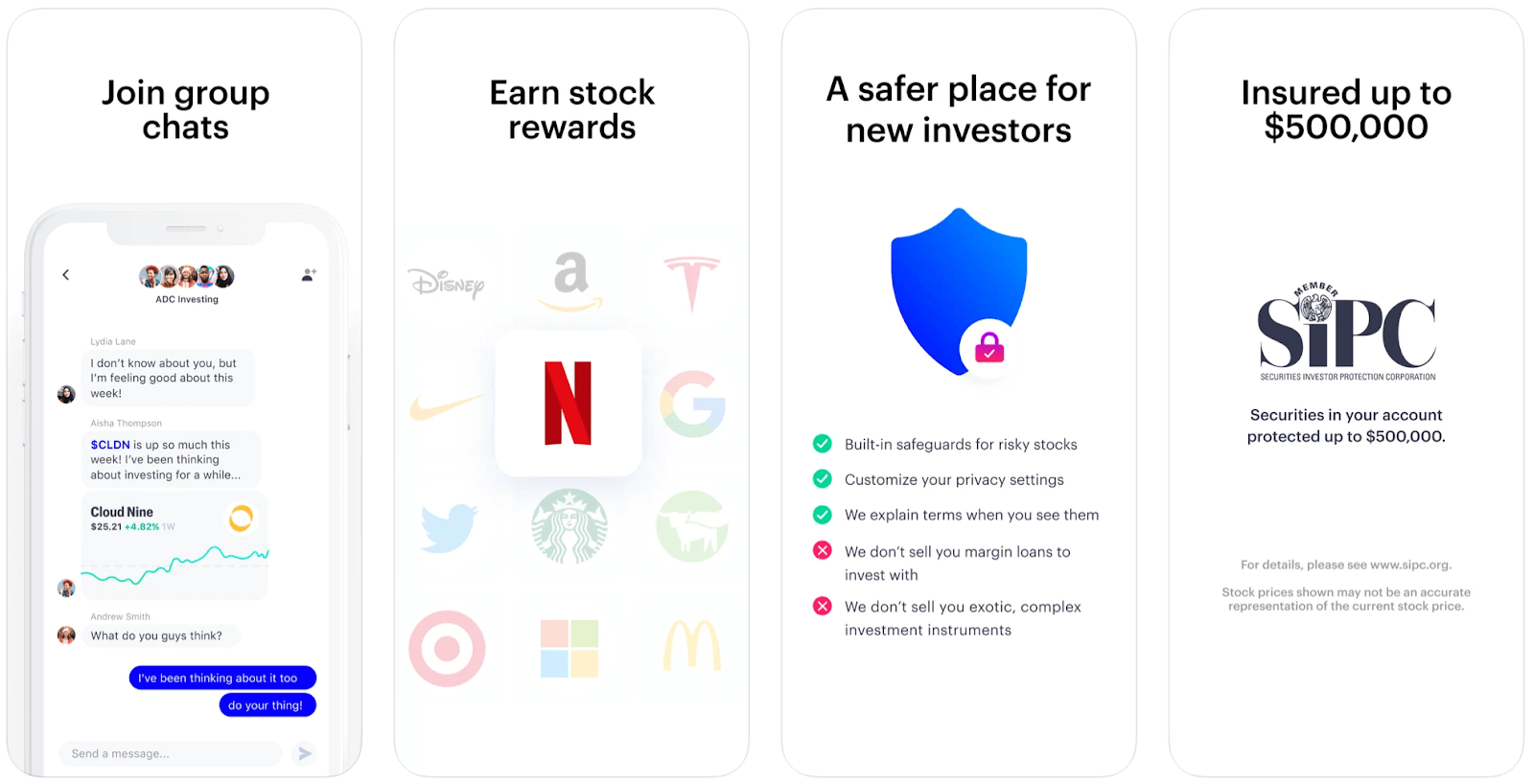 Public Fees
Public charges zero commissions on standard trades, so you can also process fund transfers in and out of your account for free.
However, Public charges fees for additional services:
Broker-manned phone trades – $30
Domestic wire transfer – $30
Domestic overnight checks – $35
Returned checks or stop payments – $30
ACAT outgoing – $75, though Public is currently waiving the fee for accounts valued at over $150. You can start the account transfer process here.
Paper statements – $35
Additionally, if an investor opts to not reinvest the dividends, Public earns interest on uninvested cash balances. The current rate, as set by the Federal Reserve, is 0.2%.
Public Potential Returns
Since Public is a stock investing platform the returns from investing through Public depend entirely on the performance of the stocks/ETFs you invest in.
The returns may include regular dividend payouts (distributed monthly or quarterly) in addition to the money earned upon selling the stock.
Pros and Cons of Public
Here are the pros and cons of investing through Public App.
Pros
Social aspect to trading makes investing far more accessible to investors.
Ability to view trades from prominent entrepreneurs and investors like Scott Galloway, Sophia Amoruso, Adrian Grenier, and more.
Safety labels can help you get the full context before making investments outside the scope of your risk tolerance.
No minimum investment and no fees for standard trades.
Public lets you invest in fractional costs in real-time, unlike other platforms.
Public offers over 5,000 stocks and ETFs to invest in.
Public offers free portfolio transfer from another brokerage (only for accounts valued at or over $150).
Public also offers various tools to its investors for a more intuitive experience:

Public Trends - see the popularity of certain stocks in Public over time
Ticker Time Machine - to check the performance of investments that you didn't make in the past.
Cons
Public is only available for US residents.
Investors are only offered two investment options - stocks and ETFs.
Public only supports traditional, taxable brokerage accounts for individuals. No retirement or joint accounts are supported.
Even though Public doesn't charge any fees, Public is not suitable for day traders as day trading is not allowed on the platform.
Risks of Investing Through Public
Public is a brokerage. As such, the risks of investing with Public is same as investing in stocks, such as:
Commodity risks: the risk of a swing in commodity prices that can affect the company you've invested in.
Detection risk: the risk that the auditor, compliance program, regulator or other authority fails to find out about any illegal or compromising activities until it is too late.
Interest rate risk: refers to the problems that rising interest rates cause for businesses that need financing. As their costs go up due to interest rates, it's harder for them to stay in business.
Conclusion
This detailed review should help you decide whether Public is the ideal stock investing platform for you.
Before investing through Public, do consider the limited account types and the fact that it's a mobile-only platform.
However, the ability to interact with thought leaders and be part of a trading community make Public a unique and attractive investment platform for any investor.
*This is not investment advice. Valid for U.S. residents 18+ and subject to account approval. See Public.com/disclosures/.
Earn better returns
Personalized investment opportunities to help 10x your returns