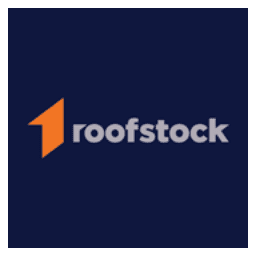 Roofstock review
Roofstock provides a marketplace that helps to generate passive income through investing in tenant-occupied Single-Family Rental (SFR) properties. The online platform makes it a breeze to invest in SFRs across 40 states in the US and generate cash-flow from day one.
Looking for a Roofstock review to help you weigh the pros and cons of investing through the platform?
It's no secret that investing in the real estate market is one of the more lucrative ways to diversify your investment portfolio.
However, while it offers excellent potential for returns, real estate investing has typically been confusing and time-consuming, making it inaccessible to most millennials and non-accredited investors.
Roofstock is bridging this gap by offering investors single-family real estate investments without high fees and extensive documentation.
But how does Roofstock work?
What are the costs, pros, and cons, and the potential returns involved?
In this detailed Roofstock review, we will walk you through what it offers, how to get started, its annual returns, and much more.
Pros
Open to non-accredited investors

It's free to join and view properties

Much lower fees when compared to many other real estate investment platforms

Investors have 100% ownership of the properties (except for Roofstock One)

Investors can start earning income as soon as they close the deal

New investment properties are available daily

30-day satisfaction guarantee on selected properties

Investments would be unaffected if Roofstock went bankrupt

Investors have an array of options to finance their investments
Cons
No mobile app

Only single-family homes are available to invest in
Millennials and non-accredited investors looking for an easy way to diversify their portfolio through real estate
Investors interested in long-term investments that can generate passive income
Accredited investors looking for fractional ownership in real estate
What is Roofstock?

Headed by CEO Gary Beasley, Roofstock is an online marketplace that provides investors with opportunities to invest in single-family rental homes with great cash flow potential.
Roofstock differentiates itself from competitors by offering already-occupied homes, so investors can start earning a return as soon as they close on a Roofstock property.
Additionally, Roofstock doesn't own the properties. Instead, they evaluate, negotiate, and close the transactions on behalf of the investor.
This effectively removes the hard work involved in real estate investing, providing investors with a much easier path towards owning a rental property.
Investors begin by choosing a property from the marketplace before receiving financing or purchasing the property with cash. Once the title is signed in their name, Roofstock will assign a property manager to deal with the tenants and maintenance.
Bear in mind that property managers come with their own set of costs. While you're free to choose your property manager, they typically charge between 6-10% of the gross collected. If you opt to go through Roofstock instead, you may pay lower fees as Roofstock can negotiate with property managers.
Investors do have the option of managing the properties themselves.
Who should use Roofstock?
Roofstock is an ideal real estate investment platform for:
Non-accredited investors and millennials looking for an easy and affordable way to invest in real estate.
Investors interested in long term investments that can generate passive income.
Accredited investors with an interest in fractional ownership of single-family properties - through the Roofstock One Scheme.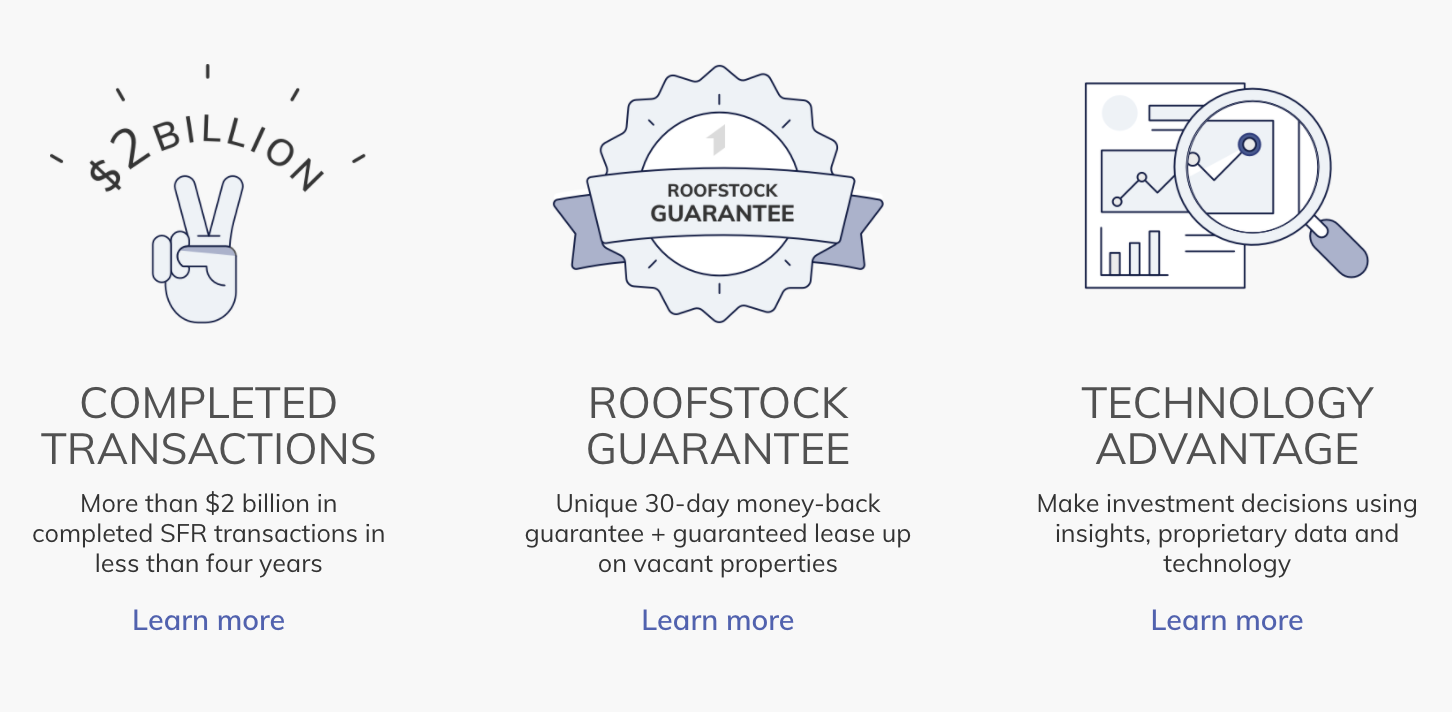 How does Roofstock work?
Here's how Roofstock helps you with rental property investments:
1. Roofstock finds the properties
Roofstock works directly with large real estate holding companies to identify new investment opportunities.
2. Roofstock then inspects the properties
Roofstock conducts a thorough property inspection and certification process to provide investors with as much information as possible. Before they can be certified, each property must have:
A title report with no uninsurable encumbrances
3D floor plans
Tenant details
Property and valuation reports
An inspection report, and more
This is to ensure investors are well informed before making any decisions.
3. Roofstock's team negotiates the price before listing the property
While the property seller retains control over the listing price, Roofstock won't list the property if it's priced unfairly.
Roofstock also won't list the property if the existing tenant has an outstanding balance equal to more than 125% of the monthly rent at the time of listing.
4. Investors pick from certified properties
Investors can now pick from the available properties on offer on the Roofstock marketplace. They can filter properties according to list price, neighborhood rating, location, construction date, and square meterage.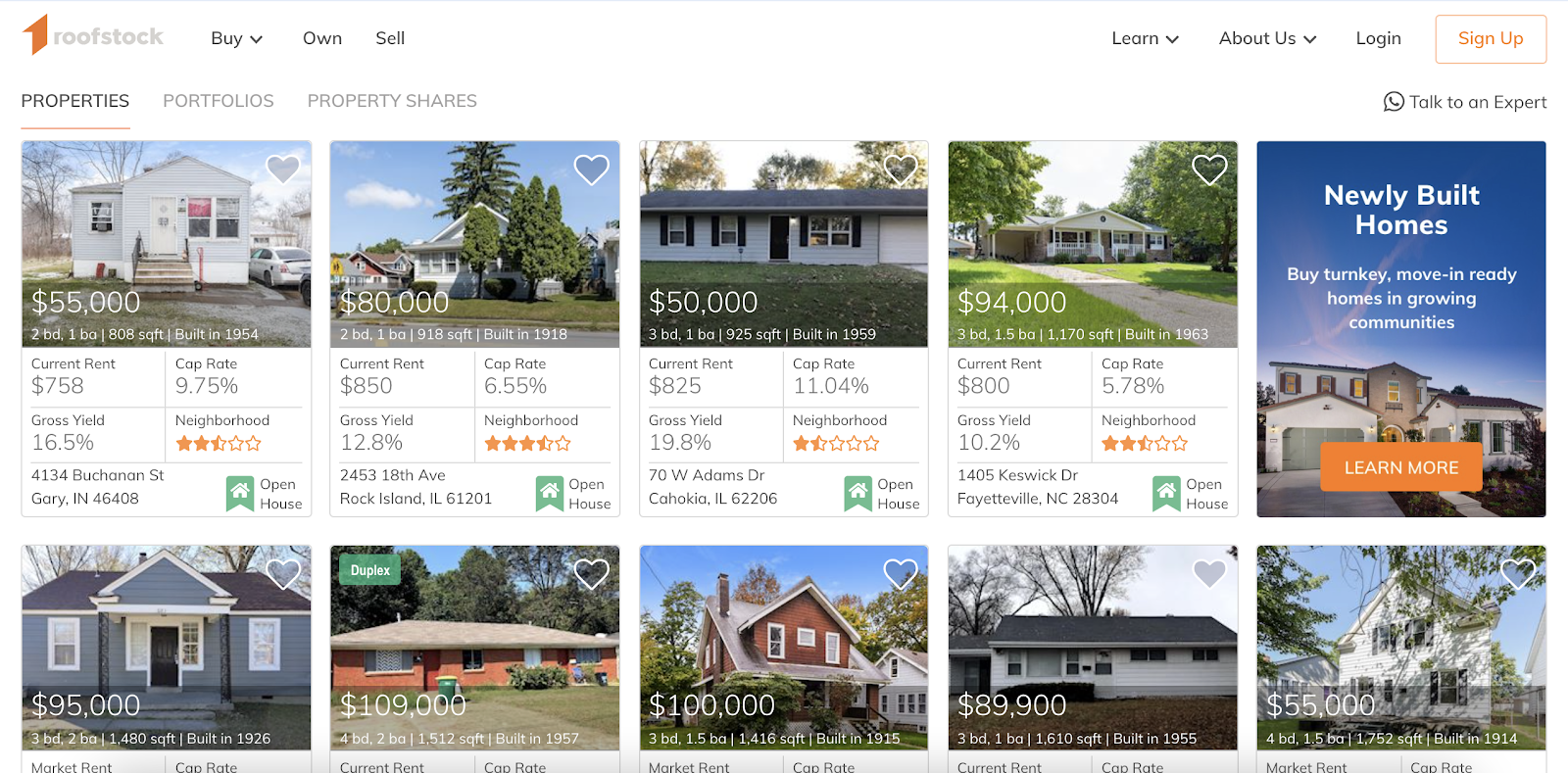 Roofstock Features
Here Roofstock's key features:
1. Roofstock handles the heavy lifting
Roofstock takes care of the most challenging aspects of real estate investing - like identifying opportunities, negotiating with sellers, and inspecting the properties.
This way, investors can easily invest in promising real estate opportunities without any of the associated hassles.
2. Start earning immediately
The majority of homes available on Roofstock already have tenants, so you begin earning rental income from day one.
Even if you purchase a vacant property, Roofstock covers the investor with its Lease Up guarantee. This ensures investors will secure a signed lease within 45 days, or Roofstock will cover rent for up to a year
3. 30-day money-back guarantee
On top of covering rent, Roofstock also offers a 30-day money-back guarantee on specific properties.
If a Roofstock investor is unhappy with their purchase for any reason, Roofstock will begin the refund process if contacted within 30 days of the purchase.
They will relist the property free of charge and will refund the original price upon its resale, regardless of the sale price. Further, if Roofstock can't sell the property within 180 days, they will buy the property and refund the purchase price.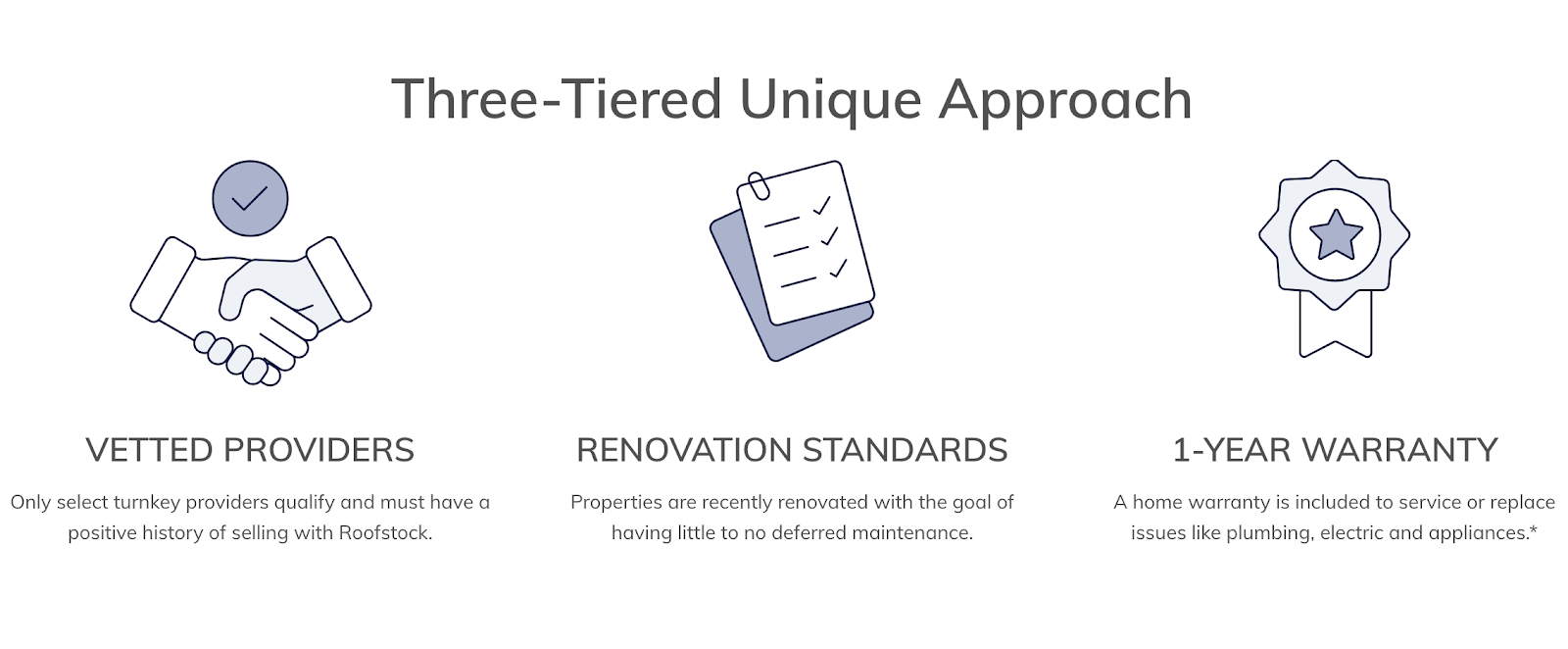 4. New properties are added daily
Roofstock adds new properties to the site daily and currently offers properties in 27 locations around the US, including Illinois, Nevada, Delaware, and Florida.
5. Roofstock One
Roofstock One is an investment platform for accredited investors to purchase shares of single family rental properties.
Investors earn through dividends and appreciation in the property's value alongside the tax benefits associated with property ownership.
Additionally, Roofstock One provides investors with liquidity options after an initial six-month holding period. Some options include converting to traditional ownership and potential share redemption.
This way, they can enjoy the economic benefits of owning property without worrying about being a landlord and engaging in real estate property management.
How to get started with Roofstock?
Follow these steps to start investing through Roofstock:
Step 1. Begin by going to roofstock.com and signing up with your email address.
Step 2. Roofstock will then start building your investor profile by asking you a series of questions such as whether you're an accredited investor or not, your primary goal for investing, and risk tolerance
Step 3. Once your investor profile is complete, Roofstock will show you some properties that match your preferences. Alternatively, you can browse Roofstock's entire selection of properties.
Step 4. Before buying a property, you'll need to ensure you're pre-approved by a lender. This ensures that once you've found a property you like, you can complete the buying process as quickly as possible.
There are three available lenders: Argos Lending, Axos Bank, and Empire of America. Alternatively, you can use your own lender.
Once your loan application is approved, you can initiate the purchase process by adding the property to your cart.
The property owner then has two business days to view your offer and make a decision. There are four possible outcomes:
Offer accepted
Offer declined
Counteroffer
Offer expired
If the offer is accepted, Roofstock begins transferring the title deed. An offer expires if the seller doesn't respond within two business days.

Roofstock Fees
Roofstock charges $500 or 0.5% (whichever is higher) as a marketplace fee.
Roofstock Potential Returns
It's important to note that many different factors can affect the expected return of any real estate investment, many of which Roofstock has no control over.
The average listed property on Roofstock has an estimated capitalization rate between 5% and 8% and a gross return of 11% to 12%. The capitalization rate indicates the estimated return on real estate investments.
The projected capitalization rate of each property is listed so that investors have an idea of the type of returns they can expect.
The primary source of income will be through the monthly rent paid by the occupants of the properties.
Investors can also earn through the property's appreciation in value. By purchasing a property and selling it at a higher price, investors could make a sizable profit. Properties may either be sold back to Roofstock or an MLS (multiple listing service).
Pros and Cons of Roofstock
Here are the advantages and disadvantages of investing through Roofstock:
Pros
Unlike many other real estate crowdfunding platforms, Roofstock is open to non accredited investors.
It's completely free to join and view properties.
Investors have 100% direct ownership of the properties they buy.
Investors are buying a turnkey property so that they can start earning immediately, unlike many other real estate investments.
New properties are added daily.
If Roofstock were to go bankrupt, it wouldn't affect investors as Roofstock doesn't own the properties.
There's a 30-day money back Roofstock guarantee on select properties.
Roofstock offers easy financing solutions. Investors have the option of investing through a self-directed IRA or a solo 401k plan. There's also the option of investing through an LLC, trust, or partnership.
Roofstock has completed over $2 billion in transactions over the last four years.
Cons
Only available to US residents.
No mobile app.
Investors can only invest in a single family rental property - there are no other real estate options available.
Risks of Investing Through Roofstock
While Roofstock goes to great lengths to minimize risks, certain factors are out of their control.
If you're a prospective investor, you should always do your due diligence and keep these points in mind:
1. Real estate can be affected by many different factors that can impact the property's price over time. For example, macroeconomic effects like recession or government policies such as new legislation can affect property values.
2. Since you're purchasing 100% ownership of the property, you may have to incur additional expenses for repairs, wear and tear, and replacements.
Conclusion
This detailed Roofstock review should help you decide whether Roofstock is a good investment for you.
Before making any decisions, it's essential to keep in mind that real estate investing tends to be more illiquid than other investments. Additionally, as investors are purchasing 100% ownership in a turnkey rental property, there's the potential for unexpected expenses.
Additionally, potential investors should be aware of the 25% down payment requirement.
However, Roofstock's low entry barriers make it an excellent option for a first-time real estate investor like millennials and non-accredited investors. And with more than $2 billion in completed transactions in the last four years, there's plenty of potential for investors to find the perfect investment property.
Earn better returns
Personalized investment opportunities to help 10x your returns