Plus, there's the added bonus that you can invest in—and get returns from—categories and products that you actually care about, whether that means partial ownership in a bottle of 1982 vintage Bourdeaux or fractional shares in a pair of deadstock Jordan 1s.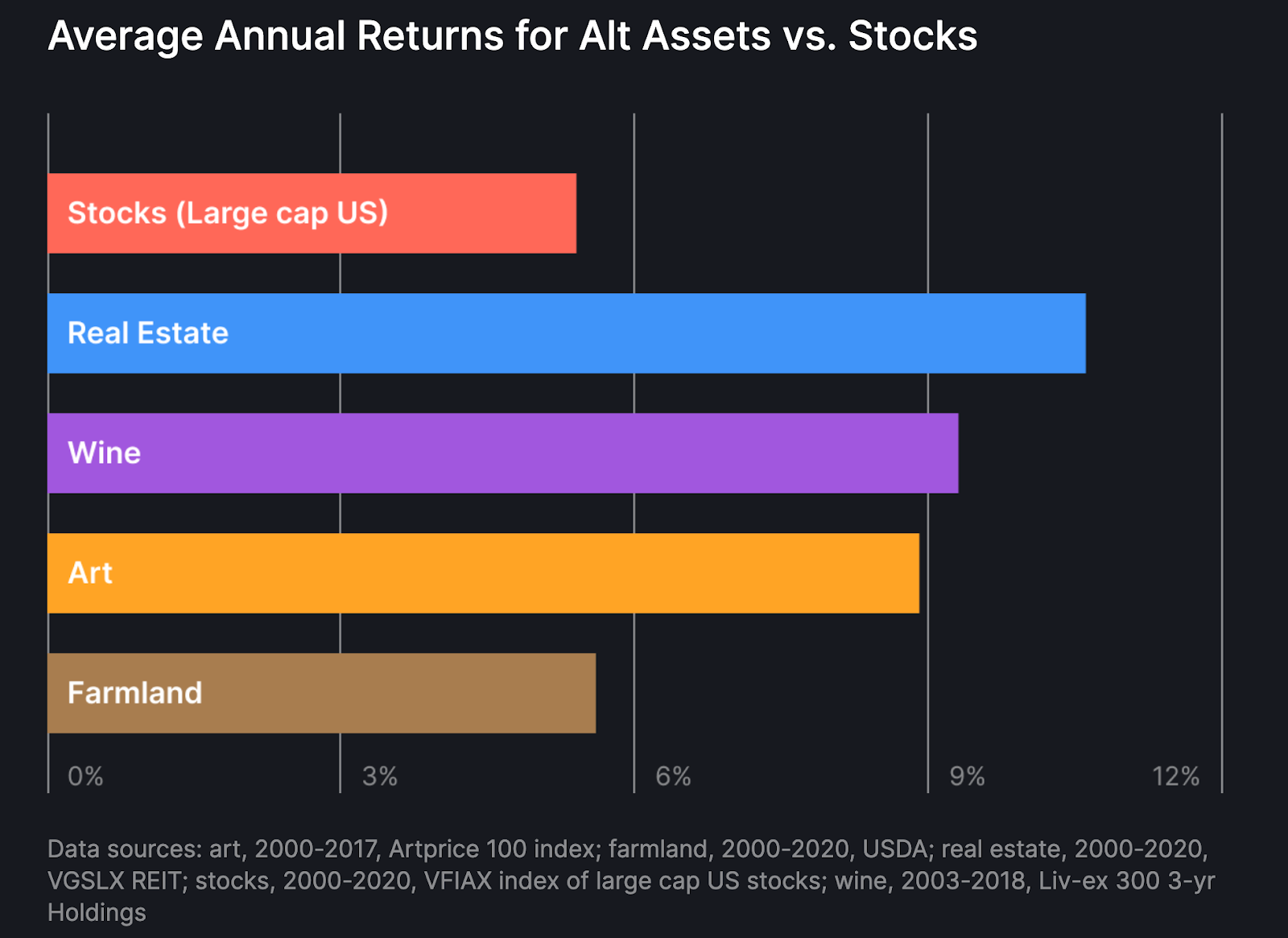 Top Alternative Asset Categories
Three of the most popular alternative investment categories are real estate investments, collectibles and cryptocurrency.
Real estate is favored for its mainstream accessibility and resistance to economic trends, while collectibles like sports memorabilia are gaining popularity due to their emotional appeal and high potential for returns.
Crypto, on the other hand, has drawn a whole flock of new investors due to its perceived security from external factors like inflation and government regulation.
Real Estate
Buying a rental house isn't the only way to invest in real estate. Another option is the real estate investment trust (REIT for short); REITs are investment funds that own properties and sell shares to investors. Buying part of a REIT is a great way to experience the benefits of real estate investing without the hassle and expense of property ownership.
Pros: Easy-to-understand asset class; tons of investment options for both newbie and experienced investors; opportunity for generating passive income
Cons: It can take time to see returns; your cash will be tied up if you're making a direct investment (no liquidity)
Easy Ways to Invest: GROUNDFLOOR ($10 investment minimum), Modiv ($5k investment minimum)
Collectibles
With options like art, fine wine, sneakers and trading cards, the collectibles category boasts some of the most exciting alternative asset classes. Fine wine has padded the portfolios of wealthy investors for years, while categories like sports memorabilia and streetwear are a relatively new way for modern investors to own a piece of the culture.
Pros: Growing categorywith big upside; you can invest in items that align with your interests
Cons: Some collectibles categories, like sports memorabilia, are untested; high potential for volatility; there's a chance you invest in a fake by accident
Easy Ways to Invest: Otis ($10 investment minimum), Masterworks ($5k investment minimum)
Cryptocurrency
From Bitcoin to Doge and beyond, cryptocurrency, or "crypto," is the viral leader of alternative investment asset classes. Based on a concept (blockchain) made possible by today's technology, crypto is an increasingly popular option for investors looking to the future.
Pros: Ultimate security in the internet age; potential for high returns for those with a high risk tolerance
Cons: Value rises and falls a lot (extremely volatile); still not mainstream enough to guarantee long-term returns
Outside of the three categories outlined above, other popular alternative investment options include:
How to Get Started with Alts
It's easier than ever before to jump into the world of alts. With the prevalence of online investing, there's opportunity for investors of all experience levels to build out balanced, growth-oriented portfolios.
However, with thousands of investment options spread out across hundreds of platforms, more choice also means more confusion and more time spent hunting down and tracking investments rather than evaluating your next growth opportunity.
MoneyMade is here to change that: through tech, tools and tips, the MoneyMade team demystifies alts and makes it easy to discover, learn about and manage new investments.
Explore. Find the best alternative investment option for you with MoneyMade's Investment Discovery tool.
Grow. Evaluate your next growth opportunity with MoneyMade's deep-dive platform reviews.
Optimize. Connect all of your investment accounts with MoneyMade's Portfolio Tracker to see how your portfolio progresses over time.