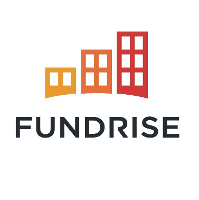 Fundrise
Build a more perfect real estate portfolio
Looking for a Fundrise review to help decide if it's a good investment platform for you?

Many investors now view real estate as a viable alternative investment that can generate passive income and help them with portfolio diversification. Additionally, they can benefit from the property's appreciation over time.

However, investing in real estate can also involve high fees and hidden costs, forcing investors to do a ton of due diligence to ensure that their investment works out.

Fundrise offers you a way around this.

It provides investors with an excellent opportunity to invest in equity and debt opportunities in real estate at a fraction of the cost and without any of the hassle.

In this detailed Fundrise review, we'll walk you through its features, fees, returns, and how to get started.
Investment Types
Commercial real estate
Annual Fee
Annual asset management fee of 0.85% and a 0.15% annual investment advisory fee.
Annual Returns
7.4% - 12.4% between 2014 and 2020, at which time offerings primarily included eREITs and eFund.
Average Liquidity
Relatively low
Open to investors outside the US?
No, Fundrise is only available to US residents over the age of 18.
Best for
Investors looking to diversify their portfolio

Non-accredited investors looking to enter the real estate sector

Investors looking for an investment that can generate passive income and appreciation
What is Fundrise?
Founded in 2010 and headquartered in Washington, D.C, Fundrise is America's largest direct-to-investor real estate investment platform specializing in providing all investors with access to real estate investments traditionally reserved only for accredited investors.
Fundrise differentiates itself from competing platforms by providing a set of "core plans" to choose from. Depending on which plan you opt for, Fundrise invests your money across several funds including their Interval Fund and eREITs (an electronic real estate investment trust) that function like ETFs.
After having invested in one of Fundrise's portfolios, your money is invested into individual properties. Investors then begin earning returns through quarterly dividends and share value appreciation as the property's value increases.
To date, Fundrise has transacted over $5.1 billion worth of real estate deals and returned upwards of $100 million to more than 150,000 active investors.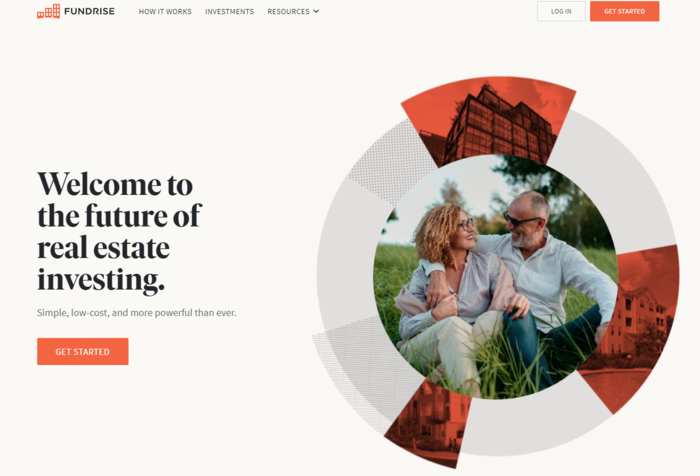 Who should use Fundrise?
Fundrise is an ideal investment platform for:
Investors looking to easily diversify their portfolio.
Non-accredited investors looking for an affordable way to enter the real estate market.
Investors looking for passive income investments.
How does Fundrise work?
When analyzing prospective deals, the Fundrise platform utilizes a comprehensive underwriting process to minimize the risk of acquiring a poor investment.
Here's how Fundrise operates:
1. Sponsors approach Fundrise with investment opportunities
Sponsors approach Fundrise with an investment opportunity. A sponsor is an individual or company charged with locating, acquiring, and managing real estate.
Fundrise then dives into their credit history and financials in addition to evaluating their previous experience and development history.
The ultimate goal here is to ensure Fundrise only partners with reputed sponsors who have proven success in US markets.
2. Fundrise then scrutinizes the real estate project
Once the sponsor has passed the background check, Fundrise scrutinizes the investment property to ensure it fits within their guidelines.
Before the Investment Committee signs off on a project, the lead underwriter must complete a thorough underwriting checklist with more than 350 data points. Only then will the Investment Committee review the project and give the go-ahead.
The aim is to account for the aspects that could go wrong, determine whether the project is still worth it despite these risks, and identify any way to mitigate or eliminate these risks.
3. The deal moves to final negotiations and closing
If the Investment Committee approves the project, it's moved to the final negotiations and closing phase.
Here, Fundrise may look to negotiate additional legal rights, such as the right to foreclose the property in the event of a payment default or personal guarantees to minimize downside risk.
4. The properties are added to Fundrise
Once the deal is closed, the property is allocated into one of Fundrise's eREITs and/or the Interval Fund
5. Time to invest in real estate
As a Fundrise investor, there are five account options to choose from, depending on your investing experience and financial goals.
All five Fundrise investment portfolios enable you to participate in a combination of debt and equity investments.
Starter - For as little as $500, the Starter portfolio is popular among investors new to private real estate investing. The account includes penalty-free redemption options available quarterly and the ability to set up auto-invest.
Basic - With a minimum investment of $1,000, this is an excellent option for those with limited real estate investing experience, providing access to a basic real estate asset portfolio.
Core - For an initial investment of $5,000, this option is ideal for those early in their career, new to investing, or looking to diversify their investment portfolio. The Core plan is suitable for most investors as you can choose between generating consistent cash flow, maximizing long-term growth, or an even mix of both.
Advanced - For an initial investment of $10,000, the Advanced investment plan provides a diversified portfolio spread across 80+ projects. It helps you allocate a part of your investment portfolio towards more complex real estate funds and strategies. As a result, it's more suited to investors who already have some investing experience.
Premium - For a minimum investment of $100,000, the premium account includes unique asset investments with extremely long time horizons, but potentially far higher returns.
Fundrise features
Here are Fundrise's key features:
1. eREITs - Fundrise's take on the traditional REIT
Fundrise's take on the traditional REIT focuses on commercial real estate that can generate steady cash flows.
The Income eREIT has three core principles for asset selection:
Small assets - Fundrise targets investments that large institutional investors will overlook, providing the means to generate higher returns.
Regulatory inefficiencies - Increased banking regulations resulting from the 2008 financial crisis have led to new opportunities for lenders to expand into the real estate market.
Urban locations - Fundrise typically targets projects located within the center of large cities to benefit from the increased demand and higher prices.
Alternatively, Fundrise's eFunds, the platform's latest addition, specializes in offering a range of private real estate; specifically residential real estate investments.
2. Early redemption
It's important to note that most real estate properties are illiquid assets.
Additionally, Fundrise is a private REIT, meaning you can't liquidate whenever you want like you can with a publicly traded REIT. As such, investors are encouraged to hold real estate investments for at least five years as they take time to generate income.
While they advise you to maintain your investment for the long-term, you can request a full or partial redemption, unlike many other real estate investment options.
Note: A redemption request may incur additional fees depending on how long you've held the investment. Fundrise may also reject your request during times of financial uncertainty.
3. Transparency
Fundrise goes to great lengths to ensure that you know what you're investing in. All the opportunities are available on their website, where investors can see the property's rating, location, the investment structure (debt or equity), and the projected return.
How to get started with Fundrise
Follow these steps to start investing with Fundrise:
Step 1: Begin by signing up on Fundrise's website with your email address.
Step 2: Fundrise will then ask you a few questions regarding your age, investing experience, goals, and where you go for investing advice.
Step 3: Fundrise will then recommend one of their three account levels, either Starter, Core, or Advanced. You can opt for their suggested plan or you can choose from one of the others.
Step 4: Once you've selected a plan, you need to confirm you're a United States resident by providing a valid government ID.
Step 5: Select the type of Fundrise account you'd like to open, either Individual or Other (Entity, Joint, or Trust).
Step 6: Next, Fundrise will ask for your contact information. Fill in your address, city, state, zip code, and phone number. You'll also need to add your social security number.
Step 7: You'll now have to fund your account. Fundrise primarily handles transactions via an ACH (automatic clearing house) from a linked bank account. For investment amounts above $25,000, Fundrise will accept a wire transfer.
Step 8: Once you've funded your account, sign the relevant agreements, and you're ready to invest.
Fundrise fees
Fundrise goes to great lengths to minimize investor fees. As such, investors pay no transaction fees or sales commissions.
There is an annual asset management fee of 0.85%. This money covers the ongoing operating expenses such as accounting, zoning, and construction.
There is also a 0.15% annual investment advisory fee that reimburses Fundrise for the time and money invested on your behalf into their platform's development.
Fundrise Potential Returns
Fundrise's investments are focused on long-term returns. Therefore, your investment will naturally form a J-curve that takes time to play out.
There will be an initial period of low expected returns as the properties are acquired. However, this should contribute to generating higher returns as your investment begins maturing.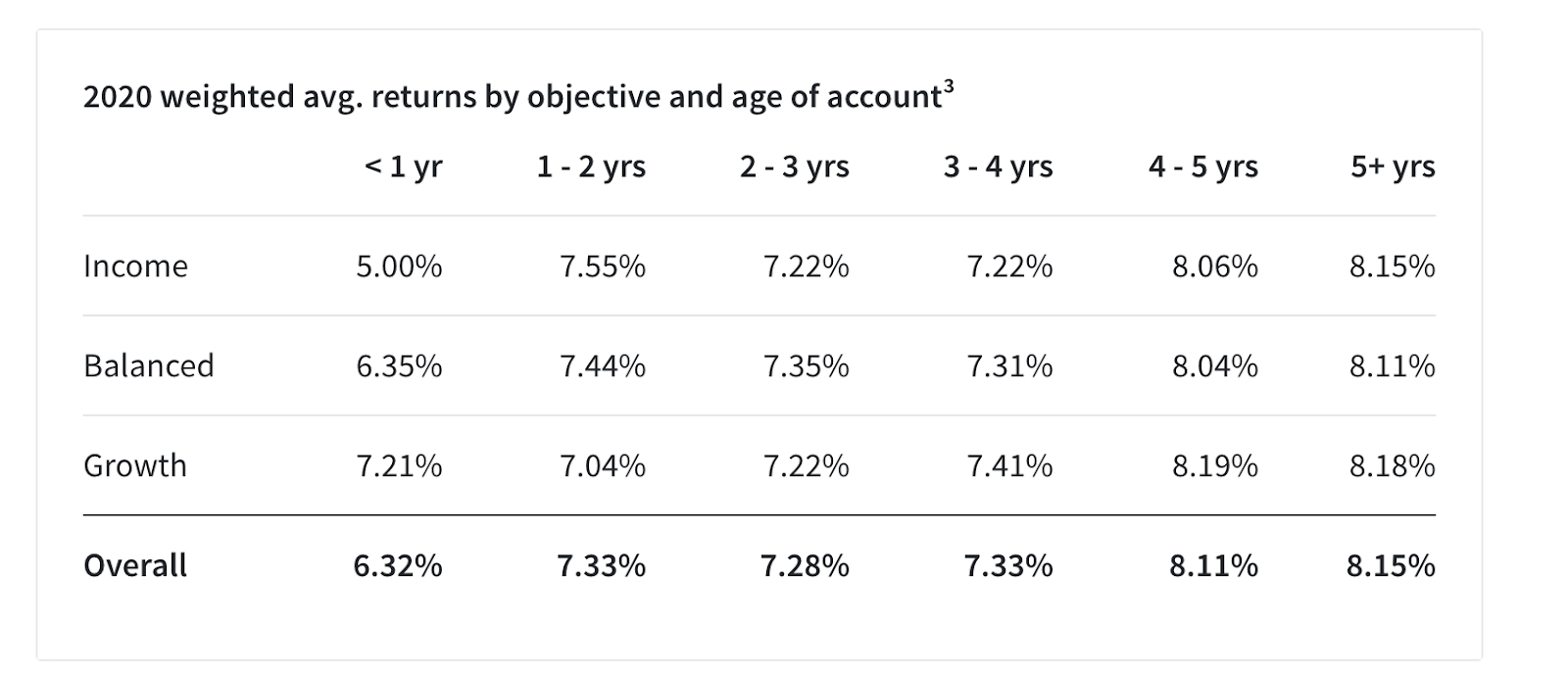 Additionally, once the fund has completed the "ramp-up" stage (raising capital and acquiring projects), dividends are issued after each quarter.
However, between 2014 and 2020, investors received annual average returns ranging between 7.4% and 12.4%, primarily from the eREITs and eFund.
Investors will also benefit from capital gain if the property has appreciated over the investment's lifetime. Investors will benefit from this value after a liquidity event, which usually takes place 5-7 years after launch.
Fundrise Historical Performance
Fundrise's annualized returns from 2014-2020 were an average of 10.11%.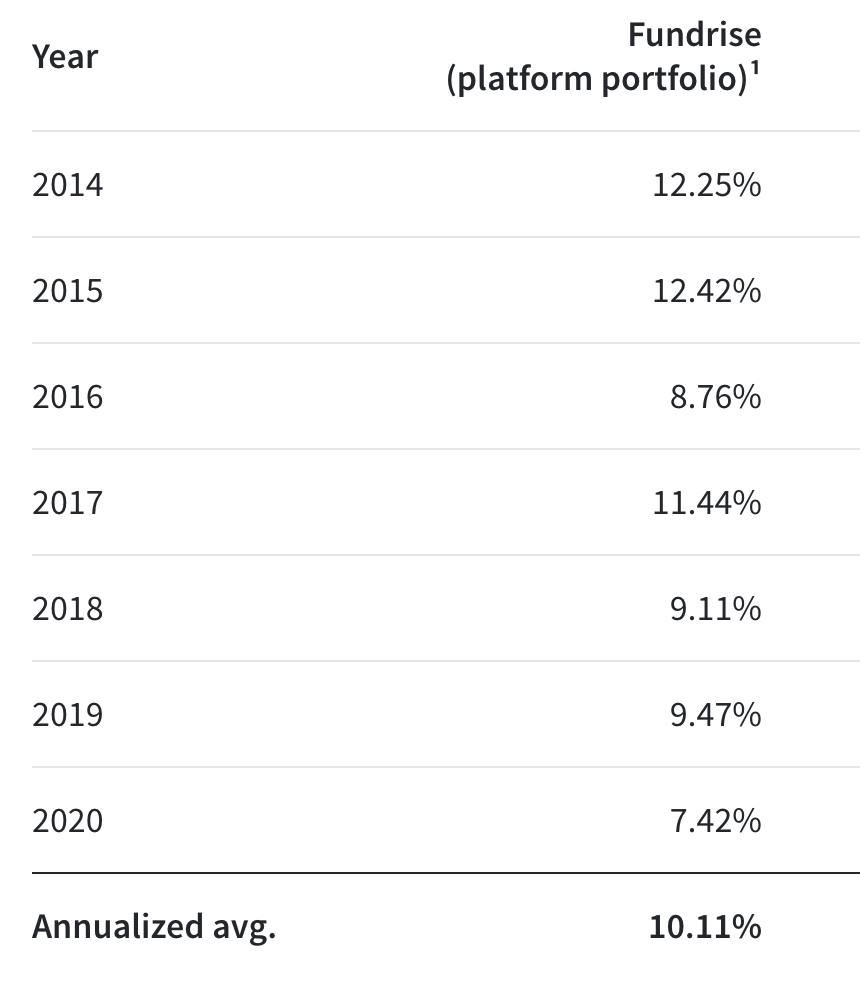 Pros and Cons of Fundrise
Here are the advantages and disadvantages of investing with Fundrise:
Pros
Very low investment minimums and fees. Investors can start investing with just $500.
Open to accredited and non accredited investors.
Very stringent due diligence process to ensure that only the best real estate investments are selected.
Multiple different investment options to cater to different investment needs.
Potential to generate a long-term consistent cash flow.
Easy-to-use mobile app to track your investments on the go.
Each investment is a separate legal business with investor funds secured in bankruptcy-remote entities.
Cons
As a real estate investor, you have no option to invest in individual properties.
Moderately illiquid investment.
Only available to US residents.
Risks of Investing Through Fundrise
While Fundrise structures its investments to minimize risk, all investments carry a certain level of risk. Some factors are outside of Fundrise's control, such as macroeconomic conditions like recession, which may see property prices fall, impacting your investment.
Conclusion
Fundrise provides everyday investors with easy access to investing in real estate at a fraction of the cost.
And with very low account and investment minimums, bankruptcy protection, and a stringent due diligence process, Fundrise is a good investment option for all kinds of investors wanting to take advantage of real estate deals.
If you'd like to discover other similar alternative investments, consider taking the MoneyMade Investor Quiz. After answering a few short questions, MoneyMade will suggest a list of investments that suit your investing needs!
Do more with your money
Become a MoneyMade member (it's free!) for personalized alternative investment matches, expert insights and portfolio tracking.