Platinum Returns vs S&P
-0.10%
Versus S&P
-9.50%
•
9 hours ago
-0.10%
Versus S&P
-9.50%
•
9 hours ago
Platinum
$108.07
$85.23
S&P 500
4,796.56
3,900.79
Platinum
S&P 500

Does not follow the stock market
Sources: PPLT, SPX
Reasons to Invest

Platinum is a versatile metal with a variety of industrial uses, meaning demand is driven by much more than just investor sentiment.

Due to its extreme scarcity, platinum is a high-value asset—historically, it has often traded at even higher prices than gold, and may currently be undervalued.

Its low correlation to the stock market makes it a great way to diversify.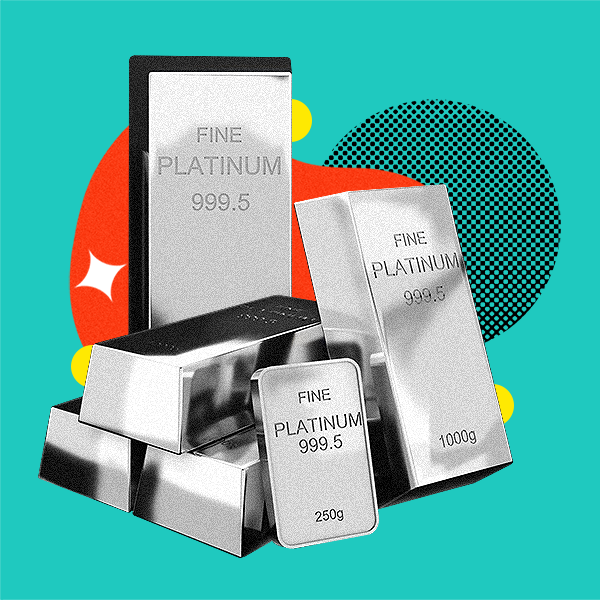 Explore Platinum platforms now
Highlights
Good For
Earning on price appreciation, if you can time your investment well
Time Horizon
Short to medium term
Platinum, like other precious metals, is often used by investors to diversify their portfolios and hedge against inflation and market downturns. While it gets less attention than gold and silver, it has some particularly effective diversification benefits that its metal siblings don't. For one, its correlation to the S&P 500 is significantly lower than that of both gold and silver. And while the price of platinum has been below gold for the last decade, it's historically been one of the most expensive metals. The price of platinum is largely reliant on demand in a few key industries—namely the automotive, electronic and medical industries—and the supply of platinum is particularly scarce. This can be good or bad for investors depending on the future of these key industries.
Platinum can be more volatile than other precious metals but has the potential to increase greatly in price with the right timing.
-4.7%
Avg Annual Returns
Past 10 years
Compare Commodities Returns
Risk Analysis
for Free to Unlock Access
Risk Analysis
As of 05/28/2022
Platinum
S&P 500
Platinum's price is volatile, but investment decisions can also be made based on fundamentals, which makes the asset's value a little easier to predict than something like cryptocurrency. If investors can make a case for future increases in demand in the automotive industry, there's a good chance the price of platinum will surge. At the same time, impossible-to-predict events like the coronavirus pandemic can crush the automotive industry, leading to an unexpected dip in price. What's more, the vast majority of platinum is mined in only two countries: Russia and South Africa. This makes the asset's supply largely dependent upon geopolitical factors, which can increase risk.
Performance During a Recession
for Free to Unlock Access
Performance During a Recession
According to MoneyMade's asset correlation research, platinum is significantly less correlated with the S&P 500 than silver, gold and most other assets. In fact, platinum's correlation with the stock market is slightly negative, meaning that it tends to go up in price when the stock market dips. That being said, it's not necessarily recession-resistant, as certain factors that often occur in conjunction with a recession can impact the price of platinum. For example, the expectation of falling car sales has a significant negative impact on the price of platinum.
Drawbacks
for Free to Unlock Access
Drawbacks

It's more volatile than many other assets (including gold)—price fluctuations in platinum are frequent and can be hard to predict.

The price of platinum has been falling for the last decade, largely due to decreasing demand in the automotive industry.

It's significantly less liquid than other popular precious metals like gold.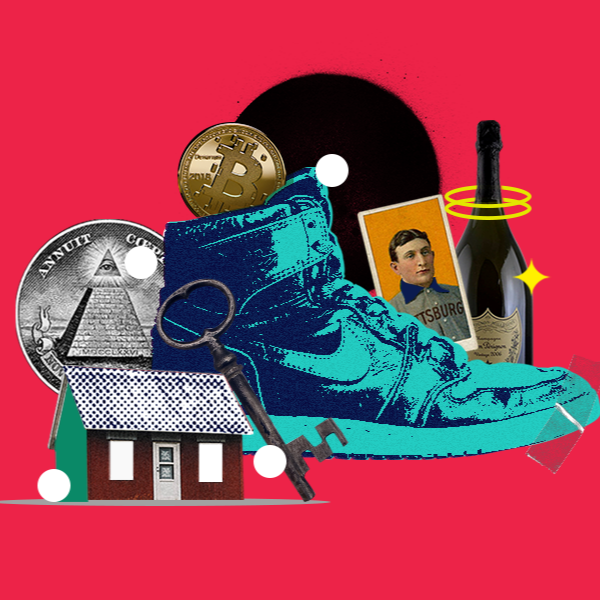 Not the right asset for you?
Projections
for Free to Unlock Access
Total Invested
Potential High
Potential Low
Platinum
$0
$00%
$00%
Bond
$0
$00%
$00%
Platinum
Bond
Compare Asset Classes
for Free to Unlock Access
How You're Taxed
for Free to Unlock Access
How You're Taxed
Income Tax
Capital Gains
Precious metals are taxed as collectibles, which means that any capital gains earned from the sale of platinum that was held for longer than one year are taxed at a rate of 28%. This includes platinum and precious metals ETFs. If the platinum you sell was held for one year or less, your capital gains are considered short-term and thus taxed at regular income tax rates.
Did You Know?
Platinum is one of the rarest metals, far rarer than gold, which is why it's been termed "rich man's gold." The price of platinum has fallen significantly in recent years, leading many experts to speculate that the metal is currently extremely undervalued.

The majority of global demand for platinum (60%) comes from the automotive industry's production of catalytic converters. Jewelry makes up just 9% of the demand for platinum.

After Russia and South Africa, Zimbabwe is the third-largest producer of platinum in the world, followed by Canada. It's estimated that over 90% of the world's reserves of platinum group metals (PGMs) are located in South Africa.
Explore Assets
Tether
Watches
Farmland
Wine
Art
Real Estate
Robo Advisor
Gold
Bitcoin
Stocks
Lending
Startups
Ethereum
DeFi
Solana
Oil & Commodities
Polkadot
Metaverse
NFTs
Whiskey
Bonds
Platinum
Sports Cards
Dogecoin
Cardano
Ripple
Silver
Music Royalties