Stocks
32% of MoneyMade members invest in Stocks
S&P 500
4,795.94
2,237.40
Bonds
123.06
99.72
S&P 500
Bonds
Performance & sentiment
Bull Market
4701 days
Sources: SPX, iShares IEF Index
Industries & Sectors
Past Year
Consumer Goods

Transportation

Fashion

Cannabis

Finance
Reasons to Invest
The ability to earn regular passive income from dividends

Protect your wealth from inflation, as the returns often significantly outpace the rate of inflation.

The stock market can unlock significant wealth. For example, $10,000 put into the S&P 500 10 years ago would have grown 272% to $37,115. The same investment into Tesla would be worth $1.8 million (+21,323%).
Explore Stock Platforms Now
Compare Asset Classes
Asset Name

Liquidity

Risk Score

Past Year

Ethereum

Very High

Very High-87

+76.56%

Sports Cards

Moderate

Moderate-37

+61.75%

Art

Low

Moderate-34

+43.61%

Wine

Low

Low-24

+19.08%
Ethereum

Sports Cards

Art

Wine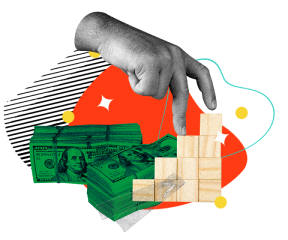 It's free to join.
We built MoneyMade to help you do more with your money. Get access to the most incredible investment insights, free.