Wine Market vs S&P 500 Returns
11.10%
Versus S&P
-19.70%
•
a day ago
11.10%
Versus S&P
-19.70%
•
a day ago
Wine
499.14
438.79
S&P 500
4,796.56
3,666.77
Wine
S&P 500
Does not follow the Stock Market
Sources: Liv-ex 1000, SPX
Reasons to Invest

Investing in wine adds a finite, tangible asset with a global appeal and a limited supply to your portfolio

Low risk, stable returns — wine has lower volatility than the S&P 500, gold or real estate

There's currently a global shortage of investment grade wine, driving up values on the secondary market
Explore Wine platforms now
Highlights
Over the past decade, fine wine has demonstrated stable growth with low volatility. During the Covid-19 pandemic, the asset class provided consistent returns as a safe-haven for investment capital to grow modestly with low risk of a sharp downturn. The Liv-ex 100 has shown positive returns every month since June 2020. The key driver of this growth is a structural shortage in investment grade wines coupled with increased demand from investors. While new marketplaces are enabling everyday investors to tap into an asset class historically dominated by high net worth individuals, potential investors should consider that encouraged hold periods are long and liquidity is limited.
The wine market has been on a strong upward trajectory since early 2020. The asset class has historically returned positive growth or reduced loss through economic turmoil.
+7.1%
Avg Annual Returns
Past 10 years
Want to keep it traditional?
Check out Wine in the stock market
Compare Collectibles Returns
Art
Artprice Contemporary Index
+0.11%
Risk Analysis
for Free to Unlock Access
Risk Analysis
As of 07/02/2022
Wine
S&P 500
While potential returns are more modest than investments like tech stocks or cryptocurrency, wine has the chance of lower loss. During the 2008 recession, the Liv-ex Fine Wine 1000—an index that tracks 1,000 of the best investment-grade wines around the world—shed just 0.6% as opposed to the S&P 500's loss of 38.5%.
Risk associated with investing in wine and other collectibles including art and sports cards include high fees, low liquidity, a lack of investment income or dividends until sale; prevalence of counterfeits; and a greater than average risk of destruction of the assets.
Drawbacks
for Free to Unlock Access
Drawbacks

There's a barrier to entry: it can be difficult for an everyday person to gain access to the winemakers producing the world's best investment-grade wine.

Wine must be stored properly in order to maintain its quality and value. This involves a working knowledge of wine storage and can involve significant costs, such as adding a cellar to your home.

Ironically, wine isn't a very liquid investment. When it comes time to sell your wine investments, it might take a while to find buyers.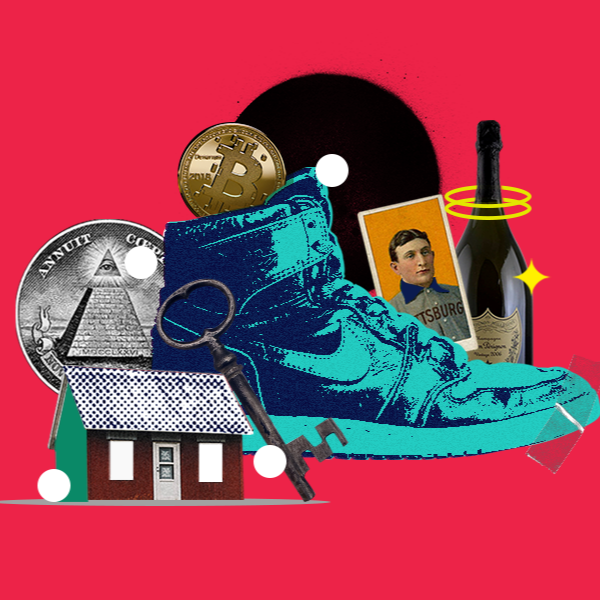 Not the right asset for you?
Projections
for Free to Unlock Access
Total Invested
Potential High
Potential Low
Wine
$0
$00%
$00%
Bond
$0
$00%
$00%
Wine
Bond
Compare Asset Classes
for Free to Unlock Access
How You're Taxed
for Free to Unlock Access
How You're Taxed
Capital Gains
Income Tax
If you are investing on a wine investment platform like Vinovest, where you own a fraction of a case or bottle of wine:
Sale of wine: When your holding is sold, you receive the equivalent of a dividend. Your profits are then taxed as income.

Secondary market: If you trade your shares on the secondary market, your profits are taxed as capital gains.
For those of you selling a bottle or case of wine you purchased, these investments are classified as 'collectibles.' Gains on cards held for one year or less are taxed as ordinary income—the same tax treatment as short-term capital gains (STCGs). Gains on cards held more than one year are taxed as ordinary income, except the maximum tax rate is 28%
Did You Know?
Burgundy is the most valuable wine region, with two of the three top performing wine brands in 2020 (Leroy and Leflaive) hailing from the area.

In 2010, one bottle of DRC La Tache (with a total supply of 22,000 bottles) was worth $693. By 2020, one bottle had sold for $6,851.

While there are hundreds of thousands of stocks, there are only about 50 brands matching the criteria for investment-grade wine.
Explore Assets
Tether
Watches
Farmland
Wine
Art
Real Estate
Robo Advisor
Gold
Bitcoin
Stocks
Lending
Startups
Ethereum
DeFi
Solana
Oil & Commodities
Polkadot
Metaverse
NFTs
Whiskey
Bonds
Platinum
Sports Cards
Dogecoin
Cardano
Ripple
Silver
Music Royalties