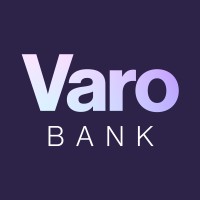 Save and earn more. Start earning 0.20% APY*, and then earn up to 3.00% APY.
Overview
Get a Savings Account with one of the highest APYs in the country, but no fees or minimum balance to open the account. Start earning 0.20% APY, and then earn up to 3.00% APY on a balance of only $0.01 if you meet their requirements each qualifying period. You can also Take the work out of saving. Their savings tools automatically transfer money from your Varo Bank Account to your Savings Account. The save Save Your Pay feature takes a percentage of your direct deposits and transfers it to your Savings Account. You choose the percentage. Save Your Change rounds up every transaction to the nearest dollar and transfers the amount to your Savings Account.
Why Invest
Earn up to 3.00% APY
One of the highest APYs in the nation
No monthly fees
How you make money
Your interest is calculated each day based on your Savings Account balance. Interest on the Savings Account is credited on the first day of the month for the preceding calendar month. The Varo Savings Account offers you a variable rate of 0.20% - 3.00% APY and there's no minimum balance requirement! Start earning 0.20% APY, and then earn up to 3.00% APY if you meet these requirements each qualifying period: 1) Make at least five qualifying Varo Bank Visa Debit Card purchases 2) Receive qualifying total direct deposits of $1,000 or more
How Varo makes money
Every time you use your Varo Visa Debit Card, the merchant pays us a small percentage of the transaction. They also make money from their partners when you take advantage of their offers. To get to where they are now, they've raised funds from investors who believe in their mission to help everyone improve their financial life.
Is it safe?
Your money is safe with Varo. All money in your Varo Savings Account is insured through the Federal Deposit Insurance Corporation (FDIC) for at least $250,000 by Varo Bank, N.A. The FDIC insures both the deposits you make within your high-yield savings account and any interest you earn.
Things to know
You make money on

Interest

Fees

0%

Payout frequency

Monthly

Term of investment

Zero

Liquidity

Easy

Open to

All Investors
Company
Country availability

US only

Assets under management

$45B

Established

2015

Mobile Application

IOS, Android
Investment Return Calculator
Calculate your estimated return to reach your investment goals.
Sign up for free to access all features:
Value after fees
$7,046.13
Any references to past performance, regarding financial markets or otherwise, do not indicate or guarantee future results.
Forward-looking statements, including without limitations investment outcomes and projections, are hypothetical and educational in nature. The results of any hypothetical projections can and may differ from actual investment results had the strategies been deployed in actual securities accounts.