Markets Report: Week of January 03, 2022
Stocks are starting the year on a high, crypto's in a slump, and NFTs creep farther into the physical world
Many companies on MoneyMade advertise with us. Opinions are our own, but compensation and in-depth research determine where and how companies may appear.
Stocks
Real Estate
Crypto
NFTs
Wine
Startups
Sports Cards
Gold
Farmland
Whiskey
Tech stocks are starting the week and year in a very strong position, with a bright (albeit less dramatic) future predicted. Crypto had a disappointing finish to the year, following record highs in November. And the Metaverse is coming to a country club near you, as Web3 takes over just a little bit more each day. We've got all the details on these and more ahead.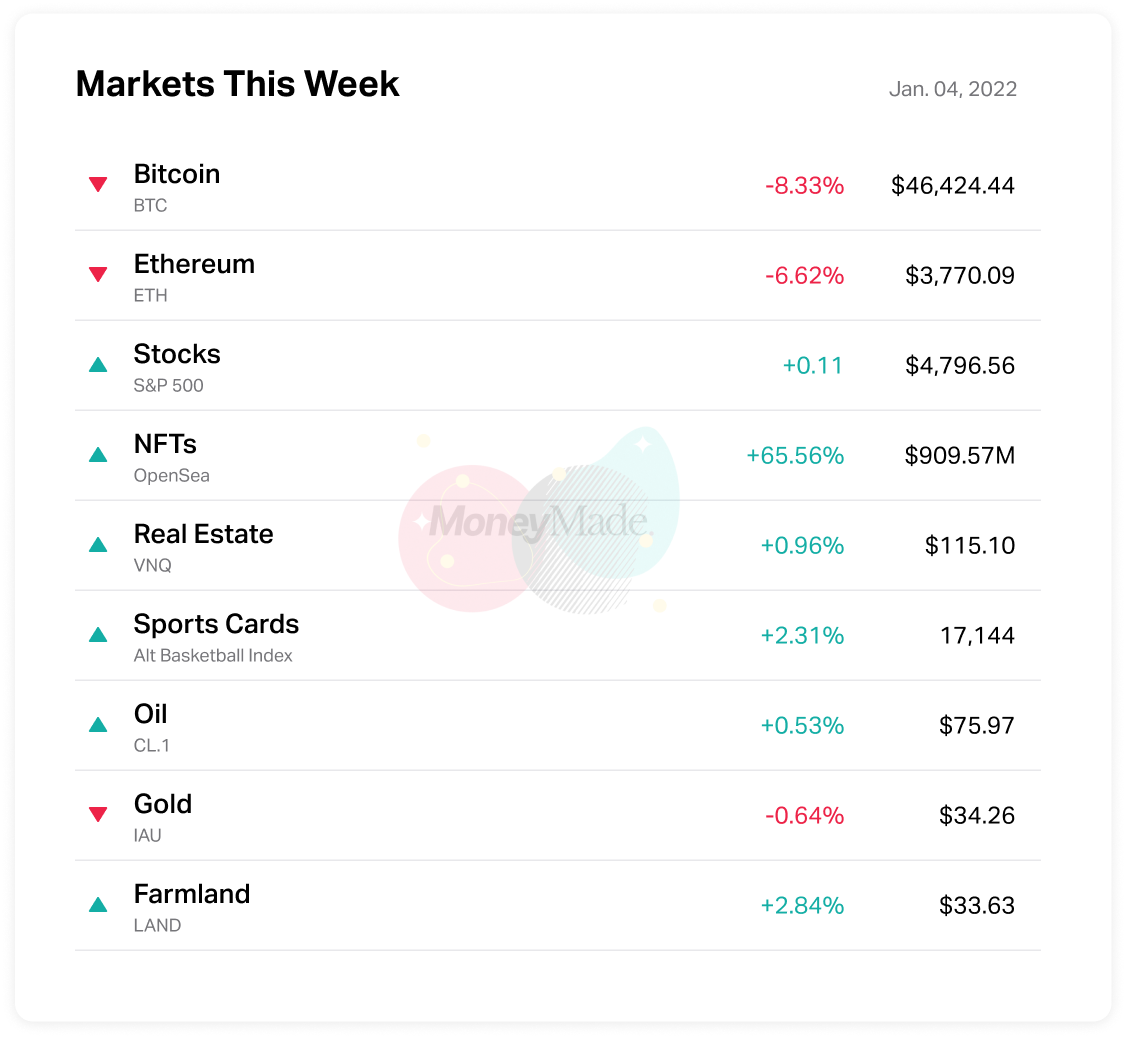 The major indices ended the year on a high note, with the Dow up 18.7%, the Nasdaq up 21.4%, and the S&P up a whopping 27%. Experts predict continued growth in 2022, although likely at reduced rates.
On Monday, Apple officially became the first company ever to reach a $3 trillion market cap. It reached this milestone only 16 months after hitting $2 trillion and less than four years after hitting $1 trillion. Next up, $4 trillion?
Tesla jumped up 10% on Monday, after it was reported that the EV maker delivered 308,600 vehicles worldwide in the fourth quarter, blowing previously projected estimates out of the water.
Despite an announcement from the FDA approving the use of Covid boosters in children 12 and over, Pfizer stock sank by over 4% on Monday. Investors are potentially looking ahead to a (hopefully sooner than we think) future in which the number of Covid vaccines needed worldwide greatly diminishes—but as we've seen again and again over the past two years, the course of the pandemic is extremely difficult to make predictions about.
Gold & Commodities (CL + 0.53%)
Although gold had been on an upward trend over the past few weeks, Monday saw a large selloff and prices dropped to their lowest in over two weeks. Various factors seem to have been at play here, most notably the largest rise in 10 year bond yields since 2013.
OPEC and allies are expected to agree to an increase in output on Tuesday, but despite this, oil prices are on the rise, getting up over $78 during trading on Monday. Some experts are expecting a coming increase in demand as Covid's effects hopefully begin to taper over the year.
Crypto as a whole ended the year on a bad month, with Bitcoin and Ethereum close to 20% down from their all time highs, which they hit not quite two months ago in November. Chalk this one up as a loss for those bullish Bitcoin prophets who predicted $100k by year end. Maybe 2022 will finally see it hit that milestone.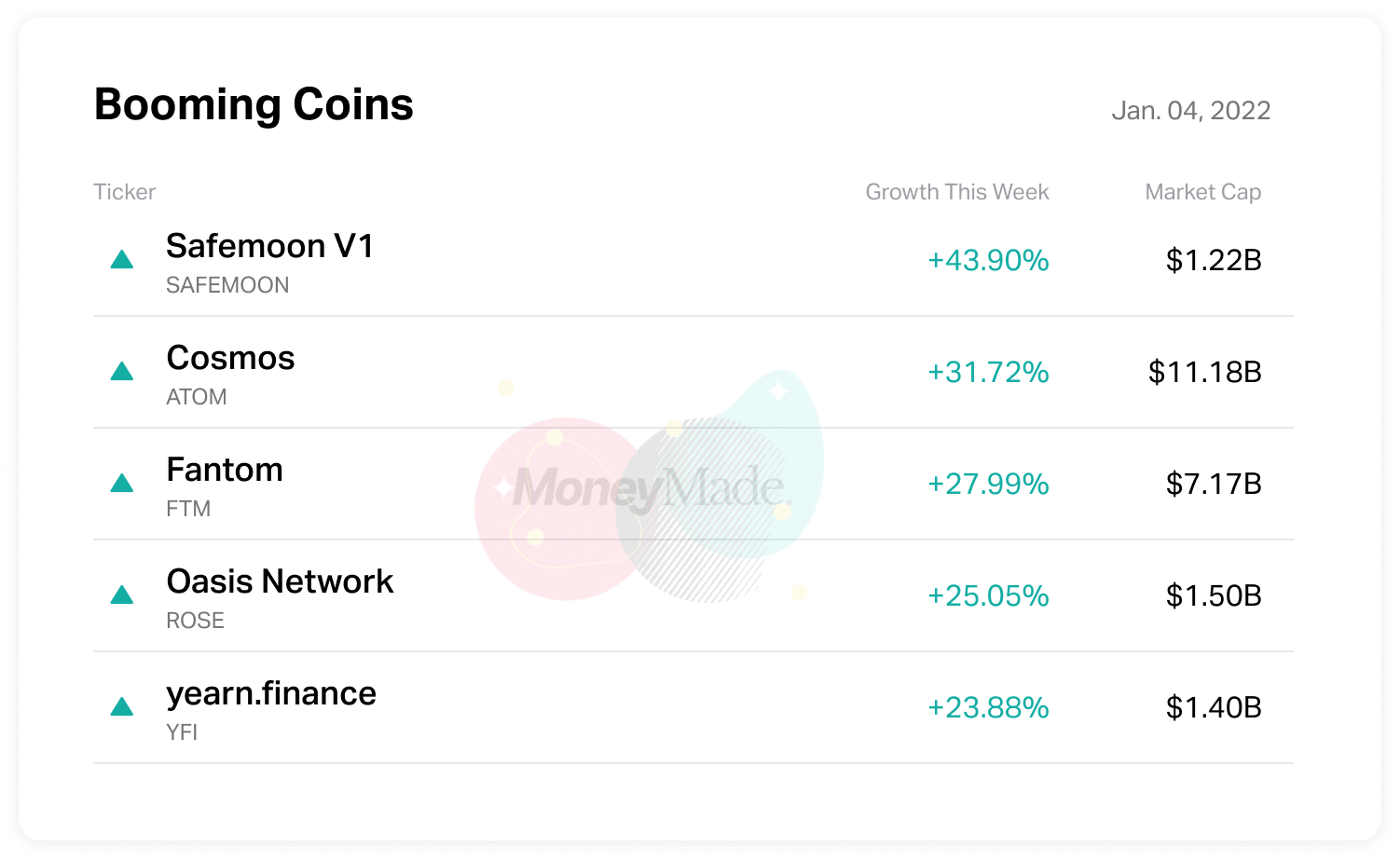 Samsung's kicking off the year with a big leap into the Metaverse: coming in 2022, the electronics giant will be offering the "world's first TV screen based NFT explorer and marketplace aggregator." So you'll be able to find, buy, and display your favorite Web3 art pieces directly from your television. Welcome to the future, y'all.
In another example of what is becoming an increasingly common phenomenon, the real world and virtual world came face to face on Sunday, when a DAO (decentralized autonomous organization) called LinksDAO raised $10.5 million through the sale of NFTs, with the intention of purchasing its own golf course. No word yet on where the actual golf course will be physically located.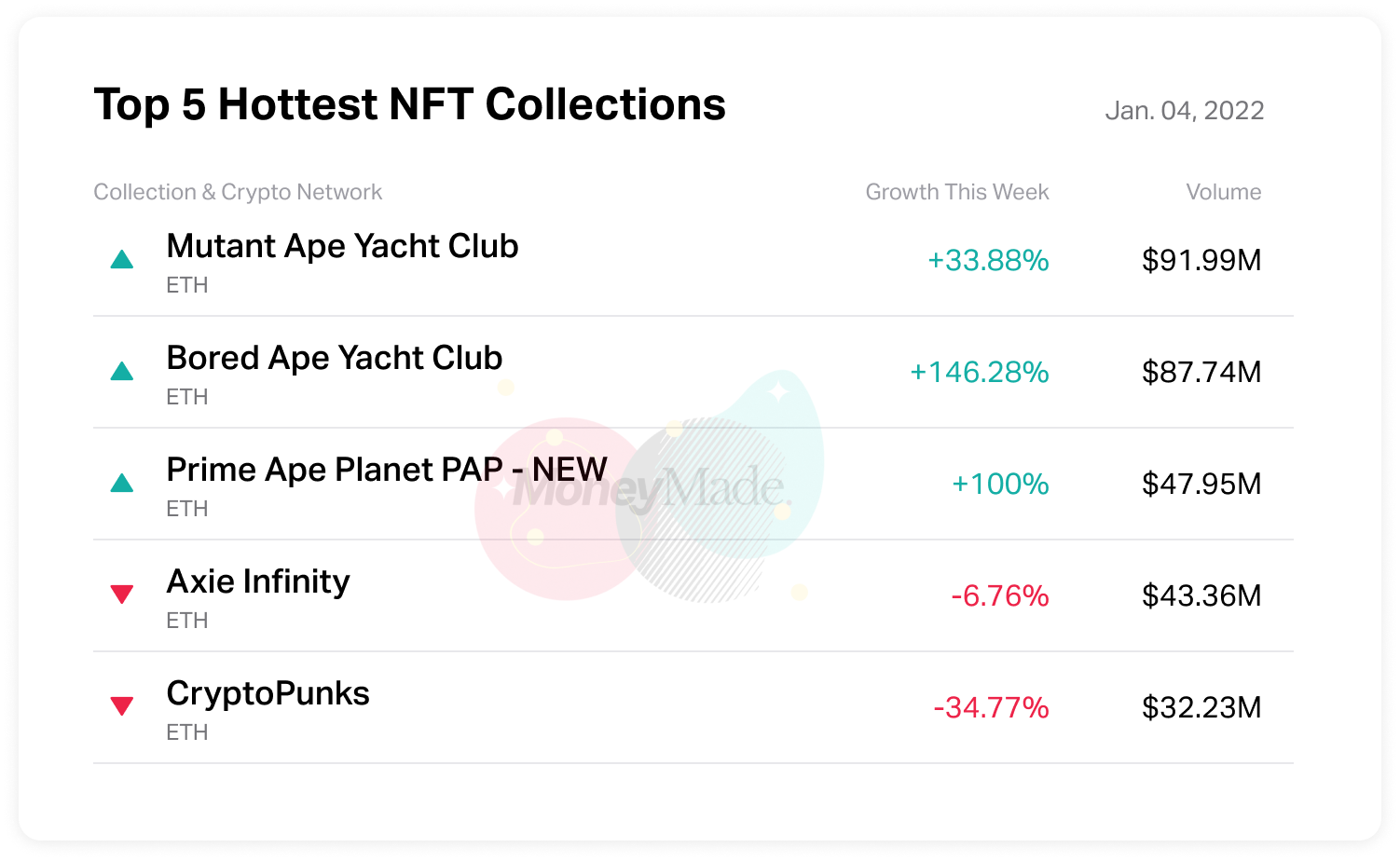 Real Estate & Farmland (VNQ +0.96%)
Good news for landlords: according to the NAR weekly report, multifamily rents are up 11% year over year, with good growth also happening in the industrial and retail sectors as well, where rents are up 8.4% and 2.8% respectively.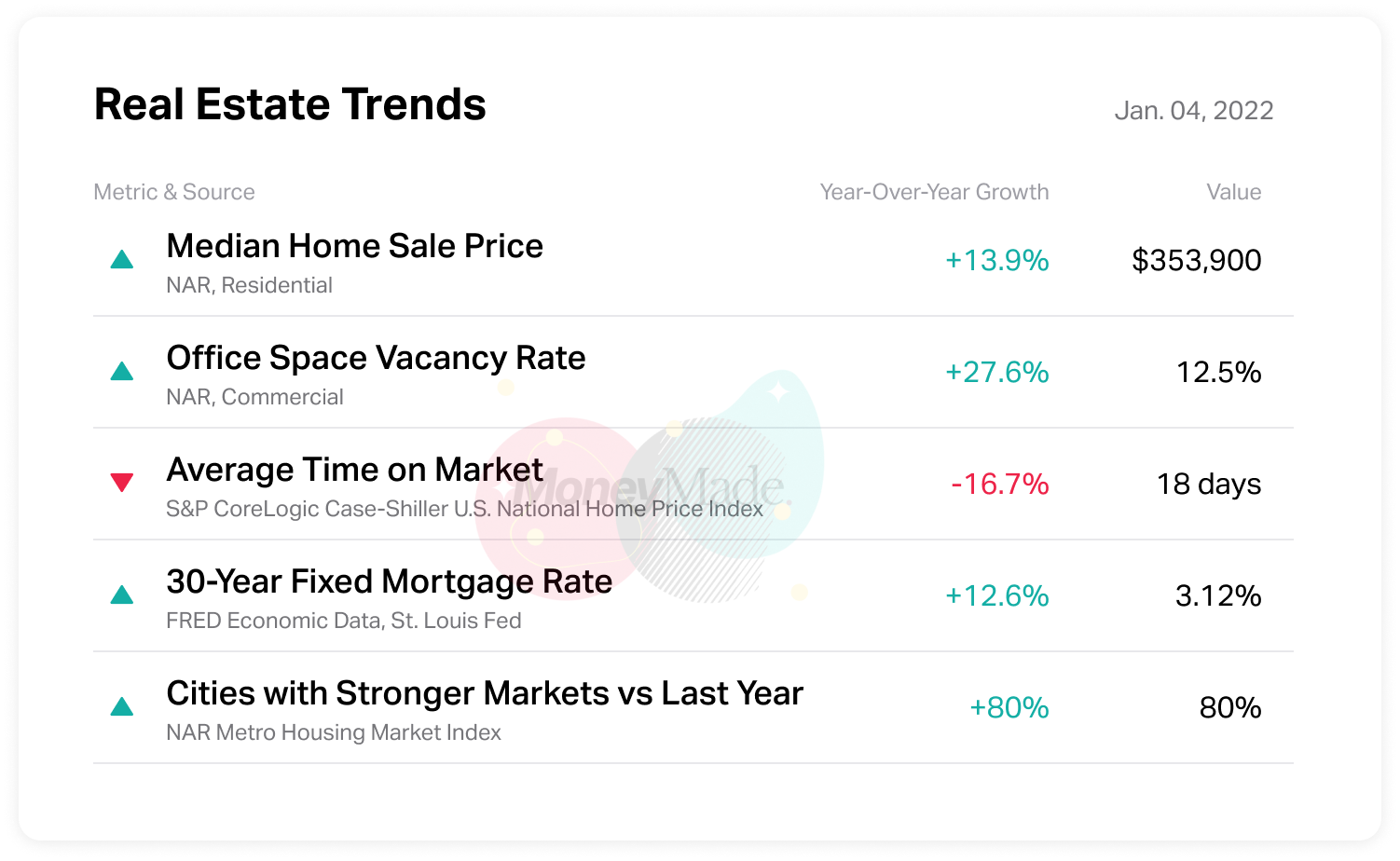 Over the last year, farmland saw excellent growth, with much of the corn belt increasing in value over 20%. Most impressively, the average price of an acre of farmland in Iowa is up 29%, to its highest value on record.
It's shaping up to be a big week for Big Pharma. Three IPOs are scheduled for this week, all for biotech companies. On the docket are:
CinCor Pharma

- focusing on treating hypertension and expecting to raise up to $187 million with shares priced between $15 and $17.

Amylyx Pharmaceuticals, Inc

- working toward treatment for ALS and other neurodegenerative diseases (anyone remember the ice bucket challenge?) and launching with 8.75 million shares expected to be priced between $18 and $20.

Vigil Neuroscience

- also working on treatments for neurodegenerative diseases and planning to raise $112 million with shares priced between $15 and $17.