Markets Report: Week of January 10, 2022
There's a new crypto billionaire topping the charts, NFT marketplace options are expanding, and startups had a huge year with the 2022 forecast for funding looking bright.
Many companies on MoneyMade advertise with us. Opinions are our own, but compensation and in-depth research determine where and how companies may appear.
Stocks
Real Estate
Crypto
NFTs
Wine
Startups
Sports Cards
Gold
Farmland
Whiskey
Zuckerberg and Elon have some competition at the top of the "wealthiest" list. New places to trade in NFTs are popping up all over the place, it seems. And the numbers don't lie: 2021 was a huge year for startup funding, with the next year looking likely to be another record breaker.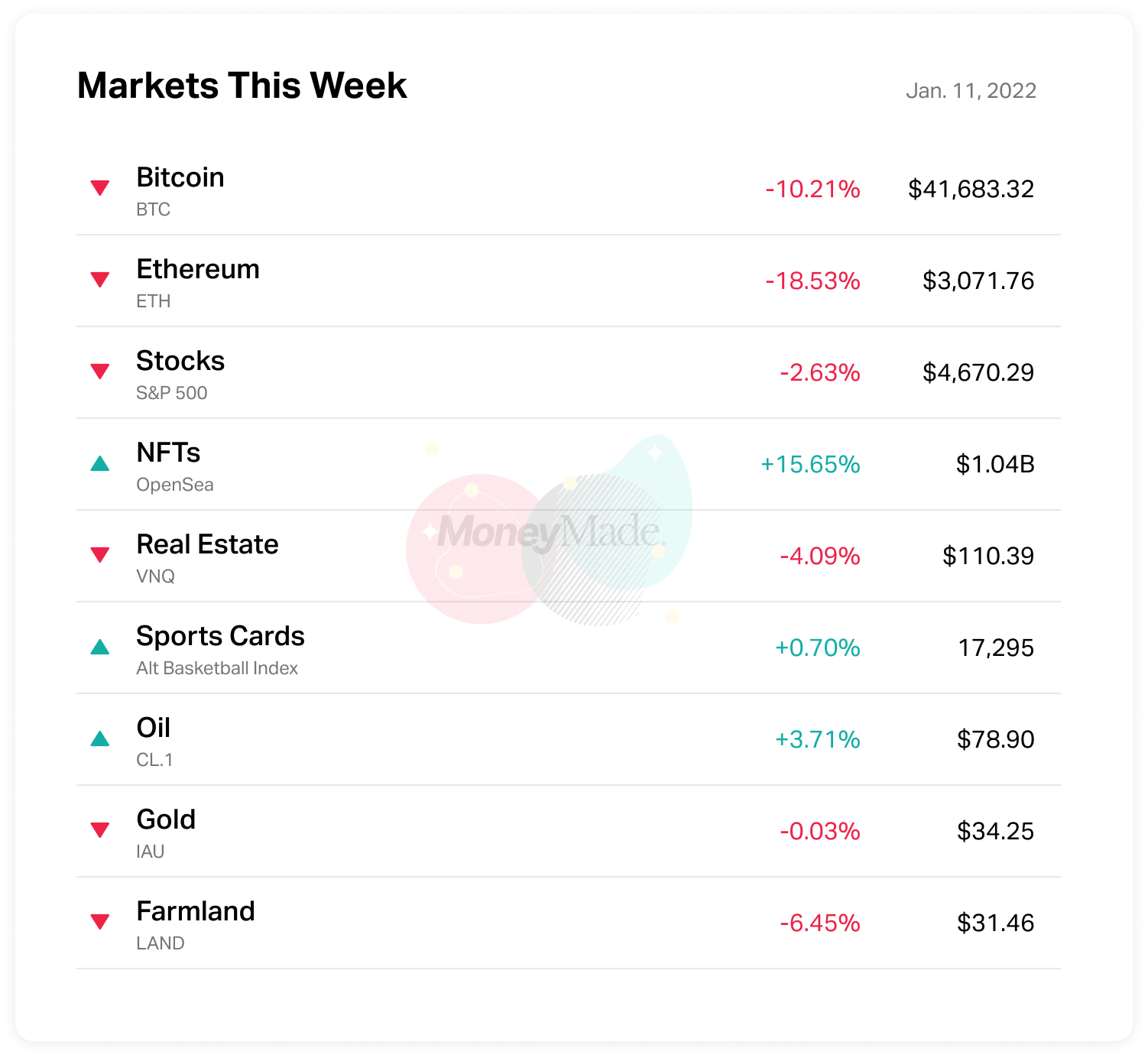 The numbers for 2021 are officially in, and while we all knew it was going to be a big year for startup funding, the total is truly staggering: $329.5 billion was invested in North America across all stages of startups. That's the highest yearly total ever recorded, with a 92% increase over 2020's numbers (which had themselves already blown previous records out of the water).
Global asset manager TPG is going public this week, with shares estimated to be priced between $28 and $31 for a total valuation of $1 billion. The Texas-based private equity firm has stated in their SEC registration documents that their funds returns have beat 20% over the past decade; however, there are multiple critics that argue those returns are inflated and that more transparency is needed for investors to get the full picture. Read more about these claims here, and if planning to invest, perhaps tread lightly?
Looking ahead, some of the areas likely to start or continue raking in the funding are:
Crypto

and the blockchain: In 2021, "about 43 percent of crypto funding went into companies involved in trading, exchange services, investing, and lending of crypto assets, while 17 percent was directed toward startups in NFTs (non-fungible tokens), DAOs (decentralized autonomous organizations), Web3 (a decentralized online ecosystem based on the blockchain), and the Metaverse (a network of 3D virtual worlds)."

ESG:

Interest in ESG investing

has jumped up—while 44% of investors who were aware of ESG investing actually invested in it during 2019 and 2020, that number increased to 53% in 2021.

Real estate: Investment in

real estate tech companies

is likely to be trendy in the coming year, as areas like construction tech and project management software become more and more popular.
On Monday, Bitcoin dropped below $40,000 for the first time since September, albeit briefly. This marks an almost 40% decrease in the cryptocurrency's value since it hit an all time high of almost $69,000 in November. The rest of the crypto market remained largely flat.
Bezos and Gates and Musk all have a newcomer nipping at their heels: Bloomberg on Monday estimated Changpeng Zhao, the CEO of crypto exchange Binance, to have a net worth of $96 billion, which makes him the 11th richest person in the world. The craziest part is that this figure doesn't even factor in his personal crypto holdings, so he might actually be a good bit higher in those rankings. Looks like the money really is in crypto (current market slump notwithstanding).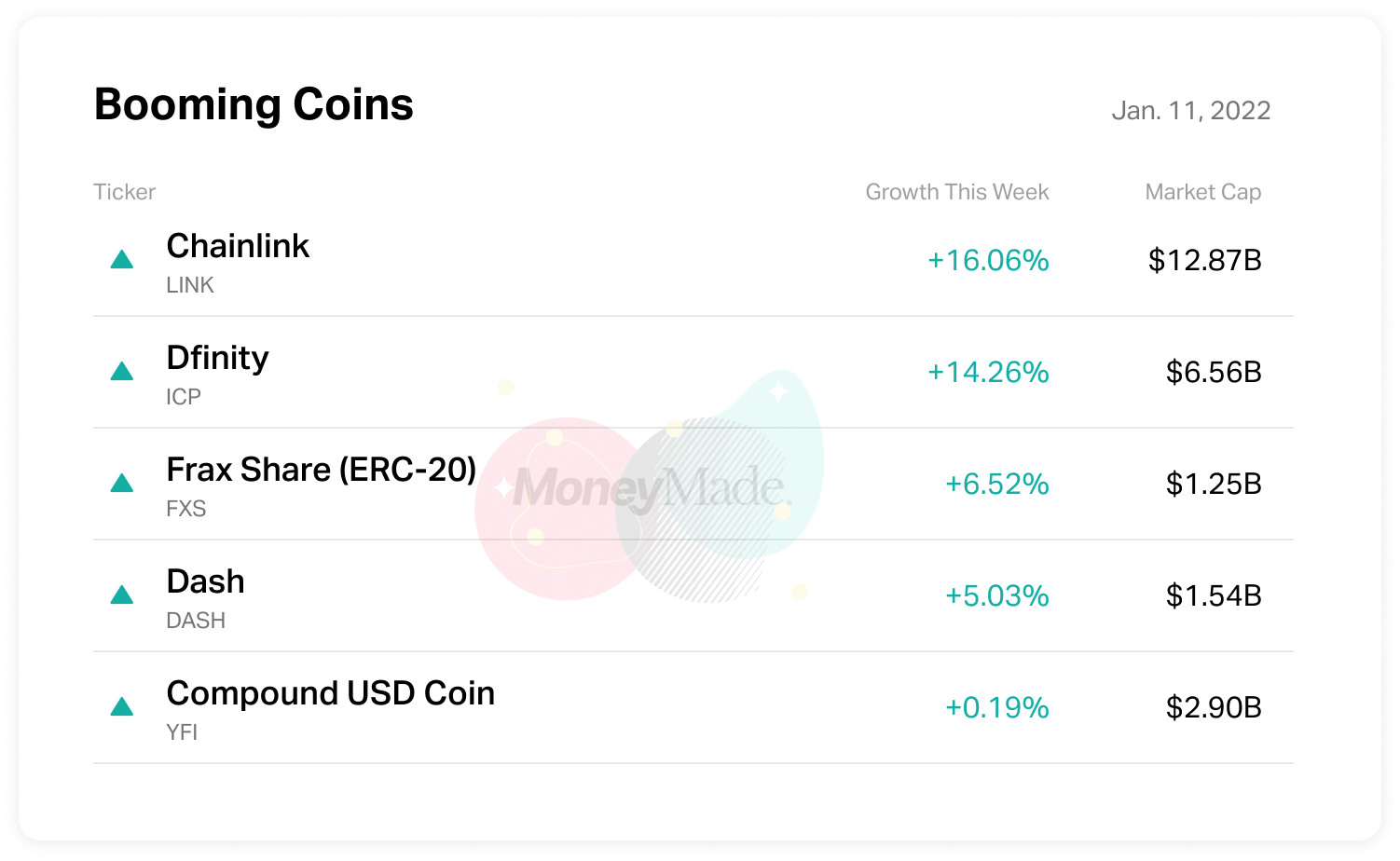 GameStop, everyone's favorite memestock of the past couple years, has announced a new division of the company, focused on the development of an NFT marketplace for the purchase, sale, and trading of game-related NFTs like weapons or avatars. The company's stock price jumped 23% upon the news, but has since fallen back below last week's lows.
Watch out OpenSea, there's a new challenger in town. A new NFT marketplace called LooksRare has launched in a bid to unseat the reigning king of marketplaces. LooksRare is built around the platform's LOOKS token, which has a total supply of 1 billion coins and has traded as high as $4.71 on the Uniswap exchange so far.
In case NFTs weren't new and exciting enough already, the makers of Wall Street Bulls (an NFT collection of 10,000 bull images that sold out in 32 minutes back in October) are injecting another level of risk to their collection for the thrill seekers out there. A new feature will allow owners of these NFTs to gamble big time; a random generator available for purchase will either destroy the NFT entirely or add new elements to the bulls, making them even rarer, and ostensibly more valuable. It remains to be seen how many will dare to take the risk.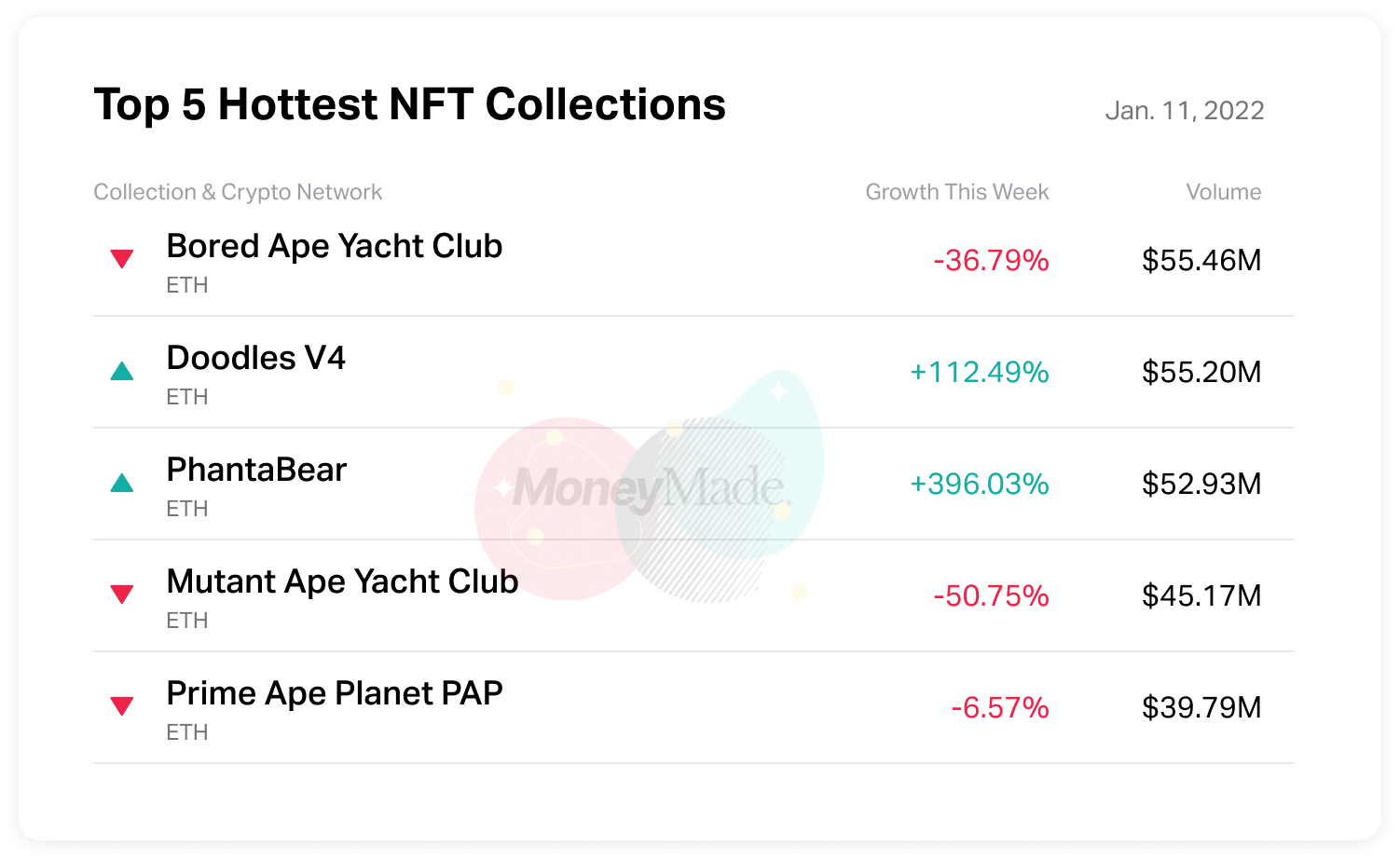 Earnings reports are coming out soon for many companies, and for the first quarter since early 2020, more S&P companies are issuing negative earnings guidance than positive.
Inflation concerns are putting quite a damper on the market. With the Fed expected by market observers to raise rates multiple times in the coming months, many stocks are seeing a big selloff. Big Tech stocks have fallen sharply in the new year and the Nasdaq is nearing correction territory at 9% below its most recent high, while the Dow and S&P are down 3% and 4% respectively.
Bad news if you're looking to invest in a new build. Supply chain issues and inflation are driving big delays in construction and inflating prices of new homes to their highest ever median price. At $416,900, a new build will cost you almost 19% more than it would have just a year ago.
Last week, home prices overall were up 16% year over year, compared to 15% year over year the previous week. Industry experts predict prices to increase at much slower rates in the coming months as mortgage rates increase.
2021 proved to be a good year for farmland.
Values of US farmland went up more than 7% for the year according to the National Agricultural Statistical Survey.
On Thursday, Rally is launching an Aaron Rodgers signed jersey rookie card. Shares are $8, with the total value of the card set at $56,000. With values of Aaron Rodgers cards up more than 6% over the last week, this could be a timely investment for the right portfolio.
Trading card marketplace Alt is launching Alt Lending, a Beta program through which eligible users can borrow up to 40% of their vaulted card collection's value. Guess that's one way to make your collectibles really work for you in the here and now.
Fashion experts are predicting that creations from Salehe Bembury will be some of the most in-demand shoes in the near future. The designer, a Versace alum who has also previously designed for Yeezy, had multiple high profile releases in 2021. His collaboration with Crocs marks the first time the footwear company has allowed an entirely new shoe shape, and is entirely sold out. Look for these and his other designs to spike in value in the coming months.
In a recent study from Moscow's Higher School of Economics, it was determined that unopened Lego sets (studied from 1987 to 2015) had an average annual return of 11%, beating out more traditional assets like gold over the same period. Some of the individual sets looked at had returns as high as 700%!