Markets Report: Week of January 17, 2022
The NFT market is worth a fortune—but beware of scammers—a Tom Brady rookie card makes a splash on Twitter, and the money's in farmland (according to VCs anyway).
Many companies on MoneyMade advertise with us. Opinions are our own, but compensation and in-depth research determine where and how companies may appear.
Stocks
Real Estate
Crypto
NFTs
Wine
Startups
Sports Cards
Gold
Farmland
Whiskey
This week saw the first notable scam of 2022 in the NFT space. Reddit's founder acquired a Tom Brady rookie card and had some thoughts. And farmland investing platform AcreTrader closed a big Series B funding round. Get all the details on these and more below.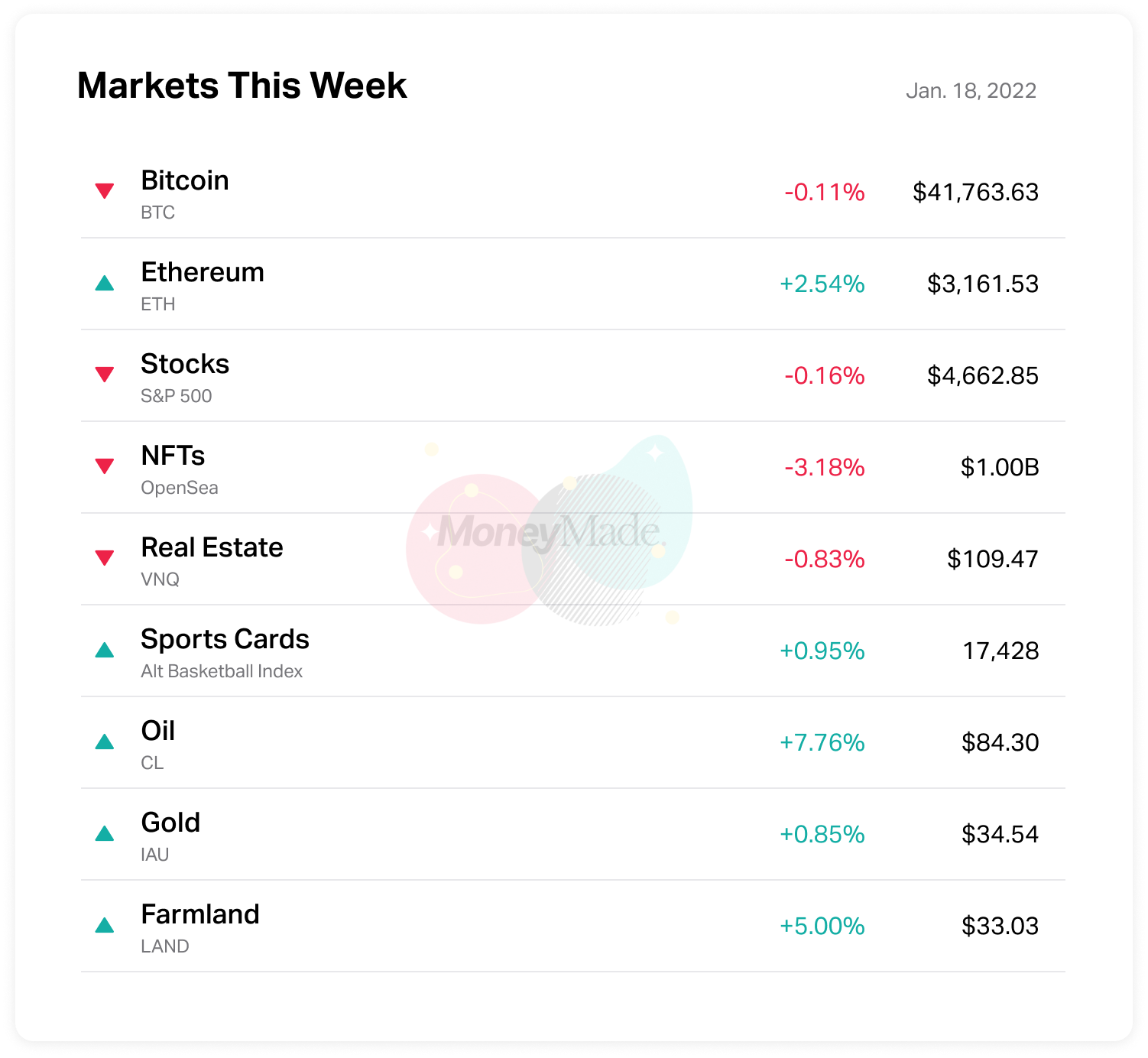 According to blockchain monitoring and analytics firm Chainalysis, the NFTs market is now valued over $44 billion. Most of that staggering amount (over 90% of it) was added to the market in just the past six months! Before NFT owners and investors start popping those bottles to celebrate though, there is one big but: tax experts aren't sure exactly how much will be owed, but they can all agree that it's a lot. While the US tax code hasn't totally caught up with the intricacies of the blockchain, it seems pretty clear that investors will owe at least 20% on their successful NFT investments. Looking ahead, it's likely that further official clarification will indeed be needed from the IRS.
Bad news for investors in the NFT collection Frosties: overnight, more than $1 million that had been spent by investors to purchase the 8,888 NFTs in the collection disappeared, along with the collection's creators, Twitter account, Discord channel, and website. While far from the first time NFT investors have been scammed, this is the first notable instance in 2022. Here's hoping it's not a sign of trends to come.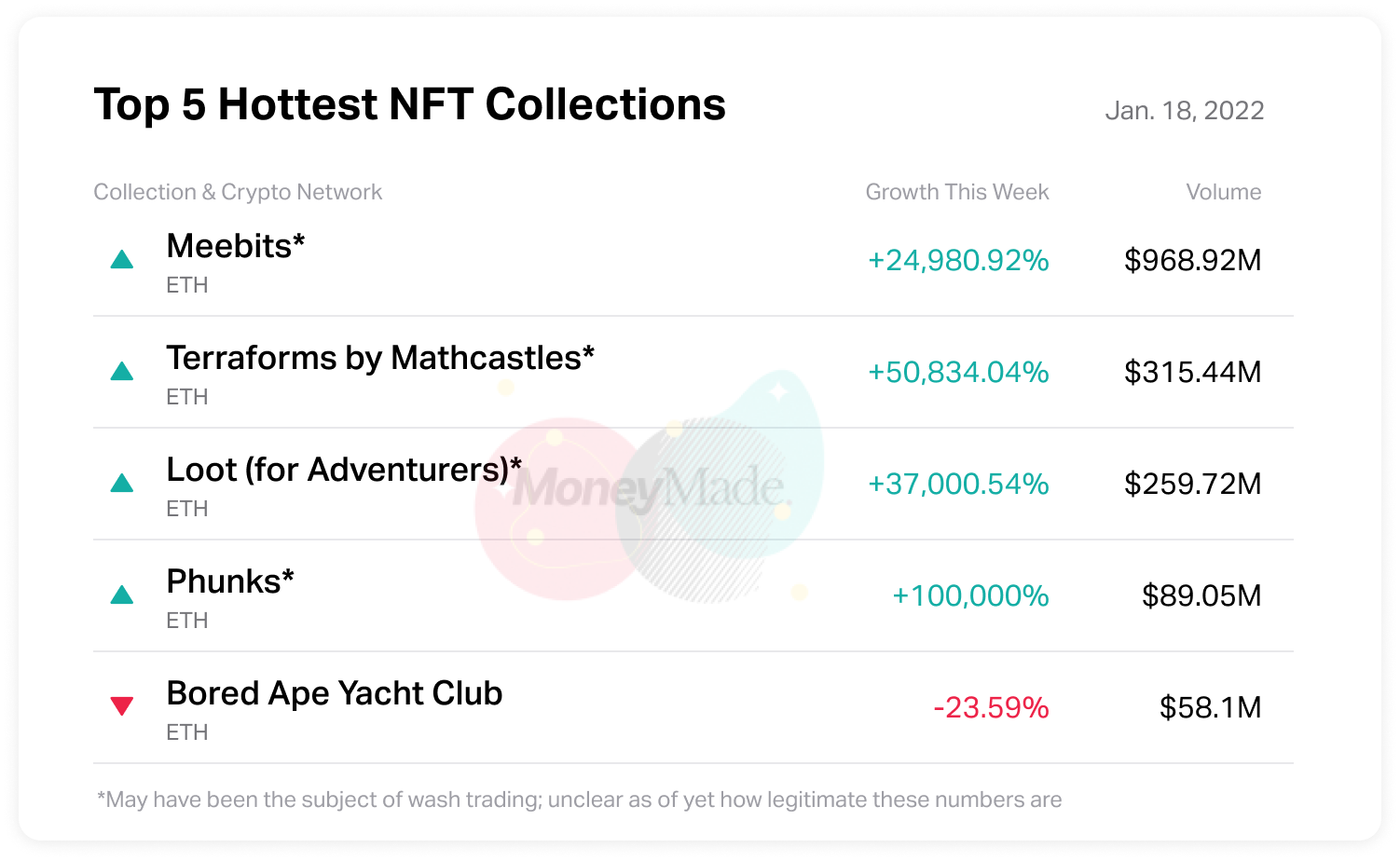 Sports Cards (Baseball +0.95%)
Reddit founder (and much more importantly, Serena Williams' husband) Alexis Ohanian tweeted on Friday that he's purchased a Tom Brady rookie card, on which the quarterback is wearing some less than flattering sweatpants. Sweatpants that Brady then claimed he still owns! No word on what Ohanian paid for the card, but last year a Brady rookie card went for over $3 million at auction, setting the record for most expensive football card ever sold, so chances are good that it didn't come cheap.
According to Research and Markets, the domestic sports card market is projected to have an annual growth rate of 28.8% and total value of $62.1 billion by 2027. Not too shabby for a collectible originally marketed to children.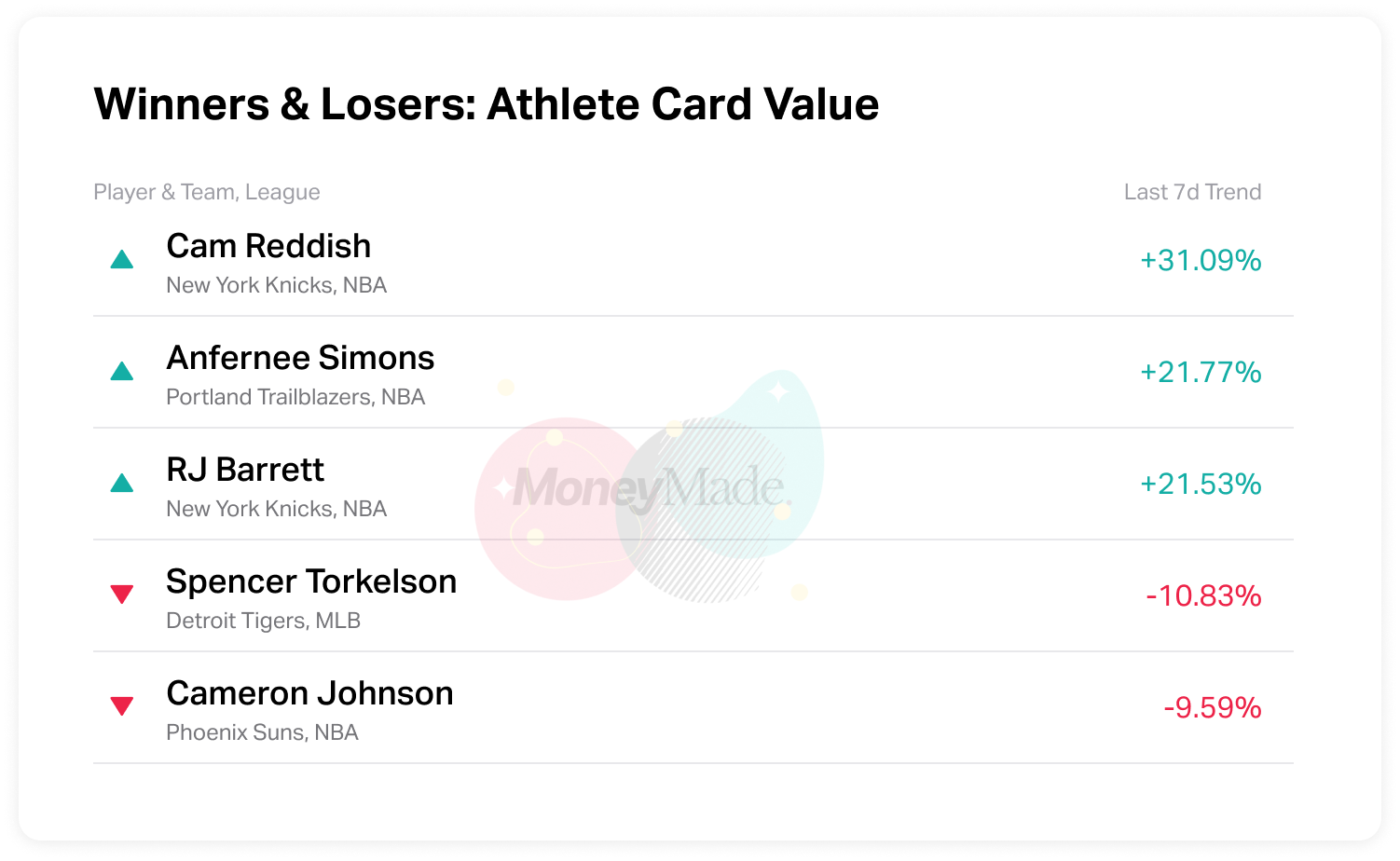 The whiskey index stats are in for December, and according to Whiskeystats, notably successful distilleries include Macallan (up 9.52% for the month), Springbank (up 8.48% for the month), and Yamazaki (up 7.23% for the month). As a whole, the top 500 historically traded whiskeys increased in value over 6%—talk about finishing off the year on top.
Winemaker Penfolds is getting into NFTs, again. Their upcoming release on NFT platform BlockBar will consist of 300 NFTs linked to bottles of Magill Cellar 3 Cabernet Shiraz from 2018. Considering that their first NFT launch was for a barrel of the same, and that it sold for $130k in 12 seconds, it stands to reason that these will also sell out fast. If you want in, the NFTs are first-come-first-served and available as of today.
Crypto (BTC -0.11%, ETH +2.54%)
Billionaire Mark Cuban, of Shark Tank fame, recently announced that of his investments made outside of the show, a full 80% are going to crypto and blockchain projects. In addition to his NBA team the Dallas Mavericks having a partnership with crypto platform Voyager and allowing payment in Dogecoin, he has also now indicated an interest in DAOs, calling them "the ultimate combination of capitalism and progressivism."
Things aren't looking great for Bitcoin at the moment. The gold standard in cryptocurrencies is down almost 40% from its all time high, and experts are predicting rough waters ahead for the coin. The recently increased correlation between M1 money supply and Bitcoin could indicate further troubles as inflation remains high. On top of that, weak demand among institutional investors could be an indication that Bitcoin's supposed $40,000 support level doesn't actually exist and we could see new lows in the coming weeks.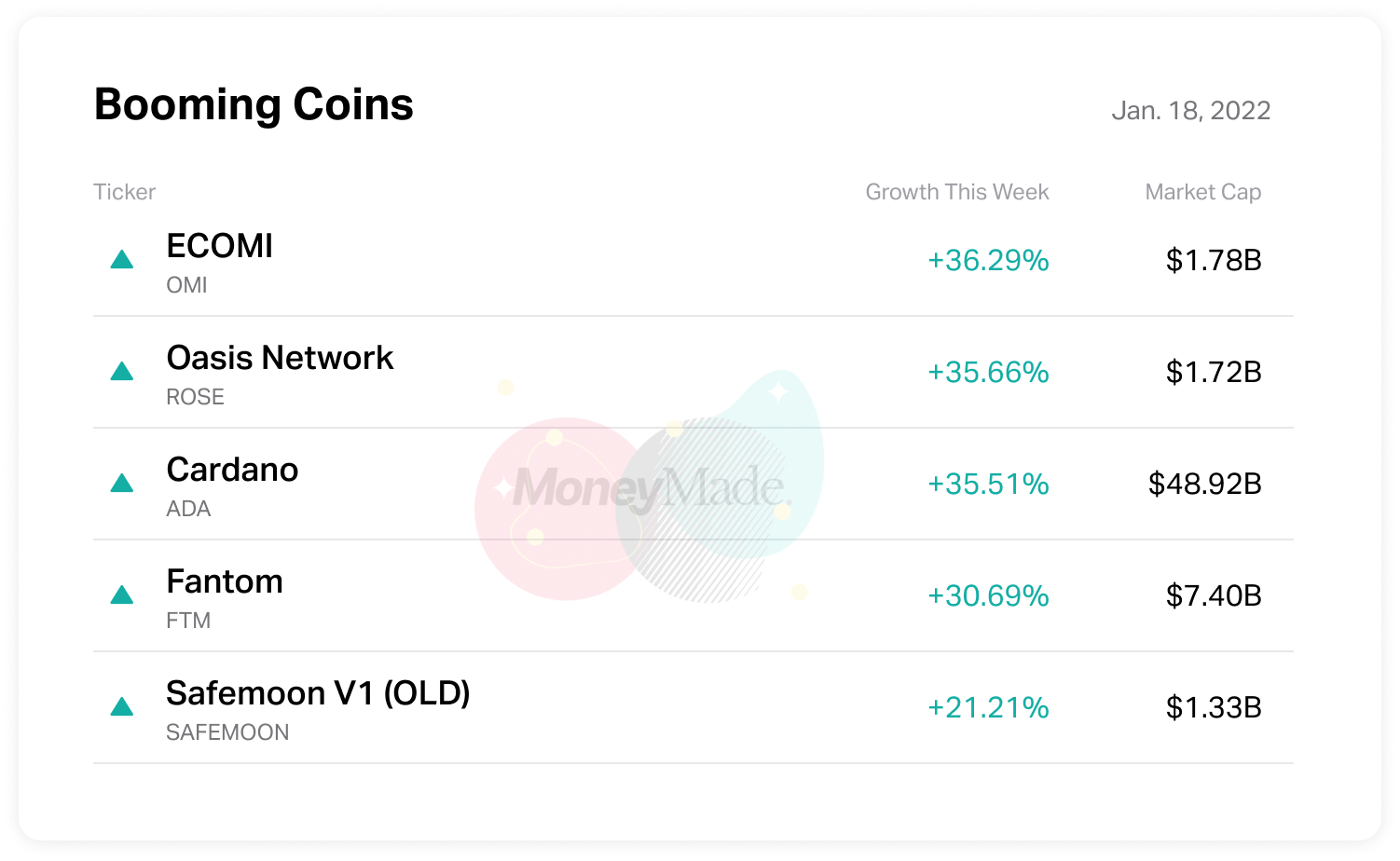 TPG successfully raised $1 billion in it's IPO last week, and is now trading over 11% higher than opening price. That's nothing to sneeze at in the current IPO market, considering that only 27% of 2021 IPOs are trading above their opening.
On a less auspicious note, HR company Justworks elected to delay it's scheduled IPO, citing those challenging "market conditions". The company had been planning to raise over $200 million, with shares expected to be priced between $29 and $32.
Looking ahead to the coming week, Bitcoin mining company Rhodium Enterprises is scheduled to begin trading on the 20th. With shares priced between $14 and $17, the company expects to raise somewhere north of $100 million.
A big congratulations is in order for one of our partner platforms: AcreTrader just raised itself a whopping $40 million in its Series B funding round, bringing its total funding up to $58 million to date. Allowing accredited investors to buy shares in US farmland for as little as $10k, AcreTrader is one of a few platforms really pushing the boundaries of what kinds of investments are available to non-institutional investors. Applause and cheers for everyone involved!
All commercial real estate sectors are seeing increased quarterly occupancy rates after 2021 Q4 reporting; however, office space occupancy overall is still way down from the beginning of 2020, with a vacancy rate of 12.2%
Landlords are profiting in the wake of pandemic induced rent increases. Rents in all markets are up year over year, but the real standout is apartment asking rents, up 11.3%. For comparison, the previous rate of increase prior to Covid hitting was only 1.6%.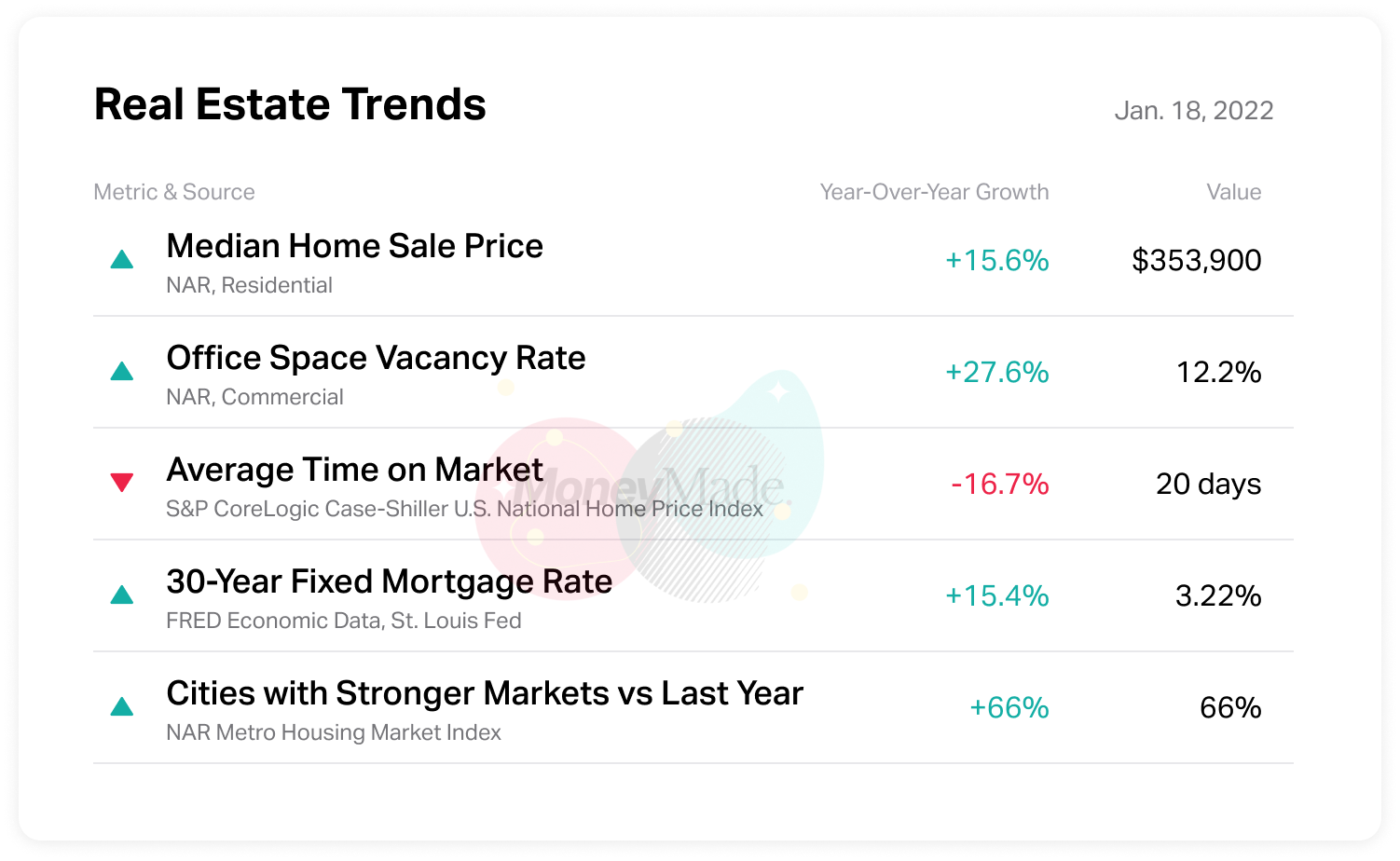 Ford reached a 20 year high and passed $100 billion market cap, in the process surpassing its biggest rival GM for the first time in five years. This milestone follows a banner 2021 for the car company, which saw it post a 140% return for the year (Tesla only hit 50%).
No relief on the inflation front yet—the consumer price index was up 7% year over year in December, marking the fastest inflation since 1982 and beating November's already high 6.8%. In response to these increases, the market is bracing for the Fed to issue its first rate hike in March, and expecting a total of four rate hikes across the whole of 2022.