Markets Report: Week of January 31, 2022
Oil prices are soaring, tech startups are facing an uncertain future, Spotify faces a backlash and pays the price in the market, and football cards are fetching big prices at auction during the playoffs.
Many companies on MoneyMade advertise with us. Opinions are our own, but compensation and in-depth research determine where and how companies may appear.
Stocks
Real Estate
Crypto
NFTs
Wine
Startups
Sports Cards
Gold
Farmland
Whiskey
The global oil market doesn't look like it's calming down anytime soon. The stock slump might have big repercussions for young tech companies. Podcasters and music legends are clashing over Covid content and Spotify is getting hit with the fallout. And as the Super Bowl approaches, quarterback cards are seeing a big spike in values. Check out the details and get updates on more of your favorite asset classes below.
Oil demand is showing no sign of slowing, and as a result, oil prices are showing no signs of coming down. Oil futures hit a 7 year high, and the demand for oil is growing at a rate of 3-5 million barrels per day.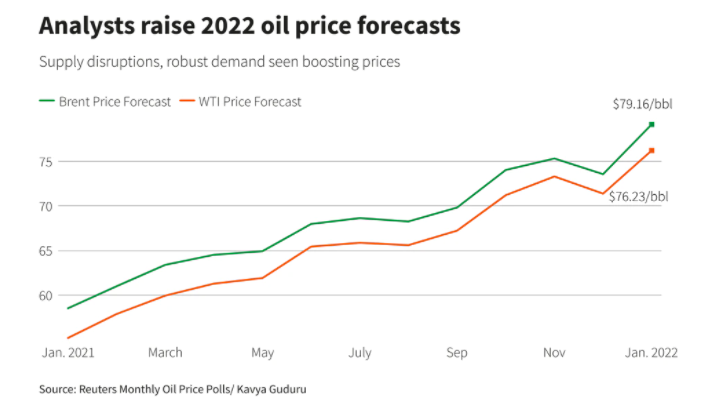 With tensions rising in certain key oil producing areas (Russia, UAE), the potential for supply disruptions is causing analysts to up their price forecasts for 2022.
It's not unfair to say that the stock market had a…difficult January. What that means for startups isn't entirely clear yet, but it could be a sign of lower valuations to come. While the last decade has seen an estimated $1 trillion invested in fintech startups alone, things are looking a little shakier recently when viewed through the lens of venture capital's relationship to the public market.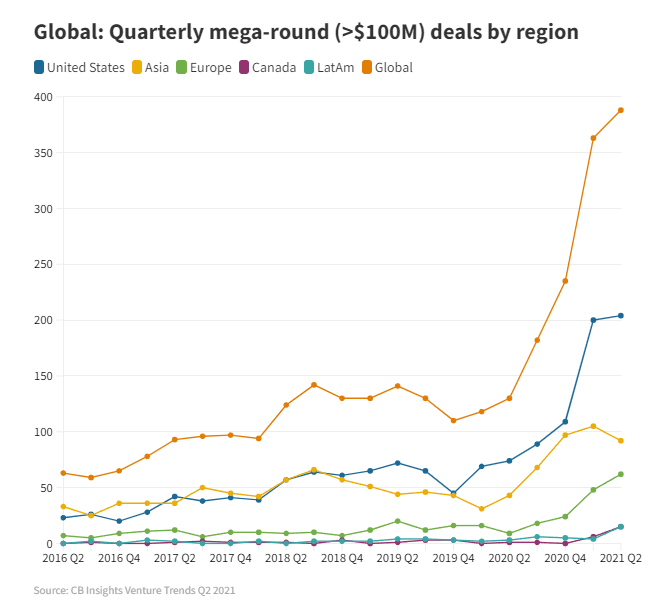 Observers have compared the market of the last five years to the dot com bubble. The Nasdaq quadrupled between 1995 and 2000, only to crash 80% by the end of 2002; over the last five years the Nasdaq has tripled, and many investors are concerned that we might be headed for a repeat of that crash. If the pessimists are right and the value of publicly traded tech stocks falls significantly, it could make it very difficult for emerging tech companies to get the levels of funding we've been seeing lately.
There is a notable biotech IPO coming this week: Arcellx, a company working on immunotherapy treatments for cancer and other diseases. The company has reported promising preliminary results on their latest clinical trial, and are planning to price shares between $15 and $17, with a total expected deal size of $132 million.
The three major indices are all limping into February, with the S&P having its worst month since March 2020, the Dow putting up its worst month since October 2020, and the Nasdaq notching its own worst month since all the way back in October 2008.
Several major companies have earnings reports coming out this week: on the docket are Microsoft, Amazon, Google, and Meta/Facebook, all of which are down for the year.
Depending on reporting, these stocks could make a rebound or get dragged even further down.
Over the weekend, Spotify shares fell dramatically, as both Neil Young and Joni Mitchell announced they would be pulling their music off the streaming platform in protest of podcast host Joe Rogan's discussions of Covid and the potential spread of dangerous misinformation coming from his show. This resulted in a loss of over $2 billion market cap for Spotify, although shares jumped up again after the platform announced that a content advisory would be appended to any discussion of Covid-19. Rogan also apologized for his comments and claimed he would be seeking a more balanced expression of viewpoints on the show moving forward.
A Joe Burrow rookie card sold last week for $220,000 at a private auction, and with the Cincinnati Bengals now playing in the Super Bowl on the 13th, that might have been an extremely timely investment for the buyer of the card. High profile games can be extremely beneficial for the value of players' cards, as evidenced by the recent sale of a Josh Allen rookie card for a staggering $264,000 after the AFC Divisional Round game between Buffalo and Kansas City.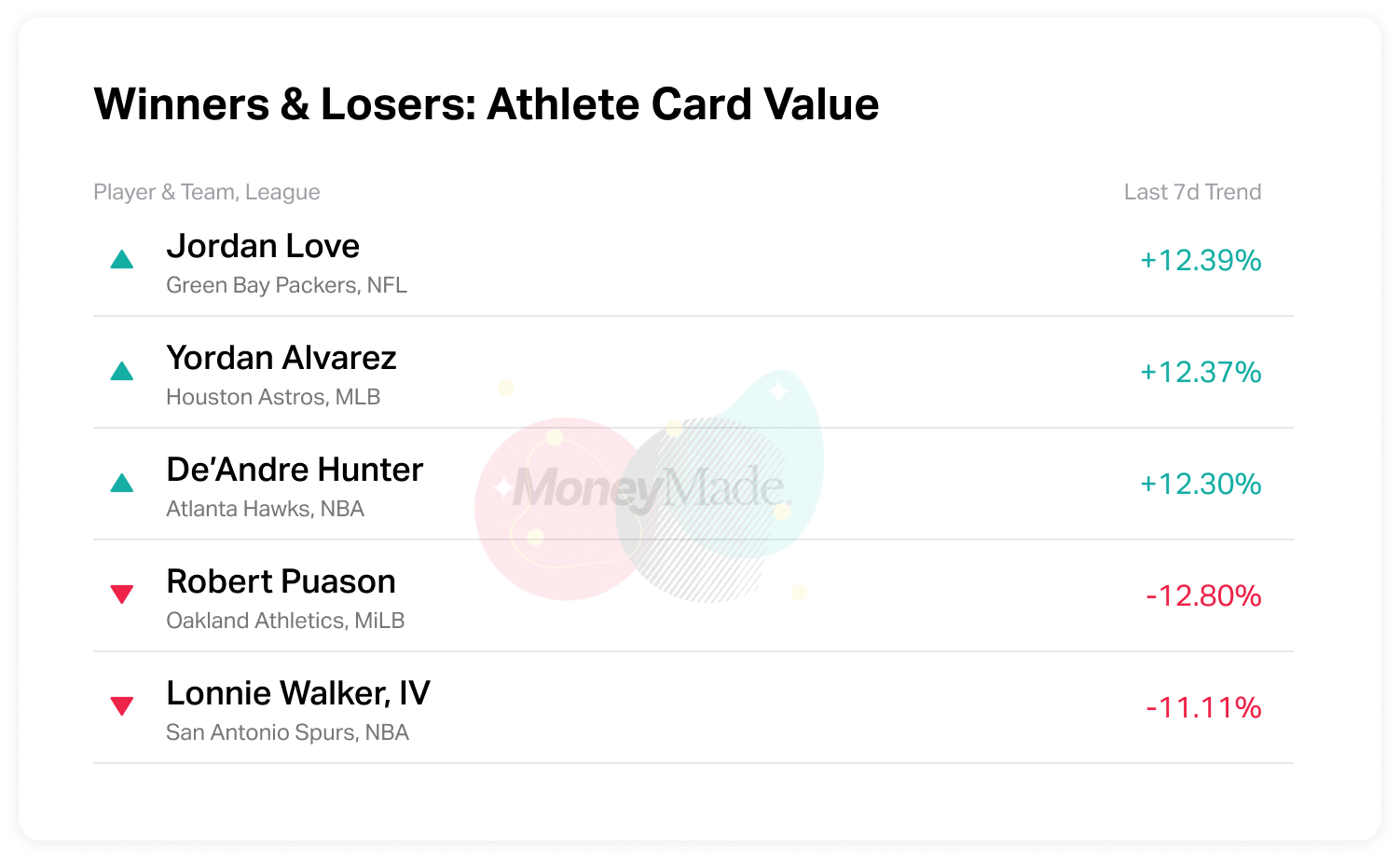 Good news for Ethereum: despite crypto values having taken a nose dive in recent weeks, the longer view looks to be much rosier. In 2021, more value was moved through the Ethereum blockchain than through Visa—$11.6 trillion vs $10.4 trillion, to be exact. One crypto expert predicts that up to half of all global transactions will take place on the Ethereum blockchain within the next 2 decades.
The company filed with the SEC to launch two ETFs focused on crypto and metaverse companies. The ETFs will track companies earning at least 50% of their revenue from tech related to the metaverse and blockchain. The crypto space may seem to be all doom and gloom lately, but the potential launch of these ETFs by such a large and venerable company could help calm some nerves.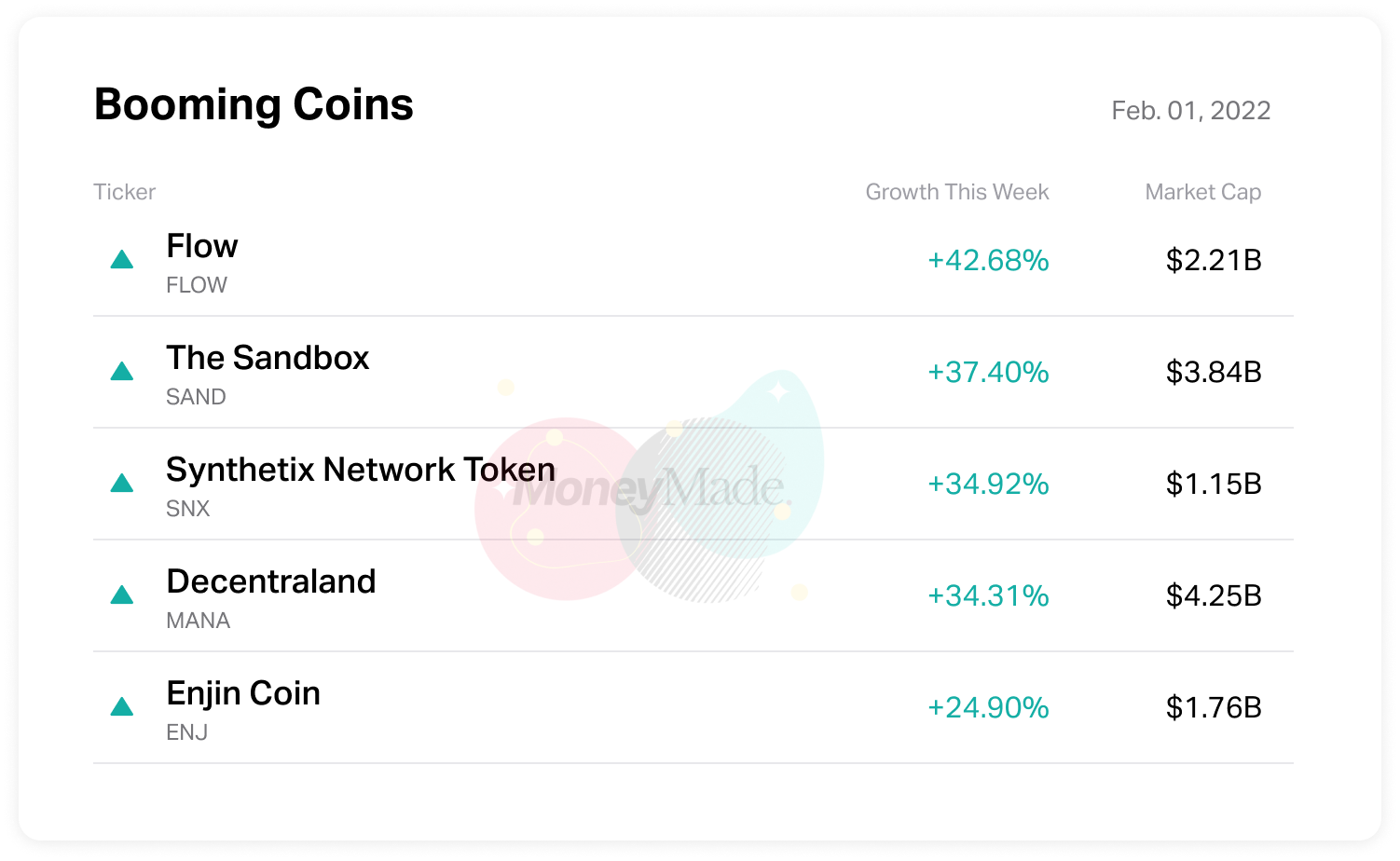 LeBron James and Crypto.com are teaming up to bring a Web3 curriculum to students at the I Promise School, which is supported by the LeBron James Family Foundation. Experts provided by Crypto.com will teach students about blockchain technology and related career opportunities. This is just the latest in a series of high profile partnerships between Crypto.com and various actors, athletes, and organizations.
NFT marketplace OpenSea made news this past week, as it spent over $1.8 million to reimburse users whose NFTs were sold at bargain basement prices due to a tricky bit of UI design. The platform is working on finding a solution to the design flaw, with one part of the fix a decrease in the default listing expiration, from six months all the way down to one month.
Quentin Tarantino has turned seven scenes from his iconic Pulp Fiction into NFTs to be auctioned off by data privacy platform Secret Network. The first of these, called "Royale with Cheese", features the famous scene in which John Travolta's and Samuel L. Jackson's characters discuss French fast food, and it sold for $1.1 million. The winner of the auction was a decentralized autonomous organization called AnonDAO. What a world, when a nearly three decade old movie can be repackaged into a fresh (and clearly in-demand) commodity and purchased through anonymous crowdfunding! I feel old just writing that sentence.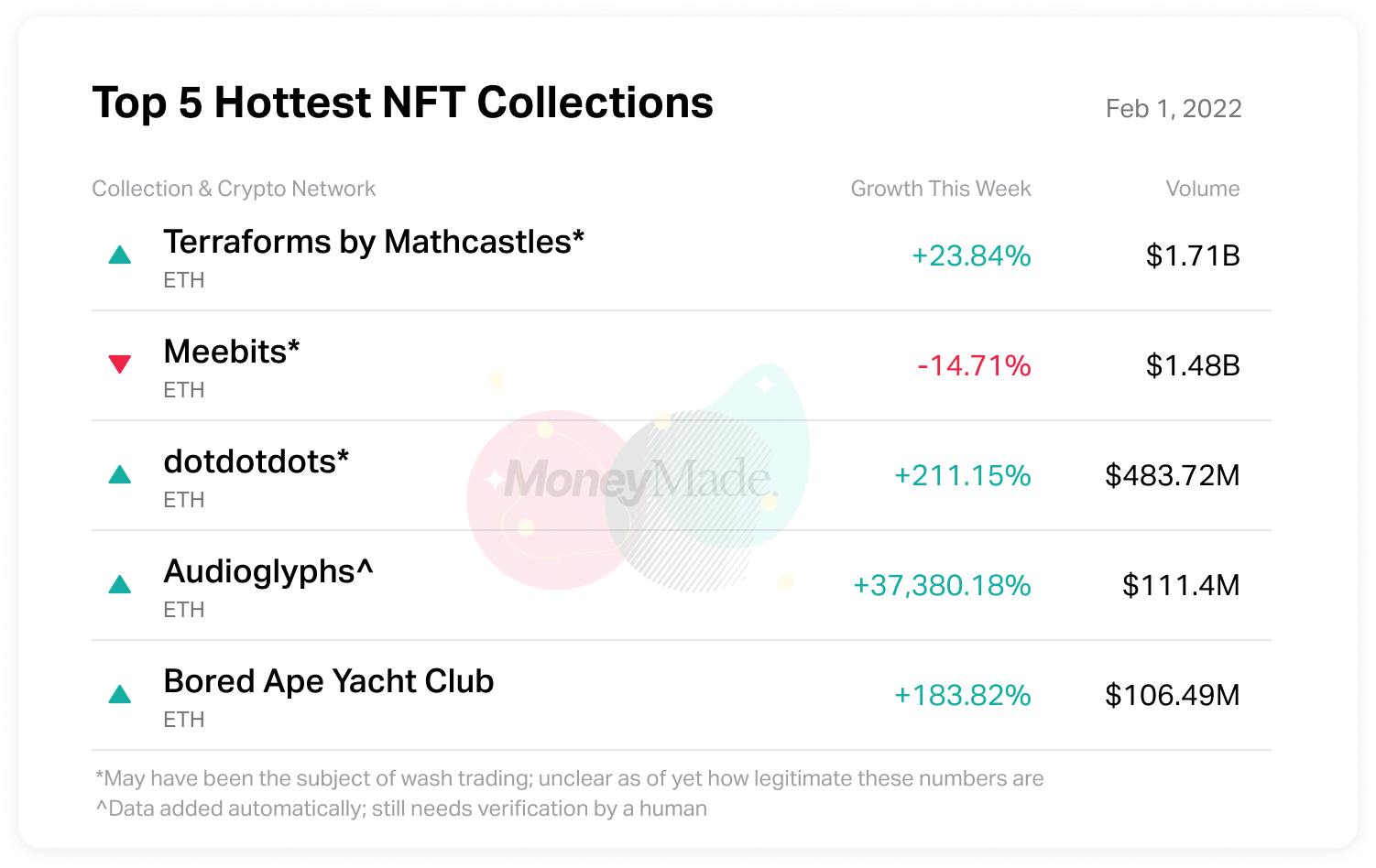 Bud Light is getting into the NFT game too, with the launch (scheduled for Feb. 6) of a collection of 12,722 unique NFTs. The NFTs will be priced at $399 and available for anyone 21 and older. Holders of these NFTs will be able to vote on future merchandising options and have access to specific brand and partner events. Guess they've got to help pay for that Super Bowl ad time somehow?
A recent study from WeWork found that about half of employees want to follow a hybrid approach to work, with preferences on in-office days ranging from 1 to 4. What this means for commercial real estate investors is that a new approach might be needed. Companies will likely be looking for smaller, less open-plan spaces and more flexible leasing options. With 117 million square feet of US office space returned to the market since the beginning of 2020, and a current vacancy rate of 12.4%, it might just be a buyer's market, and the right kind of property could be worth huge returns over the next few years. Something to think about.
In the world of non-physical "land", there's some debate over whether metaverse real estate can truly be thought of as real estate at all. There's no denying that the existing market is big: DappRadar reported $330 million in virtual land sales in Q4 of 2021 alone, with certain assets increasing in value as much as 500% over the course of just a few months. However, some market experts are pointing out that metaverse property is an entirely different beast than land in the physical world, and should be thought of more as an advertising opportunity, or in terms of virtual experiences. In that case, it seems unlikely that traditional real estate investing wisdom would have much value; instead, maybe we should look to the gamers and artists as bellwethers for "locations" that will provide high rates of return?