Markets Report: Week of November 8, 2021
Welcome to the Markets Report, our weekly look back at peaks, pops and omni-asset performance.
Many companies on MoneyMade advertise with us. Opinions are our own, but compensation and in-depth research determine where and how companies may appear.
Stocks
Real Estate
Crypto
NFTs
Wine
Startups
Sports Cards
Gold
Farmland
Whiskey
"Bought a little Polkadot, bought a little VeChain
Bought a little SafeMoon, houses got safe room, party out in Cancún"
-Money Man, Blockchain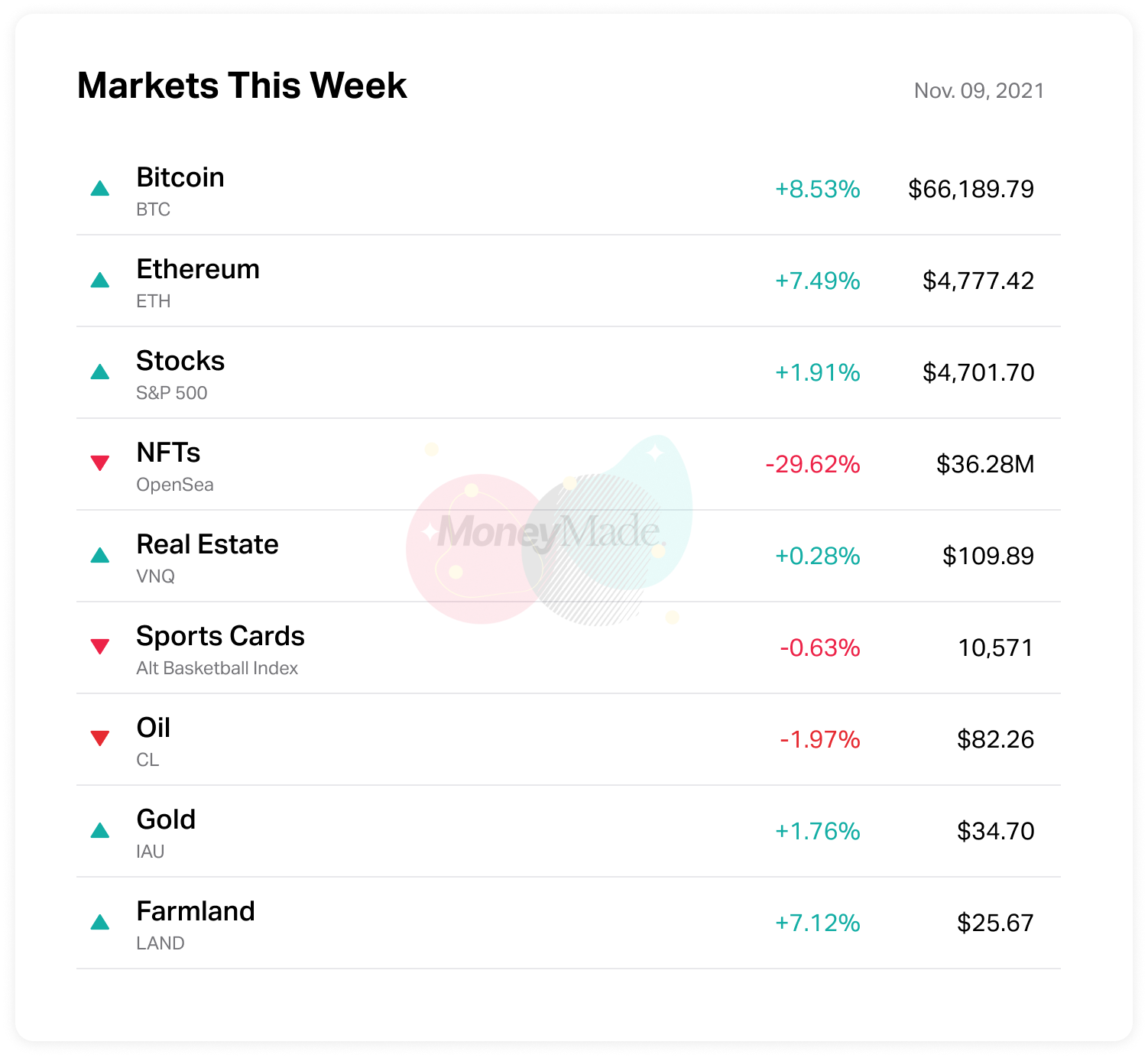 Crypto continued its tear on the year this week. The usual suspects gained share (BTC +8.53%, ETH +7.49%) and a fresh batch of coins stole headlines (Kadena, Solana). Total crypto market cap rose $3.14 trillion, with Bitcoin owning 41% of that share at $1.28 trillion.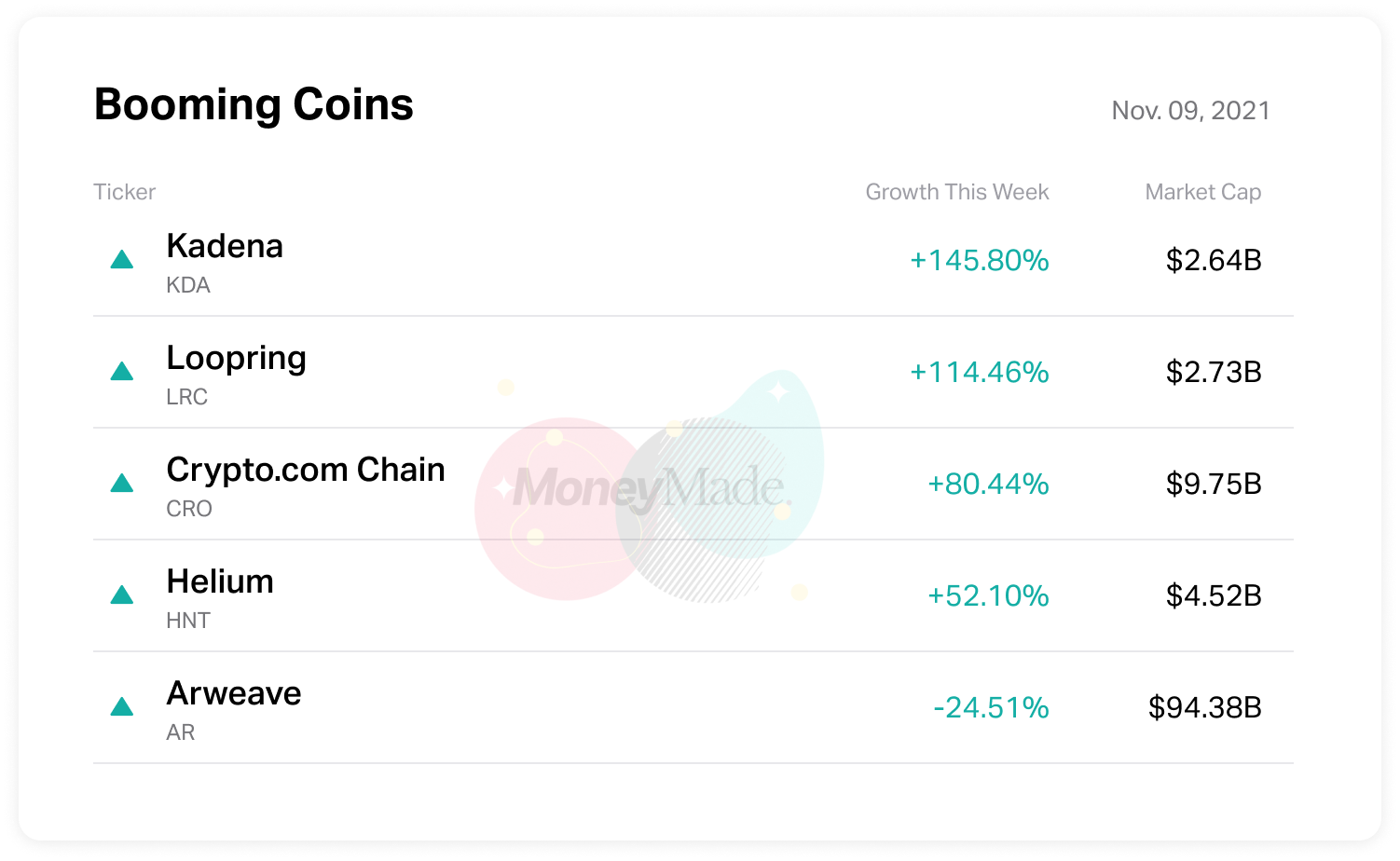 Kadena is the big story this week, as the coin has popped off more than 1,000% since late October. With a market cap of $2.64B, Kadena is now in the top 75 of coins (#73).
Two key drivers for Kadena's recent rally include the roll out of NFT projects on the network and the listing of the coin on new exchanges. (The coin's largest trading volume is on KuCoin, Hotbit and Bittrex.) Also of note here is that Kadena's founders are responsible for building the first blockchain project at JP Morgan (JPM coin) and have previous experience working at the SEC, so this is for sure a coin to watch.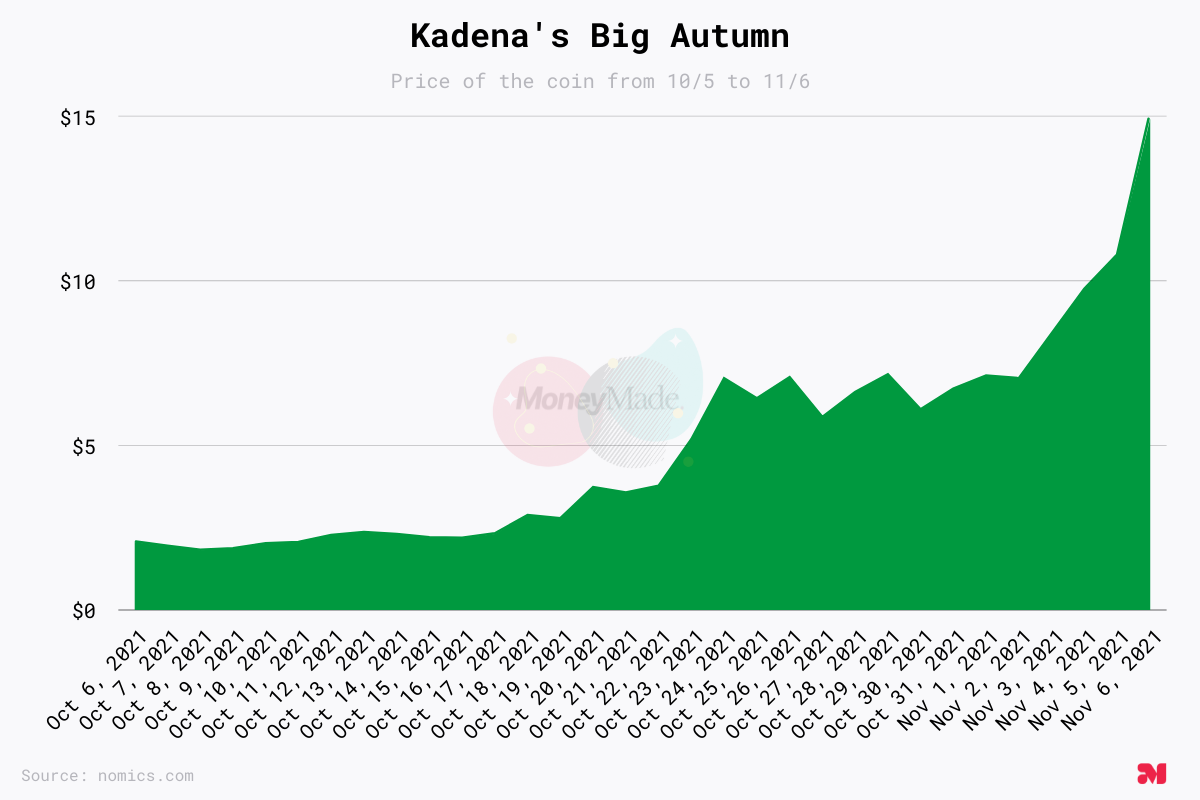 Solana also made waves over the weekend, surging to a total market cap of more than $76 billion and briefly passing Cardano ($73.52 B) and Tether ($74.24 B) to become the fifth largest coin. Tether, a stablecoin which is pegged to the value of the US dollar, has since reclaimed its spot at #5. As of Tuesday morning, Solana's market cap was $74.09B, still an increase of +10% over the previous week.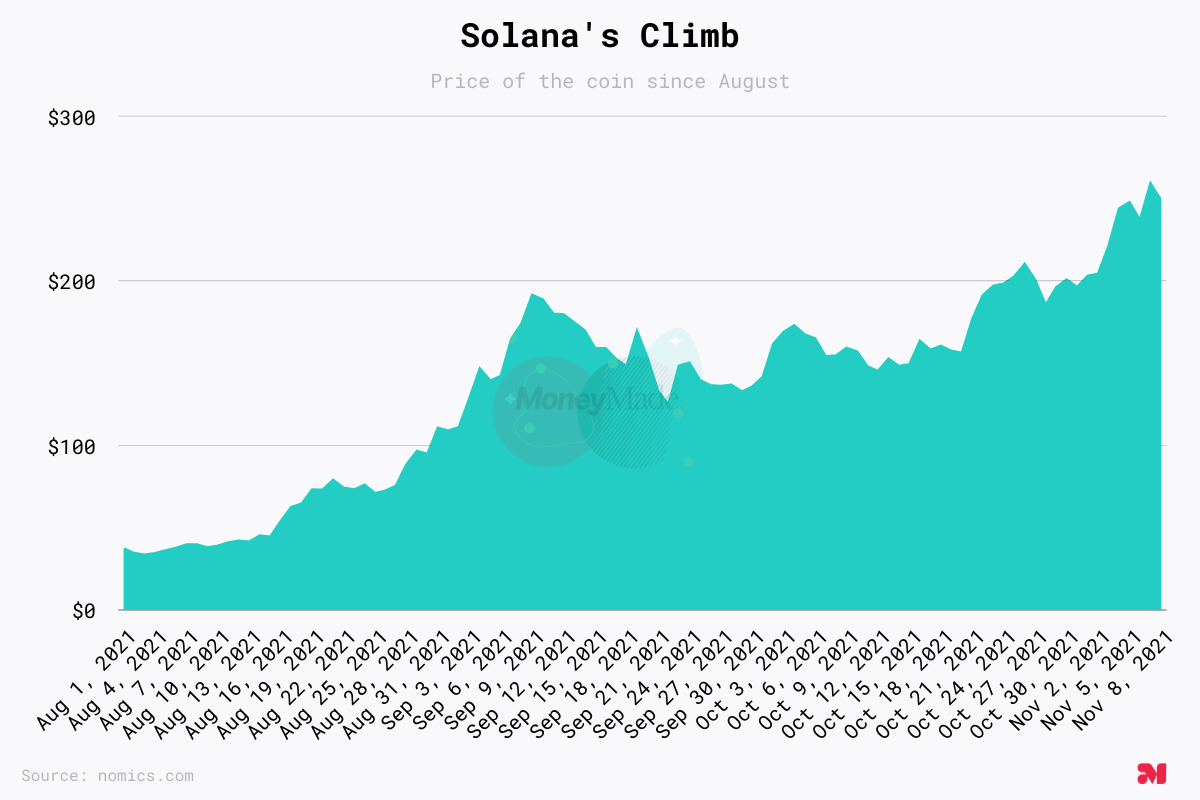 Meanwhile, rapper Money Man dropped a YouTube video on Friday for the song "Blockchain" and instantly minted hip hop's biggest crypto-inspired hit to date. In the video, which was published Friday and has 3.7 million views at press time, Money Man runs down the litany of buzzy coins and trading platforms: Polkadot, VeChain, SafeMoon, Coinbase Pro, Robinhood, Zcash.
The residential real estate market remains hot this week as trends of high demand and low supply continue. This week's median home sale price (+12%) and time on market (-27%) both show double-digit changes from the period last year, and experts question whether this pace can be sustained into 2022. Some predict that an increase in homes available for purchase coupled with a potential rate hike will bring the market back down to earth.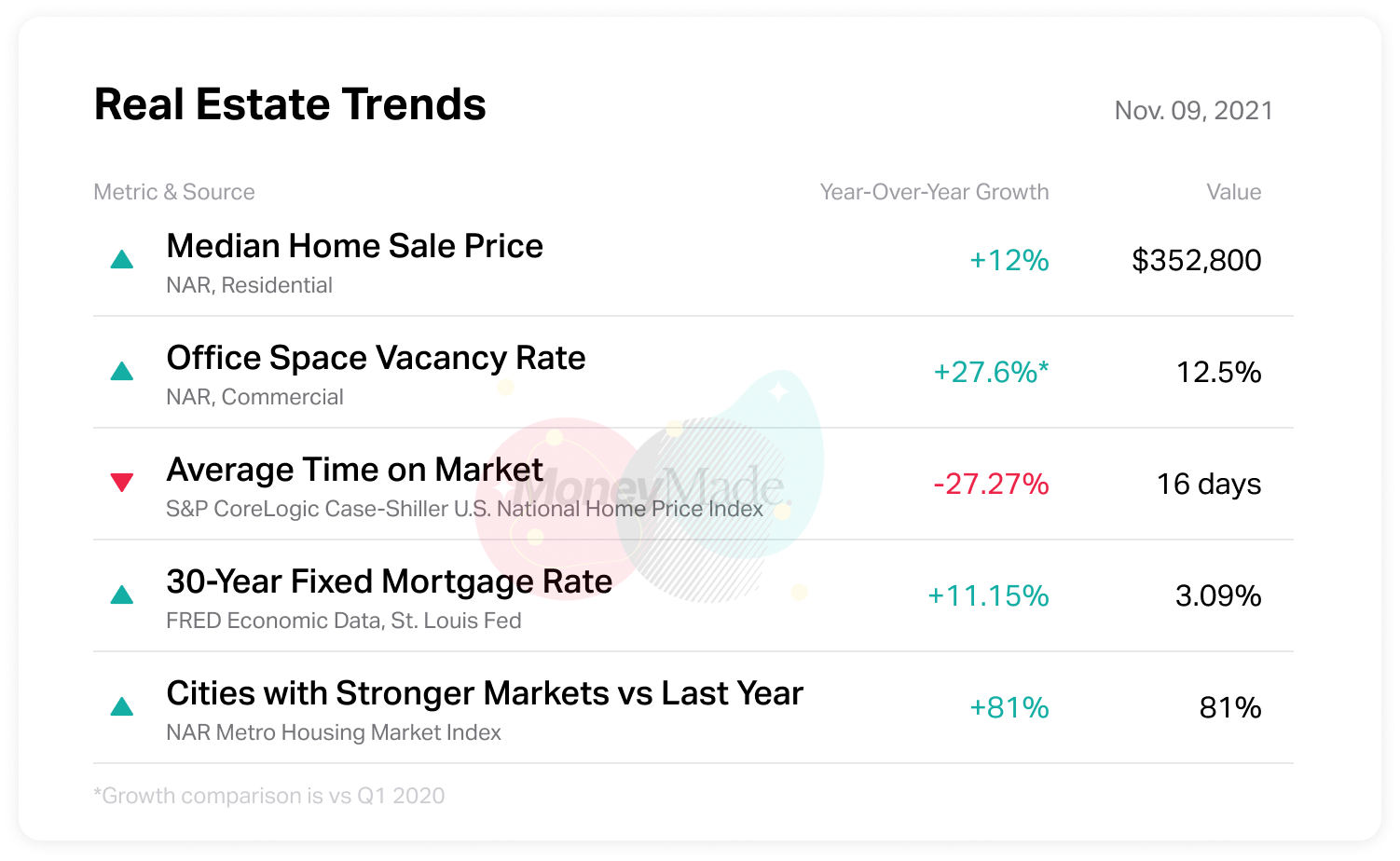 In the world of commercial real estate, the industrial sector has emerged as a hot market. Prologis, a real estate investment trust and research firm, reports that industrial space is "effectively sold out," with vacancy rates at an all-time low of 3.86%. Public markets investors are likewise buying into the real estate boom, as our tracked Vanguard REIT VNQ shows growth of 35%+ over the past year. (The S&P is up by roughly the same amount over the period.)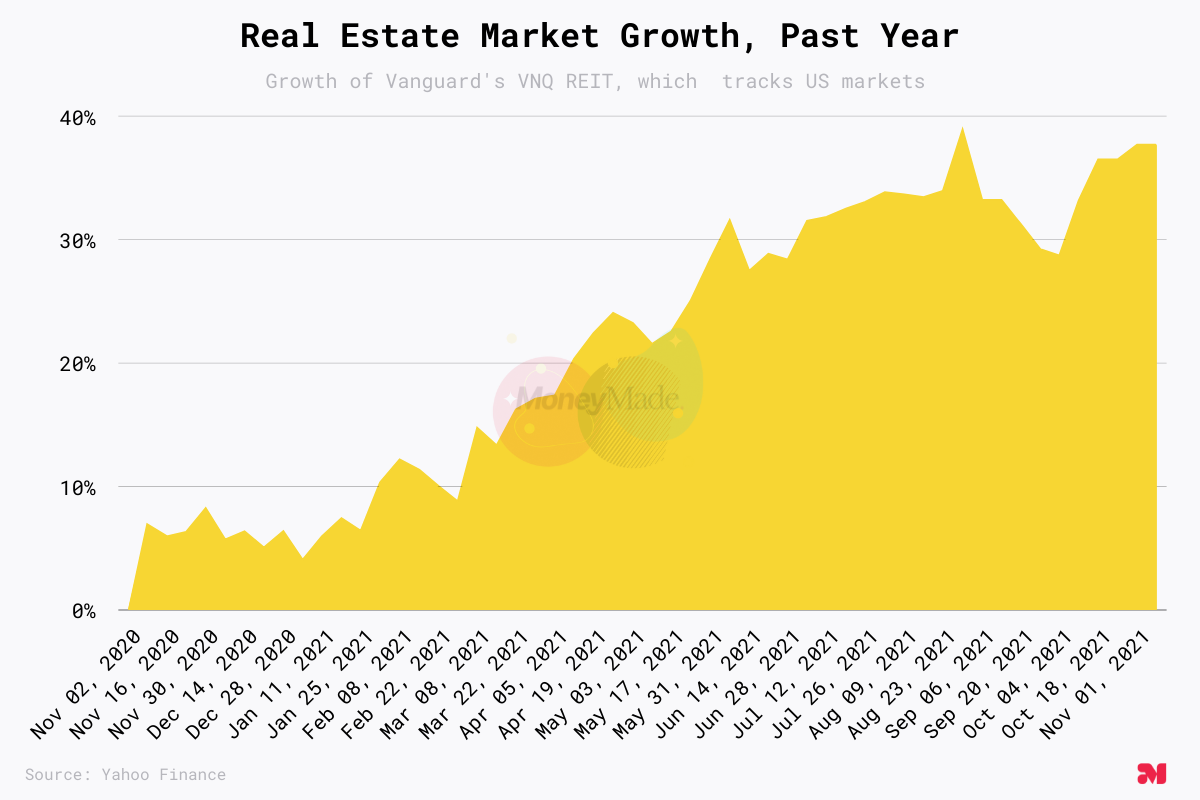 Who let the apes out? The Bored Ape Yacht Club collection continued its moment in the sun this week with an on-court appearance. Tyrese Haliburton of the NBA's Sacremento Kings wore a painted depiction of Bored Ape #8409, the NFT of which he owns, on his basketball shoes November 3rd, marking what's likely the first time a pro athlete has worn their NFT during a sporting event. NFT Gerry, Bored Ape's creator, even tweeted a response of appreciation to acknowledge the moment. (Fun fact: Other notable Bored Ape athlete owners are Steph Curry and Von Miller.)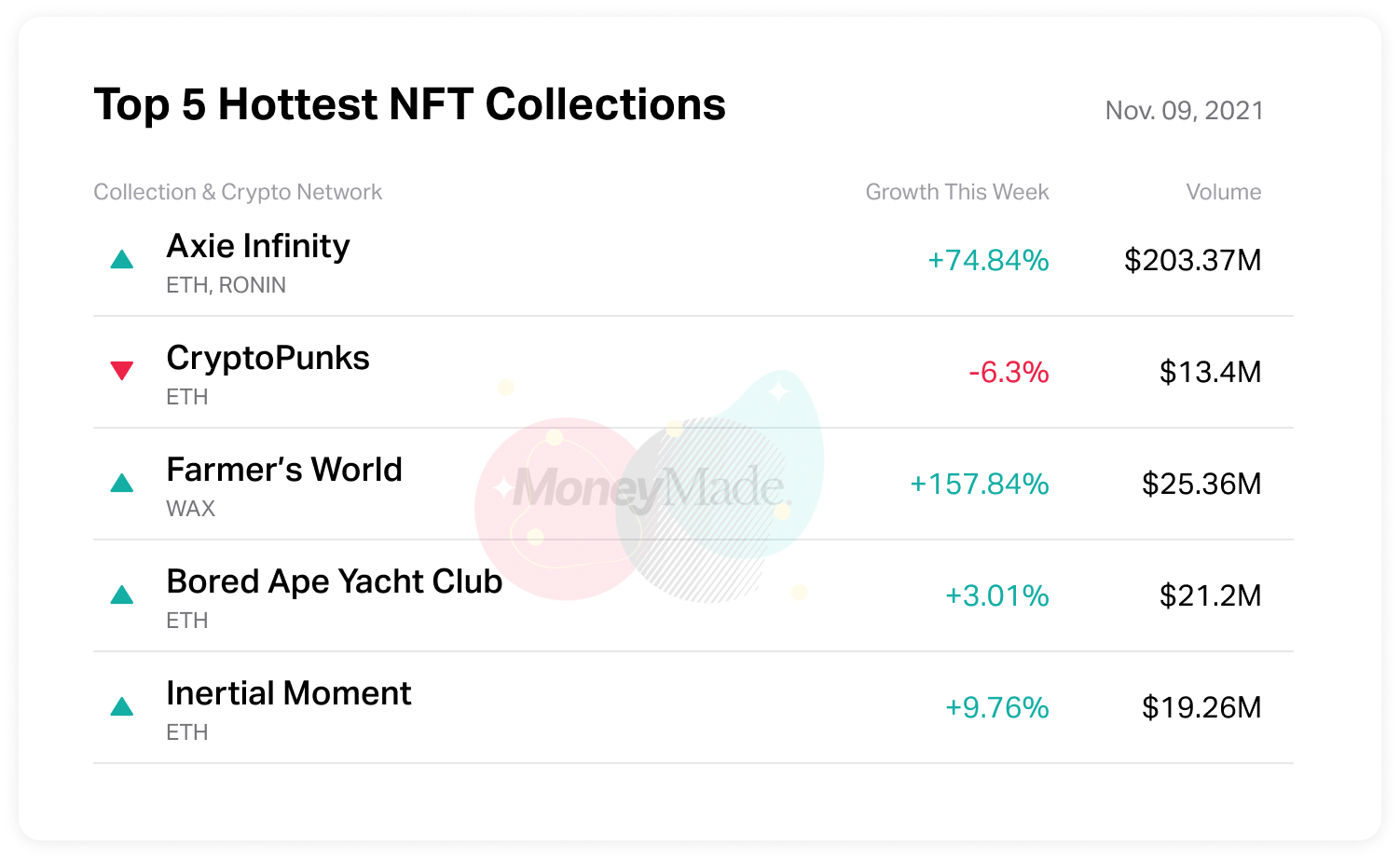 This week, fractional shares of Bored Ape #9159 will IPO on the collectibles trading platform Rally (account needed to view listing). Historically, Bored Ape NFTs have attracted a considerable premium versus other NFTs on market when compared against all offerings on OpenSea.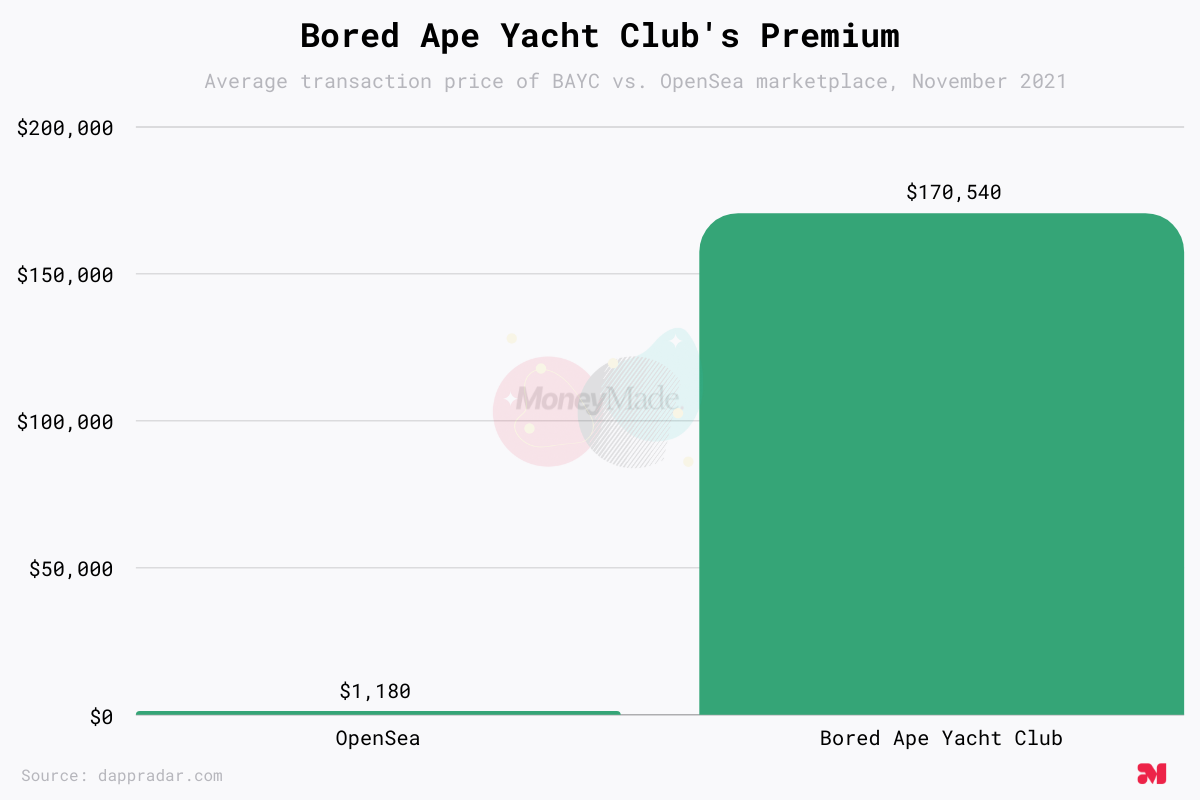 In other news, the NFT.NYC conference took place in New York last week, and some are calling the event "Crypto Coachella." In another sign of the growing mainstream acceptance of crypto, New York Times profiled the event.
The October jobs report dropped last week with better-than-expected news—jobs and wages up, unemployment down—sending the three major indices to record highs (S&P +1.91%). In IPO news, personal finance site NerdWallet hit the market last week, popping more than 50% on the first day traded before cooling off -30%.
Electric automaker Rivian, well known for its commercial EV van deal with Amazon, is set to IPO this week in an offering that should net its investor Ford upward of $10 billion. (For the uninitiated, Rivian also makes an SUV that's like an electrified Range Rover.)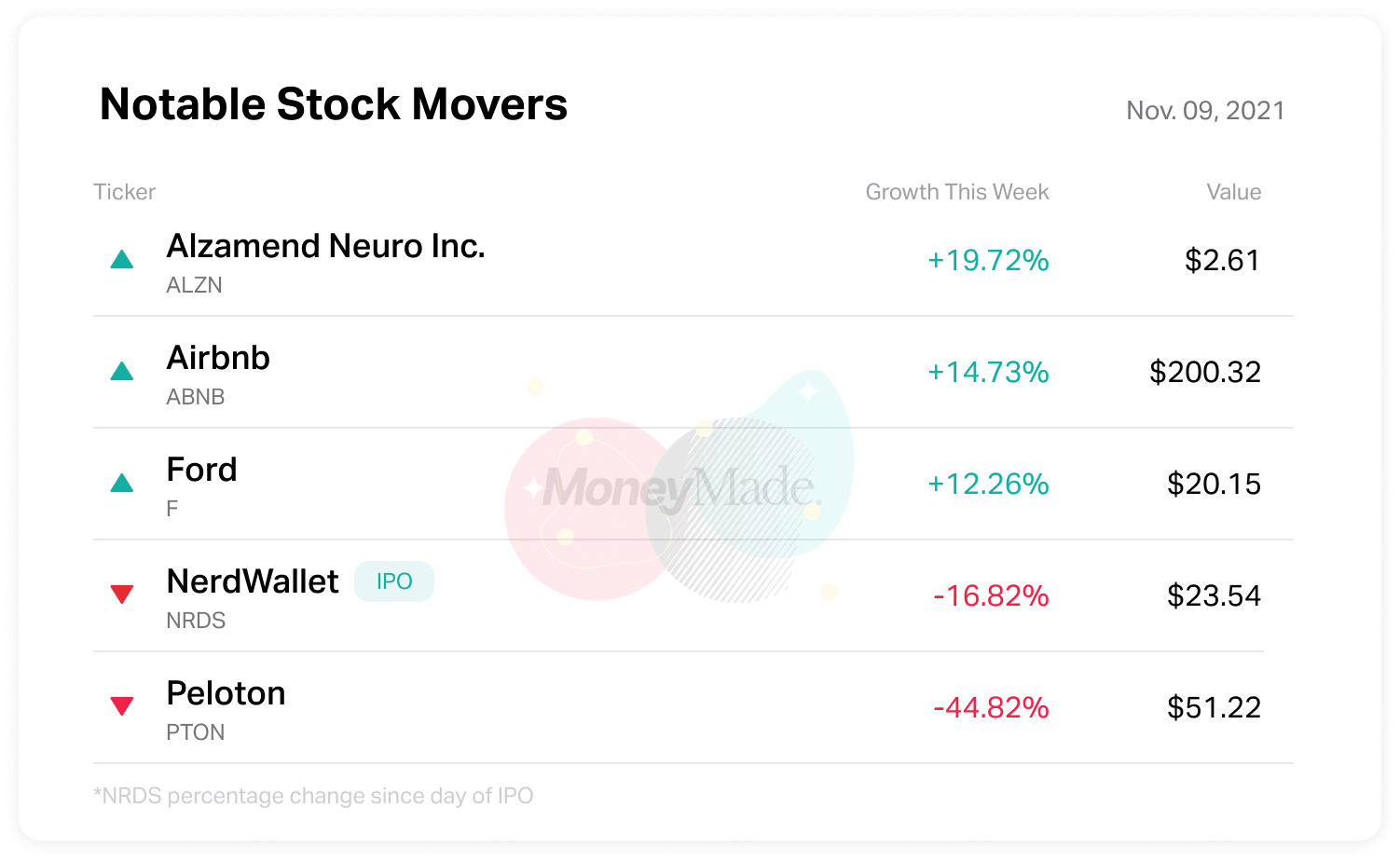 After reducing its earnings target, Peloton stock fell more than 40% on the week, despite the company's efforts earlier in the week to generate positive press by announcing a partnership with Delta Airlines (The company also revealed a new connected fitness product this morning, but shares are still down). On the other end of the earnings see-saw, Airbnb posted a +15% gain on the week ending Monday after beating Q3 expectations.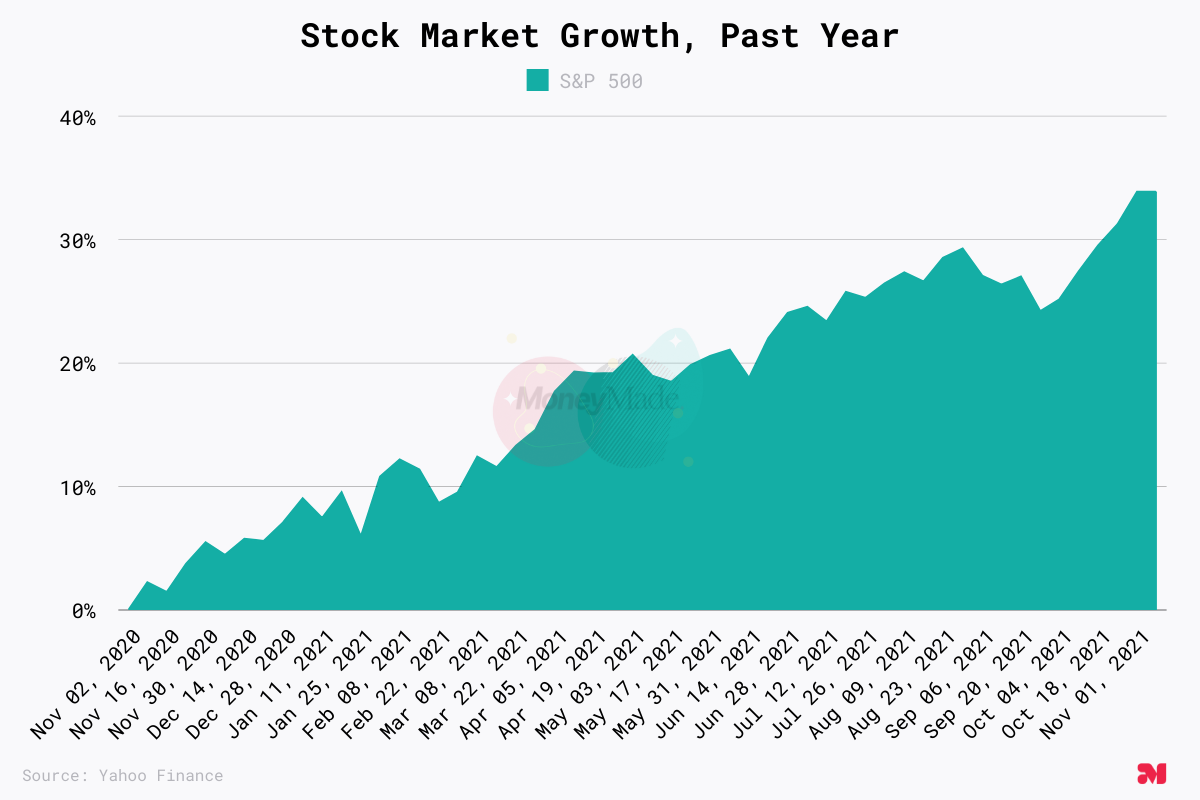 In other news, shares of small cap Biotech company Alzamend Neuro, which is researching cures for Alzheimer's, soared 20% last week as a major shareholder increased their position. The stock previously rose nearly 40% in September after the company received positive feedback from the FDA.
Sports Cards (Basketball -0.63%)
Baseball cards (+0.73%) continued their upward trend this past week, while all other markets are down (Basketball -0.63%, Football -2.06%, Soccer -2.06%, Hockey -0.14%). Notable card value winners include a pair of running backs: the retired Deion "Prime Time" Sanders, whose cards have seen a surge of value recently, and young emerging star Jonathan Taylor, whose 100+ yard games this season have created a booming market for him.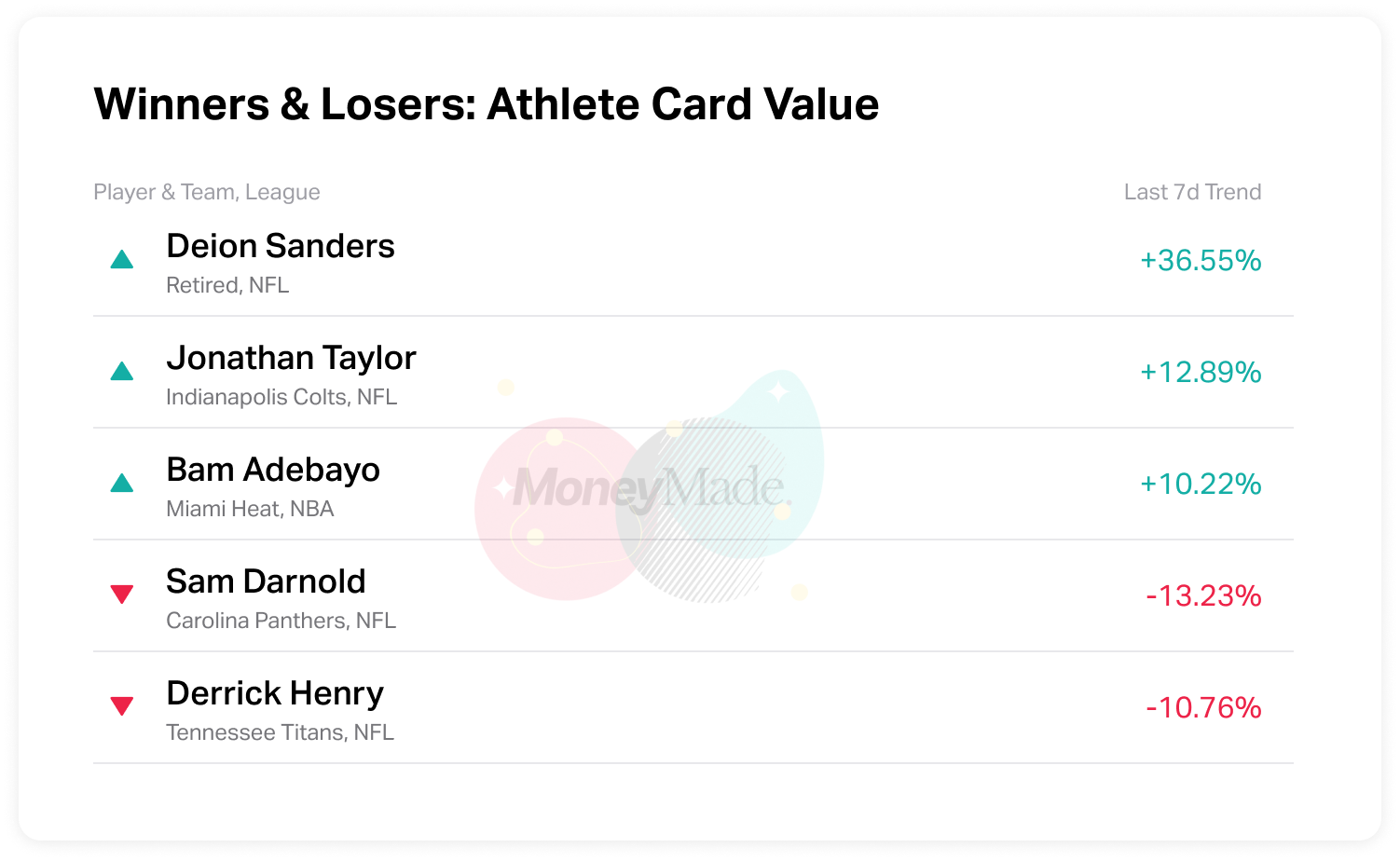 In IPO news, a new Luka Donic card (2018 Flawless Vertical Gold Patch Luka Doncic Rookie Card, BGS 9.5) is debuting on fractional marketplace Collectable this week.
Gold & Commodities (IAU +1.76%)
Gold was up on the week, as the Fed's indication of no near-term rate hike was a positive force on precious metal prices. Oil and gas were also up, and the Wall Street Journal reports that consumers should expect to have the higher prices passed on to them this winter. The government is also exploring options to tamp prices down.