Markets Report: Week of November 29, 2021
Omicron spooks the markets, Jack Dorsey's out at Twitter, and China throws its weight around.
Many companies on MoneyMade advertise with us. Opinions are our own, but compensation and in-depth research determine where and how companies may appear.
Stocks
Real Estate
Crypto
NFTs
Wine
Startups
Sports Cards
Gold
Farmland
Whiskey
Once again, Covid fears are dominating headlines and markets, with news of the latest "variant of concern", Omicron, impacting everything from oil futures to tech stocks.
Here's what that looks like across asset classes.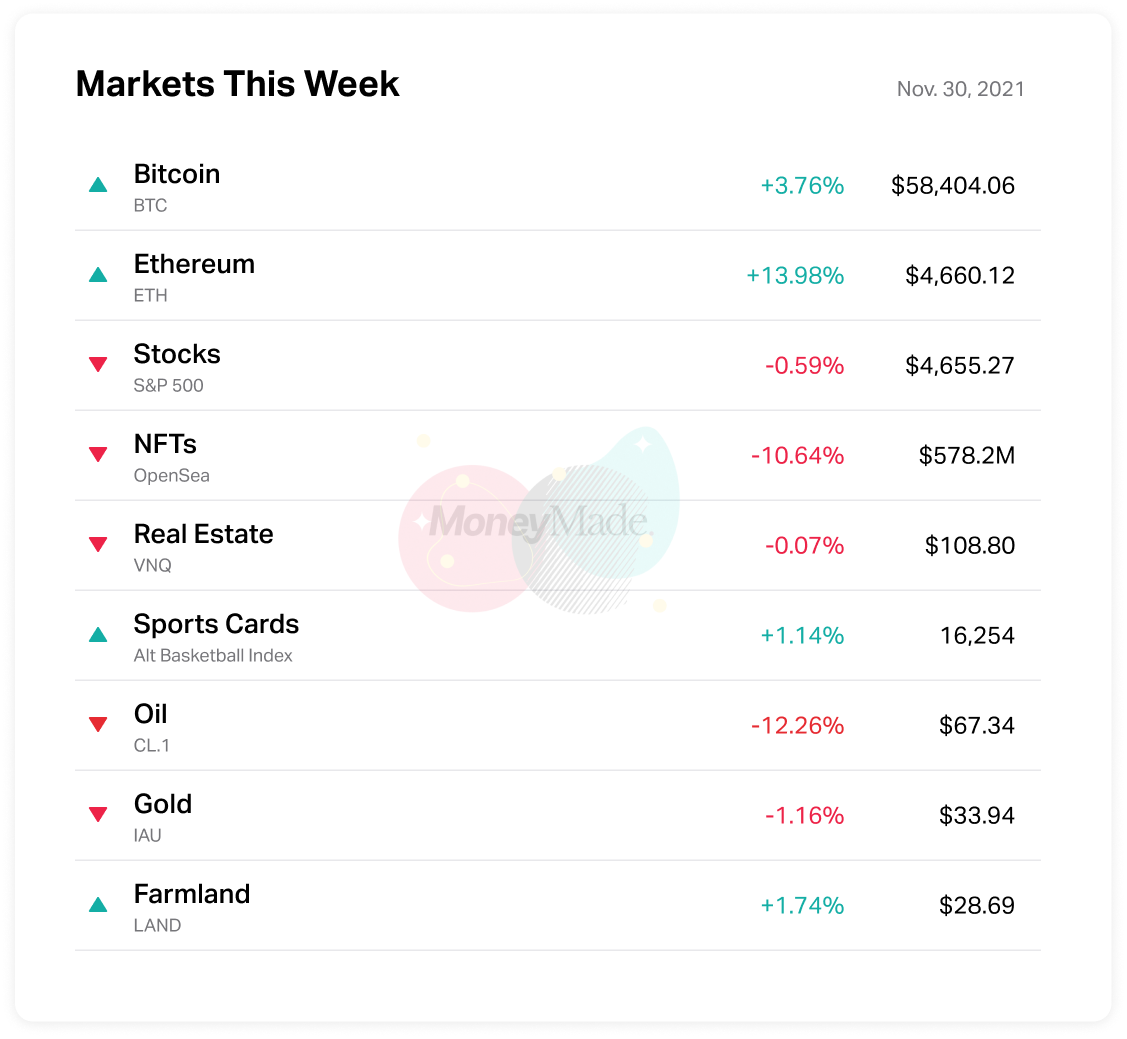 Stocks (MRNA +30.36%)
Moderna stock jumped over 9% on Friday, and has continued upward, after the company indicated that a new vaccine to deal with the Omicron variant could be ready by early 2022. A spokesperson for the company indicated that it's too early to tell yet whether that would actually be necessary, but market sentiment seems to reflect a general tendency to err on the side of caution at this stage of the pandemic.
Commodities & Gold (CL -12.26%)
The virus did what an announcement from the White House could not: while news of strategic oil reserve releases did little to affect elevated prices, the Omicron panic caused oil prices to drop more than 10% on Friday. The dip was likely short-lived, however, with prices already on the rise again, and many authority figures (including OPEC officials) saying that fears are overblown and that prices are not going to be affected by this long-term.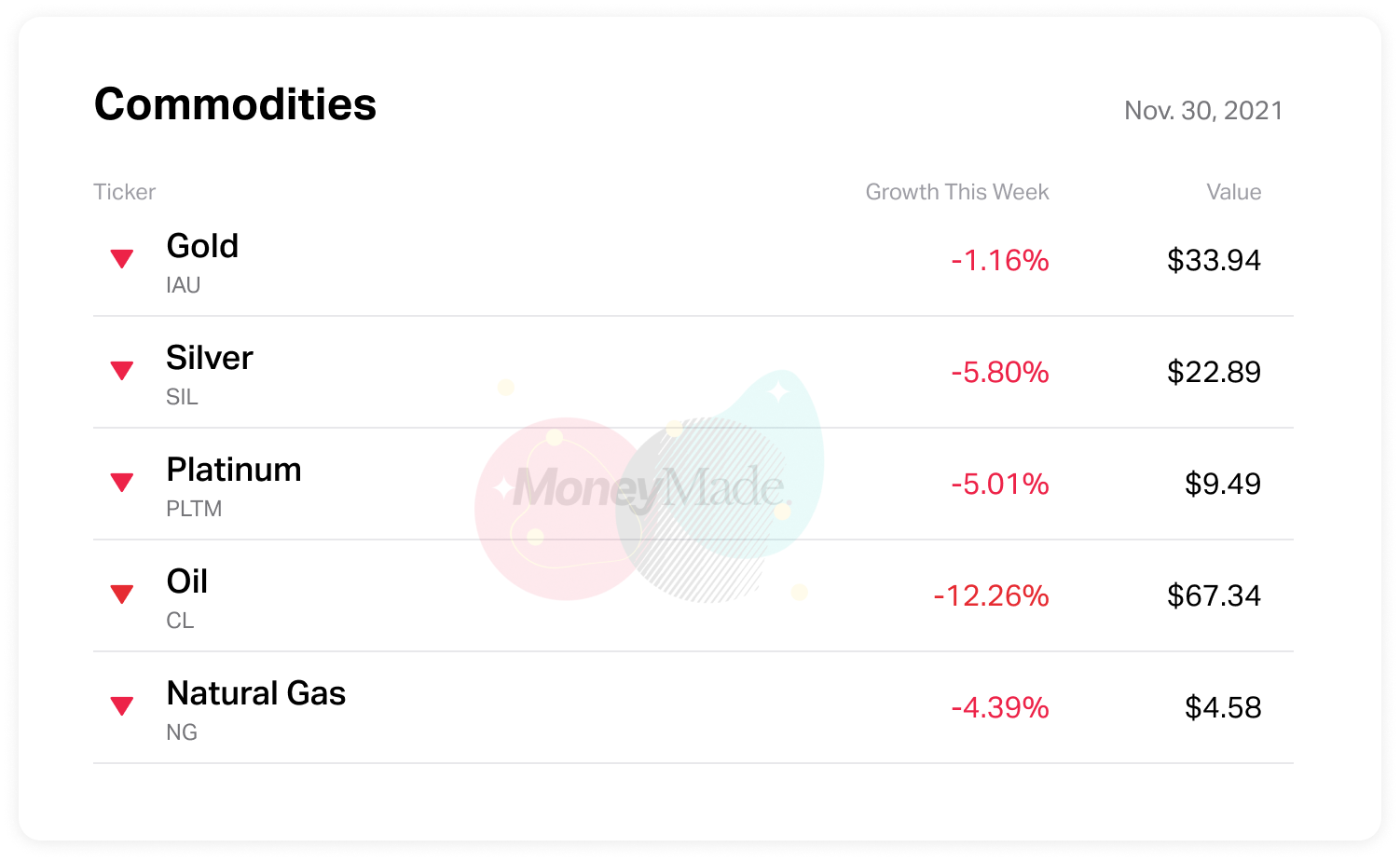 Crypto (ETH +13.98%)
Covid, Covid everywhere, even in DeFi: Bitcoin dropped over 8% on Friday in response to Omicron headlines, making it the worst day it's had in two months. Like the oil dip though, this has proven to be extremely brief, and the price has entirely rebounded as of the time of this writing.
One item of interest in the crypto space is the obscure coin that shares its name with the new variant. Previously trading at $65, the OMIC token shot up nearly 1000% to $688 on Friday, before dropping back below $200 by Monday afternoon. While this certainly looks like simply the latest in the world of memecoins, crypto speculators may want to keep an eye on virus headlines, as it's unclear what kind of staying power this one will have.
Real Estate & Farmland
Anyone paying a modicum of attention this past year knows that the real estate market has been insane. Depending on who you ask, this Covid-induced trend is either likely to continue or come to a grinding halt. Zillow and Goldman-Sachs are both predicting around 13.5% annualized growth over the next year, which isn't quite as lofty as the 20% increase we saw from August 2020 to August 2021, but is nevertheless astronomical compared to pre-pandemic price appreciation. Redfin, on the other hand, says growth will come way, way down, with an estimated increase of just 3% between now and December 2022. Only time will tell if the bears or bulls are correct.
In the non-residential part of the market, expect prices to follow the same sort of trends. Recent reporting indicates that farmland values were way up in the third quarter, with some areas having an annual increase of over 20%. Whether you're talking condos or cows, it's pretty clear that the effects of the pandemic on real estate buying patterns are unlikely to go away anytime soon.
Looking at the markets outside the lens of Covid variants, there are a few other points of interest this week. Here's what's happening:
Stocks (BABA -3.67%)
Chinese tech regulators have put pressure on ride-sharing giant Didi, asking the company to go private or delist from the NYSE, citing supposed concerns about data leaks. Shares fell over 7% at the news (although the price has since recovered a slight bit), with smaller dips in the price of other tech companies like Alibaba, Tencent, and Weibo. This could foreshadow huge changes to come, with the potential to completely and fundamentally change the way international investors view (and fund) Chinese companies.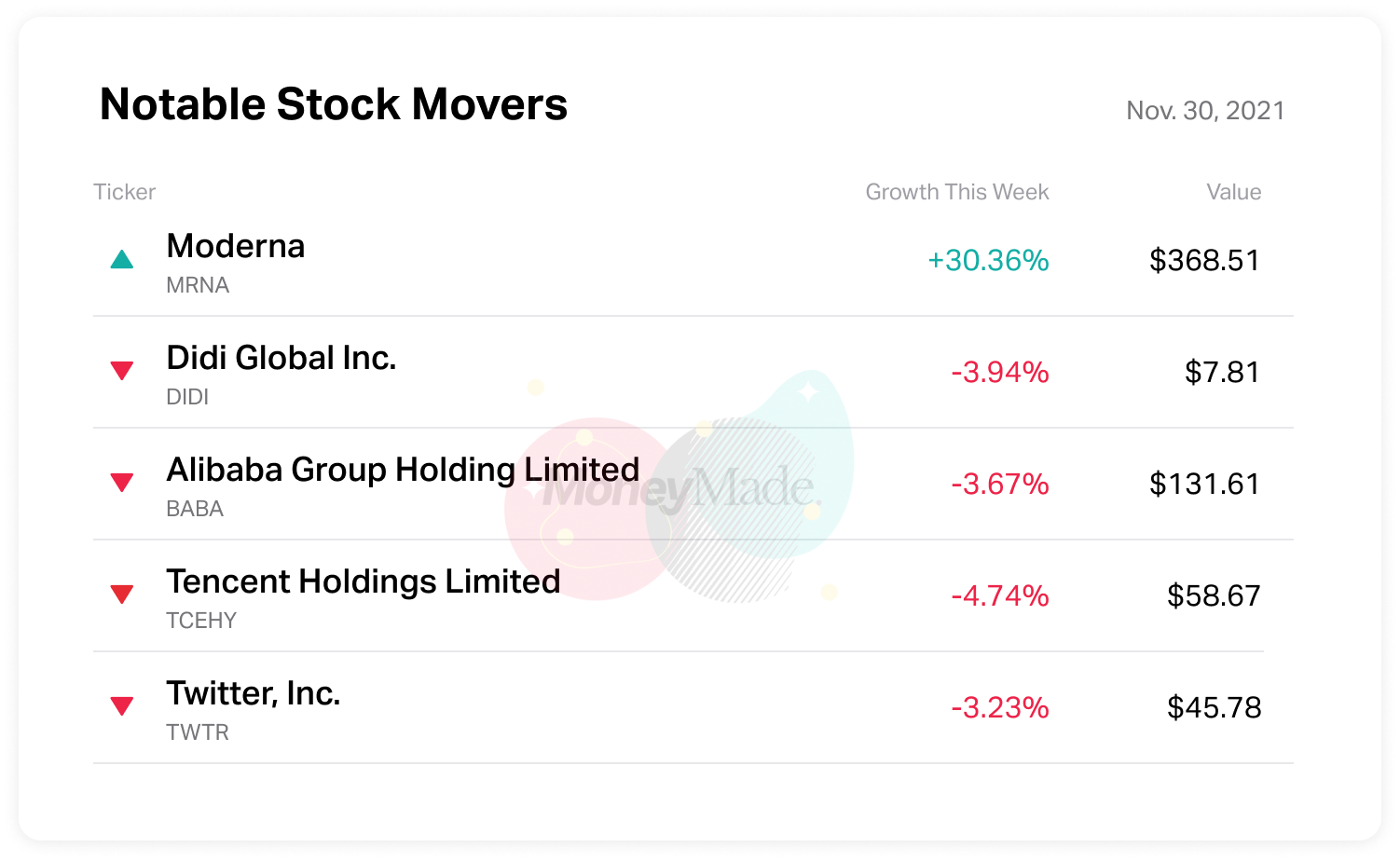 In a move that may end up having just as large an impact geopolitically (what a brave new world it is, truly), Twitter CEO Jack Dorsey announced on Monday that he is stepping down as CEO, causing the stock price to immediately jump up over 11% before coming back down almost as rapidly. Current Twitter CTO Parag Agrawal will replace Dorsey, but it remains to be seen exactly what this new leadership means for the social media platform.
NFTs (Axie Infinity -14.09%)
A plot of virtual land known as "Decentraland" was purchased by Metaverse Group for $2.43 million, or twice it's original set price. In response, the price of MANA (Decentraland's digital asset token) spiked 10% before pulling back, making now a potentially great time to buy in.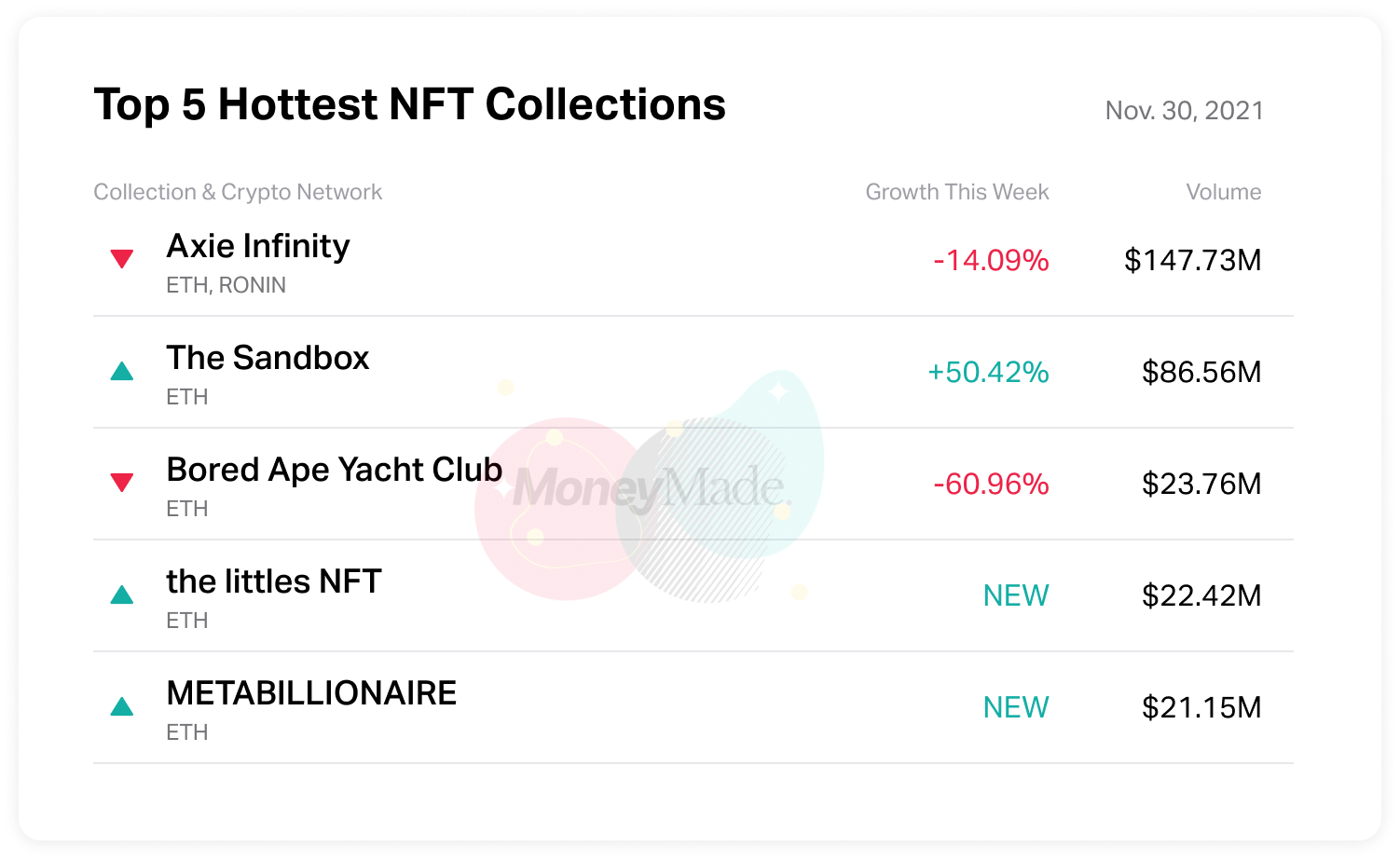 Startups
Not much is happening in the world of startups; there is a single US IPO scheduled for this week—Nuvectis Pharma, a cancer treatment tech company with a $160 million market cap, that is scheduled to raise $30 million.
Sneakers & Streetwear
Famed designer Virgil Abloh sadly passed away on Sunday, after a very private multi-year battle with cancer. Among other accomplishments, Abloh was the first Black artistic director for Louis Vuitton and the founder of cult streetwear brand Off-White. Look for items from his collaboration with Nike to be in the spotlight and in demand in the coming weeks.