Markets Report: Week of December 06, 2021
Tech heavy-hitters make moves, a roller coaster on blockchain, and SEC troubles for EV makers
Many companies on MoneyMade advertise with us. Opinions are our own, but compensation and in-depth research determine where and how companies may appear.
Stocks
Real Estate
Crypto
NFTs
Wine
Startups
Sports Cards
Gold
Farmland
Whiskey
The market took a hit last week, but many stocks are already on the rebound. SEC regulators had an active Monday, with repercussions for the budding EV market. Shuffles in the upper echelons of top tech companies herald a bright new frontier in the world of Web3, and NFTs are starting to infiltrate the real world. Read on for more about these and other market trends across asset classes.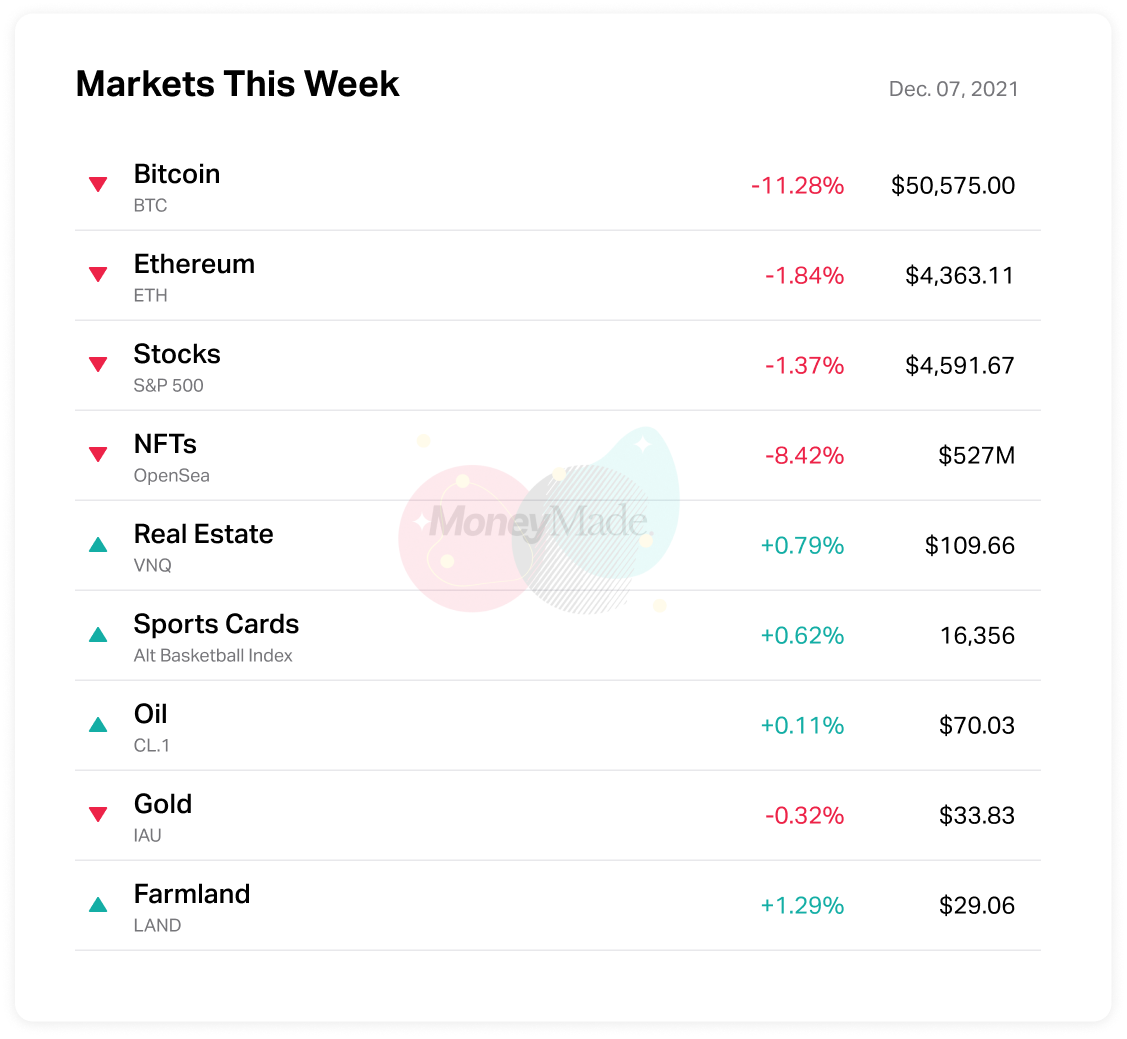 Stocks across the board took a tumble last week, as Omicron fears ramped up and Fed chair Jerome Powell announced that a faster bond taper is going to be a topic of discussion at the next policy meeting in a couple weeks. The S&P closed out -1.22% for the week, with the Nasdaq down over 2% and the Dow down 0.91%. It's not all bad news though; everything is now on the up and up, with early indications pointing to a Covid variant that's milder than Delta, and markets already back up above last week's lows.
In regulation news, the SEC is now investigating two EV makers, Lucid and Tesla, causing both stock prices to take a dip. Lucid announced Monday morning that it had received a subpoena from the SEC, apparently concerning their SPAC IPO earlier this year, and shares fell 10% immediately. At Tesla, whistleblower claims about defective solar panels (and the ensuing SEC investigation) caused prices to dip—combined with a recent downward trend, this puts Tesla's stock price more than 20% off the 52 week high and officially in bear territory.
One last item of note here: Jack Dorsey, the now ex-CEO of Twitter (again), announced that his other company, Square, would be changing its name to Block. This is widely seen as a nod to blockchain and the tech billionaire's conviction that cryptocurrency is the key to the future. While this could indicate a new focus for the payments company, it remains to be seen what it all means for the stock price, which is down over 4% for the year so far.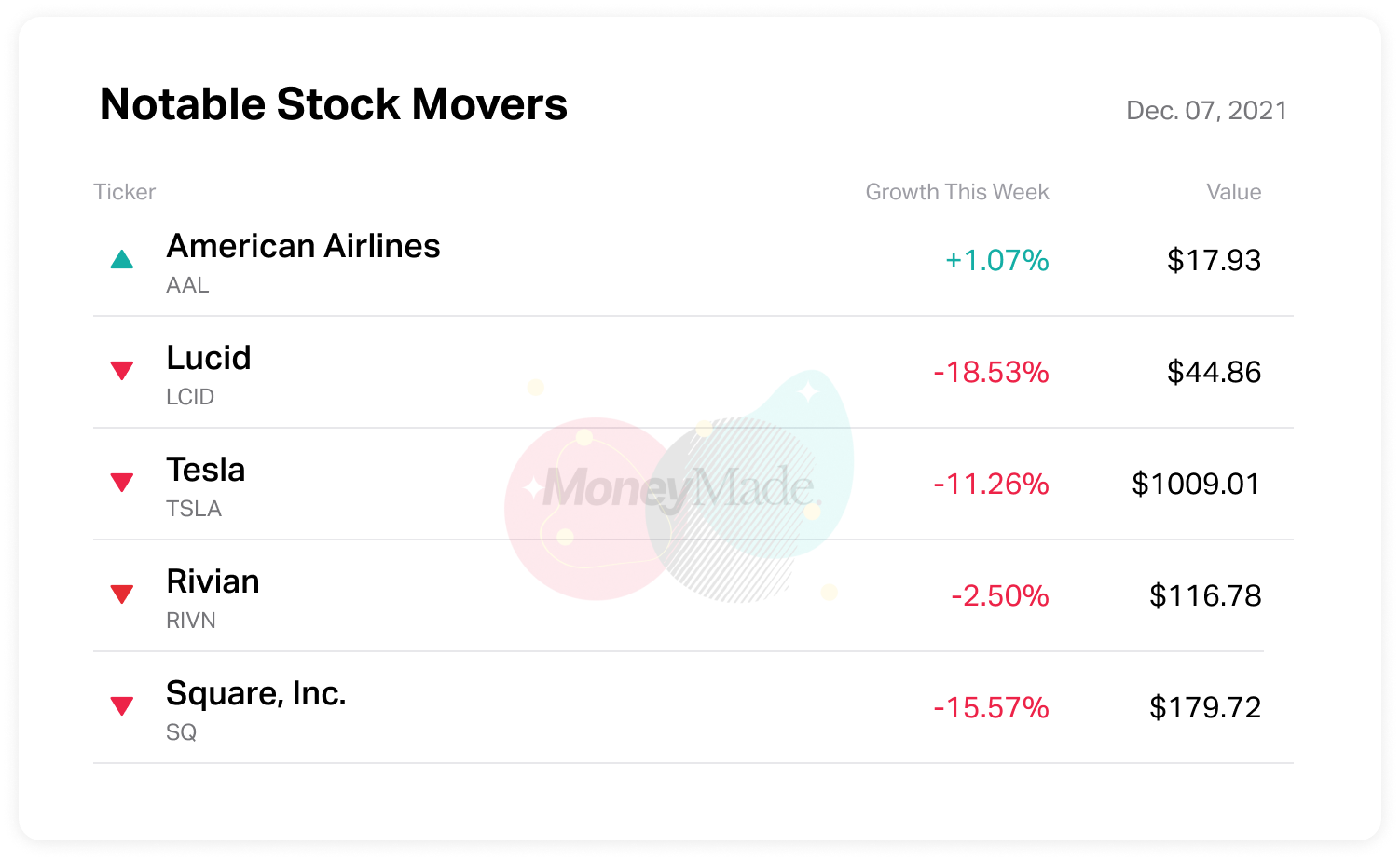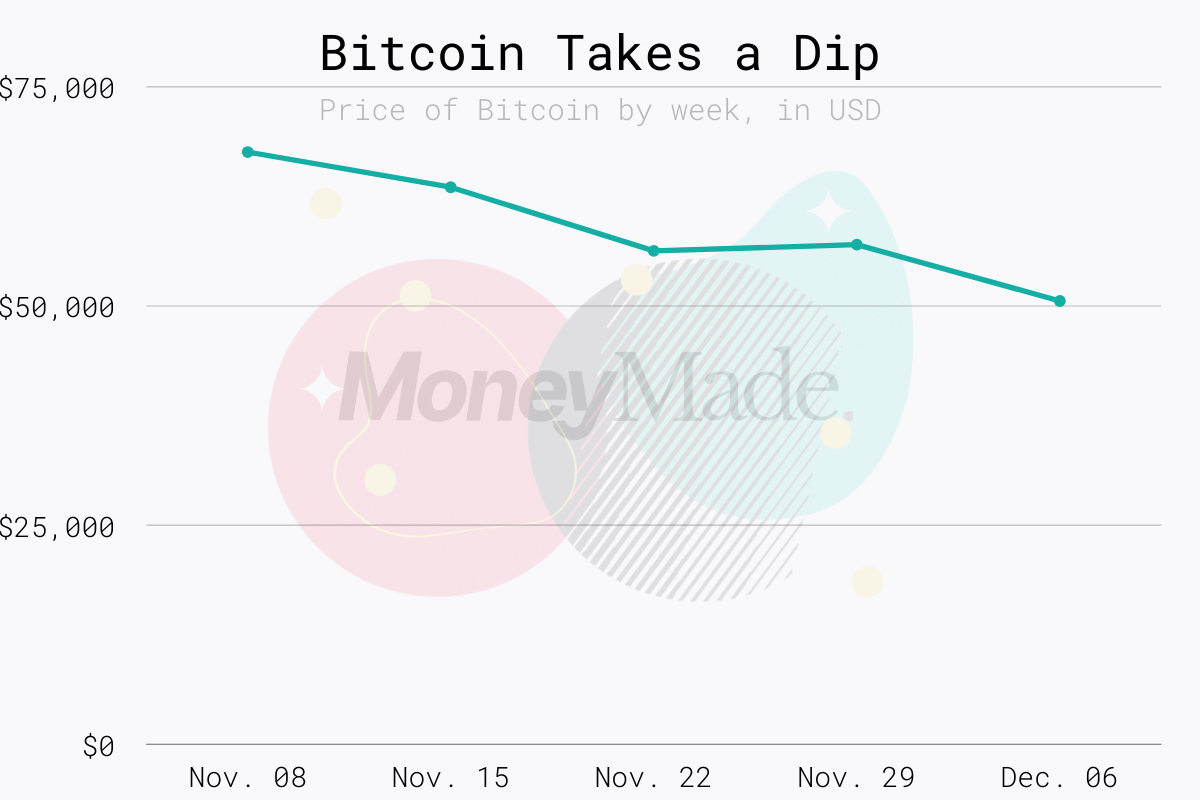 Just like stocks, crypto as a whole had a rough weekend, with prices crashing all over the place. Bitcoin fell to its lowest price in over a month, which is also 30% down from it's all time high, but it wasn't the only one. Coins like Ether and Solana fell 20% before coming back up some, although they're still down from a week ago. The damage isn't limited to the cryptocurrencies themselves, either; crypto mining stocks fell as well, continuing a recent slump, although the drop in these wasn't quite as severe.
In addition to falling values, crypto enthusiasts also had to contend with news of a massive hack of the Bitmart exchange on Saturday, with a reported $150-200 million in various cryptocurrencies stolen. Some of the looted crypto is on the Ethereum blockchain, some of it is on the Binance blockchain, and all of it is gone, gone, gone.
All this bad news might make some people think Berkshire Hathaway's Charlie Munger has a point when he had some choice words about the character of crypto investors, but in the end the larger utility of blockchain in the emerging Web3 world is likely to far outweigh these criticisms.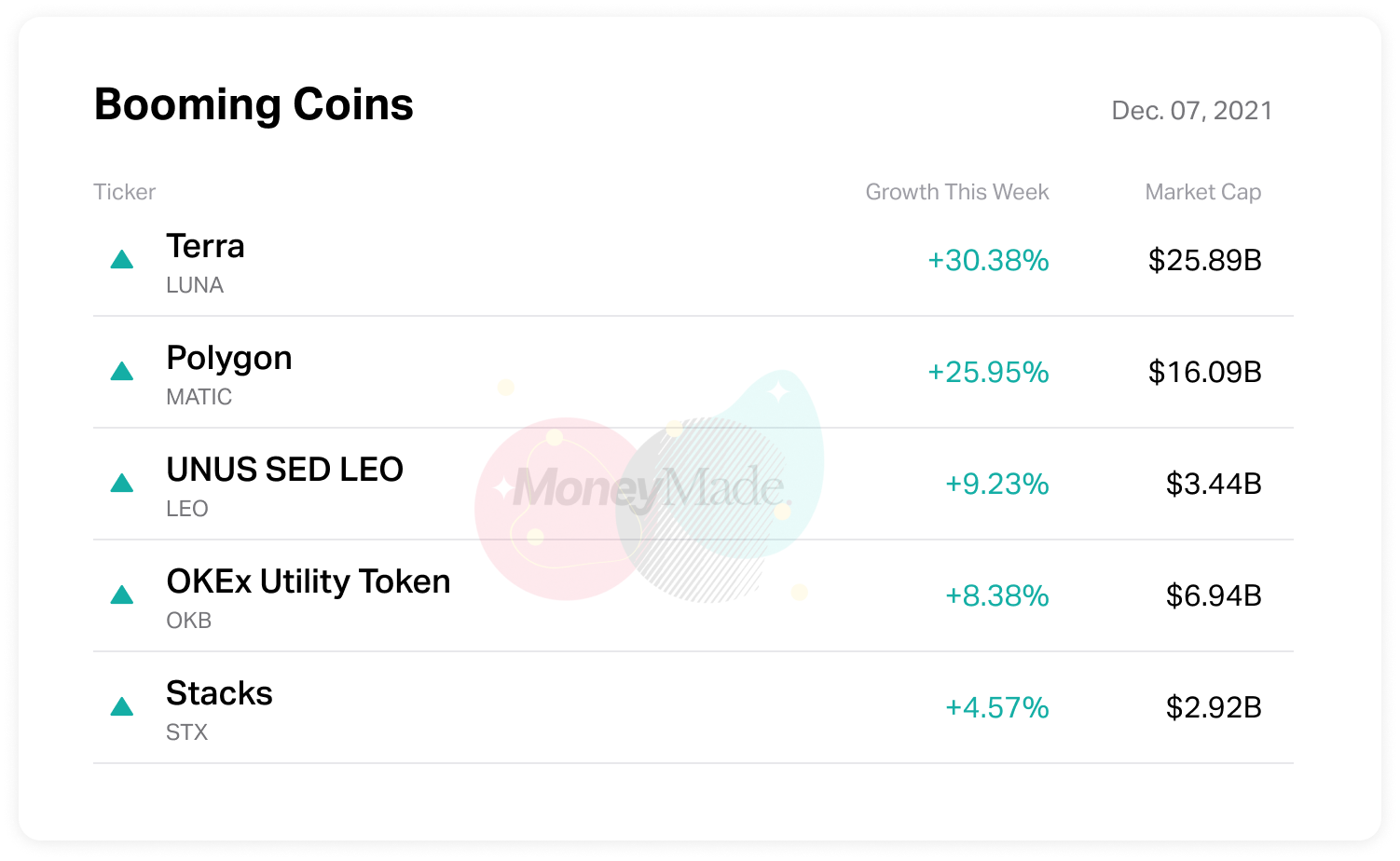 Sports Cards (Baseball +0.62%)
The terms of the deal weren't disclosed, but Amazon is getting into the collectibles game with an investment in trading card investment platform Dibbs. Alongside the investment announcement, the platform also unveiled a new P2P marketplace for the direct sale of cards from user to user.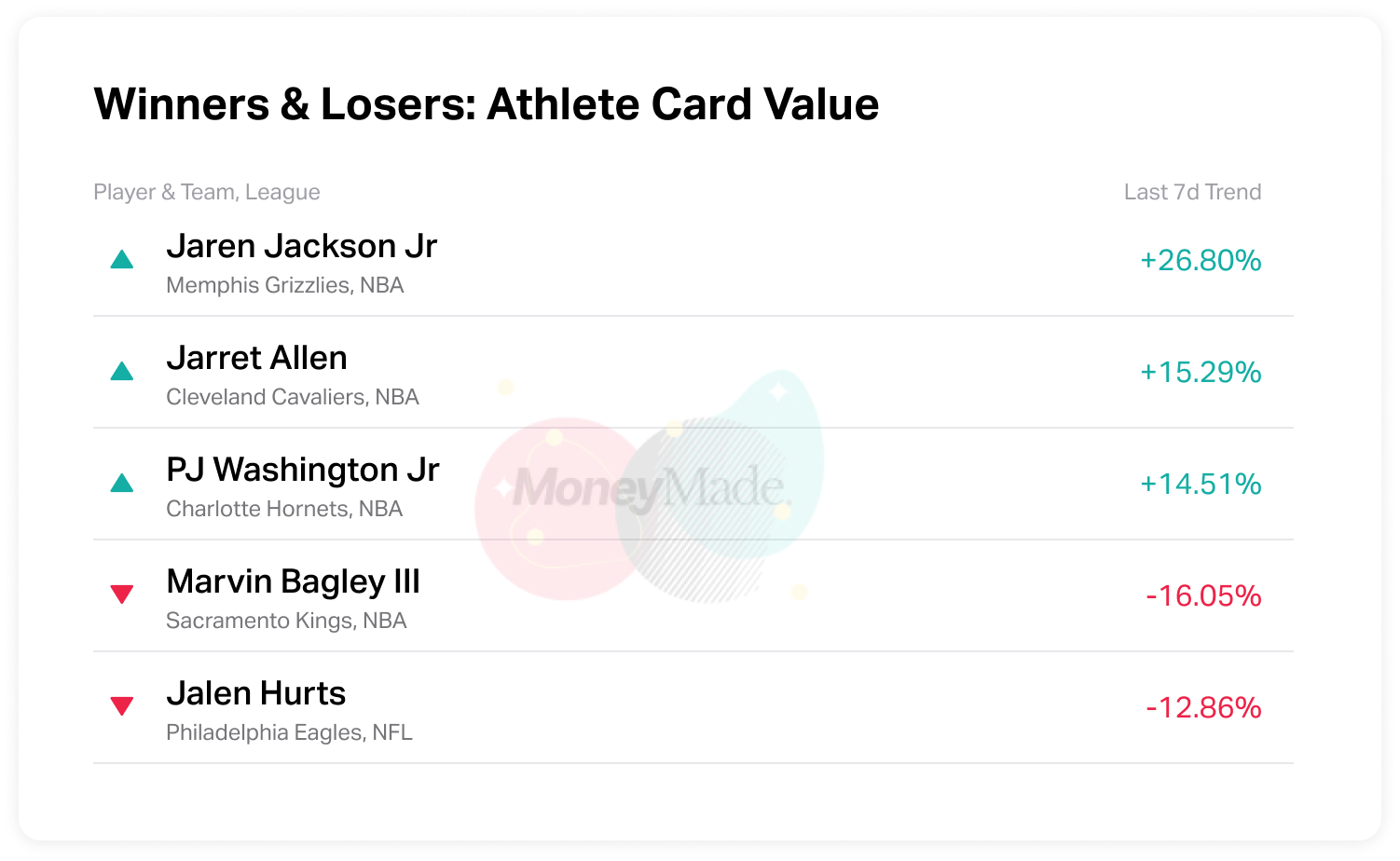 NFTs (Axie Infinity -21.71%)
The future of real estate is here, and it's not what you might have thought. Out of an astounding $300 million in NFT sales over the past week, industry metrics platform NonFungible.com estimates that almost 25% of that number has gone to purchasing plots of "land" in the Sandbox metaverse. When you zoom out and look at all metaverse "land" sold over the past week, the number jumps up to $106 million, according to DappRadar.
Down in Miami, the matrix is getting closer to crossing over into the real world. At the Art Basel gathering this past weekend, NFTs were showcased alongside more traditional media. And in a truly new twist, one artist says she intends to create an NFT of part of a physical piece she displayed at the show, in which will be embedded a contract promising one of her eggs to the buyer. She says she "fully expects the person who buys the NFT to conceive a child from her egg".
Lastly on the NFT front, crypto observers are sounding the alarm about diversity issues in the space, as demonstrated handily by the relative sales prices and popularity of various CryptoPunks. The popular NFT collection serves as a case study and mirror of the demographic makeup of current blockchain investors, who (unsurprisingly) tend to be white and male, and thus far seem to prefer avatars that resemble themselves.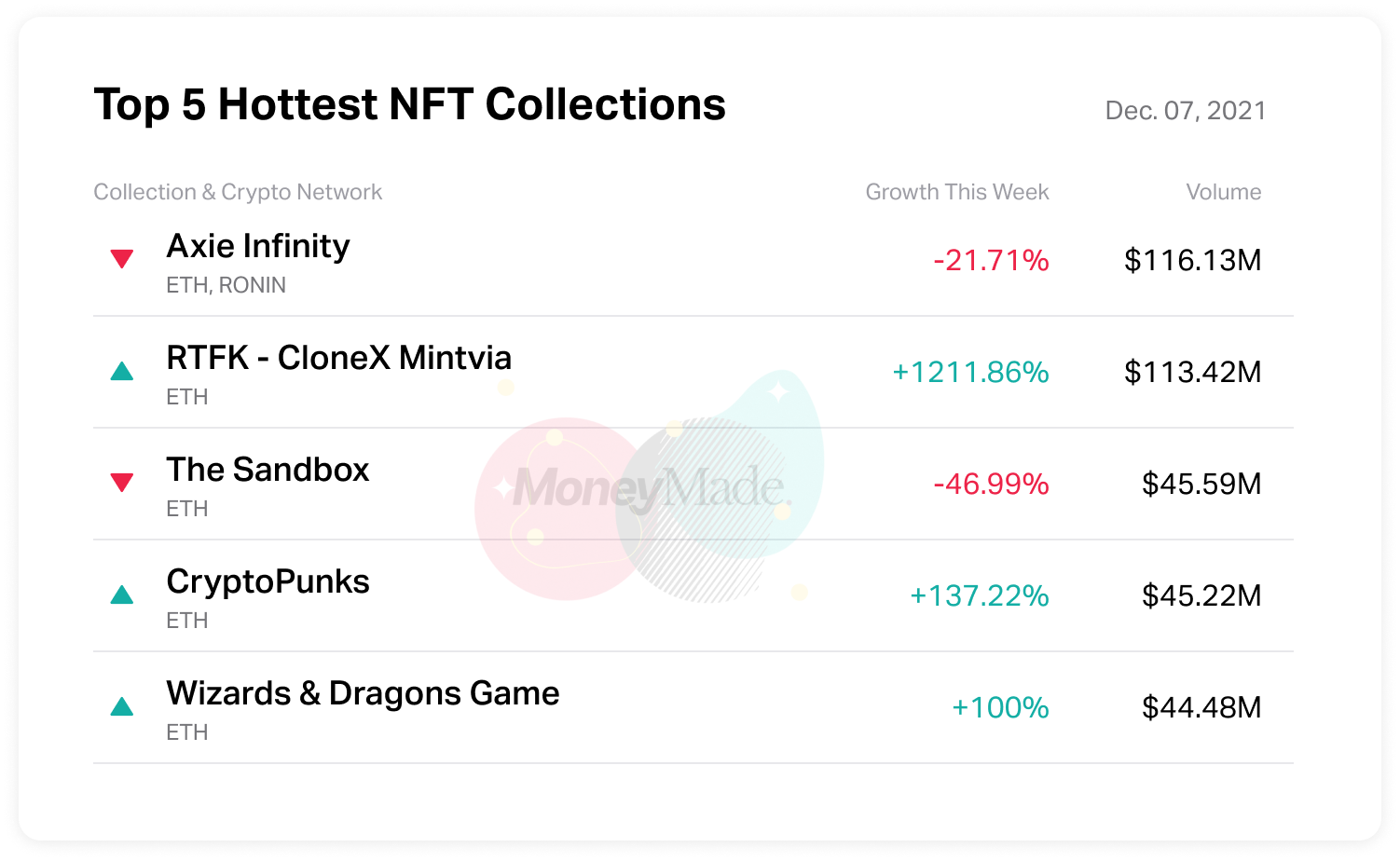 Tech C-suites are in flux everywhere, it seems. Lyft CFO Brian Roberts announced he's jumping ship and heading to the same role over at OpenSea. So far, the news hasn't had much of an impact on the stock price, with LYFT up a mere 0.3% on the week.
Elsewhere, consolidation moves are happening. In only the latest addition for Republic, the investment platform announced a deal to acquire UK crowdfunding company Seedrs, in a deal that values Seedrs at $100 million. This comes less than a month after Republic announced it was acquiring Arora Project, an equity crowdfunding media agency based in Miami, an announcement which itself followed closely after Republic's $150 million Series B.
And finally: Chicago Atlantic Real Estate Finance is expected to IPO this week. The company plans to organize itself as a REIT that invests primarily in first mortgage loans to the cannabis industry. The stock is likely to be priced at $16-18 per share. While funding to cannabis related startups has fallen from the truly lofty highs of 2019, the REIT is still joining an industry backed by over $350 million in VC this year alone.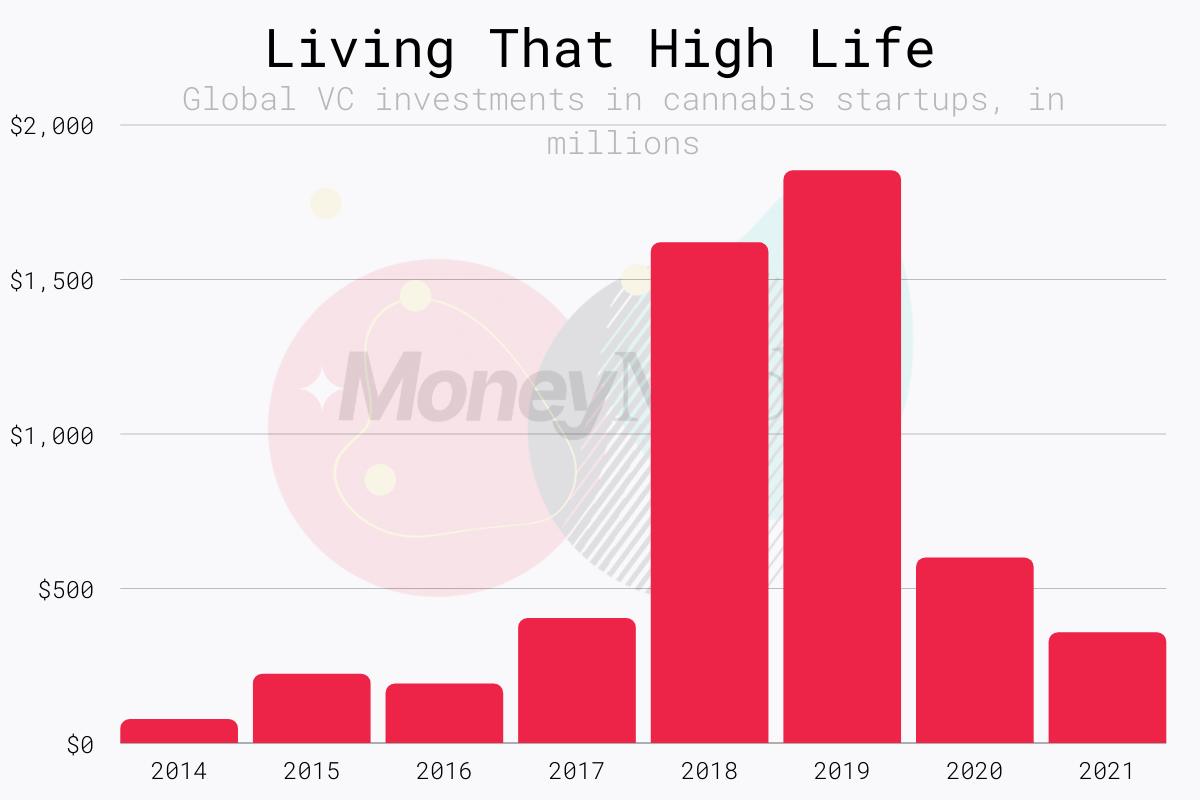 Fine wines are getting dragged into the 21st century, with a new French startup looking to make wines available on blockchain. Investors will be able to purchase NFTs that represent different kinds of wine, rather than have to purchase physical bottles. The first drop from the collection is projected to contain 300 designs.