Markets Report: Week of December 13, 2021
Inflation looms large, Tether finds a standard bearer in Asia, and Omicron concerns produce varying results
Many companies on MoneyMade advertise with us. Opinions are our own, but compensation and in-depth research determine where and how companies may appear.
Stocks
Real Estate
Crypto
NFTs
Wine
Startups
Sports Cards
Gold
Farmland
Whiskey
Inflation is keeping consumer prices high across the board, and it's unclear as of yet what the Fed can and will do about it. The crypto sector took a pretty substantial hit, although it got a vote of confidence from an unexpected source. Assets uncorrelated to stocks, like real estate and collectibles, are making out pretty well in this bumpy market. For more details on these and other market trends, you've come to the right place.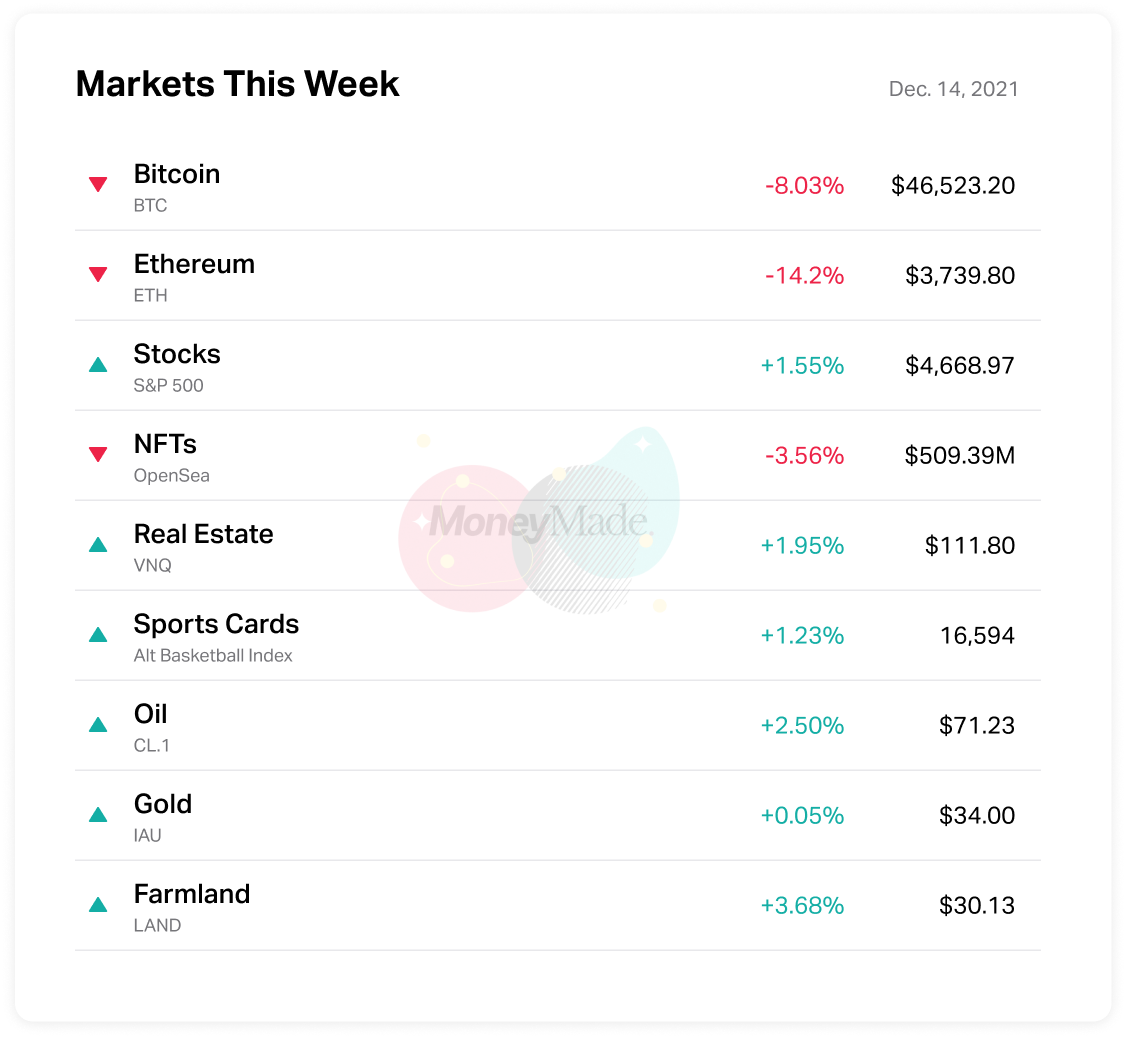 Good news for homeowners and investors alike: home prices are up

14% year over year

as demand outstrips supply, although assumed mortgage rate hikes are expected to slow down this rate of increase in 2022.

Multifamily and industrial real estate both lowered their vacancy rates, to 4.5% and 4.2% respectively, while the retail real estate vacancy rate rose a tiny 0.01%; however, the total occupied retail square footage has increased by 13.7 million over the last three months, so things are still looking good here.
The only loser in the sector this week is office space, with a vacancy rate now up to 12.5% as more companies delay or reverse return to in person work in the face of the new Omicron variant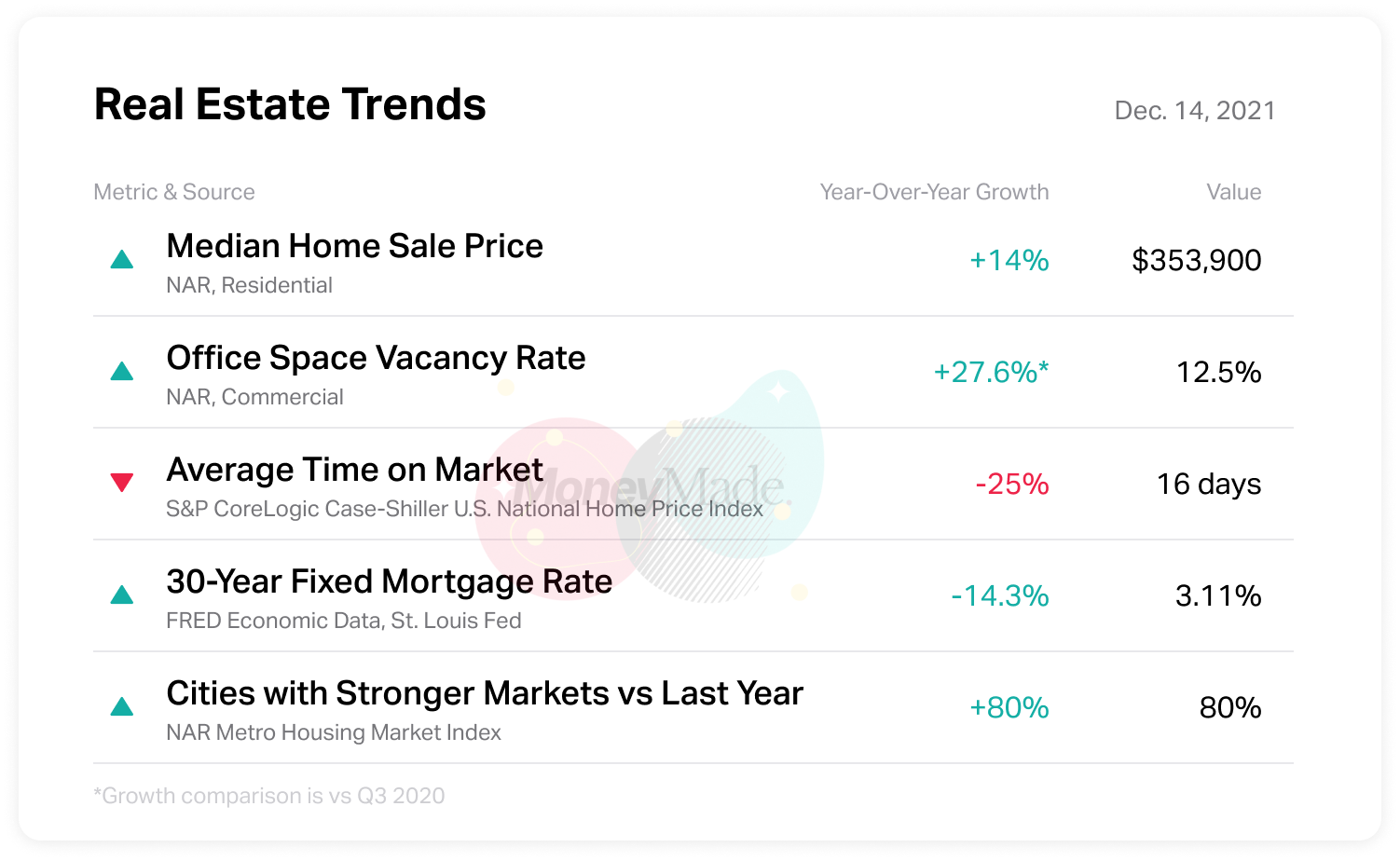 Inflation numbers are officially in, and dire predictions were confirmed: November saw the

CPI rise 0.8%

for the month to 6.8% for the year, making it the fastest increase over a 12 month span since 1982.

The Fed will hold its last meeting for the year this week, on Tuesday and Wednesday, and is expected to discuss

speeding up the taper

of its bond buying program, as well as the potential for rate hikes in the coming months.

Stocks so far seem to be

unaffected

by the inflation numbers or the Fed's rumored response, with markets closing out last week at record highs.

Rivian's R1T was named Motor Trend's

truck of the year

, just days before the automaker's first earnings report as a public company. At present, shares are essentially even week over week, but options trading indicates that prices could swing as much as 14% up or down after the report comes out.

Apple stock price is just over $7 off of the price needed ($182.85) for the company to hit a

$3 trillion market cap

. This massive milestone comes less than a year after it first hit $2 trillion, and the price is about 30% up for the year overall.
Gold & Commodities (CL +2.50%)
Oil prices

spiked 8.2%

last week, before pulling back a bit on Monday. Omicron fears are having a slight effect on prices, but the consensus seems to be that the variant is less virulent than Delta, and markets aren't totally spooked.

Gold prices continue to move

laterally

. While inflation fears can tend to help pump up the precious metal's price, the potential for a sped up Fed taper and coming rate hikes is acting as a counterbalance.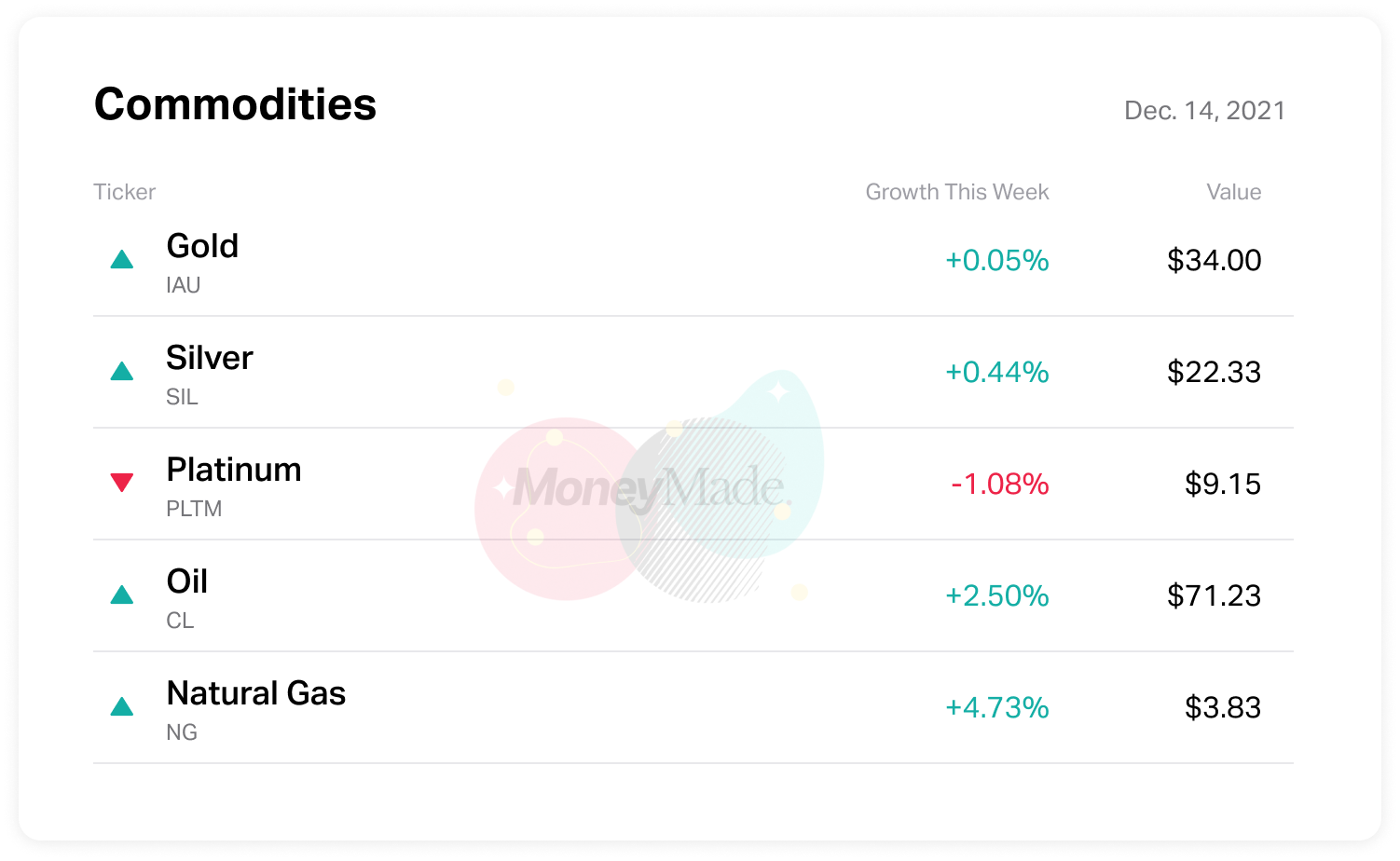 The National Unity Government of Myanmar, led by Aung San Suu Kyi and ousted by a military coup earlier this year, declared the stablecoin Tether, which has a global market cap of $76.54 billion,

its official currency

in a move widely seen as an (impotent and purely symbolic) act of defiance in the face of a central bank that had previously declared all cryptocurrencies illegal.

Big name cryptos (Bitcoin, Ethereum, Binance, etc) are all down at least 7% right now, with some down over 20% week over week. In all likelihood this is a reaction to continued uncertainty about global Omicron effects, but at least one institutional investor is

warning of a bubble

and potentially huge losses in the event of a burst.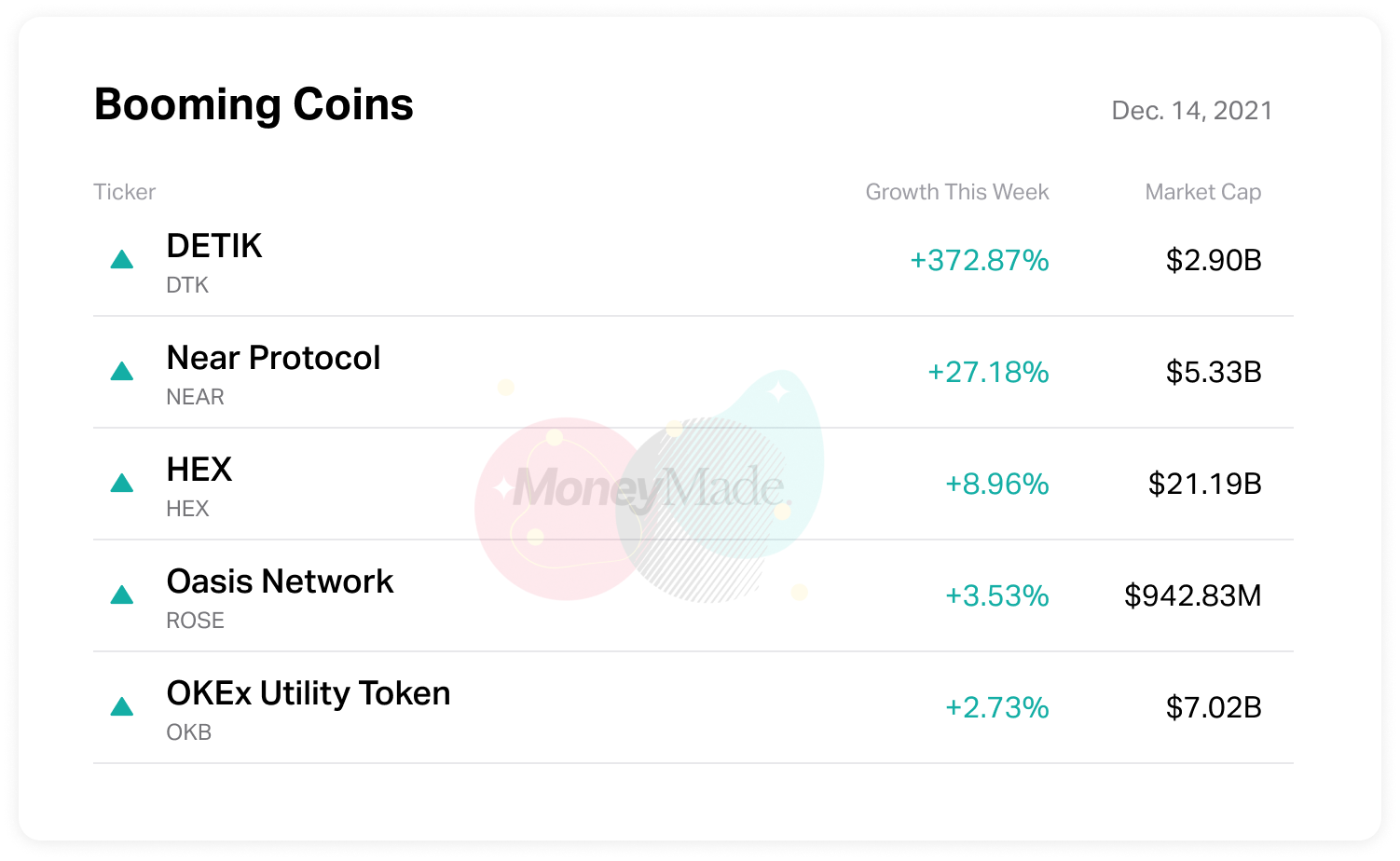 A Bored Ape accidentally sold for

1% of its intended sale price

—going for $3,000 instead of $300,000—when the owner simply made a mistake entering the numbers. In a space built on the framework of decentralization, mistakes like this are extremely difficult, if not impossible to reverse.

Another Bored Ape (#9797) is in the news for releasing the first ever

music video by an NFT

this past Friday. The song was reportedly first written back in 2019, includes lyrics about going "to the moon", and has already racked up over 600,000 views on YouTube.

If you're still not totally sold on the NFT concept, you're not alone! Keanu Reeves

called BS

on the whole enterprise in a recent interview, highlighting the disconnect between the way NFT enthusiasts view the future potential of blockchain and the way everyone else sees the space at this point.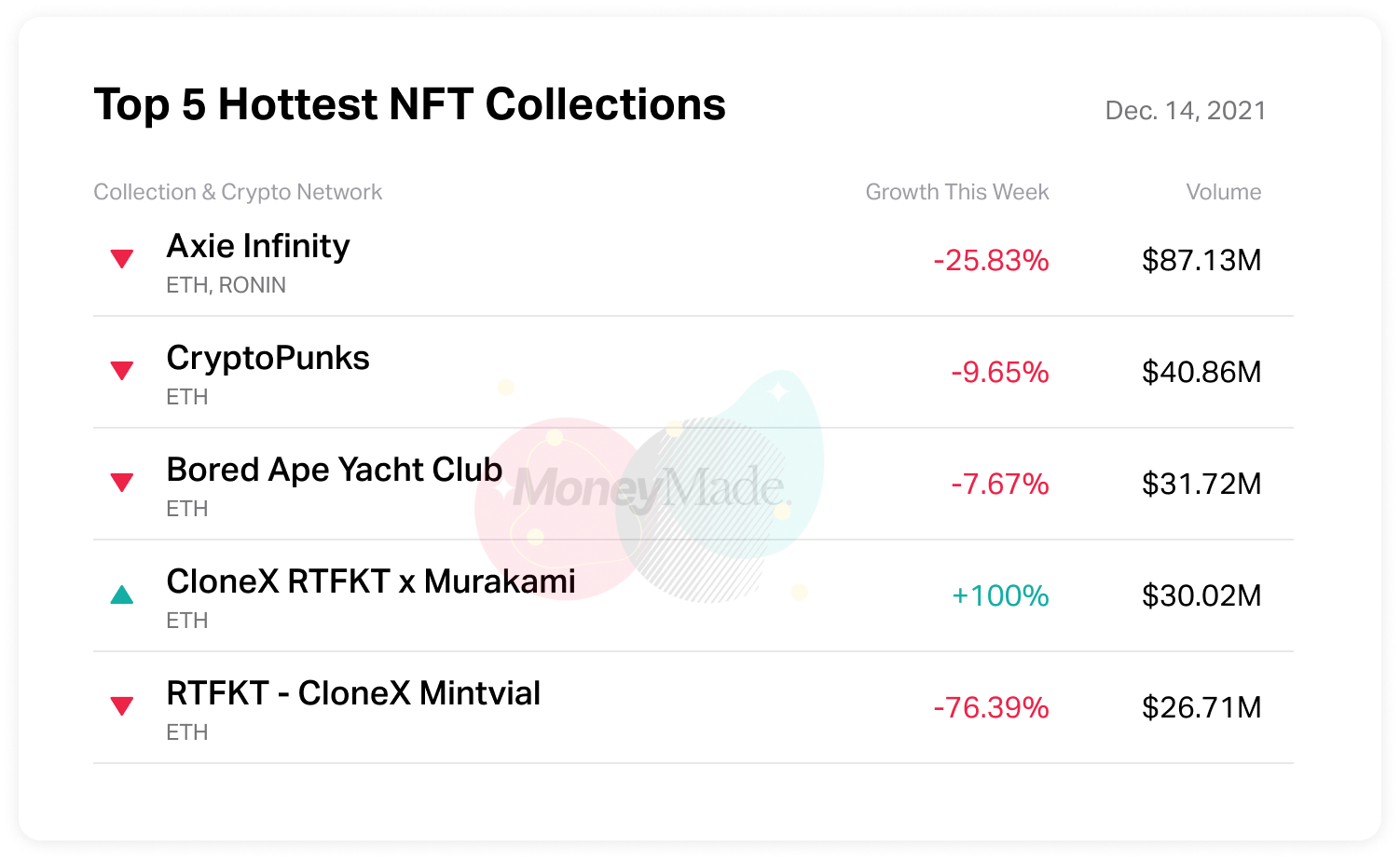 The Liv-ex 100, which tracks the wine market as a whole,

was up 2.7%

in November, making it the 18th month in a row the index has risen. Champagne in particular had a big month, with an 8.1% increase in the Champagne-50 sub index.

A 1952 Bowman Mickey Mantle card

sold for $34,000

at auction on PWCC marketplace this past weekend. While this isn't his most valuable card out there, it went for more than 23% over the number listed in the PSA price guide, making the sale a big win for legendary Yankee (and the card's previous owner).

Kanye West's

Nike Air Yeezy 1

prototype is now available on Rares for fractional ownership. Shares are $25 and the shoes' total value comes to $2 million, an 11% increase from the platform's record setting purchase price.