Review
Arrived Homes Review: The Best Way to Dollar Cost Average into a Real Estate Investment
Arrived Homes is giving all investors access to rental properties starting at just $100.

Published Sep 1, 2022•Updated Sep 1, 2022
Real Estate
Lending
Long Term Growth
Real estate is a tough cookie as far as investing goes, and the housing market is particularly cutthroat. Demand for rental properties has been through the roof recently as skyrocketing demand launched housing prices into orbit. This has made it all but impossible for most investors to break into the lucrative residential real estate market.
And rental homes aren't a walk in the park for non-accredited investors who managed to get one. Property management takes a huge chunk of time and revenue, plus having tenants is a business risk, if not a personal liability. The headaches of owning rental real estate are compounded when you own and manage multiple properties. But, what if there was a way to add single-family rental properties to your portfolio without being an accredited investor or dealing with all the hassle?
If you're asking that question, then the answer to your woes is Arrived Homes. This Arrived Homes review will look at the benefits and drawbacks of being a real estate investor on the platform and explore how you can earn passive income from owning shares in individual properties on Arrived. Let's get into what Arrived Homes is, how it works, and why it's a super convenient way to invest in real estate.
Pros and cons
Pros
Easy passive rental income
Professionally managed real estate
Cons
Many listings are sold-out
🤔 What is Arrived Homes?
Arrived Homes is a real estate investing platform for buying shares of rental properties starting at $100. Arrived Homes rents out residential properties around the U.S. and uses the revenue to pay quarterly dividends to investors. They're an SEC-qualified investing platform for buying real estate securities much like you would ETFs or stocks.
How does Arrived Homes work?
Singing up to Arrived Homes is super easy. All you need to do is create an account to see the investment properties on their platform. After your account is set up, you'll be able to buy shares of rental properties in cities like Atlanta, Georgia; Nashville, Tennessee; and Denver, Colorado starting at $100. Then you just sit back and collect a kickback from rental income every three months.
Who can invest with Arrived Homes?
Anyone with a spare Benjamin can invest in arrived homes. Unaccredited investors are welcome to buy shares in any of Arrived's available rental properties. Real estate investments on Arrived are only available to U.S. residents.
🤩 Where Arrived Homes gets it right
Accessible
The barrier to entry for an investment property is substantially lower with Arrived Homes. It's a platform where any investor in the U.S. can add a rental property to their portfolio and enjoy passive income from it.
Diversified
The properties on Arrived Homes are diverse and make it easy to invest in a variety of rental homes. They offer leveraged, appreciation-focused, and newly built homes in the country's fastest-growing rental markets. Their platform also has options like residential real estate near great schools or in trendy locations and will soon offer vacation properties to investors.
Educational
Arrived Homes is perfect for any investor, even those with zero real estate experience. Their platform features a wealth of knowledge you can access through resources like the Learning Center, glossary, webinars, and FAQs. Any questions you have about taxes, account management, or upcoming features can be found in the Arrived help section.
🤨 Where Arrived Homes could do better
Limited Offerings
There are limited listings on the Arrived Homes platform, perhaps due to market constraints or high demand. The right real estate investment opportunity for you may not currently be available, so you might have to wait until something that better suits your needs hits the Arrived marketplace. 
Only Residential
If you're looking to invest in coffee shops and office buildings, you won't be satisfied with Arrived Homes. The only investment properties listed on Arrived are rental homes in the U.S., so you'll have better luck investing in commercial properties on other platforms.
Fees
Though Arrived Homes is fairly transparent about its fees, the rationale behind them can be unclear. In addition to a 1% annual management fee charged quarterly to cover administrative tasks, Arrived takes a one-time sourcing fee for property financing and holding that's baked into the share price, and uses 8% of the gross rental income to cover maintenance and repairs. Investors who liquidate their shares on Arrived may incur transaction fees.
🤑 Can you really make money on Arrived Homes?
Most fractional real estate investments on Arrived Homes have had upwards of 5% annualized returns. The worst-performing listings on Arrived have had annualized total returns as low as 3% while the best-performing houses on the platform scored 94.8% annualized returns. But on average, rental real estate on Arrived Homes yielded 12.1% annual ROI. Though generous as far as projections go, 12% reflects how much money you could make with a fractional real estate investment on Arrived.
How do I make money with Arrived Homes? 
Arrived Homes pays its investors quarterly dividends, which is passive income from rental properties you can put straight into your pocket. The other way you make money with Arrived Homes is through the value of your investment growing. 
Because the value of the rental property you invest in changes based on the market, you can make money if market conditions cause the value of the underlying property asset to go up. Eventually, if you hold the real estate shares for long enough, Arrived Homes might sell the property and let you keep part of the profits.
How do I cash out with Arrived Homes?
Investors get a chance to liquidate their shares on Arrived Homes every quarter after holding them for at least six months. Arrived's listings are intended to be long-term investments of five to seven years, so there are penalties for liquidating shares earlier than that. The catch is that the fees for liquidating shares early aren't disclosed by Arrived until you try to do it, and there's no guarantee that liquidation is even possible.
Arrived Homes vs traditional investing 
Arrived Homes has a target return of 6% to 15% but has historically achieved a 5.5% to 12.1% annual return through a combination of value appreciation and rental income. Historically, rental income on Arrived listing translates to 3% to 7.2% annualized ROI, and the average home appreciation in the U.S. over the last 20 years is 3.9% per year. 
While value appreciation varies based on the equity structure, it would be fair to expect a 5% to 10% annualized ROI on Arrived, depending on market conditions. This means that an investment in shares of Arrived would have outperformed the average stock investment since the S&P is down 12% over the past year. The difference is that while stocks can be sold quickly, fractional real estate on Arrived can not.
However, an investment on Arrived Homes wouldn't have necessarily outperformed REITs or the broader real estate market. This is illustrated by the S&P/Case-Shiller U.S. Home index increasing 24% in the past year and by residential U.S. REITs bolstering a 58.3% increase in 2021, according to Nareit. The major distinction here is that most ways to invest in rental properties require a minimum of tens to hundreds of thousands of dollars, while the minimum you need to invest on Arrived is $100.
🙊Arrived Homes reviews from investors like you
Reddit users who invest on FundRise like the idea of Arrived. u/Green081 invested in their first property through Arrived and wrote, "I love the idea but am going to wait until I see how my first one goes before investing more." Another user, Seekingaloha, wrote, "They take way way way too long to bring properties to market. But will probably go there since Fundrise seems to be focused on being woke these days. Not into it" (sic).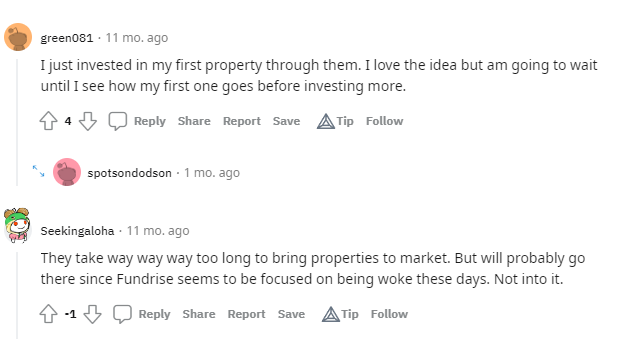 Reddit users find Arrived's value proposition tough to buy into in a thread on r/RealEstate. u/Bastardely_Poem1, who says they're a real estate agent in Seattle, Washington, isn't sure whether or not Arrived is offering REITs. Still, they see it as a "hassle to go through" and "can't imagine anyone making back their money in any reasonable amount of time."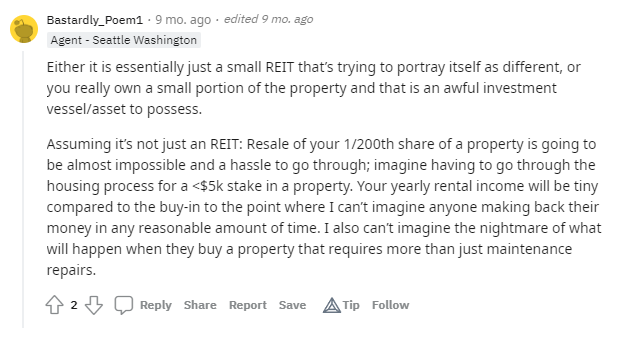 In the same thread, Reddit user OddSituations wrote that Arrived is "about as enticing as a kick to the nuts" because of fees and having to split the asset with other investors. Ever heard of sharing is caring, u/OddSituations?

☝️ Are there other apps like Arrived Homes?
Some of Arrived Homes' fiercest competitors in the real estate investing space are HoneyBricks and Crowdstreet. The biggest differences are that Crowdstreet specializes in Commercial Real estate and HoneyBricks lets you invest and cash out with crypto. The biggest advantage Arrived has over them is being open to unaccredited investors.
Fees

Minimum investment

Average returns

Risk Level

Available on

iOS

Android

Review

 
🔥 Our hot take on Arrived Homes
Overall, Arrived Homes is one of the most accessible investment platforms for residential real estate. Properties on Arrived Homes have performed well over the platform's short track record, and this will likely continue since residential real estate investments have such high potential regarding property value appreciation and rental income. The icing on the cake is that the $100 minimum share price enables investors of practically all levels to access Arrived's lucrative offerings.
However, Arrived Homes isn't without its drawbacks. One negative aspect of Arrived Homes is the fees they charge investors. While the fees are necessary to cover expenses and the platform's operating costs, they will eat into your profits as an investor. Another issue with Arrived Homes is the low number of listings, but that's not necessarily their fault. Demand for the asset class has simply outpaced the supply of new listings on Arrived, which results in limited options for investors.
Arrived Homes could improve illiquidity by implementing an integrated secondary marketplace where investors can buy, sell, and trade real estate shares. Arrived Homes plans to launch a secondary market that will optimize price discovery and provide virtually stock market-like liquidity, but it's unclear how developed this feature is or when it'll be released.
While exiting your investment can be a challenge on Arrived Homes, it's still a great platform for gradually building an ultra-diverse portfolio of rental homes across the best real estate markets in the U.S. If you want to gain exposure to high-growth revenue-generating assets for just $100, Arrived Homes is far and away the best place to start.
👍 I'm in! How do I sign up for Arrived Homes?
1.

1. Sign up for an account.

Enter your email and create a password to create your Arrived Homes account. You'll then be asked to begin creating a profile by entering your full name, how much you'll invest over the next year, and how you heard about Arrived. After accepting the terms of service, you'll be able to begin browsing real estate investments listed on Arrived.
2.

2. Confirm identity.

To begin investing on Arrived, you must confirm your identity. You'll be asked to confirm your full name, U.S. residency status, account type (individual, taxed entity, or retirement account), residential address, phone number, birthday, and social security or EIN number. You'll also be asked to confirm a few statements, such as an agreement not to invest more than 10% of your net worth into Arrived Homes offerings.
3.

3. Link Bank.

You'll need to link your bank account in order to deposit funds to Arrived Homes and start investing. You can link your account manually or through Plaid. Once the funds you deposited have been cleared by your bank, you can use them to start investing in rental properties listed on Arrived.
Explore Assets
Click an asset to learn more
Dogecoin
Music Royalties
Tether
Farmland
Wine
Art
Real Estate
Robo Advisor
Gold
Bitcoin
Stocks
Lending
Startups
Ethereum
DeFi
Solana
Oil & Commodities
Polkadot
Metaverse
NFTs
Whiskey
Bonds
Platinum
Sports Cards
Cardano
Ripple
Silver
Watches