Cadre Review
Cadre Review: Institutional-Quality Real Estate Investing Made Easy
With Cadre, you can invest passively in large commercial real estate projects and diversified funds

Published Mar 24, 2022•Updated Jun 21, 2022
Real Estate
Accredited Investors
Bigger Investments
The benefits of investing in large institutional-quality real estate projects are many. They can act as a hedge against inflation and an opportunity to continue earning consistent returns when public markets are going through periods of volatility. These deals also have the potential to offer generous returns, both in the form of regular payouts from rent and long-term price appreciation.
That said, the barriers associated with commercial real estate investing are also many. Traditionally, these deals have only been open to very wealthy and well-connected institutional investors. Even if you are an accredited investor with money to spend, it can take a lot of time and networking to source good commercial real estate deals, not to mention the work that goes into managing your investments once they're made.
Enter Cadre. This platform aims to make investing in institutional-quality commercial real estate deals more convenient and more passive while still offering all the perks. In this Cadre review, we'll cover everything you need to know about the platform before investing, from who can invest, why you should (or shouldn't) invest, and how to get started.
Pros and cons
Pros
Impressive historical returns
Easy access to passive commercial real estate investments
Diversified funds and individual deals
Secondary market allows for potentially increased liquidity
Cons
Only open to accredited investors
Minimum investment of $25,000 or $50,000 is high for some
Liquidity isn't guaranteed and typical hold periods last 3 to 8 years
What is Cadre?
Cadre is a platform that curates institutional-quality commercial real estate deals to help investors add commercial real estate to their portfolio through either diversified funds or individual deals. Cadre was founded in 2014 by Ryan Williams, a private equity and real estate investment professional who previously worked for the major alternative asset management firm Blackstone. Based in New York, Cadre has facilitated nearly $3.5 billion in real estate transactions since its inception.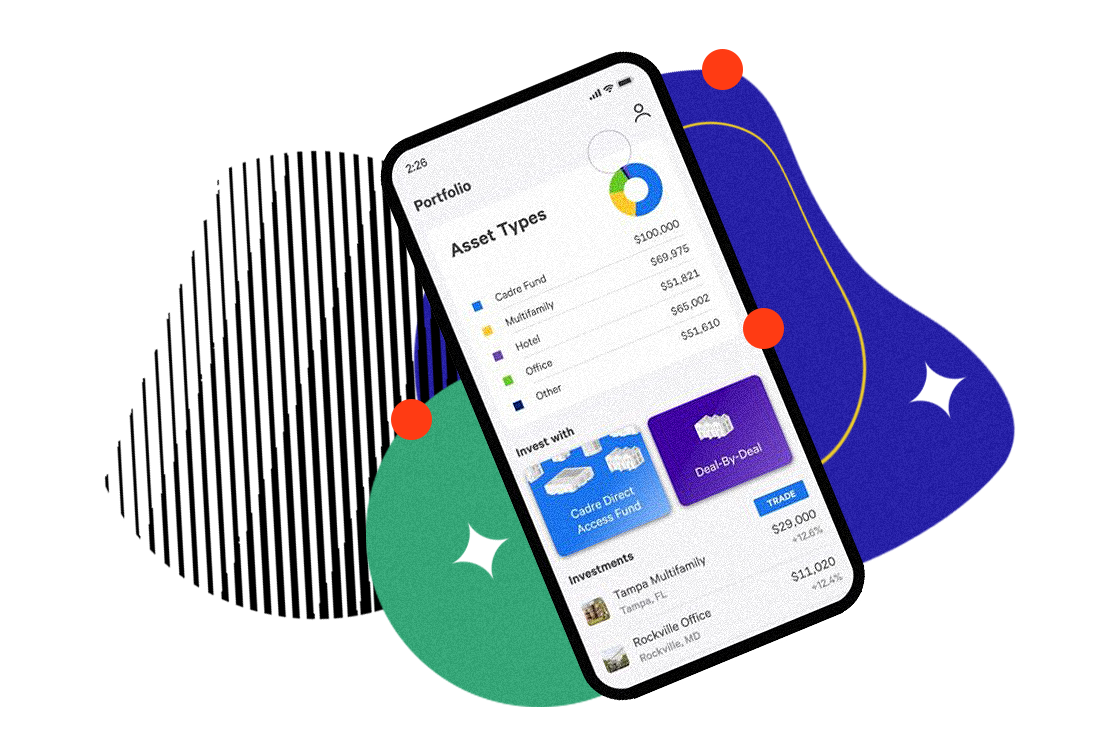 How does Cadre work?
Cadre uses proprietary technology and machine learning to curate commercial real estate investment opportunities with the goal of offering investors outsized, risk-adjusted returns. The platform gives investors two different ways to invest in commercial real estate: through their Cadre funds or on a deal-by-deal basis.
The Cadre Direct Access Fund allows you to invest in a diversified portfolio of income-generating commercial real estate properties across more than a dozen different growth-oriented markets. Investments usually start at a minimum of $25,000 and offer baked-in diversification across both markets and property types that can help improve performance. The allocation target for the Cadre Direct Access Fund is 50% multifamily properties and 50% industrial, office, and hotel properties. Cadre seeks to purchase assets at a discount (often due to dislocations) to limit investor downside risk, and the platform actively manages the properties and completes renovation projects to add value to the investment.
Deal-by-Deal investments give you the chance to invest directly into individual commercial real estate projects. While these investments usually start at $50,000, and you'll have to invest in multiple projects to gain diversification benefits, the deal-by-deal option gives you full control over choosing investments you think will perform well—which may grant you the possibility to outperform a diversified fund. Cadre offers three types of deal-by-deal investments as listed below.
Cadre Fund Co-Investments: These are properties Cadre has acquired to include in their Cadre Funds, but they set aside a portion of the equity for deal-by-deal investors.
Opportunity Zones: These are properties in designated Opportunity Zones that can offer tax benefits such as deferred or reduced capital gains tax.
Secondary Market: Cadre offers a secondary market where members can buy, sell and trade shares of Cadre's private real estate deals, potentially at a discount relative to the Net Asset Value. This secondary market is open once per quarter for a two-week period.
Who can invest with Cadre?
Cadre is open to accredited investors based in the United States. High net worth individuals with either an annual income of $200,000 (joint annual income of $300,000) for the last two years or a net worth of more than $1 million can invest with Cadre. Additionally, registered investment advisors (RIAs) and institutional investors can invest with Cadre.
Where Cadre gets it right
Impressive historical returns
With a historical internal rate of return (IRR) of 17.8% on realized real estate investments, Cadre offers the potential to earn generous returns on your investments. While historical returns are never a guarantee of future returns, this platform's performance is impressive when compared to many of its competitors.
Option of both diversified funds and individual deals
Many real estate investing platforms focus either on diversified real estate funds or individual deals. Cadre sets itself apart by offering investors both options.
Reasonable fee structure
Cadre charges a 1.5% assets under management (AUM) fee on investor equity value once an investment is funded. This is aligned with the typical AUM fee charged by many commercial real estate funds, although investors also pay an upfront transaction fee on investments that's typically 1% of the amount transacted—so if you invest $25,000, that would be $250.
Secondary market allows for increased liquidity
Cadre's secondary market, where you can buy and sell shares of private real estate investments, is a unique feature that has the potential to offer increased liquidity. If you decide to exit your investment, you may be able to do so by selling select assets on their secondary market, although liquidity is not guaranteed, and you'll still have to find a buyer at your desired price.
Where Cadre could do better
Only open to accredited investors
If you aren't a high net worth individual who qualifies as an accredited investor, unfortunately, you can't invest with Cadre. Offering additional investment options for smaller retail investors would make this platform more accessible.
At least $25,000 minimum investment required
Most of Cadre's investment options come with a minimum investment of either $25,000 or $50,000, so it isn't the best option for smaller investors or people looking to test the waters with a lower monetary commitment. While this isn't high in the world of commercial real estate and institutional-quality investments, it's a higher minimum investment than what many online investing platforms now require.
Liquidity isn't guaranteed
While Cadre's secondary market does offer the possibility for increased liquidity, it's not guaranteed that you'll find a buyer at your preferred price (or at all), and the secondary market is only open once per quarter. This feature isn't available for all deals, and investors generally have to wait at least 6 months after asset acquisition before they can place a sell order. Additionally, there are fees associated with using Cadre's secondary market: Sellers pay a 1.5% transaction fee while buyers pay a 3.25% transaction fee.
Can you really make money on Cadre?
Since the formation of its Investment Committee, Cadre has produced a historical rate of return of 17.8% on realized real estate investments. Future performance is never guaranteed, but Cadre's returns are extremely competitive thus far. You can browse Cadre's realized investments and see a range of realized IRRs from just over 10% to nearly 28%.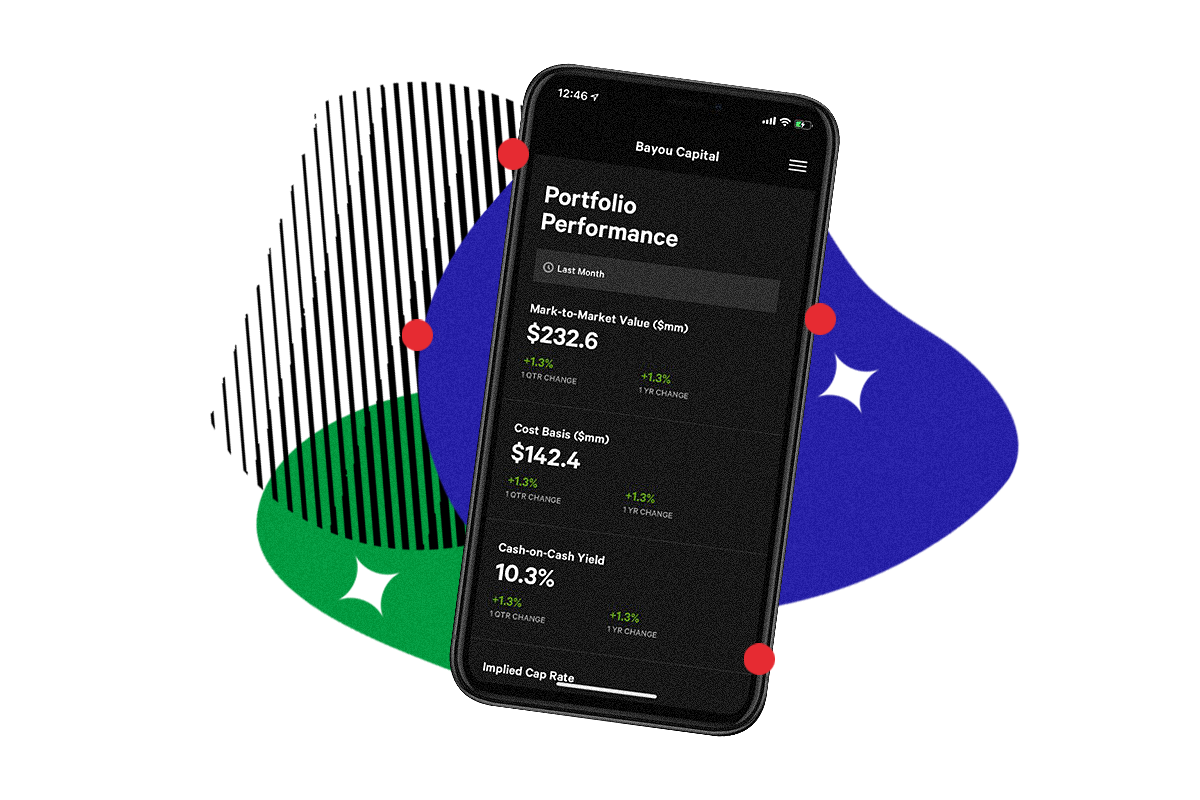 How do I make money with Cadre? 
Cadre looks for income-generating properties with strong supply and demand dynamics that already have tenants in place and are generating cash flow. Investors will typically receive distributions of this cash flow on a quarterly basis. Cadre often seeks to add value to properties so that prices appreciate over time. Cadre typically targets a hold period of 3 to 8 years, and when that hold period ends and the investment is realized, if property values have gone up, investors can also earn money on this price appreciation proportional to their investment. Finally, investors can sell qualifying assets on Cadre's secondary market if they wish to exit before the hold period ends, and they may be able to make money by selling for a higher price than what they paid.
How do I cash out with Cadre?
Investors should expect to hold their investment for the entirety of Cadre's target hold period, which usually ranges from 3 to 8 years depending on the investment. Once the investment is realized, investors can expect to receive a distribution of any profit about 3 to 5 months after the initial close. Additionally, investors can sometimes cash out on Cadre's secondary market, which allows them to sell their investments to other Cadre members. However, liquidity is not guaranteed, and this secondary market is only open once per quarter.
Cadre vs traditional investing
Investing with Cadre gives investors exposure to commercial real estate, which can offer less volatility and more consistent returns than stocks—as well as the potential for passive income. Cadre's historical returns are competitive when compared to the stock market, and it's possible to outperform the market on individual deals, and certain investments offer tax advantages you won't get with stocks. That said, investments with Cadre are generally significantly less liquid than stock market investments, so make sure you're prepared to hold mid- or long-term.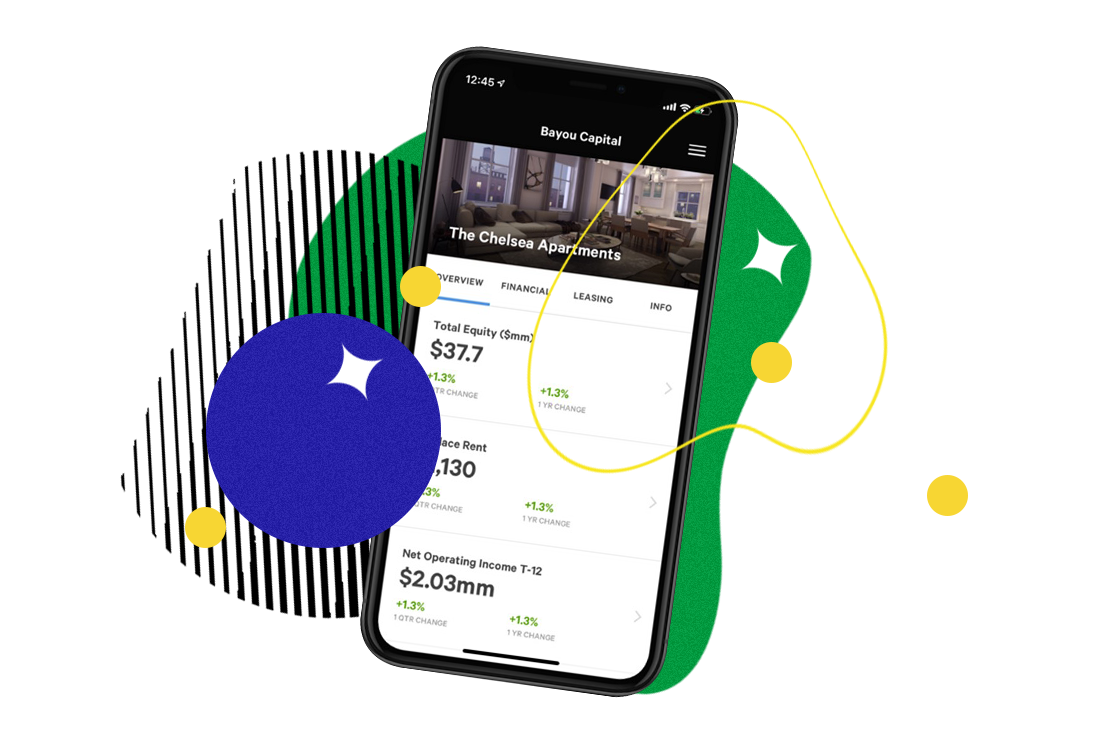 What other people are saying about Cadre
Many have praised Cadre for making it easy and convenient to invest in commercial real estate, as the platform cuts out the time they might otherwise spend scouting deals and actively managing properties. That said, some investors prefer the DIY route and complain that platforms like Cadre don't give them enough control over their real estate investments.
The most common complaint is probably that the minimum investment is too high for many everyday investors, particularly if they aren't accredited. That said, folks who do qualify seem to be satisfied with the returns and fees associated with Cadre, and investors have also mentioned finding it easy to do the proper due diligence on deals through this platform.

Are there other apps like Cadre?
There are other platforms that give accredited investors easy access to commercial real estate deals as well as real estate platforms open to non-accredited investors with cash to spare.
Crowdstreet is similar to Cadre in that it's a commercial real estate investing platform for accredited investors with a $25,000 minimum. This platform also offers the option of both funds and individual properties, although there's no secondary market. The main difference is that Crowdstreet is a crowdfunding platform, while Cadre maintains co-investments in every deal they offer and manage, which could be cause to trust Cadre's due diligence process a little more.
Fundrise also offers institutional-quality real estate investments, but it's open to all investors (accredited or not) and only requires a minimum investment of $10, making it accessible to a wider range of investors. With Fundrise, you can invest in a diversified portfolio of private real estate through their eREIT, but you don't have the option to invest in individual deals.
Cadre

Fees

Minimum investment

Average returns

Risk Level

Available on

iOS

Android

Review

 
Our hot take on Cadre
For accredited investors who can comfortably meet the minimum investment required, Cadre offers an easy, passive way to invest in commercial real estate deals with the potential for outsized returns. This platform strikes a good balance between providing the benefits that come from investing in large, institutional-quality real estate without all the work of finding deals and actively managing properties. It's not a small commitment in terms of time horizon or initial investment, but for the right investor, Cadre could pay off in the long-run.
I'm in! How do I sign up for Cadre?
1.

Click "get started" and fill out the form

After selecting "get started" on the Cadre homepage, you'll be asked to provide some basic information about you as an investor, including your contact information and whether or not you meet the accredited investor criteria.
2.

Create an account

Next, you can create an account using an email and password
3.

Fill out an initial investor survey

By answering questions about your investing goals, prior investment experience, time horizon, and risk tolerance, Cadre can match you with the right investment opportunities.
4.

Browse investment opportunities

Once your profile has been approved, you can browse current investment opportunities, view the details of specific deals, and even set up a call with an investor relations representative.
Explore Assets
Click an asset to learn more
Dogecoin
Music Royalties
Tether
Farmland
Wine
Art
Real Estate
Robo Advisor
Gold
Bitcoin
Stocks
Lending
Startups
Ethereum
DeFi
Solana
Oil & Commodities
Polkadot
Metaverse
NFTs
Whiskey
Bonds
Platinum
Sports Cards
Cardano
Ripple
Silver
Watches