Collectable Review
Collectable Review: The Premier Investing App for Sports Fans
Put all that sports knowledge to good use by trading shares in some of the world's most valuable sports cards.

Published Aug 30, 2022•Updated Aug 30, 2022
Sports
Collectibles
Art & Culture
You're that person on the pub trivia team who always gets the sports questions, but the most it's ever gotten you is a $25 gift card. Collectable is here to change that.
As it turns out, sports cards can be as good an investment as stocks—or even better. The top 100 sports cards in the world have outperformed the stock market by almost 5x since 2008. Unfortunately, you don't have millions of dollars to drop on that rare Mickey Mantle card.
Enter Collectable. This app lets you buy, sell, and trade shares in some of the most sought-after sports cards and memorabilia (including a 1953 Mickey Mantle) for just $10. Our Collectable review will tell you everything you need to know about how the app works, how you can make money, and whether or not it's a worthwhile investment.
Borrow our cheat sheet
MoneyMade member rating
4.4
Bonus offer
Anybody who signs up with code 'MONEYMADE' will get a free $10 share on Collectable.
Pros and cons
Pros
Low minimum investment requirement
Open to non-accredited investors
Collection focused solely on sports memorabilia
Assets are registered with the SEC, insured, and securely stored
Secondary market lets you sell your shares at any time
Cons
1% transaction fee on trades
Takes 3 to 5 days to withdraw your funds
What is Collectable?
Collectable is an app that lets you invest in valuable sports memorabilia that's expected to increase in value. Rather than buying these items yourself, some of which are worth over $1,000,000, you can buy shares of them on Collectable—similarly to how you can buy shares in a company. It's not just for fun though: When the assets you invest in go up in value, so does your investment.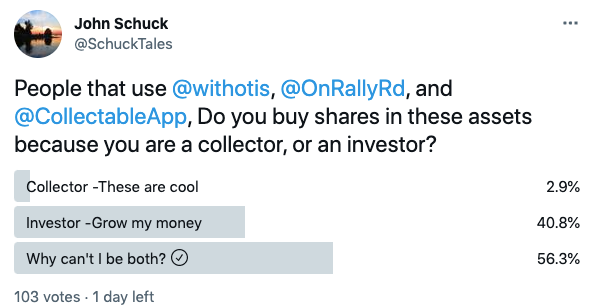 Some of their offerings include:
A 1953 Mickey Mantle card ($10 per share, valued at $98,000)

Frank Robinson's historic 500th home run bat ($10 per share, valued at $170,000)

A Lebron James rookie patch card ($10 per share, valued at $1,300,000)
While there are a handful of platforms that allow you to buy shares in collectible assets, Collectable is the top platform for investing specifically in sports memorabilia. The company was founded in 2020, so it's fairly new to the game.
How does Collectable work?
From acquiring valuable memorabilia to turning it into an asset that hundreds of people can invest in, here's how Collectable's process works.
Their team of industry experts hand picks rare, authentic sports collectibles they expect will go up in value and purchases them at the lowest possible price.

These assets are then registered with the US Securities and Exchange Commission (SEC), insured, and stored in bank caliber vaults.

Each asset is split up into "shares" (for example, a card worth $10,000 might be broken up into 1,000 different $10 shares). Investors can purchase those shares in new items during weekly Initial Public Offerings (IPOs).

Collectable waits for their assets to go up in value and eventually seeks to sell those assets at a profit. When that happens, investors get paid a percentage of the profits earned that's proportional to how many shares they own.

Collectable also has a secondary marketplace where users can buy, sell, and trade their shares at any time.
Who can invest with Collectable?
Almost anyone can invest with Collectable. You don't need to be an accredited investor, and shares sell for as little as $10. You do need to:
Be over 18 years old

Have a US Social Security Number
You also won't be able to invest more than 10% of your annual income or net worth in any offering unless you're an accredited investor.
Where Collectable gets it right
Bonus offer worth $10
When you join Collectable through your MoneyMade account and use our referral code, you'll get a free share worth $10. It's on the lower end compared to our other bonus offers, but it doesn't have a big spending requirement.
$10 minimum to invest
You don't need much to get started with Collectable. Their IPO offerings vary in price but many go for as little as $10 per share.
Focus on sports memorabilia
While some investors might prefer a more diverse collection, we don't see Collectable's laser-sharp focus on sports memorabilia as a downside. This just means their team is well-versed in the market, and it's more likely they've identified assets that will appreciate in value.
Live trading so you can cash out at any time
Collectible's secondary market allows you to buy and sell shares with other users so you don't have to wait until an asset sells to liquidate your investment. Live trading takes place every weekday from 3pm to 4pm EST, but you can post a buy or sell order at any time.
Open to non-accredited investors
In the past, investing in collectibles was mostly for ultra wealthy accredited investors. Collectable doesn't require you to be accredited to invest on their platform—as long as you're over 18 and have a US Social Security Number, you're good to go.
Where Collectable could do better
0% - 10% sourcing fee
Collectable gets a 0% to 10% sourcing fee on all assets. It's built into the listed offering price, so you don't have to worry about hidden charges.
1% trading fee
If you plan to use the secondary market to buy and sell shares frequently, you ideally want a platform that doesn't charge trading fees. Collectable's is only 1% of the trade value, but that can add up if you're making regular trades.
Credit card fees
If you want to fund your account with a credit card, you'll pay a 3.15% fee plus $0.70 per transaction. That being said, almost every investing platform charges credit card fees to invest with a credit card (and many don't allow you to use a credit card in the first place).
Limited trading hours
Collectable's secondary trading market is only open on weekdays from 3pm to 4pm EST. That said, you can post a buy or sell order at any time, you'll just have to wait for the market to go live before your trade can be matched.
Purchase limits for non-accredited investors
If you're a non-accredited investor, you won't be allowed to invest more than 10% of your annual income or net worth into any of Collectable's assets. (This is probably for the best anyway).
Can you really make money on Collectable?
Collectable is still a young platform, having launched in late 2020, so it's hard to measure long-term returns this early on. However, it's clearly possible to make money if you play your cards right. The company reports that their average asset return in July 2021 was +9.74%. At that rate, if you invested $1,000 and held your asset for 5 years, you'd earn $627 in returns.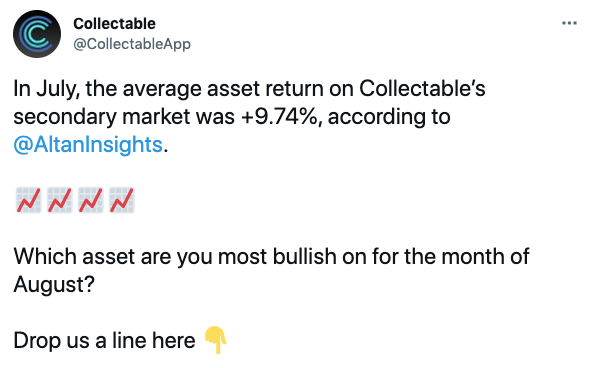 How do I make money with Collectable?
When you buy shares in an asset and the value of that asset increases, the value of your shares increases proportionately. When this happens, there are two ways to make money with Collectable.
If Collectable gets an offer to buy that asset for more than was valued at when it was first offered, you get 48 hours to vote on whether or not to sell (your voting power is weighted based on how many shares you own). If the asset is sold, your shares are paid out.

If you don't want to wait for a buy offer (after all, Collectible may hold onto assets for years), you can try selling your shares on the platform's secondary market. If you can sell them for more than what you paid, that's your return. Keep in mind that if there's no demand for shares in the asset you hold, it could take a while to sell.
It's worth noting that if you buy shares from an initial offering, there's a 90-day lock up period during which you can't sell your shares or access the money you invested for the first 90 days.
How do I cash out with Collectable?
If you decide you don't want to wait for your asset to sell, and you'd prefer to cash out your shares on their secondary marketplace instead, here's how that works.
You select the asset you want to sell. Indicate how many shares and how much money you'll accept per share. This is called an "ask".

If someone has placed a "bid" for the asset you're holding—that is, an order to buy shares in it—and their "bid" price aligns with your "ask" price, the trade is matched and completed. Trades are only matched on weekdays from 3pm to 4pm, so if you placed a bid outside of those hours, it will be matched at 3pm the following weekday. You can also cancel your order before trades go live.

If your trade is matched, you'll be charged a 1% trading fee. Your remaining funds will show up in your Collectable account within two business days. From there, you can use your balance to buy shares in another asset or transfer it to your bank account. This transfer takes 3 to 5 business days.
Collectable vs traditional investing
The collectibles market has outperformed the stock market by a significant margin when the two are compared over investment horizons of multiple years. For example, the PWCC 100 index (an index of the 100 most valuable sports cards) has gone up 932% since 2008. The S&P 500 (one of the most commonly used stock indexes) has gone up 197% over the same period.
That being said, it can sometimes take years of holding a sports card to see those kinds of returns. What's more, you're not earning investment income in the meantime like you would with dividend stocks. For that reason, Collectable isn't ideal for short-term investments or people who want immediate returns.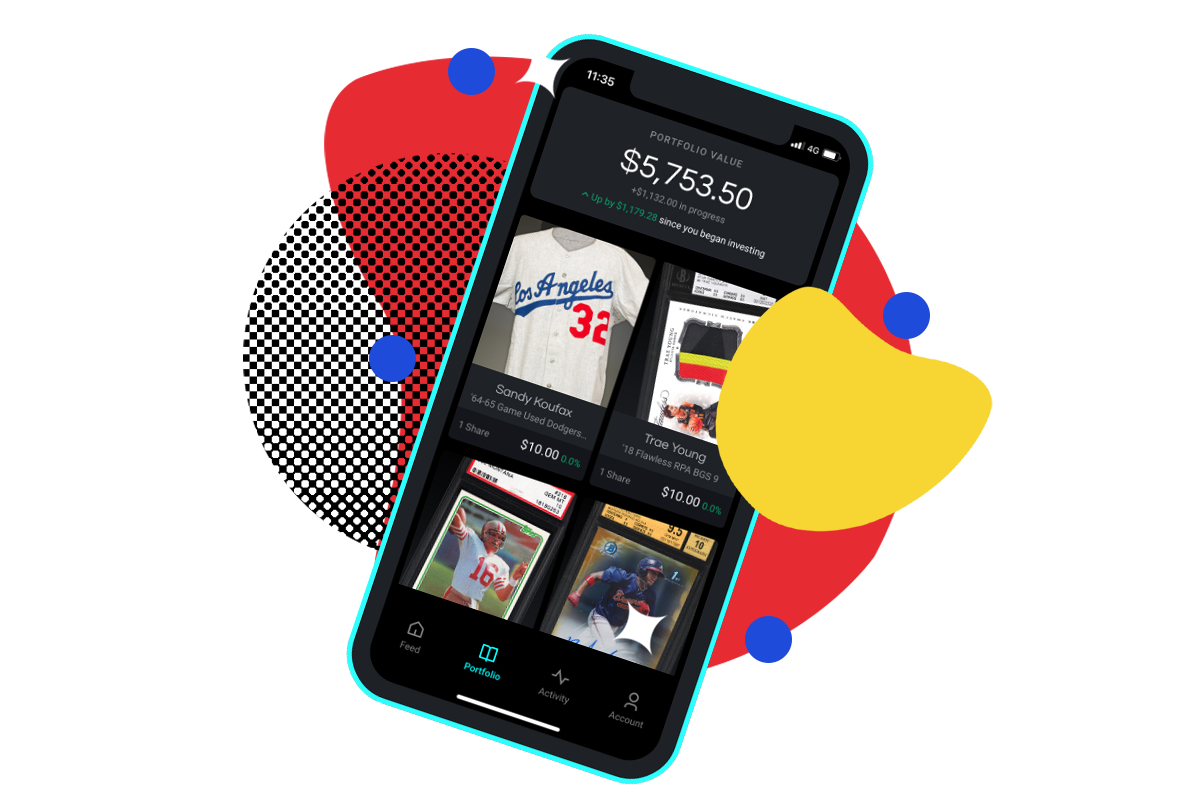 What other people are saying about Collectable
Having the ability to make trades every weekday is a big plus for our users. They've also referred to Collectable as a "goldmine" thanks to its collection of some of the most rare, valuable sports cards and memorabilia in the world. Plenty of people have seen gains in their portfolio thanks to Collectable's skill at selecting valuable assets, especially since a surge in the popularity of trading cards hit in 2020

One of the biggest complaints about the platform comes from sports card enthusiasts who feel that trading shares of a card you don't fully own (and can't look at or touch) takes the fun out of the hobby. However, there's no reason why you can't do both: Buy the collectible sports cards you can afford and invest in the ones you can't.

Are there other apps like Collectable?
There are a handful of collectibles investing platforms that are open to everyday investors. While Collectable is the only one that focuses solely on sports, several others do offer sports cards and memorabilia in addition to other assets.
Collectable

Fees

Minimum investment

Average returns

Risk Level

Available on

iOS

Android

Review

 
Our hot take on Collectable
The collectibles market is on fire lately, and investing apps like Collectable are the best way to learn the ropes when it comes to investing in these rare, iconic items. The collection on Collectable is narrowly focused on sports, so it's not the best app for investors who want to be able to branch into other assets like sneakers, art, comic books, or even Pokemon cards. 
However, if you're a sports aficionado, this platform is definitely worth checking out for their collection of sports cards alone. That, paired with its low minimum investment requirement and active secondary trading market, makes it easily one of the best choices out there for people who want to get started investing in sports memorabilia.
I'm in! How do I sign up for Collectable?
1.

Join MoneyMade (it's free!) first to get your $10 bonus offer with Collectable.

First, you'll want to join MoneyMade and connect an account. From there, you'll find your MoneyMakers offers, which include a referral code for the $10 bonus offer from Collectable. Sign up through this link to get the offer.
2.

Provide your phone number and download the app.

Once you click the link, you'll be asked for your phone number. Collectable will then text you a link to download the app.
3.

Create a free account.

You can create an account with your email address, Google, or Facebook.
4.

Verify your account.

You'll need to do this to access your bonus offer and bid on IPOs. The app will ask for basic information like your birthday, residential address, and Social Security Number.
5.

Link your bank account to fund your Collectable account.

To start investing, you'll need to link your bank account or a credit card (fees apply) to fund your investments.
6.

Browse their collection and buy shares of your favorite sports cards.

You can buy shares in new assets as they go live or go to their secondary market to place a buy order for an existing asset.
7.

Come back to MoneyMade to track all your investments in one place.

You can come back to your MoneyMade accounts to track the growth of your Collectable assets, along with your other investments. Make sure to connect your various investment accounts for the most accurate picture of how your money is doing.
Explore Assets
Click an asset to learn more
Dogecoin
Music Royalties
Tether
Farmland
Wine
Art
Real Estate
Robo Advisor
Gold
Bitcoin
Stocks
Lending
Startups
Ethereum
DeFi
Solana
Oil & Commodities
Polkadot
Metaverse
NFTs
Whiskey
Bonds
Platinum
Sports Cards
Cardano
Ripple
Silver
Watches