Crypto.com Review
Crypto.com Review: The Full-Service Crypto App
The crypto platform endorsed by Hollywood's Matt Damon

Published Mar 30, 2022•Updated Feb 2, 2023
Crypto
Technology
Passive Income
Crypto.com is a cryptocurrency exchange platform that's blown up in recent years, snagging naming rights to what used to be the Lakers' Staples Center and even an endorsement from Matt Damon. So does it live up to the hype?
Crypto.com is marketed as a full-service stop for everything crypto. With the Crypto.com app, you can buy, sell, and manage over 250 cryptocurrencies. 
In this Crypto.com review, we look at what Crypto.com is, how it works, how you can use it to make money, and the pros and cons of investing with Crypto.com.
Borrow our cheat sheet
MoneyMade member rating
3.5
Pros and cons
Pros
Large selection of cryptocurrency (over 250 currencies)
Easy to convert fiat money into crypto
Cons
Lackluster customer service
Can be complex for beginners
Limited amount of educational materials
What is Crypto.com
Crypto.com was founded in 2016 and is headquartered in Singapore. Today, the company has grown to over 4,000 employees with 10 million users in 90 countries. Before it was Crypto.com, the company was known as Monaco. It was a cryptocurrency payment platform that rebranded in 2018 to become Crypto.com. In 2021, Crypto.com secured the naming rights to the Staples Center in Los Angeles renaming it the Crypto.com Arena and costing the company $700 million.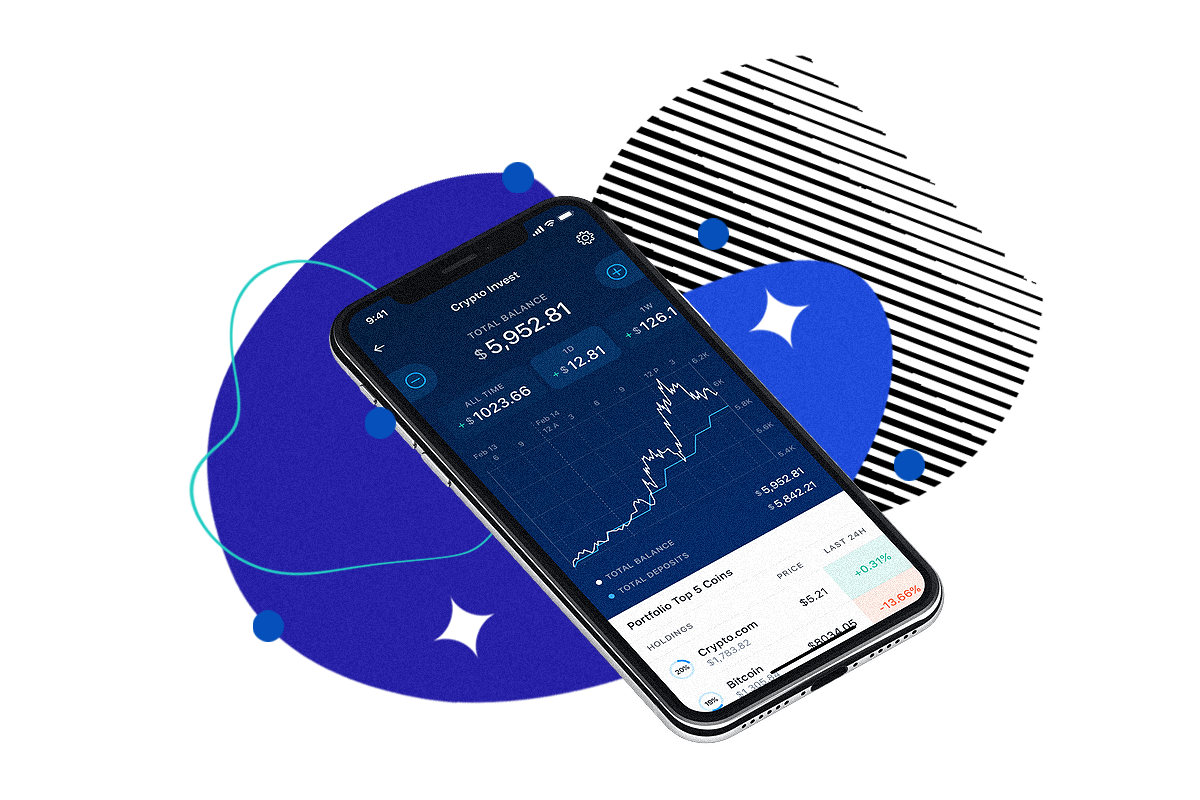 Today, Crypto.com refers to itself as "the world's fastest-growing crypto app," and its vision is to get cryptocurrency in every wallet. You can think of Crypto.com as a one-stop-shop for everything crypto. Using the crypto.com app you can buy, sell, and manage over 250 crypto coins. 
How does Crypto.com work?
Crypto.com has a number of different product offerings. For those getting started and wanting to buy and sell crypto, you can check out the Crypto App. 
Crypto App. The Crypto App provides access to over 250 cryptocurrencies that can be purchased and sold at true cost using over 20 fiat (government-issued) currencies. Using the app you can access, manage, and spend your funds anytime with the Crytpo.com Visa card. 
Crypto Earn. Those interested in growing their investment can check out Crypto Earn where you can earn up to 14 p.a. (per annum) for Stablecoins. How much you earn depends on the type of token you choose and how long and how much you invest. You can also increase your earnings by participating in Cronos Staking. Cronos (CRO) is Crypto.com's native token. Staking is a way of earning rewards when you hold certain cryptocurrencies (in this case when you hold Cronos). The more Cronos you hold in your Crypto.com App Wallet for a period of six months, the more you can earn.   
Crypto.com Visa. Crypto.com offers several prepaid Visa cards where you can earn up to 8% rewards back on card spending, depending on your card tier. There are five different tiers that are based on how much CRO you are holding in your Crypto.com App wallet. You can also earn card benefits including music and movie subscription rebates on certain streaming services. Your Visa Card can be managed in the Crypto.com app. You can top up your card using bank account transfers, other credit/debit cards, or cryptocurrency. To apply for a Crypto.com Visa card, you need to stake CRO for 18- days.  
Crypto.com NFT. Those interested in buying, selling, and showcasing NFTs can do so with the Crypto.com NFT marketplace. 
Crypto.com Exchange. This is a crypto trading platform that is not yet available in the U.S. 
Who can invest with Crypto.com
Crypto.com is currently available in every U.S. state except for New York and has over 10 million users in 90 countries around the world. To be eligible for a Crypto.com fiat wallet (which is used to purchase crypto and withdraw fiat to your bank account), you must have a Social Security Number (SSN), a U.S. residential address (P.O. boxes are not accepted), and a bank account that is located within the U.S.
Where Crypto.com gets it right
Large selection
With the crypto.com app, users can buy Bitcoin and over 250 cryptocurrencies with over 20 fiat currencies. 
Security 
Crypto.com is the first cryptocurrency company in the world to have multiple ISO (ISO/IEC 27701:2019; ISO 22301:2019, ISO 27001:2013) and other accreditations that are a testament to the companies foundation of security, privacy, and compliance. 
Ability to earn interest 
When you invest with Crypto.com you have the opportunity to earn passive income. The more you invest and the longer you invest, the more interest you can earn.
Where Crypto.com could do better
Limited educational resources
Crypto.com may be overwhelming for new crypto traders. There's a lot going on the website and the app but there's not much in terms of educational resources and tutorials to help the newbies figure things out. 
No Crypto.com web-app
Crypto.com prefers mobile and believes there is no reason to provide a desktop version of the app if the app works "brilliantly" on your phone. Unfortunately, this doesn't seem to be the case for many customers who struggle to use the app on their mobile devices. 
Poor customer service
Customers are not happy with Crypto.com's customer service, or lack thereof. There is no customer service phone number and customers are not impressed with the chat-based customer service.
Can you really make money on Crypto.com?
Yes, there is potential to make money on Crypto.com. The company claims that you can grow your portfolio by receiving rewards up to 14% p.a. on your crypto assets. On the Crypto.com site you can calculate your rewards based on which crypto token you choose, the amount you invest, the term length you choose (e.g. 1 month vs. 3 months), and your CRO stake (how much CRO you are holding in your Crypto.com App Wallet for a period of 6 months). The more you invest and the longer you invest, the more you can earn. 
While there is potential to make money on Crypto.com, there is also the potential to lose your money. Crypto investing can be volatile and there is risk involved. Be sure to do your homework before you invest and only invest what you can afford to lose.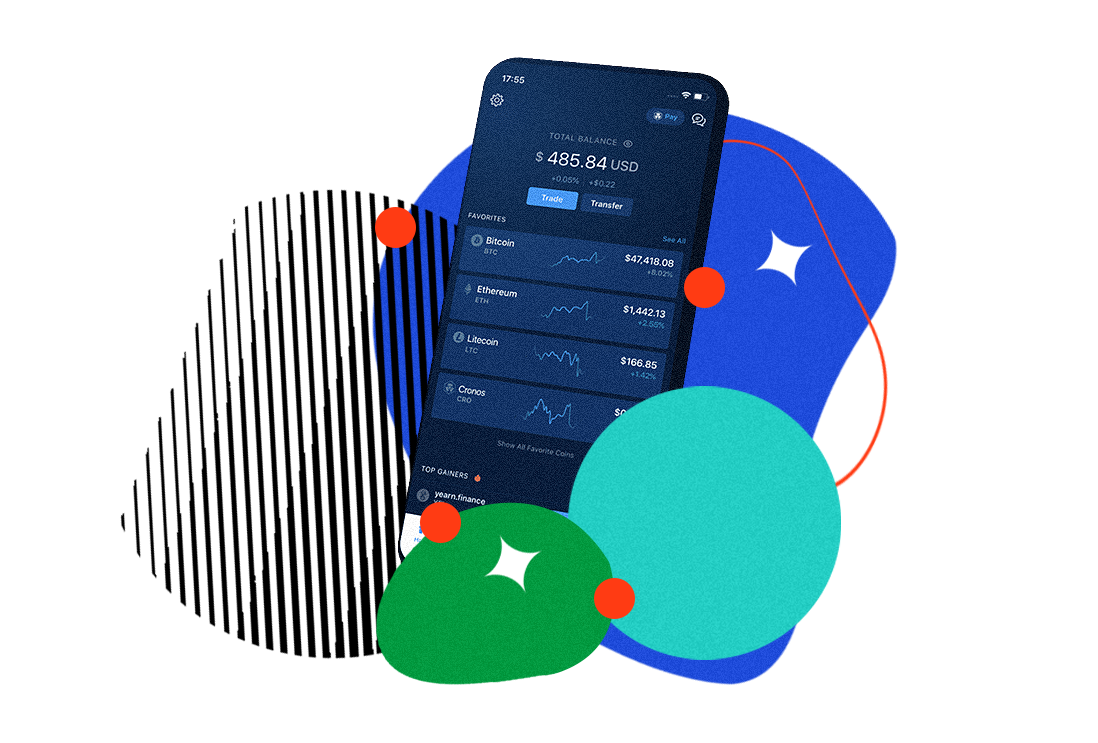 How do I make money with Crypto.com? 
You can earn passive interest income on Crypto.com by investing in various cryptocurrencies and loaning them to others. After purchasing crypto, you can use the Earn feature to earn interest on over 35 different tokens. You decide how long you want to lock your investment in. 
There are three choices. The flexible account allows you to withdraw your money at any time. There is also a one-month and three-month term option. During the term of your investment, you can not withdraw or trade your investment. The longer you leave your investment, the more interest you can earn. So you can choose if liquidity or earning a higher rate of interest is more important to you. 
How do I cash out with Crypto.com?
You can withdraw your USD from the Crypto.com app by selling crypto to your USD fiat wallet and transferring the funds from your wallet to your U.S. bank account. Crypto.com provides step-by-step instructions on how to complete this process here. 
Withdrawing funds from your U.S. bank account will typically take 3-5 business days and you will receive an email and push notification after your request has been reviewed. Currently, there are no fees associated with making a withdrawal. Note that there are withdrawal limits. 
Min withdrawal limit per request: 100 USD

Daily max withdrawal (24 hours rolling): 100,000 USD

Daily max withdrawal requests: 5 per 24 hours 

Monthly max withdrawal limit (30-day rolling): 500,000 USD

Monthly max withdrawal requests: 30 times per month. 
You can also withdraw money using their Crypto.com Visa card. All crypto is converted to USD (or the respective market currency) and then loaded onto the Crypto.com Visa Card which can then be used to make a purchase or an ATM withdrawal. 
Crypto.com vs traditional investing
Crypto investing is all the rage. Today, it seems like everyone wants in. But, before you start investing, there are a few major differences between crypto investing and traditional investing that you should be aware of.  
First, traditional investing has a much longer history. Data shows us that over time, the stock market continues to rise. Crypto.com, and cryptocurrency in general, has a much shorter track record. 
Second, when you purchase a traditional stock you are essentially buying a small piece of a company. Your investment is backed by something tangible. When you invest in cryptocurrency, your investment is backed by nothing unless you invest in a stablecoin that is backed by some sort of asset (like a fiat currency). 
Third, while the stock market has its share of volatility, it's no comparison to the rollercoaster ride that is cryptocurrency. While there may be a greater opportunity for major gains with crypto, there is an equal risk for extreme loss. 
Before you participate in crypto investing, make sure that you understand the risks involved and only invest the amount you can afford to lose. Investing your life savings into crypto is not a wise plan for the future. Adding crypto can help to diversify your overall portfolio however, cryptocurrencies are becoming more correlated with the U.S. stock market than they have been in the past.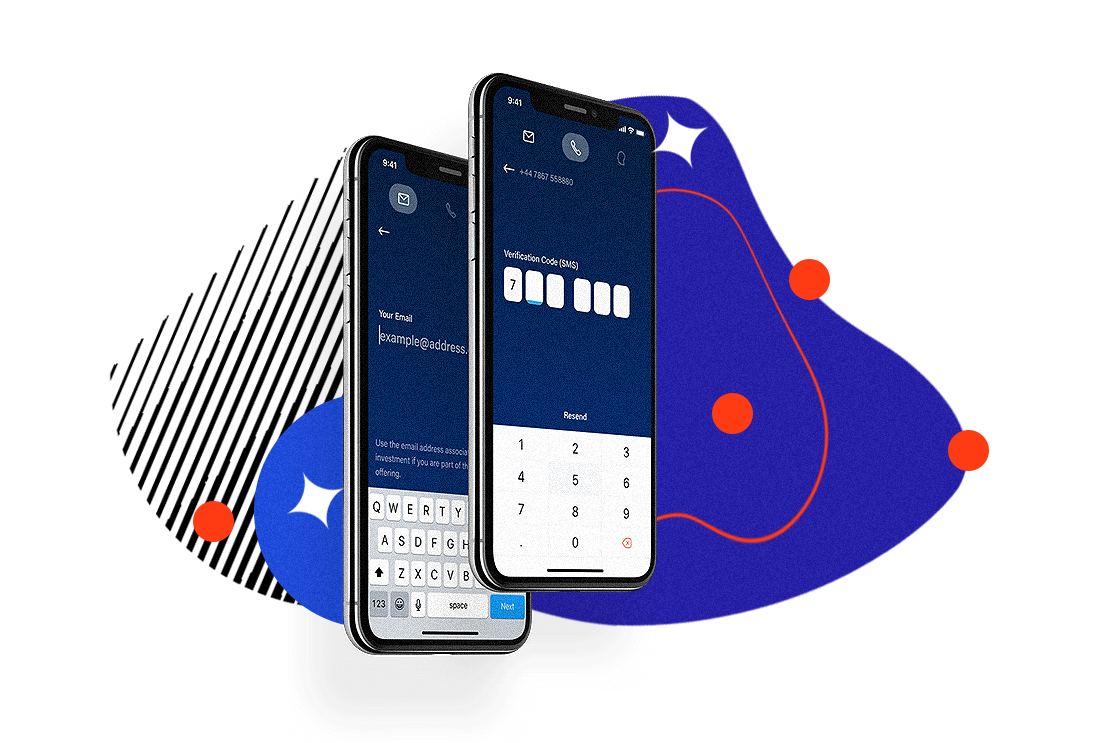 What other people are saying about Crypto.com
People are saying a lot about Crypto.com and many of them are not happy. Some of the main complaints center around poor customer service, a buggy app, and people finding it difficult to close their accounts. Many users don't like that there is no desktop trading interface, you have to use the mobile app and it can be difficult for some users.
On Trustpilot, Crypto.com scores 2.1 out of 5 stars (a "poor" rating). While this rating and the negative comments might seem really bad at first glance, when you check out similar crypto apps like Coinbase and Gemini, they have even lower Trustpilot ratings of 1.6 (Coinbase) and 1.5 (Gemini) with similar complaints about customer service and frozen accounts. Be sure you do your research so you are properly equipped to make your own judgment before investing your money.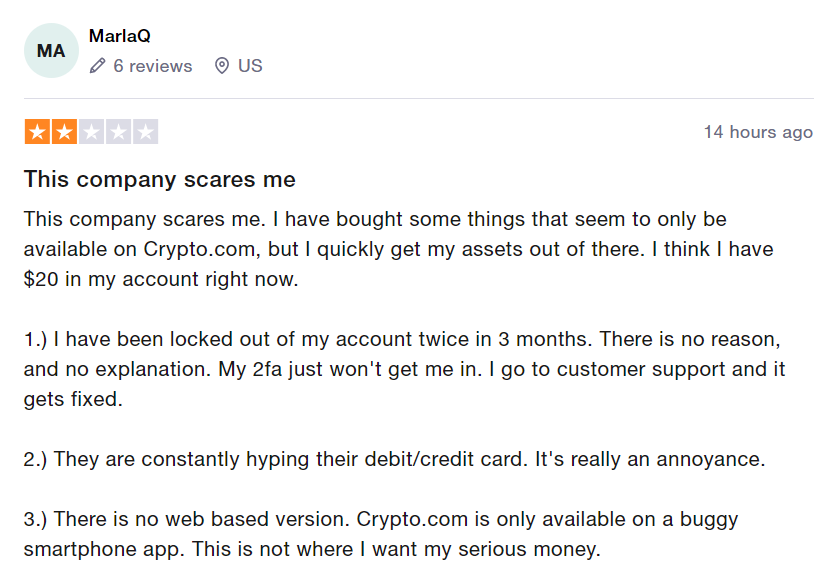 While the app store rating is 4.3 stars out of 5, there are still a considerable number of negative reviews and mixed reviews. The Google Play store gives it a rating of 3.8 stars out of 5 stars. There are many complaints of the app freezing and several people say they've been locked out for various reasons. Specifically, people using the S22 Ultra say when they click into the app, their phones crash and go to the lock screen.   
On the flip side, those who give the Crypto.com app a higher rating say that the app is easy to use once you get the hang of it and they enjoy the ability to earn CRO rewards for staking.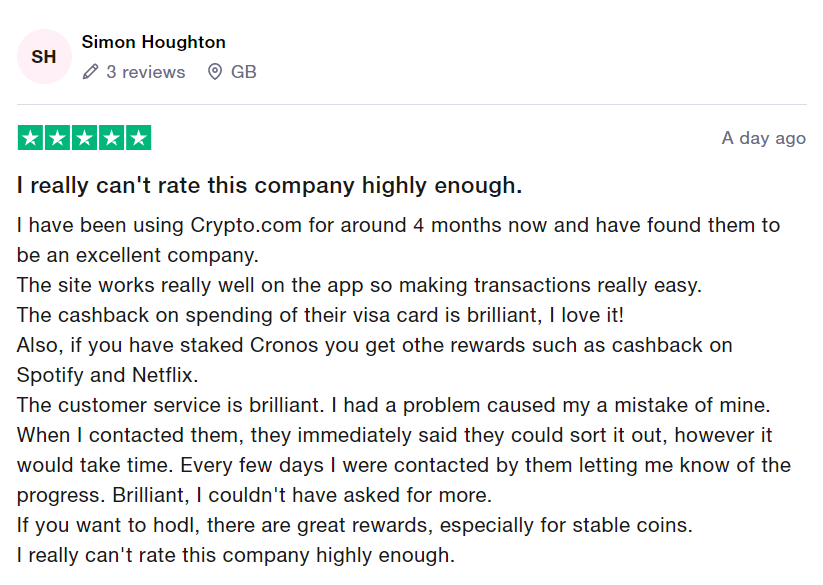 Are there other apps like Crypto.com?
Other crypto investing platforms that let you buy, sell, and manage your crypto include Coinbase and Gemini.
Like Crypto.com, Coinbase allows users to buy, sell, and manage their cryptocurrency all in one place. Coinbase has a longer history than Crypto.com, starting in 2012. Coinbase has a larger membership of verified users at 89+ million (Crypto.com has 10 million) and a similar geographical reach with 100 countries supported (compared to 90 by Crypto.com). Beginners might be more inclined to check out Coinbase as it has a much wider library of educational materials.
Gemini is another option for those wanting to buy crypto while earning interest. With Gemini, you can earn up to 8.05% APY. Similar to Crypto.com, Gemini provides users with the option to buy and sell NFTs and Gemini also has a self-titled credit card that allows users to earn 3% cashback on purchases along with other crypto rewards.
Check out the table below to see how these apps stack up against each other. Also, be sure to join MoneyMade to find 160+ other investment platforms.
Crypto.com

Fees

Minimum investment

Average returns

Risk Level

Available on

iOS

Android

Review

 
Our hot take on Crypto.com
For those looking for a full-service crypto app, Crypto.com might be the right fit for you. Those just starting their crypto journey and looking for an app that provides strong support and educational resources, might feel initially overwhelmed by Crypto.com as there aren't a lot of beginner resources on the site. Before you invest your money in Crypto.com make sure to do your own research so you understand all of the risks and potential rewards involved.
I'm in! How do I sign up for Crypto.com
1.

Create a MoneyMade account

If you haven't already, sign up for a MoneyMade account. This will connect your Crypto.com account directly to your MoneyMade account.
2.

Download the Crypto.com app

Download the app, enter your email, and you will be sent a confirmation email to log in. Then you will be asked to tap the link on your phone to complete the sign-in process.
3.

Provide the requested information

You will be asked to input your phone number and you will receive a text message with a verification code. Once your phone number is confirmed, you will be asked to provide your legal name, ID (driver's license or identity card), and provide a selfie. You will then be notified once the verification process is complete.
4.

Create a passcode

Once verified, you will be asked to create a passcode.
5.

Select your payment currency

Next, you will be prompted to select your payment currency.
6.

Link your bank account

To fund your account, you will need to link a deposit account to your Crypto.com app. You click on the Fiat option to deposit fiat from your bank account. You then choose the type of currency you will transfer to your account. Next, you will be given two options to fund your account, ACH or wire transfer. To confirm your banking info, Crypto.com will send you two small trial deposits into your Crypto.com account.
7.

Start buying crypto

Once your account is funded, you can start purchasing cryptocurrency.
8.

Return to MoneyMade to see all of your investments in one place

If you want to track all of your investments in one place, return to your MoneyMade account so you can track your investments in one place.
Explore Assets
Click an asset to learn more
Dogecoin
Music Royalties
Tether
Farmland
Wine
Art
Real Estate
Robo Advisor
Gold
Bitcoin
Stocks
Lending
Startups
Ethereum
DeFi
Solana
Oil & Commodities
Polkadot
Metaverse
NFTs
Whiskey
Bonds
Platinum
Sports Cards
Cardano
Ripple
Silver
Watches