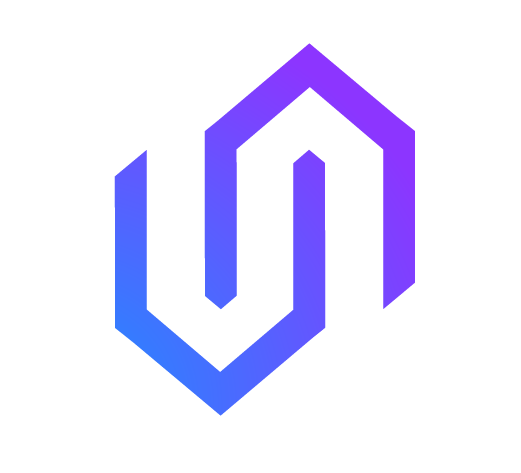 DiversyFund Review
DiversyFund Review: An Affordable Way to Invest in Real Estate
DiversyFund opens the door to commercial real estate investing with as little as $500—but should you put your money on the line?
Real Estate
Passive Income
Long Term Growth
Investing in commercial real estate can pay off as you receive a steady income stream from renters and benefit from property appreciation. But, traditionally, only the wealthy have been able to add real estate as an asset to complete a fully diversified portfolio. After all, buying buildings is expensive.
DiversyFund aims to change that and it does a good job of it. Unaccredited investors can buy into DiversyFund's publicly-traded non-listed Real Estate Investment Trust (REIT), called REIT 2. Doing so gives you a small ownership interest in all the assets owned by the REIT—which include multi-family properties DiversyFund has acquired throughout select areas of the United States. 
As this DiversyFund review explains, the company's unique model of purchasing, renovating and managing properties themselves allows them to keep costs down for investors while  producing historical returns between 17% and 18%. But you do have to lock up your money for around five years, which may be a longer time commitment than some people are comfortable with.
Pros and cons
Pros
Low minimum investment
Historic returns that beat the S&P 500 average
Vertical integration helps keep fees low
Cons
Limited investment selection
Illiquid investment with five year commitment
Investment management app received low ratings
What is Diversyfund?
DiversyFund allows everyday people to diversify their portfolios by gaining exposure to commercial real estate 
Investors buy into a Real Estate Investment Trust (REIT), which uses the capital acquired to purchase apartments with approximately 150 or more units.  
DiversyFund then renovates those units, raises rents, and waits for the property to increase in value. When it does, the assets are sold and investors—ideally—get paid back their initial investment plus a generous return.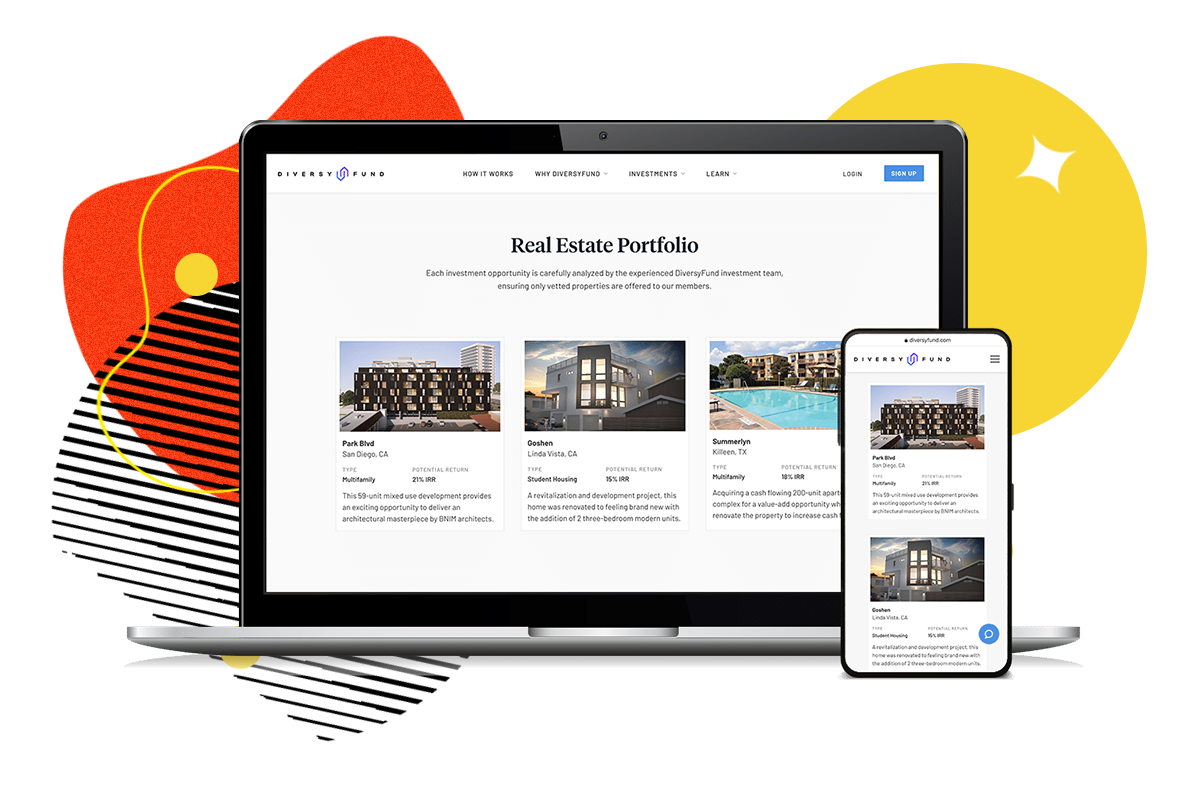 How does DiversyFund work? 
When you invest with DiversyFund, you buy shares of a Real Estate Investment Trust. By doing so, you acquire a small ownership stake in all of the properties that the REIT owns. 
DiversyFund has a team of experts that vet multi-family properties carefully, looking for those with strong potential to go up in value. They focus on buying properties in areas where there's strong job growth, where apartment vacancy rates are below the national average, and where the population is expanding. 
Once you invest your money, you're committed to seeing the investment through for the long-haul. The pooled money from investors is used to purchase and renovate properties, which are held until market conditions are optimal for a sale. During that time, you earn dividends as rents are collected—but those are reinvested in buying and improving more properties. So, the bottom line is, you aren't going to see any income for a while. But, when your investment eventually does pay off, you could see annualized returns of well over 10%.  
When you invest with DiversyFund, you don't have to pick properties personally, deal with angry tenants or navigate complex real estate investing laws. Instead, you can easily add commercial real estate to your portfolio and sit back and wait for rising property values to help your investment grow. 
Who can invest with DiversyFund? 
The great thing about DiversyFund is that it eliminates many barriers to entry and makes it easy for just about anyone to invest in commercial real estate. You can invest as long as you:
Are 18-years of age or older

Have a valid Social Security number

Have a legal U.S. residence in any of the country's 50 states or Puerto Rico

Are a U.S. citizen, permanent resident, or have a valid U.S. Visa. 
Entities such as incorporated businesses and trusts can also invest in DiversyFund. 
And no matter who you are, you only need $500 to get started and you don't need to be an accredited investor so there are no rules requiring you to provide proof of income, proof of assets or investment knowledge.
Where Diversyfund gets it right
Investors can get started easily with minimal funds
If you have just $500 to invest, you can gain exposure to commercial real estate through DiversyFund. This is a very low minimum investment compared with many other methods of investing in commercial real estate. 
You also don't have to be an accredited investor, so there are no hoops to jump through. You just sign up for an account, link your bank account, and buy into the REIT. 
Costs are low due to vertical integration
DiversyFund does everything. The company raises funds, identifies properties worthy of investing in, buys them, renovates them, manages them and sells them. 
This vertical integration allows it to keep costs relatively low since it's not paying a bunch of outside professionals to do various steps in the process.
Of course, there are some fees, including transaction fees for the real estate purchase and sale, as well as marketing fees. Still, the investing costs incurred won't seriously diminish the return-on-investment you could potentially earn. 
Returns have beat historic averages
DiversyFund's historic average annualized returns have been between 17% and 18%. This is significantly higher than the average annualized returns of around 10% provided by the S&P 500, which is a benchmark financial index widely used as a barometer for the U.S. stock market as a whole.
Where Diversyfund could do better
Investors have just one investment to pick from 
Unlike some other alternative investing platforms such as YieldStreet, which allows you to choose to invest in real estate, art equity, legal financing and more, DiversyFund only permits you to invest in real estate. What's more, it has just a single real estate offering available: a growth REIT. Other real estate investing platforms such as Fundrise provide more investment choices. 
Those who prefer more than one investment to choose from will find these competitors to be better alternatives.  
The investment is very illiquid
If you're a commitment-phobe, DiversyFund probably won't be a good fit. When you invest your money with DiversyFund, you're not allowed to withdraw it for a period of around five years. And there are no exceptions to the rule against premature withdrawals. 
You also don't have direct control over when exactly you get your investment back. DiversyFund uses the pooled money of investors to buy property, improve it, increase rents, and eventually sell it. Only when the company thinks market conditions are right will they sell the assets your money was used to buy. You'll need to wait until then to get back your initial investment plus any gains. 
And while you do earn dividends from rent collected during the time you own the property, this money is automatically reinvested. So, you won't see that cash coming in on a regular basis either. 
The mobile app is problematic  
DiversyFund's iOS and Android app received just 3.5 stars out of a possible 5.  Users complain of glitches including difficulty logging in, repeated crashes, and difficulty obtaining the necessary verification to sign in. In today's world, there's no excuse for a poorly-functioning mobile app when so many people prefer to manage their money on-the-go.
Can you really make money on Diversyfund?
DiversyFund's REIT has a 7% preferred return but targets double-digit gains over the five-year cycle of each REIT. The company reports that investors in 2017 saw average annualized returns of 18% while investors in 2018 saw average annualized returns of 17.3%. REIT investors also saw a 5% dividend yield in 2019. 
Of course, historic returns are no guarantee of future performance—although the company has made clear they hope to maintain this average over time.  Since the Growth REIT was newly launched and is still acquiring assets, lower returns are initially expected. So, don't count on necessarily seeing such generous returns right away.
And, remember, DiversyFund takes a small cut of any returns over 7%. 

How do I make money with DiversyFund? 
With DiversyFund, you earn dividends from the rental property the company used your money to buy. These are reinvested and help fund the renovation of the properties. 
The properties DiversyFund has invested in also ideally go up in value both because of the upgrades DiversyFund makes and because the price of real estate usually rises over time. 
Once DiversyFund has renovated the property, raised rents, and sold the asset, you'll eventually get your money back plus the returns earned on your investment—minus the fees DiversyFund takes out. 
How do I cash out with DiversyFund? 
DiversyFund requires you to leave your money invested for around five years, as you can't get your money back until the acquisition, renovation and sales cycle are complete. 
Once the company sells the assets acquired with your invested dollars, you'll be notified and have the opportunity to either cash out or reinvest your money in future properties. 
DiversyFund vs traditional investing 
DiversyFund has historically provided higher average annualized returns than the S&P 500, but its performance record is substantially shorter. While data on the S&P's performance dates back more than 100 years, DiversyFund's past reported returns are from 2017 and 2018. So, while you have the potential to earn more than by putting your money into the market, you're taking on a greater risk. 
DiversyFund is also a far less liquid investment than stocks or ETFs. While you have the option to sell shares of publicly traded companies or exchange-traded funds whenever you want, you must make a five-year commitment when investing with DiversyFund. 
Real estate, by nature, isn't as liquid as stocks, so this isn't a drawback unique to this company. In fact, many investors choose to incorporate some less liquid assets into their portfolio—as well as some riskier assets—because there's a tradeoff between potential risk and possible return. 
DiversyFund could provide higher potential returns than stocks or ETFs, and because the properties are specifically chosen to perform well across all economic conditions, could provide a hedge against stock market declines.
Ultimately, investors need a mix of different assets in their portfolio, and those who want to add real estate investing to their portfolio mix will find DiversyFund provides an easy, affordable way to do that.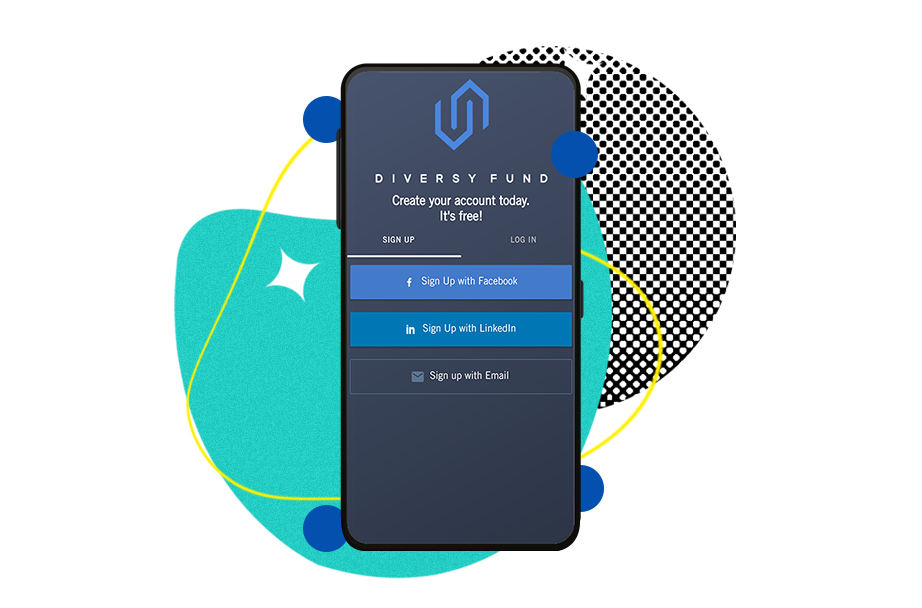 What other people are saying about Diversyfund
DiversyFund has been rated as Excellent by 54% of TrustPilot users, who have reviewed the company more than 500 times. Users praise the consistent returns, the easy-to-use platform, and the ease of navigating the company's website. 
This doesn't mean that DiversyFund is perfect, though. There are complaints about customer service, money being tied up in escrow for lengthy periods of time and problems with investments displaying correctly in the app.  
Some users were also unhappy about the long-term commitment, and lamented the fact DiversyFund didn't make this clearer up front. In fact, here's what one Reddit User had to say about the platform.

Are there other apps like Diversyfund?
DiversyFund isn't the only app that allows you to add alternative investments to your portfolio. FundRise also offers the chance to gain exposure to the commercial real estate market. FundRise offers a lower minimum investment requirement, as well as a broader choice of investment options. Its past reported returns don't match DiversyFund's though. 
YieldStreet, on the other hand, both allows real estate investing and also gives you the chance to build a portfolio of other unique investments including art and legal financing. 
These are just a few of many examples of investing platforms designed to help you grow your wealth. MoneyMade makes it easy to compare more than 160 different investing platforms that can help you to find the perfect assets to build a well-rounded portfolio—regardless of your income or money available to invest. 
Join MoneyMade today to find the ideal investments for your financial goals.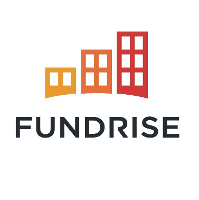 Fundrise
Yieldstreet
Minimum investment
$500.00
Our hot take on Diversyfund
DiversyFund has a lot to offer, including a low minimum investment requirement and an impressive past performance record.  If you're looking for an affordable way to add commercial real estate investments to your portfolio and don't mind making a five-year commitment, it could be the ideal choice.
I'm in! How do I sign up for Diversyfund?
1.

Join MoneyMade (for free)

MoneyMade is your one-stop shop for keeping track of all your investment accounts in one place. You can discover, connect, and manage more than 160 different accounts all from one easy-to-use, full-featured platform so you can easily see the big picture of your financial situation. This includes your DiversyFund account and other apps allowing you to invest in alternative assets.
2.

Visit DiversyFund through MoneyMade

Once you've opened your MoneyMade account, follow the link to DiversyFund to create your account.
3.

Provide some personal identifying details

You'll need to give DiversyFund some basic information including: your email address, your first and last name, your address, your zip code, and your phone number. You'll have to verify your account details with the phone number provided
4.

Process your investment

After opening your account, you'll go through a six-step process to invest in the REIT. You'll have to provide your Social Security or tax ID number at this stage so your earnings can be reported to the SEC. You'll also need to select whether your investment will be owned by an individual, will be a joint account, or will be owned by a trust or entity. You'll need to link your bank account as well, to facilitate the transfer of at least the $500 minimum investment.
5.

Wait out the escrow period

DiversyFund works with a third-party escrow company. After your money has been invested, it's held in escrow for five to eight business days. In some cases, the escrow service may request additional documentation to verify account ownership, such as your driver's license or passport. After the escrow period is complete, the money will clear and will officially be invested in DiversyFund's REIT. You'll just need to sit back, monitor your account to see your dividend payments and reinvestments, and wait for your money to grow.