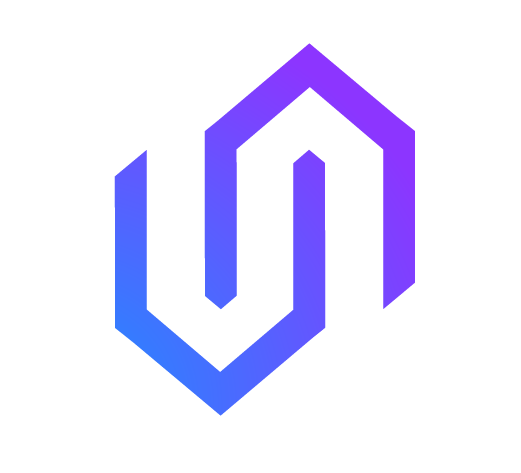 DiversyFund
Investing in real estate is easier than you think.
Looking for a detailed DiversyFund review to decide whether to use the platform for real estate investing?

Multi-family real estate investing is a great way to diversify your portfolio with a lower risk profile when compared to traditional real estate investments.

Historically, investing in multi-family real-estate required substantial capital depending on where you invest. It is also a space with intense competition from experienced real estate investors with deep pockets - limiting access to novice investors looking to diversify their portfolio into this type of real estate investment.

However, DiversyFund offers an easy to use and low-cost entry into the world of multi-family investments, even to an everyday investor.

How does DiversyFund work? How do you get started with the platform? What are its pros and cons?

In this detailed review, we'll tell you all you need to know about DiversyFund - how the platform works, fees, annual returns, how to get started, its pros and cons and a lot more.
Investment type
Public non-traded REIT
Sectors
Commercial Real Estate
Annual Returns
In 2017, investors saw average annualized returns of 18% and in 2018, investors saw average annualized returns of 17.3%
Open to investors outside the US
No. It is available only to US Residents, those on a visa with a valid SSN or those with an Individual Taxpayer Identification Number (ITIN). Valid US entities operated by non-US residents are also accepted.
Best for
New investors who are interested in real estate investing

Experienced investors new to real estate investments

Risk-averse investors
What is DiversyFund?
DiversyFund offers an online alternative investment platform that lets you invest in their public non-traded REIT (DiversyFund Growth REIT) and co-own apartment properties in the US.
It was founded by Craig Cecilio and Alan Lewis in 2016 and is headquartered in San Diego, California.
What sets this firm apart is that they're "vertically integrated" - they buy, renovate, rent out, and manage all their multi-family properties. So it acts as the sponsor, developer and asset manager. This helps investors avoid paying hefty fees to intermediaries.
The focus is on long-term capital appreciation from renovations and repositioning of the multi-family properties. Investors earn monthly dividends that are automatically reinvested. After an estimated 5 year period, DiversyFund seeks to sell the property for a profit. Investors are then paid out a lump sum upon closing the property sale.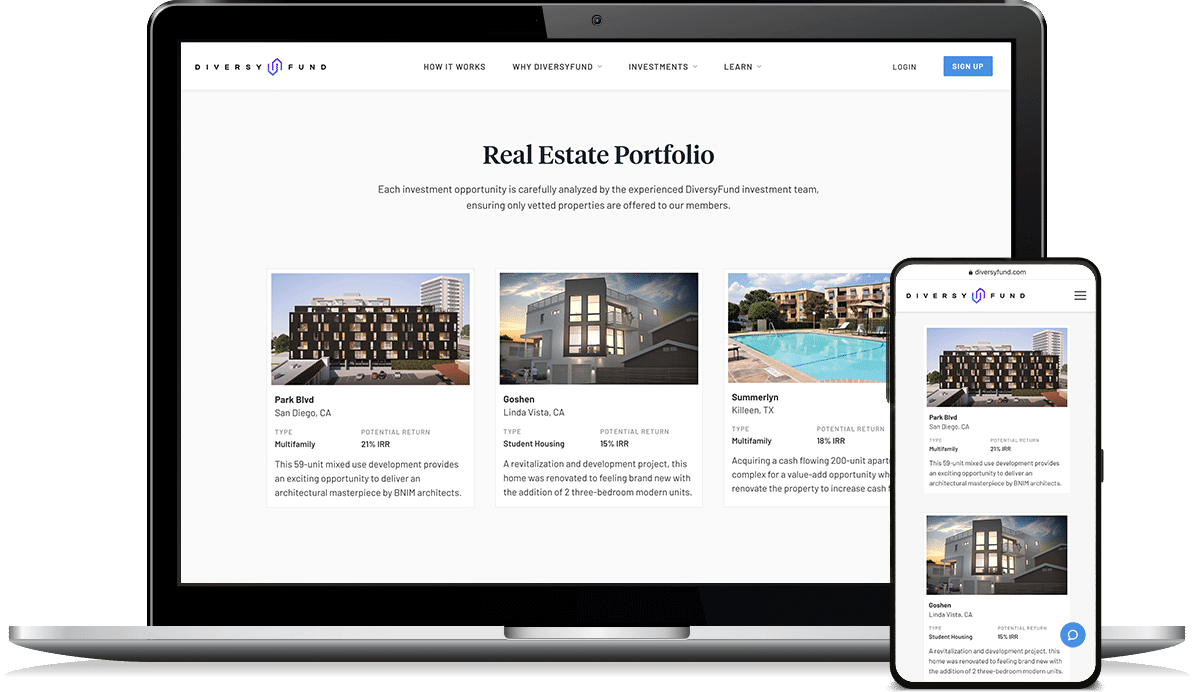 Who should use DiversyFund?
DiversyFund is an ideal investment platform for:
Everyday investors looking for a lower cost alternative in real estate investing - who are new to the real estate sector and want to diversify their portfolio while seeking attractive returns.
Experienced investors who want to try out real estate investments and add a passive investment to their diversified portfolio.
Risk-averse investors who want to grow their wealth at a steady rate with a low-risk portfolio.
As is characteristic of every real estate investment vehicle, DiversyFund is also not suited for short-term investors looking for highly liquid investments.
How does DiversyFund work?
Here's how DiversyFund works:
1. DiversyFund owns multi-family properties
This involves three steps:
Acquisition: DiversyFund buys tenant-occupied multifamily apartment units that are already generating revenue from rents but need to be renovated.
Renovations: Within a year of purchase, the buildings are renovated to increase its value and the cash flow from rents (also called forced appreciation.)
Holding period: The individual investments are held for four years to let them appreciate further. So the properties are held for approximately five years in total (one year for renovations and four years until maturity) before they're sold at a profit.
2. DiversyFund re-invests the returns
Investors get monthly dividends paid into their portfolio from the rents collected on the properties. These dividends are automatically reinvested into the REIT to buy new assets. This is also used to renovate other newly acquired properties.
3. Investors co-own the properties
DiversyFund acts as an investment partner. It's investors become co-owners of all the properties under the fund.
Currently, investors can invest in the Growth REIT, under which DiversyFund holds five properties:
Summerlyn: A 200-unit apartment complex in Killeen, TX that has a return potential of 18% IRR.
Park Blvd: A 59-unit residential complex by BNIM architects in San Diego, CA. This has a return potential of 21% IRR.
Goshen: A student housing type complex in Linda Vista, CA. After renovations, this now has a return potential of 15% IRR.
McArthur Landing: A 211-unit apartment complex in Fayetteville, NC that has a return potential of 15.5% IRR.
Boulevard West: A 242-unit apartment complex in Greeneville, NC that has a return potential of 15.2% IRR.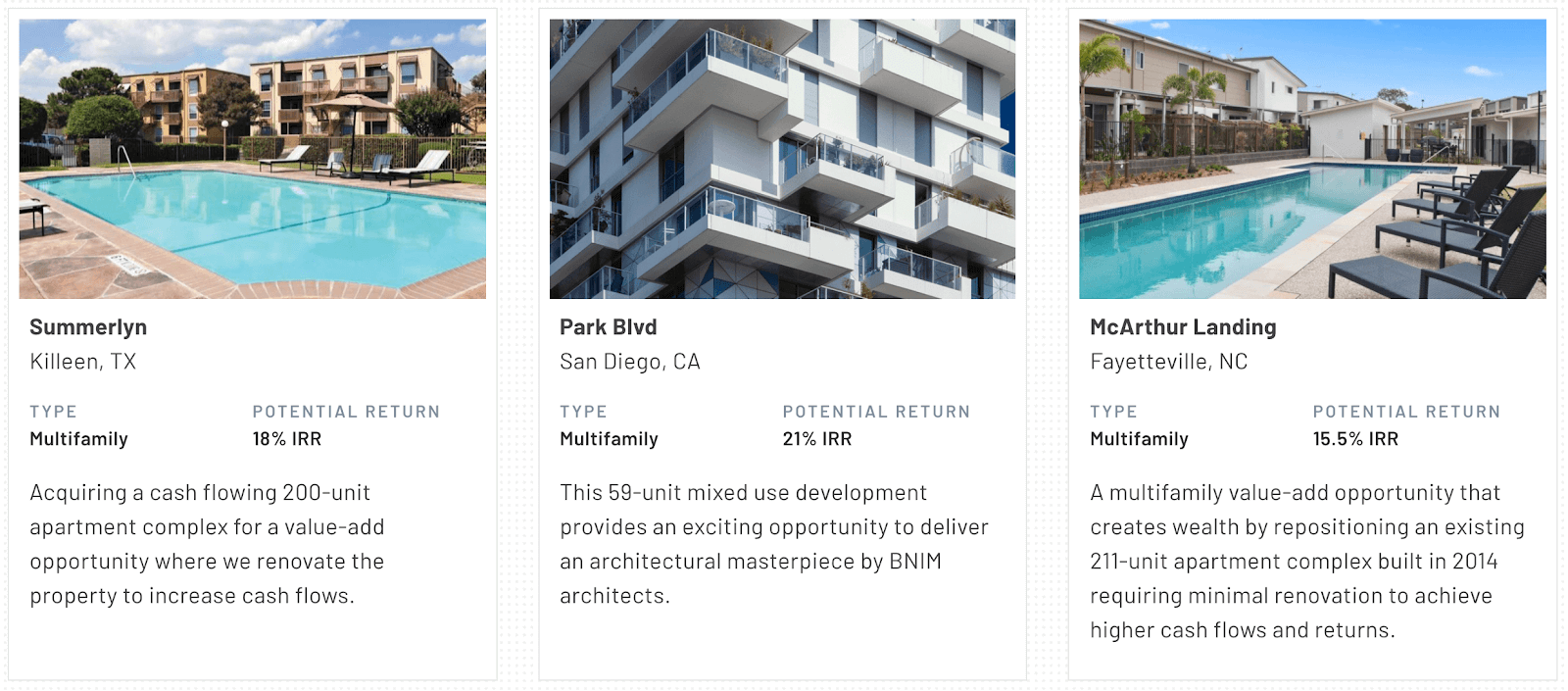 4. Selling the properties
At the end of five years, DiversyFund sells the property in addition to the forced appreciation from the property renovations.
5. Distribution of profits
After assets held in the REIT are sold, the profits are distributed to the investors (principal and returns). Investors get a 7% preferred return - this means investors get 100% of returns up to the first 7%, before DiversyFund takes a share of the profit.
If assets are liquidated at a profit of over 7%, subsequent profits are divided in a 65/35 ratio— 65% to investors and the rest to DiversyFund. However, once the investors reach a 12% annual return, the profit is split 50-50 between DiversyFund and the investors.
DiversyFund features
Here are some of the prominent features of DiversyFund that separate it from traditional REITs:
1. Low minimum investment
The initial capital requirement for investing in DiversyFund is $500. DiversyFund allows its investors to buy shares at $10 per share.
2. Investor Dashboard
Investors can monitor their investments and receive quarterly investment reports through the investor's dashboard. Investors can also monitor their accounts from the mobile app.
3. Blog and weekly newsletter
DiversyFund has a blog for new and professional investors alike. It contains articles on real estate investments as well as personal finance, advanced investing and various other topics. Investors can also subscribe for weekly newsletters on the latest market developments.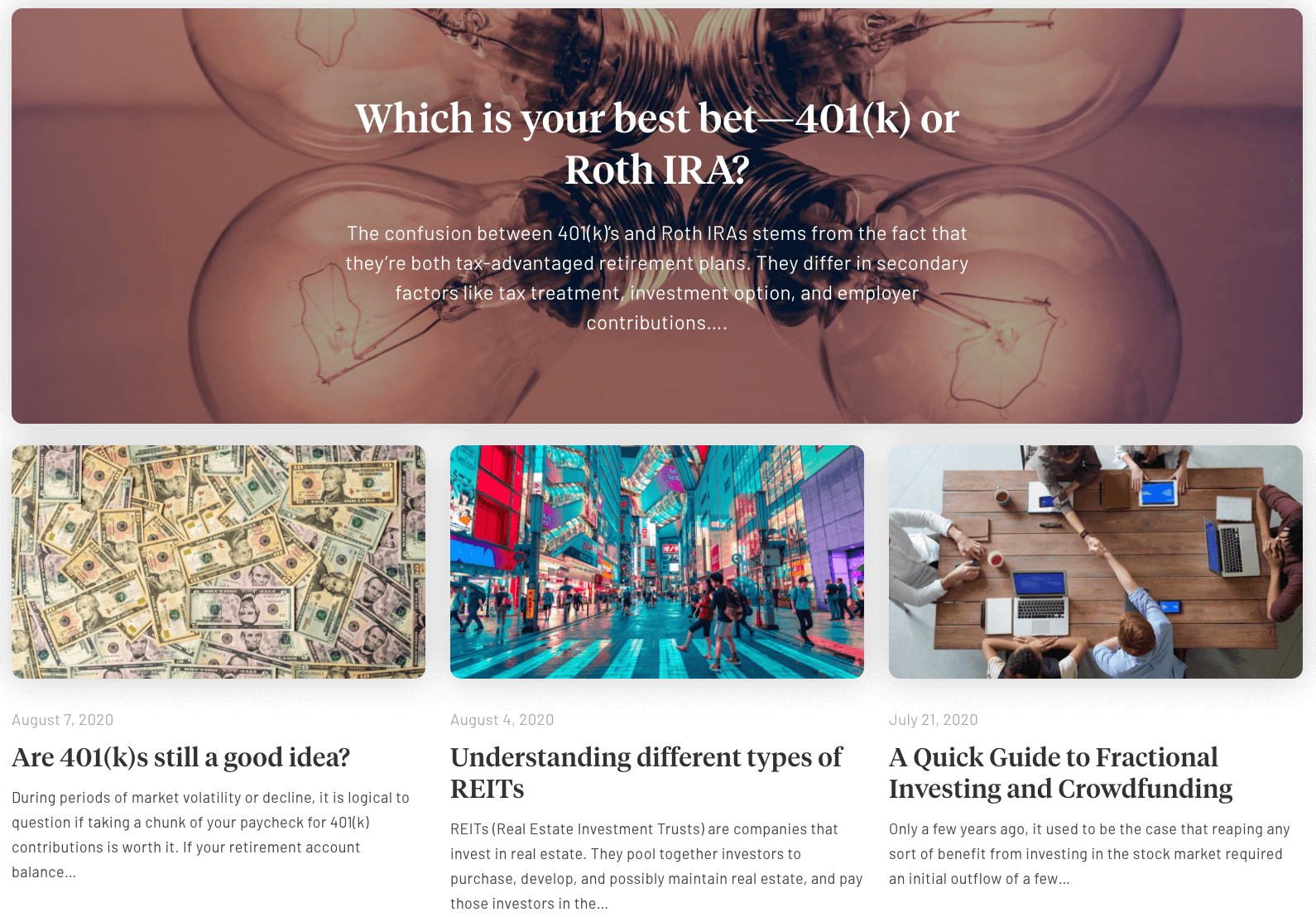 4. Mobile compatibility and app
DiversyFund's well designed website is mobile-optimized for both smartphones and tablets. Also, DiversyFund has a mobile app that works on both Android and iOS.
How to get started with DiversyFund
Here are five simple steps to start investing with DiversyFund:
Step 1: Sign up with your email or your Google account, Facebook or LinkedIn profile.
Step 2: Fill in the investor details form with your personal details, such as name, address and social security number.
Step 3: You can browse from the list of DiversyFund's latest funds (currently the only one on offer is the Growth REIT.)
Step 4: Fund your account to start investing. You can start with a minimum investment of $500 to open a Starter Investor or an Auto-Investor account. You can also add to your investment anytime in increments of $500. For a High Growth Investor account, the typical minimum investment is $15,000.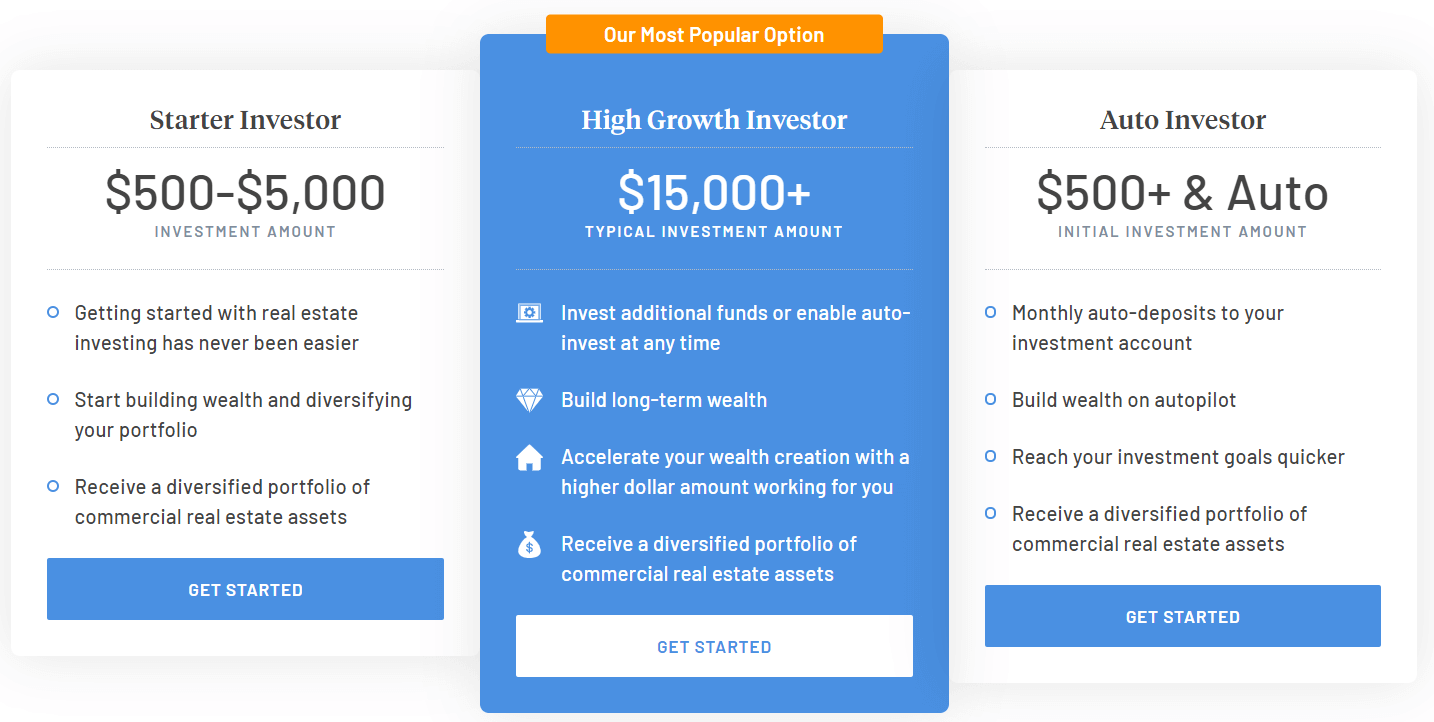 Step 5: Once you have completed funding your account, you can easily monitor your investments online.
DiversyFund fees
DiversyFund doesn't charge its investors any fees at the fund level. In comparison, most REITs charge you over 5% annual fees including advisory fees, account management fees, and so on.
However, this doesn't mean that DiversyFund doesn't charge any fees.
Similar to other Real Estate investment platforms, DiversyFund charges the following fees to the REIT, as the developer or sponsor (these are paid out of the investors' capital):
Asset Management fees (2% yearly)
Developer fees (around 2% yearly)
Disposition fees (1% of total sale price of each property)
Financing fees (1% of the amount of each loan placed on a property)
Construction fees (depends on the services)
Other fees (depends on the services)
DiversyFund Potential Returns
DiversyFund provided its investors with average annualized returns of 18% in 2017 and 17.3% in 2018. This is well above the average 10-yr returns of US Treasury Bonds (4.26%) and the 10-yr returns of S&P 500 (11.68%).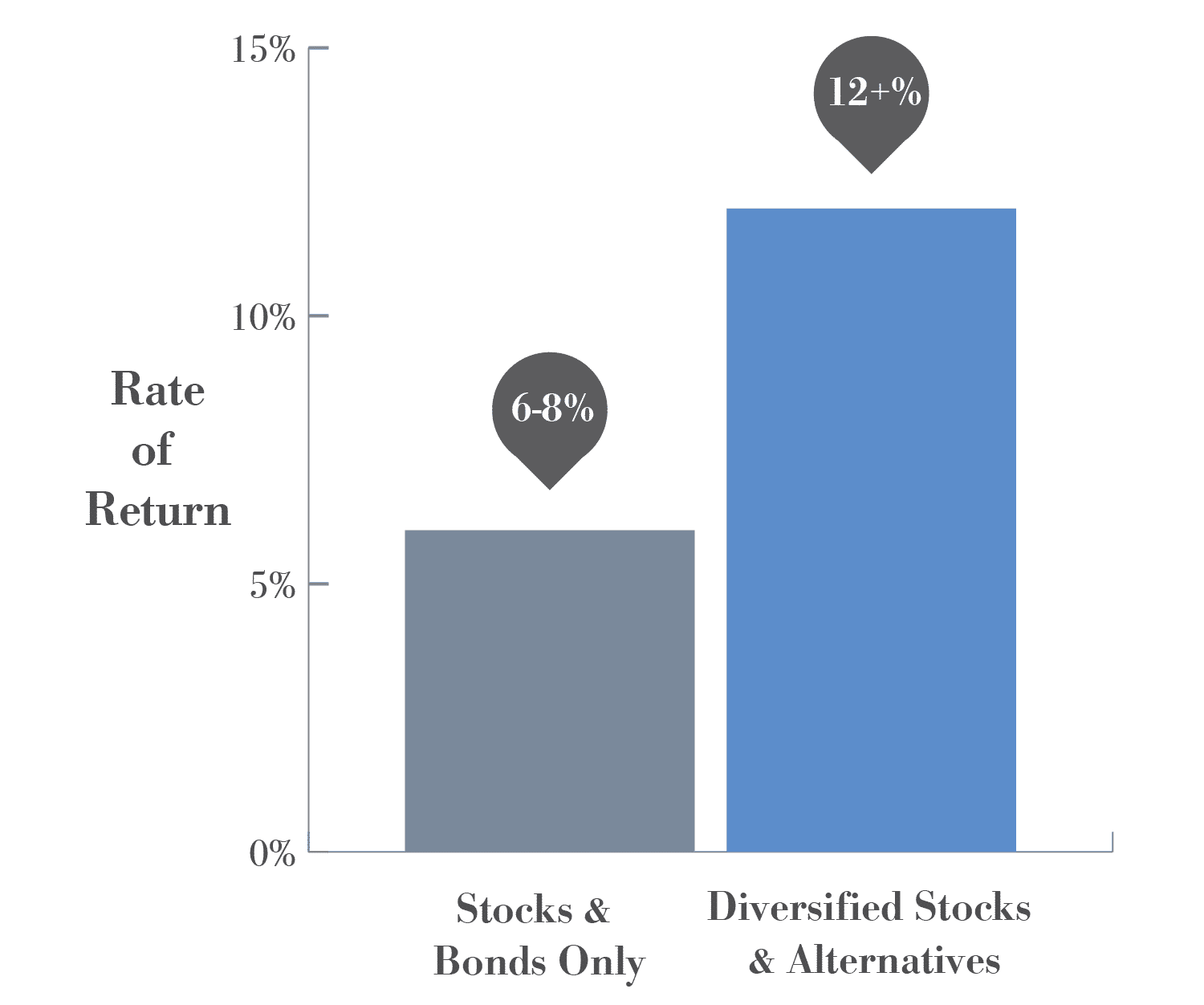 Pros and Cons of DiversyFund
Here are the advantages and disadvantages of investing with DiversyFund:
Pros
Historically, multi-family assets have exhibited low volatility and have even appreciated in value during economic downturns.
The U.S. Securities and Exchange Commission (SEC) has qualified DiversyFund's Growth REIT under Regulation A. This means they have to match strict reporting standards along with annual audits. In other words, DiversyFund is safe to invest with.
Unlike almost all other REITs, even non-accredited investors can invest with DiversyFund.
DiversyFund offers a low-cost alternative to traditional real estate investing. Investors can start with just $500 and build their portfolio gradually under the supervision of real estate experts.
DiversyFund doesn't charge any annual management fees to its investors.
DiversyFund offers you Double Diversification - this means it lets you diversify from investing in bonds, stocks, etc. while distributing your funds among multiple properties.
Real estate investments can appreciate in value and generate cash flow from rents even during inflation. Also, the debt owed on the property depreciates in value with the rate of inflation.
DiversyFund is also available as an alternative to retirement savings. You can turn a traditional IRA or an old employer-sponsored 401(k) into a self-directed IRA and start investing.
Cons
Once you invest with DiversyFund, your funds are locked in for 5 years. Also, DiversyFund doesn't offer a redemption plan, unlike some of its competitors that offer over 90% of the capital, even in the initial stages.
While DiversyFund doesn't charge its investors any fees, it charges financing fees, and a 2-8% project level acquisition/development fee to the REIT being the sponsor on all the deals that the REIT invests in - much like other real estate platforms. So investors need to consider this before investing.
DiversyFund is a fairly new company with a short track record.
Risks of Investing Through DiversyFund
1. While real estate properties remain unaffected by many market developments, there are additional risks of being affected by natural calamities and other mishaps.
2. Being vertically integrated, DiversyFund controls every aspect of the investments themselves unlike other REITs. This can:
Increase the chances of mismanagement.
Snowball the effects of failures occurring even at ground-level execution.
3. Unlike a publicly traded REIT, as the Growth REIT is a blind pool REIT investment, no investor has control over how their funds are distributed among the properties in the fund.
Conclusion
This detailed review should help you decide whether DiversyFund is the ideal alternative investment platform for you or not.
Before investing with DiversyFund, do consider their short track record and that real estate investments are illiquid compared to other investment vehicles - you can't sell off your assets under short notice.
However, DiversyFund is a good option if you want to diversify your portfolio and invest in uncorrelated assets like multi-family real estate alongside stocks, mutual funds and other traditional instruments. In addition, the automatic reinvestment of monthly dividends makes it a great passive investment.
Do more with your money
Become a MoneyMade member (it's free!) for personalized alternative investment matches, expert insights and portfolio tracking.