Quantbase Review
Quantbase Review: The First SEC-Registered Robo Advisor That Lets You Copy Nancy Pelosi's Trades
If you're looking for an index fund but traditional investments aren't cutting it, then try Quantbase, an SEC-registered platform that uses algorithmic tools to maximize your gains.

Published Apr 15, 2022•Updated Apr 10, 2023
Robo Advisor
Non Accredited
Crypto
It may sound like a joke, but meme investing is a winning strategy. The combination of Reddit and Robinhood has proven to be a force to be reckoned with over the past couple of years, but not all investors are hip. If you're looking to invest like Pelosi or short Jim Cramer but don't know how, then you should look into Quantbase, the first SEC-registered Robo-advisor that algorithmically rebalances portfolios of high-risk assets like crypto, stocks, leveraged bonds, and more. In this Quantbase review, we'll explain everything you need to know before investing with Quantbase.
Borrow our cheat sheet
MoneyMade member rating
5.0
Bonus offer
3 months of free access to all users that sign up from MoneyMade (afterwards it's 0.94% of AUM)
Pros and cons
Pros
Diversity of portfolio options
Unique copy trading approach
Personalized investment options
VC backed & SEC-regulated
Cons
Not a self-directed investment
Auto rebalancing is always enabled
Low order/deposit/withdrawal volume per fund
What is Quantbase?
Quantbase is a robo advisor that gives investors exposure to algorithmically managed portfolios that include high-risk assets. Anyone can invest their money into a growing number of algorithmically rebalanced portfolios holding assets like cryptocurrency, stocks, leveraged bonds, and more.

How does Quantbase work?
Each Quantbase fund uses a specific algorithm designed to maximize profits within the parameters of a certain investment strategy. After signing up, users take a quiz that helps Quantbase provide recommendations of funds they can invest in with as little as $60.
Who can invest with Quantbase?
Quantbase is currently open to all investors. Those who choose to sign up must provide personal and financial information and verify their identity through a KYC process, which takes approximately 24 hours. Users can then deposit money and invest in one of Quantbase's several portfolios.
Where Quantbase gets it right
Novel copy trading strategies
Probably the best feature of Quantbase is how unique some of their funds are. While the platform does offer "slow and steady" funds that follow the conservative investment advice of people like Ray Dalio and Jack Bogle, it's their sentiment analysis-based and "special" portfolios that really shine. 
In addition to high leverage and cryptocurrency indices, investors can also put money into a fund that follows the sentiments of users on the Wallstreetbets subreddit or one that tracks U.S. Speaker of the House of Representatives Nancy Pelosi's investment disclosure forms and will soon be able to invest in an Inverse Jim Cramer Index that takes the investment advice of CNBC Mad Money host and does the opposite.
High liquidity
The ability for investors to deposit and withdraw funds practically whenever they want is one of the key benefits of Quantbase. The platform imposes no lock-up periods or restrictions on your funds, so Quantbase users can invest or divest as fast as their bank can process an ACH transfer.
Curated investment options
In addition to the ingenious investing strategies of their indices, Quantbase has a low barrier to entry for those who are new to high-risk investing. Inexperienced investors that aren't sure where to invest can simply fill out Quantbase's quick-yet-thorough investor quiz and put their money into one of the recommended indices.
Where Quantbase could do better
Sign-up process
Since they're still in beta, the high volume of new registrations may cause hiccups in the Quantbase sign-up process. Hopefully, any issues with the signup process will be resolved soon, but anyone having issues registering for a Quantbase account can contact support at [email protected].
Hands-off investment
While some investors prefer having their assets managed on their behalf, those who want more control over their investment may prefer a self-directed portfolio over a robo advisor. Although Quantbase is transparent in how its algorithms are designed and what informs its investment strategies, exposure to a self-rebalancing portfolio is definitely a particular investment style that isn't suitable for everyone.
Limited volume
One minor design flaw is that users can't invest in a fund while a transaction in the same fund is pending. While in theory, you can invest simultaneously in all of Quantbases funds, investors are limited to one transaction per fund at a time, which is something to keep in mind if you're looking to invest or withdraw multiple times within a relatively short period.
Can you really make money on Quantbase?
Anyone can make money from Quantbase, but the question is how much you want to make and what level of risk you'll take on to achieve your desired profits. While Quantbase's offering of "slow and steady" indices may outpace the S&P 500, their high-risk funds are designed to prioritize long-term profitability while tolerating short-term volatility.

How do I make money with Quantbase?
The best way to make money on Quantbase is to split your investment into several funds with different historical returns and risk scores. Gaining exposure to a diversity of algorithmically rebalanced indices that each deal with different asset classes is the best way to produce a risk-reward ratio that aligns with your investment goals.
How do I cash out with Quantbase?
Cashing out of Quantbase is as simple as divesting from your indices and initiating a withdrawal of funds to your bank account. While Quantbase processes all deposits and withdrawals immediately, the speed at which your funds are withdrawn will depend on your bank.
Quantbase vs traditional investing 
While some of Quantbase's options mirror the performance of traditional investments, what sets this platform apart from your run-of-the-mill stocks and bonds are their cryptocurrency indices, sentiment tracking algorithms, and funds that track the portfolios of high profile investors.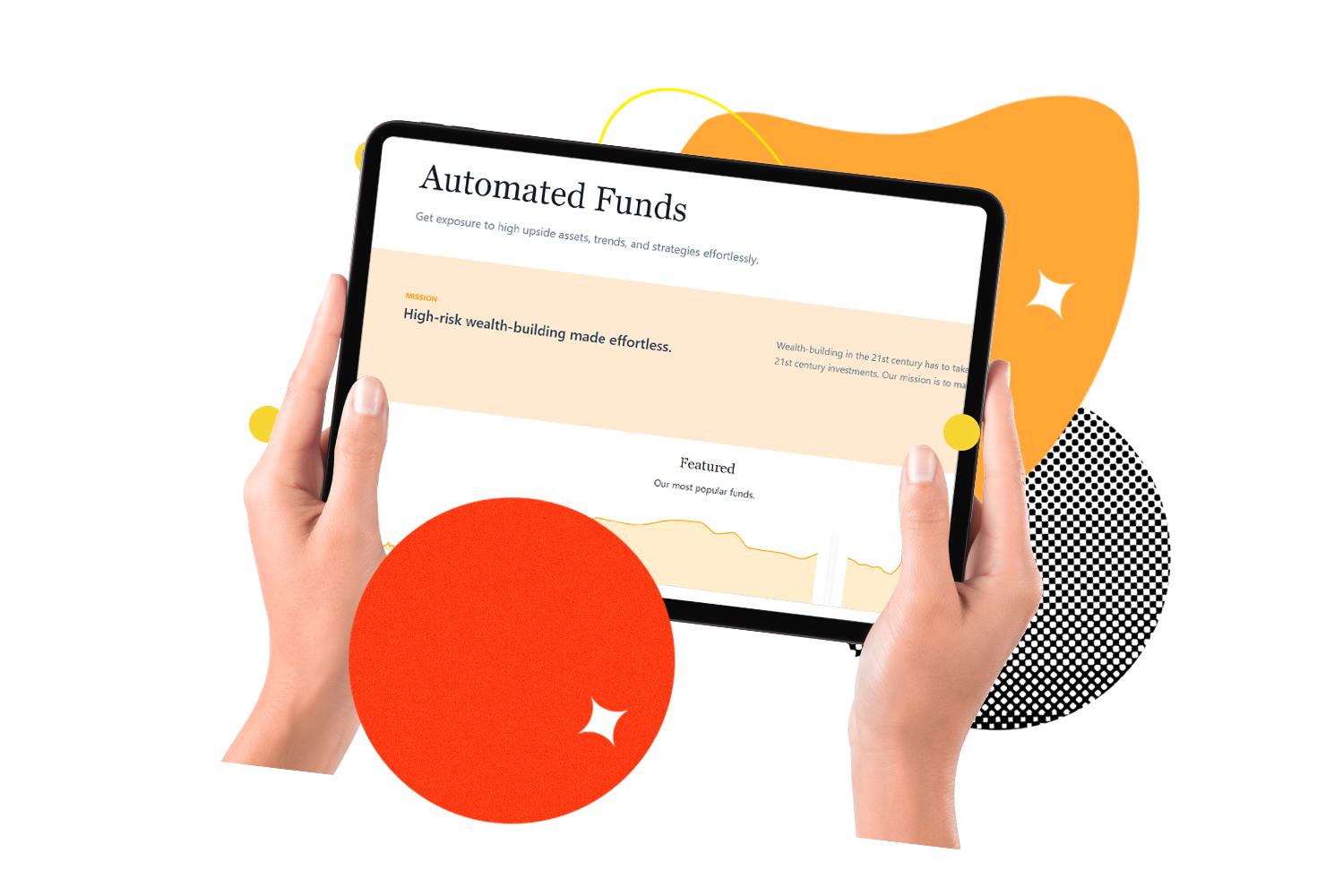 What other people are saying about Quantbase
In January, the founder and CEO of The Drop NFT newsletter Gannon Breslin tweeted that there should be an ETF tracking the best traders on Capitol Hill. In response, finance writer and content creator Austin Hankwitz quoted Breslin tweeting that Quantbase already does this with Nancy Pelosi. "Easy lift to do the other 34 political figures who outperformed the market in 2021," wrote Hankwitz.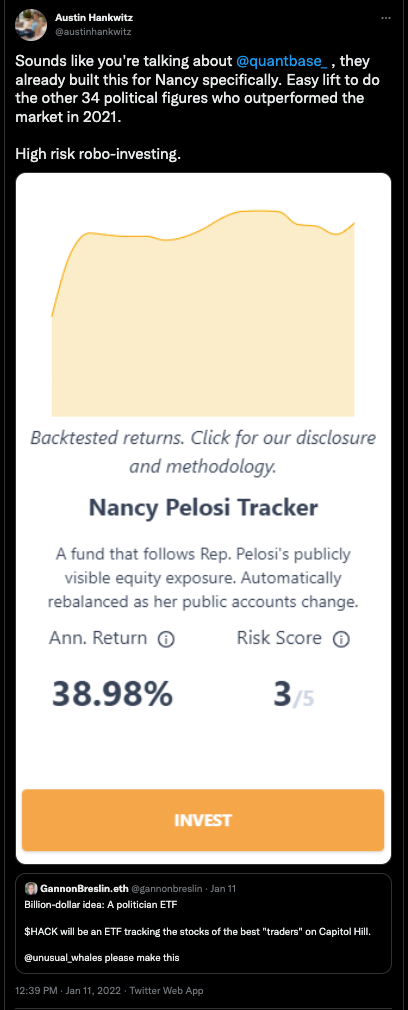 Shazam Khan, a writer at Computer Tech Reviews, mentioned Quantbase in a listicle of the best crypto investing apps to use, writing that "Quantbase is a new, innovative fintech startup [that] is perfect for those who want to invest in high-risk assets but are not comfortable doing so independently (or just don't know how)." 
However, Khan goes into detail on the flaws that hold Quantbase back. "Quantbase is not perfect," wrote Khan, "At .94% of your portfolio per month, it is costly." Khan goes on to state that since the new platform "may have some kinks to work out."
Are there other apps like Quantbase?
While there are other robo advisors and crypto investing platforms, nothing compares to the diversity of assets and unique algorithmic approach of Quantbase. Compared to competitors like Betterment and SigFig, Quantbase strikes the perfect balance between accessibility to investors, low fees, and a variety of algorithmically managed indices that are exposed to alternative and traditional investment assets. It's hard to compare Quantbase with other platforms since Quantbase is one of the first SEC-registered robo advisors that uses sentiment analysis and features algorithmic copy trading of politicians
Quantbase

Fees

Minimum investment

Average returns

Risk Level

Available on

iOS

Android

Review

 
Our hot take on Quantbase
Despite not being the first robo advisor for stocks or crypto, Quantbase offers services that you definitely can't find anywhere else. The platform advertises its investments as high-risk, but that doesn't necessarily mean Quantbase's indices can't fit into even the most risk-averse investor's portfolio. While there are a few low-risk indices on the platform, the main things that'll bring investors to Quantbase are the sentiment tracking algorithms or one-of-a-kind indices like the Pelosi Tracker. 
I'm in! How do I sign up for Quantbase?
1.

Sign up for an account.

To begin signing up for an account, you will need a valid email address and accept the disclosures and terms of use via an electronic signature. You will need to provide information such as your income, employment, tax & citizenship status.
2.

Create an investment profile.

After your account is created, the next step is setting up your profile. First, you will need to answer questions about your investment budget, income objectives, and how you aim to benefit from Quantbase. You will also be asked to provide your desired investment horizon, risk tolerance, and investment categories or asset classes. Finally, the questionnaire will ask for your investment experience and will also request tax documents.
3.

Connect a bank account and start investing.

Once you've filled out the paperwork you're ready to begin investing. The next step is adding a funding source to your Quantbase account by connecting your bank account. After your bank account is connected and you've transferred money to your account, just choose an index and the amount you want to invest. And voila, once the transaction has been processed there is nothing left to do but watch your investment grow and exit your position at your own leisure.
Explore Assets
Click an asset to learn more
Dogecoin
Music Royalties
Tether
Farmland
Wine
Art
Real Estate
Robo Advisor
Gold
Bitcoin
Stocks
Lending
Startups
Ethereum
DeFi
Solana
Oil & Commodities
Polkadot
Metaverse
NFTs
Whiskey
Bonds
Platinum
Sports Cards
Cardano
Ripple
Silver
Watches