Vaulted Review
Vaulted Review: Buy Gold Directly From Your Smartphone
Vaulted makes buying physical gold simple and affordable for the everyday investor

Published Dec 17, 2021•Updated Jun 21, 2022
Commodities & Gold
Balanced Investing
Global Markets
Buying physical gold can be a hedge against financial instability, but it can also be a daunting process. 
Vaulted aims to make the purchase of this precious metal easy for everyone. You can buy gold directly from your smartphone and choose whether to have your gold stored for you at the Royal Canadian Mint or sent to you directly. But, should you use this iOS or Android app to make a gold investment? This Vaulted review will help you decide.
Borrow our cheat sheet
Bonus offer
Buy gold bars stored at the Royal Canadian Mint
Pros and cons
Pros
Buying physical gold takes one click
Choice of how your gold is stored
Cons
Fees for buying, selling, and account maintenance
Only taxable accounts are available
You'll need to buy a full kilo of gold to take advantage of Vaulted's flat fee structure if you want physical delivery
What is Vaulted?
Vaulted is a mobile app that aims to make it easy to invest in physical gold. You can create a Vaulted account after downloading the iOS or Android app and link your bank account. You can also create an account online using their web app. Once you've done so, it takes just a few clicks to buy physical gold.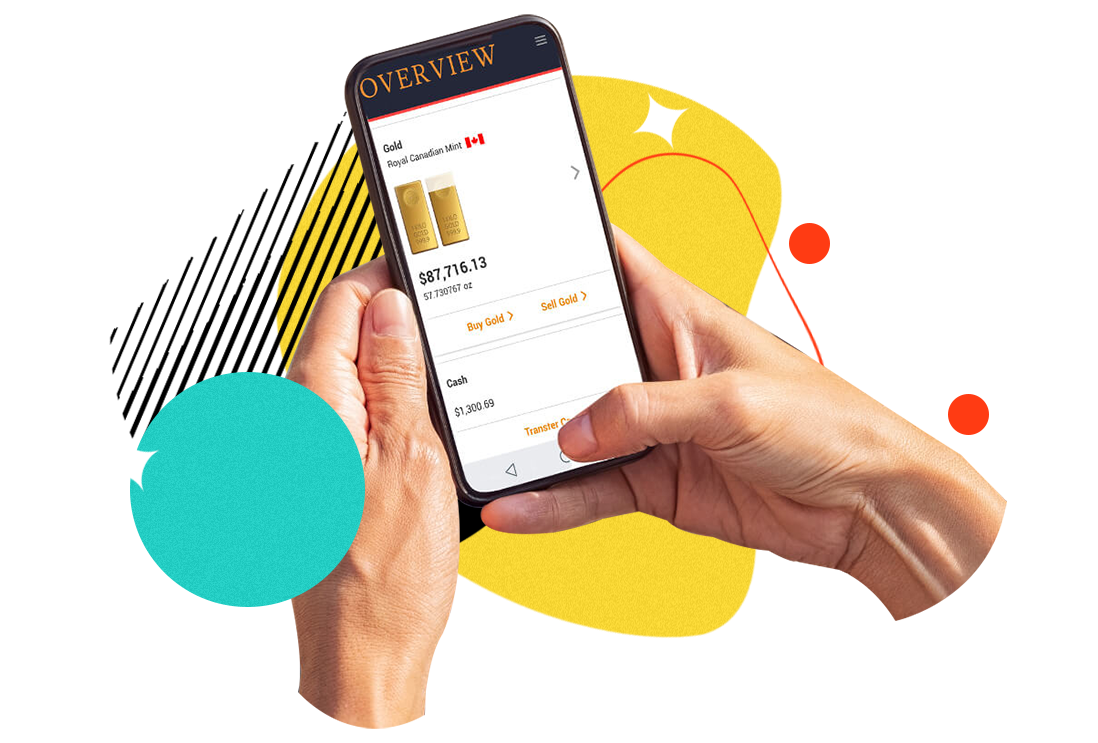 How does Vaulted work? 
Vaulted sources its gold from the Royal Canadian Mint, so all gold that you purchase through the app is 99.99% pure gold kilo bars. The gold is also certified conflict-free. 
After you create a Vaulted account, you can wire money from your bank account or can transfer money directly from a linked bank account to your Vaulted account. You can then purchase physical gold with one click. Your gold is 100% yours, not mixed with anyone else's investments. And neither Vaulted nor the Royal Canadian Mint can lease or use your gold. 
You have the option to store your gold with the Royal Canadian Mint or to have the physical gold sent directly to you or another vault of your choosing. 
Who can invest with Vaulted? 
If you are within the US, you can easily invest with Vaulted by signing up for an account and linking your bank account. If you are outside of the United States, you will need to send an international wire transfer or use Transferwise to buy gold through Vaulted. Additional fees will apply.
Where Vaulted gets it right
Buying physical gold is easy
With Vaulted, there are no complications involved with the purchase of physical gold. You can create an account in seconds, link your bank account and transfer money directly, and purchase or sell gold with one click on the desktop or mobile platforms. 
Also unlike many other online gold accounts, Vaulted allows investors to own physical gold but receive the same capital gains tax treatment as stocks. Other methods of investing in gold may result in the gold being taxed as a collectible, which can be subject to higher capital gains tax rates. 
The minimum investment is low
You can get started buying gold with as little as a $10 minimum investment. This means you can diversify your portfolio by adding physical gold to it even if you don't have a fortune to spend. 
You'll have a choice of how gold is stored
When you buy gold through Vaulted, the Royal Canadian Mint will automatically store your physical gold for you. Your gold is yours even if it is stored at the Mint, and it is not mixed with any other precious metals belonging to other account holders.
You also have the option to request physical delivery and can send your gold to your home, business, or another vault of your choosing. However, you will have to pay shipping and handling fees if you want to have your gold sent to you.
Where Vaulted could do better
You pay a lot of fees
You will have to pay a 1.8% fee both when you buy your gold and when you sell it. You'll also owe a 0.4% annual maintenance fee.  If you want your gold sent to you, you also have to pay a handling cost of $50 per delivery plus $2 per gold kilo bar that is shipped to you and must pay the FedEx carrier fees. 
Although Vaulted indicates these are the lowest costs in the industry, investing fees can add up and lower your returns. That said, you don't have to worry about the storage costs associated with buying and holding gold on your own.
Only taxable accounts are available
Vaulted does not offer IRAs. If you want to invest, you will need to create a taxable account and provide your taxpayer information so Vaulted can alert the IRS if you sell gold. 
Smaller denominations of metal have a different fee structure
Unless you buy a full kilo bar of gold, you will not be able to take physical delivery of your gold while qualifying for Vaulted's flat fee structure. The fees differ for other gold products such as 1/2 -ounce gold coins or 10-ounce bullion and you'll need to talk with a Vaulted advisor to find out exactly how much you'd pay for these other investments.
Can you really make money on Vaulted?
Whether you will be able to make money or not depends on how investors view the value of gold over time. 
Gold has had a compound annual growth rate of 9.25% since 2000. However, while gold has performed better than the S&P 500 at various times in the past, it's underperformed in recent years. Vaulted's fees also reduce the potential returns you can earn, so must be taken into account when evaluating the likelihood of making money using the platform.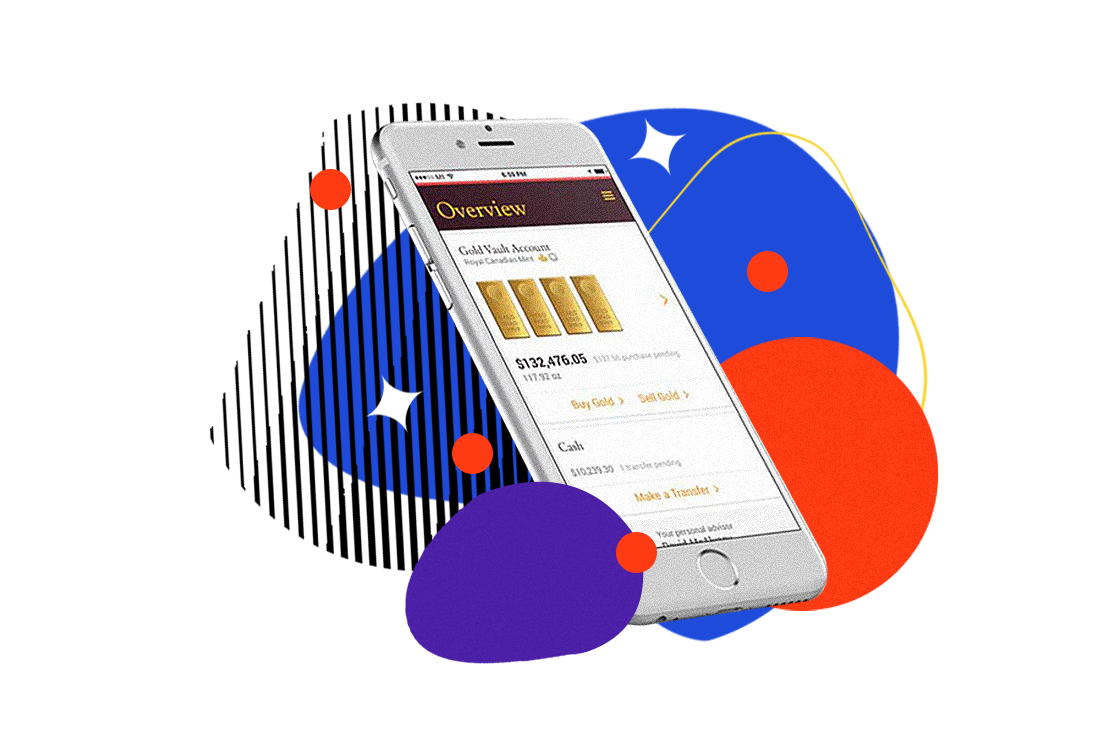 How do I make money with Vaulted?
Vaulted allows you to buy physical gold. You will make money if the price of gold goes up. 
How do I cash out with Vaulted? 
You can sell your gold with one click if you've invested with Vaulted and you store your physical gold at the Royal Canadian Mint. Orders are processed during hours when the New York Stock Exchange (NYSE) is open.  
If you funded your Vaulted account through a wire transfer, you can withdraw funds immediately. If you have funded the account via ACH transfer directly from your linked bank account, you can withdraw your funds after 60 days. You can initiate a transfer of funds by signing into your Vaulted account and visiting the Transfers tab.  
Vaulted vs traditional investing
Many brokerage firms offer commission-free trades of stocks and ETFs, so unlike Vaulted you won't pay a fee to invest in assets with them. However, standard brokerage firms do not generally allow you to buy physical gold, although you can gain exposure to the precious metal by investing in ETFs that track the price of gold.  
Gold has underperformed the S&P 500 in recent years but has had periods of time when it has overperformed it. The performance of your gold investment will vary depending on economic conditions. However, gold can often be a hedge against inflation and economic uncertainty and many investors will find that physical gold has a place in a diversified portfolio of assets.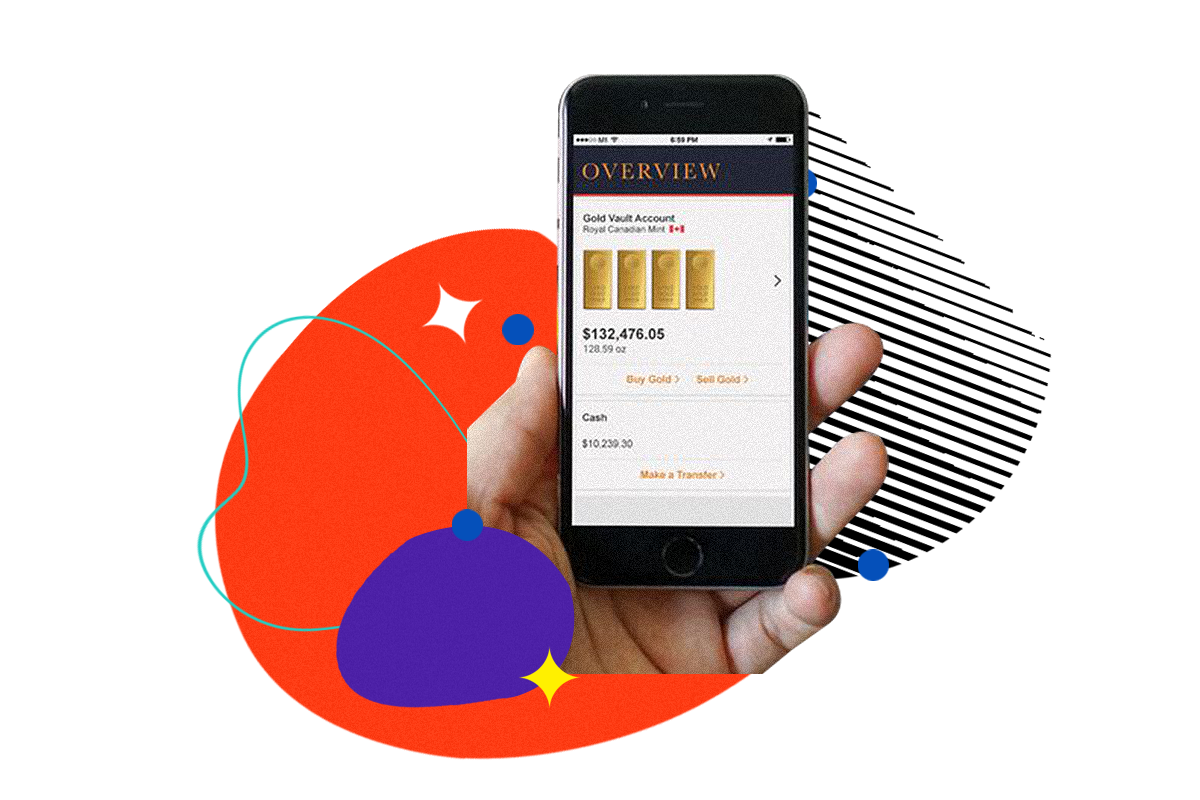 What other people are saying about Vaulted
Vaulted is backed by McAlvany Financial Group and International Collectors Associates, LLC, which has received an A+ rating from the Better Business Bureau. 
The app received 4.7 out of 5 stars on the iOS app store, with some reviewers describing it as "flawless in its ease of use."  However, it received just 3.1 out of 5 stars on the Google Play store, with several users indicating they had difficulty signing up for an account. Some Redditers have also indicated that the app is expensive, especially after adding in fees and shipping costs.
Are there other apps like Vaulted?
Vaulted is one of many investment platforms that allows you to invest in precious metals.  
Glint is another alternative, but it stores your gold in Switzerland rather than Canada. It also has a different fee structure—you'll pay .50% to buy and sell gold, and will also owe a monthly storage fee of .02%. And you can spend gold instantly with Glint anywhere your Mastercard is accepted, which may make Glint more attractive than Vaulted if you don't need the physical gold sent to you. 
OneGold is an option as well, and it offers access to silver and platinum as well as gold. You'll pay a .80% premium to buy gold and your gold will be stored at one of a variety of locations, including the Royal Canadian Mint You can convert your holdings to the physical product via APMEX at any time or sell your holdings 24/7. 
MoneyMade can help you to explore these options as well as more than 180 different investment platforms to find the one that's right for you.
Vaulted

Fees

Minimum investment

Average returns

Risk Level

Available on

iOS

Android

Review

 
Our hot take on Vaulted
If you are interested in buying physical gold, Vaulted is one of the more affordable apps out there to do it. 
However, you will pay a fee when buying and selling gold, as well as when storing it. These fees do eat away at your returns—especially if you're used to working with a discount brokerage firm that has eliminated commission fees. 
The ability to store your gold with the Royal Mint or to have it shipped to you, and the chance to get started investing with just $10, also make Vaulted an easy, simple option if you're just delving into buying precious metals for the first time.
I'm in! How do I sign up for Vaulted?
1.

Sign up for an account with MoneyMade.

MoneyMade allows you to keep all of your investment accounts in one place so you can access your information from a single dashboard. You can sign up for Vaulted through MoneyMade so you can see at a glance how your gold investments fit in with the other assets that make up your diversified portfolio.
2.

Open your Vaulted account.

You can visit Vaulted through MoneyMade and open your account with a few simple steps. You will need to provide your name, address, phone number and an email address and password to open your account. Before you complete any transactions, you'll also need to provide your tax details.
3.

Fund your account

You can link your bank account directly to Vaulted and transfer money to it via ACH transfer. Or you can initiate a wire transfer to move money into your account. Once you've completed this step, you can buy and sell gold with one click through the online platform or a mobile app.
4.

Track your account through MoneyMade

You can visit MoneyMade to keep track of Vaulted and your other investment accounts on more than 160 different platforms.
Explore Assets
Click an asset to learn more
Dogecoin
Music Royalties
Tether
Farmland
Wine
Art
Real Estate
Robo Advisor
Gold
Bitcoin
Stocks
Lending
Startups
Ethereum
DeFi
Solana
Oil & Commodities
Polkadot
Metaverse
NFTs
Whiskey
Bonds
Platinum
Sports Cards
Cardano
Ripple
Silver
Watches