Titan review
Titan was the #1 Ranked Robo Advisor for returns in both Q1 2020 & Q4 2019. Titan is like a hedge fund for everyone. With Titan, you invest into a concentrated portfolio of high-quality stocks with a personalized hedge.
Looking for a detailed Titan Invest review to decide whether it's the right platform for investing in high-performing stocks?
A hedge fund offers many benefits to investors, including potentially above-market returns and portfolio diversification.
However, hedge funds are typically reserved for the ultra-wealthy, owing to the high minimum investment requirements and the high fees.
Titan Invest is an investment app that aims to offer its investors the benefits of a hedge fund without the high fees and high minimum investment requirements.
So how does Titan Invest work and how do you get started with it?
In this detailed review, we explore how Titan's trading platform works, how to get started, its returns, pros and cons and more.
Pros
Low entry cost with a small annual fee

High liquidity (no lockups)

Automated deposits

Personalized hedge services based on individual risk tolerance

Open to non-accredited investors

Can invest with a retirement account (Traditional, Roth, SEP or Simple IRA)

Ranked #1 for returns in Q4(2019), Q1, Q2 and Q3 (2020) by The Robo Advisor
Cons
Open to US investors only

It's a mobile app focused platform; however, Titan is working on a desktop version

Short track record for Titan Opportunities
Investors looking for long term capital appreciation
Investors with limited capital who are looking for hedge fund type investments
Short-term investors (no lock-ins or withdrawal penalties)
What is Titan?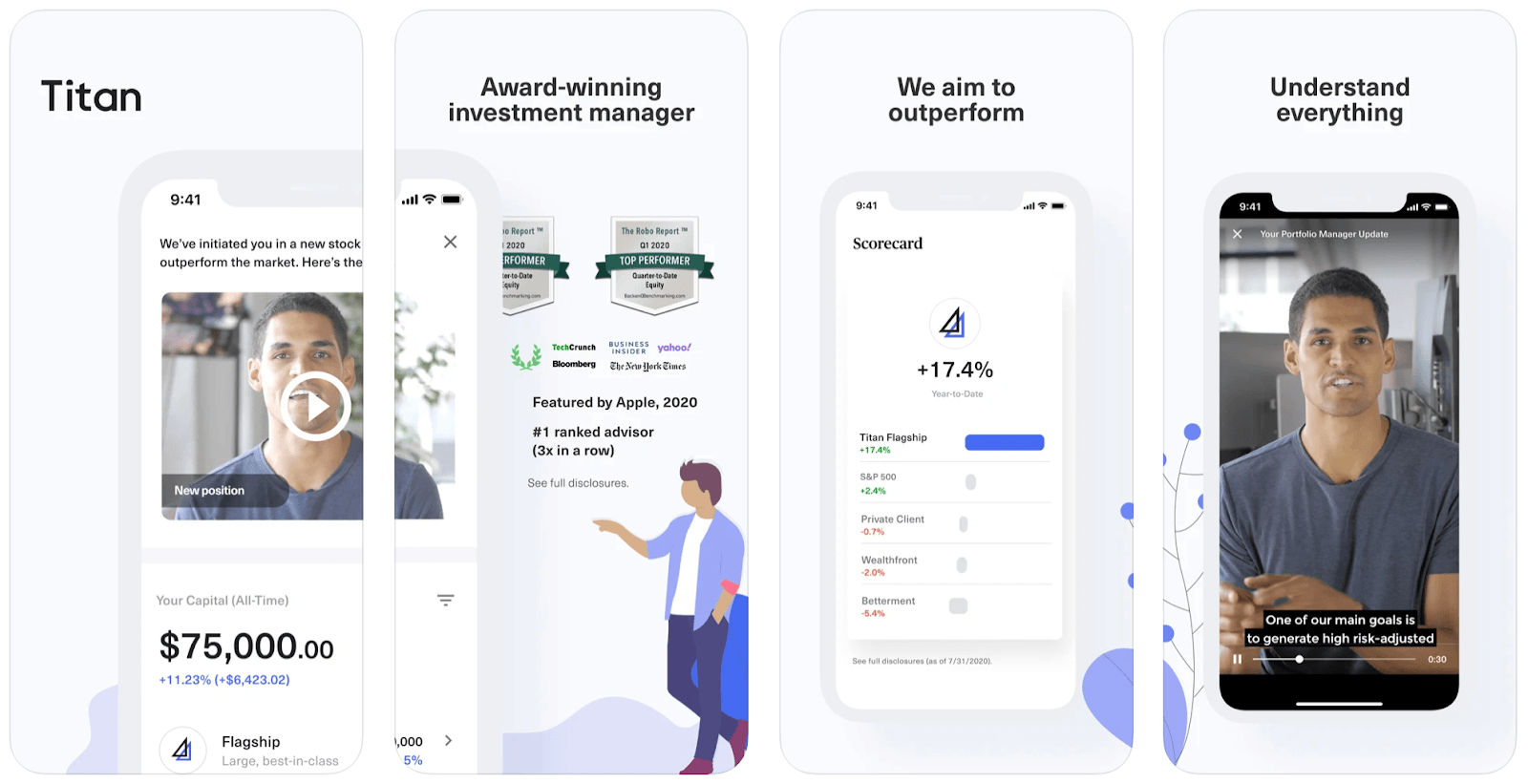 Titan Invest is a New York-based SEC-registered active investment manager co-founded by Clayton Gardner, Joe Percoco, and Max Bernardy in 2018.
Currently, Titan Invest has two investment strategies:
Titan Flagship: Invests in large-cap companies to outperform the S&P 500 index
Titan Opportunities: Invests in small and mid-cap companies to outperform the Russell 2000
Is Titan Invest a Hedge Fund?
No.
Titan keeps investors' funds in individual accounts and personalizes this based on their risk tolerance and investment goals.
Titan is an investment advisor that integrates robo-advising (choosing the top stocks) and personalized investment advisory services (shorting the market based on individual risk tolerance levels.)
Titan Invest offers every investor the ability to invest like a hedge fund. They offer the benefits of hedge fund investing without the associated constraints of a traditional hedge fund, like high entry costs.
Who should use Titan?
Titan Invest's offerings are designed for everyday investors.
However, they cater to different classes of investors:
Growth investors: Long term investors who want to appreciate their capital over time by investing in small and mid-cap companies.
Hedge fund-type investors: Owing to the low entry cost, investors with limited capital with interest in hedge fund-type offerings can invest in Titan.
Short-term investors: Since Titan has no lockups, every investor can freely deposit and withdraw their money. This makes Titan appropriate for those who want to invest in high-growth stocks for a short time.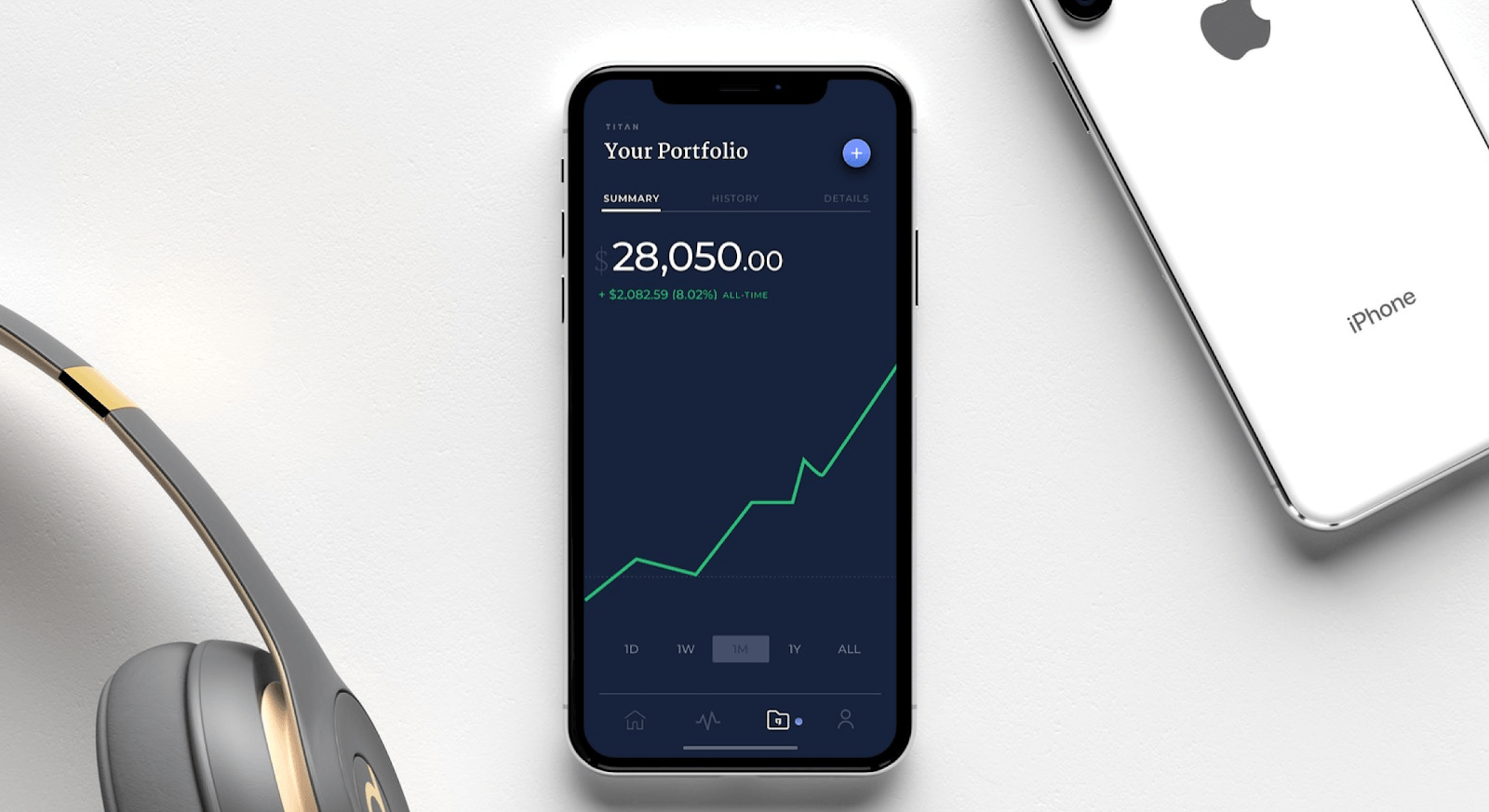 How does Titan work?
Here's how Titan Invest works:
1. Analysis
Titan Invest uses advanced algorithms to analyze filings and track hedge funds with long-term investments.
2. 20 Stocks
Every investment portfolio with Titan holds 20 individual stocks irrespective of the investment strategy chosen. The investors' money is distributed equally among these 20 stocks
If the investor's capital is not enough to buy 20 whole shares of companies, Titan invests in fractional shares.
3. Quarterly Rebalancing
After Titan reviews the latest 13F filings, the portfolio is rebalanced each quarter where some stocks may be removed while others added to help investors garner higher returns.
4. Hedging
Like a hedge fund, Titan shorts 0%-20% of the market to hedge against the market (based on the investors' risk tolerances.)
This minimizes the potential losses if the market drops due to volatility.
Titan uses an inverse S&P 500 ETF (Flagship) and an inverse Russell 2000 ETF to short the market. Both these ETFs (Exchange Traded Funds) increase in value when the respective indices (S&P 500 and Russell 2000) decline in value.
5. Withdrawals
The minimum withdrawal is $100.
Titan takes 1-2 business days to initiate the process of liquidating the amount from your account. An additional 2-4 business days is required to withdraw your money.
Titan Features
Here are some key Titan Invest features:
1. Low minimum investment
Titan lets you start investing with just $100.
Note that there's a higher minimum investment requirement for investing in an automated deposit account or with retirement accounts ($250 and $500, respectively).
However, a similarly managed hedge fund typically requires hundreds of thousands of dollars.
2. Platform security
Investors' data on Titan's website is encrypted using Secure Sockets Layer (SSL) and 256-bit encryption. The invested money is SIPC insured, and the assets are held at Apex Clearing (a third-party fintech custodian).
3. Mobile-focused platform
Titan offers a mobile app for Android and iOS for maximum accessibility.
Titan also offers a lite version for desktop users and they are working on a full-fledged desktop app.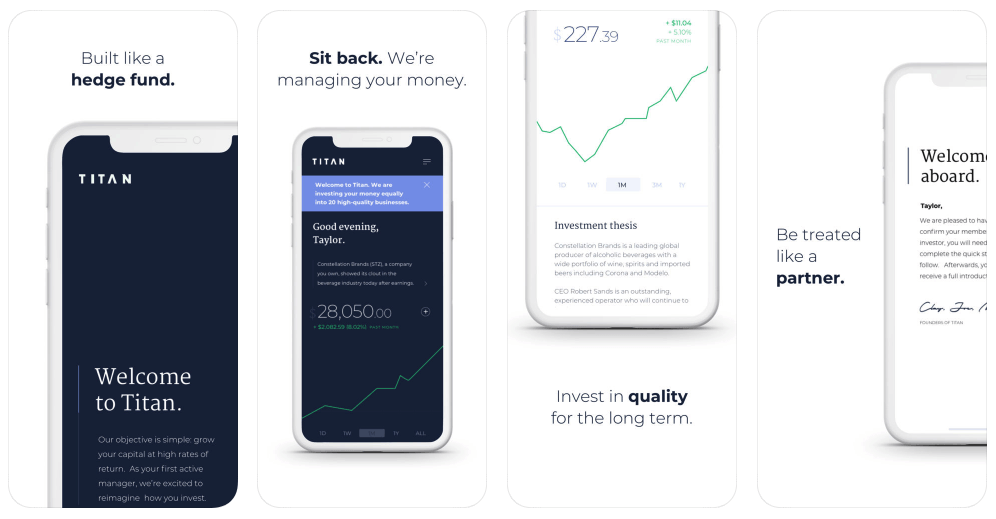 4. Investor resources
Titan's website has a research section with articles on topics related to investing, portfolio management, new investment avenues, stock market investment recommendations, and more.
They also post performance reports of their strategies every month.
5. Integrates with other apps
Titan app lets you integrate your investment account with budgeting and investment strategy apps like Mint and Personal Capital.
Titan also supports Intuit's TurboTax (an income tax returns preparation app) through their partner Apex Clearing. You can use TurboTax Premiere to import your trade history.
Consolidated 1099 forms will be uploaded directly into your Turbo Tax account come tax time. Titan Invest also integrates with H&R Block's tax software.
How to get started with Titan?
Here are two simple steps to start investing with Titan Invest:
Step 1. Create an account (through the app or on Titan's website: https://www.titanvest.com)
You can choose to fund your investment with a taxable bank account or a retirement account.
Step 2. Titan will directly invest your capital into the chosen investment strategy and Titan Invest's investor relations team will onboard you.
Every investor can then get real-time updates about every investment they make.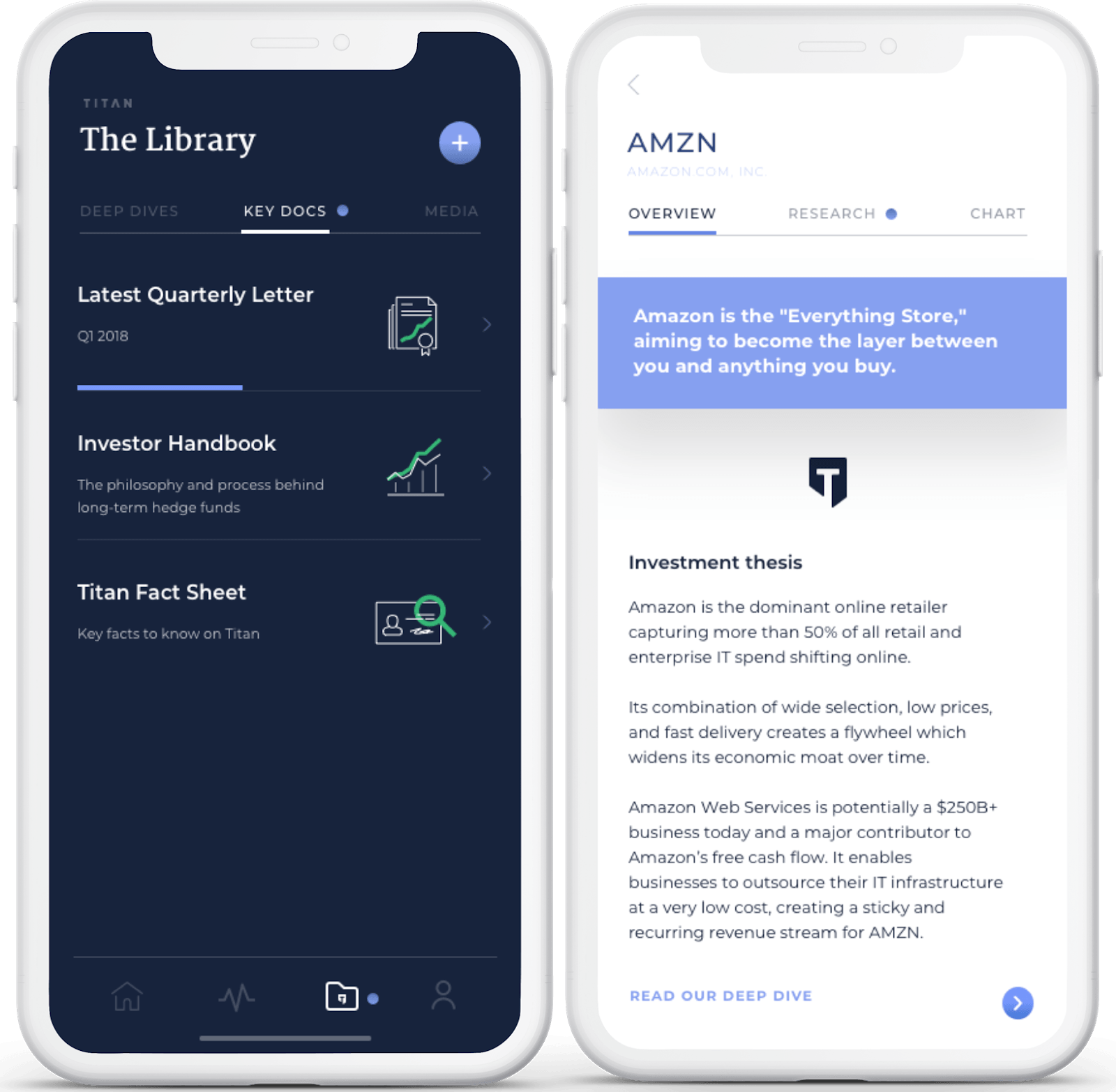 Titan Fees
Titan Invest follows the following fee structure:
1. Fees
If you've deposited $10,000 or more into Titan (net of transfers), you will be charged a 1% annual advisory fee that's paid on a monthly basis.
If you've deposited less than $10,000 into Titan, you will be charged a $5 monthly fee and no annual advisory fee.
Titan doesn't charge a performance fee, trading fee or an electronic statement fee. All deposits and withdrawals are free.
2. Referral Policy
When you open an account with Titan Invest and refer a friend, Titan gives you a 25% discount on the annual advisory fee (once your friend has funded their account.)
If you refer four friends, Titan will waive your annual advisory fee for as long as your account remains open.
Titan Potential Returns
Potential returns would depend on the performance of the stocks that Titan invests in.
Historical Performance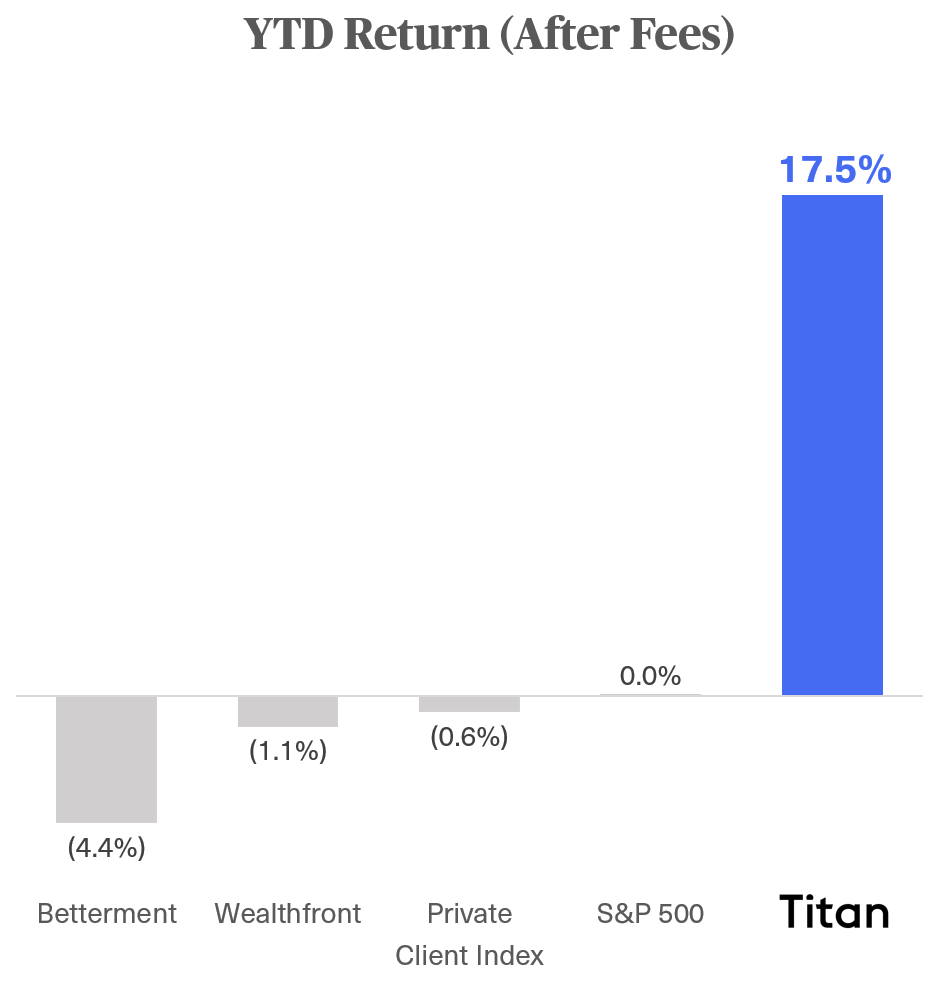 Pros and Cons of Titan
Here are the advantages and disadvantages of investing with Titan Invest:
Pros
Titan Invest is only open to US investors.
Titan charges a lower annual fee compared to its competitors. A typical hedge fund charges a 1.5% management fee and 17% in performance fees.

Additionally, by taking advantage of the referral program, investors can potentially maintain an investment account for free.
Titan Invest offers investors a low-cost entry ($100) with high liquidity (no lockups), making it suitable for an everyday or average investor.
As an investor, you can also opt for automated deposits on a weekly, bi-weekly, monthly basis and custom deposits of at least $250.
Investors' funds are handled separately and can be adjusted according to their risk tolerances.
Titan Invest allows you to invest through Traditional, Simple, SEP or Roth IRA accounts. Investors can also roll over (entirely or partially) an old 401(k) or 403(b) retirement account.
Titan doesn't charge any hidden fees.
Titan has been ranked #1 advisor for returns by The Robo Advisor for 3 consecutive quarters, starting from Q4, 2019.
Cons
Titan Invest is only open to US investors.
Titan Invest invests only in stocks of US companies.
It is a mobile app focused platform. However, they're working on a fully-featured desktop version.
While Titan Flagship has been around for nearly 3 years, the Opportunities strategy is relatively new.
Risks of Investing Through Titan
Before you invest with Titan Invest, you should keep the following points in mind:
1. While Titan Invest does offer some personalization in terms of shorting, the equity investments can't be personalized - you can't choose which companies you want to invest in.
2. Rebalancing is only done every quarter. Unfavorable developments within a quarter may still decrease the value of your assets/portfolio.
Conclusion
This detailed Titan Invest review should help you decide whether Titan Invest is the ideal investment platform for you.
Before investing with Titan Invest, consider their short track record and that it is a mobile-focused platform.
However, Titan Invest is still a good investment option, especially if you aren't an accredited investor and you want to start investing with a minimal amount.
Investing with Titan Invest can not only potentially help you grow your wealth significantly but also protect you from unfavorable developments in the market, thanks to a diversified portfolio and smart hedging strategies.
Earn better returns
Personalized investment opportunities to help 10x your returns