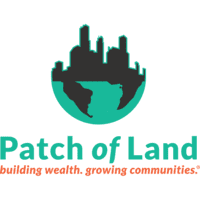 Patch of Land pairs up accredited and institutional investors with borrowers on the platform. Patch of Land specializes in high yield, short term loans backed by collateral.
Overview
Patch of Land is crowdfunding real estate through its P2RE (peer-to-peer) online marketplace offering various typologies of secured real estate debt on assets backed by first position liens and personal guarantees. They match investors and lenders seeking alternative fixed income opportunities to borrowers seeking alternative sources of financing for their real estate investment needs. Patch of Land originates, underwrites and services loans, offering these back to accredited investors through Crowdfunding exemptions of the JOBS Act and SEC regulations: Title II, Reg D 506(c). Patch of Land currently serves accredited, institutional and international investors.
Why Invest
Skin in the game. Patch of Land pre-fund their deals
Use of extensive data and a sophisticated underwriting approach to vet deals
More liquid with short term notes of up to 36 months
How you make money
Patch of Land is a peer-to-peer real estate crowdfunding online marketplace and hard money loan provider that connects real estate developers needing financing to lenders and real estate investors. Patch of Land focuses on 6–24 months real-estate first lien mortgage loans with borrower guarantees.
How Patch of Land makes money
There is no annual fee for investors or borrowers. PoL takes between 1% and 2% of the interest distributions made by borrowers. PoL does not charge transaction fees or campaign success fees like many crowdfunding platforms do. They work much more like a regular loan marketplace and charge fees for property appraisal, closing costs and origination points that are already factored into each deal listed on the platform.
Is it safe?
Fluctuations in the value of the assets that are the subject of any investment are to be expected. Additional risks exist due to a variety of factors, including, but not limited to, leverage, property operations, business risks, management and environmental liabilities. There is a potential for loss of part or ALL of the investment capital, and each investor should understand that all capital invested may be lost. Investors should only consider these investments if they have no need for liquidity and can bear the risk of losing their entire investment.
Things to know
You make money on

Interest

Fees

1.5%

Payout frequency

Monthly

Term of investment

6-12 months

Liquidity

Hard

Open to

Accredited Only
Company
Country availability

Worldwide

Assets under management

Unknown

Established

2013

Mobile Application

No
Investment Return Calculator
Calculate your estimated return to reach your investment goals.
Sign up for free to access all features:
Projected return
$5,304.18
Value after fees
$16,304.18
Any references to past performance, regarding financial markets or otherwise, do not indicate or guarantee future results.
Forward-looking statements, including without limitations investment outcomes and projections, are hypothetical and educational in nature. The results of any hypothetical projections can and may differ from actual investment results had the strategies been deployed in actual securities accounts.