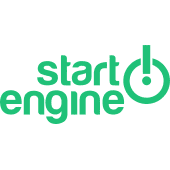 StartEngine is the largest equity crowdfunding platform in the US and the first mover in the industry. They have raised over $400M for over 500 offerings on their platform to date, and have helped more companies raise capital than any other platform.
Overview
StartEngine is the largest equity crowdfunding platform in the U.S., where everyday people can find and invest in early-growth companies and startups. StartEngine has helped companies raise $400M+ from a community of over 500,000 prospective investors. Based in Los Angeles, the company was created in 2014 by Howard Marks, co-founder of Activision, and Ron Miller. StartEngine is committed to revolutionizing the ways companies raise capital through the JOBS Act and helping entrepreneurs achieve their dreams.
Why Invest
400,000,000+ invested through StartEngine
Renowned Businessman Kevin O'Leary joins StartEngine
Over 500,000 prospective investors have joined StartEngine
How you make money
Once you have made an investment in a startup, you will hold private equity in that company. The value of your stake in the company may increase or decrease over time depending on how the company performs. You will receive cash or stock return on your investment if and when a positive liquidity event occurs – for example, as a result of the company going public or getting acquired by another company. Please bear in mind that startup investments are long-term investments that may take years to become liquid, if they do at all.
How StartEngine makes money
In terms of fees, StartEngine only makes money when an offering raises money. We charge 7%* of total capital raised for Regulation Crowdfunding offerings, an additional 2% of what a offering raises in equity, as well as $10K in deferred revenue that we collect when the offering is complete.
Is it safe?
Investment opportunities posted on this website are "private placements" of securities that are not publicly traded, are subject to holding period requirements, and are intended for investors who do not need a liquid investment. Investing in private companies may be considered highly speculative and involves a high degree of risk, including the risk of substantial loss of investment. Investors must be able to afford the loss of their entire investment. Unless indicated otherwise, all securities-related activity on the StartEngine site is conducted by StartEngine Capital, LLC ("StartEngine Capital"), an affiliate of StartEngine and an SEC-registered funding portal and member of FINRA, or StartEngine Primary, LLC ("StartEngine Primary"), an affiliate of StartEngine and a SEC-registered broker-dealer and member of FINRA/SIPC, both located at 8689 Melrose Ave, 7th Floor, Los Angeles, CA 90069.
Things to know
You make money on

Value

Fees

0%

Payout frequency

Asset sold

Term of investment

60+ months

Liquidity

Hard

Open to

All Investors
Company
Country availability

Worldwide

Assets under management

Unknown

Established

2015

Mobile Application

No
Investment Return Calculator
Calculate your estimated return to reach your investment goals.
Sign up for free to access all features:
Projected return
$2,072.44
Value after fees
$9,072.44
Any references to past performance, regarding financial markets or otherwise, do not indicate or guarantee future results.
Forward-looking statements, including without limitations investment outcomes and projections, are hypothetical and educational in nature. The results of any hypothetical projections can and may differ from actual investment results had the strategies been deployed in actual securities accounts.