Luck of the Draw: Will Lucky Block Be the Home of DeFi Gambling?
Cryptocurrency gambling has been around since the dawn of Bitcoin, but can games of chance live completely on the blockchain?
Many companies on MoneyMade advertise with us. Opinions are our own, but compensation and in-depth research determine where and how companies may appear.
You can only do three things with money: save it, spend it, or risk it. Cryptocurrency is largely the same, although you can't really spend crypto at most places without a crypto credit card.
Lucky Block's documentation and website are straightforward on the surface, but their offerings are limited compared to existing blockchain gambling platforms.
Trading cryptocurrencies is basically gambling on prices going up, so buying or selling and hoping for luck is similar to playing games of chance like roulette and blackjack. The problem with gambling is that the house always wins, so why not become the house? This is the main concept behind Lucky Block.
Lucky Block is a crypto lottery platform deployed on the Binance Smart Chain (BSC). Lucky Block aims to provide securer, fairer, and more transparent games of chance to blockchain gamblers around the world. It claims to give players better odds of winning while making it faster and easier to withdraw funds. Lucky Block aims to compete with traditional lotteries by reducing operating costs to allow them to award larger prizes.
LBlock token
The native token of Lucky Block is LBlock and it's used to buy lottery tickets and cash out winnings from the platform. Since Lucky Block only runs on the BSC, LBlock tokens are primarily deployed on the same blockchain and can be traded on the PancakeSwap decentralized exchange (DEX). However, LBlock V2 tokens follow the ERC-20 token standard so that LBlock can also be listed on the LBank crypto exchange.
The main value proposition for holding LBlock is the ability to claim daily rewards based on the number of tokens you hold. Before tickets are drawn, 10% of each jackpot is allocated to be distributed proportionally to all LBlock holders who claim their reward. Lucky Block claims its token distribution is anti-whale and anti-bot so that the reward mechanism for LBlock holders won't be misused or exploited.
LBlock tokenomicsR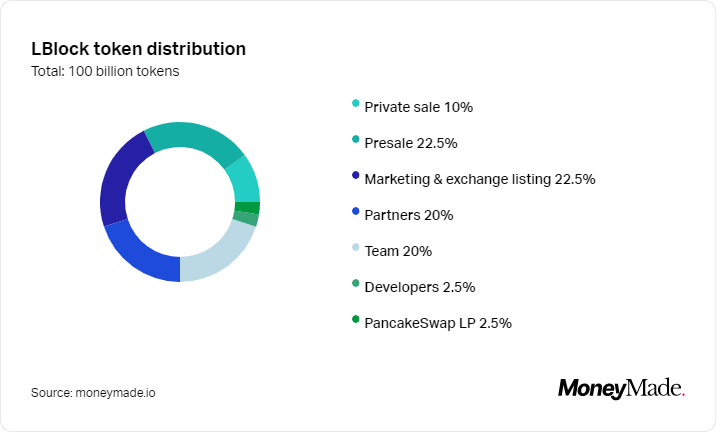 The total supply of LBlock is 100 billion tokens with 32.5 billion already distributed via a sold-out presale and private sales to investors. 10% of the proceeds from the presale launch and 2.5 billion LBlock tokens were deposited into liquidity pools on PancakeSwap. Lucky Block's team and partners are each allocated 20% while its developers are granted a 2.5% allocation. The remaining 22.5% is set aside for marketing and centralized exchange listings.
Lucky Block also implemented a burn mechanism that'll gradually deflate LBlock by taking it out of circulation. LBlock's burning mechanism will ramp up as a higher volume of tokens is transacted in order to sustain the token's price appreciation. Burned tokens will be sourced from 1% out of a 12% transactional tax on DEX transactions—from which prize and liquidity pools each get 4% and an NFT & game development fund gets 3%.
Concerns about Lucky Block
Lucky Block's documentation and website is straightforward on the surface, but their offerings are limited compared to existing blockchain gambling platforms like Decentraland's Decentral Games metaverse casino and the Stake crypto casino. The only thing currently offered by Lucky Block is a crudely designed blockchain lottery app made to onboard new users. The development of Lucky Block's lottery app was outsourced to an Indian blockchain firm Brugu.
Who is behind Lucky Block?
Lucky Block is officially based in the UK, although its website and all documentation list its main company as Cayman Islands-based Block Media Ltd. The Cayman Islands is a British territory and a popular tax haven for financial services companies and it's known for having a lax anti-money laundering (AML) regime.
Block Media Ltd was incorporated in England and it's not uncommon for crypto companies to do business from more favorable jurisdictions, but it's unclear why their address is located where online gambling is illegal while their nominal location is in a country where it is legal. The Lucky Block whitepaper does explicitly express the regulatory uncertainty of crypto, but it doesn't address the legal implications of gambling, seemingly to distance itself from the concept.
Lucky Block Team
Fortunately, the whitepaper also includes the names and positions of Lucky Block's team members as well as the names of advisors and collaborators. Four out of Lucky Block's five c-suite executives either used to work at or are still employed by Finixio, a London-based marketing firm that is also Lucky Block's biggest partner. Aside from at least one web developer, most of Lucky Block's team have backgrounds in marketing and sales.
The fact that Lucky Block outsourced the development of their flagship product isn't necessarily a good sign. They certainly have resources when it comes to promoting the platform as evidenced by their well-designed website and intricately detailed documentation, but their main decentralized application (dApp) is not as impressive. More importantly, the limited functionality of the Lucky Block app and the low utility of the LBlock token is currently the young project's biggest falling point.
Conclusion
Lucky Block must develop a more robust blockchain gambling ecosystem in order for it to be sustainable. Since Lucky Block uses Ethereum-based smart contracts, there are certain limitations to the complexity of gaming applications they can build on the BSC blockchain. Lucky Block's biggest challenge will probably be building dApps that can engage gamblers in an increasingly competitive environment.