Markets Report: Week of November 15, 2021
NFTs reach Saturn, top coins plateau and a singular icon goes IPO.
Many companies on MoneyMade advertise with us. Opinions are our own, but compensation and in-depth research determine where and how companies may appear.
Stocks
Real Estate
Crypto
NFTs
Wine
Startups
Sports Cards
Gold
Farmland
Whiskey
NFTs had another banner week. Trading volumes on OpenSea soared (+38%), and Bored Ape Yacht Club continued to convert new zealots. Volume for the collection mooned another +263% as more celebrities dove headfirst into the rocketship. With growth in the space also comes social scrutiny: research emerged in the past week that more than three quarters of NFT sales go to male creators.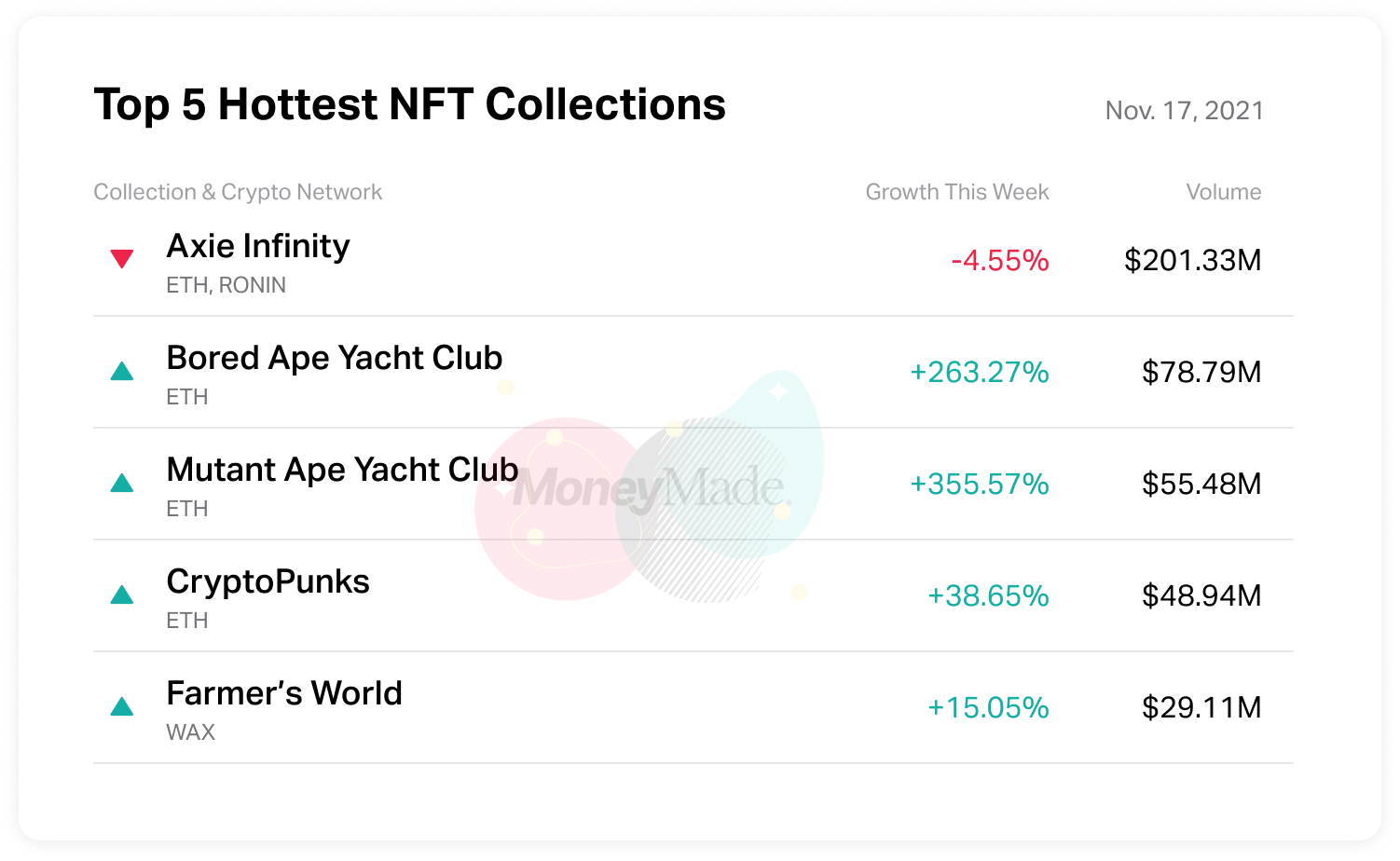 Celebs & Bored Ape Yacht Club
Timbaland

announced

virtual entertainment company Ape-In Productions that will "promote Bored Apes as successful artists in the metaverse." (Variety)

Jimmy Fallon jumps on board the NFT trend with

purchase

of Bored Ape #599 for 46.8 ETH, equivalent to a quarter million dollars.

Universal Music Group

plans to create

virtual Bored Ape band, Kingship, proving Damon Albarn and the Gorillaz to be the ultimate trendsetters.
While trading volume increased last week, the top three largest coins lost value (BTC -5.46%, ETH 4.76%, BNB -5.17%), and total crypto market cap slipped -6.13% to $2.74T. The light selloff continued into this week, with Bitcoin and Etherum both down under a percentage point at time of publication.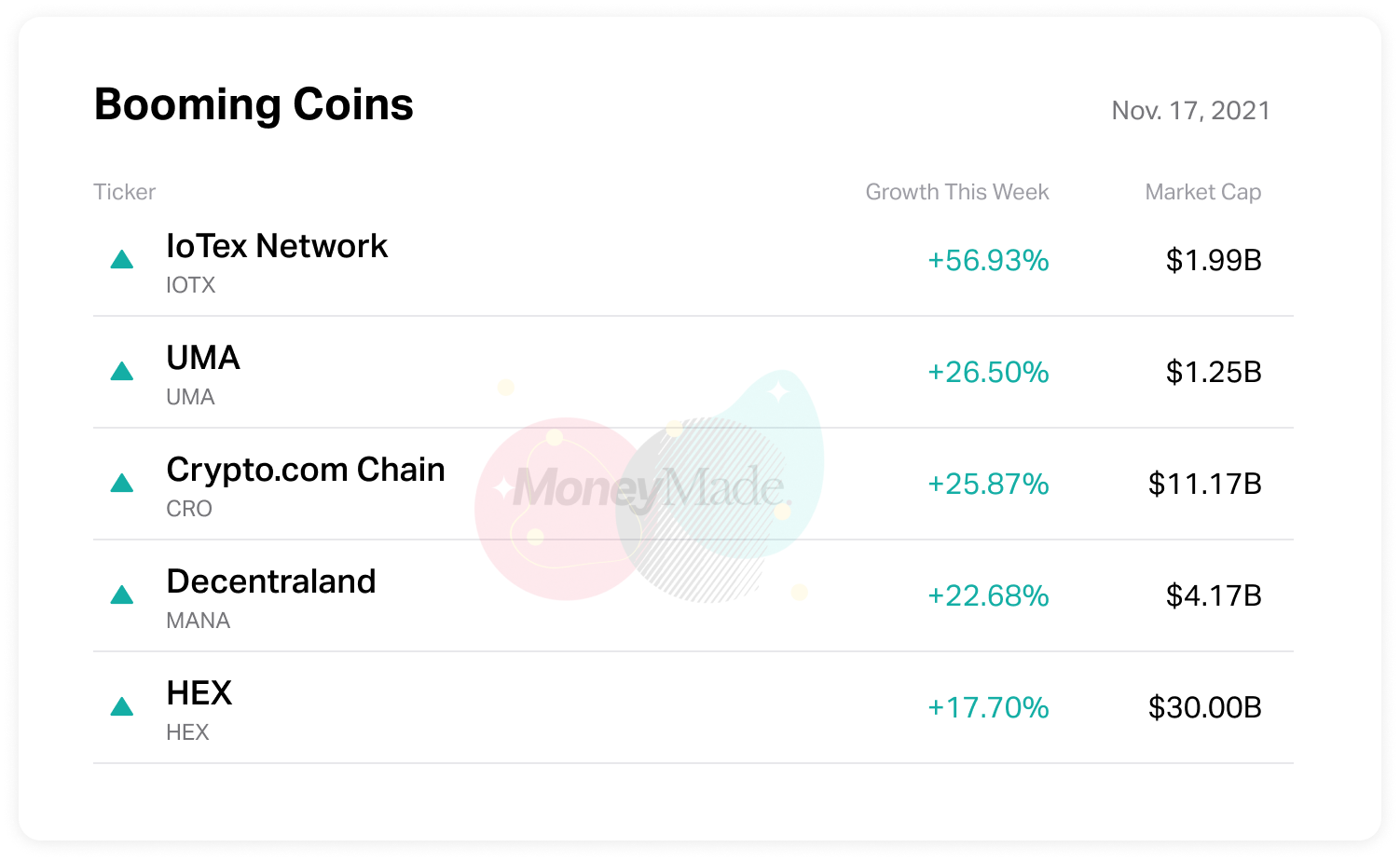 Trending Crypto Stories
Investors moved away from stocks last week in favor of assets like gold (up 5% in the past month) that have historically been safeguards during inflationary times. And while inflation is up, so is consumer spending—Home Depot and Walmart both reported higher sales in their earnings report. So far, stocks are trending up this week on the positive retail news.
And in case you missed it, EV maker Rivian went public last week in the biggest IPO since Facebook in 2012.
More on stocks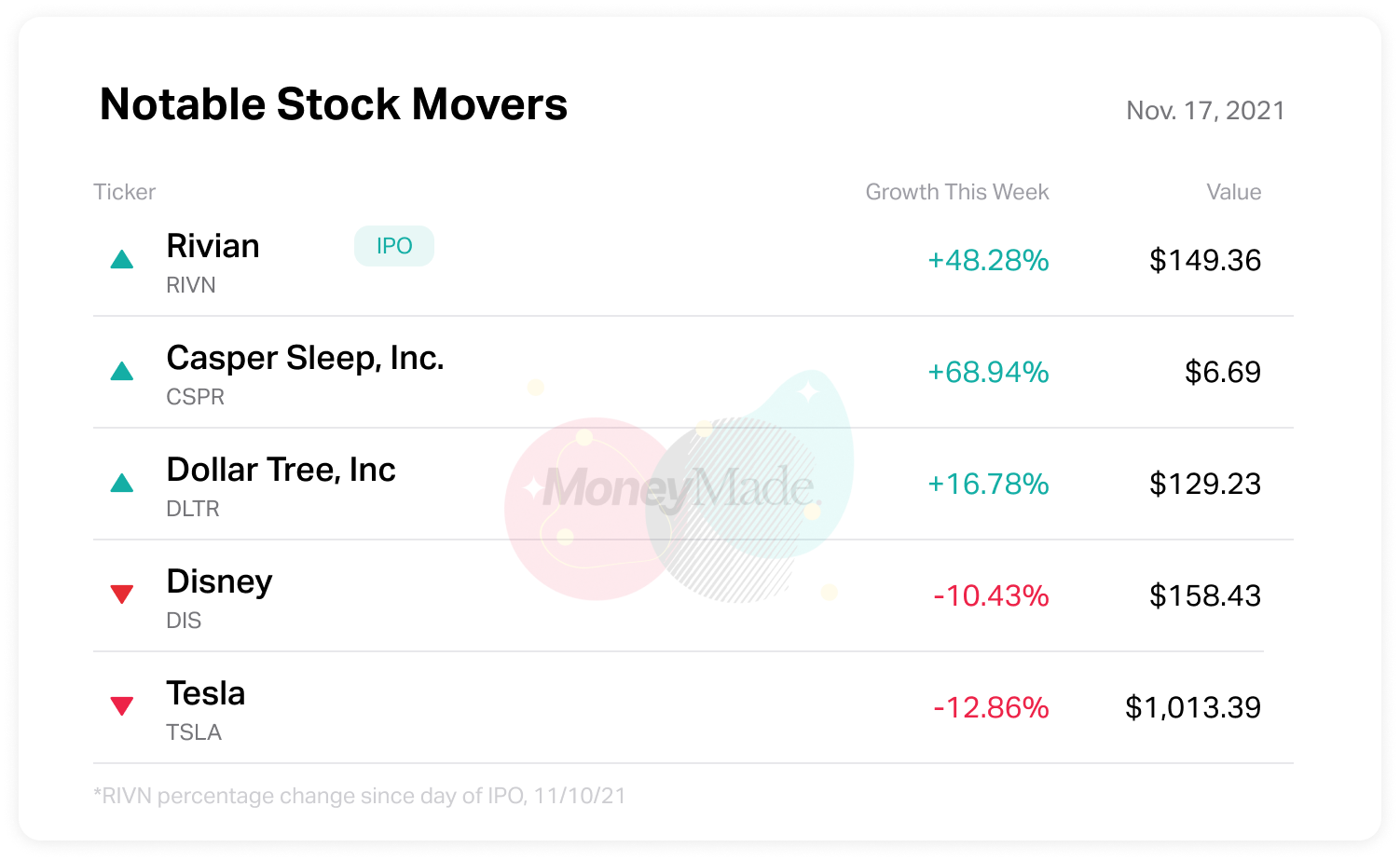 The food's hot right now. Late-stage salad startup Sweetgreen goes public this week at a planned valuation of $2.5 billion. On startup exchange Republic, island-inspired fast-casual joint Hawaiian Bros sold out $2.5 million in funding. This week, foodtech startup Miso Robotics is closing a $2 million Series D round. Shares are available with a minimum investment of $950.
Sports Cards (Basketball +0.61%)
Card indexes were flat on the week, with all but soccer moving less than 1% (Basketball +0.61%, Baseball +0.42%, Football -0.42%, Soccer -1.50%, Hockey -0.18%). It's possible that the market is stabilizing toward the end of the year after growing more than +250% through the first six months (PWCC 500), with cards setting records at auction nearly every month. This week, shares of a Serena Williams rookie card go live for purchase on fractional investing platform Rally.
In industry news, sports card investing platform Alt closed $75 million in Series B funding and announced plans to expand to other asset classes. With card companies Topps and Fanatics both planning to go public soon, there's no shortage of investor interest in the space.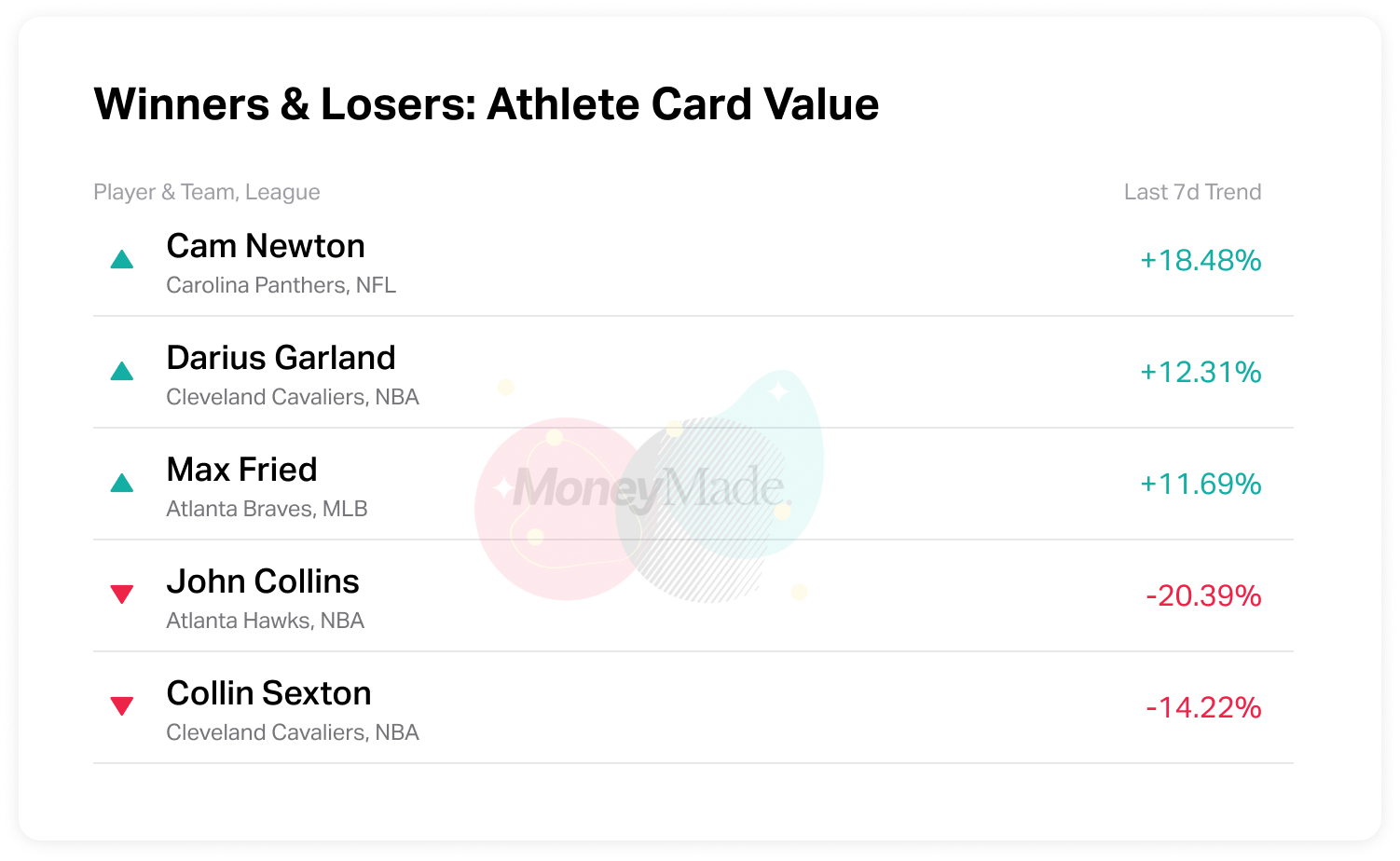 Fine wine trading platform LiveTrade published research this week that showed Italian wines (+20%) outpaced growth versus wines from the Bordeaux region of France (+14%) over the past year, indicating a new sector for investors to investigate. In industry news, wine and spirits investing platform Vint raised $1.7 million in seed funding to grow their business, which enables both accredited and non-accredited investors to buy into high-grade alcohol.
In the public markets, Diageo stock is up 10% in the past two months as it bets big on China, pouring (pun intended) $75 million into a new distillery in the People's Republic.