Slimy Seconds: Guide to The Nickelodeon NFT Marketplace
Your favorite childhood cartoons are making their foray into the metaverse. Here's what the Nickelodeon NFT hype is all about.
Many companies on MoneyMade advertise with us. Opinions are our own, but compensation and in-depth research determine where and how companies may appear.
Collectibles are arguably the broadest asset class you can invest in, with art alone having an estimated global value of $1.7 trillion.
Just like how Recur...transported Millennials back using digital collectibles, they hope to do the same for boomers with callbacks to fan favorites like Star Trek and The Godfather.
Non-fungible tokens (NFT) are one of the fastest-growing collectible markets, with the top five NFT marketplaces collectively handling $154 million+ in assets this past week according to Dapp Radar. But while many collectors are taking advantage of the speed and convenience of blockchain, non-fungible tokens have struggled to break out of the crypto niche. This is, however, beginning to change as major companies start doing business in the metaverse.
We've seen large brands make their presence known in Decentraland and the Sandbox, but we've also seen brands build dedicated NFT marketplaces that cater to web3 audiences, such as NBA Topshots on the Flow blockchain. Nickelodeon is the latest brand to embrace the metaverse, and here's how they're doing it.
What is a Nickelodeon NFT?
Nickelodeon NFTs are officially licensed digital profile picture (PFP) collectibles based on retro Nick cartoons. The first Nickelodeon NFT collection to be sold on the Nickelodeon.xyz NFT marketplace debuted 10,000 unique portrayals of Rugrats and Hey Arnold! characters. The Nick NFT drop was powered by Recur, an NFT studio that enables brands in sports, T.V., and film to enter the metaverse.
Recur pass
The Rugrats and Hey Arnold! NFT sale was available to holders of the Recur Pass before the public sale. Recur Passes are a collection of 70,435 programmatically generated NFTs that give holders early access to Recur NFT drops and metaverse experiences. You can purchase them on the Recur Pass marketplace to access future Recur NFT drops.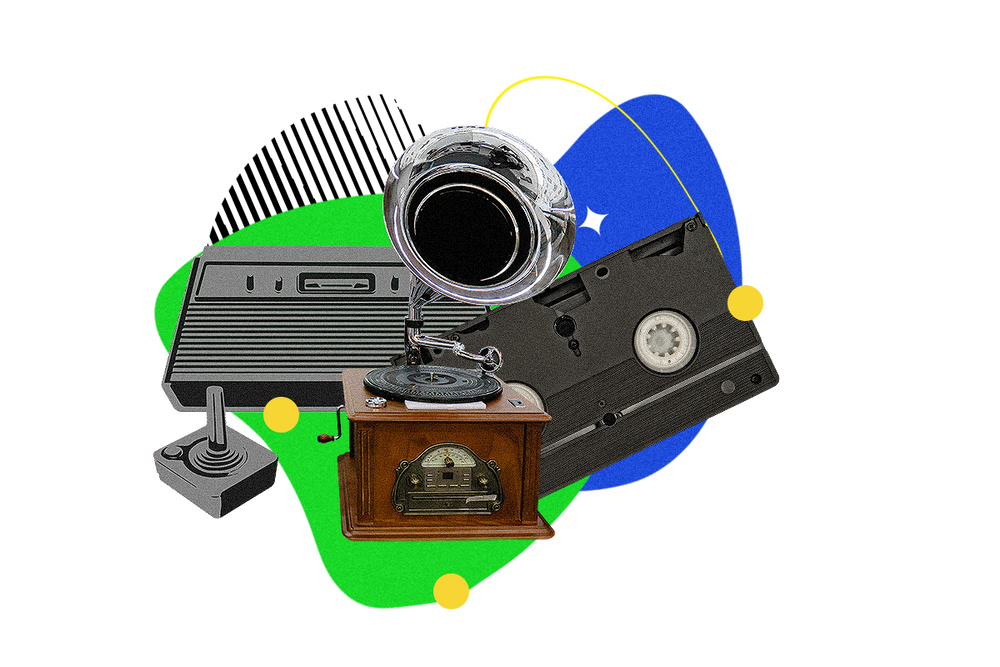 Nostalgia is a seductive liar
Is nostalgia a winning bet?
TV packs
To mint a Rugrats or Hey Arnold! NFT, you must first purchase a Nickelodeon TV Pack NFT. Each TV Pack contains a random PFP NFT of one of 12 characters enjoyed by Nick fans worldwide and they're redeemed by opening the pack.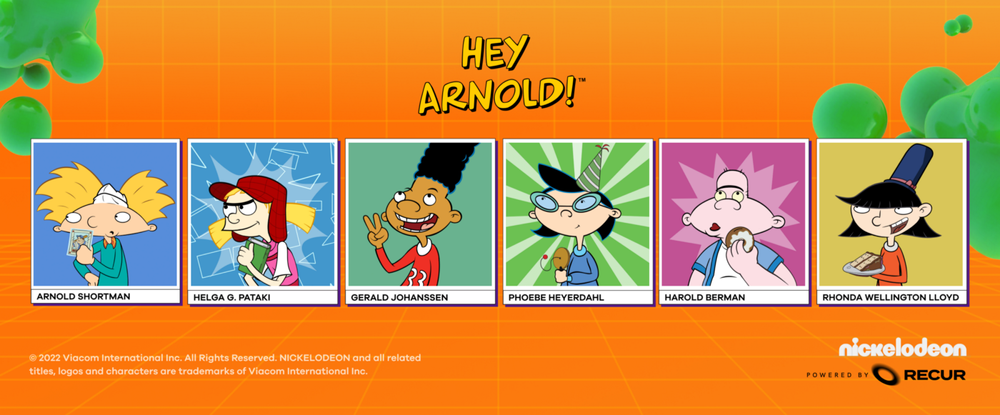 Source: recur.medium.com
There are a total of 10,000 TV Packs with 500 additional packs set aside for promotional purposes. TV Packs started at $50 but the few that are left are currently on sale for $225 on the Nickelodeon.xyz secondary marketplace.
Nickelodeon NFT rarity
Each Nickelodeon PFP NFT gets a slime score based on the rarity of its attributes. For instance, one NFT of a Rugrats character can have a higher slime score if they're wearing less common accessories like party hats, holding rare items like a toy Reptar, or have a particular background design. The cartoon's hand gesture, facial expressions, and costumes also contributes to the NFTs rarity. The Hey Arnold! characters in the collection are Arnold, Helga, Gerald, Harold, Phoebe, and Rhonda and the Rugrats characters are Tommy, Angelica, Chuckie, Susie, Phil, and Lil.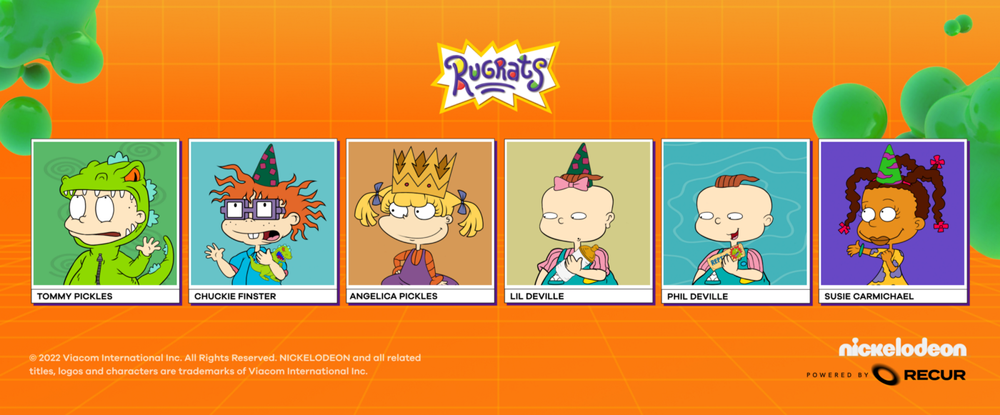 Source: recur.medium.com
Splat Factory
Each Hey Arnold! or Rugrats NFT can be redeemed for Slime NFTs equal to their slime score. This is called the Splat Factory and the benefit of sliming your Nickelodeon NFT— burning the PFP NFT in exchange for Slime—is that there are only 5,000 Slime NFTs and they have the added utility of minting an even rarer NFT. You can either earn slime this way or buy it on the secondary market.
Source: recur.medium.com
Mashups NFTs
If you're able to muster together 10 Slime NFTs, then you can use them to mint a super rare Mashup NFT. Mashups are a collection of 500 PFP NFTs depicting one Hey Arnold! character mixed with one Rugrats character. The Mashup collection is 36 fun new versions of characters like Tommy and Arnold from Nick fans' favorite childhood moments in front of the T.V.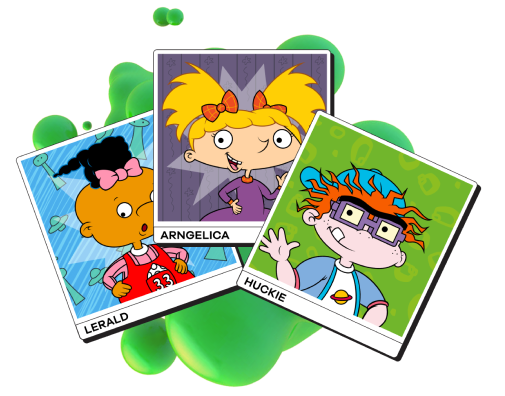 Source: Nickelodeon.xyz
Where to buy Nickelodeon NFTs
Nickelodeon NFTs are throwbacks that bring fans back to nostalgic moments of enjoying Nick cartoons, so there's no question why the TV Packs NFT drop sold out in a matter of minutes. The Rugrats and Hey Arnold! NFT collection already breached the top 1000 on the Opensea NFT marketplace and with the floor price at $142 on the Nickelodeon.xyz marketplace.
While the Nickelodeon marketplace accepts fiat and several cryptocurrencies, you could get better deals on Slime and Nick PFP NFTs by purchasing them with ETH on Opensea. Also, look out for other Recur drops featuring your favorite Paramount Global cartoon franchises.
Recur's roadmap hints toward other collaborations that bring back other franchises from our best childhood memories like Hello Kitty and Teenage Mutant Ninja Turtles. Just like how Recur's retro Nickelodeon experience transported Millenials back using digital collectibles, they hope to do the same for boomers with callbacks to fan favorites like Star Trek and The Godfather.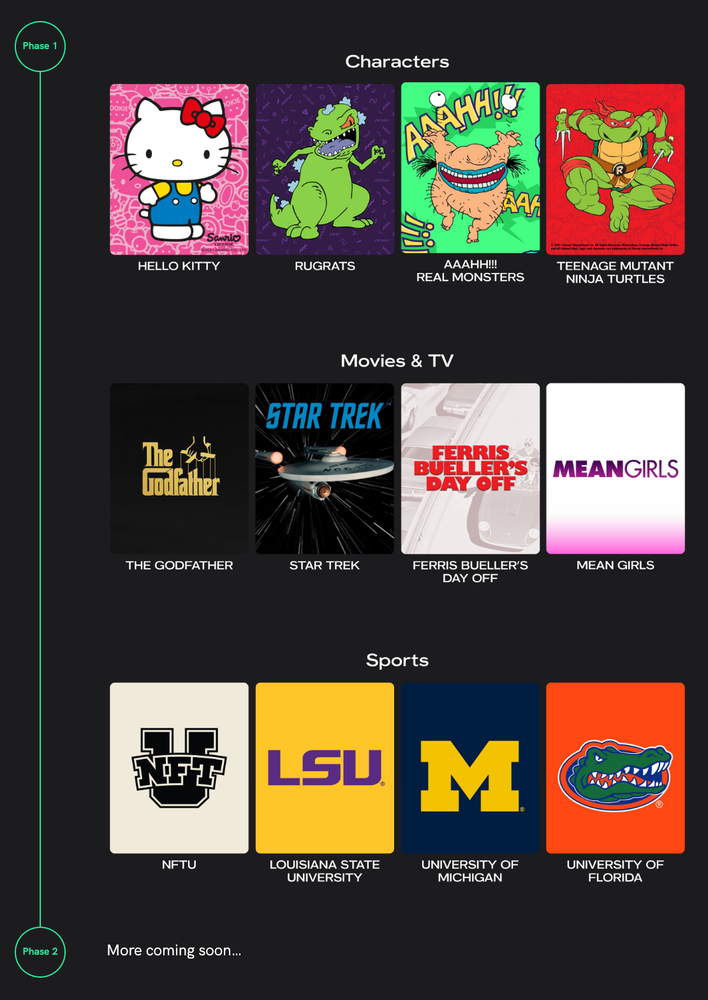 Source: recurforever.com
College sports fans should also keep an eye on Recur because they have partnerships with the University of Michigan (Go Wolverines!) and the University of Florida (Go Gators!) in store. The success of the Nickelodeon drop demonstrates what the Recur platform can achieve.
Web3 has introduced a whole new way to sell digital products and collect virtual memorabilia. Recur is just one company working to make Web3 simpler and more accessible with a frictionless marketplace, but they might have cracked the code on how to harness pop culture to make blockchain mainstream. Partnerships between metaverse companies and major brands lend credibility to the NFT asset class and make them more exciting to collect.
Find your next investment