The Future of Fitness: What Are Move-to-Earn & FitFi?
Everybody wants health, wealth, and happiness. Move-to-earn apps can fill your pockets with money and help you live longer. Here's how.
Many companies on MoneyMade advertise with us. Opinions are our own, but compensation and in-depth research determine where and how companies may appear.
Beginner

Health & Wellness
Balanced Investing
According to the Centers for Disease Control and Prevention (CDC), more than 60% of U.S. adults don't engage in the recommended amount of physical activity (15-30 minutes daily). And 25% of U.S. adults aren't active at all.
By now we all know that physical activity has a positive effect on our health, reducing the risk of major illnesses like cardiovascular diseases, cancer and diabetes. But physical activity also has indirect benefits.
But with the rise of play-to-earn games that reward users in cryptocurrency for playing games, it was only a matter of time before move-to-earn apps emerged.
For one, the estimated medical cost of adult obesity in the US ranges from $147 billion to $210 billion per year. An increase in walking, running, or cycling can also lower traffic congestion and reduce vehicle pollution. And finally, physical activity is known to improve mood, self-esteem, and cognitive functions, which in turn increases overall productivity.
As a society, we've tried various methods for incentivizing physical activity by offering rewards. There are tax exemptions for employers who provide employees with sporting facilities. Insurance companies sometimes offer discounts to customers for going to the gym. There are even contests with prizes for reaching certain fitness milestones, like losing a few pounds.
The problem with these reward systems is that they're either indirect (employer tax exemptions), too long-term to appeal to the masses (insurance discounts), or only offer a one-time payout (contests). Blockchain technology has some new, potentially more effective solutions.
FitFi and Move-to-Earn (M2E) are the latest crazes in crypto, with leading apps like STEPN blowing up 2,586% in the last month alone. Intrigued? Here's what you need to know about this growing niche and the top apps that'll pay you to get up off of that chair and move.
Paying people to move is not a novel concept. Sweatcoin, for instance, is an app that has been rewarding users for walking since 2018. Users are paid in reward points called sweatcoins, which they can exchange in-app for goods and services like fitness apparel, nutritional products, gadgets, entertainment subscriptions, yoga memberships, and so on. The issue is that users can't actually cash out their sweatcoins or make money off of them.
But with the rise of play-to-earn games that reward users in cryptocurrency for playing games, it was only a matter of time before move-to-earn apps emerged. These FitFi apps reward users in cryptocurrency for simply moving around or engaging in fitness-related challenges. And these cryptos can in fact be cashed out for fiat money.
How do move-to-earn apps work?
Move-to-earn is still a young category, with many of today's apps having the same mechanics. These include:
Relying on GPS and cellular signals to track a user's movement. If the signal is choppy, then there's no guarantee that the user will earn rewards.

Utilizing a dual token system. One token is used to reward users, while the other token is used to govern the protocol.

Requiring users to make an initial investment (e.g. buying an NFT sneaker) to begin earning rewards.

Creating FOMO by limiting the number of users who can join.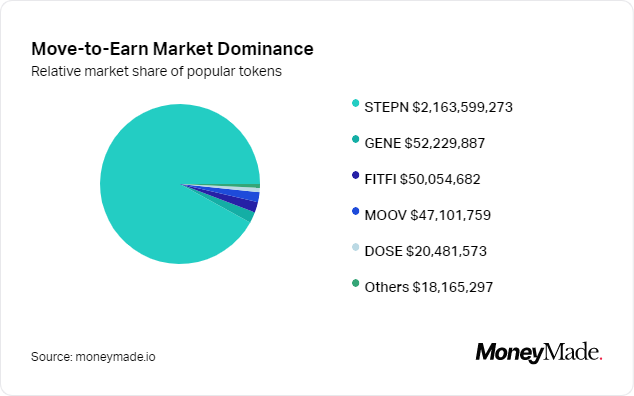 The move-to-earn category was basically unheard of only a month ago. Since then, close to a dozen apps have been listed on CoinMarketCap and CoinGecko. Most of them, however, are still small-cap projects (sub-$100 million market caps). STEPN is the only move-to-earn token to reach the billion-dollar mark thus far, accounting for over 90% of crypto's FitFi industry. In other words, it's still early days in this niche.
Let's examine the most popular players in the move-to-earn space.
STEPN
Key details:
Blockchain: Solana

Token(s):

$GST for rewards

$GMT for governance

Price: $3.93

Market cap: $2 billion

Circulating token supply:

600,000,000 GMT

3,597,242 GST
As mentioned above, STEPN is currently the most valuable and well-known project in FitFi, responsible for coining and popularizing the term "move-to-earn". In terms of physical activities, STEPN can be used for walking, running and jogging. And before you can start earning money with STEPN, you need to fork over anywhere from 11.9-150 SOL ($1K-$13K) on an NFT sneaker. But before you can even earn that privilege, new users need to secure one of a limited number of activation codes generated daily. What a hassle.
Step App (FITFI)
Key details:
Blockchain: Avalanche

Token(s):

$FITFI for governance

$KCAL for rewards

Price: $0.571644

Market cap: $50 million

Circulating token supply:

170,000,000 $FITFI

N/A $KCAL

Step App is the first move-to-earn app on Avalanche and probably the most direct competitor to STEPN, covering the same physical activities and also requiring users to buy NFT sneakers (called SNEAKs). The project does distinguish itself by prioritizing decentralization and being community-funded via DAO Maker. Like many move-to-earn projects, Step App is still in beta, with users needing to refer friends to earn rewards.
Genopets (GENE)
Key details:
Blockchain: Solana

Token(s):

$GENE for governance

$KI for rewards

Price: $13.43

Market cap: $52 million

Circulating Token Supply:
Genopets is the first move-to-earn NFT game on Solana. You can think of it as the Axie Infinity of FitFi, where users can breed and battle monsters called Genopets all the while earning tokens for taking steps. Best of all, the game is free-to-play. Do note, however, that gameplay priority is given to users who own a Genesis Genopet or have staked GENE tokens.
Dotmoovs (MOOV)
Key details:
Blockchain: Ethereum

Token(s): $MOOV

Price: $0.03865402

Market cap: $47 million

Circulating token supply:
Now Dotmoovs is fundamentally different from every other FitFi app on the market. Instead of basing rewards on steps, Dotmoovs users earn money by engaging in fitness challenges like freestyle soccer and dancing. What's more, Dotmoovs doesn't assign fixed per-person rewards but uses artificial intelligence (AI) to judge and reward users based on the quality of their performance. And did I mention it's free?
OliveX (DOSE)
Key details:
Blockchain: Ethereum

Token(s): $DOSE

Price: $0.112232

Market cap: $20 million

Circulating Token Supply:
OliveX isn't a single app, but a whole free-to-play move-to-earn ecosystem. OliveX's edge over other FitFi players is its partnership with The Sandbox (SAND), the second-largest metaverse as of writing this. OliveX offers workout challenges through games like Dustland Runner, Dustland Rider, 22 Pushups, where users earn rewards for running, doing push-ups, cycling and so on. The only downside to OliveX's partnership with The Sandbox is that users are going to have to wait for Sandbox season 3 to try out these metaverse experiences.
Wirtual (WIRTUAL)
Key details:
Blockchain: BNB Smart Chain

Token(s): $WIRTUAL

Price: $0.711162

Market cap: $3.4 million

Circulating Token Supply: 5,640,000 $WIRTUAL
Wirtual is a hybrid move-to-earn app, offering both free-to-play and paid fitness challenges like running, swimming and dancing. And in terms of differentiation, Wirtual primarily targets users in South Asian countries like Thailand, Indonesia, Vietnam and the Philippines.
Step (STEP)
Key details:
Blockchain: BNB Smart Chain

Token(s):

$STEP (potentially for governance)

$BNB for rewards

Price: $0.02681622

Market cap: N/A

Circulating Token Supply: N/A
As the name implies, Step rewards users for taking steps but also burning calories in general. It's unique among other move-to-earn projects in that it doesn't reward users in its own native token, but in the BNB coin. That could be a big plus for users who are worried about the value of FitFi tokens plummeting.
But on the negative side, users must own a minimum of 18k Step tokens to be eligible for rewards. Not to mention, there's a 5% buy tax and a 15% sell tax on Step tokens. Finally, users can earn a maximum of $10 per day after completing 30k steps, which is good or bad depending on how you look at it.
Sure, $10 is pretty low. But allowing users to earn hundreds of dollars per day might not be sustainable either, both physically and from a business standpoint.
Is move-to-earn the future of fitness or just a fad?
With the growing popularity of fitness tech like the Peloton (PTON) stationary bike and the Mirror home gym, move-to-earn applications are likely here to stay. Overall, move-to-earn applications motivate users to get healthier and fitter (in theory) by making physical activity more fun and financially rewarding.
But move-to-earn tokens or NFTs come with a few risks unique to this burgeoning sector, mostly having to do with a lack of sustainability as these projects grow.
For starters, profiting off the appreciation of move-to-earn tokens will become increasingly difficult as more users keep cashing out their earnings, adding tons of downward price pressure. And this scenario would be made worse if scammers found a way to exploit these apps by using bots to earn rewards.
What's more, many of these move-to-earn applications require significant upfront investments. As these apps become more popular, their associated NFTs and tokens are bound to price out average users. Apps like STEPN, however, are attempting to solve this by allowing users to rent sneaker NFTs in exchange for revenue sharing.
Another problem with move-to-earn's growing popularity is that the rewards earned per user will inevitably decrease. Once the token rewards are so low that they're not even worth it, users will abandon these projects en masse.
At the end of the day, most users can only expect to earn a few dollars per day with move-to-earn apps since their reward rates tend to be pretty low. Splurging on a level 30 NFT sneaker on STEPN, for instance, is one way to potentially boost your daily earnings into hundreds of dollars. But be prepared to spend 50X more on a sneaker NFT than you ever will on real-world trainers.