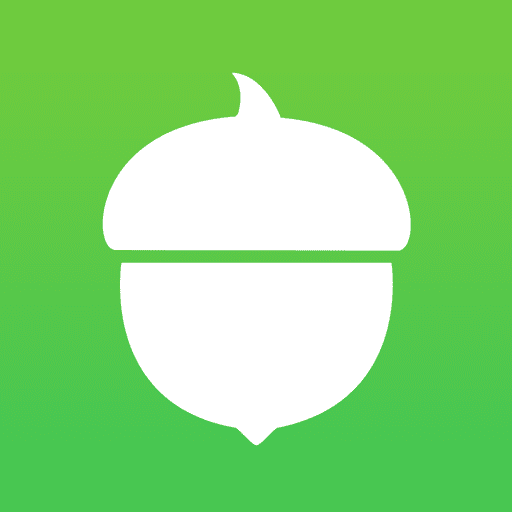 Acorns
Invest in your future with today's spare change
Looking for an Acorns review to help you weigh the pros and cons of investing through the platform?

Between seemingly endless expenses and limited paychecks, it can be tough for most people to find enough money for savings and investments.

Luckily, with Acorns, spare change and a few minutes are all you need to get started.

Acorns is an investment platform geared towards everyday Americans who have limited time and capital for investing.

In this Acorns app review, we'll go through what Acorns is, how to get started, the kind of returns you could expect, and more.
Investment type
Micro-ETF investments
Minimum Investment
No minimum investment requirement.
Annual Fee
Ranges from $1- $5 a month
Annual Returns
Results vary according to your selected portfolio.
Average Liquidity
High. Investors can cash out at any time.
Open to investors outside the US?
No. Acorns is only available to US residents.
Best for
New investors looking to develop healthy financial habits

Investors with an eye on long-term, passive investing

Investors looking to save for retirement and their family's future
What is Acorns?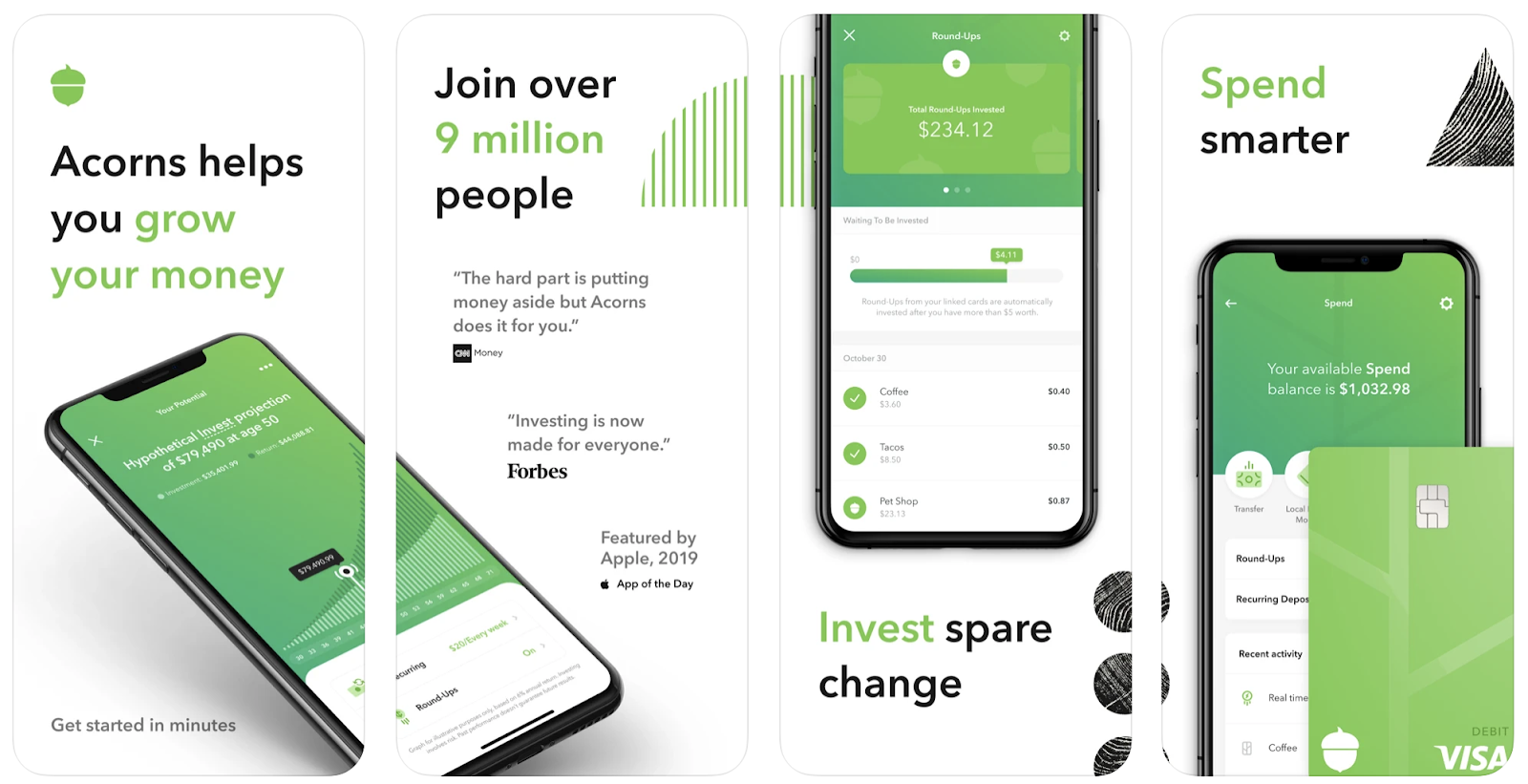 Launched in 2012, Acorns is a micro investing app and robo-advisor designed to help you improve your ability to save and invest.
The platform primarily focuses on investing your spare change by rounding up your purchases to the nearest dollar and investing the spare change into an ETF (exchange traded fund).
For example, if you bought coffee for $2.75, Acorns will round that up to $3 and invest the difference. Investors are free to link as many credit cards or bank accounts as they want and select which purchases to round up.
Who should use Acorns?
Acorns is an ideal investment platform for:
New investors - Acorns is an excellent investment app for millennials and young investors. It's an easy way to develop healthy financial habits, and the long-term nature of Acorn's investments suit anyone who wants to benefit from compounded returns over a longer period.
Investors looking for a more passive form of investing - If you don't want to deal with a financial advisor or simply want to automate your investing, Acorns is a good platform for you.
Investors looking to save for retirement and their family's future - Acorns lets you invest in an IRA and set up a custodial investment account for your children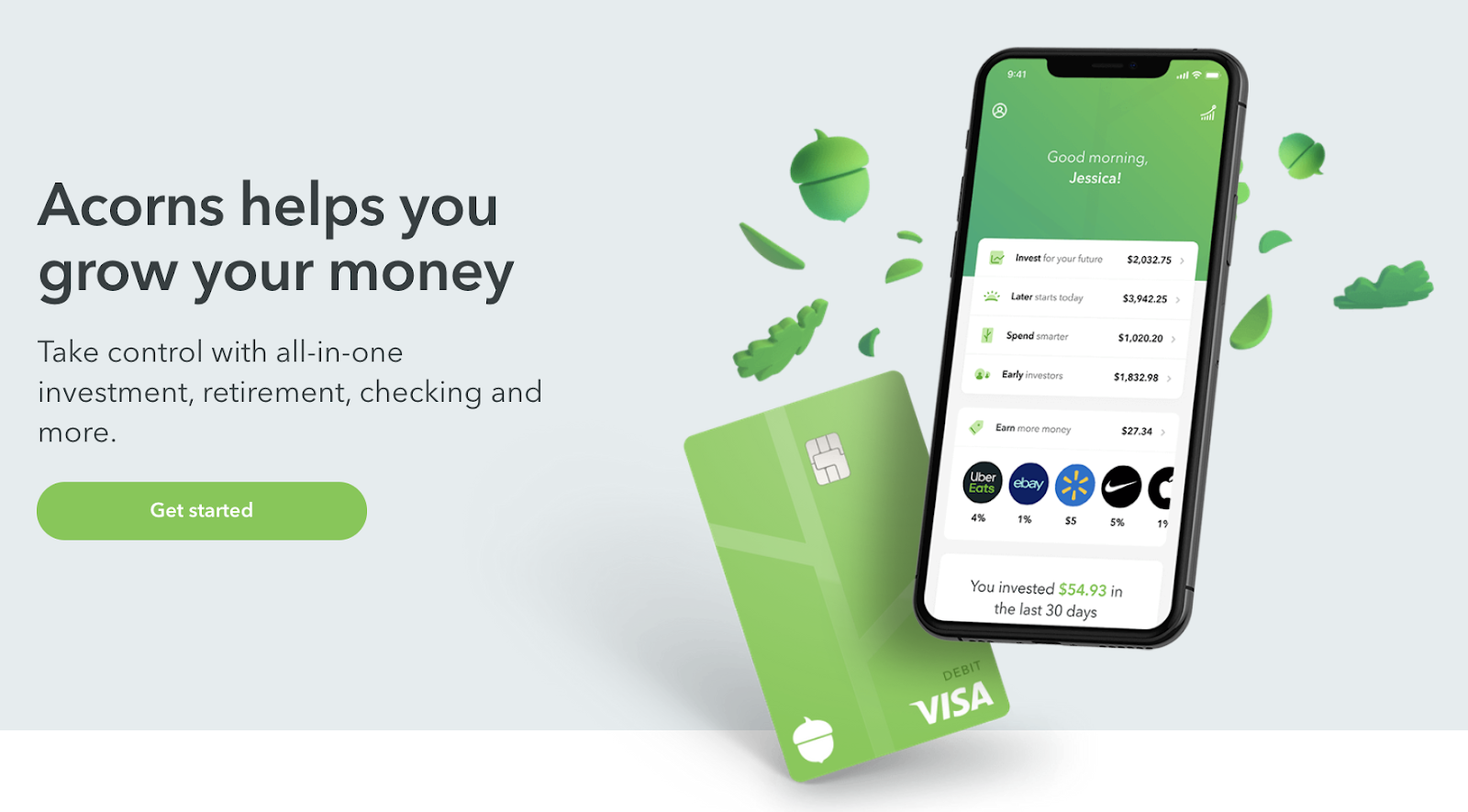 How does Acorns work?
1. Acorns rounds up your transactions and invests the difference
By linking your credit or debit card to Acorns, the platform analyzes your spending habits and rounds up your transactions to the nearest dollar. You have the option of rounding up only certain transactions or having them all rounded up.
When your round-ups reach at least $5, the platform will transfer that amount from your bank account to your Acorns account and invest it into your selected Acorns portfolio.
2. Boost your investment with deposits
You can make automatic daily, weekly, or monthly investments or even deposit a one-time lump sum. You can also choose to set multipliers to double or triple the change from your purchases.
Acorns then takes your spare change and invests it into an ETF that spreads your investment across various asset classes. Acorns automatically invests every dollar in a diversified portfolio of over 7,000 individual stocks and bonds geared towards long-term returns.
3. Acorns invests your money into your selected portfolio type
Depending on which type of invest account you chose, Acorns takes your money and splits it up among different ETFs.
Investors can choose from five portfolio types. The portfolios have been designed with help from Nobel prize-winning economist Dr. Harry Markowitz and structured with ETFs from well-known investment management firms like Vanguard and BlackRock.
Pick from the various accounts according to your desired asset class and risk tolerance:
Conservative - Short term government bonds (40%), ultra-short-term corporate bonds (40%), ultra-short-term government bonds (20%).
Moderately conservative - Large company stocks (24%), medium company stocks (4%), international company stocks (12%), government & corporate bonds (60%).
Moderate - Large company stocks (35%), medium company stocks (5%), small company stocks (2%), international company stocks (18%), government & corporate bonds (40%).
Moderately aggressive - Large company stocks (47%), medium company stocks (6%), small company stocks (3%), international company stocks (24%), government & corporate bonds (20%).
Aggressive - Large company stocks (55%), medium company stocks (10%), small company stocks (5%), international company stocks (30%).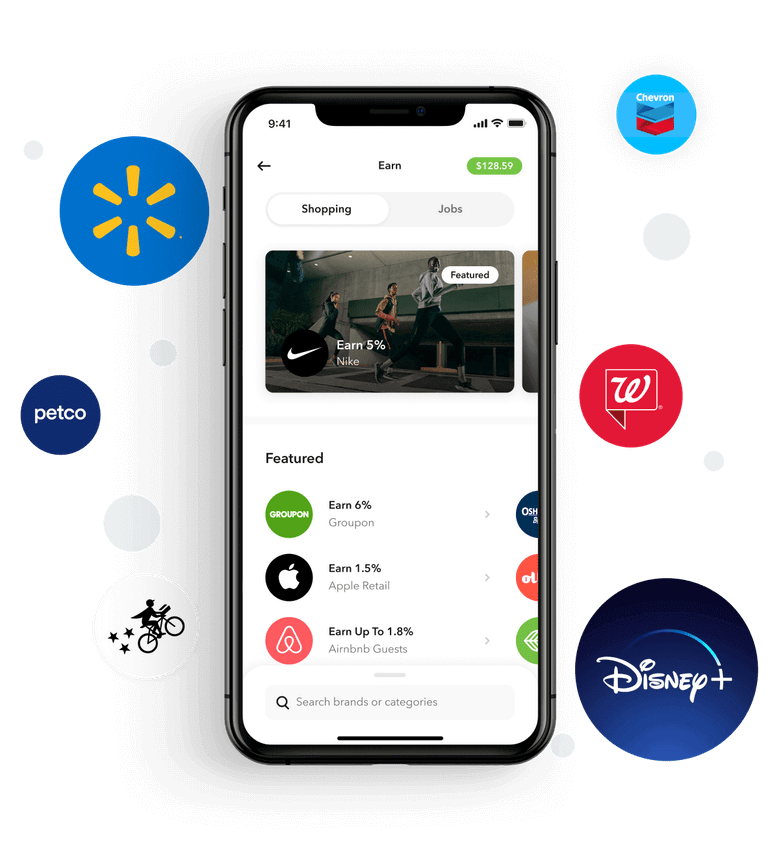 4. Investors then earn quarterly dividends
As a result of these micro-investments, it may take some time before you start noticing returns. However, Acorns automatically reinvests the dividends you've earned back into your portfolio to create compounding returns.
As a result, the longer you hold your investment, the greater your returns are likely to be.
Acorns features
Here are Acorns' key features:
1. Round-ups
With Acorns, it's never been easier to start investing. The platform can automatically invest all the spare change generated from your purchases.
You can link as many cards or accounts to your Acorns account as you like. Further, if you have the Acorns Spend checking account, all transactions will automatically be rounded up and invested.
However, you can manually choose how much and when to invest if you prefer.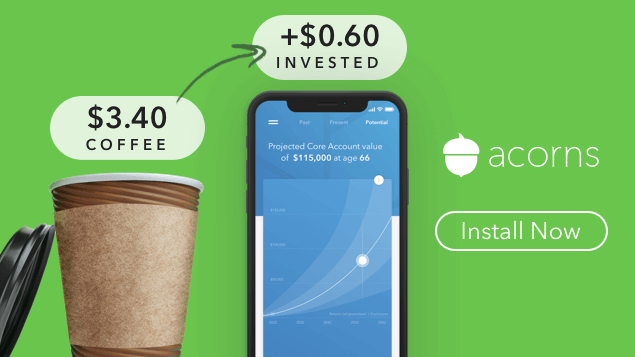 2. Earn More Money
Acorn Earn helps you earn money as you shop through their rewards program so that you can save and invest more. Formerly known as Found Money, you can use their Chrome browser extension or app to automatically receive bonus investments when making everyday purchases with their 9,000+ partners.
Some of their partners include Airbnb, Walmart, Nike, and Sephora. These rewards are typically invested into your Acorns investment account between 90 and 120 days after making a purchase.
3. Acorns Early
If you're a young parent or are looking to start a family soon, you can open a custodial investment account for your children called Acorns Early. You have the option of investing a minimum of $5 a day, week, or month.
4. Acorns Later
Acorns Later allows users to invest in a specially designed IRA account (individual retirement account). With an automatic recurring deposit, you can start saving for your retirement with as little as $5 at a time.
5. Automatic rebalancing
Acorns will automatically maintain your desired portfolio allocation. Every time you deposit or withdraw funds, Acorns will automatically adjust the proportions of the purchased ETFs to ensure your account stays within its targeted allocation.
How to get started with Acorns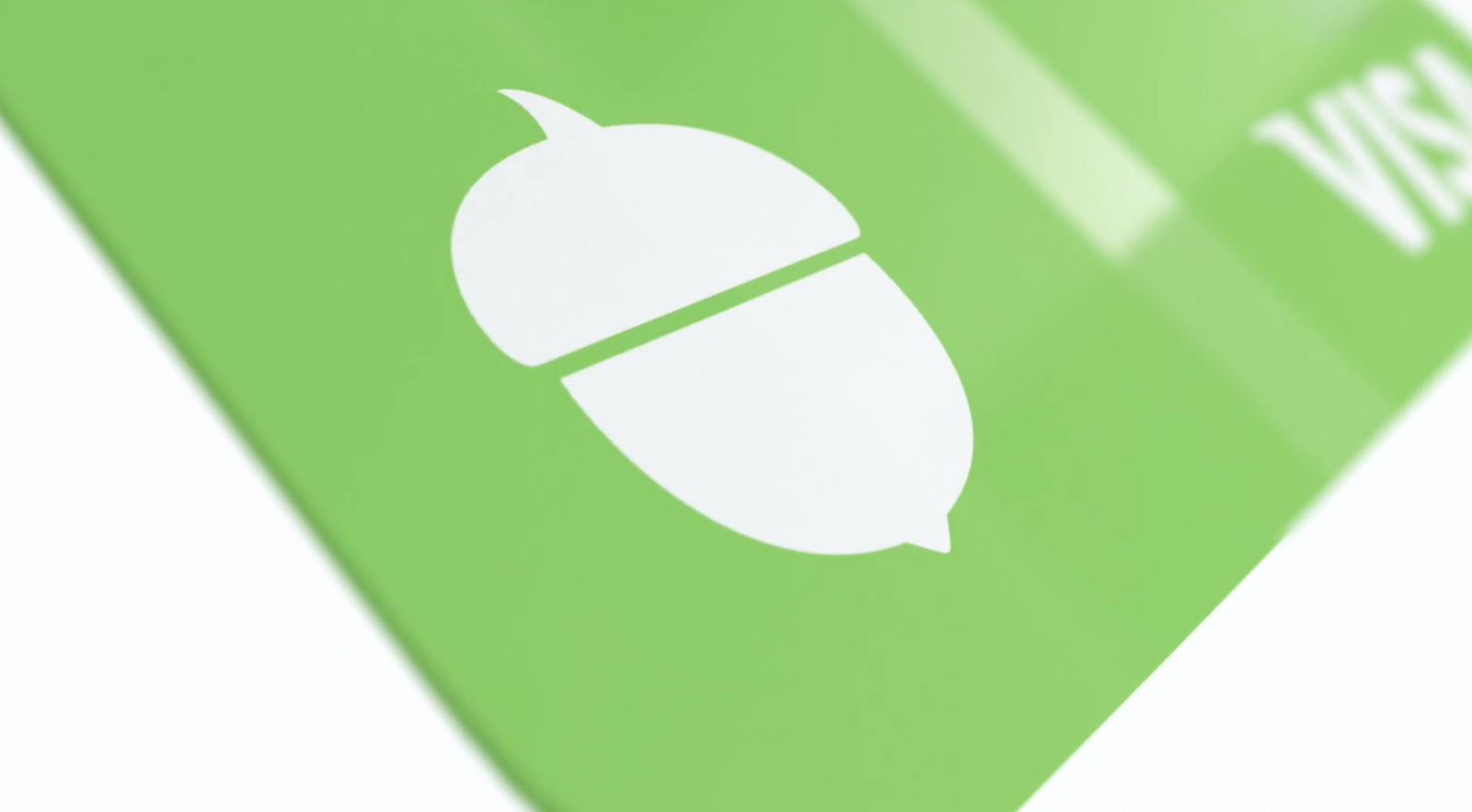 Signing up for an Acorns investment account is very easy. Follow these steps to start investing:
Step 1: Begin by signing up with your email address.
Step 2: Then, link your bank account. This is necessary for making investments, deposits, and withdrawals.
Step 3: Next, Acorns will ask you for your first and last name, phone number, date of birth, and a security question and answer. You'll also need to mention whether you're a US citizen or not.
After that, Acorns will ask you three questions:
Are you or have you been affiliated with a broker-dealer?
Has the IRS notified you of being subject to backup withholding?
Are you a 10% shareholder of a publicly-traded company?
These questions are required by the SEC when opening a brokerage account. If none apply to you, leave them unchecked.
Step 4: Acorns will then ask you about your employment information, net worth, yearly income, and the reasons for your investing. Your answers here help Acorns suggest a portfolio for you.
You'll also need to keep your social security number handy as Acorns requires this for user ID verification, tax reporting, and fraud prevention. Once that's done, click Get Started.
Step 5: Depending on your account, Acorns will automatically start rounding up your transactions and investing the difference. Investors earn returns in the form of dividends, which Acorns automatically reinvests into your portfolio.
Acorns fees
Acorns pricing is incredibly affordable with no fees based on your account balance and no account minimums.
In addition to paying a nominal broker fee, you'll select one of their three account options:
Lite - For a monthly fee of $1, this option is perfect for those who are new to investing. Acorns will invest your spare change, set a recurring investment, and provide you with access to its network of partners to further boost your investment.
Personal - For a monthly fee of $3, this is an all-in-one investment option that includes Acorns Round-Ups, and:
Acorns Later - an individual retirement account with tax benefits
Acorns Spend - a checking account
An Acorns debit card
Bonus investments
Money advice
Family - For a monthly Acorns fee of $5, this includes everything in the previous two tiers, and:
An Acorns Early account - a custodial investment account for your children
Smart Deposit - a percentage of the deposits through Acorns Spend will automatically be transferred to your Acorns Invest and Later accounts.
Access to exclusive offers.
Acorns Potential Returns
Investors earn returns in the form of quarterly dividends, which are automatically reinvested. As a result, your returns will compound the longer you hold your investment.
However, you have the option of cashing out at any time with no withdrawal fees.
Additionally, investors can also earn cash back on qualifying purchases with the Acorns debit card.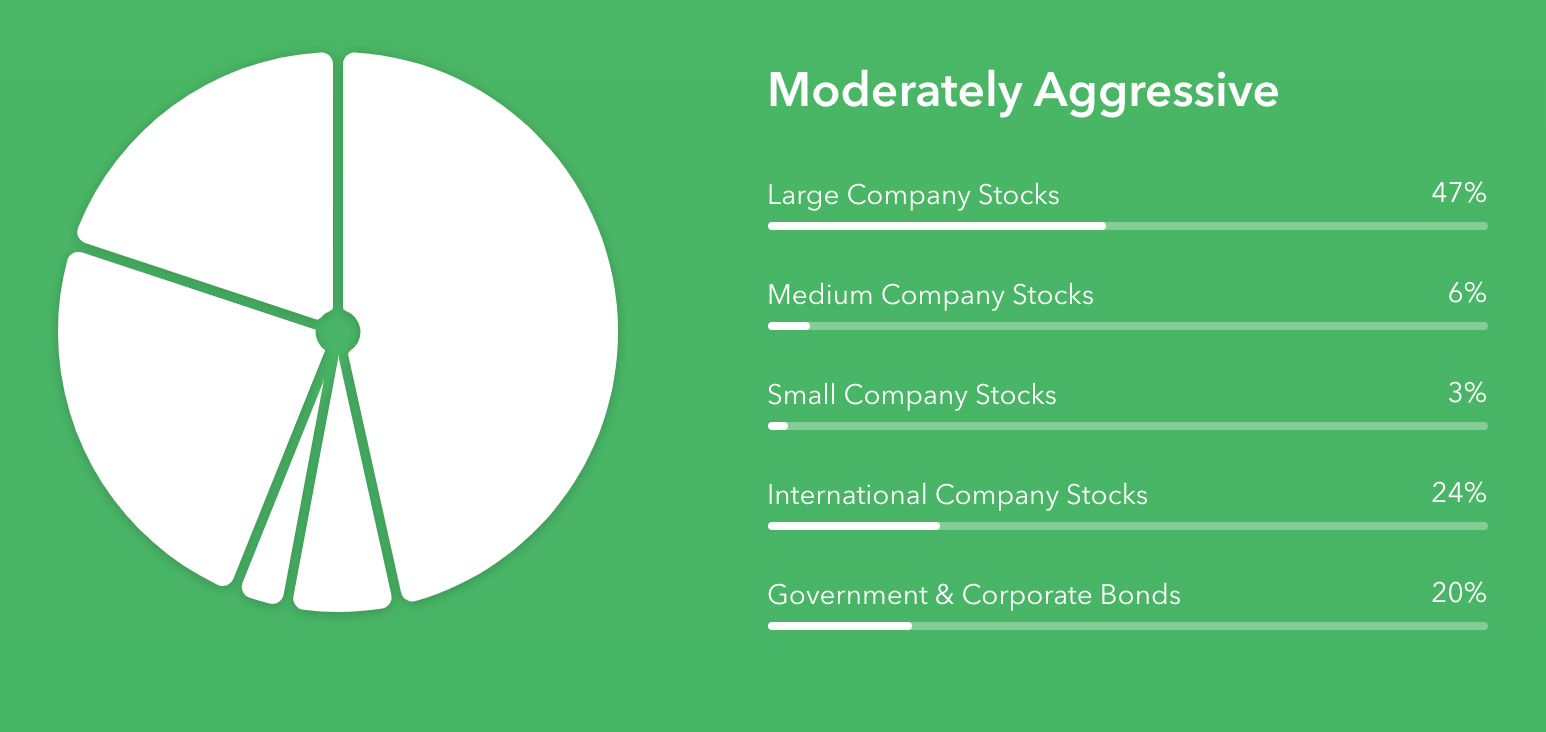 Acorns Historical Performance
Acorns' performance varies depending on the type of portfolio you select. If you're a younger investor and can tolerate higher risk, their Aggressive portfolio seeks to maximize gains. Over the past 10 years, this has equated to around a 13% annual return.
If you want to play it safer and still see your money grow, their Conservative portfolio offers more modest upside and much less potential downside due to its composition of bonds.
Pros and Cons of Acorns
Here are the benefits and disadvantages of investing through Acorns:
Pros
An automated investment process with zero hassle.
Incredibly affordable with low fees.
There are no account minimums.
Acorns automatically reinvests dividends to create compounding returns.
You can easily create retirement and custodial investment accounts.
The Acorns app is excellent for investing on the go.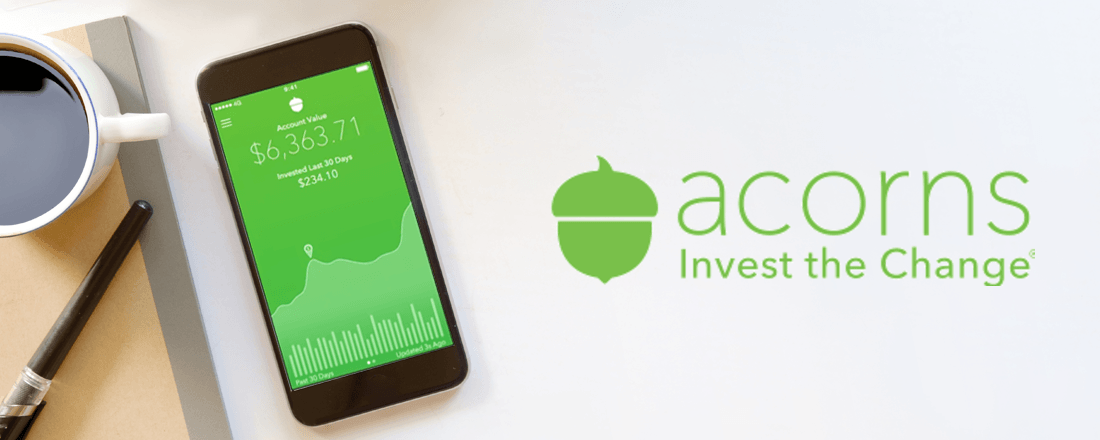 Cons
Only open to US investors.
Investments are limited to just ETFs.
Risks of Investing Through Acorns
It's essential to keep in mind that the stock market is temperamental and experiences daily price fluctuations.
However, Acorns has taken multiple steps to make it as safe as possible.
In addition to its stellar track record, Acorns' broker and custody services are regulated by the SEC (Securities and Exchange Commission) and they're a member of FINRA (the Financial Industry Regulatory Authority).
Acorns is also a member of the SIPC (Securities Investor Protection Corporation), protecting investors' securities up to $500,000.
Conclusion
Acorns is one of the most accessible investment platforms for young and new investors. The process is entirely automated, so there's no paperwork or a costly asset management fee involved.
This gives the investor a streamlined way of accessing a diversified investment portfolio with no hassle.
Additionally, the ability to start saving for retirement with as little as $5 and set up custodial accounts for your children make the Acorns investing app an excellent option for anyone just starting with their investments.
Do more with your money
Become a MoneyMade member (it's free!) for personalized alternative investment matches, expert insights and portfolio tracking.