Concreit Review
Concreit Review: Easy Real Estate Investing That Doesn't Lock Up Your Funds
With decent returns, low risk, and high liquidity, the Concreit app almost seems too good to be true—is it?

Published Aug 26, 2022•Updated Aug 30, 2022
Real Estate
Passive Income
Extra Income
Are you looking for the best real estate investing platform for your needs? From REITs to crowdfunding platforms to apps that let you buy a rental property sight unseen, the options are nearly endless nowadays.
Even the big glitzy real estate projects and commercial projects that were only open to investors with lots of capital, long time horizons, real estate experience, and connections are now open to almost everyone. Concreit lets you invest in income-producing real estate and earn weekly dividends, and you can get started with any dollar amount. The app makes it easy for even the greenest real estate investors to earn some green, but it's not without its drawbacks.
In this Concreit review, we'll dive into what the app is, what kind of fees and returns you can expect, who it's best for, and how you can get started investing with Concreit.
Borrow our cheat sheet
MoneyMade member rating
4.7
Bonus offer
Invest in commercial real estate from $1
Pros and cons
Pros
Cons
Short-term redemption fee
What is Concreit?
Concreit is an easy-to-use real estate investing app that lets you buy and sell shares of a private, non-traded REIT, or real estate investment trust. The trust is invested in private loans that are backed by real estate and commercial structures like multi-family real estate complexes. In theory, the value of this REIT should go up over time as property values rise, and there's also a goal of providing investors with weekly or monthly dividends.
The Concreit app makes it easy for anyone with $1 to invest in commercial real estate, a sector that used to be reserved for wealthy and well-connected investors. It also allows you to quickly invest in a diversified portfolio, as the REIT you purchase shares of is filled with a variety of real estate properties and loans collateralized by buildings.
Concreit was founded in late 2018 by Seattle-based CEO Sean Hsieh and Jordan Levy. They were also co-founders of the telecom startup Flowroute, which they sold in 2017. After their exit, they both began investing in commercial real estate and realized that opening this asset class up to everyday investors could help shrink the wealth inequality gap.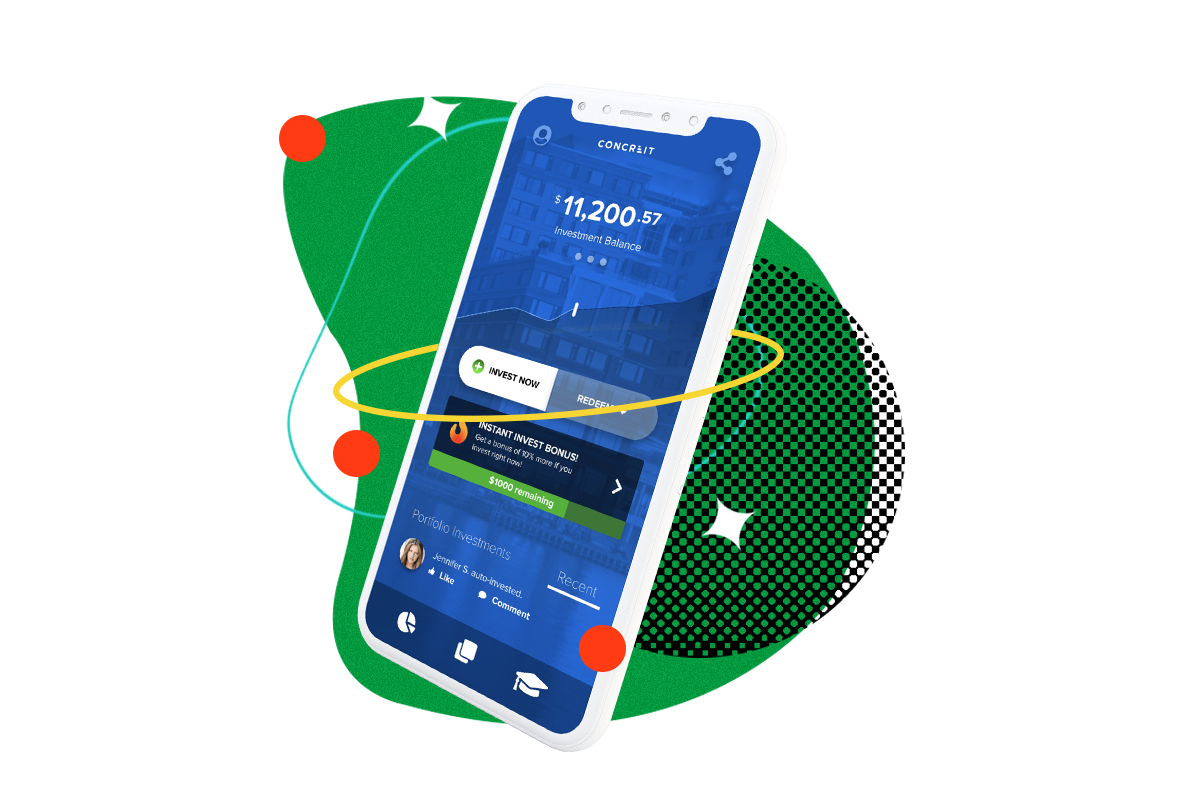 How does Concreit work?
Concreit pools investor funds and invests in a variety of real estate projects, including:
Private short-term loans to real estate builders & developers

Commercial real estate with a focus on multi-family structures

Real estate related securities, including equity and debt securities in both publicly-traded and ​​private companies
All investment opportunities are reviewed by Concreit's Investment Advisory Committee (IAC) and must receive approval before capital is deployed. The IAC members are real estate industry experts, experienced in commercial real estate credit, property, and fund management.
You can then buy shares of this diversified real estate portfolio with the goal of their value increasing over time. There are no investment minimums, and your share may also yield weekly or monthly dividends under normal circumstances.
Concreit is unique from other REITs and real estate platforms in a couple of key ways. For one, it invests conservatively, aiming to minimize risk. Secondly, it offers you the ability to invest for short-term returns and cash out quickly.
Who can invest with Concreit?
You don't need to be accredited to invest with Concreit, and there are no investment minimums. You must be over the age of 18 and a US citizen or US resident
Where Concreit gets it right
Potential to earn payouts every week or month
Under normal circumstances, Concreit pays dividends on a weekly basis, allowing you to earn passive income. Your dividends are automatically reinvested which compounds your earnings and can help your investment grow faster. If property values appreciate and rent increases, your dividend payments may increase as well. 
Easy access to your funds
Most real estate investments are long-term and can often take years to start producing target returns. With Concreit, you can withdraw your investment at any time. Simply put in a withdrawal request, and Concreit will fund your withdrawal using the cash they have on hand as well as income produced from their assets and loan repayments. Under normal conditions, the waiting period for withdrawals is around one week. However, if there is high demand for withdrawals and/or if Concreit is low on cash, there's a waiting list and withdrawals may be delayed.
$1 minimum investment
All you need to get started is $1 and a bank account. This low minimum investment requirement makes Concreit accessible to just about anyone.
Comparatively low risk
There's no guarantee of returns, and it's possible to lose money with Concreit. However, the platform invests in comparatively low-risk real estate assets such as fixed-income residential real estate and collateralized commercial real estate loans.
Easy to use mobile app
Investors can download the Concreit mobile app on Android and IOS. The clean, easy-to-use app allows you to access all the information about your investments from your phone. Concreit also has a feature that will allow you to schedule an automatic investment directly from your account. You can set the amount and schedule the day you want the automatic investment to take place. ​​You can even enable push notifications on the Concreit app to receive important updates and real-time announcements.
Where Concreit could do better
1% annual fee for asset management
There are no upfront joining fees when you join Concreit. However, there is a Monthly Assets Under Management (AUM) fee (0.08%), which comes to 1% annually.
Short-term redemption and ACH fees
The withdrawal fees are a combination of pass-through ACH fees (bank transfer fee) and a redemption fee. It will depend on how long you invested your money with Concreit:
More than a year: Just an ACH fee of 10bps (0.001%)

Less than a year: Investors need to pay a short term redemption fee and ACH fee. The short term redemption fees will reduce the net dividends by 20% but honor all of your original principal shares.
Below average returns
The latest annualized rate of return for Concreit (as of 10/1/2021) is 5.47%, which is lower than average historical returns on both public REITs and the stock market. That said, the reason for lower-than-average returns is the fund's low risk profile, so while you might not be earning as much as you would in the market when stocks are doing well, you could also be earning more than the market when stocks are down.
Can you really make money on Concreit?
Investors will potentially get weekly dividends from rental income, loan interest, and the appreciation of the properties invested in. Target annual returns are 5% to 8% after the deduction of fees.
Concreit invests primarily in interest-bearing short-term private debt secured by real estate, and the investment platform is relatively new. Still, it has distributed dividends at an annualized rate of 5.47% since inception. For the same period, Public Bonds ETC (Vanguard Total Bond) paid out 2.23% on average, Public Real Estate (Vanguard Real Estate ETF) and Fundrise Income produced a 3.11% and 3.13% annualized dividend yield.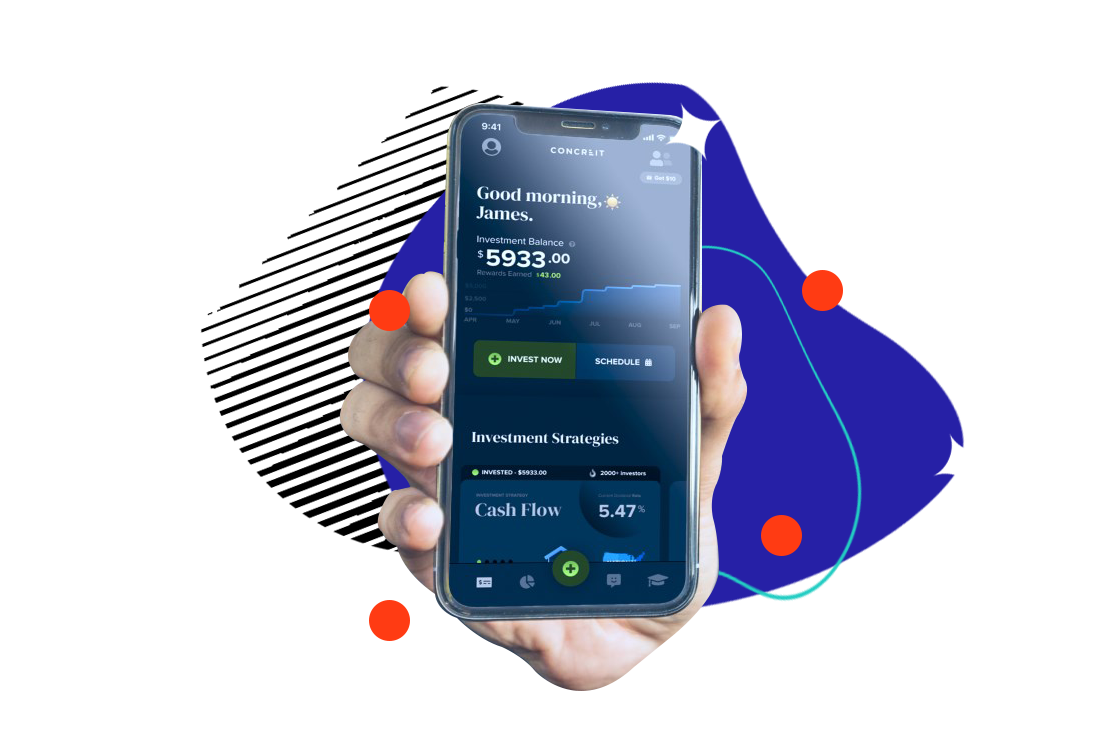 How do I make money with Concreit?
Concreit's goal is to provide investors with weekly dividends from loan interest, rental income, and appreciation of the properties. 
This is how Concreit passes through profits to investors with their current waterfall method:
Income Generated from the fund will be the net profit from all investments put together.

Management fee: A 1% Assets Under Management (AUM) fee is deducted for the management of real estate portfolios.

Profit distribution: Calculated from cash flows from buildings, interest, and sales of properties. Concreit pays out a 5% preferred return net of fees before bonuses and any other features of their program.

An amount is set aside for the Liquidity Pool. This reserve is set aside for Concreit's redemption program for its investors.

If there is a remainder, up to 0.50% will be allocated as a bonus for investors.

The remainder of profits after management fees, potential returns to investors, and liquidity reserve fund, is split among the investors. 
How do I cash out with Concreit?
You can set up a withdrawal request at any time. This feature lets you sell your shares by requesting or scheduling withdrawals and have the money deposited directly into your bank account. This withdrawal feature is based on funds available in your account and also fund availability in the pool. Withdrawals are processed once per week, and the full withdrawal process can take up to two weeks under normal circumstances. If there aren't enough funds available, there may be a longer waiting period.
Unfortunately, you can't withdraw less than $100 without contacting customer support and submitting a manual request. If you're withdrawing over $100, you can do so by requesting and scheduling a withdrawal through the app. Enter and confirm the amount of withdrawal, and an ACH payment to your linked bank account will be initiated when funds are available.
Concreit vs traditional investing
Concreit can fill a place in your portfolio for comparatively low risk, below-average returns and high liquidity. With a historical average annualized rate of return of 5.47%, Concreit offers lower average returns than the stock market and publicly-traded REITs. However, returns are still quite generous considering the lower risk involved and the high liquidity paired with the ability to earn weekly dividends. They're far higher than what you'd get on a savings account and decently higher than average yields on bonds and other income-oriented assets.
The return on publicly-traded REITs averaged between 11.1% and 12.4% annually between 1998 and 2015. You could earn up to 8 to 12% returns annually from real estate debt instruments during that same timeframe. The landscape has changed pretty significantly in 2020, with publicly-traded REITs averaging an annualized loss of -15.3% YTD due heavily to economic factors and the COVID pandemic.
For comparison, the average annual return on The S&P 500 Index over the last two decades is approximately 9.8%. For income-oriented and bond investors, the average 2020 dividend yield of REITs is 4.33% and 2.49% when looking at Vanguard's Bond ETF (BND).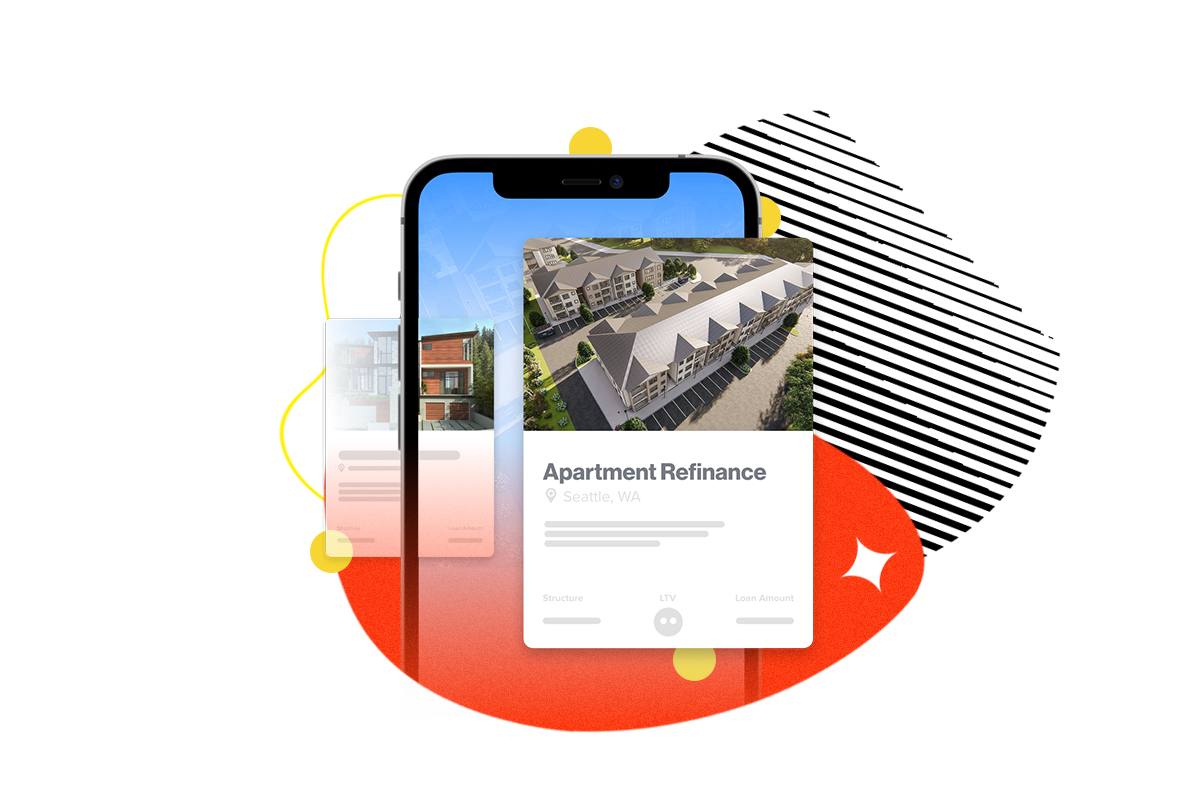 What other people are saying about Concreit
Many users report using Concreit like a savings account that actually offers notable returns. While returns aren't gauranteed, and there can be a waiting period on withdrawals, it's Concreit's balance of low risk, consistent, generous returns, and high liquidity that people seem to praise most. Many use it as a starter app for investing in real estate thanks to its low minimum investment and ease of use. Others like to use Concreit as a way to earn passive income in the form of weekly dividends.
The biggest complaint about Concreit has to do with the fine print surrounding their withdrawal program. While Concreit is marketed as a liquid investment, they make it clear that withdrawals are subject to cash availability. If you're trying to withdraw at the same time as many other users, you could have to wait a while, and Concreit doesn't specify exactly how long it could take. It's also a fairly new app that hasn't gained enough traction to have extensive user reviews.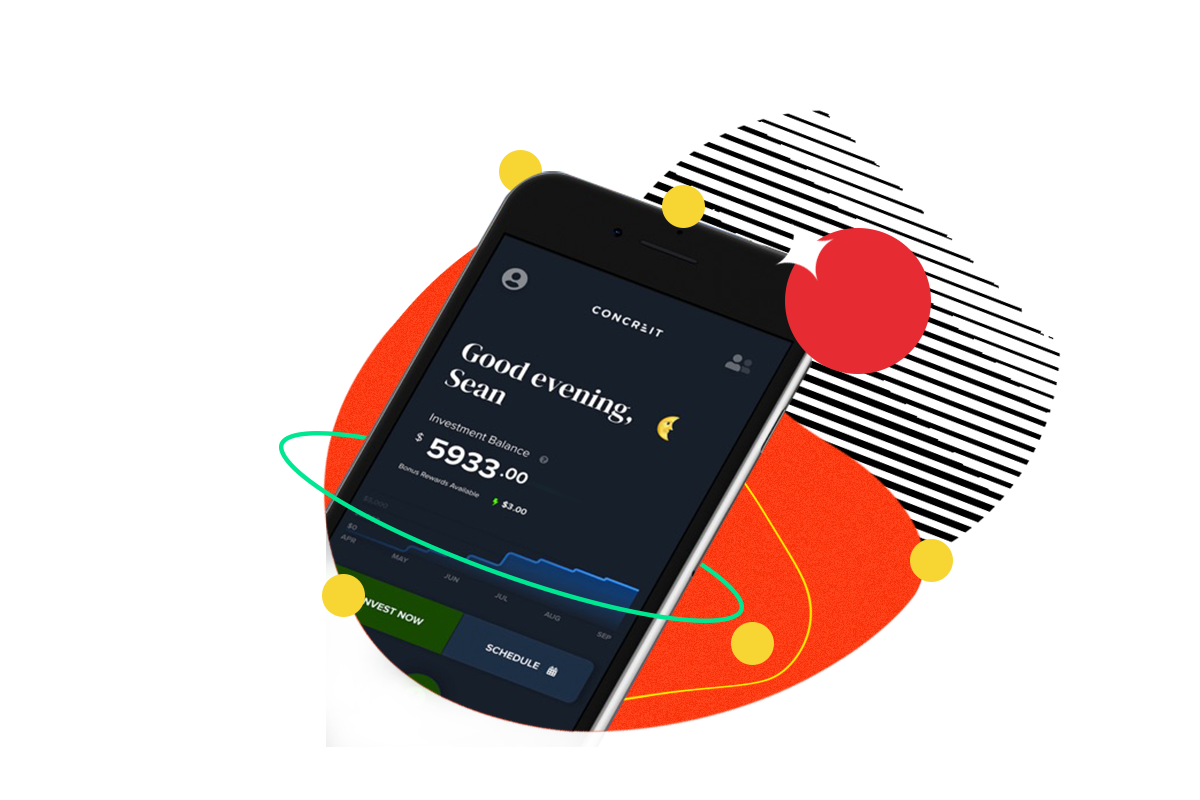 Are there other apps like Concreit?
Just about anyone can invest with Concreit thanks to its low investment minimum and user-friendly app. However, some investors might find other real estate apps like Fundrise and Arrived Homes are more suited to their investing preferences. Like Concreit, both Fundrise and Arrived Homes offer dividend payments under normal conditions, but they payout quarterly rather than weekly.
Fundrise targets higher returns than Concreit. That said, it does so by building a fund with a slightly higher risk profile than the fund that Concreit invests in. It also doesn't offer the liquidity that Concreit does—Fundrise investors should expect to hold their investments for at least five years.
Arrived Homes allows you to invest in individual rental properties rather than a diversified portfolio. This lack of diversification means more risk, but it also means you get a shot at potentially earning higher returns than a REIT can offer if you pick the right property. There's a slightly higher minimum investment requirement with Arrived Homes, and that investment amount will be even more if you choose to diversify by investing in a number of different rental properties. Similar to Fundrise, you can expect to hold your investments with Arrived Homes for at least five years.
Concreit

Fees

Minimum investment

Average returns

Risk Level

Available on

iOS

Android

Review

 
Our hot take on Concreit
Concreit is an excellent choice for anyone who wants to earn a little more on their money while keeping it relatively liquid. It's particularly good for people looking to get starting in real estate investing with a small initial investment, or people who want to earn passive income, as the app pays out dividends more frequently than most.
It's important not to downplay the risk involved in investing with Concreit. Even though it's considered a low-risk platform, the following risks are still involved.
Performance, preferred return not guaranteed: There's no guarantee that cash will be available for distribution. Investors could experience no distributions or loss of principal.
Liquidity not guaranteed: Investments that are offered by Concreit are not guaranteed to be liquid.
Exit not guaranteed: There is no guarantee that you will be able to exit the investment through their redemption program.
I'm in! How do I sign up for Concreit?
1.

Download the Concreit app and create an account.

You'll need to provide your email address and a password to get started, and after that, the app will have you fill out an investor profile with some basic information.
2.

Go through their tutorial, connect a bank account, and confirm your identity.

After you sign up, the app will provide you with a brief tutorial. Then you can connect a bank account using Plaid to fund your investment. You'll be asked to confirm your identity by providing your Social Security Number.
3.

Make a one-time investment or set up a repeating investment.

When you're ready to invest, you can make a one-time investment in seconds by selecting "invest now" and entering your investment amount. Once you've completed at least one one-time deposit, you can also "auto-invest" by scheduling recurring deposits.
4.

Connect Concreit to your MoneyMade account.

Once you're all set up with Concreit, you can come back to your MoneyMade portfolio and add your Concreit account in seconds. This will allow you to track all your various investments in one place and get detailed information about your risk level and progress toward your goals.
Explore Assets
Click an asset to learn more
Dogecoin
Music Royalties
Tether
Farmland
Wine
Art
Real Estate
Robo Advisor
Gold
Bitcoin
Stocks
Lending
Startups
Ethereum
DeFi
Solana
Oil & Commodities
Polkadot
Metaverse
NFTs
Whiskey
Bonds
Platinum
Sports Cards
Cardano
Ripple
Silver
Watches