EquityMultiple Review
EquityMultiple Review: Crowdfund Your Way Into Commercial Real Estate Investing
Forget REITs, investing directly in commercial real estate projects has never been easier.

Published Feb 18, 2022•Updated Jun 21, 2022
Real Estate
Passive Income
Accredited
The housing market is red hot and investors are clamoring for a piece. It may be a while until real estate cools off, so time is of the essence if there's anything left to go around. Commercial real estate is a huge opportunity that has been historically hard to access, but crowdfunding has let investors get in on the action. REITs are a great entry point, but if you're serious about commercial real estate investing and like to manage your portfolio, look no further than EquityMultiple.
EquityMultiple is making it easy for accredited investors to add commercial real estate to their portfolios. It's a crowdfunding platform that allows you to invest directly in hand-selected commercial real estate projects as well as non-traded REITs. With low investment minimums, a diversity of real estate projects, and several ways to invest, EquityMultiple will satisfy any investment style. Not convinced yet? Here's our EquityMultiple review.
Borrow our cheat sheet
MoneyMade member rating
4.5
Bonus offer
Get a 1% return boost on your first investment
Pros and cons
Pros
Diverse investment allocation
High and low-risk investments
Short or long term return horizons
Several financing structures
Cons
Accredited investors only
Most investments are over $10,000
Platform charges 0.5% service fee and takes 10% of all profits
What is EquityMultiple?
EquityMultiple is a commercial real estate investing platform for accredited investors. EquityMultiple allows users to invest different forms of capital directly into various real estate projects. Additionally, EquityMuliple offers different financing structures to match investors' risk tolerance, return horizon, and desired profits. EquityMultiple allows users to invest in a diverse selection of both individual properties and non-traded REITs.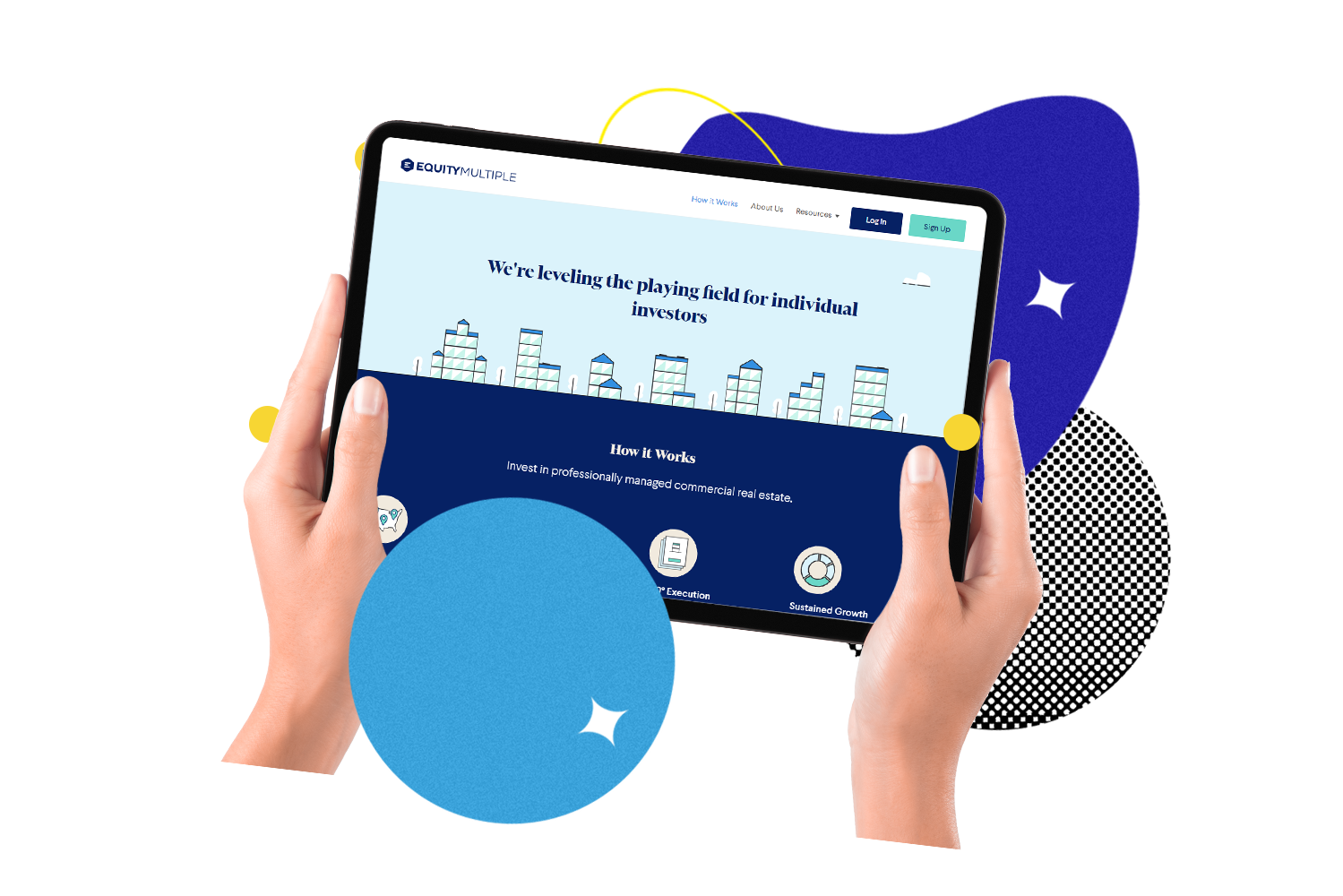 How does EquityMultiple work?
EquityMultiple works with partners to find investment opportunities in commercial real estate. The platform conducts a vetting process to generate a risk score for each offer. Equity multiple places investment opportunities into one of four categories: core, core plus, value-add, and opportunistic. Core real estate is the least risky to invest in while opportunistic real estate is usually in the early stages of development, which makes it riskier and more profitable. These categories help investors assess opportunities and choose one according to their risk tolerance and desired returns.
Source: EquityMultiple.com
Once an investor selects a real estate project, they then must choose one of three investment types: equity, preferred equity, and syndicated debt. Syndicated debt investments are the lowest risk and have the shortest returns horizon. Debt investors are the first to make money, but their returns are fixed and consist only of interest payments. The highest risk option is equity investments. Equity investors are the last investors to get paid, but they enjoy uncapped returns, which makes common equity the most profitable investment type. Preferred equity is the middle option: Investors get priority returns over sponsors and equity investors, so they can expect to start earning returns sooner, but a cap on returns limits the profit potential.
Who can invest with EquityMultiple?
Only accredited investors are allowed to use EquityMultiple, which means you must have a minimum net worth to take advantage of this opportunity. Unlike publicly-traded REITs, EquityMultiple is not registered as a security, so U.S. regulations restrict the platform to non-accredited investors.
Where EquityMultiple gets it right
Diversity
EquityMultiple offers diverse real estate investment opportunities, financing structures, and investment types. Every opportunity undergoes a risk assessment, so you know what you're getting into. This helps investors find investments that match their risk tolerance, preferred return horizon, and desired profit projection.
Personalization
Rather than offering static options, EquityMultiple allows investors to mix and match different project types, capital types, and investment types customize their investment so that it more closely aligns with their goals. Investors can not only choose their investments but can also configure them based on their desired outcome.
Transparency
EquityMultiple conducts due diligence, asset management, tax preparation, and other administrative tasks to make the commercial real estate investing experience simpler and easier. EquityMultiple tells you in plain English how much you need to invest, how much you'll profit, when you should expect said profit, and what are the associated risks and fees. EquityMultiple lets investors choose which properties to invest in and is very upfront in setting their expectations.
Where EquityMultiple could do better
Accessibility
If you happen to be an accredited investor, the lowest investment EquityMultiple will accept is $5,000, which isn't chump change. But, even if you are accredited and have the cash to invest, good luck finding an investment that accepts any investment under $10,000. This is probably not an issue for accredited investors, but not everyone has that kind of money lying around.
Fees
EquityMultiple offers investors comprehensive services beyond just identifying commercial real estate opportunities, so you get what you pay for. First, EquityMultiple charges a minimum 0.5% fee to all investors. After an investor receives their initial investment back EquityMultiple takes 10% of their profits. Additionally, any preferred equity and syndicated debt investment on EquityMultiple is charged a servicing fee that is the difference between the interest rate being paid and the interest earned by the investor. Finally, real estate loans are preferred equity investments that generally require an origination fee in addition to other associated charges.
Returns queue
Every investor will have a different profit projection and returns timeline, even if they're all investing in the same real estate project. This largely depends on which investment type is chosen. Debt investors take on the least risk but are the first to cash out, while the higher-risk equity investors can only enjoy uncapped returns after the project is completed. This means that, out of all investors in a project, lower-risk investors receive profits before higher-risk investors, which may seem unfair.
Can you really make money on EquityMultiple?
EquityMultiple boasts a historical net return of 17.4% percent, but real returns depend on the type of project as well as the type of investment. Generally speaking, returns can range from 7% to as high as 24%, but this depends on multiple factors. Riskier investments tend to have higher returns, which means that an equity investment in opportunistic real estate would be the most profitable. Conversely, less risk-averse investors would prefer making a debt investment into a core real estate project.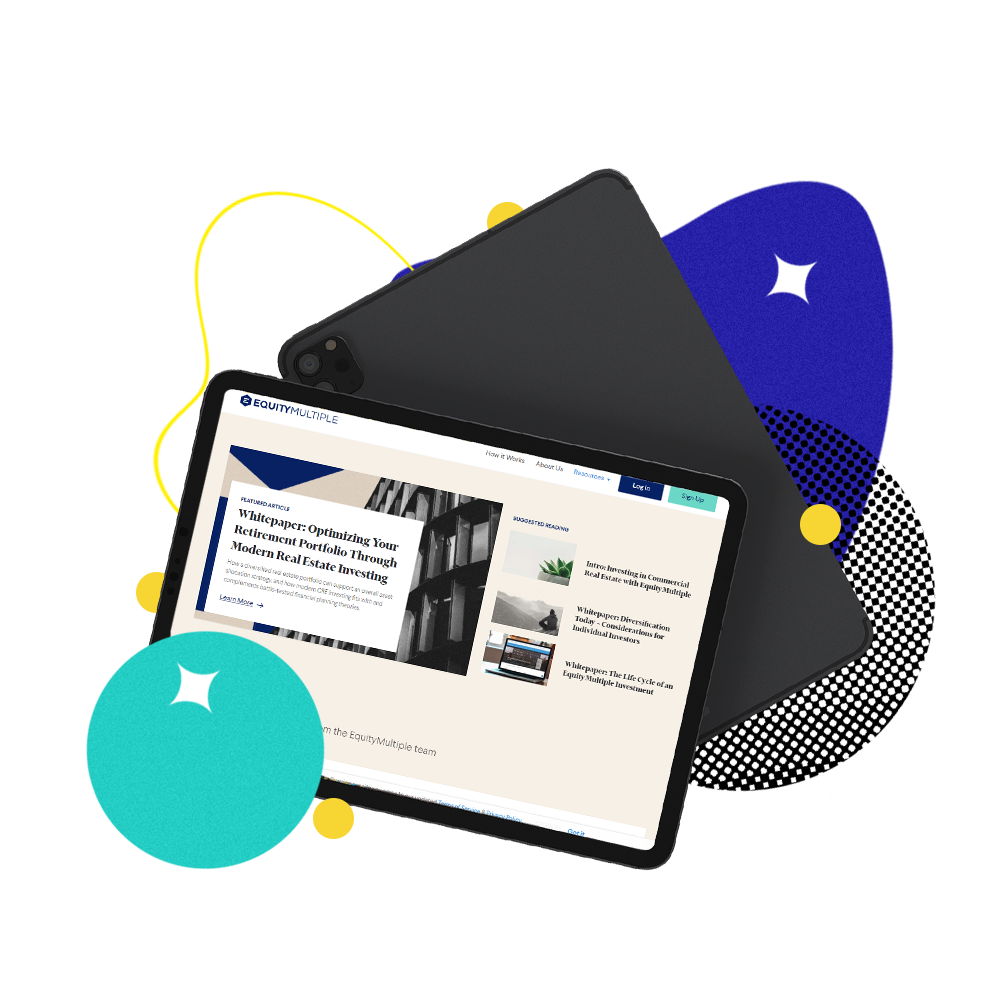 How do I make money with EquityMultiple?
EquityMultiple investors make money in a variety of different ways depending on how they choose to invest within the platform. Debt investments typically earn money in the form of interest, while equity investments typically earn money in the form of property appreciation and often rental income. 
First, syndicated debt is the least risky investment type that offers the quickest return on investment. Debt investments typically yield between 7% to 12% annually. The next option is preferred equity and the annual yield on that investment type can range from 10% to 18%. Preferred equity is the middle-of-the-road option in terms of risk, duration of investment, and projected returns. Finally, the highest yielding and riskiest option is Common Equity, and that investment type can have an internal return rate of 10% to 24%. Common equity is the most profitable option since returns are uncapped, but it also has the longest investment timeline.
How do I cash out with EquityMultiple?
Debt investments: earn interest each month
Preferred equity investments: fixed quarterly or monthly returns
Common equity: no fixed return rate 
When you can cash out depends on the type of investment as well as the type of project you invested in. Opportunistic and Value-Add real estate projects are typically long-term investments since the projects are usually in the earlier stages of development and won't be profitable until they're complete. However, the type of investment has a bigger impact on the returns horizon. Profits on debt investments are distributed monthly according to the interest rate paid being paid by the borrower.
Common equity investments take the longest to realize because returns are deferred until the real estate investment is complete, which is usually a matter of years. Preferred equity investors capture a happy medium since they get priority returns over other investors while taking on less risk than common equity investors. You can usually expect to receive quarterly returns on a preferred equity investment, though returns on Common equity investments aren't as consistent.
EquityMultiple vs publicly-traded REITs
While publicly traded real estate funds (REITs) are a great access point into commercial real estate investing, there are several advantages to investing with EquityMultiple. Firstly, investing in REITs is considered an indirect investment because it represents a bundle of investments that are less associated with the underlying real estate asset. One benefit of EquityMultiple is that their REITs aren't publicly-traded, which greatly reduces liquidity and speculation, making it a great tool for diversifying outside of public markets.
Additionally, EquityMultiple offers direct investments into distinct properties. Investing directly into a single real estate project presents a tradeoff since it's riskier but has greater profit potential. Investors can exercise more control over their investment by choosing which real estate projects to invest or not invest in based on projected returns and the timeline on which they'll be realized.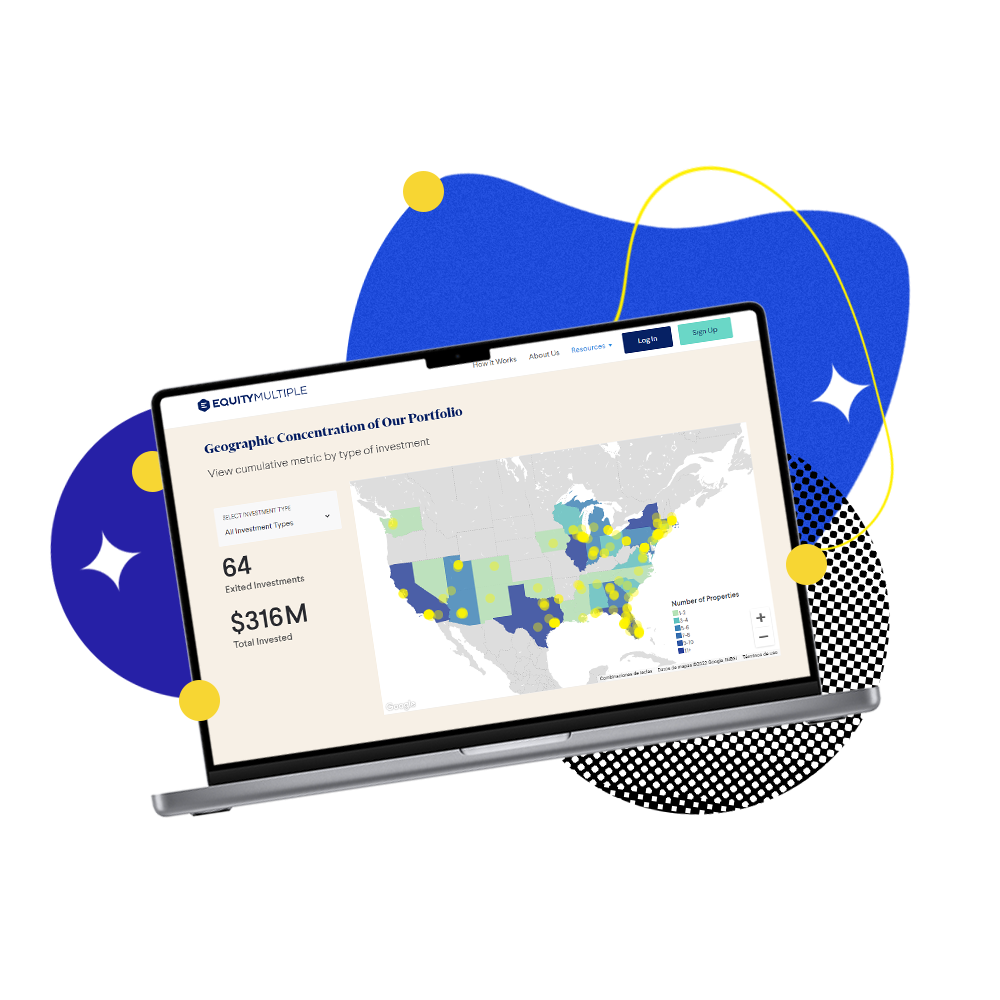 What other people are saying about EquityMultiple
Crowdfunding is a lucrative investment opportunity that has shot up in popularity in recent years, and EquityMultiple has led the way in introducing it to the commercial real estate market. Some users that are frustrated by unfavorable market conditions following the pandemic have made good use of EquityMultiple. The platform is consistently among the most reliable commercial real estate investing platforms according to users due to its strong track record, breadth of options, and high historical returns.
Despite the COVID-19 pandemic disrupting the platform's momentum, one Reddit user hopes to continue investing through EquityMultiple as the market recovers. Another Reddit user has tried many real estate crowdfunding platforms, but EquityMultiple is their favorite for its diverse array of investment types and financing options. To them, it's EquityMultiple's transparency and customer service that make it an outstanding platform.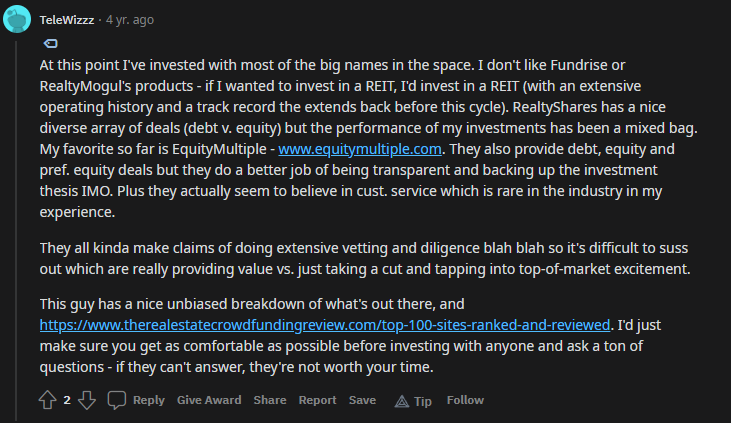 Are there other apps like EquityMultiple?
EquityMultiple has one of the lowest minimum investment requirements out of any real estate crowdfunding platform for accredited investors. In comparison to similar platforms, the low investment minimum makes EquityMultiple more accessible than competitors like CrowdStreet, which requires at least $25,000 to invest. 
However, real estate investing platforms for non-accredited investors are more accessible and typically have low minimum investment requirements. For example, Fundrise allows anyone to invest with a minimum of just $10. Although EquityMultiple's upfront fees are slightly lower than their competitor's, investors should note that the platform pockets a significant portion of your profits after you get your initial investment back.
EquityMultiple

Fees

Minimum investment

Average returns

Risk Level

Available on

iOS

Android

Review

 
Our hot take on EquityMultiple
EquityMultiple is one of the best platforms for accredited investors to get into commercial real estate. It's one of the least restrictive platforms and offers a charcuterie board of options from which you can mix and match to your liking. By letting investors choose from a diverse selection of projects and investment types and accepting several different financing options, EquityMultiple empowers you to choose what you invest in, how much you invest, how much you'll profit, and how long you'll wait to realize your returns. This is the unprecedented degree of control EquityMultiple gives you over your commercial real estate investments.
I'm in! How do I sign up for EquityMultiple?
1.

Go to app.equitymultiple.com

This is where you will log in once you have an account, but if you don't have one yet, click on "Don't have an account? →" to begin creating an account. Begin by entering your email address and creating a password, and then you'll be asked for your legal name and United States residency status. You must check the box agreeing to EquityMultiple's terms of use and privacy policy before continuing further.
2.

Confirm your email address

You should have received an email at the address you entered earlier. Log into your email and check your inbox. Open the email from Equity Multiple and click the link to confirm your email address. Next, you must respond to the prompt about whether you're an accredited investor.
3.

Verify your identity

Your account has now been created, but you must confirm your identity first. You will be asked to enter your residence address and phone number as well as confirm your employment status. You must also provide the name of your employer, your occupation, and the number of years at that occupation.
4.

Create an investor profile

Now you will be asked about your investing experience. These questions will ask about your experience investing in marketable and illiquid securities and for how long. You will also be asked to select one of four investment objectives based on your goals.
5.

Qualify

After checking the boxes attesting to the accuracy of your application and accepting the EquityMultiple privacy policy, you can submit your application for approval. Users who qualify will have the option to open an investment account or begin browsing investment opportunities.
Explore Assets
Click an asset to learn more
Dogecoin
Music Royalties
Tether
Farmland
Wine
Art
Real Estate
Robo Advisor
Gold
Bitcoin
Stocks
Lending
Startups
Ethereum
DeFi
Solana
Oil & Commodities
Polkadot
Metaverse
NFTs
Whiskey
Bonds
Platinum
Sports Cards
Cardano
Ripple
Silver
Watches