Farther Review
Farther Review: Invest to Beat Inflation, Enjoy Personalized Attention
Get the family office advisory experience online—no robo-advisors necessary.

Published Jan 19, 2022•Updated Jun 21, 2022
Passive Income
Balanced Investing
Stock Trading
Traditionally, family office wealth management services were reserved for the ultra wealthy—aka those with more than $100 million in investable assets.
We know that's a pretty big stack of pennies, but not everybody wants to be relegated to the impersonal world of app-based robo-advisors.
Enter Farther, a digital family office model that provides you with a team of experienced financial advisors who use technology to help grow and protect your wealth. With a $0 minimum investment, Farther customers could see 8% to 12% possible returns from investments like ETFs, mutual funds, and securities like stocks and bonds. 
And, according to its website, Farther also dabbles in alternative investments like private equity, private real estate, hedge fund, and crypto offerings—making this platform intriguing enough to catch our eye. 
In this detailed Farther review, we'll cover everything you need to know about Farther Finance, including the economics behind it, the fees, potential returns, pros and cons, and more.
Borrow our cheat sheet
MoneyMade member rating
5.0
Pros and cons
Pros
Cash waterfall program automates investment so cash is never idle
Slightly lower fees than the industry standard of 1% for human wealth management
Goal-setting tools for short- and long-term plans
Online investment portal for portfolio management
Accessible via website and iOS and Android apps
No extra performance-based fees
Cons
Only open to US citizens, green card holders and US Visa-holders with a Social Security Number
New service (founded in 2019) and short track record of results
Higher fees than robo-advisors (but still under the 1% norm for traditional wealth managers)
No automatic tax-loss harvesting
What is Farther?
Farther is a digital family office that aims to bring the old-school perks of having a financial advisor watching over your money—but with modern day technology. 
Unlike robo-advisors, which cater to the same demographic of investors who aren't exactly at millionaire status yet, Farther provides you with personal investment advice so that you can plan out realistic goals with your money. 
The founders, Taylor Matthews and Brad Genser, are MIT alumni who had prestigious backgrounds in finance prior to founding Farther. Taylor Matthews, who worked as a consultant and an investment banker, had a leadership position with the fintech company ForUsAll. Meanwhile, Brad Genser is a military veteran who worked at Goldman Sachs, where he was a VP for their private wealth management team.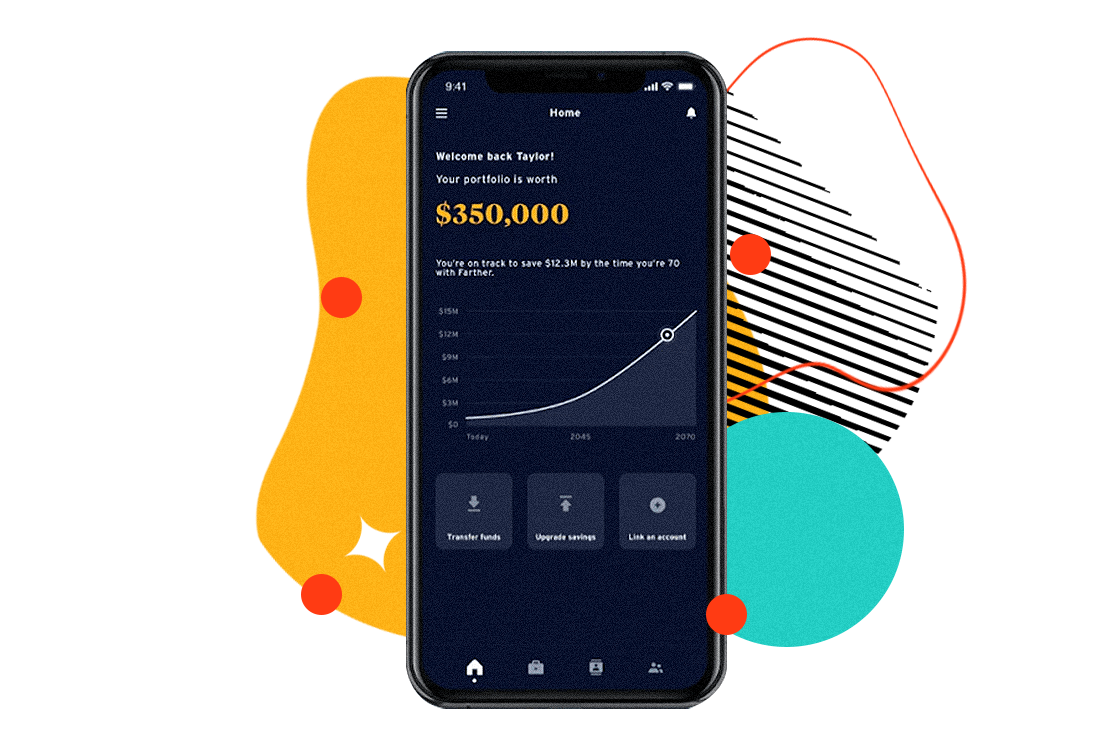 How does Farther work? 
Farther uses a hybrid of leveraging technology and traditional wealth management services to help customers reach personalized financial goals. 
Here's how the process works:
Step One: Farther collects details about your financial situation and goals
Everybody has different financial needs and wishes. Farther creates a customized profile and dashboard for every customer, then asks basic information like your KYC (know-your-customer) information and account details. You'll then share your goals, which helps the Farther team assess your time horizon and risk tolerance, and finally you'll get matched with a dedicated financial advisor. Consider this advisor your personal money buddy—who will be accessible via email, chat, or video call.
Step Two: You (and your team) let the algorithm do its thing
So, technically Farther isn't a hands-off robo-advisor, but the company does utilize smart technology to eliminate human error and invest your money efficiently. After all, there are times when a robot, through automation, can compound faster and reach higher gains than us mere mortals.
Your money will be allocated to model portfolios with different goals such as saving for retirement, large purchases, emergencies or general long-term savings. The company uses a technology that will allow for you to automate these savings and investments directly from your bank. And with its cascade, or "cash waterfall," feature, new or overflow money will sweep across account types to fully utilize tax-advantaged accounts according to your preferences. Moreover, Farther provides competitive practices of automatic dividend reinvestment and rebalancing. 
What if you change your mind? You are free to adjust your target asset allocations and investment strategies periodically—and you don't have to make your decision alone. When opting to withdraw some of your money, Farther will initiate a combination of security sales while ensuring the corresponding target asset allocation remains intact. You also have the added benefit of getting direct access to qualified investment individuals with years of experience guiding clients through bear and bull markets—and they'll be able to talk you down off the ledge.
Farther features
Now that you know how Farther works, let's look at some of its features.
1. Online investor portal with a mobile app
There's nothing stuffy about this family office. Unlike many independent wealth managers, Farther allows their clients to access an online investor portal at any time to access investment advice, make one-time or recurring deposits, and withdraw cash. Your investor portal is accessible via desktop browser or a mobile app on both iOS or Android.
2. No minimum account sizes
Most dedicated investment management platforms and family offices require minimum account sizes of millions. Farther Finance has no account minimum—making it accessible to anyone. That said, robo-advisors have lower fees that are better for investing newbies. Farther's ideal customer is someone who has outgrown robo-advisors, but still wants an accessible option with higher client touchpoints. 
3. Qualified advisor team
Due to a combination of Father's low investment minimums and technology automation, anyone can access the added benefit of working with a team of go-to financial advisors.
4. One-of-a-kind cash waterfalls
Ever had lots of goals and wish you could fund them all at once? With Farther, you don't need to chase waterfalls—they flow for you and deliver money while they are at it.
Farther streamlines your savings with automation via its proprietary cascade "cash waterfall" feature. Based on your priorities and timelines, the waterfall tool allocates where to invest new or surplus money on those heavy-inflow months. That way, you can minimize idle cash and maximize returns.
And yes—tax optimization is built into the feature too. With the help of your advisor, you'll configure the algorithm to whatever you want, then the technology ensures execution. Can you say win-win?
Who can invest with Farther?
There are no investment minimums to start with Farther, but the platform appeals most to people with medium-to-high net worths. We suggest this app for investors with a substantial amount to invest, just because Farther isn't the cheapest tool on the block (although it's certainly not the most expensive, either).
Here's who we think would really benefit from Farther:
Investors with a substantial amount of money to invest who've outgrown robo-advisors but don't yet meet the wealth requirements to work with a traditional family office 

Investors looking to add structure to their savings and diversify their investment portfolio automatically—without having to waste brain power thinking

Professionals who are in the asset accumulation phase of their lives

People facing big life moments, and therefore slightly more complex financial planning needs (aka getting married and having children)

Those who need help with managing equity compensation

Anyone looking for help managing their finances on autopilot to faster reach their long-term and short-term financial goals

People with multiple goals to sort out and prioritize—that's where the waterfall feature comes in super handy
Where Farther gets it right
Strong founding team
While Farther seems to be geared towards the aspirational wealth builder, you probably want some aspects of the richy rich when it comes to protecting and managing your wealth. Farther has the perfect combination of people who have had "elite" backgrounds, who are also willing to embrace new technology, as seen by them having options for crypto investments on their platform.
Personalized investment advice
We all know how important our individuality is, and probably this is most important when it comes to our finances. Every single person is different in how they choose to earn, spend, and save their money. This is why having a personal wealth manager is so important. As Farther says on its website, "We're designed to be flexible to accommodate any goal-based accounts you want to set up."
High-tech solutions
While having a financial advisor is nice, this means very little unless they've got tech that can provide you the results that you're looking for. Father has some pioneering tech, like the cash waterfall tool, which optimizes your savings for greater abundance by ensuring your money is in the most strategically placed accounts.
Low principal amount
Typically to utilize the services of a wealth manager, you need to have a net worth that is in the millions. With Farther you can experience the benefits of a wealth advisor at a much lower net worth.
Where Farther could do better
Lack of history
A problem that Farther has is a lack of history. Founded in 2019, the company don't have a historical reference as to how competitive the wealth management service is. What compounds this confusion is that 2020 and 2021 were far from "normal" years when it came to investing. For all intents and purposes, Farther has only existed during the COVID economy, which makes it tough to create a realistic guess on how it would perform in the economy prior to COVID. 
That said, the financial advisor team collectively has years of experience informing their guidance.
Higher investment fees than most robo-advisors
When compared to robo-advisors, Father has a higher fee than the competitors in the market. The fees that robo-advisors usually charge are around 0.25% of AUM. The average that professional wealth management firms charge is around 1%. This puts Farther at close to the price range of a traditional wealth management firm.
Could you do it yourself?
A question you have to ask yourself is if you are someone who really needs the benefits of a wealth advisor. If you are using Farther, it is because your net worth is below $1 million. You should consider whether paying higher fees is really the best way to get you to $1 million faster.
Can you really make money on Farther?
You can definitely make money on Farther, just as you would with a robo-advisor or wealth management team. However, the same market risks apply, and you have to be clear on the fees and what your ideal time horizon will be. The ideal Farther customer is someone who knows what they want, and is willing to trust an advisor to "set it and forget it." Farther's algorithmic tools need time to work in your favor, just as with any long-term investing strategy, so the biggest question isn't whether you will make money, but do you feel clear enough on your goals to hand over your money management to a hybrid human/robot team?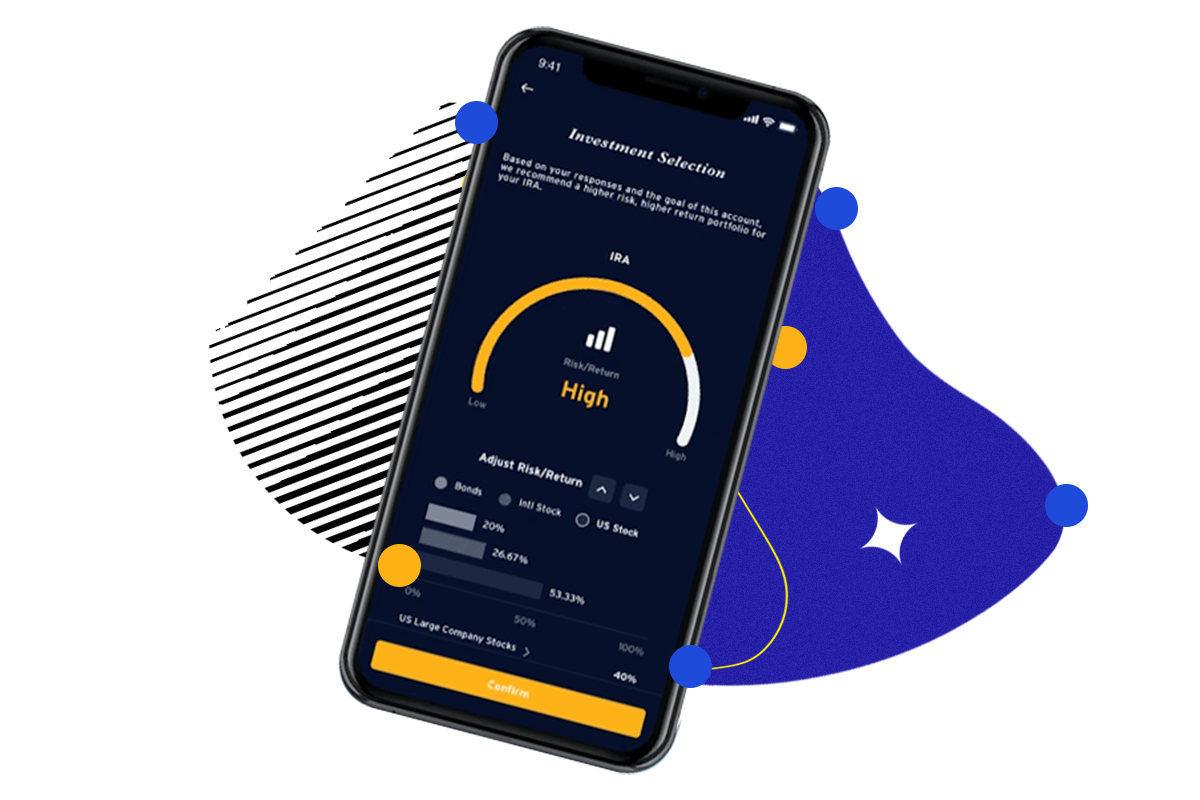 How do I make money with Farther? 
You make money through Farther by working with some members of their private wealth management team who help you set up a personal investment strategy using Farther's technological offerings. With a human and vetted investment professional you will be able to talk out your ideas with someone who will understand your personal needs and goals.
One interesting example of Farther's technology is the "cash waterfall." The cash waterfall program aims to help you fight idle cash that you have saved, that due to inflation is actually going down by just sitting there. The idea of the cash waterfall program is that instead of having your money be idle, all money that is deposited into your Farther account will go into tax-friendly savings accounts such as a 401(k) or 529 college savings plan.
In summary, Farther does as it says: It deploys humans to think smart and help you set up your goals, then it leverages its technology to help you actually cross that line.
How do I cash out with Farther? 
You cash out of the Farther platform the same way you would cash out of any robo-advisor/wealth management service. You just ask, and the cash is transferred to your bank.
That said, the way in which Farther is set up is such that you are supposed to hold and build your wealth through the platform. Thus, if you are investing with Farther you probably are looking at decades-long partnership.
Farther vs traditional investing 
The big question that you have to ask yourself with Farther is if you would benefit from utilizing their services. The S&P has had an annualized average return of around 10% to 11%. For the past two years, Farther has been in this bucket, leveraging a better return on investments than Farther's competitors Wealthfront and Betterment. However, both Wealthfront and Betterment have lower fees.
Remember, Farther hit the market right at a time when the economy went bananas. Some predict that a recession is in the works, and if so retail investors may benefit from having a smart wealth advisor leading them through a potentially risky economy. But you could also argue the opposite is true, and say that the little guys should opt for lower-cost options, even if they have a lower ROI.
For Farther to be competitive for you, it needs to return more than 11.3%: the first 10.5% is from the S&P estimated earnings, and add another 0.8% to cover Farther's annual management fees. 
That means that any ROI over about 11.3% would make Farther more competitive than lower-cost robo-advisors.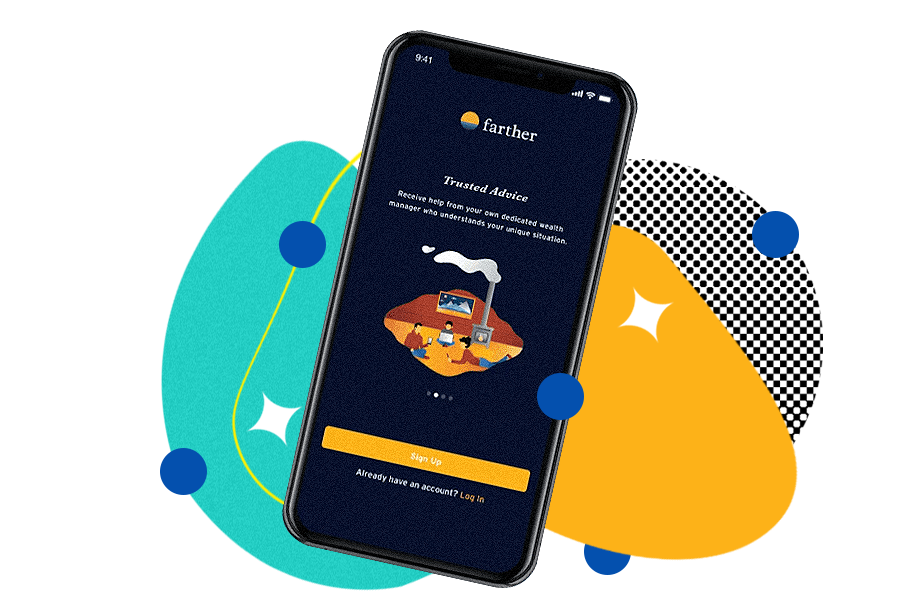 What other people are saying about Farther
One of the big negatives with Farther is that it hasn't been on the market long enough for consumers to give a lot of feedback. This is especially relevant since the core value add for Farther is that it provides the qualitatively measured value of a financial advisor. As the company is still at its starting stage and there isn't that much feedback on how the wealth management advisors are, the consumer takes the risk on their own.
Are there other apps like Farther?
There is no direct competitor for Farther. Farther is the only platform that combines the wealth advisor platform with the technological advancements of robo advisors. Wealth managers are probably not the best companies to compare with Farther, as their services are more personalized. A more accurate comparison would be with other wealth management digital platforms like Betterment or Wealthfront. 
Betterment has a $0 minimum initial investment which means that it is available for anyone who has a desire to grow their personal savings. They list their features as "automatic rebalancing, tax-saving strategies and socially responsible investing"—which actually sounds sort of in line with Farther's cascade feature. 
Wealthfront is another major robo financial advisor. You can start investing at $500 dollars and make investments through their strategic investment options. With Wealthfront there is competitive tax planning, digital financing tools and a set number of competitive investment ETFs. They also strategically limit your risk. For example, Wealthfront limits your total portfolio's exposure to cryptocurrency to 10%.
Both of the robo advisors have a return on investment that is below the 10.5% that the S&P 500 has historically brought, so this is something to consider when planning for the future.
Farther

Fees

Minimum investment

Average returns

Risk Level

Available on

iOS

Android

Review

 
Our hot take on Farther
Farther provides a mix of the old and the new. Founded by two finance vets with prestigious backgrounds, Farther aims to bring the benefits of wealth advisors to the general population. The big risk is that it is still a new firm without a history of high returns. However, as it uses high tech solutions to make sure that your money is going to work for you, and couples that with top tier wealth management professionals helping you plan out your financial goals, Farther can in fact help stretch your money further.
I'm in! How do I sign up for Farther?
1.

Log in to or create a MoneyMade account.

Visit our Farther platform page and log in to your MoneyMade account.
2.

Download the Farther Finance mobile app.

Download the Farther app from the app store or by going to farther.com
3.

Create your profile.

You'll be asked to provide some basic information including your name, phone number and some general KYC information.
4.

Select a funding source.

Choose a funding source and link your account to Farther so you can start investing.
5.

Begin financing your core accounts.

These accounts can include an emergency fund, IRA, and long-term growth fund.
6.

Set up your goal-based accounts.

These can be things like buying a house, or starting a business.
7.

Farther Finance will then get back to you.

You should hear back from Farther Finance with an investment strategy and your investment advisor will work with you to execute these wealth-building opportunities.
8.

Return to MoneyMade and link accounts.

This will allow you to track everything in one place and receive personalized investment advice.
Explore Assets
Click an asset to learn more
Dogecoin
Music Royalties
Tether
Farmland
Wine
Art
Real Estate
Robo Advisor
Gold
Bitcoin
Stocks
Lending
Startups
Ethereum
DeFi
Solana
Oil & Commodities
Polkadot
Metaverse
NFTs
Whiskey
Bonds
Platinum
Sports Cards
Cardano
Ripple
Silver
Watches