GROUNDFLOOR Review
Groundfloor Review: Diversify Your Portfolio By Funding Loans for Real Estate Projects
Groundfloor offers real estate debt investing with just a $10 minimum

Published Feb 18, 2022•Updated Jun 21, 2022
Passive Income
Lending
Real Estate
Groundfloor provides an affordable way for non-accredited investors to diversify into real estate debt instruments. With a minimum investment of as little as $10, you can buy Groundfloor notes that are secured by a pool of loans Groundfloor makes to real estate developers. These notes typically mature in 30 days, 90 days or 12-months and the returns earned are often higher than other fixed-term investment products.
Borrow our cheat sheet
MoneyMade member rating
4.2
Bonus offer
Invest $5,000 and receive a $100 bonus!
Pros and cons
Pros
Low minimum investment and no accreditation requirement
Investors receive monthly interest payments
Investors won't owe any fees
Cons
The loans you're funding tend to be higher-risk
Your money will be tied up for a while
What is Groundfloor?
Groundfloor is a real estate app for investors who want to invest in short-term residential real estate loans. It was founded in 2013 by Brian Dally and Nick Bhargava, and it was one of the first real estate crowdfunding apps to provide SEC-qualified offerings to non-institutional investors under Reg A.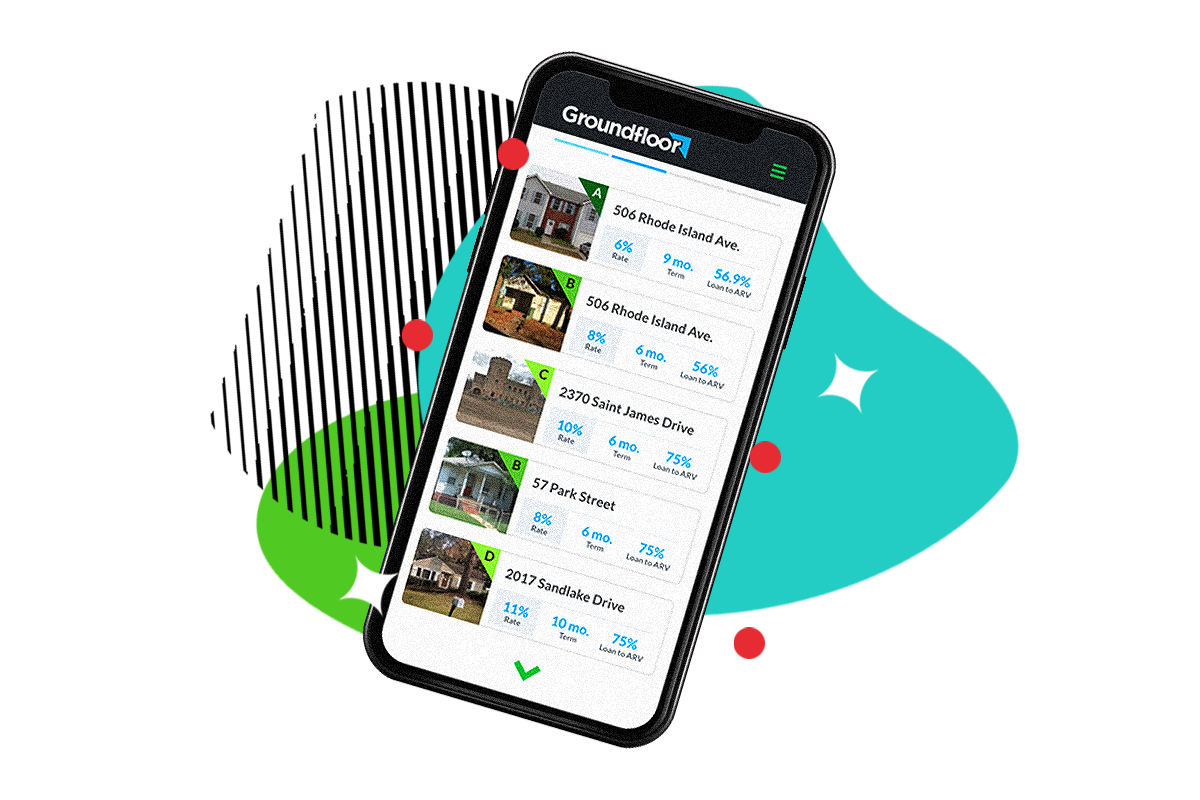 How does Groundfloor work? 
Groundfloor makes three types of loans to real estate investors: 
Fix and flip loans to renovate and resell properties

Renovate to rent loans which allow developers to purchase and upgrade rental properties

Property rental properties, which provides loans for real estate investors to buy "rent-ready" properties
Groundfloor then offers notes to investors that are backed by the loans they made. Investors receive interest payments as borrowers make monthly payments. The notes typically mature in 30 days, 90 days, or 12-months and borrowers begin receiving monthly interest payments within two months of investing.
Investors receive interest payments from the time of the initial investment until the loan is repaid in full. If the borrower defaults, investors may receive additional default interest. After a loan is repaid by a borrower, Groundfloor repays principal and interest to the investor within a week. 
Who can invest with Groundfloor? 
Anyone can invest with Groundfloor as long as you can provide a Social Security Number and bank account information. The minimum investment is just $10, and there is no requirement for investors to be accredited.
Where Groundfloor gets it right
It's easy to get started investing 
Groundfloor allows you to start investing in notes with as little as $10. This low minimum investment means almost anyone can afford to buy Groundfloor notes. And you do not have to be an accredited investor, unlike with many competitor sites that give you exposure to real estate. 
Investors can earn monthly interest payments 
Unlike some other investments which can take years to pay off, you'll begin earning monthly interest payments shortly after buying Ground Floor notes. While there is typically a lag between your initial investment and your first monthly payment, you'll earn interest from the time that you first commit money to a loan until the time the loan is fully repaid. 
Investors won't owe any fees 
Groundfloor charges fees to borrowers who take loans with the company. But investors who purchase notes backed by these loans do not owe any fees. When you don't have fees taken out of your investment, your real returns can be higher since they aren't reduced by this added cost.
Where Groundfloor could do better
Offer some lower-risk investment options
Groundfloor's only investment offering is notes backed by loans made to real estate developers. These loans are for fix and flips, renovate to rent, and rent-ready property rentals. Fix and flips and renovation loans are risky, as borrowers could fall behind on construction and begin to miss payments. 
Provide more liquidity 
Unlike some other investments that provide exposure to the real estate market, such as real estate ETFs, you do have to tie up your money with Groundfloor. While the minimum note term is just 30 days, you are still making a commitment that you can't get out of for a period of time. That said, platforms like Groundfloor provide more direct exposure to real estate markets than ETFs and REITs.
Offer a more consistent user experience
Trustpilot reviews show investors have had mixed experiences with Groundfloor. The real estate investing platform has received 20% excellent reviews and 30% great reviews, but 40% of the reviews are poor. Some investors have reported a track record of substantial losses over several years and loans that ended up defaulting.
Can you really make money on Groundfloor?
Groundfloor indicates investors have earned 10.5% returns to date and have collected a total of $12,693,868 in interest. It is definitely possible to make money with the platform if the loans that back the notes you invest in are repaid.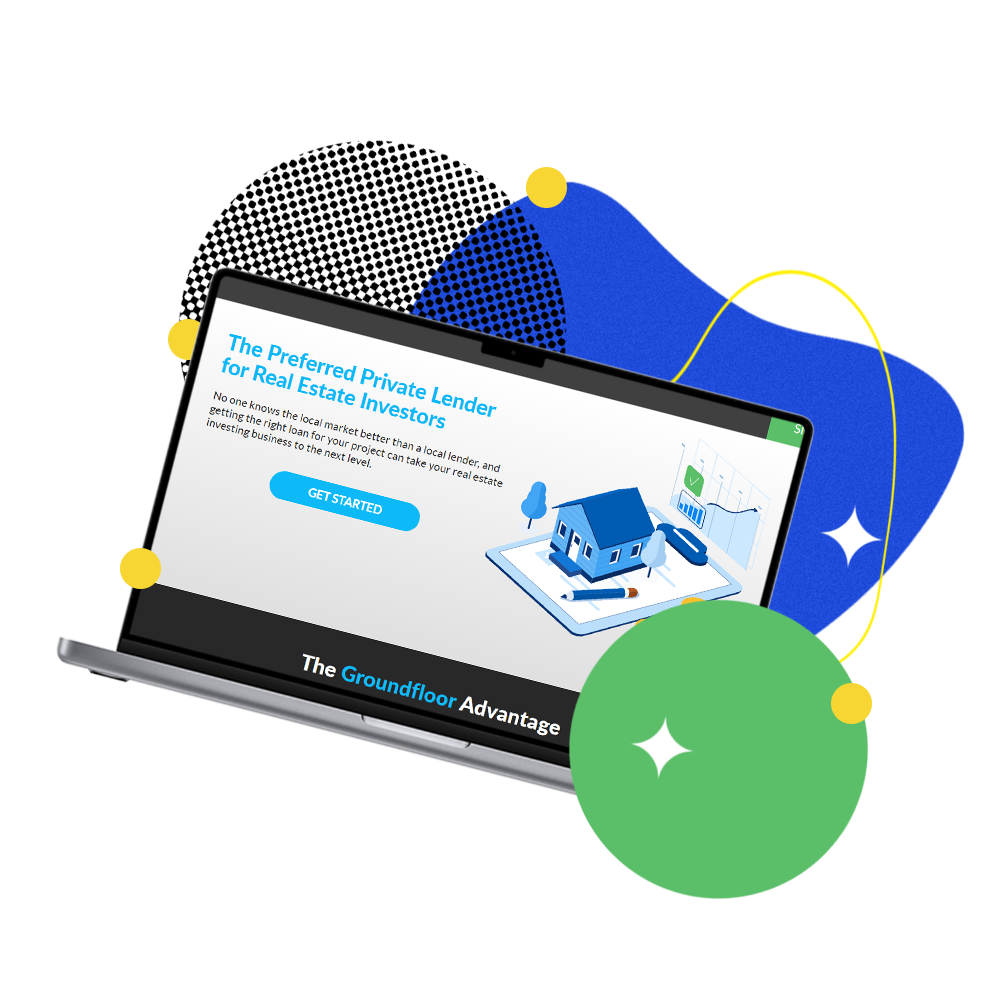 How do I make money with Groundfloor?
When you invest with Groundfloor, you can choose from among a pool of notes that come with 30 day, 90 day, or 12 month maturity rates. Each pool of notes is backed by loans made to real estate investors, including fix-and-flip notes or renovate-to-rent loans. 
You'll begin receiving monthly interest payments as borrowers make payments, and your principal will be returned to you along with outstanding interest due once the loans are repaid in full. 
The specific returns you earn will be determined based on the loans you choose. Loans are graded from A to G, with some charging higher interest than others. The riskier the loans, the higher the potential returns you can earn as an investor—but the greater the potential for default. 
How do I cash out with Groundfloor? 
You'll receive monthly interest payments after investing, and your principal balance will be returned to you after the maturity date on your note and once the loans backing your note are repaid in full. 
You can withdraw any cash balance in your Groundfloor account to your bank account at any time or can choose to use the money to fund other projects. 
Groundfloor vs traditional investing 
Groundfloor can produce higher returns than other fixed-income investments such as bonds or CDs, but you take on more risk. Groundfloor is different from investing in stocks because you have to tie up your money for a period of time and can't just trade assets whenever you want. However, you make money from monthly interest payments with Groundfloor, not just when you sell stock. 
The returns you can earn vary based on the risk you take on with Groundfloor, with higher-risk loans leading to more potential returns. However, the trading platform indicates it has produced 10.5% returns to date, which is similar to the returns the S&P 500 has produced over the long term.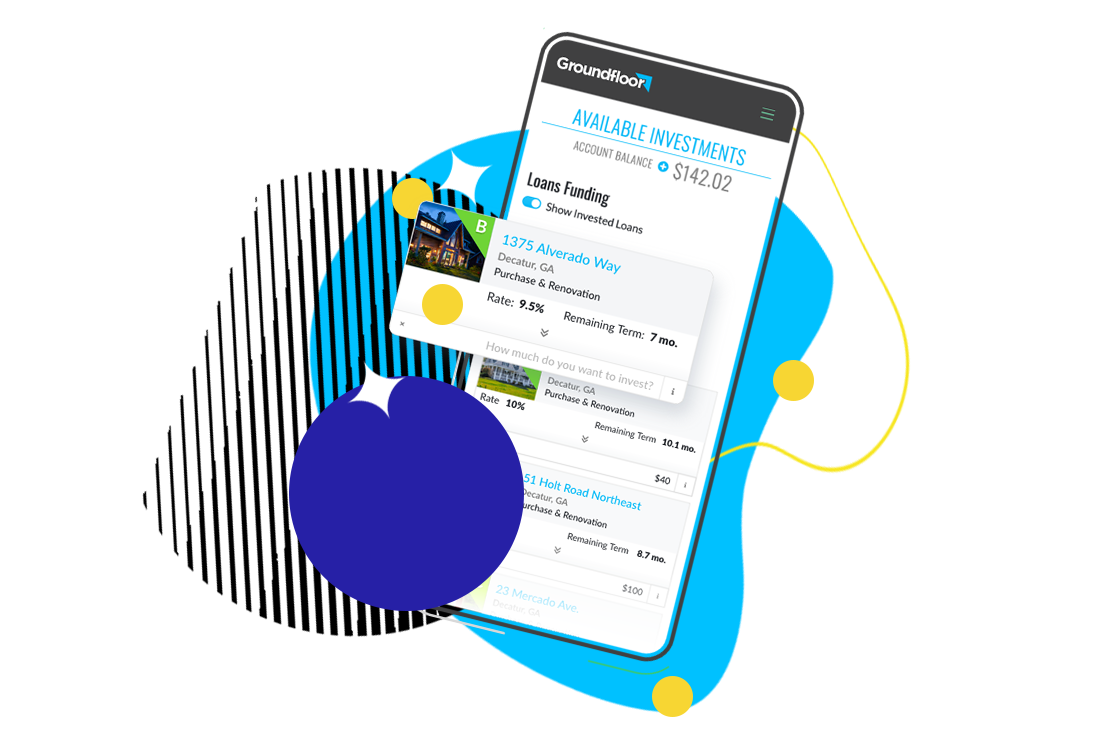 What other people are saying about Groundfloor
Groundfloor has received mixed reviews. 
One reviewer on Trustpilot reported they've been "investing with them extensively for over 2 years," and have earned "overall decent returns." However, even this investor's positive review indicates that some of the foreclosure deals are "sketchy." 
Other reviewers reported that they've sustained mostly losses with Groundfloor, with a commentator indicating they "invested in 2 loans, both are in arrears and Groundfloor did not have any communication with me."
Are there other apps like Groundfloor?
Fundrise also allows you to invest in real estate, just as Groundfloor does—and both platforms have the same $10 minimum investment and don't require accreditation. Both are fixed-income investment products as well, although Fundrise allows you to invest through eREITs rather than real estate debt instruments. Fundrise is also designed for investors willing to make a five-year commitment, while Groundfloor provides some notes that mature in just 30 days so you don't have to make such a long-term commitment. 
Roofstock is another option for those looking for real estate exposure, but its investment requirements are much more difficult to meet. You'll need to be an accredited investor and must have a minimum of $5,000 to get started—which is far above the $10 Groundfloor requires. However, while Groundfloor allows you to invest in real estate debt instruments, Roofstock gives you more direct exposure to real estate. The platform allows you to build equity by purchasing investment properties of your own or obtaining fractional shares in fully-managed properties.
GROUNDFLOOR

Fees

Minimum investment

Average returns

Risk Level

Available on

iOS

Android

Review

 
Our hot take on Groundfloor
Groundfloor's low minimum investment and the absence of accreditation requirements make the platform an ideal choice if you're interested in getting some exposure to real estate debt investments. If you're comfortable using the simple trading platform to research notes and learn about the underlying loans backing them, then this app is worth giving a try.
I'm in! How do I sign up for Groundfloor?
1.

Sign up for an account at MoneyMade.

Real estate debt can be part of a diversified portfolio, but you'll likely want many other investments as well including in stocks and bonds. If you start by signing up for an account at MoneyMade, you can explore all different types of investment platforms, find the right ones for you, and access all of your information from one convenient dashboard.
2.

Visit Groundfloor and click "Sign Up".

You can click through from MoneyMade to Groundfloor to visit the real estate trading platform and get signed up for an account with a few simple clicks. Once you're on the site, click the green "Sign Up" button on the page.
3.

Provide some basic details about your investment account.

You'll be asked to provide some simple information including: whether you want to invest as an individual or business, the country you reside in, the zip code where you live, and whether you are an accredited investor
4.

Input your personal identifying information.

You will have to provide Groundfloor with your first and last name; a telephone number; an email address; a password; your Social Security number; and your bank information.
5.

Fund your account and choose your investments.

Money can be transferred from your bank account directly to Groundfloor so you can begin investing. You also have the option to set up automatic transfers. It can take three to five business days for your transfer of funds to clear depending on your bank. Once transferred, you can begin building a portfolio of notes.
6.

Return to MoneyMade.

After signing up for Groundfloor and choosing some investments, you can easily track your progress through MoneyMade.
Explore Assets
Click an asset to learn more
Dogecoin
Music Royalties
Tether
Farmland
Wine
Art
Real Estate
Robo Advisor
Gold
Bitcoin
Stocks
Lending
Startups
Ethereum
DeFi
Solana
Oil & Commodities
Polkadot
Metaverse
NFTs
Whiskey
Bonds
Platinum
Sports Cards
Cardano
Ripple
Silver
Watches