Masterworks Review
Masterworks Review: Put a Picasso in Your Investment Portfolio for $1k
Fine art isn't stuffy anymore—but it's still lucrative.

Published Aug 30, 2022•Updated Aug 30, 2022
Art
Long Term Growth
Collectibles
Of all the high-end alternative investments in the world, fine art has shown long-term returns that rival that of bonds. For the past 15 years, contemporary art sold at auction houses has appreciated in value at a rate faster than the S&P 500. 
But how is the average person supposed to invest in a $6 million Van Gogh or a $9 million Picasso? Enter Masterworks: a unique way to invest in art without having to spend millions of dollars on original art masterpieces. Founded in 2017 by entrepreneur and art collector Scott Lynn, the platform was made to help everyday people stop missing out on the solid risk-adjusted returns of blue-chip art.
In this detailed Masterworks review, we'll walk you through what this art investing platform offers, how to get started, its features, annual returns, and much more.
Borrow Our Cheat Sheet
MoneyMade member rating
4.7
Bonus offer
Users skip the 25,000 person waitlist
Pros and cons
Pros
Low minimum investment for fine art
Easy access the fine art market for beginners
Storage, transportation, appraisal, insurance, and other costs covered by Masterworks
All artwork is are pre-vetted
Masterpieces are stored securely in a climate-controlled facility
Masterpieces are stored securely in a climate-controlled facility
Low correlation with the stock market
Cons
1.5% annual fee, 20% commission on profits, and 10% premium on the purchase price of each painting to cover the cost of buying, transporting, and storing fine art
You must conduct a phone interview to finalize your account
May be a waitlist to join
Founded in 2017, giving it a fairly short track record
3 to 7 year typical waiting period to see ROI
Investment opportunities can be scarce and hard to nab
What is Masterworks?
Masterworks is an art investment platform that lets you benefit from partial ownership of masterpieces by artists like Andy Warhol, Claude Monet, Banksy, and others. This is achieved by letting users buy Class A stock shares on the platform. 
Founded by Scott Lynn in 2017, Masterworks makes blue chip art more accessible, whereas before it's only ever been available to elite investors and collectors through art auctions or expensive brokers. Lynn, an active collector of contemporary art himself, started the platform to make pieces by, say, Jean-Michel Basquiat or Pablo Picasso, more in-reach for DIY investors looking to diversify.
Masteworks builds transparency into the user experience, with a user education portion to its website. Masterworks claims that its proprietary pricing database contains more than 70 years of data and 60,000 data points which help collectors value pieces and project returns. These elements align with Masterworks' aim of making blue-chip art investment transparent and accessible to all.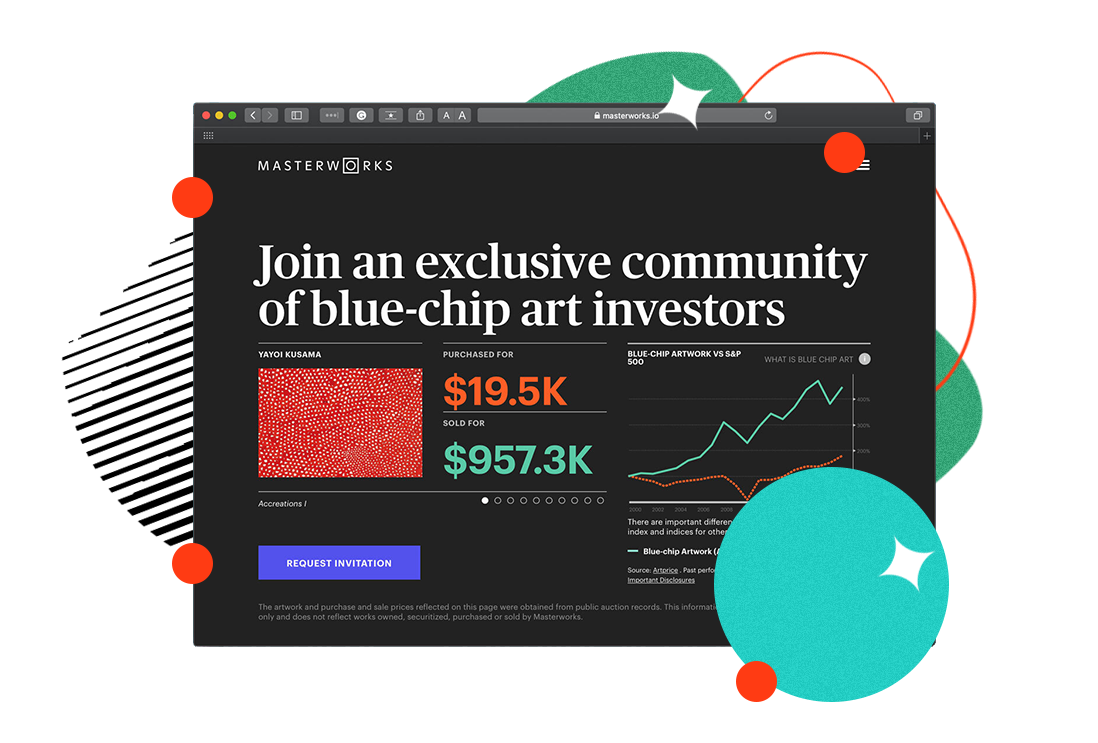 How does Masterworks work?
Here's how this online fine arts investment platform works:
1. Using its own capital, Masterworks sources works of art from all around the globe, aggregating pieces from collectors, advisors, galleries and dealers. The platform's buyers are looking out for specific investment criteria, such as the size and engagement of the artist's collector base, the average appreciation rate for artwork of that style, and demand for the paintings.
2.  The artwork is then registered with the SEC (Securities and Exchange Commission). Shares are issued at $20 per share.
3.  Investors start buying, with a $1,000 minimum investment. An individual investor can hold up to a 10% share of any one specific work. 
4.  Paintings are displayed in a members-only art gallery in SoHo, New York for a minimum of three years. After this minimum time horizon, the paintings are assessed for sale potential.
5.  A private collector buys the artwork. All potential buyers have to make an offer, which then must be approved by a majority shareholder vote. Once sold, the proceeds get divided among investors.
6.  If after seven years, Masterworks doesn't find a private buyer, the company will attempt to sell the painting at auctions and other avenues.
Who can invest with Masterworks?
With a minimum investment of $1,000, anyone can invest through the Masterworks platform—though there is a short phone interview required. The platform is ideal for investors who want to benefit from art investments without having to drop a ton of dough on expensive paintings. Masterworks is therefore great for DIY investors who don't want help from investment brokers to diversify their portfolios.
There may be a waitlist to join Masterworks, so eager art lovers should apply sooner rather than later.
Where Masterworks gets it right
Blue-chip art at your fingertips
On no other platform can you gain access to modern masterpieces in the $500,000 to $10,000,000 range. Masterworks makes the works of world-class artists—including Pablo Picasso, Joan Mitchel, Ed Ruscha, and Yayoi Kusama—super accessible. There's no need to worry about acquisition, transportation, and storage of the artwork, and you can get started without having to spend hundreds of thousands of dollars.
Helpful price database
Masterworks' price database includes historical market and auction house data—and this perk is available for free for investors. With the enterprise plan, users can go a step further and search art market returns by artist and by artwork. Results let users read up on the artist and view historical metrics such as purchase and sale price(s) and total return of each painting.
SEC filings of each artwork
Thanks to this new Class A stock sharing system, investors can more easily view the SEC filings of each painting on the Masterworks website. These filings include the artwork's SEC offering circular, current reports, and Form 1-K.
Easily linked to your bank account
Users can quickly link their bank accounts to the Masterworks website after creating their account. The process is simple and takes care of all the necessary forms to start investing.
Members-only fine art gallery in New York
During your artwork's appreciation phase, it will be displayed in a gallery in the famed art district of SoHo, New York. It will stay there, where you can set up an appointment to view it, until a private collector buys it.
Where Masterworks could do better
Longer time horizons than other fintech options
Traditionally, art investments have a 3 to 10 year holding period to get the most out of your return on investment. With Masterworks' secondary market, investors can sell their shares earlier, but this platform is still best for those with medium-to-longer time horizons. 
Art is speculative
There's not much Masterworks can do about this pain point. The fact is, artwork by living artists could devalue quickly depending on an artist's reputation (social media is tough). Art in general can be super subjective. That said, every piece of art listed on Masterworks is blue-chip (think Picasso, Warhol, and Banksy). So while speculative, this world-class artwork does a better job in holding consistent value over time. 
High initial premiums and other fees
Okay, Masterworks is great and makes art accessible—but the fees are still enough to make you do a double take. You'll pay a 1.5% annual management fee, and Masterworks takes a 20% commission on sales. There's also a 10% premium added to the purchase price of paintings, but this covers all the cost involved in buying fine art, from appraisal, restoration and auction fees to transportation and storage. Of course, if your painting sells for millions, they may feel negligible. And if you want to go the DIY route and invest in art on your own, you'll have to take care of those costs, which can add up to as high as 45%.
Can you really make money on Masterworks?
In short, don't sleep on making money from art. From 2000 to 2018, fine art outperformed the S&P 500 by 180%. And,  a recent sale on the Masterworks platform returned 32% to investors in under 12 months. Again, because art is speculative by nature, the platform is best suited for DIY alternative investors—but if you have the risk tolerance we say dive in.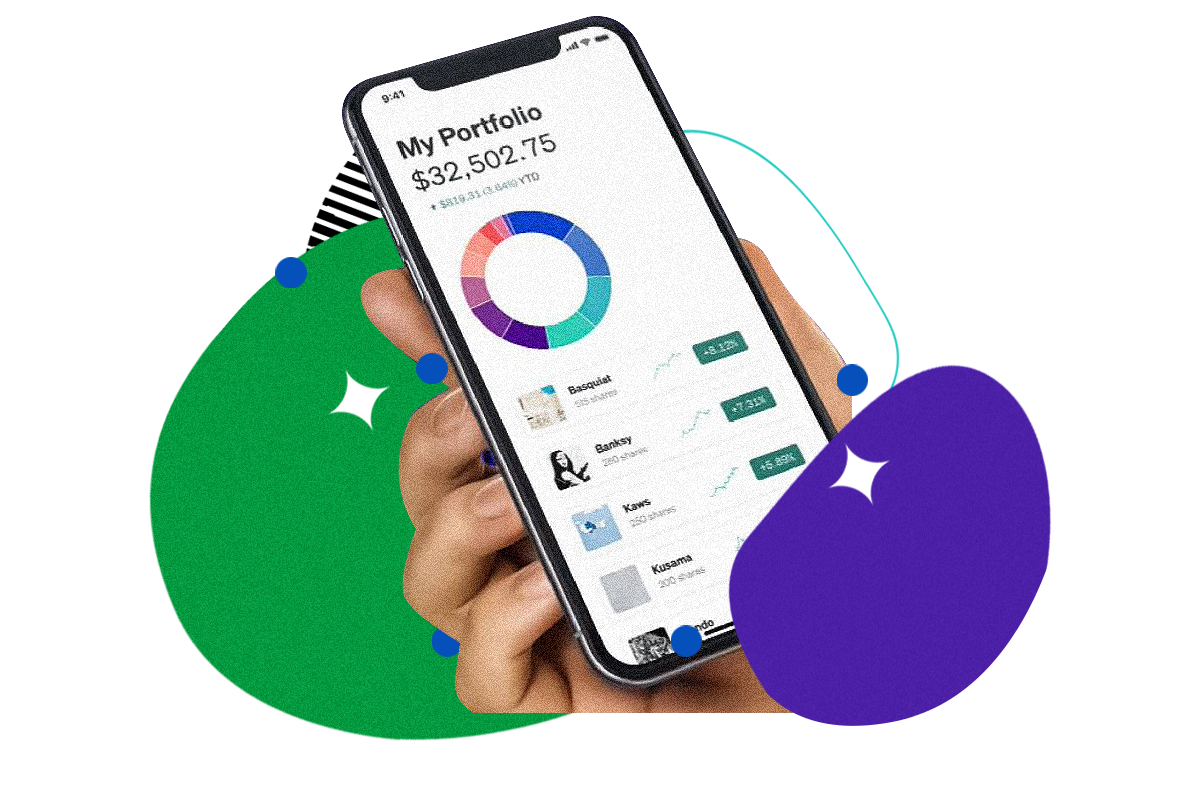 How do I make money with Masterworks? 
When you invest with Masterworks, you buy shares of paintings the platform has invested in. If the painting you invest in appreciates in value, the value of your shares goes up as well. You can sell those shares on their secondary market and perhaps turn a profit, or you can wait until the platform sells the painting—you'll earn a portion of the profit from that sale that's proportional to your investment less any platform fees and commission.
Your investments aren't guaranteed to go up in value, and exact returns will depend on the paintings you choose to invest in and the overall performance of the art market. To give you some context, let's take a look at the historical performance of art and the Masterworks platform.
How art as an asset class has performed
The average annual return of art was 8.9% between 2000 and 2019. And in 2018, art delivered a return of 10.6% as opposed to S&P's -5.1%, -4% for real estate investment trusts (REITs), and -1% for gold.
Zooming out long term, we can still stan art as a worthwhile investment. During the period between 1985 and 2018, the art market returned 5.3% annually, on average, while investment grade bonds from developed nations returned 6.5%.
How Masterclass as a platform performs
Unfortunately, Masterworks doesn't publish reports on its performance. And since it was only founded in 2017, there's insufficient historical data to evaluate its longevity and performance. 
How do I cash out with Masterworks? 
If you want to get out of your investment, like if your artwork isn't selling or you've decided to configure your portfolio differently, Masterworks has your back with its Secondary Market option.
With Masterworks' Secondary Market trading platform, investors can buy and sell artwork shares that they own with other Masterworks users, all without Masterworks' involvement.
So if you bought three shares of a Banksy painting and decided one year later to get out of your position, you can sell your shares on the secondary market. And for investors who want to buy their first share without the minimum $1,000 investment, they may be able to find a lower share price using the secondary market option.
This feature is only available to U.S. citizens with U.S. Synapse bank accounts.
Masterworks vs traditional investing
Art as an investment category has the potential for large gains, but you can't discount the risks either. Even a painting by a top artist loses value occasionally. Some of them may lie unsold for years. You can't really compare art investing with passive forms of investing such as index funds, which deliver returns comparable to market performance steadily. And compared to dividend-delivering stocks, be prepared to wait. The average time horizon to see any ROI is somewhere around 60 months (five years), with a minimum waiting period of three years. You can, in this respect, see Masterworks as comparable to investing in bonds.
Perhaps most similar to Masterworks is buying and selling NFTs on primary and secondary marketplaces. However, the Class A structure is distinct because it splits ownership up between multiple buyers. This kind of ownership structure is available within NFT smart contracts, but the ease of use with Masterworks is unique. There's no crypto wallet or advanced coding knowledge required to participate in the Masterworks secondary marketplace. And while buying and selling NFTs gives you freedom and flexibility, the Masterworks team takes care of showing your art and finding a buyer—meaning there's less responsibility on you.
Use Masterworks to diversify your portfolio when you have a solid foundation of passive funds making up the bulk. Alternative investments like artwork are a type of hedge that operates independently of the stock market. Consider Masterworks the icing on the cake, but make sure you have fully utilized retirement accounts such as IRAs and 401(k)s.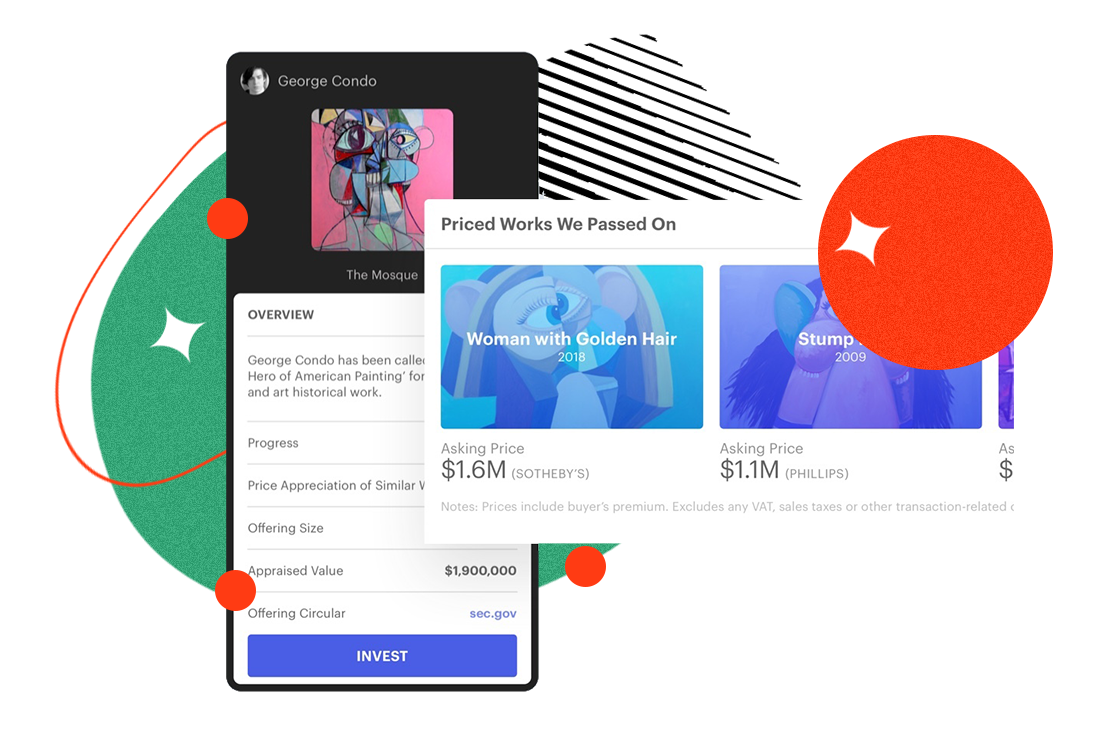 What other people are saying about Masterworks
People like Masterworks for giving them the opportunity to own a piece of art history. A crowd favorite is the artist biographies and historical auction data that come with the enterprise plan and help users make super well-informed decisions.
In addition, the platform itself is reportedly easy on the eyes with streamlined features. 
The biggest complaints are that you have to sign up for this platform with a phone interview—you can't do it fully online. Some customers have said this leads to more annoying phone calls from customer service representatives, which is unexpected in an increasingly digital era.
Most online reviews also mention confusion around Masterworks' fee structure. There's also some speculation on Twitter and other social media threads that the historical data for fine art's ROI are just too good to be true. For the average American investor who has until now been unable to participate in fine art investments, it's easy to see why the idea of paintings outperforming the S&P 500 might raise an eyebrow. Yet, well-informed alternative investors who understand the risks still stand to gain from this approach to fine art investing
Are there other apps like Masterworks?
Art has always been admired by many and owned by few—but that hasn't stopped humans from collecting in our own little ways throughout the course of history (anyone remember Pokémon cards?) 
But today's options for valued art and collectibles have exploded, particularly with the rise of blockchain and non-fungible tokens (NFTs).
While Masterworks is the only platform making blue-chip art—the kind of artwork you learned about in art history class—accessible via Class A shares, there's nothing stopping anyone from buying digital collectibles with a minimum investment of $0.
Alt is a low-fee platform that lets you purchase, trade, and auction off sports cards. Similar to Masterworks, Alt also offers tools to help users understand valuation and price history, including a comprehensive database and a proprietary analysis tool. There's a few selling options to choose from, and sellers can benefit from immediate payouts and ownership transfers. Experience immediate payouts, transfer of ownership within seconds and hassle-free happiness.
Meanwhile, Rarible lets digital artists and creators create (mint), sell, and trade the blockchain-verified unique crypto assets known as NFTs. While anyone can get started investing in NFTs today, we recommend learning about blockchain and cryptocurrency first, as this ecosystem is still volatile. The potential to earn (for both investors and creators) is high—but there are no guarantees.
Masterworks

Fees

Minimum investment

Average returns

Risk Level

Available on

iOS

Android

Review

 
Our hot take on Masterworks
We're happy Masterworks aims to make blue-chip art more accessible. Transparency in art sales has always been a hurdle for both collectors and artists alike. Anyone who's ready to venture into alternative investing and has a medium time horizon will love Masterworks, even though the fees are a little wonky and the concept of blue-chip art for all is still new. 
I'm in! How do I sign up for Masterworks?
1.

Log in to or create a MoneyMade account.

Visit our Masterworks platform page and log in to your MoneyMade account.
2.

Open a Masterworks account.

This can be done through your MoneyMade account or directly with Masterworks.
3.

Request an invitation to join Masterworks.

Masterworks is invite-only, but luckily invitation requests are often approved automatically.
4.

Wait for your phone interview.

Your phone interview will consist of basic questions about your investing style, goals, and how much you'd like to invest.
5.

Wait for your sign up link.

Once your phone interview is complete, you should receive a sign up link shortly thereafter.
6.

Sign up by following instructions.

The sign up process is mostly complete at this point, so your account should be ready to go in minutes. From here, you can fund your account with a bank transfer, debit card, or credit card and start investing.
7.

Return to MoneyMade and link accounts to track everything in one place.

By linking your Masterworks account to your MoneyMade account, you'll be able to track your investments all in one place and get a personalized risk score that will help you move closer to your money goals.
Explore Assets
Click an asset to learn more
Dogecoin
Music Royalties
Tether
Farmland
Wine
Art
Real Estate
Robo Advisor
Gold
Bitcoin
Stocks
Lending
Startups
Ethereum
DeFi
Solana
Oil & Commodities
Polkadot
Metaverse
NFTs
Whiskey
Bonds
Platinum
Sports Cards
Cardano
Ripple
Silver
Watches