Upside Avenue
Access to private real estate for everyone.
Looking for an UpsideAvenue review to help you decide if it's a good REIT to invest in?

A real estate investment trust (REIT) is a company that owns and manages various properties and distributes at least 90% of their taxable income to investors in the form of dividends.

Modeled after mutual funds, REITs pool capital from multiple investors, so that individuals don't have to buy, manage, or finance properties alone.

UpsideAvenue is one such REIT that lets everyday investors invest in multifamily real-estate to diversify their portfolio.

In this review, we'll cover everything you need to know about UpsideAvenue, including how to get started, how they work, the potential returns, it's pros and cons, and more.
Investment type
Non-publicly traded REIT
Annual Fee
No upfront fees. 1% ongoing annual asset management fee, 1% ongoing annual investment advisory fee.
Maturity period
At least one year
Open to investors outside the US
Yes. However, the total capital raised in the fund needs to consist of 50% or more from US investors.
Best for
Investors looking for long-term investments that can function as a good source of passive income

Real estate investors who are new to the market and don't have large sums of capital to invest

Investors looking to diversify their portfolio
What is Upside Avenue?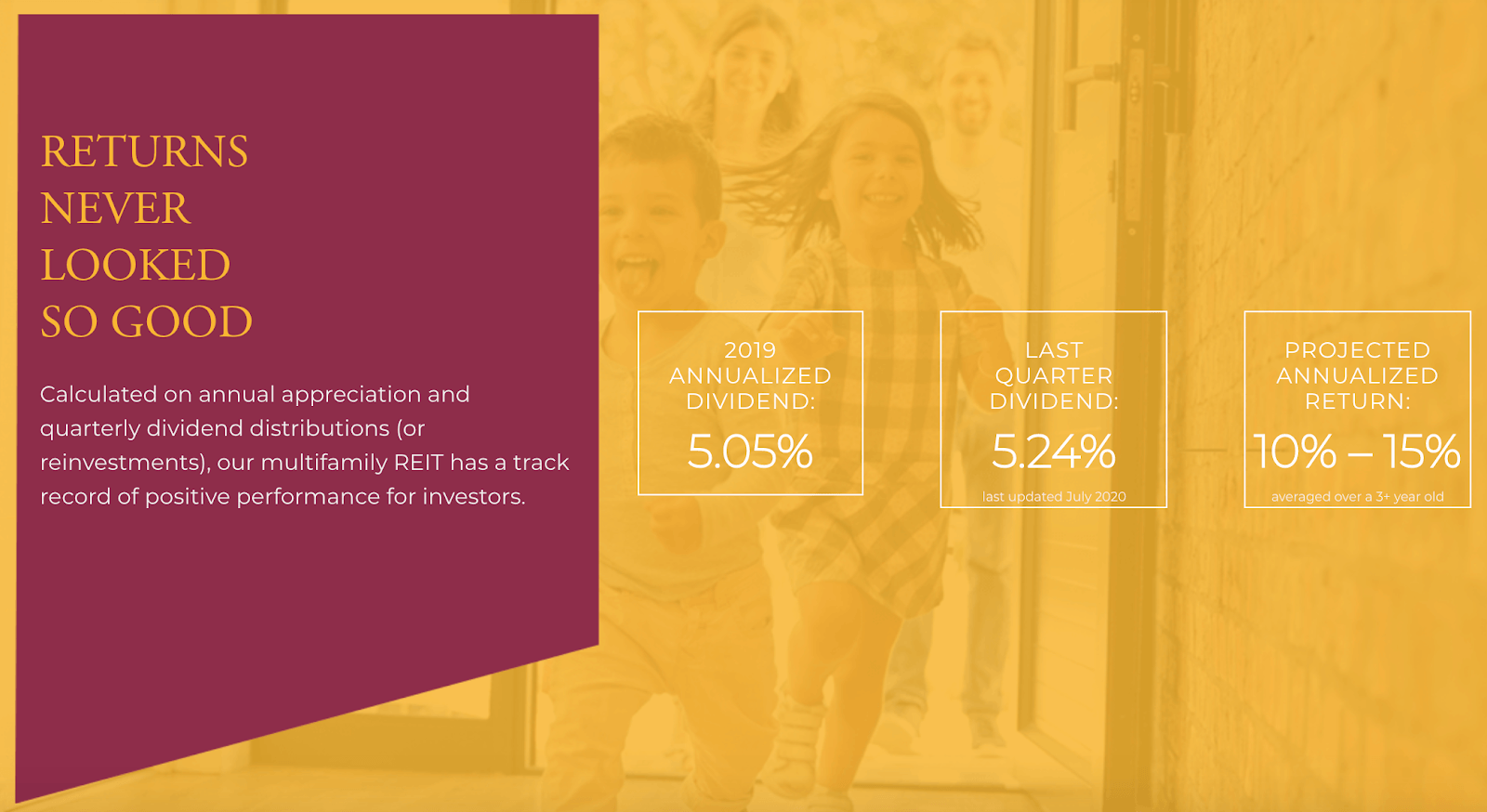 UpsideAvenue is an online platform providing access to Multi-Housing Income REIT, Inc - a REIT that specializes in buying and renovating multifamily housing in Texas and its neighboring states.
One of the factors that set UpsideAvenue apart from many other real estate crowdfunding platforms is its vertical integration.
Casoro Group (their parent company) does it all - they manage the REIT, source the properties, and manage the construction and operations of the properties as well. They have greater control over how the properties perform with their vertically integrated approach. This keeps things streamlined while reducing costs.
Who should use Upside Avenue?
UpsideAvenue is an ideal investment platform for:
Investors new to real estate who are looking for an easy way to enter the market without having to spend large sums of money
Investors looking for passive income - as properties start generating income, you'll receive passive income in the form of dividends distributed once a quarter
Investors who are looking for a diversified real estate portfolio including senior living, apartment blocks, and student accommodation.
How does Upside Avenue work?
This is how UpsideAvenue works:
1. Investors deposit funds into UpsideAvenue
Once you have deposited your money into UpsideAvenue's online platform, you become a shareholder in the REIT.
2. UpsideAvenue pools deposits into a larger fund
Once a quarter, UpsideAvenue pools the deposits before issuing your REIT shares.
3. This fund covers all the investment-related costs
Casoro Group uses this fund to purchase, renovate, and manage their portfolio of properties. Profits are then sent to the UpsideAvenue REIT.
4. Dividends are issued to investors
Once a quarter, UpsideAvenue issues dividends to investors.
As an investor, you have the option of cashing in your dividends or having it reinvested into the REIT to create compounding returns. Investors can also achieve increased returns through appreciation of the properties' value.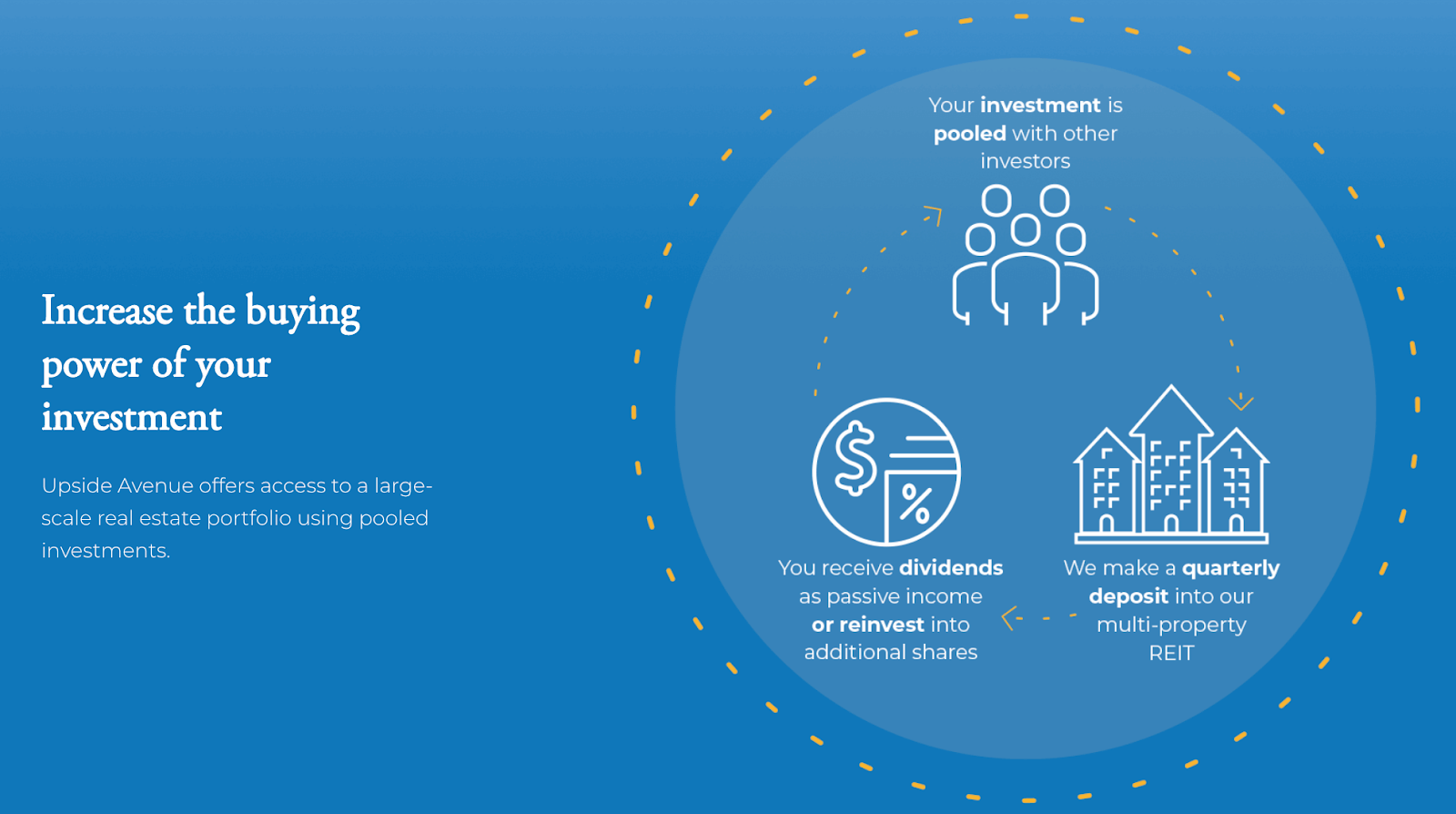 Upside Avenue features
1. Full bankruptcy protection
The REIT is a separate, bankruptcy resilient legal entity, meaning the assets it owns are independent of Casoro Group and managed by a separate administrator. This way, even if Casoro Group files for bankruptcy, all of your assets will be protected.
2. Diversified portfolio of "recession-resistant" deals
By investing in multifamily properties that span across different markets, UpsideAvenue has built a diverse portfolio of investment opportunities that can still provide good returns even in times of an economic downturn.
3. Third-party audits
A third-party appraiser audits the entire portfolio of properties annually. This ensures the quality and safety standards set by UpsideAvenue are being met.
4. Access to educational resources
UpsideAvenue provides access to on-demand webinars and other types of educational resources. These resources can help you better understand your investment and maximize your growth potential.
5. Multiple ways to fund your investment
UpsideAvenue allows you to fund your investment through several different methods, including tax-deferred retirement accounts like Self-Directed IRAs and Roth IRA.
Alternatively, you can use ACH (automated clearing house) transactions and wire transfers to fund your investment as well.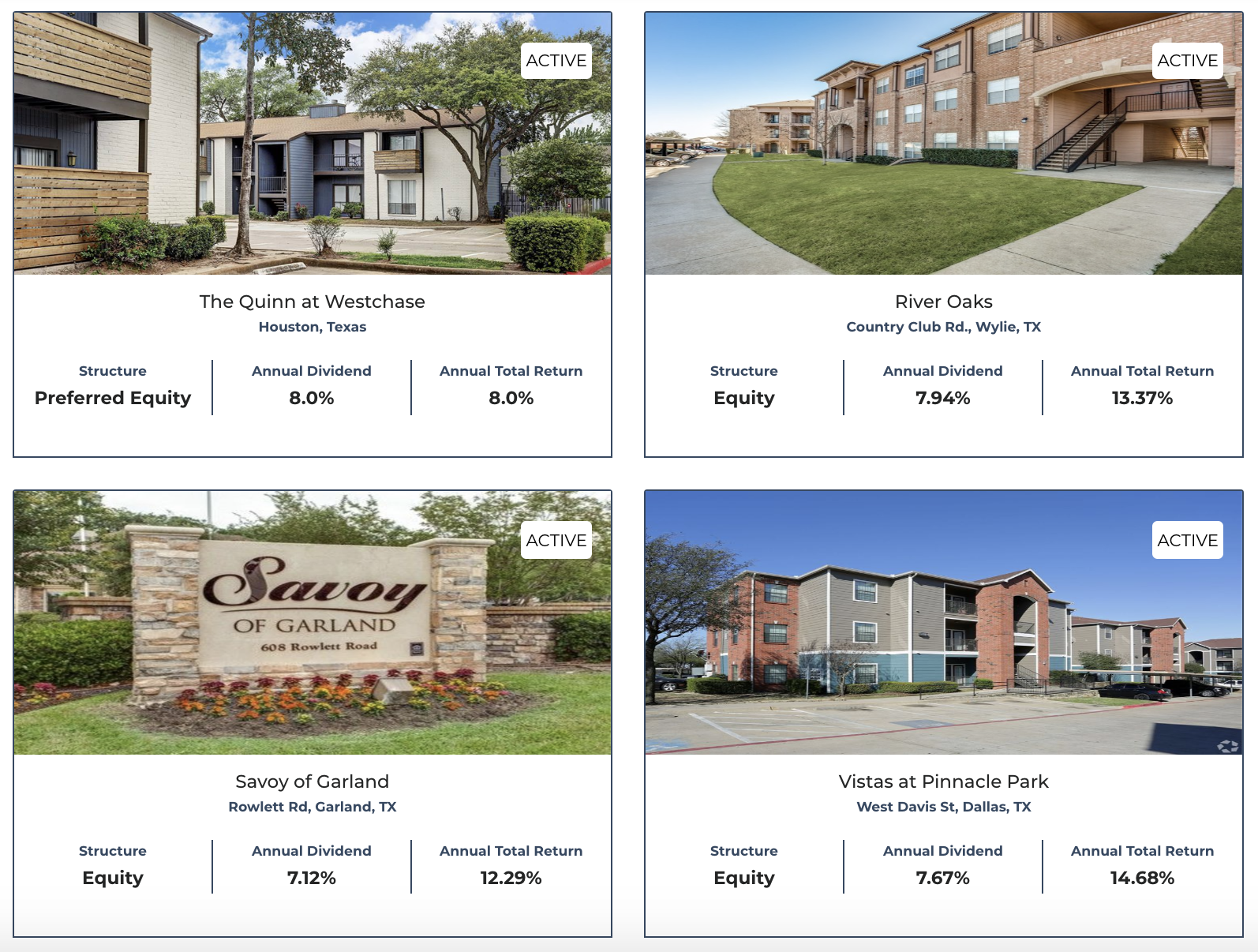 How to get started with Upside Avenue
Signing up with UpsideAvenue is fairly straightforward:
Step 1. Begin by going to upsideavenue.com and clicking on the "invest today" button
Step 2. Fill in general information like your name and email address before including your personal investor information. This includes your social security number, date of birth, and residential address. You'll also need to state whether you're an accredited investor or not.
Step 3. Include your financial information like account number and the account type.
Step 4. Once you have transferred the funds your investment will be complete.
Step 5. You will then receive an email inviting you to view the client portal where you'll find investment information, tax forms, documents, and information regarding the properties UpsideAvenue is currently investing in.
Upside Avenue fees
UpsideAvenue charges no up-front fees but does include some ongoing fees:
Clients pay a total of 2% in annualized asset management fees
When properties are sold, the REIT charges a 2% disposition fee based on the value of the property.
As with all real estate deals, additional fees may be charged on the property level, not directly to the investor.
Upside Avenue Potential Returns
UpsideAvenue has projected annualized returns of 10% - 15% with about half from dividends. UpsideAvenue's last quarter dividend, updated in July 2020, was 5.24%.
Investors have the option of cashing out dividends or having them reinvested into the REIT to create additional income the following quarter.
There is also the potential to earn through property value appreciation over time. As the property you invested in grows in value, so will the value of your share.
Upside Avenue Historical Performance
Since its launch in 2002, Casoro Group has provided average annual returns of 24.8% to investors (6.3% through dividends and 18.5% through appreciation of properties' values).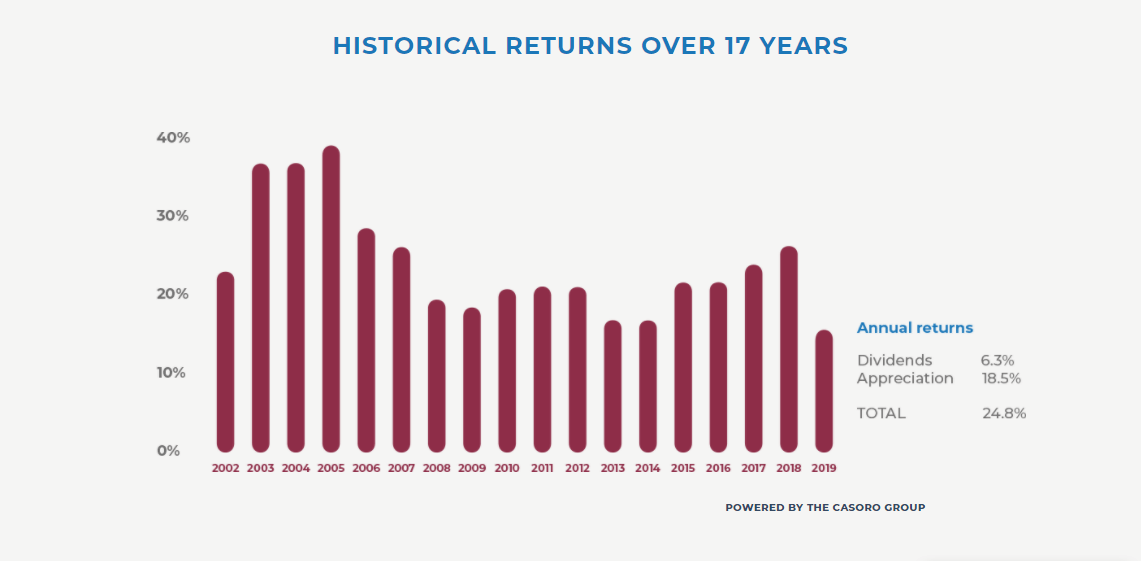 Pros and Cons of Upside Avenue
Here are the advantages and disadvantages of investing with UpsideAvenue:
Pros
Multifamily housing has a great return profile - UpsideAvenue targets 10-15% total return annually with about half in the form of dividends
Casoro Group is an award winning group that has been operational since 2002 and has significant experience investing in multifamily real estate and is familiar with the market it operates in
Historically, non-traded REITs have had far less volatility compared to other asset classes
UpsideAvenue has a diversified portfolio in carefully selected markets across the Sunbelt Region of the US
UpsideAvenue charges no upfront fees
UpsideAvenue is available to both accredited and non-accredited investors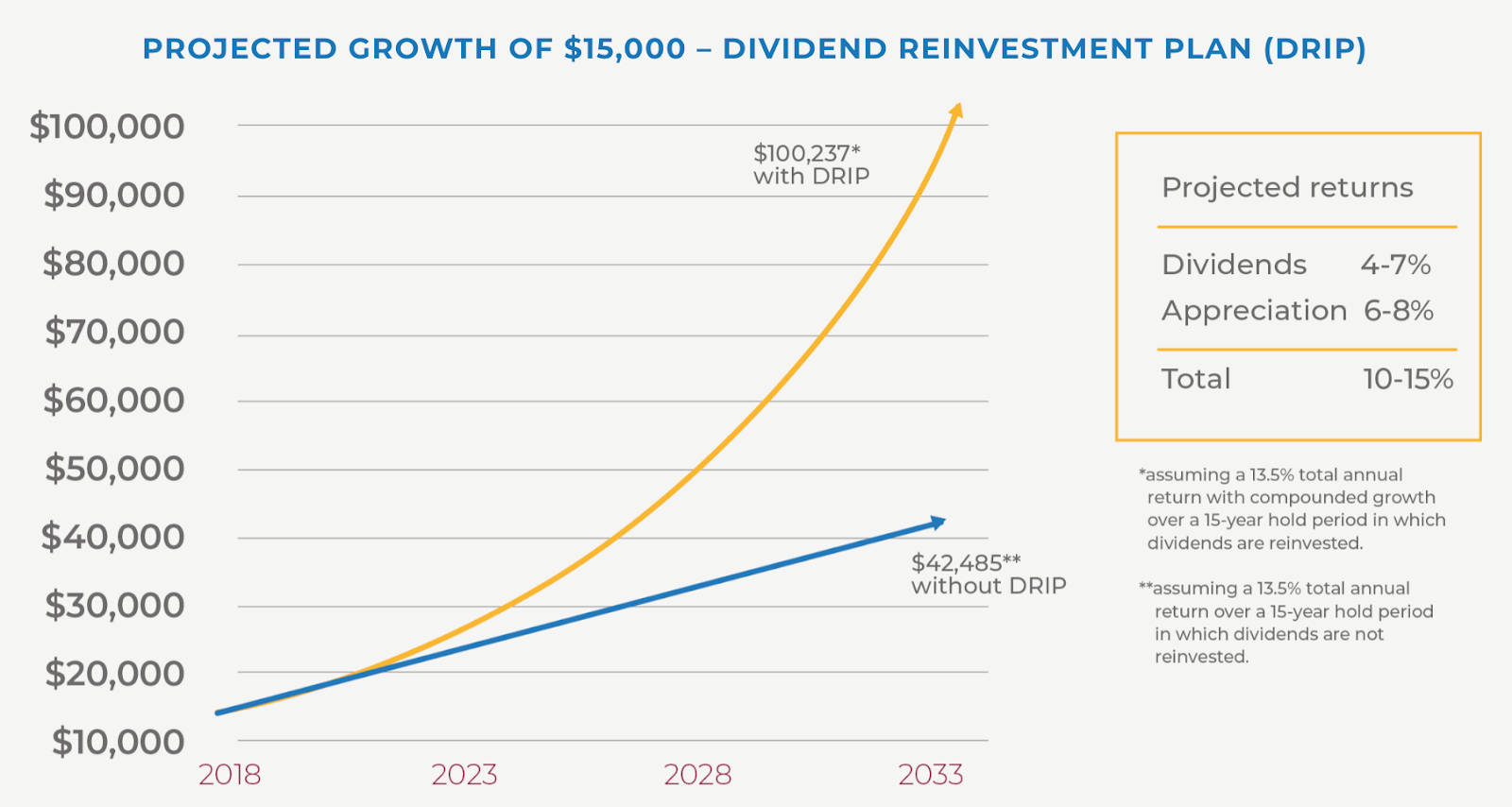 Cons
Not ideal for investors with a short-term investment horizon as investors have to wait at least a year before cashing out
Risks of Investing Through Upside Avenue
Before deciding to invest with UpsideAvenue, keep this in mind:
UpsideAvenue is not a publicly traded REIT - resulting in a lack of liquidity. However, being a non traded REIT also means you don't have the volatility of a Publicly traded REIT.
The real estate market is always subject to factors like natural calamities and local and global economic cycles. If the real estate prices in the area decline, this results in a loss of equity which could lead to lower rents and reduced profits for UpsideAvenue and its investors.
Conclusion
This review of UpsideAvenue should provide you with all the information you need about their REIT.
Before deciding, it's always a good idea to study the potential risks involved such as the lack of liquidity. It is however important to consider the benefits of balancing your portfolio with long-term, balanced portfolio investments.
UpsideAvenue has a lot of benefits that make it an attractive investment for any investor. With low barriers to entry, low fees and extensive prior experience, UpsideAvenue remains an excellent investment for those new to real estate.
Do more with your money
Become a MoneyMade member (it's free!) for personalized alternative investment matches, expert insights and portfolio tracking.