INVEST LIKE A SPORTS NERD
Because you can't scroll on House of Highlights all day.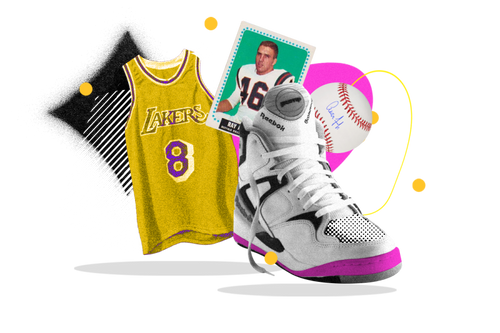 Good for:
Sports
Fun
Luxury Goods
Turns out, there's a stock market for sports and culture.
If MTV Cribs taught us anything, it's that you know you made it when you have a whole room in your house dedicated to one of your weird hobbies—Mariah Carey's "mermaid room," Gene Simmons' KISS memorabilia room, 50 Cent's strip club room...the list goes on.
Sports nerds out there, you already know what your "we made it" room would be: walls lined with framed jerseys and autographed sports cards on one side, rows upon rows of sneakers on the other.
Then, up on the mantle, your holy grail: the pair of Air Jordan 1s that Michael Jordan wore when he shattered the backboard during an exhibition game in Italy, a shard of glass still embedded in the sole. Or maybe it's the bat superstar slugger Roberto Clemente swung when he won the MVP award in 1966. It could even be a piece of the court that Kobe Bryant played his farewell game on, emblazoned with the iconic Lakers purple and gold and signed by the Black Mamba himself.
Actually, you could own a piece of all three for under $25.
Good for:
Sports
Fun
Luxury Goods
What's the catch?
Investing platforms like Public, Collectable, and Rally acquire multi-million dollar memorabilia that's likely to go up in value. They then split up the investments into smaller shares that you can buy for just a few bucks (these are called fractional shares). While investing in the most iconic moments in sports history used to be reserved for the rich and famous, these apps let anyone with a passion for sports and a smartphone participate. Invest wisely, and maybe you'll have your own memorabilia room one day.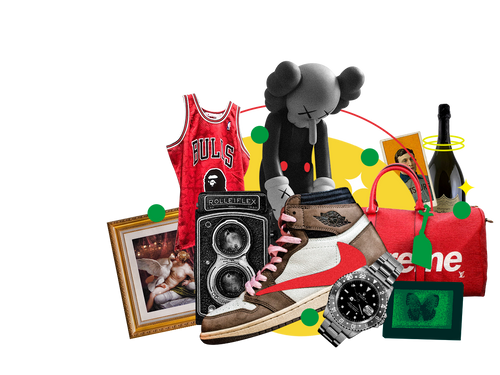 The pursuit of happiness (and profit)
Did the quarantine hobby craze usher in a golden age of sports memorabilia collecting? While you were busy tie-dyeing sweatsuits and baking banana bread, the legendary DJ Steve Aoki was amassing a sports cards collection with a value reportedly in the millions and opening his own sports memorabilia store, Cards and Coffee.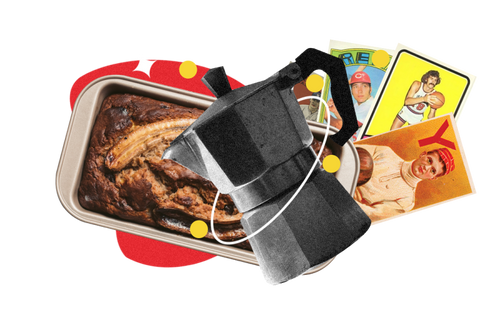 Make a stack on comebacks
Lockdown left us with nothing but online shopping and nostalgia, so it's no surprise that the collectibles market is experiencing a renaissance. Sneakerheads are thriving in a secondary market that's expected to grow to $30 billion by the end of the decade. On eBay, card sales exploded 142% from 2019 to 2020, with soccer and basketball cards leading the pack.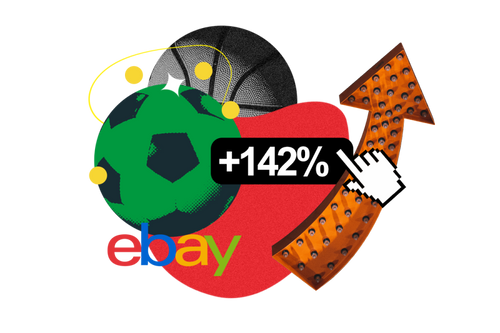 Batter up, money up
Trading cards are all fun and games until you get your hands on a six-figure blue-chip trading card—like blue-chip stocks, these are the cards with killer reputations and a history of going up in value. In addition to Roberto Clemente's bat, Collectable lets you invest in these winning cards for as little as $20.
Dust off that box in ma's basement
Apart from earning yourself some serious bragging rights, investing in your favorite rookie cards will help you grow your wealth while keeping it safe. Sports collectibles significantly outperform stocks on investments held for at least a few years. Plus, they don't follow the same ups and downs of the economy (sports cards were booming during the pandemic recession), so investing in them can help you hold onto your money during market downturns.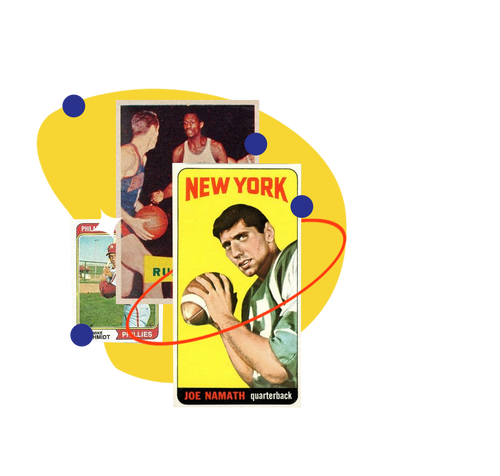 1. Iconic sports cards
With Collectable, you buy shares in iconic sports memorabilia for as little as a few dollars. If the value of that asset increases, so does the price of your shares. When Collectable gets an offer to buy the asset, you and other shareholders can vote on whether or not to sell—sell the asset, and you get a payout proportional to your investment.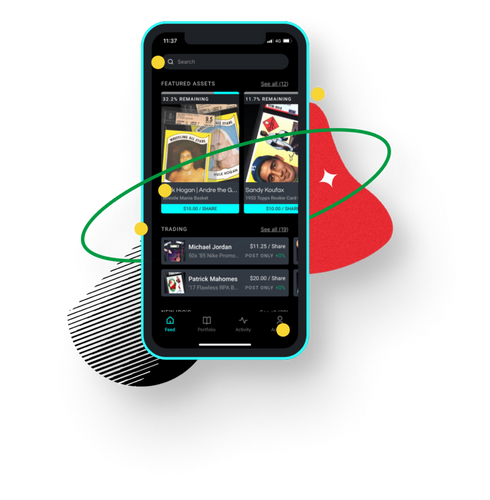 Jumpman, Jumpman, Jumpman
If you've ever passed a five-block line of people camping outside of a Foot Locker for a sneaker release (or been in one), you know how much hype a pair of limited-edition kicks can generate. And where there's hype, there's money to be made. You might not be ready to invest a stack on flipping sneakers, but you can buy shares in some of the world's most exclusive—including MJ's shattered backboard AJ1s—on Public.
The Yeezys jumped over the Jumpman
The most valuable pair of sneakers in the resale world are Kanye West's first pair of Yeezys, which sold for $1.8 million. That's 18,000 pairs of Air Force 1s.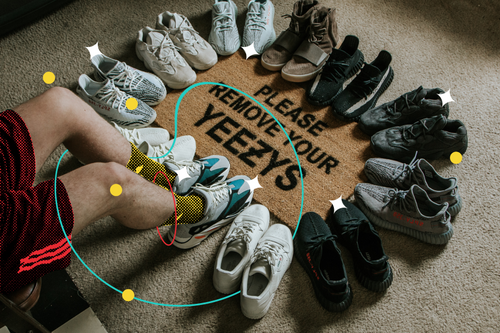 2. The stock market for culture
Public bills itself as the "stock market for culture," and rightfully so. They've acquired some of the world's most coveted collectibles, sneakers, and art, and you can invest in them with as little as $10. They even have a dedicated gallery in lower Manhattan and regular pop-ups where you can go check out the gear you've invested in. Public likes to hold these assets for the long-run and to milk them for all they're worth, but you can buy and sell shares 24/7 on their app. The platform matches people who want to sell their shares with people who want to buy shares daily.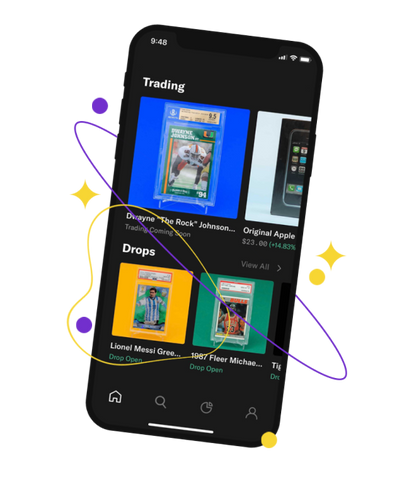 Fast money, fast cars, long profit
It's not just sports memorabilia that dwarfs the stock market when it comes to returns—so do collector cars. That's why Rally invests in both. Their collectible assets include everything from a piece of the signed Staples Center court from Kobe Bryant's farewell game to a 1955 Porsche Speedster that's one of just 193 made in the original "Speedster Blue." With as little as $1, you can buy shares of these collectibles and more.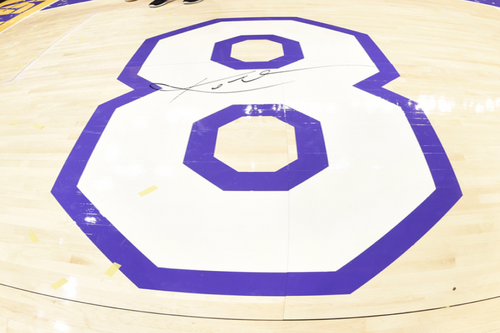 3. Watch your bread rise
If the asset you buy shares in increases in value, so will your shares. Rally's target is to offer 9% to 12% returns, and they don't charge any commissions or management fees on your investments. They even offer free trades, so any cash you rake in is yours to keep.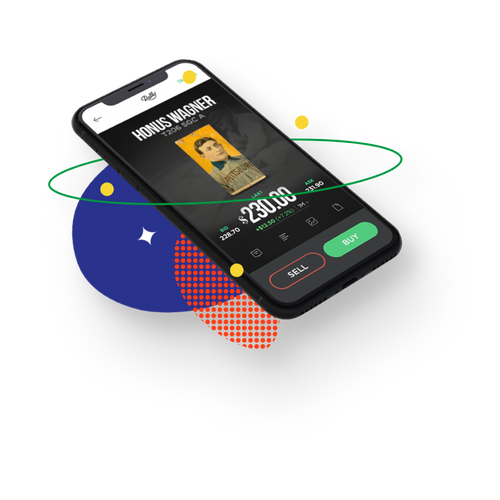 DO MORE WITH YOUR
MONEY.
RIDE WITH US