Will the Nolan Ryan Rookie Card Skyrocket or Strike Out?
Nolan Ryan's unmatched fastball and lengthy career made him a fan favorite. See how the Nolan Ryan rookie card value has kept up with the pitcher's reputation.
Many companies on MoneyMade advertise with us. Opinions are our own, but compensation and in-depth research determine where and how companies may appear.
Sports Cards
Collectibles
Sports Memorabilia
As collectibles continue to draw attention as an investment class, collectors are wondering what sports cards will be the best additions to their portfolios. Even Michael Jordan's baseball card has raised some interest. While some people have a knack for predicting the value of baseball cards, others rely on big names and impressive stories to lead them to the next home run. That's what could make the 1968 Nolan Ryan rookie card value worth watching.
The1968 Koosman/Ryan rookie card.
Source: beckett.com
With so many records cementing Ryan as one of the greatest pitchers ever, he's got plenty of worst-in-class records to remind us he wasn't perfect.
Some consider Ryan to be the greatest major league pitcher the game has ever seen. With Ryan's 27-year career and impressive strikeout record—including the King of the Walk Rickey Henderson—the Topps Nolan Ryan rookie card holds considerable value in the hobby. And since sports cards have remained a stable store of value during several economic downturns, a Nolan Ryan card might be a worthy addition to your portfolio.
Chart comparing PWCC 2500 index and SPX from 2017 to Sept. 2022.
Let's take a closer look at this Nolan Ryan card, what makes it so valuable, and how you can invest in one.
Lynn Nolan Ryan, Jr. had a flamethrower of an arm. His 108.5 mph fastball is a feat of strength and power that remains unmatched to this day. Over his 27 years as a pro ballplayer, he proved that some humans are just built differently.
Nolan Ryan statistics and highlights

Years active

1965-1993

Games

807

Innings pitched

5,386

No-hitters

7

Strikeouts

5,714

Wins

324

Hall of Fame induction

1999
Ryan's major league record includes stints with the New York Mets, California Angels, Chicago White Sox, and Houston Astros. But years before his MLB debut, he caught the eye of Red Murff, a New York Mets' scout, while pitching for his high school team in Texas. Nolan's coach told Murff that some opponents refused to bat against Ryan and that he'd broken bones in more than one catcher's hand. Murff said the high school junior had the best arm he'd ever seen, and two years later, the Mets drafted Ryan.
Record-setting Ryan
Thanks to his unmatched arm, Ryan still holds several records even though he retired in 1993. Some of his records include:
Strikeouts: Ryan's 5,714 strikeouts are impressive, but even more so when you consider that no one in history ever broke 5,000. Ryan's 5,000th was against none other than Rickey Henderson.
No-hitters: The second place to Ryan's seven no-hitters is Sandy Koufax, one of the greatest pitchers in MLB history.
Winning seasons: The length of Ryan's career means his record of 26 seasons with a win is unlikely to be broken.
The Mets' miracle
Ryan made his MLB debut in 1965 with the New York Mets, but he only appeared in two games that season before getting injured, and a turn with the Army Reserves took him out of rotation. It wasn't until 1968 that he began his official rookie season, which he opened by starting and winning in his first game and pitching 6.2 scoreless innings.
With Ryan on the mound, the "Miracle Mets" placed in the 1969 World Series and won 4–1 against the Baltimore Orioles. Even though Gary Gentry was the winning pitcher of the third game, Ryan recorded the save.
Million-dollar man
Ryan became the highest-paid player in baseball history when he landed the game's first million-dollar annual contract in 1979. The Houston Astros signed him as a free agent with a four-year $4.5 million contract.
Misses and hits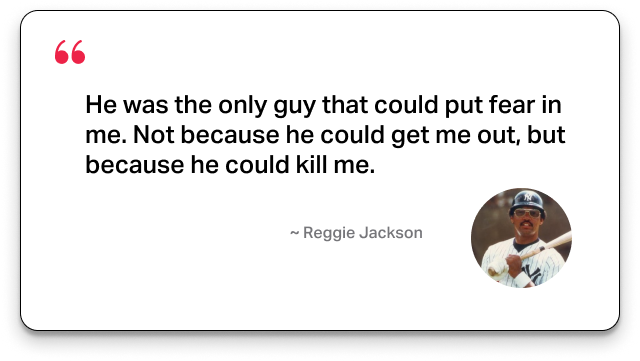 With so many records cementing Ryan as one of the greatest pitchers ever, he's got plenty of worst-in-class records to remind us he wasn't perfect. It's not just because he had so many seasons to put up the numbers—it's also because his incredible speed was famously uncontrolled.
When he beat his idol Sandy Koufax's record of most strikeouts in a season, Koufax was quoted saying, "Yeah, and he also surpassed my total for bases on balls in a single season by 91. I suspect half of those guys he struck out swung rather than get hit."
Joking? Maybe. While Ryan was one of few pitchers ever to have more strikeouts on his record than innings thrown. He also managed to walk five players in every nine innings played.
Rookie of the Year
Which rookie card is your favorite?
Nolan was a double-edged sword on the field. But, with a career long enough to attract three generations of fans and a fastball that remains the quickest of all time, it's little wonder why Nolan Ryan rookie cards are a fan favorite.
The single PSA 10 Gem Mint Koosman/Ryan rookie card.
Source: psacard.com
What's the Nolan Ryan rookie card value today?
Like many Topps rookie cards from the 1960s, Ryan's card is a double feature. Fellow pitcher Jerry Koosman shares the Nolan Ryan rookie card, but no one calls it the Koosman rookie card. Even the text on the card, which declares Nolan "one of the most promising rookies in the majors," makes it pretty clear who was a legend in the making.
Ryan's lengthy career and infamous arm continue to draw collectors to his card, Koosman aside. Even with a robust supply in the hobby, the common condition issues and three varieties of Nolan Ryan cards make the 1968 Topps version a valued collectible.
Nolan Ryan rookie card rundown

Manufacturer

Topps

Year

1968

Card number

177

Special features

Split with fellow rookie Jerry Koosman

Supply (according to PSA)

11,434
Of the original Topps version, you can count the number of 10-graded Nolan Ryan rookie cards on one hand—two graded by SGC and one by PSA. The latter one sold in auction in 2016 for over $600,000 and hasn't seen the market since.
PSA values 9-graded Nolan Ryan cards at over $100,000, and several of the 37 PSA-graded 8.5s have sold for five figures. In recent years, auctions through Heritage and Goldin Auctions, the PWCC Marketplace, and eBay have usually come to about $20,000.
Variations
The 1968 Nolan Ryan rookie card was printed four different times, and, at a quick glance, you may not notice the difference between them.
After Topps created the card, they licensed it to three companies: the Canadian O Pee Chee, a Venezuelan sports card brand, and the game company Milton Bradley for a trading card game.
A Milton Bradley version of the Nolan Ryan rookie card.
Source: radicards.com
While the fronts of the baseball cards in this Nolan Ryan collection are all virtually the same, each Milton Bradley card has a telltale white line along one edge because of the white borders of the football cards printed on the same sheets. There are also slight color differences between the Topps cards and the other Ryan rookies, which are more visible on the backs of the cards.
Nolan Ryan rookie Milton Bradley card stats
Supply: 395 graded by PSA
Highest grade: PSA 9.5
Highest sale: $30,012 in 2017
The Venezuelan and O Pee Chee baseball cards indicate their manufacturing location along the edge. The Venezuelan cards also stand out because they were printed on lower-quality, non-glossy cardstock.
Venezuelan Nolan Ryan rookie card stats

Nolan Ryan O Pee Chee rookie card stats

Supply: ~30
Highest grade: PSA 5.5
Highest sale: $18,880 in 2016

Supply: 123 graded by PSA
Highest grade: PSA 8.5
Highest sale: $20,910 in 2021
Condition
The variations of this Nolan Ryan card face some common condition issues, like the white line along the edge of the Milton Bradley cards or the discoloration and wear on the thinner Venezuelan cards.
Even the Topps cards are prone to damage. The mustard yellow card shows creases more clearly than white-backed cards do, and the thin edges of the border make off-center printing immediately obvious. But even with quality issues and a robust supply, Nolan Ryan rookie cards remain popular collectibles in the hobby.
Ryan's Baseball Hall of Fame plaque.
Source: baseballhall.org
How to invest in a Nolan Ryan rookie card
With nearly 2,500 Topps cards graded a PSA 7 or higher, buying a lower-graded version and hoping your Nolan Ryan rookie card value skyrockets might not pay off. But you can invest in a PSA 9 Nolan Ryan card by buying shares on Rally. They began offering shares of a Topps card in March 2021 at $7 per share and a market cap of $70,000. By September 2022, the share price had increased to $8.90.
The value change of a PSA 9 Mint 1968 Ryan rookie card from 2005 to 2021.
Source: rallyrd.com
Collectable and Alt also offer opportunities to invest in a Nolan Ryan rookie Topps card. Collectable offers fractionalized assets, so investors can purchase shares and earn from the appreciating value of the card. Alt, on the other hand, serves as a marketplace for sports cards where you can purchase a card and immediately gain ownership.
For 27 years, the Ryan Express proved superhuman on the mound. His accuracy was questionable, but his fastball and tenure made him a legend. No wonder his 1968 Topps rookie card is one of baseball's most sought-after treasures. Where the price of the strikeout king's rookie card goes from here is anyone's guess, but it's unlikely there will be another Nolan Ryan.