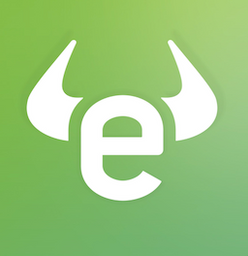 eToro
#1 Social Trading App for Crypto
Looking for an eToro review to help you decide if it's the right kind of investment for you?

Investing in cryptocurrencies is an excellent way to diversify your portfolio and shield yourself against most traditional market fluctuations. However, as there are so many different cryptocurrencies available today, many investors are confused about how to invest in them.

Luckily, with eToro, investing in crypto has never been easier.
eToro is an online investment platform that lets US investors easily invest in over a dozen popular cryptocurrencies.

In this detailed review, we'll cover everything you need to know about eToro, including how it works, its fees, pros and cons, and more.
Investment type
For US customers, there are 15 cryptocurrencies available for trading.
Minimum Investment
$25 for US investors.
Annual returns
Varies - as crypto trading is too unpredictable.
Open to investors outside the US
Yes, eToro is available in over 140 countries.
However, investors in the United States currently only have access to cryptocurrency trading.
International investors have the option of stock trading and trading CFD, currencies, commodities, ETFs, and crypto.
Best for
Investors looking to invest in cryptocurrencies to diversify their portfolio

Investors open to high risk investments with high potential returns

Investors new to the cryptocurrency market and can benefit from interacting with and copying experienced traders
What is eToro?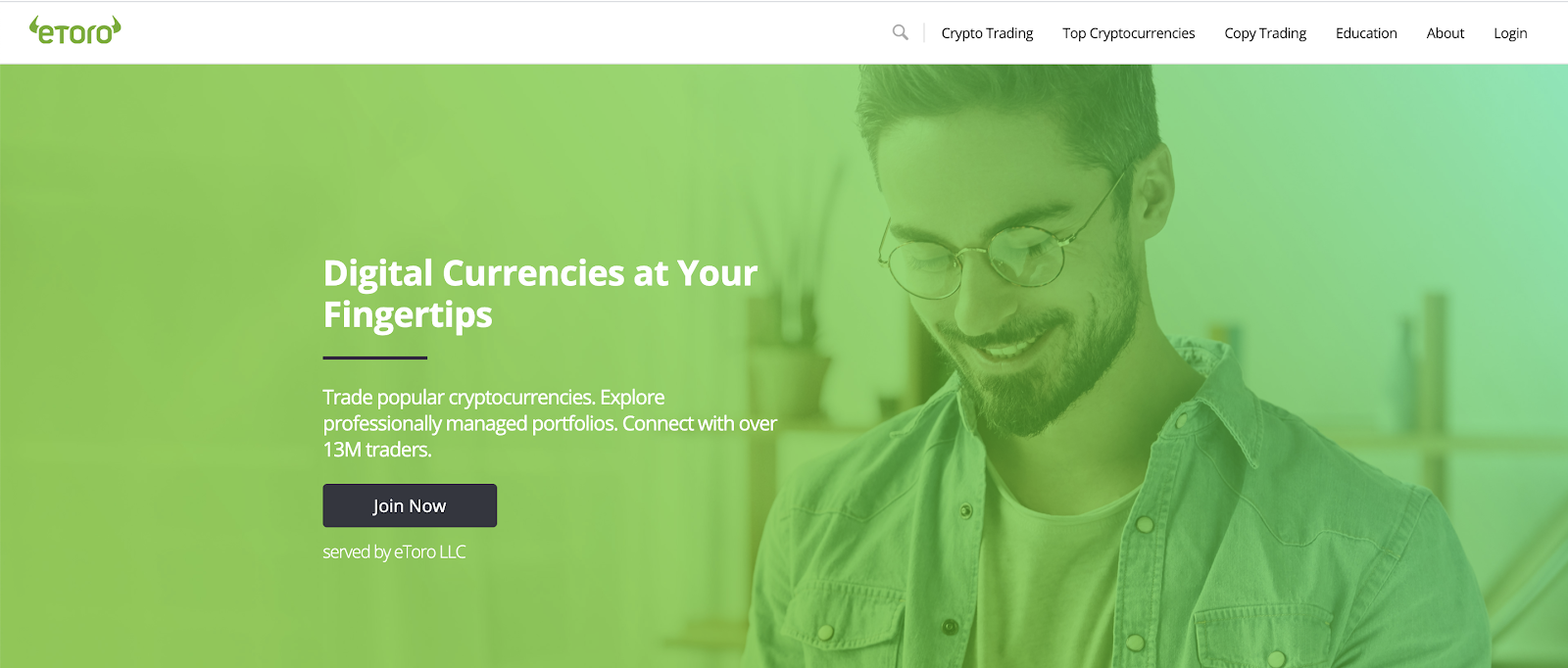 Founded in 2007 and based in Tel-Aviv, Israel, eToro is an online social trading platform specializing in trading cryptocurrencies. While it started with forex trading, eToro has grown into a platform used by millions of traders in over 140 countries.
Having expanded into the US in mid-2018, US customers can now trade some of the world's most popular cryptocurrencies, including Bitcoin, Bitcoin Cash, Ethereum, and Cardano with more equity options like stocks and forex planned.
One of the unique things about the eToro trading platform is its CopyTrader technology. This allows users to see what trades a professional trader has made, their average returns, and their risk level. Users can also chat with one another, allowing new traders to learn some tips and tricks from more experienced investors.
You can automatically copy a professional trader's trades as a user - something especially beneficial for new traders.
Who should use eToro?
eToro is an ideal platform for:
Those interested in cryptocurrency investing - eToro lets US customers invest in 15 popular cryptocurrencies.
Investors open to investments with a high risk/high reward profile - Cryptocurrencies are incredibly volatile and backed by very little regulation. As such, prices can routinely experience wild fluctuations.
Investors new to the cryptocurrency market - For traders just getting started with cryptocurrencies, eToro is an excellent platform. You can easily view what trades professionals are making and automatically copy them.
Investors looking for ready-made crypto portfolios - With eToro's CopyPortfolios, investors have the option of diversifying their investments with a portfolio of the most successful cryptocurrencies on eToro's platform.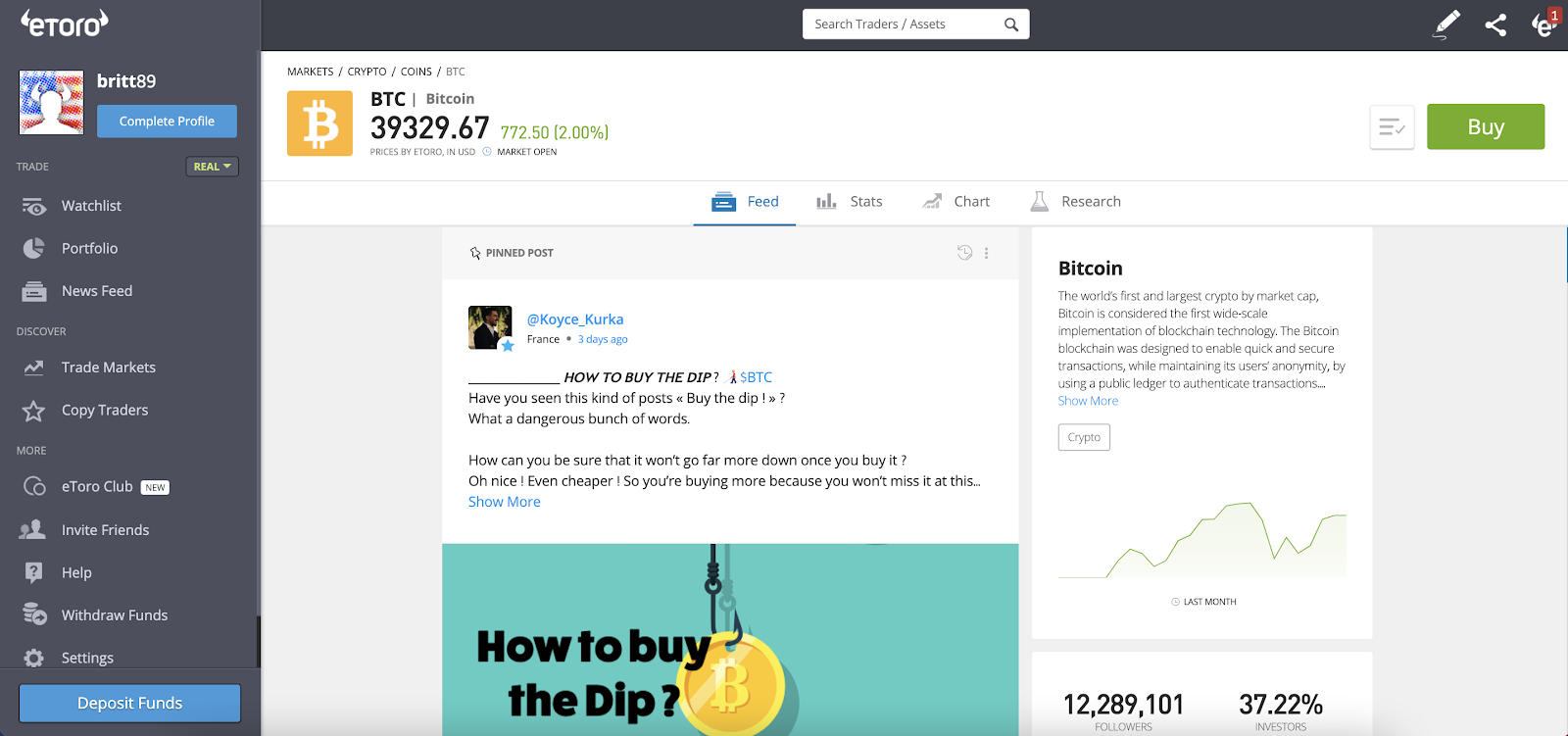 How does eToro work?
This is how eToro operates:
1. eToro provides real-time cryptocurrency information
eToro provides various real-time crypto updates to ensure that investors are well informed before making a decision.
This includes real-time price fluctuations, posts from successful traders, historical price performance as well as a Research Tab where you can find analyst ratings and price targets.
2. Users can view and copy professional traders with CopyTrader
eToro's CopyTrader technology allows anyone to view the trading history of a historically successful trader. You can also view their returns over the last 12 months and their level of acceptable risk.
Your trades automatically have the same stop-loss and take-profit points as the actual trades made by the trader. However, you are free to set your own stop loss as well.
Your trades will copy the trader's future actions, including changes in the stop-loss, take-profit, and trade closing.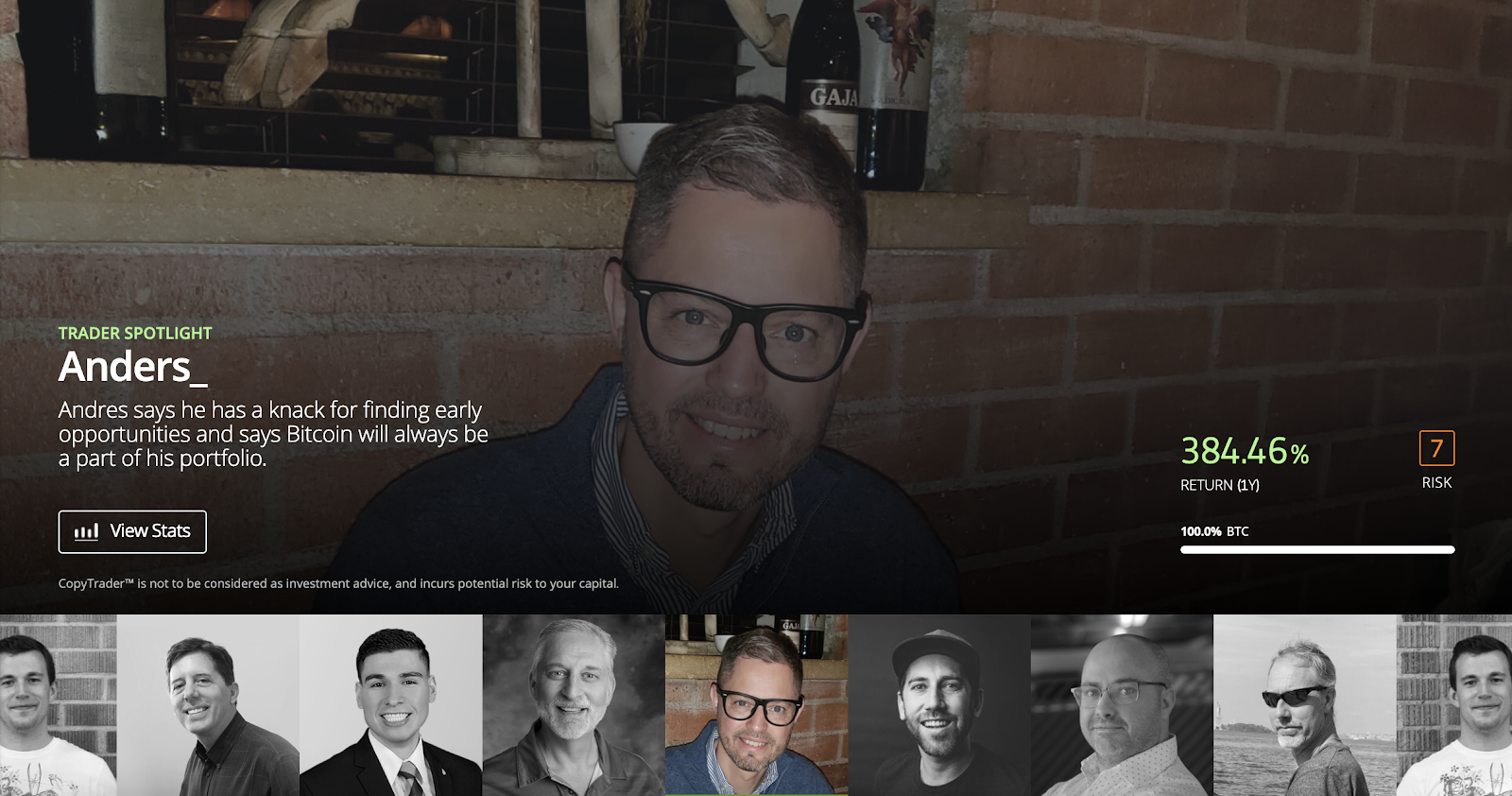 3. Multiple investment options available
You can buy and sell individual cryptocurrencies if you're interested in day trading on Etoro's cryptocurrency exchange.
Alternatively, you can opt for one of eToro's CopyPortfolios. These are ready-made investment portfolios.
eToro features
Here are some of the features that make eToro an attractive investment platform:
1. Hone your trading skills with a virtual account
eToro provides all users with a free $100,000 practice account (demo account). Everything that can be done in a real account can be simulated in this virtual account. This allows you to practice your trading skills without having to risk any real money.
This way, investors can easily invest in promising real estate opportunities without any of the associated hassles.
2. Ready-made investment portfolios
If you want to invest in crypto but don't want to actively trade, opt for one of eToro's CopyPortfolios.
These are ready-made portfolios that invest in some of the most popular and best-performing cryptocurrencies.
For example, the CryptoPortfolio Fund includes the most popular cryptocurrencies like Bitcoin, Cardano, Dash, EOS, NEO, Litecoin, and XRP.
3. Copy professional traders
By utilizing eToro's CopyTrader technology, users can sort through top traders and see their trading history, portfolios, risk scores, average returns, and more.
With the Copy Trader feature, you can automatically copy a successful eToro trader, instantly replicating their trading strategy with your own portfolio.
Note: There are no additional fees for this feature, but the minimum investment is $200.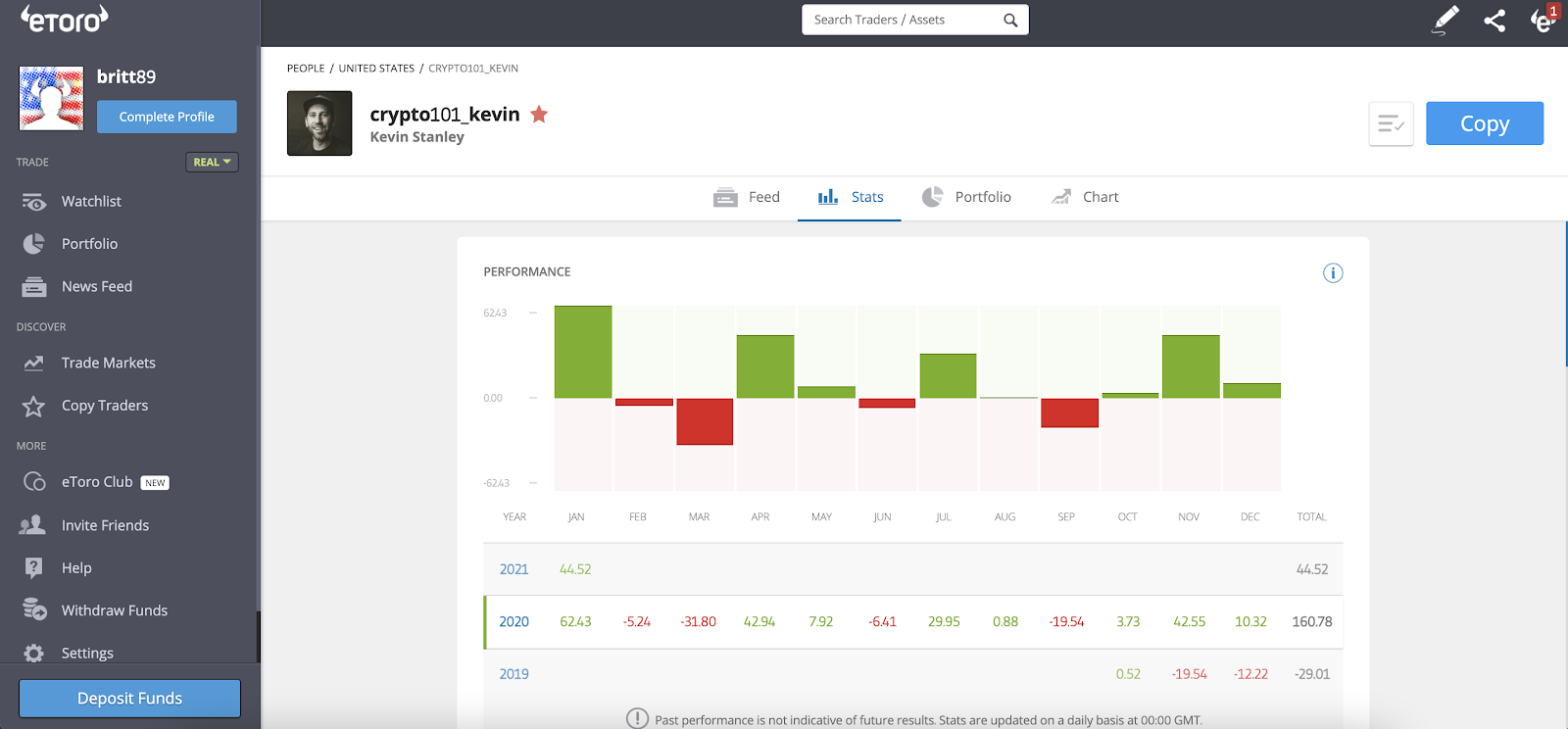 4. Popular traders get rewarded
With eToro's Popular Investor program, the traders you're following receive monetary rewards to incentivize responsible trading.
Popular traders earn a 2% annual fee of the total AUM (assets under management) that are paid out monthly. A popular trader's AUM is the total amount other traders have allocated to copy them. These payments are an additional source of income to any profits made during trading.
How to get started with eToro
Here's how to get started with eToro:
Step 1. Create an eToro account by going to their website and click on "join now."
Step 2. Provide some basic information like your name and email address.
Step 3. Once you've created your account, you'll need to complete your profile to remove the deposit limits.
Step 4. Fill in the required information, including your date of birth and physical address.
Step 5. Answer some questions about your trading experience. eToro will ask what your primary purpose of trading is, how much you plan on depositing over the next year, and your ideal risk/reward scenario. Finally, you'll need to specify your primary source of income, occupation, net annual income, and total cash and liquid assets.
Step 6. Fund your trading account directly from your bank account. For online banking, the minimum deposit is $50. For wire transfers, the minimum is $500. eToro also accepts deposits through PayPal, Skrill, and Neteller.
Step 7. You are now free to start trading.
eToro fees
Opening an account on eToro is free, and there are no management or ticketing fees charged either. There's a small withdrawal fee of $5, and there are no clearance fees.
eToro users are charged a trading fee of between 0.75% and 5% on cryptocurrency trading, depending on the asset you're trading. There's also a 0.1% crypto-to-crypto conversion fee.
You can take a look at the various spreads charged as trading fees on different cryptocurrencies here.
eToro Potential Returns
Your potential returns are highly dependent on the cryptocurrencies you invest in. And as cryptocurrencies are so volatile, they're difficult to predict.
If you can buy when the cryptocurrency is low and sell once it's high, there's potential for significant returns - much like any stock.
When you use eToro's CopyTrader feature, it's possible to understand the kind of returns you can expect. This feature allows you to easily view any trader's returns, what they're investing in, and its level of risk.
eToro Historical Performance
eToro's CryptoPortfolio returned 24.75% in 2020.
As with most crypto-based investments, the returns can vary significantly from month-to-month and year-to-year. For example, in 2017, the CryptoPortfolio's yearly returns topped 2,000%, while the following year, it lost 83%.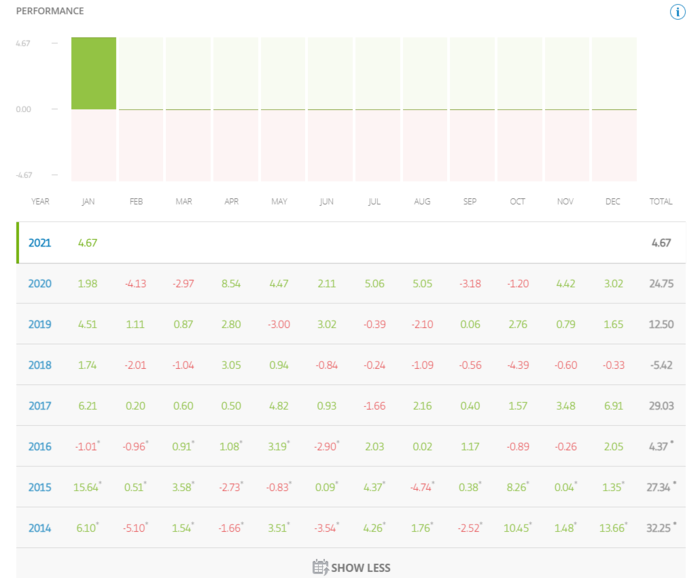 Pros and Cons of eToro
Pros
With a large focus on social trading, eToro is an excellent trading platform for any novice trader to learn from more experienced professionals.
You can invest in 15 popular cryptocurrencies directly or invest in portfolios made up of several cryptocurrencies on the eToro platform.
eToro's virtual portfolio of $100,000 lets traders experiment with new investing strategies without having to risk any money.
eToro provides a mobile cryptocurrency wallet to store your cryptocurrency holdings.
A low minimum investment where you can start trading with as little as $25.
The eToro app, for Android and iOS, provides excellent functionality with 24/7 access to all your trades and information.
Cons
For the time being, US investors only have access to cryptocurrencies.
NeToro's services aren't currently available in all US states. As of now, eToro is unavailable to residents in Hawaii, Guam, American Samoa, and the US Virgin Islands.
Their services are coming soon to Delaware, Minnesota, New Hampshire, New York, Nevada, Puerto Rico, and Tennessee.
Risks of Investing Through eToro
Investing in cryptocurrencies has always been risky.
Some of the risks include:
The main risk associated with cryptocurrency trading is the wild fluctuations in price that can happen virtually overnight.
The cryptocurrency market is decentralized and prone to minimal regulation. This means developers of a cryptocurrency aren't bound by many laws and regulations - this can have a negative impact on your investment.
Crypto asset developers may decide to cancel the development of their cryptocurrency at any time - affecting the value of any cryptocurrency you're holding.
Conclusion
Whether you're an experienced trader or a beginner, eToro is an excellent choice if you're interested in trading cryptocurrency. Its user-friendly interface and mobile apps will help you become an eToro pro in no time.
While investing in crypto can be daunting, eToro's CopyTrader feature takes the stress out of learning the ropes or watching the market.
Do more with your money
Become a MoneyMade member (it's free!) for personalized alternative investment matches, expert insights and portfolio tracking.