Fund That Flip Review
Fund That Flip Review: Flip Real Estate From the Comfort of Your Home
Pre-vetted residential real estate loans that can earn you up to 9.5% annual yield

Published Dec 9, 2021•Updated Feb 2, 2023
Real Estate
Passive Income
Lending
Are you looking for a Fund That Flip (FTF) review to help you decide if it's the right residential real estate investing platform for you?
Every real estate investment can be broadly classified as a debt or an equity investment. While equity instruments are more popular, debt instruments come with two distinct advantages.
A debt-based real estate investment benefits from predictable yield rates (as the borrowers have to pay a predetermined rate of interest) and shorter hold terms (often for just a few months). However, the main risk involved in a debt investment is that of potential defaults.
Fund That Flip is a real estate debt investment platform that helps investors benefit from the advantages of debt instruments while limiting the risk they face through FTF's due diligence assessments.
In this Fund That Flip review, we'll tell you all you need to know about FTF—how the crowdfunding platform works, how to get started, its fees, annual returns, pros and cons and much more.
Borrow our cheat sheet
MoneyMade member rating
5.0
Pros and cons
Pros
Relatively low minimum investment of $5,000
Provides relatively short-term returns (usually start to see returns within a few months)
Produces consistent passive income
Transparent—posts monthly performance reports
Company has received many awards for its growth and innovative culture
Cons
Only accredited investors can participate
Can't sell Borrower Dependent Notes (BDN)
Only debt-based real estate investments, no equity investments.
What is Fund That Flip?
Launched in 2014, Fund That Flip is an online crowdfunding platform that is focused on residential real estate redevelopment. What does this mean? Well, when homes go onto the market that aren't suitable for home buyers or tenants to live in, redevelopers from FTF purchase and flip these homes.
FTF offers real estate investing opportunities to those who want to borrow money for a project as well as to lenders who want to loan money for fix and flip projects. Borrowers are pre-vetted by FTF and less than 8% of applicants are approved for funding. Some of the qualification criteria include a background and credit check, review of financials, and must have relevant experience in the respective market (2+ projects in the last 12 months). Borrowers can get pre-approved in as little as 5 to 7 days for up to $5 million. Loan rates start at 8.49%. 
Accredited lenders who want to participate can purchase fractional shares of an FTF loan with the opportunity to earn up to a 9.5% annualized yield. This review will focus on how Fund That Flip works for the lender. 
What makes FTF different from many of the other crowdfunding real estate platforms is that it offers debt investments (also known as hard money loans or fix and flip loans) instead of equity investments. This means that when you invest in FTF, you are acting as a lender and you can expect to receive regular loan payments. However, because FTF offers debt investments instead of equity, you will not have an opportunity to take advantage of property appreciation.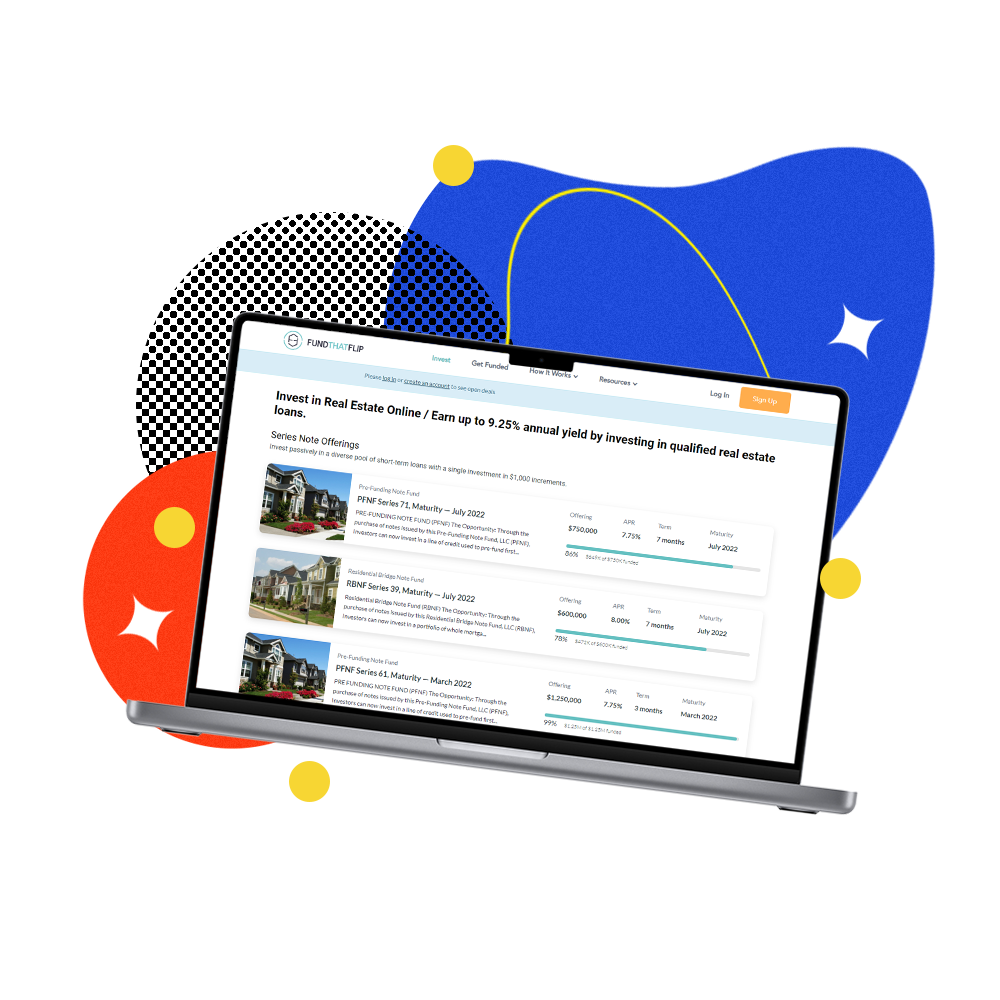 How does Fund That Flip work? 
Fund That Flip allows accredited investors to invest in pre-vetted real estate with a minimum investment of $5,000 and subsequent investments of $5,000. Here's a step-by-step look at how FTF works.
When a real estate investor invests in an offering on Fund That Flip, they are investing in a Borrower Dependent Note (BDN). The performance of the BDN depends directly on the performance of the note that Fund That Flip invests in with the redeveloper of the chosen project.

FTF has two note offerings. The first is a Series Note Offering which is for investing in a portfolio of prospective projects. This can further be classified into residential bridge note funds and pre-funded note funds. The second offering is Individual Bridge Note offerings which are for investing in specific projects (investors can wholly or partially fund the project

Fund That Flip primarily offers short-term loans (flip loans) that mature in a year or less, although terms can range from 3-18 months. Borrowers can usually extend the loan for a few months.

During the term of the loan, investors can profit from monthly interest payments proportional to the amount of money they have contributed. The entire principal contribution is returned in a lump sum when the loan is repaid.
Who can invest with Fund That Flip?
Only accredited investors are able to invest with Fund That Flip. According to FTF, this is because investments are private placements "that are made pursuant to SEC rule 506(c) of Regulation D. In order to qualify for certain filing exceptions, the SEC allows only Accredited Investors to participate in these types of offerings." 
To be considered an accredited investor you must make more than $200,000 a year (for the past two years), or you must have a net worth of more than $1 million (excluding the value of the primary residence). 
Where Fund That Flip gets it right
Passive real estate investing 
Start investing in residential real estate from the comfort of your home. FTF does everything for you from finding and vetting the properties to dealing with tenants. 
Steady income  
Fund That Flip is great for real estate investors who want to see a consistent and steady passive monthly income. With a passive income that can exceed 10%, it's a pretty attractive option. 
Low loan to value ratio
When financing a project, Fund That Flip allows a maximum loan to ARV (after repair value) of 65%. This ensures a margin of safety when it comes to equity in the project and also makes sure the developer has "skin in the game."
All projects are also evaluated for execution risks such as construction delays, unforeseen rehab costs, and more before being approved for financing.
Where Fund That Flip could do better
Who can invest 
At this time, only accredited investors are able to invest with Fund That Flip. This prevents anyone without a high income (over $200,000) or high net worth (over $1million) from participating. 
Can't sell Borrower Dependent Notes (BDN)
Once you invest with Fund That Flip, there is no opportunity to cash out or sell your investment. You will have to wait out the terms of your loan in order to get your money back. 
No mobile app
There is currently no mobile app available for Fund That Flip.
Can you really make money on Fund That Flip?
Fund That Flip reports that you can earn up to 9.5% in returns. On average, FTF states that investors have earned an annualized return of over 10.75% with principal repayment in under 10 months. 
Investors should be aware that borrowers can repay their loans early which can have an effect on investor returns. However, borrowers are committed to at least three months of interest payments.  
FTF boasts a 98.88% return of principal to investors (as of July 18, 2020). This means they have a pretty good track record. You can also check out FTFs monthly performance reports for more information about delinquency and foreclosure rates as well as originated loans and values for each month.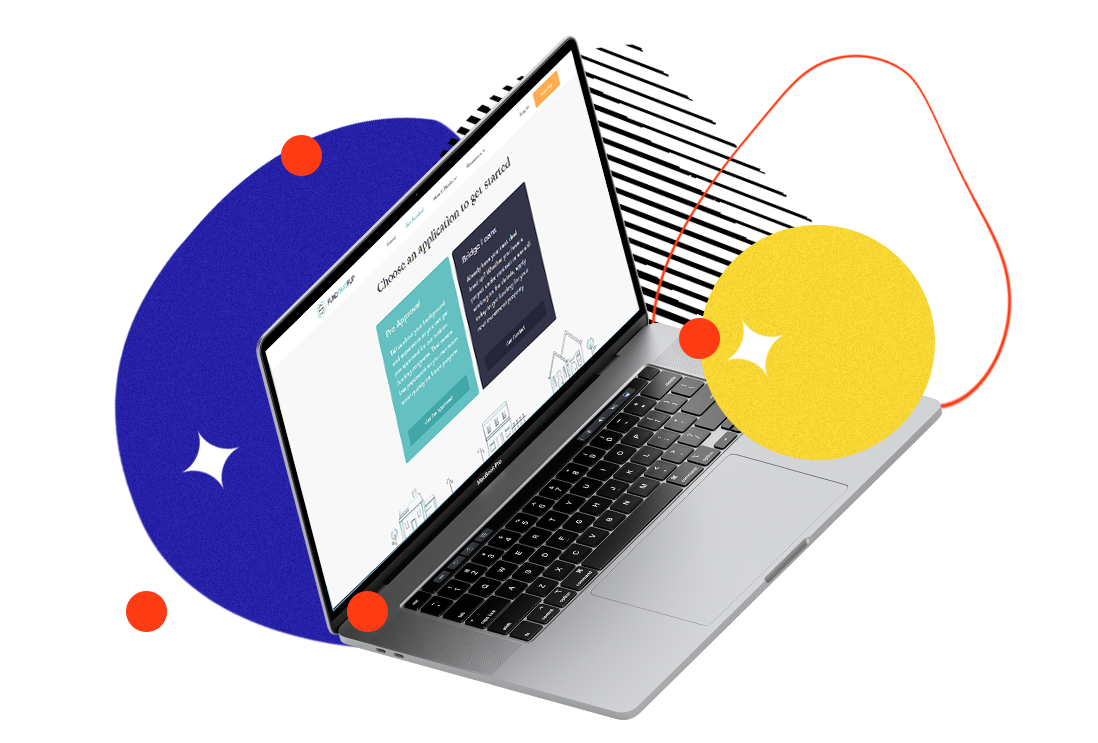 How do I make money with Fund That Flip?
The way you earn money with FTF is through monthly loan payments. Throughout the duration of the loan, you will receive interest payments on your investment. You will also receive your principal contribution when the loan is repaid. 
Because FTF offers debt investments instead of equity, you will not have an opportunity to make money through property appreciation. 
How do I cash out with Fund That Flip?
Using the FTF dashboard, you can link your external bank account to the platform. If you select your bank account as the target account for all payments then this is where your monthly payments will go. You also have the option to receive your monthly payments by check. 
Each month, FTF will send you a statement that includes details on the amount of payment you received, as well as a breakdown of the payment (principal, interest, fees). 
Once your loan has matured, FTF will return the principal amount to your account. At this point, you can choose if you want to reinvest the money.
Be aware that there is no opportunity to cash out early with FTF. BDNs are not liquid securities which means you can't sell them. FTF advises investors to be prepared to hold investments to maturity or even longer in cases where the underlying note may be extended. 
Fund That Flip vs traditional investing 
Putting some money into alternative investments like real estate can be a great way to diversify your investment portfolio. Investing in debt-based real estate loans can yield annual returns in the 8% to 10% range. This is similar to the average stock market return which is sitting at 9.2% over the last 10-years. However, for those who invest primarily in the S&P 500 index, average annual returns over the past decade are higher at 13.6%. 
Unlike traditional assets, BDNs are not as liquid. Investing in BDNs should be thought of as more of a mid-term investment (typically 3 to 18 months). Unlike a regular stock, you can't just buy a BDN and sell it the next day. In fact, there is no opportunity to sell a BDN early. You have to wait until the loan is paid out before your principal investment is returned. 
Investing in a debt-based real estate loan also has a higher barrier to entry than investing in the stock market. Fund That Flip requires a minimum investment of $5,000 and subsequent investments of $5,000. On the other hand, you can start investing in the stock market for as little as $5. Additionally, in order to invest with FTF, you have to be an accredited investor. Unless you have an annual salary of over $200,000 for the past two years or a net worth of over $1 million, you won't be able to participate. When investing in the stock market, there is no requirement to be an accredited investor.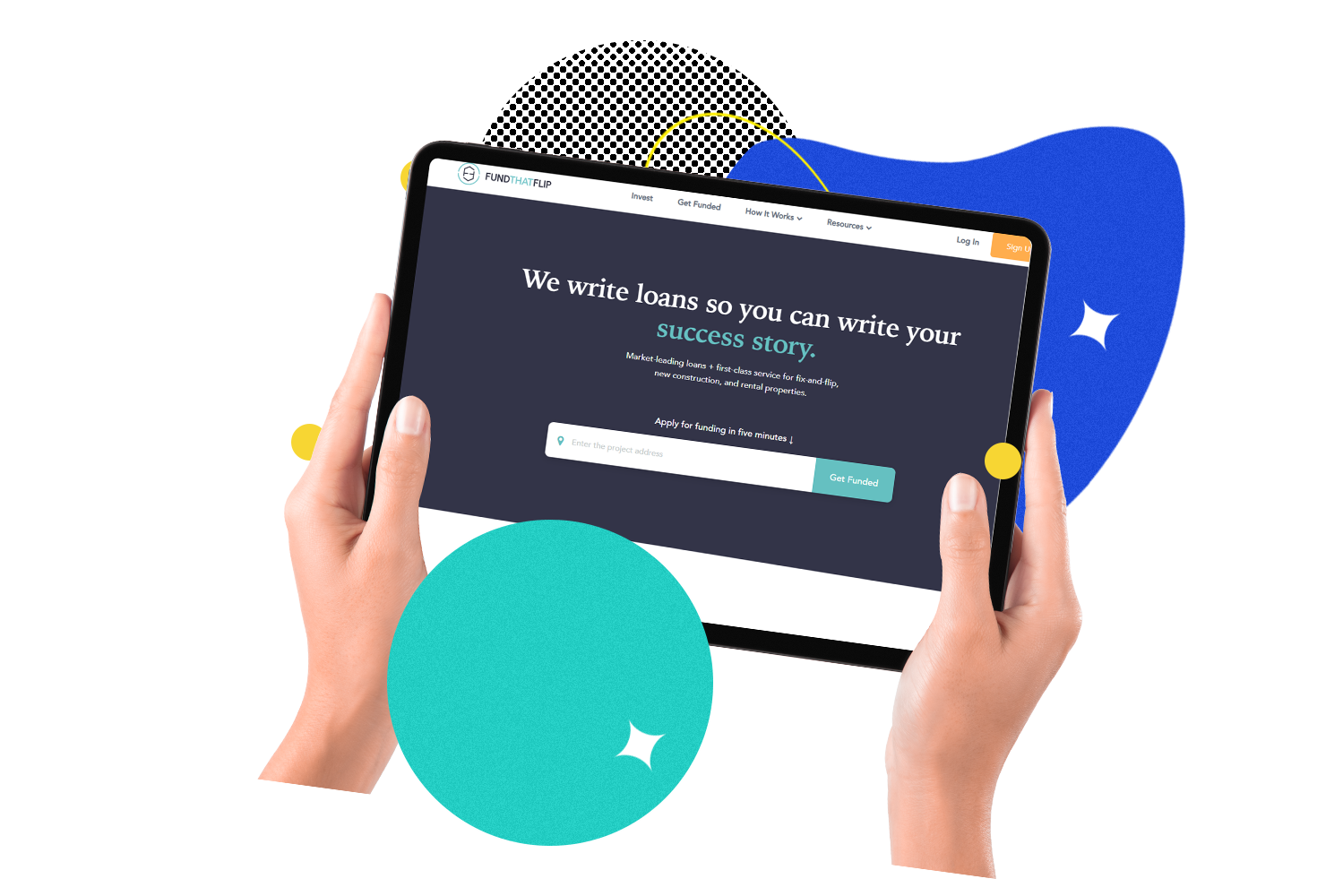 What other people are saying about Fund That Flip
Fund That Flip must be doing something right because they have received a number of impressive accolades over the years including Inc.'s 5000 Fastest Growing Companies in 2019 and 2020, The Financial Times' #17 Fastest Growing Company in 2020, and the 2020 Deloitte Technology Fast 500.
FTF investors also have good things to say about the company. They especially like FTFs easy to use interface, the company's transparent approach and the instant diversification it brings to an investment portfolio.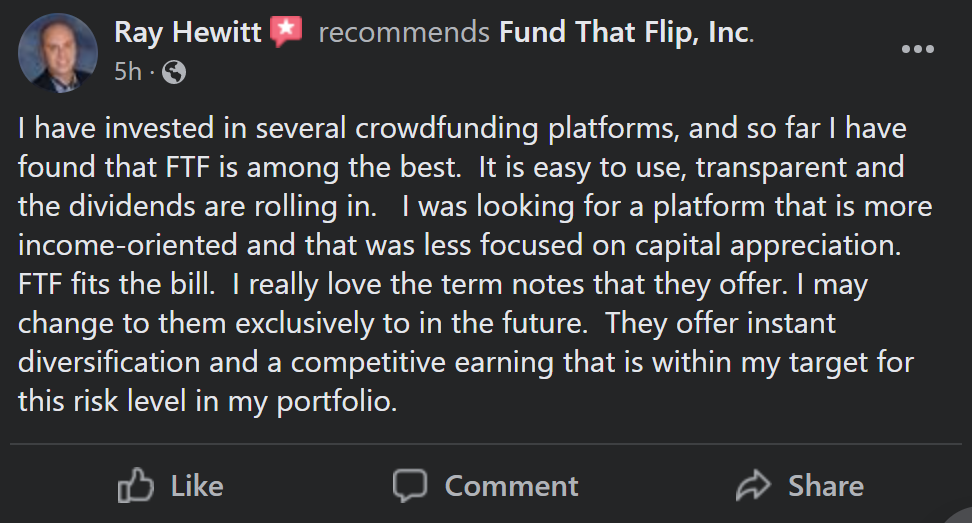 Fund That Flip has also been in the news due to the first close of its $20 million Series B funding round. In an article in Yahoo! Finance, Fund That Flip is recognized as "one of the fastest-growing private companies in the U.S., on pace to grow its revenue by 300% year-over-year and doubling its customer base since 2020. 

Are there other apps like Fund That Flip?
There are other real estate crowdfunding platforms that are similar to Fund That Flip including DiversyFund and Fundrise. 
DiversyFund has a lower minimum investment requirement of just $500, and you can invest in a diversified portfolio of multifamily real estate properties. With Fundrise, you only need $10 to get started, and the app also allows you to invest in a diversified fund of institutional-quality real estate. Unlike Fund That Flip, neither of these platforms require you to be an accredited investor.
Check out the table below to see how they stack up against each other. Also, be sure to join MoneyMade to find 160+ other investment platforms.
Fund That Flip

Fees

Minimum investment

Average returns

Risk Level

Available on

iOS

Android

Review

 
Our hot take on Fund That Flip
Fund That Flip seems to have a great reputation with a lot of positive reviews and even high-profile accolades. If you are looking for a way to start real estate investing and you meet the qualification to be classified as an accredited investor, then it might be worth looking into Fund That Flip. Fund That Flip provides the opportunity to make annual returns of 9.5% or higher and is a passive way to get into real estate investing. However, as with any investment, there are risks involved. It's important that you do your due diligence and read through all of the documentation provided by Fund That Flip before making a decision.  
I'm in! How do I sign up for Fund That Flip?
1.

Create a MoneyMade account.

If you haven't already, sign up for a MoneyMade account and then you can access an account with Fund That Flip. This will connect your FTF account directly to your MoneyMade account.
2.

Sign up for Fund That Flip.

Create a FTF account by entering your investor status, name, email, and phone number.
3.

Read up on FTF's investor documents.

It's time to do some reading. FTF requests that you read through its Private Placement Memorandum and associated sample investor documents.
4.

Review current investment opportunities.

The next step is to review and conduct due diligence on the current projects that FTF has open for funding (like checking the credit score of the developer).
5.

Link a bank account and get started.

Finally, you can start investing for a minimum investment of $5,000 once you've linked your bank account.
6.

Come back to MoneyMade to see all your investments in one place.

If you want to track all of your investments in one place, return to your MoneyMade account so you can track your investments in one place.
Explore Assets
Click an asset to learn more
Dogecoin
Music Royalties
Tether
Farmland
Wine
Art
Real Estate
Robo Advisor
Gold
Bitcoin
Stocks
Lending
Startups
Ethereum
DeFi
Solana
Oil & Commodities
Polkadot
Metaverse
NFTs
Whiskey
Bonds
Platinum
Sports Cards
Cardano
Ripple
Silver
Watches