Hedonova Review
Hedonova Review: Diversify Your Portfolio with a Single Investment
MoneyMade strongly advises investors to exercise caution when considering investments with Hedonova due to concerns of potential fraud and illegal business practices. These concerns include the alleged misrepresentation of the founder's identity, plagiarism of images and affiliations, as well as suspicious claims on the company's website. Additionally, Hedonova has failed standard Know Your Customer (KYC) checks and credible sources have questioned the credibility of key team members' affiliations with well-known firms and universities.

Published Dec 10, 2021•Updated Apr 12, 2023
Passive Income
Startups
Crypto
Everyone knows that you're supposed to diversify your investments to safeguard your portfolio, but with the ever-expanding range of asset classes out there, it's nearly impossible to learn enough about each of them. You want to make thoroughly researched and smart decisions about where to put your money, but who has the time to be an expert on NFTs and wine and real estate?
Rather than driving yourself crazy trying to know it all, you could instead put your money in Hedonova, a hedge fund that focuses on alternative asset classes and only requires one simple investment from you. The fund is fully managed and invests in everything from startups to crypto, so you're automatically diversified.
In this Hedonova review, we'll cover all the specifics—how it works, risks, returns, etc—so you can decide if it's the right investment platform for you.
Borrow our cheat sheet
MoneyMade member rating
5.0
Pros and cons
Pros
Single streamlined fund covers wide range of alternative investments
Managed fund means you don't have to think about your portfolio
Returns well above the S&P 500
Cons
Open to accredited investors only
Standard hedge fund fees apply; significantly higher than certain other types of investment platforms
What is Hedonova?
Hedonova is a hedge fund, started in 2020, that focuses on alternative investments, allocated across a range of asset classes. The fund's portfolio currently includes investments in things such as wine, collectibles, crypto, startups, art, P2P lending, and litigation finance. Like other hedge funds, Hedonova provides a way for investors to gain a return on their investment without actively managing the day to day allocation of their portfolio. 
The founders of Hedonova have extensive experience in the world of finance and asset management and a stated goal of providing freedom of choice to their investors. They have indicated that they believe that people should be able to invest all over the world and in all types of assets, and their intention in creating Hedonova is to provide a place for investors to do just that.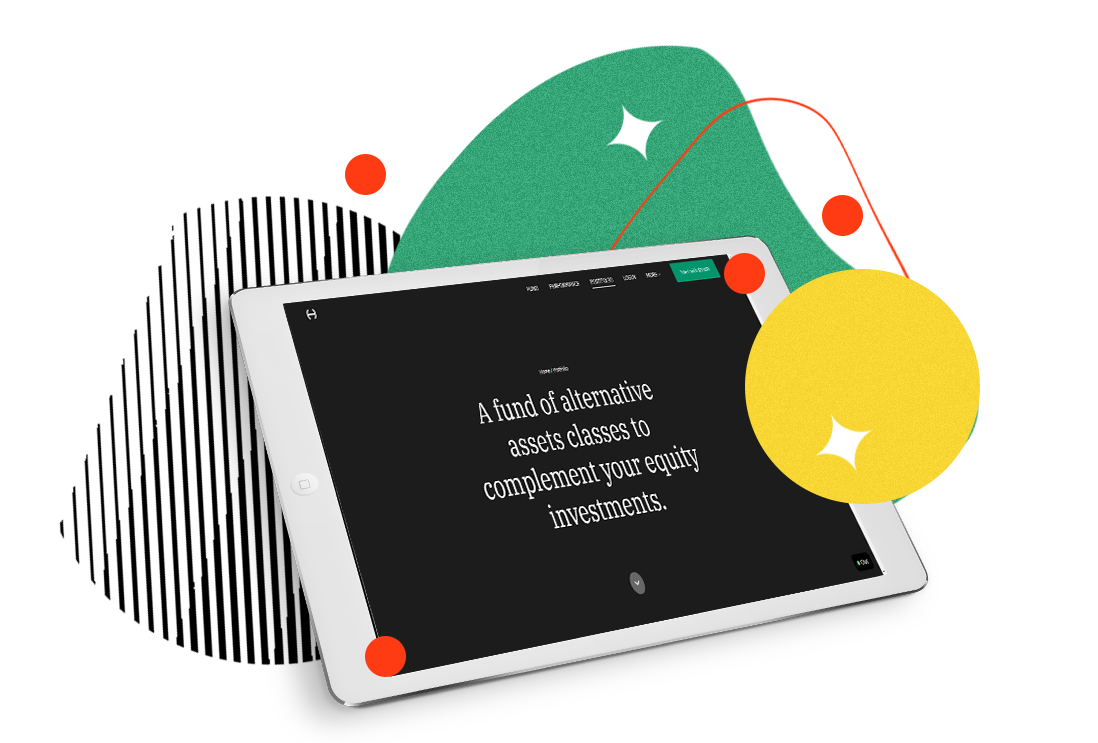 How does Hedonova work?
Hedonova is set up as a special purpose entity, meaning it's registered as a company designed to hold assets. In this case, it's specifically registered as a Delaware LLC. When you invest with Hedonova, you're purchasing units they call "blocks", which represent membership shares in that LLC. These blocks work like mutual fund units, with each block being assigned a net asset value. That net asset value (NAV) is updated daily based on the value of the underlying assets held by the fund. Hedonova takes the money from the purchase of those blocks, pools it, and allocates that money to various assets according to the direction of the fund managers.
Who can invest with Hedonova?
Only accredited individuals* are eligible to invest with Hedonova. The fund is, however, open to international investors, rather than being limited to US residents.
*The current SEC definition of an accredited investor includes those who have a net worth of $1 million or more, those who have a yearly income of $200,000 (or $300,000 when combined with a spouse), and those that hold certain professional licenses.
Where Hedonova gets it right
Single fund covers all the alts
Hedonova provides investors a single place to put their money in order to gain exposure to a wide range of asset classes. Instead of opening individual accounts with a dozen different platforms in order to diversify your portfolio, you can invest with Hedonova and let them handle the diversification for you. Money that you invest into the fund will then be allocated into assets ranging from NFTs to real estate to startups.
Your money managed for you
Since Hedonova is a fully managed fund, your effort stops as soon as you fund your account. The fund managers will take care of choosing investments and allocating money; all you have to do is sit back and watch the returns roll in.
Excellent rate of return
Hedonova has a reported IRR so far of 63.2%, and target returns of 25-30%. These numbers absolutely blow the S&P out of the water, and are significantly higher than other hedge funds report. 
Start investing with just $1000
Unlike a lot of other hedge funds, which may have minimums in the hundreds of thousands to millions range, Hedonova lets investors get started with just $1000. This significantly reduces the barrier to entry for investors looking to gain access to the benefits of a fully managed fund.
Where Hedonova could do better
Open to accredited investors only
Hedonova is currently only open to accredited investors, which makes this platform inaccessible to a large number of potential investors.
Higher fees than other platforms
The fee structure for Hedonova follows the standard "2 and 20" rule of hedge funds—the platform charges 2% annually as a management fee and then takes 20% of net profits. While this is typical of a hedge fund and may sound entirely reasonable when paired with the low minimum, these fees are considerably higher than certain other types of alternative investment platforms out there.
Can you really make money on Hedonova?
Yes, you absolutely can. Hedge funds are inherently riskier investments than something like a CD or savings bond, but they also offer much higher potential returns. Hedonova has thus far demonstrated an IRR of 63.2%, with target returns set at an ambitious 25-30%. 
How do I make money with Hedonova?
You make a return on your investment when the value of the blocks you've purchased increases. Since Hedonova invests in a wide variety of assets, this value is impacted by everything from swings in the value of cryptocurrencies to startups going public to pieces of fine art being sold. All of these factors are used in aggregate to calculate the NAV of a block, and you make money when the NAV increases to a value higher than what you purchased your blocks for. 
How do I cash out with Hedonova?
In order to cash out, you have to sell your blocks back to Hedonova. There isn't a secondary market for blocks, so you'll have to request to liquidate your shares in the fund with Hedonova directly. Once you've requested redemption of your blocks, the time it takes to fully exit the fund will depend on the current liquidity of the underlying assets held by the fund. There is no fee for exiting, and you may request liquidation at any time.
Hedonova vs traditional investing
So far, Hedonova has demonstrated returns well above the S&P 500, with returns 15.4% higher since the fund's inception. Additionally, the fund has a fairly low correlation to the stock market (>0.3), which means that the value of Hedonova blocks won't necessarily track traditional stocks. All of this is excellent news for investors looking to diversify and protect their portfolio, particularly in a time of relative volatility as we've seen in the past couple of years. That being said, the fund is still new, so investors looking for a long track record are out of luck.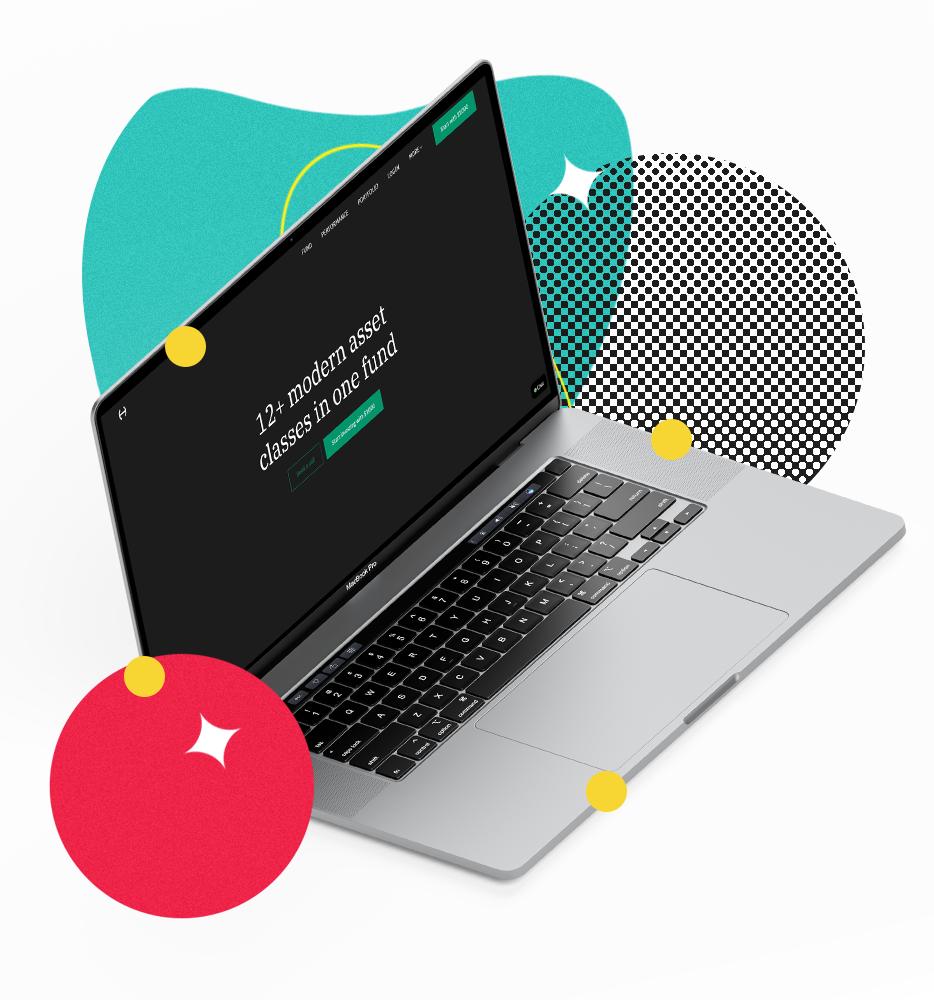 What other people are saying about Hedonova
Hedonova investors really like the fact that they are able to diversify their portfolio through one simple channel. Rather than having to individually invest in startups, art, wine, real estate, crypto, etc. (not to mention having to do your due diligence and make sure you're investing wisely in each of these), by investing in Hedonova your investment is spread across many asset classes and managed professionally for you. The ease of this diversification has a huge appeal for many people. Users have also remarked on the excellent customer service, and said that one of the best parts of investing with the platform is the personal touch the investor relations team provides.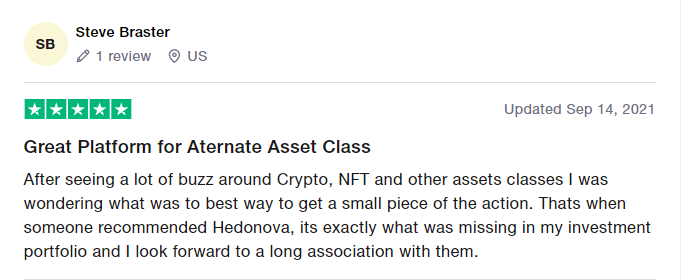 The only area in which Hedonova users have indicated they see room for improvement is the platform's online dashboard; however, technical upgrades are in the works currently, with mobile apps set to roll out in early 2022. 
Are there other apps like Hedonova?
Two platforms similar to Hedonova are Titan and Carl, Inc. Both of these are also managed funds, but they differ in certain key aspects with each other and with Hedonova.
Titan, unlike Hedonova or Carl Inc, is open to all investors, not just those who are accredited. It has a focus on stocks rather than alternative investments, and charges fees of $5 for accounts under $10,000 and a flat 1% for accounts above that threshold.
Carl, Inc is a fund that also focuses on alternatives, but instead of Hedonova's $1,000 minimum, it requires $20,000 to invest. Additionally, the platform puts a real focus on quants and machine learning, meaning the fund's investments are managed more by AI than by humans.
Below is a quick and condensed comparison for you, or you can browse and compare these and other investment platforms.
Hedonova

Fees

Minimum investment

Average returns

Risk Level

Available on

iOS

Android

Review

 
Our hot take on Hedonova
If you're an accredited investor looking for a simple and easy way to diversify into alternatives without having to actively manage your investments, Hedonova is an excellent choice. The fund has a low minimum investment, great customer service, and a truly excellent rate of return thus far. For someone who wants to invest for the long term and not have to think about their portfolio in the meantime, Hedonova could be just about perfect.
The only thing we would warn is that the fund is still new, and as with all investments, historical returns are no guarantee of future performance. Those investors who err on the side of caution and would want to see a longer track record before investing may want to look for a more established fund.
I'm in! How do I sign up for Hedonova?
1.

Log in to or create a MoneyMade account

Visit our Hedonova platform page and log in to your MoneyMade account.
2.

Go to Hedonova and schedule a call

Enter your name, email address, phone number, and target investment account, and an investment specialist from Hedonova will reach out to you to give you a walk through of the fund and how it works. You can schedule a call or WhatsApp.
3.

Complete KYC form and submit for verification

Once your phone call is complete, Hedonova will send you a KYC form. You'll fill out some personal details, submit ID information (you can choose from driver's license, passport, or other identifying documents), and provide your bank account info.
4.

Docusign and fund your account

When your KYC and accredited status are verified, Hedonova will have you docusign the private placement memorandum (basically, a document that indicates you are purchasing shares or blocks of the fund). You will then be able to fund your account.
5.

Congratulations, you're in!

Once the funds hit your account, you're officially invested in the fund. You'll receive confirmation and access to the web application to view your investment. Now you can sit back, relax, and let Hedonova worry about your portfolio for you.
Explore Assets
Click an asset to learn more
Dogecoin
Music Royalties
Tether
Farmland
Wine
Art
Real Estate
Robo Advisor
Gold
Bitcoin
Stocks
Lending
Startups
Ethereum
DeFi
Solana
Oil & Commodities
Polkadot
Metaverse
NFTs
Whiskey
Bonds
Platinum
Sports Cards
Cardano
Ripple
Silver
Watches