Mainvest Review
Mainvest Review: An Easy Way to Invest in Small Businesses
Mainvest lets you invest in Main Street instead of Wall Street by simplifying the process of investing in vetted small businesses.

Published Aug 24, 2022•Updated Aug 30, 2022
Local Businesses
Lending
Passive Income
So, you consider yourself an advocate of buying local? If you want to put your money where your mouth is, Mainvest could be the investment app for you. This simple platform allows you to invest as little as $100 in vetted local businesses across America, including small companies near you. 
With Mainvest, you can do your part to help Mom and Pop shops grow while potentially earning returns as high as 25% on the investment dollars you put into them. But you'll need a little specialized knowledge to maximize your chances of success. 
This Mainvest review will help you decide if this is a good app for you—or if your quest to support local businesses should start and stop with favoring your local coffee house over the big name brand.
Borrow our cheat sheet
MoneyMade member rating
5.0
Bonus offer
Receive $20 credit when you sign up and connect a bank account!
Pros and cons
Pros
No fees to start investing
Low minimum investment requirement
Browse fully-vetted businesses easily
Cons
Investments are high-risk
Researching investments takes time
Reselling securities isn't possible
What is Mainvest?
Investing in small businesses can be a huge challenge. You have to find companies looking for investors and vet their finances. Then, you have to arrange with the business to either receive part of their future revenue or to lend them money in exchange for interest.
Mainvest does all this for you, making it easy for the average person to invest in companies in their local communities or across the United States. The platform provides an easily-browsable list of investment opportunities with tons of data. You can fund your account through a bank transfer, get started investing with as little as $100 for most opportunities, and purchase either a revenue-sharing note or debt security from individual companies you select. Then, as the business ideally repays the loan or turns a profit, you earn returns. 
If you're tired of investing in big businesses and would rather use your hard-earned dollars to help small companies grow and prosper, Mainvest is the site for you.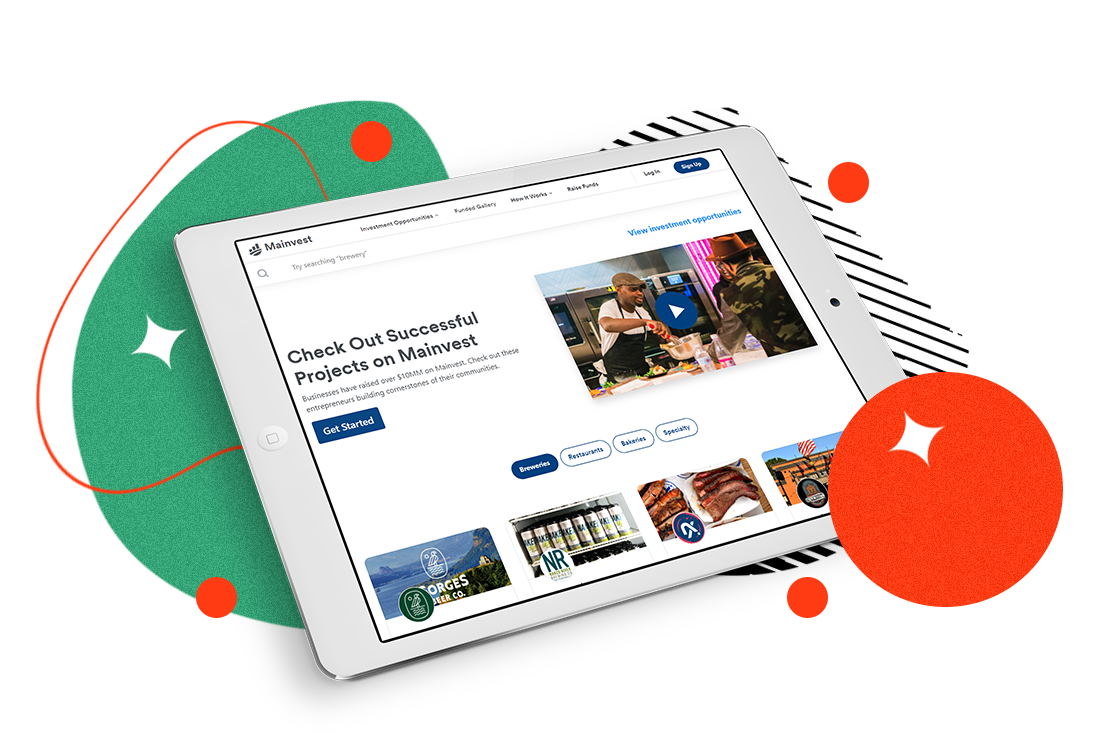 How does Mainvest work? 
Mainvest allows potential investors to browse businesses to invest in without even joining the site. You can search through investments by reviewing them in a grid, or can restrict your search for potential investments to companies near where you're located. 
The businesses listed as potential investment opportunities on Mainvest are fully vetted, and the site lists only a small percentage of companies that apply. Mainvest considers whether the company is eligible to accept investments based on FINRA and SEC regulations and also assesses its management team, the nature of the business, and other proprietary benchmarks. 
Each individual business sets its own terms regarding how an investment is structured. While Mainvest indicates that companies can either issue debt instruments or equity instruments, almost all the listed companies are currently offering revenue-sharing notes rather than requesting loans they promise to pay back with interest. With revenue sharing notes, companies promise to pay a percentage of the company revenue each quarter until you've received a certain investment multiple. There's also a date when the company must fully pay you the promised amount, regardless of how they perform.
Would-be investors can review the data each business provides about revenue projections, expenses, and the intended use of funds. Companies also specify how would-be investors will make money (if things go well).  
Who can invest with Mainvest? 
Anyone is allowed to invest. You only have two criteria to meet:
You must be at least 18 years old

You must have a U.S. bank account
Where Mainvest gets it right
Getting started is easy
Mainvest makes it incredibly easy to start investing. You don't need to be an accredited investor, so there's no minimum income or asset requirements to worry about. You can get started with as little as $100, there are no investing fees, and you can sign up online for an account and start investing in companies right away. 
Finding investments is easy
Mainvest allows you to browse potential investments and participate in chats about the opportunities without even opening an account.  And all of the businesses are fully vetted, so you can feel confident they've passed Mainvest's initial review process. This doesn't mean that you'll definitely earn the expected returns but you can feel confident you aren't being scammed.  
Searching for investments is also simple. The site lists the investments in grid form or table form, or you can choose to search based on your geographic location to find businesses close to you. The most popular investments are also prominently featured so you can see where your peers are interested in putting their money. 
Ample data is available to research investments 
Each business listed on Mainvest provides tons of information investors can use to assess risk. This includes:
The intended use of the borrowed funds

A detailed financial forecast for the upcoming five years

Operating expenses

Past income statements

Balance sheets

An investor agreement

Information on the promised investment multiple and minimum investment
Experienced investors who are good at analyzing this information can reduce their risk of loss by harnessing their knowledge.
Where Mainvest could do better
Investments are illiquid and risky 
There's a chance the companies on Mainvest could become unable to pay investors as promised. This could lead to investors losing most or all of their money. 
Investors also take a risk because they can't resell their investment. The businesses may forbid you from reselling your revenue sharing note. Even if they don't, it's unlikely anyone would want to buy it since there's no active market for this type of investment in small businesses. 
Finding the right investments takes time
You'll have to comb through lots of businesses that are looking for funding to find one you're interested in. It will also be up to you to review the financial projections of the companies you're interested in and to assess the likelihood you'll be repaid as promised.
This can be a time consuming process. And, to do it right and minimize your risk of loss, it requires lots of technical knowledge about what makes a company financially sound and likely to succeed. 
Your potential returns are limited
Most of the companies you invest in will pay you only up to a set multiple of your initial investment, such as double the amount you invest. This means if you put $100 into a company, the most you'd get back is $200. 
This means you're taking a risk of losing 100% of your money if the business fails. But, your potential returns are limited so even if the company does extremely well, you'll only profit so much from its solid performance.
Can you really make money on Mainvest?
Mainvest indicates the targeted returns are 10% to 25% annually. However, there's no guarantee you'll earn those returns.  If a business performs well and is able to pay you the promised amount, you'll make money on your investment (with the exact amount determined based on the investment multiple the company offers). But if a business is unable to repay its loan, you could lose your initial investment.
As a result, your ability to make money depends on how well you can pick which companies are likely to be successful, based on the financial information they provide and their proposed business plans.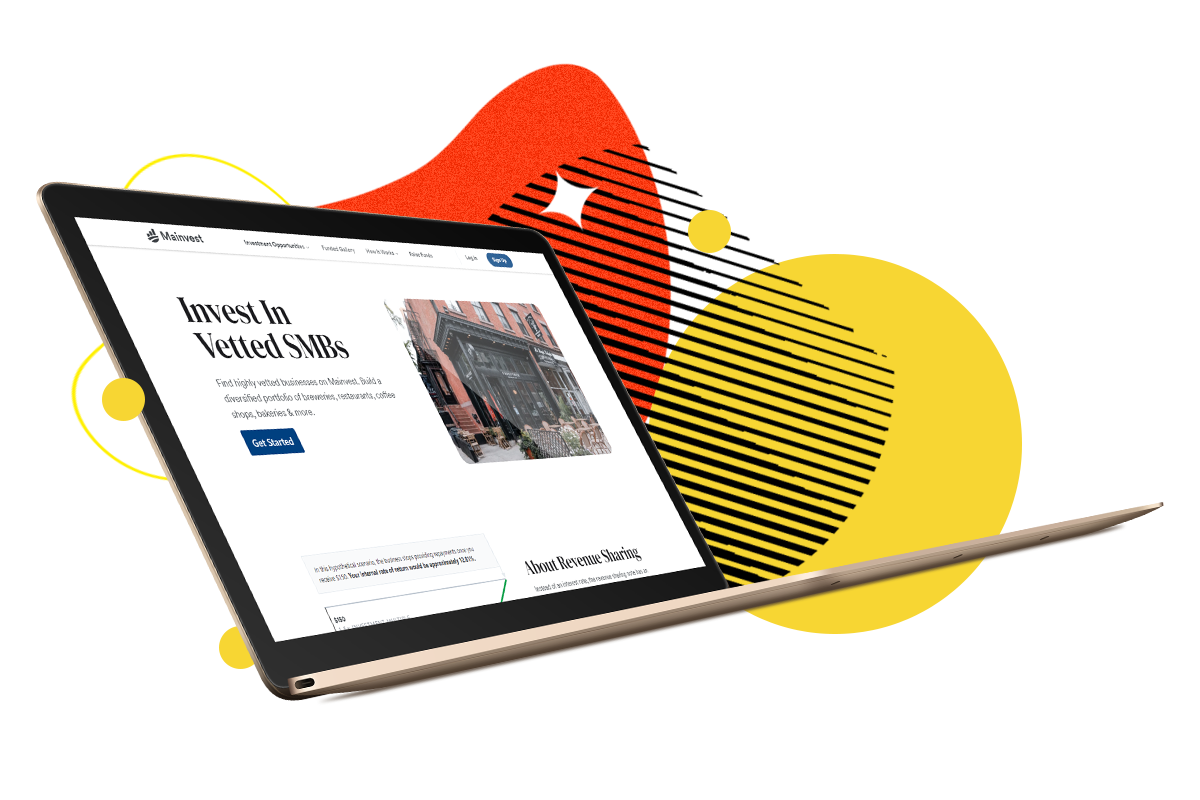 How do I make money with Mainvest? 
The specific way you'll make money depends on which businesses you invest in and whether they offer revenue sharing notes or debt instruments. 
If the company offers a debt instrument, you loan them money and they pay you back with interest according to their specified terms. If they offer a revenue sharing note, they promise to pay you a portion of company revenue until you've earned a promised return (such as double the amount of your initial investment). 
Your agreement will specify a date by which the company must pay you the entire promised amount. Some businesses, however, fail to pay as expected because they simply don't produce the revenue anticipated and may not have the funds to repay their investors. 
How do I cash out with Mainvest? 
You can cash out your investment after the businesses you invest in pay you the promised funds. 
Mainvest vs traditional investing
Mainvest indicates you can earn returns up to around 25%, which is well above the returns that you're likely to earn if you invest in the stock market via an S&P 500 index fund. 
The S&P 500 is a financial index that tracks the performance of around 500 of the largest companies in the U.S. It has a proven track record of earning 10% average annual returns over a very long time. And the risk of investing in it is minimal since you're buying a stake in so many large American businesses. So you are taking on greater risk with Mainvest. 
Investing in companies found on Mainvest is riskier than buying shares of publicly-traded companies sold on stock exchanges. These publicly-traded companies are subject to strict SEC rules on financial disclosures, so must provide more information with guaranteed accuracy than the businesses on Mainvest offer. They are also larger, have easier access to capital, and usually have a seasoned professional management team while the small companies on Mainvest are typically run by the company founders. 
It's also easy to sell shares of publicly-traded companies whenever you want since they can be bought and sold via the stock market. So, if your stock goes up in value, you can choose to resell it right away and pocket your gains if you want. But, once you've invested in a company through Mainvest, there's likely no secondary market you can resell your investment interest to. Instead, you make money over time as the business you invest in repays its loan + interest or shares a portion of its revenue until you've hit your target return, and there's a possibility that business could default. 
Still, investing in small businesses can be a way to diversify your portfolio beyond larger publicly traded companies that may have limited potential future growth due to their current size.  And, with such a low minimum investment requirement through Mainvest, it may be worth taking a chance on a small business that could potentially offer generous returns if you help it grow.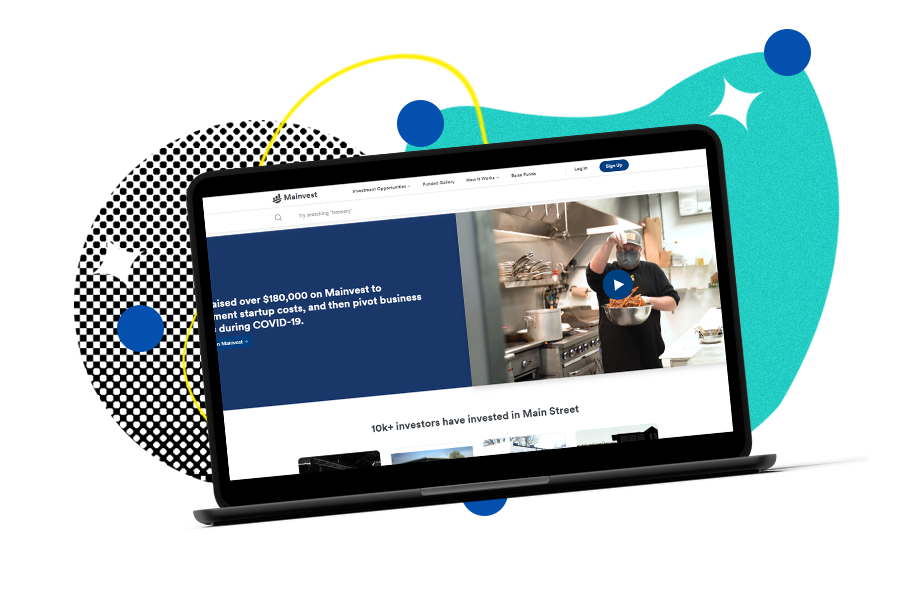 What other people are saying about Mainvest
Many investors have had positive experiences with Mainvest. One Reddit user, for example, indicated they've already begun to receive payments from the businesses they invested in on the platform.

Mainvest also received an A+ rating on the Better Business Bureau website, and has been the subject of zero consumer complaints on the site. 
However, there are few reviews of the company and it's only been operating since 2018, so it can be difficult to assess the long-term track record of the investing app's performance.
Are there other apps like Mainvest?
Mainvest is just one of many investing platforms that allows you to invest in alternative assets. MicroVentures works similarly in that they offer crowd-funding for startups hoping to raise capital. YieldStreet offers the chance to put money into small businesses as well, but also offers a wider choice of alternative assets including supply chain investing. A quick comparison of these platforms is below, but if you want to explore all your opportunities for diversifying your portfolio, we can help. Join MoneyMade to explore more than 160 different investment platforms and find the one that's right for you.
Mainvest

Fees

Minimum investment

Average returns

Risk Level

Available on

iOS

Android

Review

 
Our hot take on Mainvest
Mainvest is a great platform for investors willing to take the time to research small businesses and assess their financial prospects. While you'll need a little more technical knowledge to maximize your chances of success than with some other investments, Mainvest gives you the data you need and the potential return on your investment could be well worth the effort.
I'm in! How do I sign up for Mainvest?
1.

Join MoneyMade (for free)

MoneyMade helps you to manage all your investment options in one place. You can link your Mainvest account as well as investment accounts from 160 different platforms. This ensures you get a big picture view of your finances and can effortlessly manage all your accounts from one convenient site.
2.

Visit Mainvest through MoneyMade

Follow MoneyMade's link to sign up for Mainvest so you can get started while ensuring your Mainvest account properly shows up with your other investment apps on the MoneyMade platform.
3.

Browse investment opportunities

You don't have to create a Mainvest account to find out if there are investments you're interested in. Simply click the Invest link on the website and choose whether you want to search via grid; search by geographic location; or use a table showing the data for all the different businesses.
4.

Sign up for an account

Hit the signup button on the Mainvest site and choose whether you want to create your account by linking with Google or you'd prefer to enter your email address, password, and other personal information manually.
5.

Click "Start Investing"

Choose the investment you're interested in, specify the amount of money you want to invest, and hit the Green Invest button. You'll have to input information including your name, address, phone number, and date of birth.
6.

Link your bank account

You can link your bank to Mainvest by signing into your online bank account or uploading a copy of your voided check. Once you've done so, you can arrange for the transfer of money to invest in the business of your choosing.
7.

Return to MoneyMade

Once you've signed up, you can check your account at MoneyMade any time and can track all your investments in one place so you can see your performance at a glance. This is a great way to ensure your portfolio stays diversified and your wealth-building efforts are paying off.
Explore Assets
Click an asset to learn more
Dogecoin
Music Royalties
Tether
Farmland
Wine
Art
Real Estate
Robo Advisor
Gold
Bitcoin
Stocks
Lending
Startups
Ethereum
DeFi
Solana
Oil & Commodities
Polkadot
Metaverse
NFTs
Whiskey
Bonds
Platinum
Sports Cards
Cardano
Ripple
Silver
Watches