Titan Review
Titan Review: Professional Wealth Management for the Everyday Investor
Want the active financial management experience of the uber-wealthy but don't quite have the funds? Titan is here to help.

Published Aug 22, 2022•Updated Aug 30, 2022
Passive Income
Global Markets
Automated Investing
Billions is a hit show for a reason and even though the main draw is of course the drama, at least part of the appeal lies in the machinations of a hedge fund in action (or at least the television version of one). Watching an entire firm of people move absolutely massive amounts of money around, making huge profits from split second decisions, is really kind of awe-inspiring. And even though the show itself is fiction, hedge funds do exist and they do move literal trillions of dollars around the market each year. Kind of makes your 401(k) seem kind of lame and boring, now doesn't it?
That's what the founders of Titan thought too. Intending to bridge the gap between the investing experience of the 1% and everyone else, this investing platform acts a lot like a wealth manager, except you don't need millions or billions to invest, just $100. Your money is actively invested for you, with Titan stock trading on your behalf and shooting for returns well above that of the S&P 500.
In this Titan review, we'll get into the weeds of how this platform works, determine whether or not they actually live up to their lofty aims, and help you decide if it's right for you and your investing goals.
Borrow our cheat sheet
MoneyMade member rating
4.5
Bonus offer
For each eligible referral that you complete, you will win an entire portfolio of Titan stocks (or crypto) worth up to $10,000. At a minimum, all portfolios rewarded will be worth at least $25. In addition, each person that you refer will automatically receive a 100 day free trial to Titan
Pros and cons
Pros
Investment minimum only $100
Actively managed portfolio, done for you
Low management fee of only 1%
Personalized investments based on your individual needs
Invest with retirement accounts
Cons
Investments only in individual stocks which may be riskier in the short term; returns could vary greatly from month to month
Relatively short lifespan; historical returns cannot give much info at this point
Limited customer support available
What is Titan?
Titan is an investment firm that actively manages your stock portfolio for you. It can be helpful to compare Titan to another form of professional wealth management: the hedge fund. There a few key differences that make the platform much more accessible to the average joe. While hedge funds normally have high minimums and high fees, and typically take a cut of profits, Titan has a very low minimum, reasonable fees, and takes nothing from your profits. Also, hedge funds pool investor funds into one big bucket of capital; Titan invests your money individually, which allows for personalization of your investment based on your own individual risk tolerance and long term goals.
The platform was founded in 2018 by Clay Gardner, Joe Percoco, and Max Bernardy, all of whom have years of experience working for multi-billion dollar hedge funds. They formed Titan with the intention of bringing the kind of investing experience normally reserved for the ultra wealthy to the everyday investor. Their strategies focus on achieving high returns over the long-term, compounding the growth of investors' assets, and making use of the investing philosophies employed by giant hedge funds.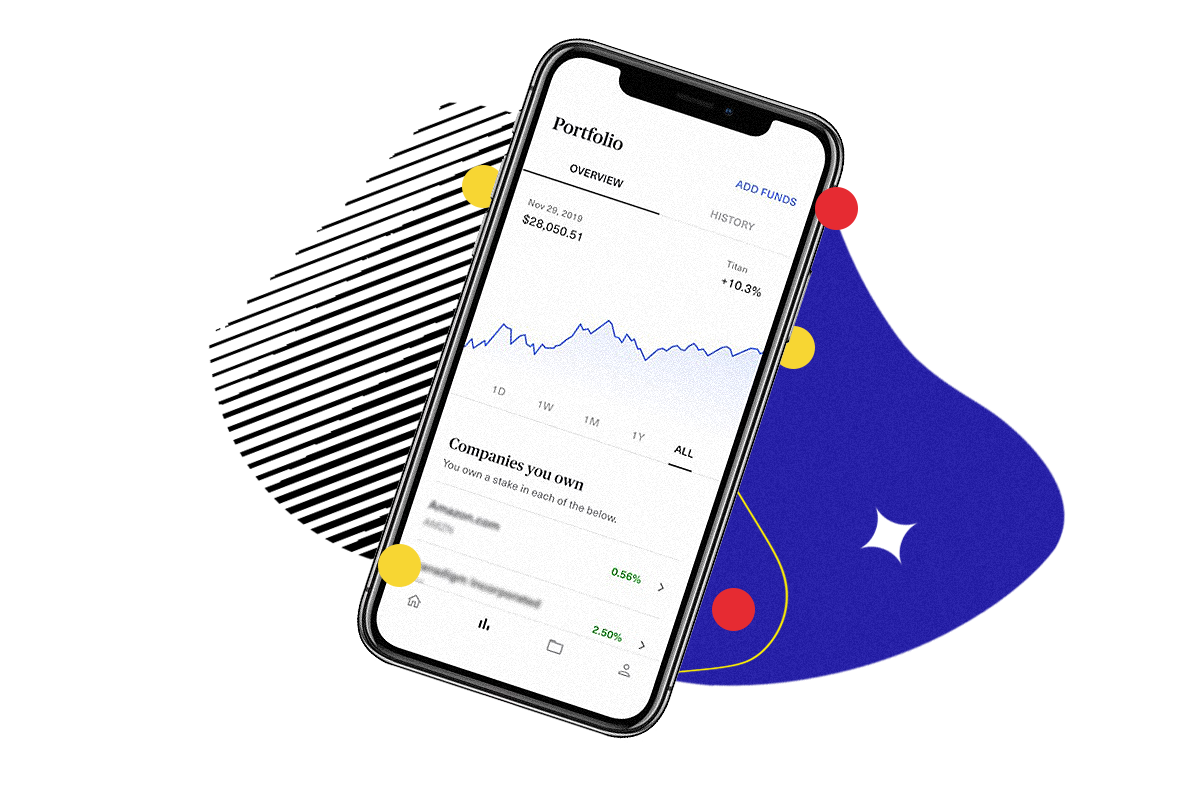 How does Titan work?
Titan's stated goal is to outperform the S&P 500 index. In order to do this it has four different strategies for investment, each of which has a different focus for asset allocation. Their Flagship strategy focuses on US large cap stocks, with an average market cap of $590 billion. Their Opportunities strategy has a focus on small to mid cap stocks, with an average market cap of $13 billion. Titan's Offshore strategy focuses solely on international stocks, with an average market cap of $174 billion. Lastly, their Crypto strategy focuses on a portfolio of cryptocurrencies that they believe will do well in the long term.
When you invest your money with Titan, their team takes your funds and actively invests on your behalf. Depending on your specific investor profile, they will buy, sell, and occasionally short stocks for you. Basically, it's an active investment strategy for someone who really prefers to be hands off.
Who can invest with Titan?
Currently Titan is open only to US citizens, green card holders, and holders of certain types of visas. All Titan investors must have a US residential mailing address and be 18 or older.
Where Titan gets it right
$100 minimum investment
With only $100 needed to get started, Titan makes it simple for just about anyone to get a personalized investment experience. No need to wait until you have hundreds of thousands to invest, you can easily get started today.
Active portfolio management
Unlike a robo advisor, which would be a typical option for someone wanting to invest but not actively manage their investments, Titan's team actually manages your portfolio for you, adjusting to changes in the market and hedging your investments. While this type of strategy is typically only available to the ultra-wealthy and institutional investors, Titan makes it accessible for everyone.
Low fees
Titan charges a fee of 1% for all portfolios over $10,000, and a flat rate of $5 per month for all portfolios under that amount. Considering that most hedge funds charge somewhere between 1-2% and also take up to a 20% cut of profits, Titan is a relative steal. On top of that, you're eligible for a rate reduction for every referral you make to Titan; refer four friends and the fee is entirely waived.
Investing based on your needs
Titan keeps your funds separate from other investors and makes investments based on your individual risk tolerance and long term goals. This allows for a more tailored portfolio that is aligned with your specific needs.
Retirement account integration available
Titan allows for Traditional, Roth, SEP, or SIMPLE IRA transfers, as well as 401(k) rollovers. You can also do a partial rollover, rather than transferring your entire retirement account to Titan.
Where Titan could do better
Varying month-to-month returns
Titan's strategy of only investing in single stocks, rather than including more typical diversification options (think ETFs), tends to be a bit riskier. Yes, it can provide higher returns, but it could also lead to bigger downturns. The month-to-month variation among their historical returns is fairly drastic. If you're invested for the long term this can all come out in the wash and you may not care, but if you're a shorter term investor you'll want to consider the risks carefully before investing.
Fairly new in town
Since Titan has only been around for about 3 years now, the historical return data doesn't mean a whole lot. They have an annualized return of 20.4% for their Flagship strategy, but the platform has only existed in a bull market thus far, and it's unclear yet what extended market downturns might mean for their long term returns.
Customer service is limited
Titan's customer service is only reachable through email at this time; there is no phone option. If you're an introvert that hates talking on the phone anyway, this might sound fine to you, but if you're looking for a fast response time from the people managing your money, you'll be left wanting.
Can you really make money on Titan?
Your specific returns with Titan will vary depending on the stocks your individual account is invested in. The platform has a target return of 15% and so far three out of four of their investing strategies are beating that benchmark. Not too shabby!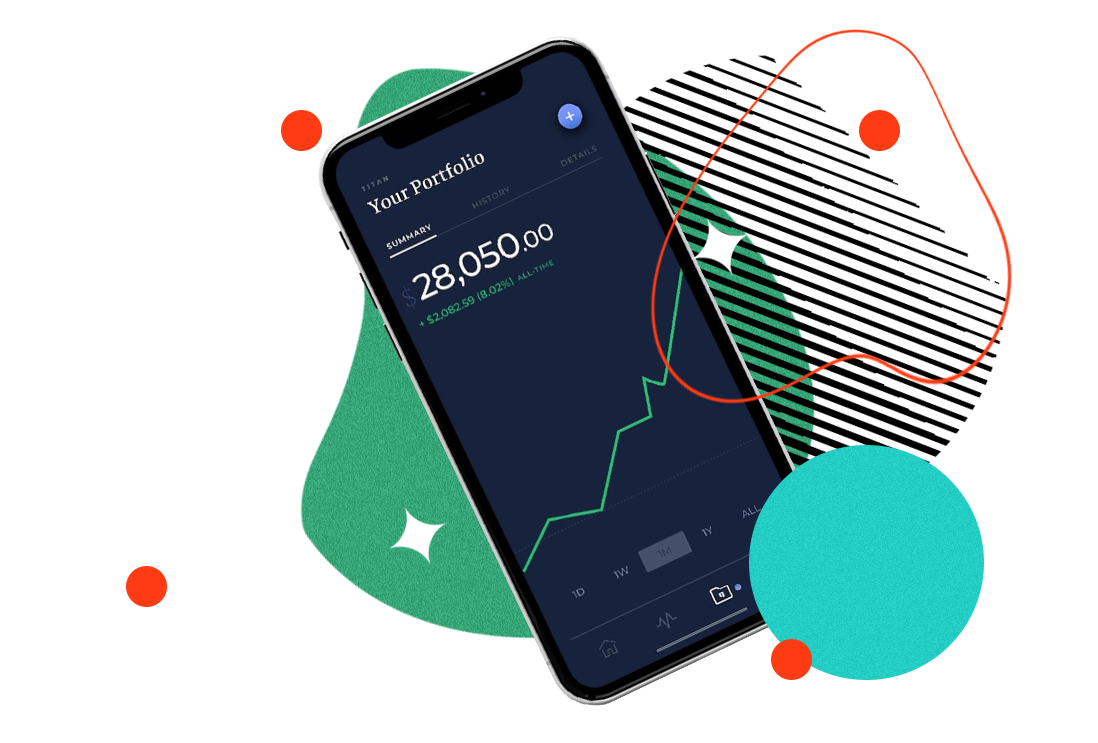 How do I make money with Titan?
You make money with Titan through good old stock market returns. Titan invests your money in stocks, and if the stocks increase in value, ta-da, you've made some money. On the flip side, if the stocks don't increase in value, you've made nothing and if the stocks decrease in value, you've lost money. 
How do I cash out with Titan?
You can cash out fairly easily with Titan. Withdrawing your money takes between two and four days, so it's not instantaneous but would still be considered highly liquid. The platform strongly encourages you to keep a long-term perspective on your investments but if you do want to withdraw your funds it's not a difficult process. The only catch is that you must withdraw at least $100 at a time.
Titan vs traditional investing
Titan's stated goal of beating the S&P 500 seems to have played out well for it so far. Their Flagship strategy has annualized returns of 20.4%, their Opportunities strategy has annualized returns of 61.4%, and their Crypto strategy has a whopping annualized return of 329.8% so far. On the flip side, their Offshore strategy is in the negative (-8.8% annualized returns to be exact).
So far it looks like Titan does a pretty good job of beating the stock market, but again, it's early days yet and there is no real long term data. Looking at three years or so in a bull market does not a full picture make, and anyway, historical returns are never a hard and fast indication of future performance. Cautious optimism is probably the best way to go here: odds on, you'll beat the stock market with Titan, but make sure you're fully aware of the risks first.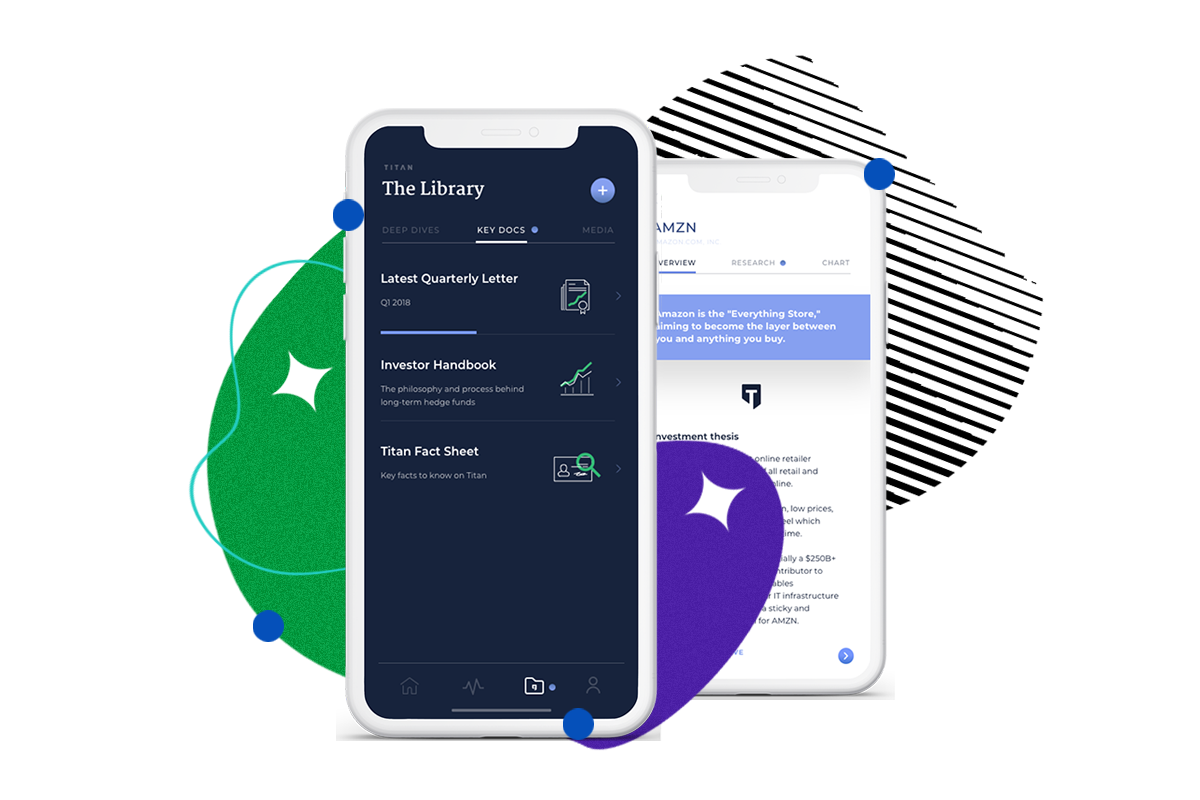 What other people are saying about Titan
Titan users overall seem happy with the app. People like the low fee structure, and the ease of use. Users have described it as a robo app but better—they appreciate the use of automation where it is more efficient, but like the personal touch of having their funds actively managed by the team at Titan.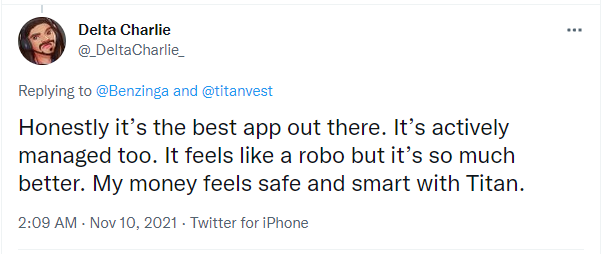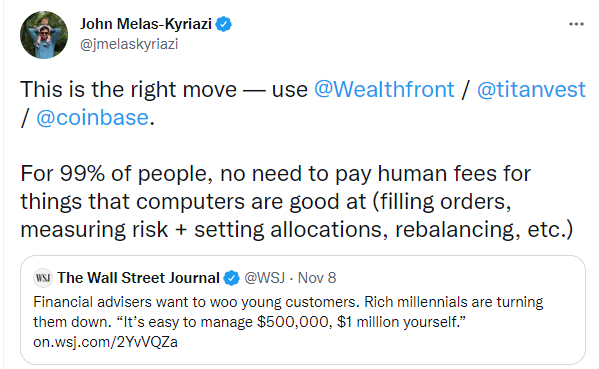 The biggest complaint out there seems to be with that limited customer service availability. As long as no problems arise, this isn't much of an issue, but when people need help, it can be very frustrating to have to wait around for an email response, rather than be able to pick up a phone and talk to someone immediately.
Are there other apps like Titan?
There are various other options if you're looking to invest but not manage your funds yourself. If you're ok with algorithms making your investing decisions for you (we too welcome our eventual robot overlords), you may want to consider platforms like Wealthfront or Betterment.
Wealthfront makes use of something called Modern Portfolio Theory (read: lots of math) to determine the best portfolio allocation for you based on your chosen risk levels. Betterment builds your portfolio based on your investment term length and focuses mostly on low-risk ETFs. Browse our platforms to find out more specifics, but here's the quick and condensed comparison for you.
Titan

Fees

Minimum investment

Average returns

Risk Level

Available on

iOS

Android

Review

 
Our hot take on Titan
Titan is a fantastic option for the right type of investor. With low minimums, low fees, and four different investment strategies to choose from, this platform has shown to have excellent annualized returns, far exceeding those of the S&P. With Titan you get the benefits of an actively managed hedge fund, without the usual associated costs, and that could be an excellent deal for the right person.
On the other hand, if you're a short term investor, the ups and downs shown in Titan's previous monthly returns could be too much for you to handle. Or if you need super responsive customer service, this probably isn't the platform for you.
I'm in! How do I sign up for Titan?
1.

Log in to or create a MoneyMade account

Visit our Titan platform page and log in to your MoneyMade account.
2.

Create an account with Titan

Sign up for Titan with just your first and last name, an email address, and password of your choice.
3.

Provide additional information

Once you've created your account, Titan will ask for your date of birth, home address, social security number, phone number, and employment information. You will also be asked to fund your account, which you can do with your bank account or a retirement account.
4.

Start investing

Now that your account is all set up and you've funded it, you're ready to go. Titan will invest your money according to your chosen strategy, and you can sit back and wait for the returns to roll in.
Explore Assets
Click an asset to learn more
Dogecoin
Music Royalties
Tether
Farmland
Wine
Art
Real Estate
Robo Advisor
Gold
Bitcoin
Stocks
Lending
Startups
Ethereum
DeFi
Solana
Oil & Commodities
Polkadot
Metaverse
NFTs
Whiskey
Bonds
Platinum
Sports Cards
Cardano
Ripple
Silver
Watches