Insert Token: How to Grow Your Retro Video Game Collectibles Investments
Video game collectibles have exploded in value and your Christmas present from 1984 could pay your kid's college tuition.
Many companies on MoneyMade advertise with us. Opinions are our own, but compensation and in-depth research determine where and how companies may appear.
Collectibles
Gaming
Long Term Growth
Collectors and investors aren't so different if you think about it. Both build a portfolio of assets in hopes of extracting more value out of it than they put in.
When video game collectibles are so rare that they become hard to obtain it's usually a healthy indicator that their price is likely to go up very soon.
The biggest difference between them is how they define value. Unlike purely financial investments like stocks and crypto, video game collectibles carry an inextricable cultural value that we can sometimes translate into monetary terms. But, are video games a good investment? Retro gaming investments may not be easy, but they can be profitable if you know what to look out for.
From NES cartridges to pinball machines, video game collectibles encompass both consumer and commercial gaming products that saw limited production and are still desirable today. The best video game collectibles investments include copies of rare video games, retro gaming consoles, collectible video game memorabilia, and even arcade machines. It can sometimes be hard to appraise video game collectibles due to how few of them are on the market.
What makes video game collectibles valuable?
What makes video game memorabilia collectible and valuable as an investment is a combination of scarcity and desirability. This means that the best video game collectibles can be a good investment if they're limited in circulation and carry a strong pop-cultural zeitgeist. So although supply and demand are the dominant forces determining video game collectibles' price, much of their value is derived from being relics of gaming history.
Retro gaming collectibles
Retro video games are some of the most investible collectibles you can buy. While there's no exact definition of when the 'retro' gaming generation started and ended, the term usually refers to video games produced between 20 to 40 years ago. Not all retro video games are necessarily collectible or guaranteed to go up in value, but the ones that do are extremely scarce and have a reputation or attribute that makes them desirable to collectors.
NES Cartridges
After becoming a popular household product in the mid-'80s, the Nintendo entertainment system (NES) has grown to be one of the hottest retro video game collectibles, and this includes game cartridges and accessories, too. Some rare NES cartridges are valued at tens of thousands of dollars and a few have even sold for six or seven figures. That's a pretty penny for what once had an average price tag of $40 on retail shelves.
Super Mario Bros.
Everyone's heard of Mario and Luigi—the two princess-saving denim-wearing plumbers and global icons are practically synonymous with gaming. So it goes without saying that the first titular Mario game to ever be released has retained its value after all these years. A hermetically sealed copy of Super Mario Bros. for NES could go for upwards of $30,000 given it's in pristine condition.
The value of Super Mario Bros. broke a gaming collectibles record in 2021 when collectibles investment platform Rally Rd sold its copy for $2 million a year after purchasing it from a private collector for $140,000. Rally Rd lets people invest in their collectibles by purchasing shares, so users who bought Super Mario Bros. shares for $50 at IPO saw an incredible 1400% return on their investment in just one year. But, not every copy on the market can fetch such a hefty price since there are lots of used Super Mario Bros. copies floating around that cost much less.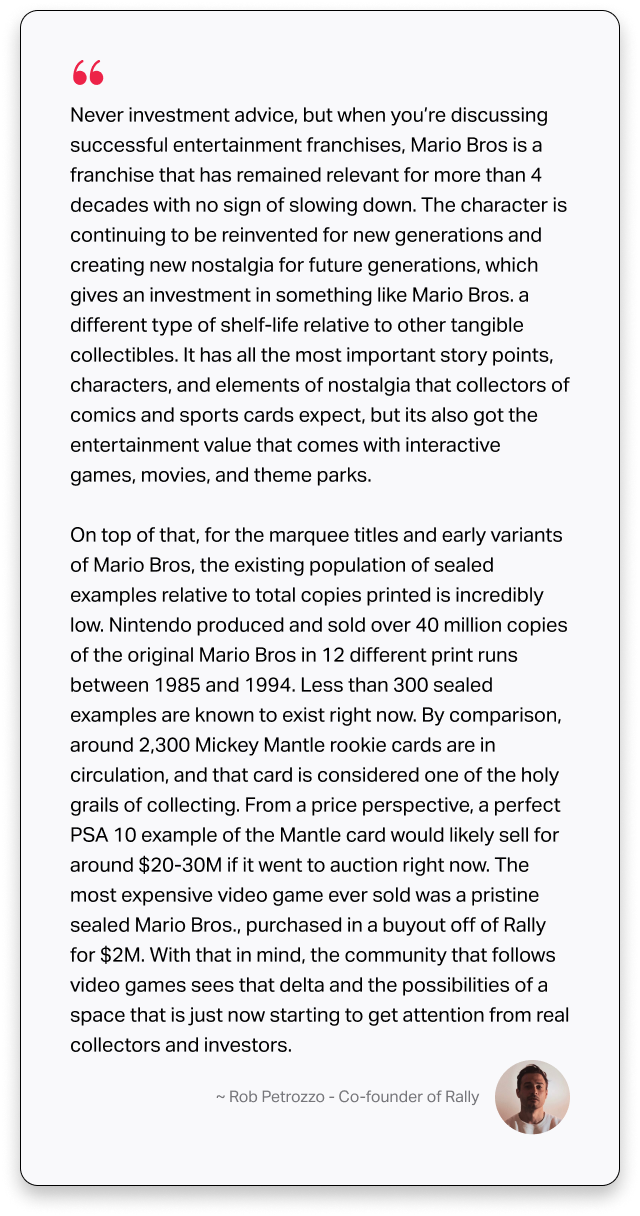 Rob is the Co-Founder and Chief Product Officer at Rally.
Everyone loves a good origin story, and the narrative around a retro video game is just as important to collectors as the game itself. That's what makes Stadium Events one of the best gaming collectibles to add to your retro NES collection. Copies of Stadium Events are super scarce as there are only a few thousand known to be in existence and even fewer in good enough condition to satisfy serious collectors.
Stadium Events is considered one of the rarest NES game collectibles and sealed copies have been consistently sold for tens of thousands of dollars. You can buy an unboxed copy for just a few hundred dollars, but Stadium Events bundled with a Nintendo power pad—a controller needed to play the game—can easily get sold for a few thousand dollars if they're both in good shape.
Sega Genesis Cartridges
Once the top competitor to Nintendo, the Sega Genesis is another popular platform among retro video game collectors. While the aftermarket for Genesis cartridges isn't as lucrative since their prices are generally lower than NES, there are a few exceptions. One Genesis cartridge that has performed extraordinarily well for a sports game is the 1994 NBA Jam. You can sign up for Rally to invest in one of the first officially licensed NBA sports games ever to be released for just a few bucks.
1994 NBA Jam Sega Genesis with chart tracking direct asset sales on Rally.
While the chances you've been to an arcade within the past few years are slim, the market for retro arcade machines is actually resurging. While most arcade cabinets are better at collecting dust than turning a profit, the scarcer and more popular ones that are still in good condition are great gaming collectibles to invest in.
Atari
You know you're a child of the '80s and '90s if you're familiar with Atari. Atari was once one of the biggest video game publishers that brought us classics like Space Invaders and Doom. Although the Atari brand declined in the 21st century, its original products still hold up to collectors who would dish out anywhere from $5,000 to $15,000 on the rarest Atari cabinets.
While most investors would get drawn in by cabinets like Atari's Star Wars Cockpit because of its association with the ubiquitous film saga, there are lesser-known ones that are likely to outperform it on the market. For instance, a well-maintained Atari Quantum machine could go for double or more the price of a household name like Namco's Pac-Man. Rarity often trumps name recognition when it comes to video game collectibles price.
Going old school
Are you investing in Mario Bros?
Pinball Machines
If you're looking for more serious returns on a retro video game investment, then look no further than pinball machines. Retro pinball machines are more popular than ever among collectors, so their prices are trending upward. The problem with Pinball machines is how much prices vary, so finding the right one to flip for a profit requires a lot of research and a little bit of luck.
With pinball machine investments, the three biggest factors are popularity, condition, and manufacturer. Obviously, a pinball machine is worth a lot more if it's fully functioning and clean of dust both inside and out, so product specifications are crucial. The manufacturer is also a important factor because pinball machines are more valuable if the company that made them no longer exists. This is especially true if the machine in question was a limited release.
The final thing you want to look for in a pinball machine investment is popularity, though determining this is more of an art than a science. A good indicator that a pinball machine will do well on the market is if it has a strong association with popular media. For example, a licensed Rocky pinball machine was auctioned for over $40,000 in 2021, a price well over the $10,000 to $15,000 range most other ones fall into.
While some collectors cherish things like toys, action figures, and t-shirts, these don't perform well as investments compared to other video game collectibles. Some video game consoles and video game accessories may be considered collectibles, but they aren't scarce enough to be worthwhile investments. When video game collectibles are so rare that they become hard to obtain, it's usually a healthy indicator that their price is likely to go up very soon.